I spent weeks looking for the best eats in New Orleans and here are the results! If you're interested in what to do other than eat in New Orleans, be sure to check out my post on what to see and do in New Orleans.
Our trip to New Orleans started off a little rough. After 9 hours in the car with me, Mr. Texanerin finally caught my cold. The next day, he felt totally run over, I still felt terrible and even more importantly, I still couldn't taste anything. I had lost my taste 5 days previously as soon as I arrived in Dallas. So we napped most of our first full day in New Orleans but that's okay since that left us well prepared to go out and eat everything in sight the following days! And my taste returned after our day of napping, which I'm incredibly thankful for. :)
We rarely go out for breakfast but I had read so much about The Ruby Slipper Cafe (TripAdvisor) that there was no way I could pass it up – especially with it being located right across from our hotel! At 9:30, the wait for a table was about 1 1/2 hours so we tried the next morning at 8:15 am. There wasn't any wait at that time but shortly thereafter, there was. So get there early!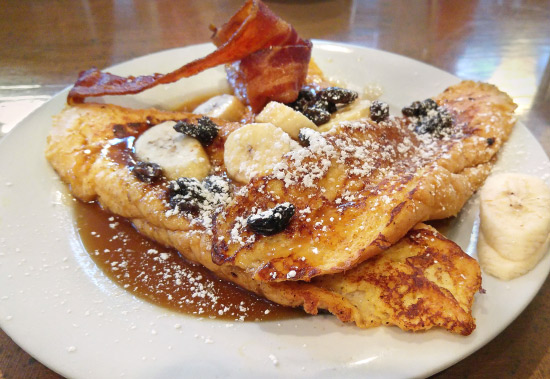 I had been dreaming about this Bananas Foster Pain Perdu since I saw it on their menu. Does anyone else plan exactly what they're getting during trip planning? Pain perdu is French for 'lost bread' and is made with old French bread that'd otherwise be thrown away. I'm not usually a huge lover of French toast but Bananas Foster French toast was something I had to try. And it was the best French toast I've ever had!
Mr. Texanerin isn't much for sweet breakfasts so he got their signature dish – eggs cochon, which is slow-cooked, apple-braised pork served on a buttermilk biscuit and topped with two poached eggs and with hollandaise.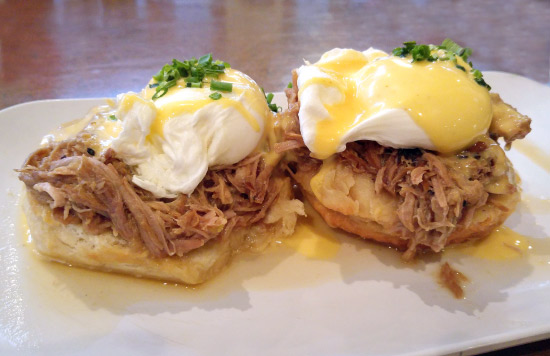 When it comes to beignets, it seems like there are two big players – Café du Monde and Café Beignet. We checked out the lines a few times at Café du Monde and they were moving pretty slowly, despite all the reviews I'd read saying that they do just the opposite. There's one line where you wait to be seated and another line for the take-out window, which seemed to be even longer and slower than the other line. I just couldn't imagine waiting all that time when there was so much other stuff to do so we skipped Café du Monde and went to Café Beignet. I loved how there were only about 4 people in line! And I liked how dense and doughy they were.
But Mr. Texanerin really wanted me to try the beignets from Café du Monde, just so I could write about them for this post. ;) So after coming back from watching The Treme Brass Band one night, we stopped by Café du Monde as the lines were pretty much down to nothing. We were really tired so we went straight to the take-out line and by the time we got back to the hotel 15 or 20 minutes later, the beignets seemed to be… not very fresh. So either they need to be eaten almost immediately, or you should avoid the take-out line late at night (it's open 24 hours). I so wish we would have gotten a table and had them fresh! By the way, they're only $3 for an order of three. Crazy!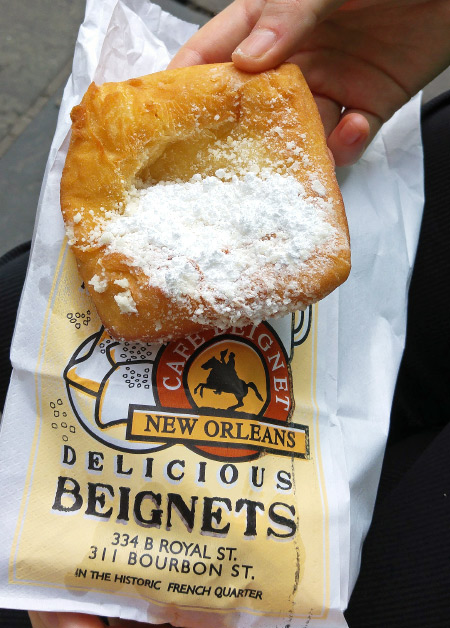 For dinner, we went to Olde N'awlins Cookery (TripAdvisor). I unfortunately don't have any pictures because the lighting on the balcony at 7pm just didn't do the food justice. Mr. Texanerin got the Taste of New Orleans, which gave him an awesome introduction to three New Orleans specialties (gumbo, crawfish étouffée, and red beans and rice with smoked sausage). He liked all three dishes, but the red beans were really outstanding! I got the Chicken Fettuccini Alfredo, which inspired my healthier Cajun chicken pasta, and bread pudding for dessert, both of which were simply amazing. I actually had bread pudding every day of our trip in New Orleans and theirs was my favorite!
After all the sweets the day before, I was in the mood for something savory for breakfast. Problem is that I don't really like much savory breakfast food. Bacon is pretty much it. I found the solution to my problem at Jimmy J's Cafe, who I found on Trip Advisor when looking for a highly reviewed breakfast place close to the hotel. They offer several unique and fun dishes and I went with the Monte Cristo French Toast. It was SO good. And ridiculously filling. By the way, they pour syrup over the French Toast so tell them if you don't want it. We walked by on Sunday morning and there was a long line out the door so it seems like another breakfast place you need to get up early for! At 8:15, we got one of the last available tables.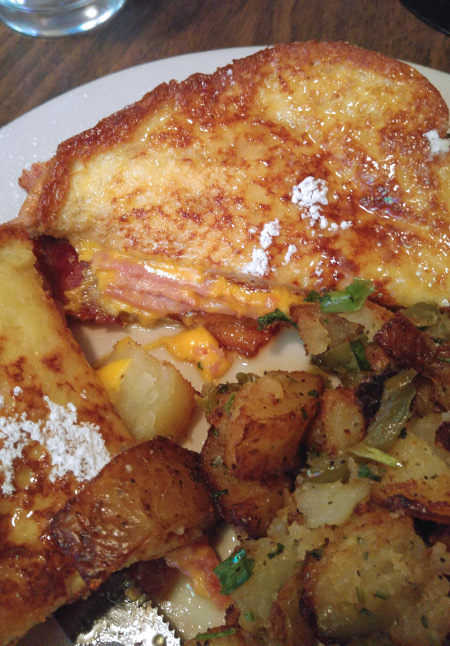 Mr. Texanerin didn't get anything here because he wanted to get a muffuletta, a type of sandwich made on sesame-topped Italian bread with salami, Mortadella, ham, mozzarella, provolone and chunky olive salad. It originated at the Sicilian family-owned Central Grocery (TripAdvisor), which is where he got his from. We got there around 8:50 and were second in line (they open at 9:00) and the place quickly filled up. After we picked up his sandwich, we walked a few minutes down the street to get some pralines and other sweets.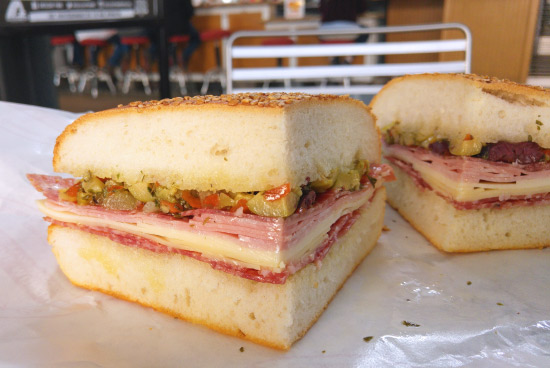 I did a lot of research prior to going to New Orleans on where to get the best pralines and Loretta's Authentic Pralines, in my opinion, is the place to go! I did try some samples from other places but I didn't think they were anywhere near as good as Loretta's.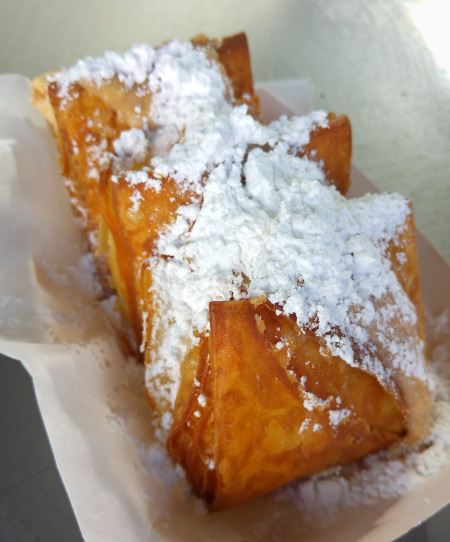 I got there around 9:30 and, although they open at 9:00, they were still setting up and didn't have much ready to be sold. I ordered the praline beignets but the fryer had to be turned on and the beignets made. It was 10:15 before they were ready so if you want to give them a try, I suggest not showing up very early. But I'm happy I waited. The praline beignets were absolutely amazing! They seemed to be made out of puff pastry, had a lovely praline cream filling and were so much lighter than the other beignets we had tried. My only issue is that they were $7. $7!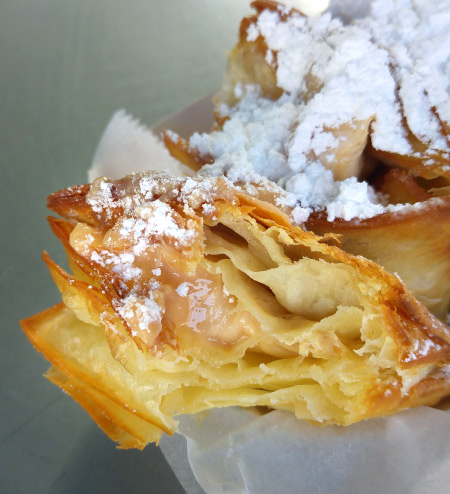 They have all kinds of pralines (including peanut butter!) but the only type they had available at the time were the original kind. Loved them! I just wish I could have tried the others. They have other treats, too, and the sweet potato cookies were my favorite. Soft, chewy and full of spice! Loaded with energy we were headed to the WWII Museum.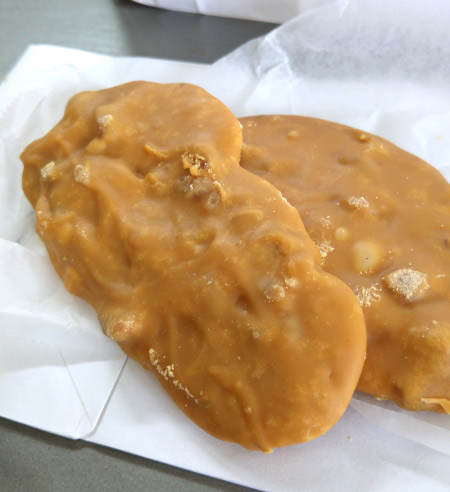 After the WWII Museum, we walked two blocks over to Pêche Seafood Grill (TripAdvisor), a two-time James Beard Award winner. Even around 3:30, it was pretty busy so make sure to get a reservation.
One of us ordered fish sticks, Brabant potatoes, fried bread with sea salt and salted peanut pie for dessert. The other one ordered white beans and bacon and smothered catfish. Can you guess which order was mine? :D
The potatoes were my favorite part of the meal. They were out of this world good.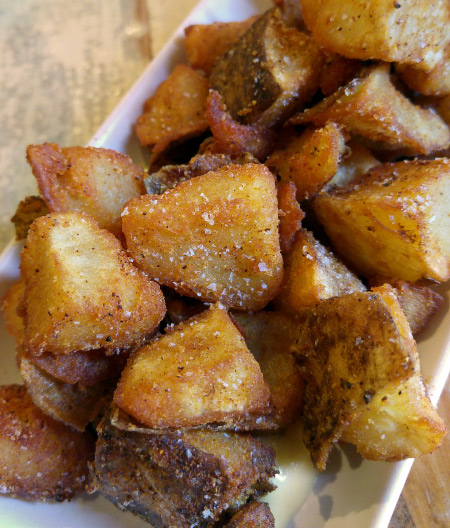 And these fish sticks? Nothing like the fish sticks of your youth! They have a light beer-batter breading which is so unlike any other I've had. The tartar sauce, which had a nice spicy spin, complimented the fish sticks perfectly.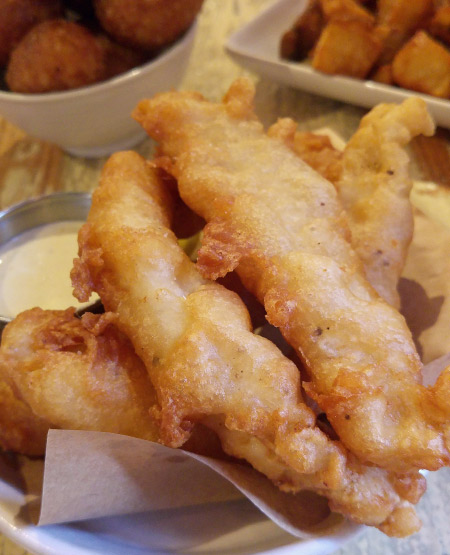 After seeing fried bread on the menu, it was a no-brainer that I'd be getting an order of that. They look similar to hush puppies and have a crisp exterior that's lightly coated in honey and rolled in sea salt. The inside is doughy deliciousness!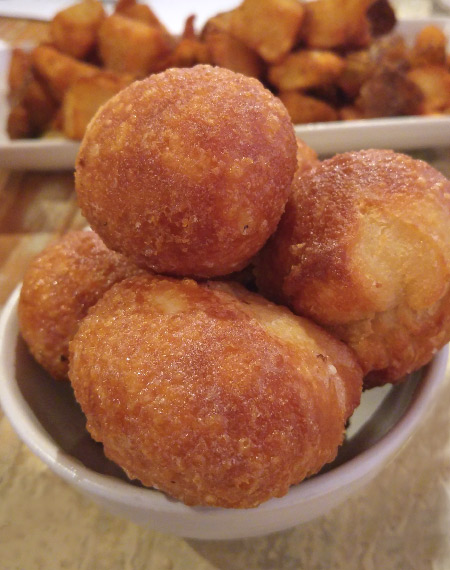 They have a nice beer and wine menu of which Mr. Texanerin enjoyed two local beers. He recommends the Gnarly Barley Korova Milk Porter on tap. Who'd say no to sweet coffee and chocolate flavor and a silky smooth finish? ;)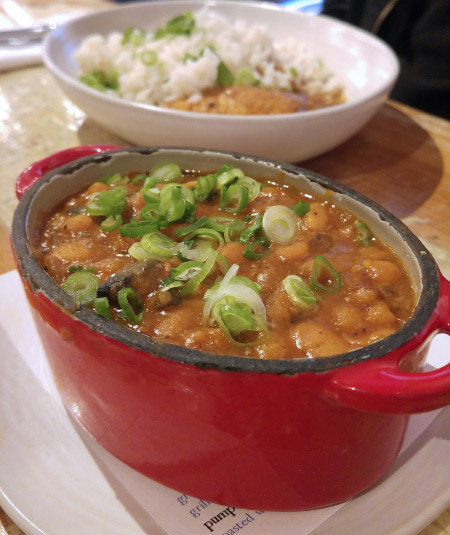 He also enjoyed the white beans and bacon but what he really loved was the smothered catfish. It was perfectly cooked, a little spicy and all-around outstanding!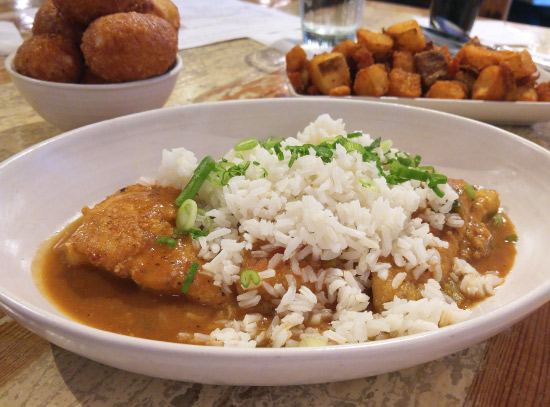 For dessert, I had to get this salted peanut pie. Just look at it! I only shared one bite with Mr. Texanerin and it was worth every last calorie. The perfect finishing touch to an amazing meal! I can't wait to try recreating it in a slightly healthier way.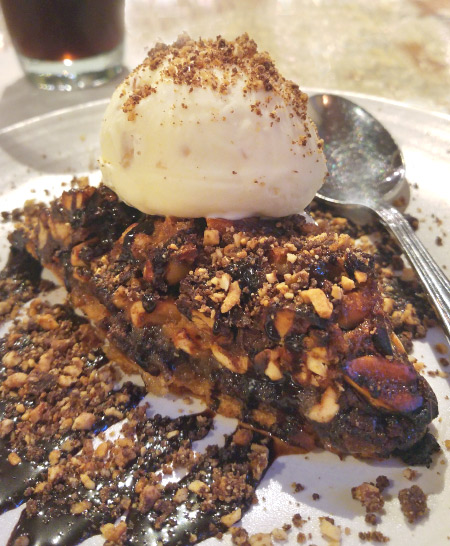 Not only was the food exceptional, but the atmosphere was great and the staff friendly and attentive. I know that we'll be back on our next trip! The Brabant potatoes alone are enough of a reason for another visit. Thanks to Pêche for hosting us!
I have another 20+ places I really wanted to try but didn't make it to. Here are some of the places at the top of my list for next time!
Do you have anything I need to add to that list? I'd love to hear what you think is a must-try in New Orleans!