Yes. Oats are gluten-free, but read on for more important details before you reach for that bag of oats!
I've started getting a crazy number of comments on my Facebook videos saying things like:
"Oats aren't gluten-free."
"How is this gluten-free if it uses oats?!"
"You need to stop calling this gluten-free!!! It has oats in it!"
Being told that I'm wrong (rather than being asked something like, "Are oats really gluten-free?") several times a day and that I'm basically misleading people is getting frustrating so I decided to write this post.
If you follow my blog, you might have read a little bit about gluten-free oats in my post on no-bake oatmeal cookies. Here's some more detailed info!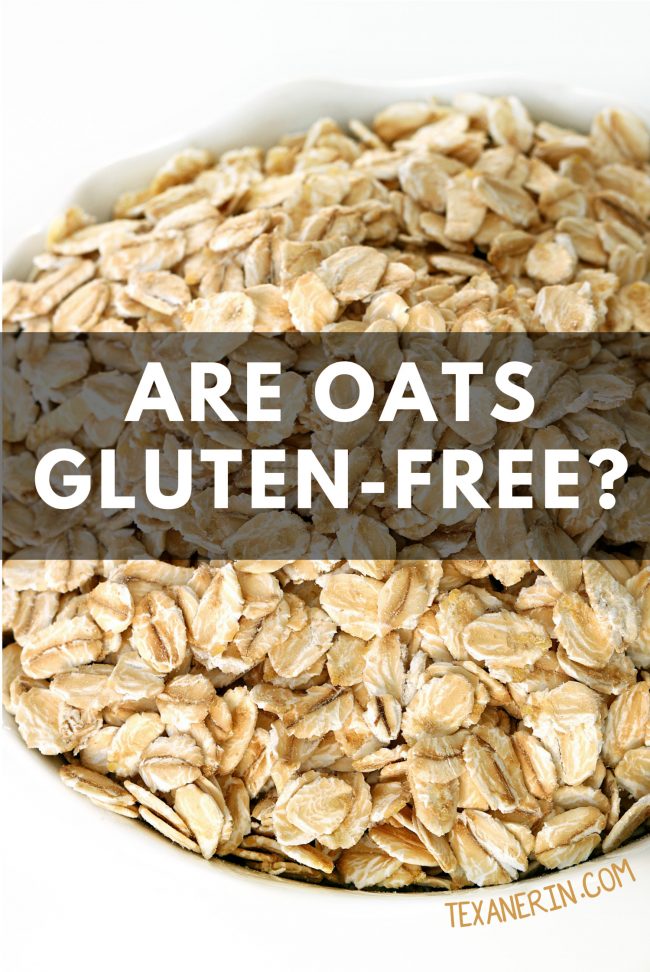 Why aren't all oats labeled as gluten-free if they're truly gluten-free?
Oats are naturally gluten-free but the problem is that they can get contaminated in the field or during production. Lots of oats are processed on equipment that also processes wheat and other gluten-containing grains.
You should, therefore, make sure to buy produced and tested gluten-free oats. If your bag of oats doesn't specifically say gluten-free on it, then it's not gluten-free. Do not eat them! It's too risky.
"But I can't eat gluten and my doctor told me not to eat oats!"
That's not because there's gluten in oats. Some people who must eat gluten-free still can't have oats due to the protein avenin, which elicits a reaction similar to gluten. However, it's not a problem for most celiacs. According to this, "Less than 1% of celiac patients show a reaction to a large amount of oats in their diets." I've found other sources quoting slightly higher numbers, like 5%.
If you have a gluten intolerance or celiac, ask your doctor about eating oats.
For more information, you can read this article from Medical Sciences on Why Oats Are Safe and Healthy for Celiac Disease Patients. I'm just a blogger who has read a lot about this issue. I'm not a doctor but there are plenty of academic articles out there you can check out.
Where can I buy gluten-free oats?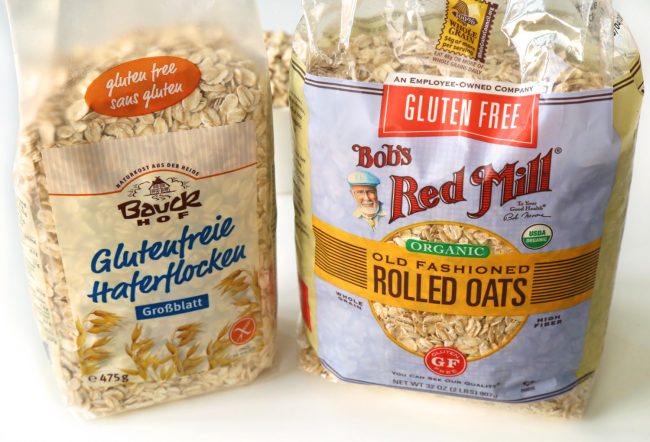 If you're in the US, gluten-free oats are readily available in most full-sized supermarkets. If you've looked for them next to the regular oats and can't find them, look for the gluten-free or specialty diet section of the store.
They're also easy to find on Amazon! I always get Bob's Red Mill gluten-free rolled oats. And they have all the other varieties, too (which you can find here, like quick cooking oats, steel oats, and organic and non-organic varieties).
I currently live in Germany and I've found gluten-free oats in some full-sized grocery stores (so not Aldi, Lidl, etc.) and all the organic shops I've looked in. They've always been in the special diets aisle.
You can read more about different brands of gluten-free oats here.
Why can't I buy gluten-free oats in Australia and New Zealand?
From what I've read, oats aren't allowed to be labeled as gluten-free under current Australian & New Zealand labeling laws. I did find this company which sells GF oats in Australia.
Some awesome gluten-free oat recipes:
So now that we all know oats are gluten-free, here are some treats you can make with them!
All of these gluten-free recipes use just oats and oat flour (which is simply ground up oats – you can make it yourself! See the apple crisp recipe post below for how to do that) so you don't even need to buy any expensive gluten-free flours. Because these recipes are all oat-based, they're also 100% whole grain!
All the below recipes except for the first one are vegan (or have a vegan option) and dairy-free in addition to being gluten-free.
If you want to make a gluten-free recipe for your gluten-intolerant or celiac friends or family, ask if they can have gluten-free oats first, just to make sure they're not one of the few who can't process avenin.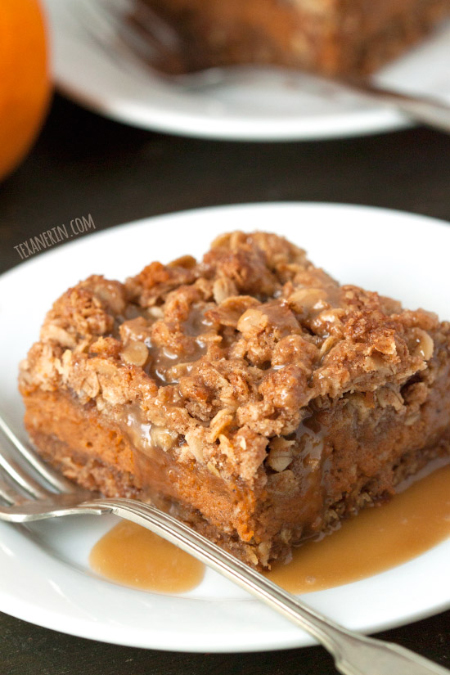 These Pumpkin Pie Bars have a streusel-like crust and topping and use a combination of oats and oat flour.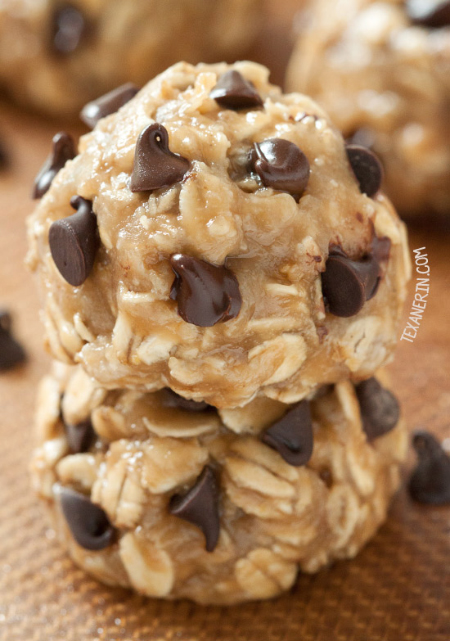 These Peanut Butter No-bake Cookies are so very easy to make. You simmer the sauce first for a bit, which gives it kind of a caramel-like feel and taste!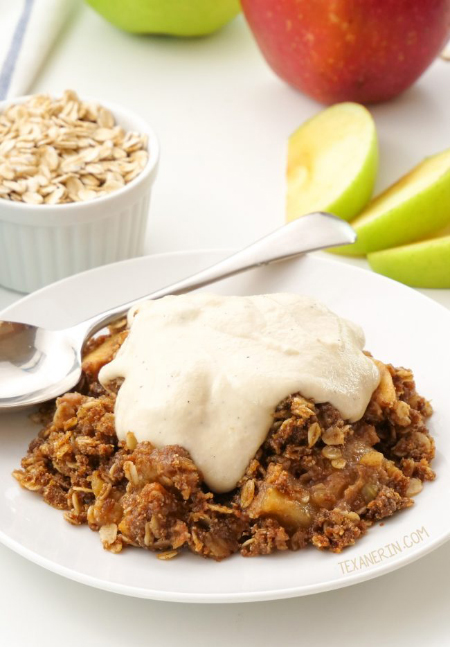 My Gluten-free Apple Crisp with a generous layer of oat and oat flour based topping! Such a great dish to make after coming home from a day of apple picking.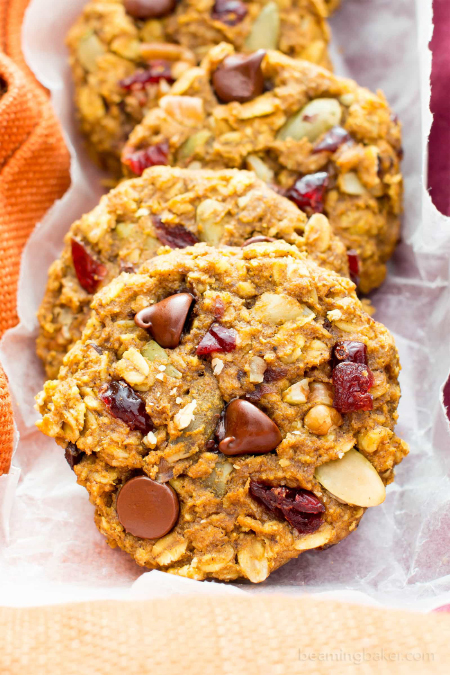 These Pumpkin Chocolate Chip Oatmeal Breakfast Cookies from Beaming Baker sound like the perfect way to start the day! AND… there's peanut butter involved. :D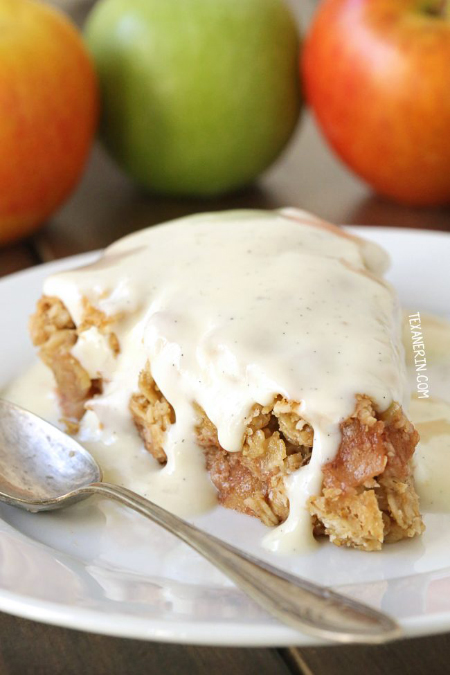 This Swedish Apple Pie is one of my most popular recipes! It's similar to a crisp and is really amazing with vanilla sauce.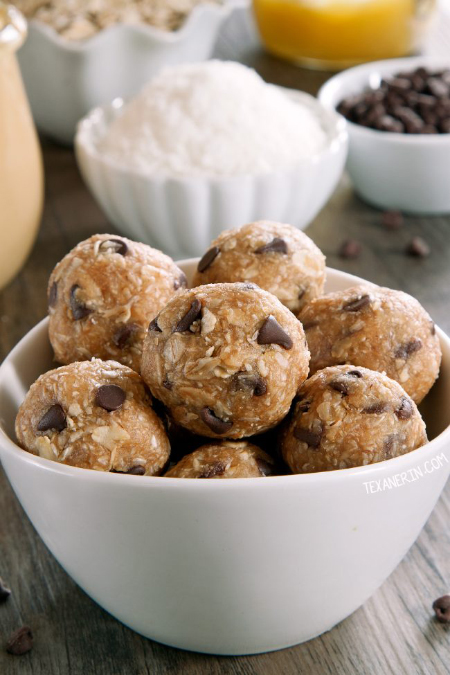 My Peanut Butter Protein Balls are one of those recipes that's really great when you're too lazy to bake. Just toss everything into a bowl and roll into balls!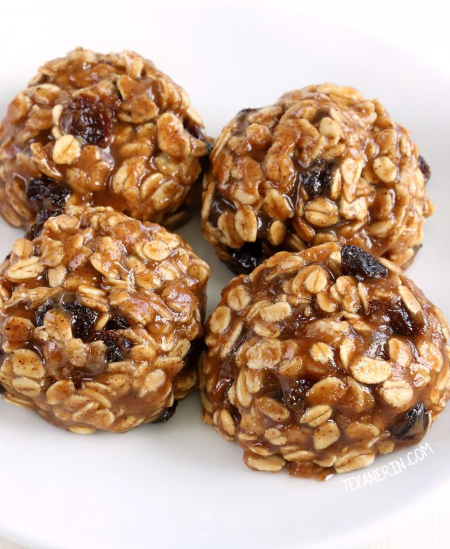 These No-bake Oatmeal Cookies can be made as oatmeal raisin cookies or oatmeal chocolate chip.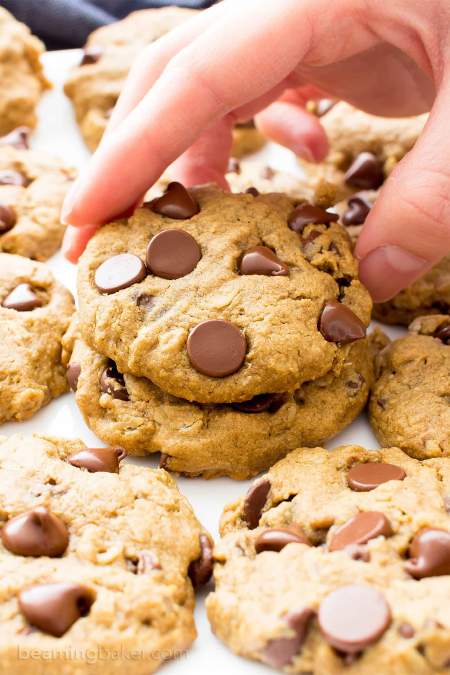 Don't Beaming Baker's Gluten-Free Vegan Oat Flour Chocolate Chip Cookies look dreamy?! And I love how few ingredients they use.
As an Amazon Associate, I earn from qualifying purchases. For more info, see my disclosure.