These paleo air fryer cookies have the perfect taste and texture, just like traditional chocolate chip cookies! With a vegan option. Regular oven directions are also included.
I had originally intended to post this recipe as a paleo option in the Air Fryer Chocolate Chip Cookies recipe I posted yesterday.
But half the post was about how amazing the paleo version was, which I'm sure annoys some non-paleo people. And you need to make quite a few changes to the recipe to make it paleo. That made the recipe box messy, so here we have a separate post.
Usually, my recipes are paleo OR they're made with all-purpose flour with a gluten-free option using a 1-to-1 replacement for AP flour.
This is the first time I've ever posted a paleo version of a recipe calling for AP flour. And the result tastes just like the regular version. In taste and texture!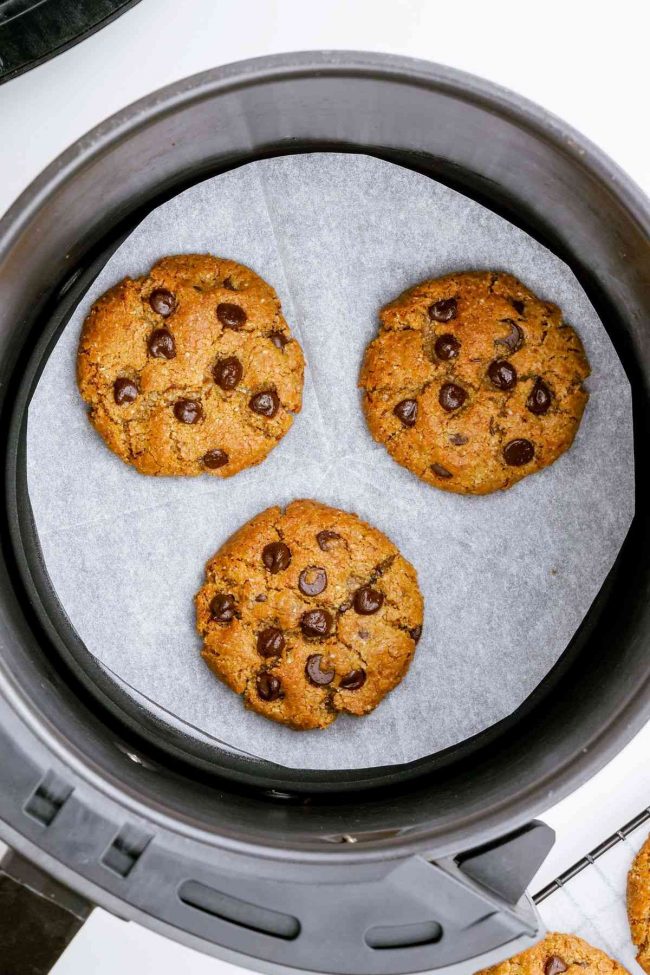 I am bobbing up and down on my chair as I type this. I am beyond excited. I just want to yell, "LOOK AT WHAT I DID AND TELL ALL YOUR PALEO FRIENDS!" :D
The paleo option is actually way better than the gluten-free version, which uses a GF 1:1 baking mix. And it's healthier!
This paleo version is the most "normal" tasting non-traditional chocolate chip cookie I've ever had. It tastes 100% like the regular version (once they sit overnight).
I had no problem inhaling them straight from the oven, but after you're done with your cookie, you can detect some starchiness. When you let them sit overnight, the starchiness goes away.
My husband kept asking if I was sure the cookies he was eating were the paleo version. I hadn't even made the regular version in weeks so there was no mix-up going on.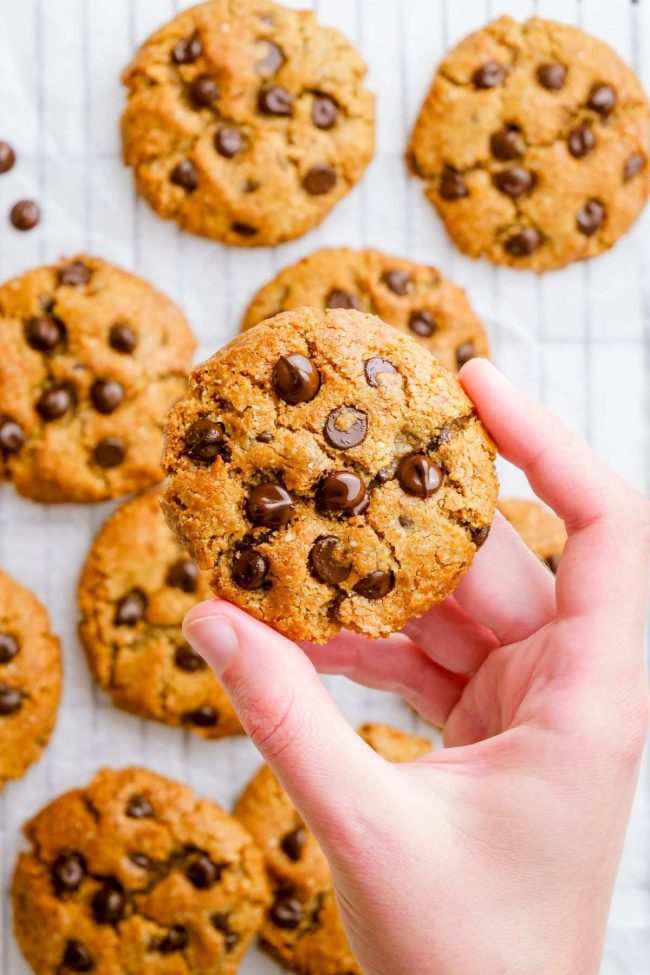 Why use an air fryer
For those of you who didn't read the traditional air fryer cookies post, here's a short summary of why in the world someone would do something like baking cookies in an air fryer.
Portion control! Make just a few and freeze the rest of the dough.


Instant cookies. If you freeze or refrigerate your dough, you can have fresh cookies within 6 minutes of turning on your air fryer.


Doesn't heat up your kitchen. I guess most of you live in the US with air conditioning, so this might not make sense to you. If you don't have AC, it's miserable to turn on the oven in the summer because the heat just sticks around in your tiny European shoebox kitchen.


It also works great for other desserts, like my Air Fryer Paleo Brownies and my regular or gluten-free Air Fryer Brownies. :)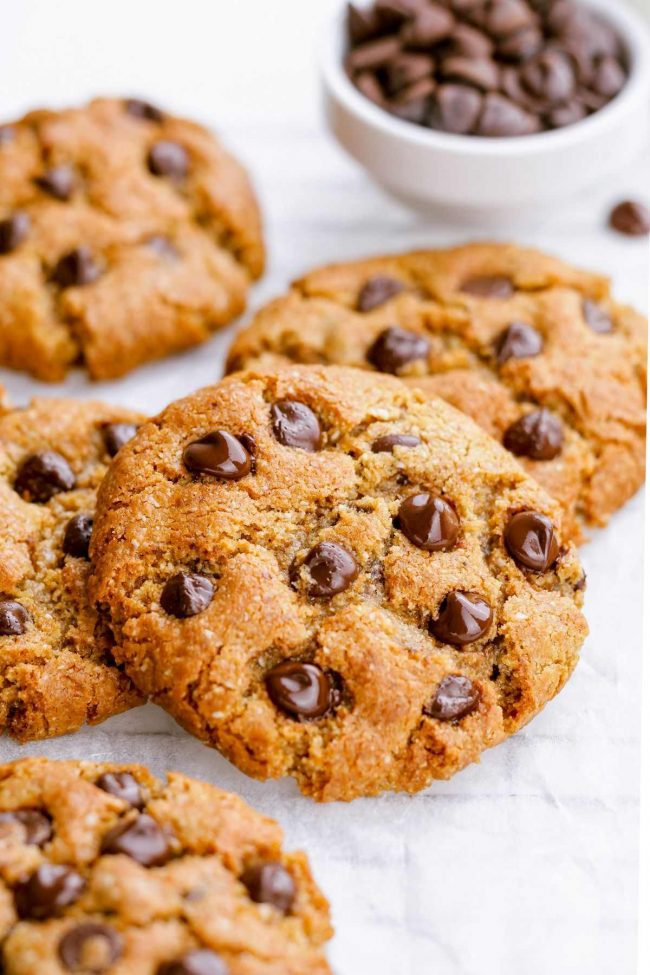 What type of air fryers I used
The air fryer you see in the pictures is the Ninja Max XL Air Fryer. You can fit 5 in there if you don't care about them touching a tiny bit.
These cookies also work in the Ninja SP101 Foodi 8-in-1 Digital Air Fry.
You can fit so much food in that one! I could bake nine cookies in there at once.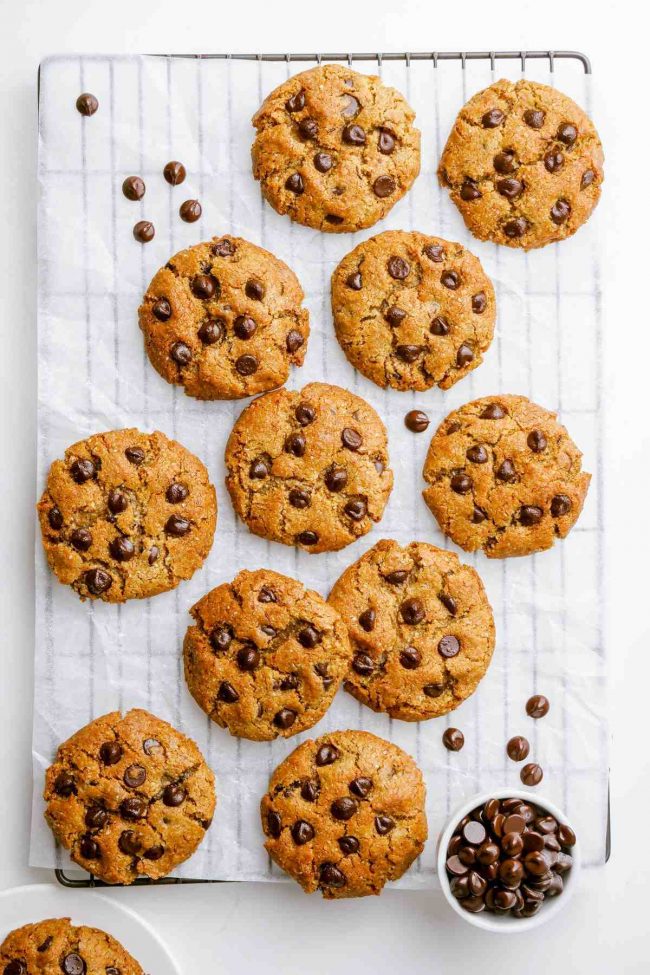 Ingredients
For today's paleo version, you'll need:
Finely blanched almond flour – make sure to use finely ground almond flour (which is called ground almonds in some countries). Your cookies will be greasy and not have the perfect texture if you use a more coarsely ground almond flour.


Coconut flour – this is another product that varies widely from brand to brand. It should also be very finely ground. If you've never bought coconut flour before and don't know where to start, Anthony's, Health Works, Viva and Bob's Red Mill are all finely ground.


Tapioca starch/flour – I haven't had luck with tapioca starch from the Asian food shop and even the organic tapioca starch I buy in Germany works differently than the US brands I've tried. I haven't tried it but Anthony's has the best price + most reviews. I used Bob's Red Mill.

You can't just use arrowroot in place of the tapioca starch. I've tried it and it does not work! The cookie dough just melted into a big puddle.


Arrowroot starch/flour/powder


Coconut oil instead of butter. I used refined because I didn't want any coconut taste. If you use unrefined, your cookies will be coconutty!


Coconut sugar instead of granulated + brown sugar.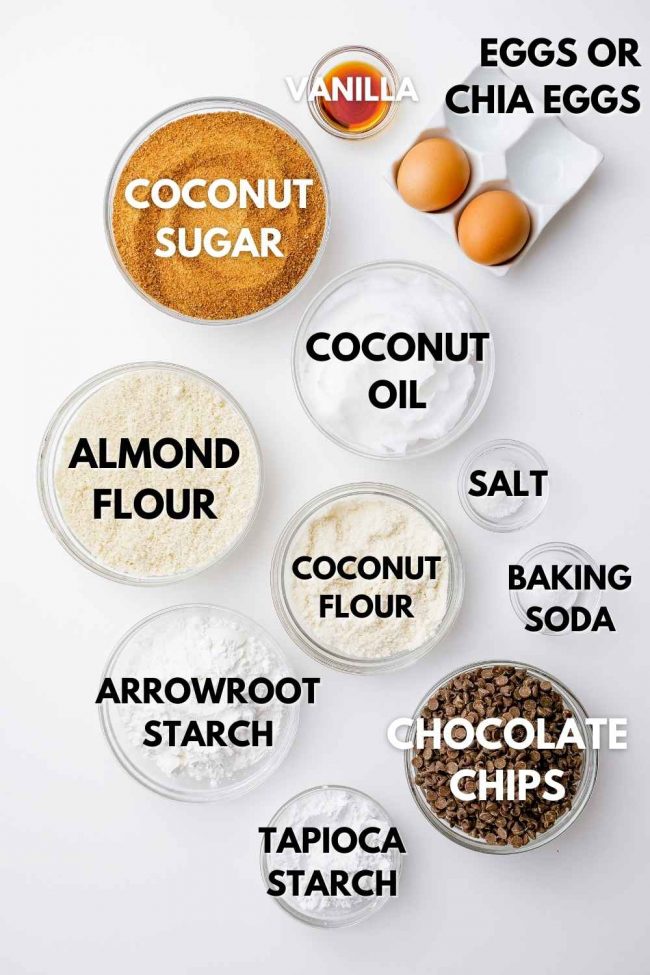 These were made with non-finely ground almond flour!
The cookies you see were made with flours from a mix of European brands. My videographer ran out of the US flour I sent her so I figured we'd just go with whatever she had.
My cookies, which I made countless times with all Bob's Red Mill flours, looked just like the air fryer chocolate chip cookies I posted yesterday. Below you can see the difference.
The all-purpose version is on top. That's how my cookies looked with finely ground almond flour. The paleo version, with non-finely ground almond flour, is on the bottom. They're just as tasty, but they're not as thick and spread a bit more. They're also not as pretty.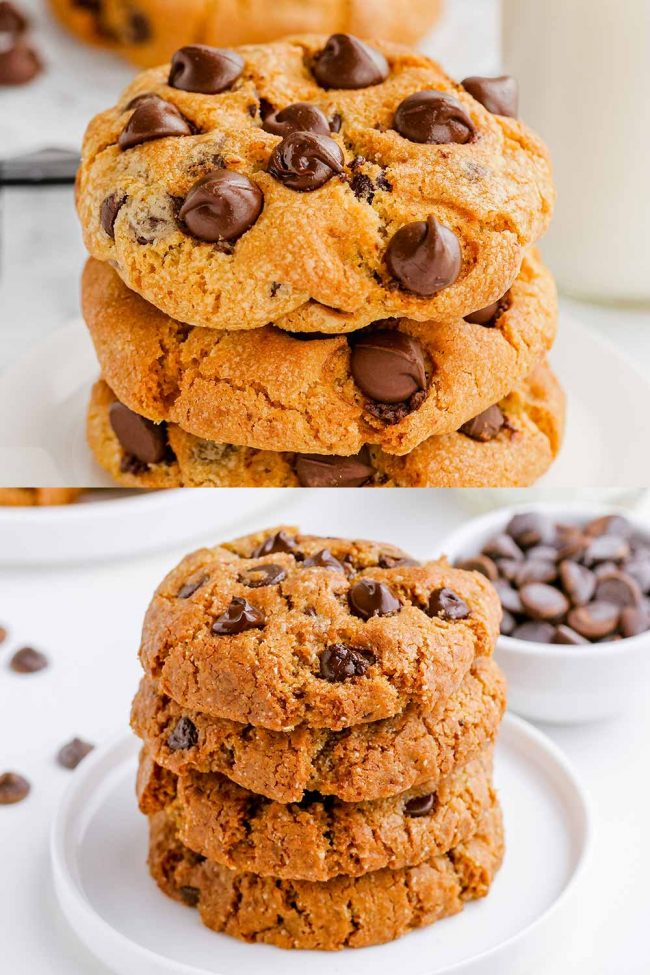 Starch-free paleo cookies
You have to use the starches in today's recipe to get the right texture. If you're thinking, "But I don't want to use starches…" then I can refer you to any of my other paleo chocolate chip cookie recipes:
They all work in the air fryer but you'd need to play around with the baking time and temperature (I think it'd be 320 °F (160 °C)). I recommend doing a test cookie before putting in several at a time.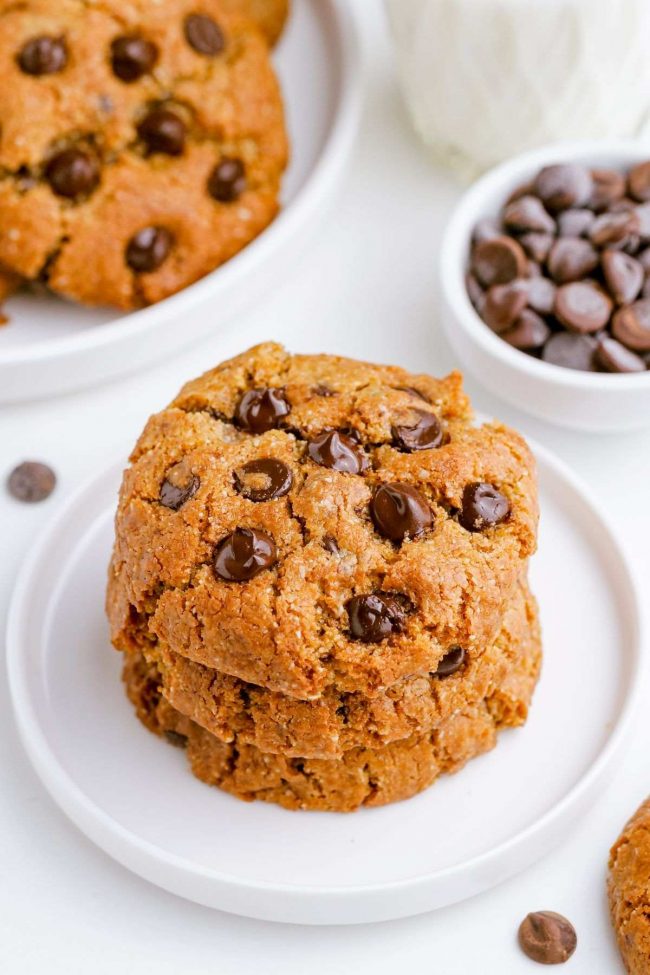 Cookie size difference
For the regular air fryer cookies, I used 1/4 cup (75-gram) balls of dough. That didn't work for the paleo version.
Neither did 50-gram balls. For the paleo version, 38-gram balls are the perfect size. They bake up perfectly when they're that size and they're more paleo-ish when they're smaller, anyway, right?
Instead of 16 gigantic bakery-style cookies, you'll get 32 more reasonably-sized cookies.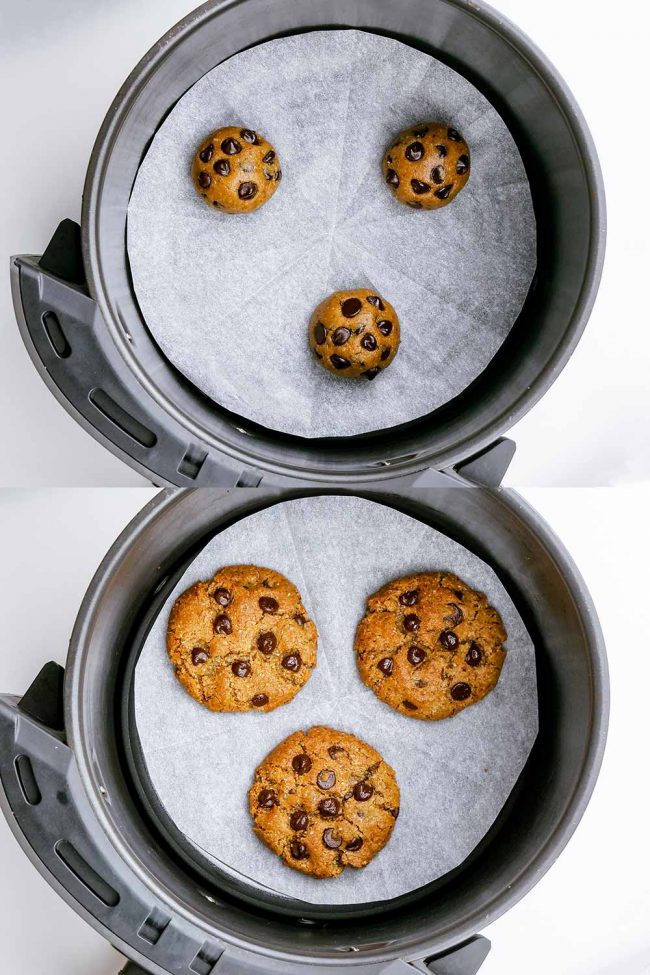 Difference between the starch-free paleo cookies above and today's recipe
A ton of commenters have said that they prefer my perfect paleo chocolate chip cookies (linked to above) to traditional chocolate chip cookies. They have almond butter in them that makes them a bit more refined than traditional cookies.
The texture is a tiny bit different than regular cookies but I wouldn't say worse. It's just different, but again, a lot of people still prefer them to regular cookies!
Maybe it's just because I haven't had traditional chocolate chip cookies in years, but I prefer today's recipe. The taste is exactly like regular cookies. At least regular cookies that are heavy on the brown sugar.
I have no idea how that can be without the butter and coconut sugar instead of brown + granulated sugars, but it's true.
Vegan option
I used chia eggs without an issue and think that other egg subs would likely work, but I haven't tried them. So I can't say for sure!
If you try one out, please let us know how it worked out in the comments. :)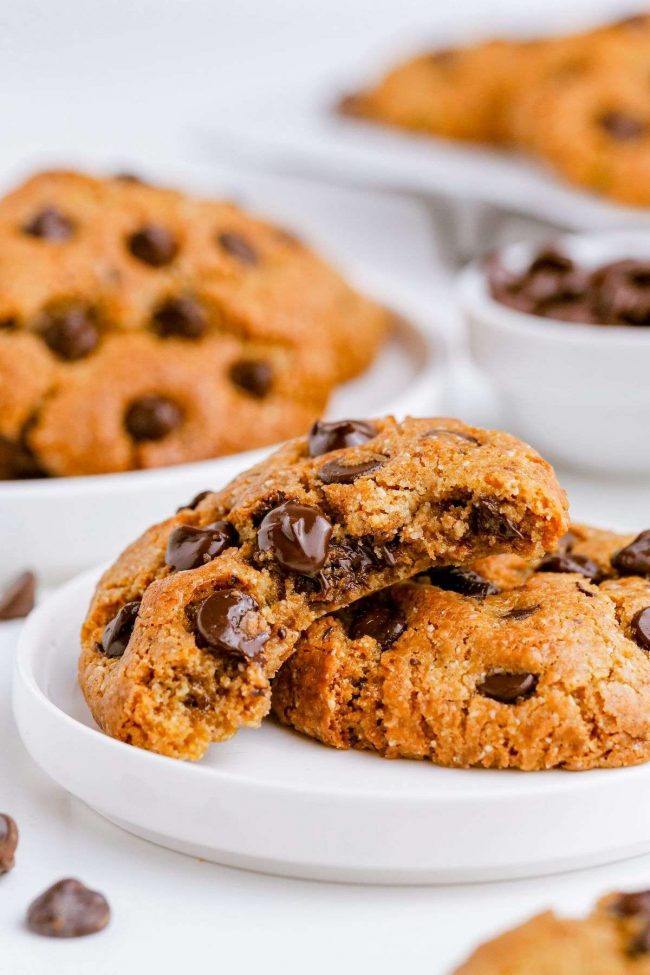 Please use a scale!
On the back of the arrowroot starch bag I used, it said that 1 tablespoon of arrowroot starch = 9 grams.
I weighed the arrowroot multiple times and got 6.75 grams each time where I didn't absolutely cram in as much flour as I could into the spoon.
You need 81 grams of arrowroot for this recipe. If you absolutely cram your measuring cup full, which is not how you're supposed to measure flour, then you might need 9 tablespoons to get to 81 grams.
If you measure your flour properly, by spooning the flour into the cup and then leveling it off with a knife, then you need 3/4 cup.
I agree that measuring like that is annoying. That's why you should use a scale! 81 grams is 81 grams.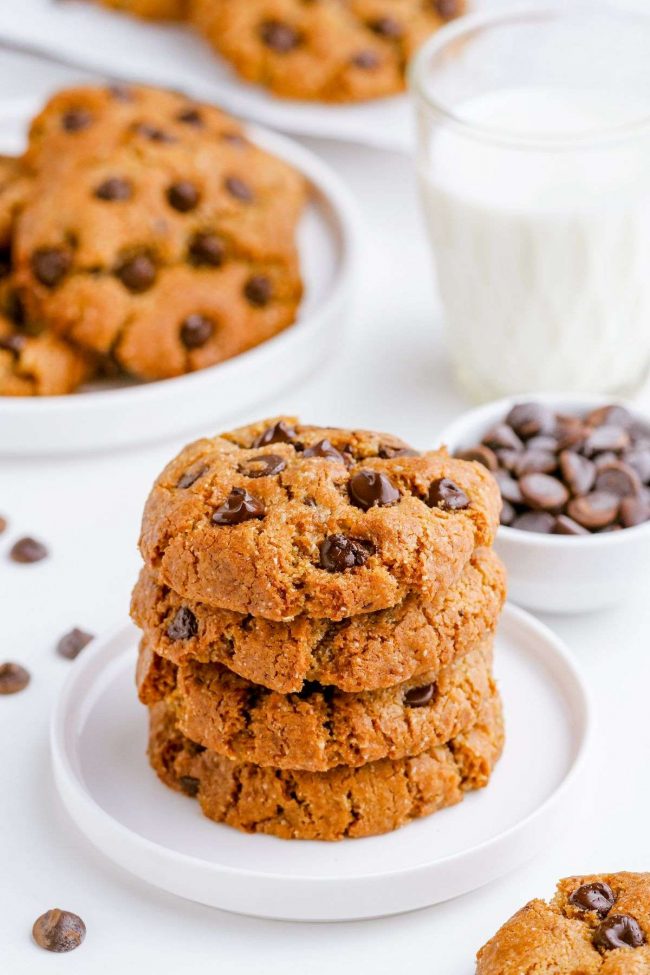 Recipe source
As I said in the regular air fryer cookies post from yesterday, this recipe was adapted quite heavily from this Epicurious recipe. I used 1 cup less sugar (the cookies are still a normal sweetness!), 1 fewer egg, and 1/2 teaspoon less of both salt and baking soda. And I doubled the vanilla because… why not?
Those changes resulted in a chewier, thicker and more delicious cookie. And then I paleoified them by changing the flour, sugar, and fat.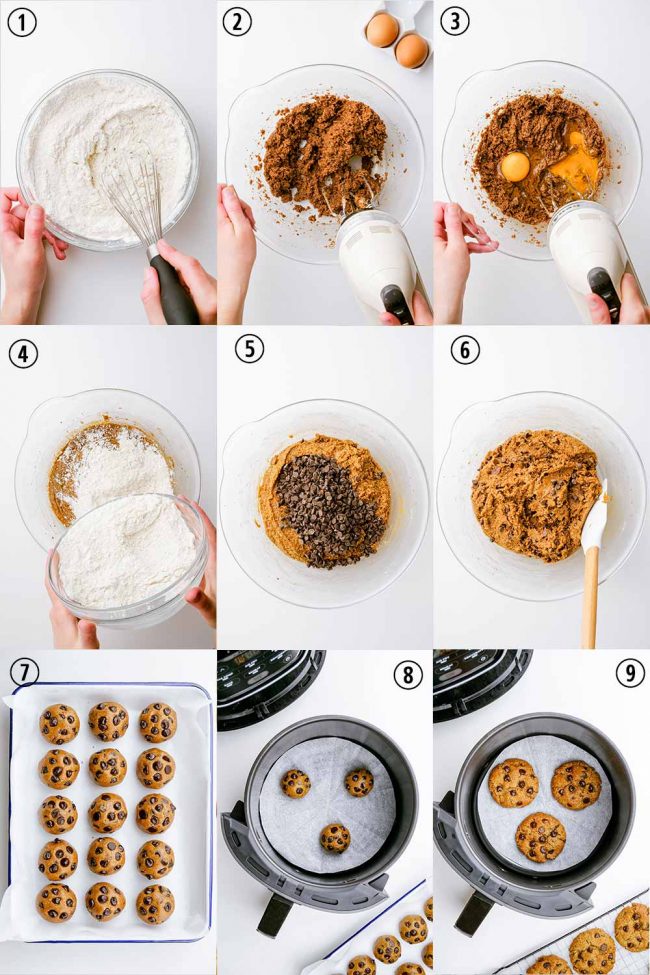 Can I reduce the sugar?
I did try reducing it to 1 cup, and while I think they were still sweet enough, the texture was affected.
They didn't spread perfectly like the ones with 1 1/2 cups and they were a bit cakey.
The cookies are a regular sweetness with 1 1/2 cups of coconut sugar. If you don't want that, I think 1 1/4 cups would be okay but it'd still affect the texture a little.
Can I use a different sweetener?
I've never baked with it, but I think maple sugar would likely work. Liquid sweeteners would not work because they'd throw off the liquid/dry proportions.
I haven't tried any keto sweeteners because I figured they're not keto, anyway, with the two starches.
I hope you'll love these cookies as much we do! If you make this recipe, I'd really love to see pictures of your creations on Instagram, Facebook and Twitter! Please hashtag them #texanerin so I can find them. :)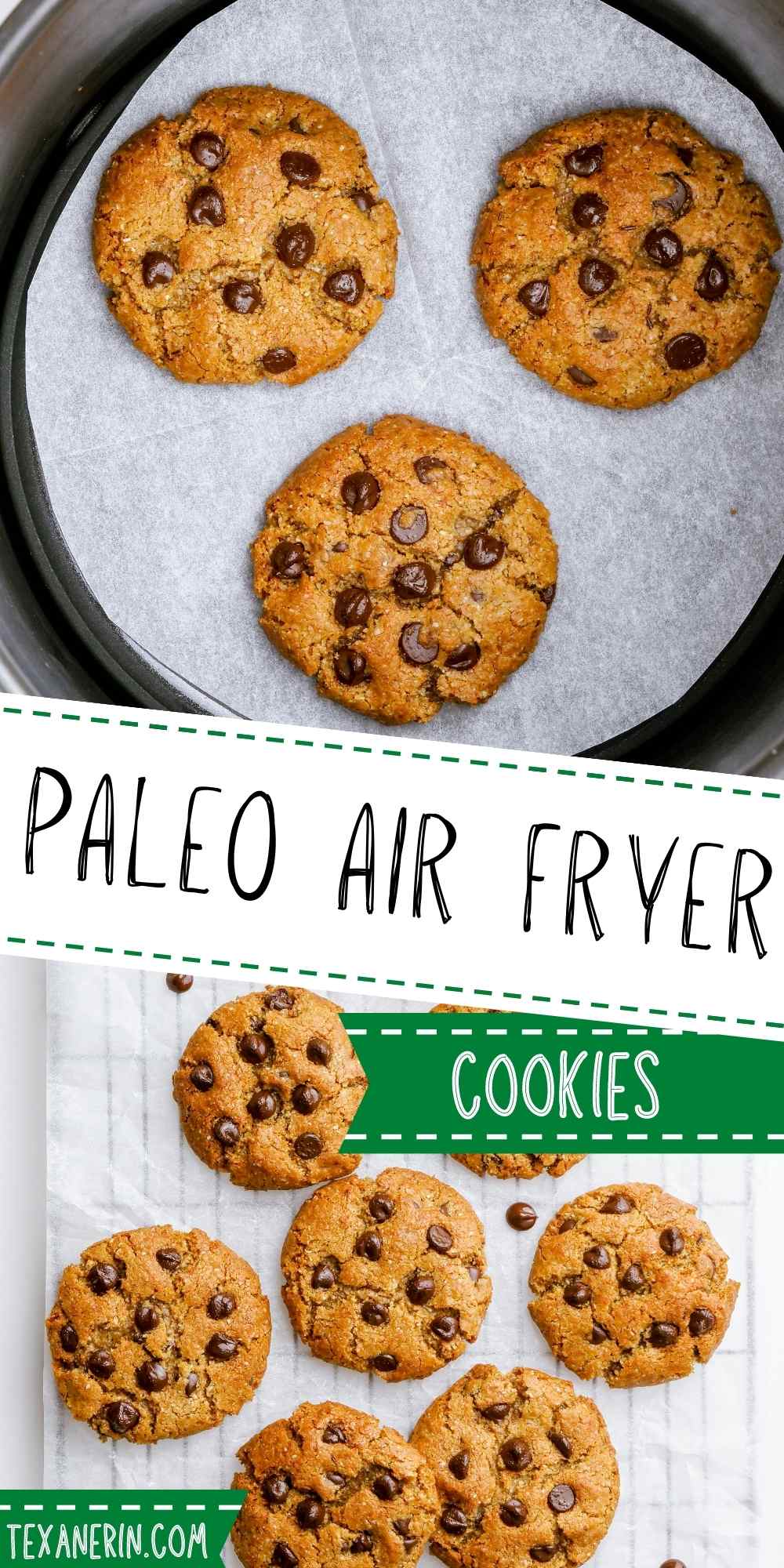 ❀
Paleo Air Fryer Cookies
Prep Time:
Cook Time:
Ready in:
Yield:

32 cookies
Please weigh the ingredients for best results!
Ingredients
15 tablespoons (210 grams) refined coconut oil (firm and not melted)1
1 1/2 cups (300 grams) coconut sugar
1 tablespoon vanilla extract
2 large (50 grams each, out of shell) eggs or 2 chia eggs for vegan2
1 1/2 cups (150 grams) almond flour
3/4 cup (81 grams) arrowroot starch
1/2 cup + 1 1/2 tablespoons (76 grams) coconut flour
1/4 cup + 2 tablespoons (45 grams) tapioca flour/starch
1 teaspoon baking soda
1 teaspoon salt
1 1/2 cups3 mini chocolate chips (use paleo/vegan chocolate)
Directions
Air Fryer instructions:

In a large mixing bowl with an electric hand or stand mixer, beat together the oil, coconut sugar and vanilla until light and fluffy. It'll take longer
Beat in the eggs until well combined.
Add the dry ingredients (almond flour through salt) in a medium mixing bowl and stir until combined.
Add this to the wet mixture and beat until combined.
Stir in chocolate chips until combined.
Preheat the air fryer to 320 °F (160 °C). Place a piece of parchment paper on top of the basket.
Form dough into 2-tablespoon (38-gram) balls.
Place in the air fryer about 2-3" apart. After baking, mine were 6.5cm wide so that should tell you how many you can fit.
Cook for 5-7 minutes or until lightly browned. They are delicious hot out of the oven but you can detect the starch. That goes away after sitting overnight.
Let sit for 5 minutes or until soft enough to remove to a cooling rack. Store cooled cookies in an airtight container for up to 5 days. The baked cookies can be frozen for up to 3 months. Or you can roll the dough into balls, flatten them slightly with your palm, and freeze those for up to 3 months. Add 1 minute to the baking time.

Oven instructions:

Preheat the oven to 350 °F (175 °C). Line a baking sheet with a piece of parchment paper.
Follow the above method to prepare the dough. Place 4" apart on the prepared baking sheet.
Bake for 9-13 minutes or until lightly browned around the edge. They are delicious hot out of the oven but you can detect the starch. That goes away after sitting overnight.
Let cool completely on the baking sheet. Store cooled cookies in an airtight container for up to 5 days. The baked cookies can be frozen for up to 3 months. Or you can roll the dough into balls, flatten them slightly with your palm, and freeze those for up to 3 months. Add 1 minute to the baking time.
Notes
The coconut oil should be soft enough that it can be blended in with the other ingredients but should not be melted or even melty because then the dough will be very greasy.
To make the chia eggs for this recipe, mix together 2 tablespoons of ground chia seed with 6 tablespoons of water until well combined. Let sit for about 1-2 minutes or until goopy like regular eggs.
I like a ton of chocolate in my cookies. Feel free to reduce this to 1 cup.