These air fryer chocolate chip cookies have an amazing texture – perfectly chewy with crisp outsides that will certainly rival your favorite recipe, and no chilling is needed! This is my hands-down favorite cookie recipe. Oven directions are included, and there's a tested gluten-free option, too.
In almost 10 years of blogging, I've never posted regular chocolate chip cookies on the blog. They've been whole wheat, gluten-free or paleo.
Up today, we have a traditional chocolate chip cookie recipe – but baked in an air fryer! I've also included oven directions, in case you don't have an air fryer.
If you're paleo, you can stop reading here and go check out the amazing Paleo Air Fryer Cookies I just posted!
And if you prefer brownies, check out my Air Fryer Brownies. :)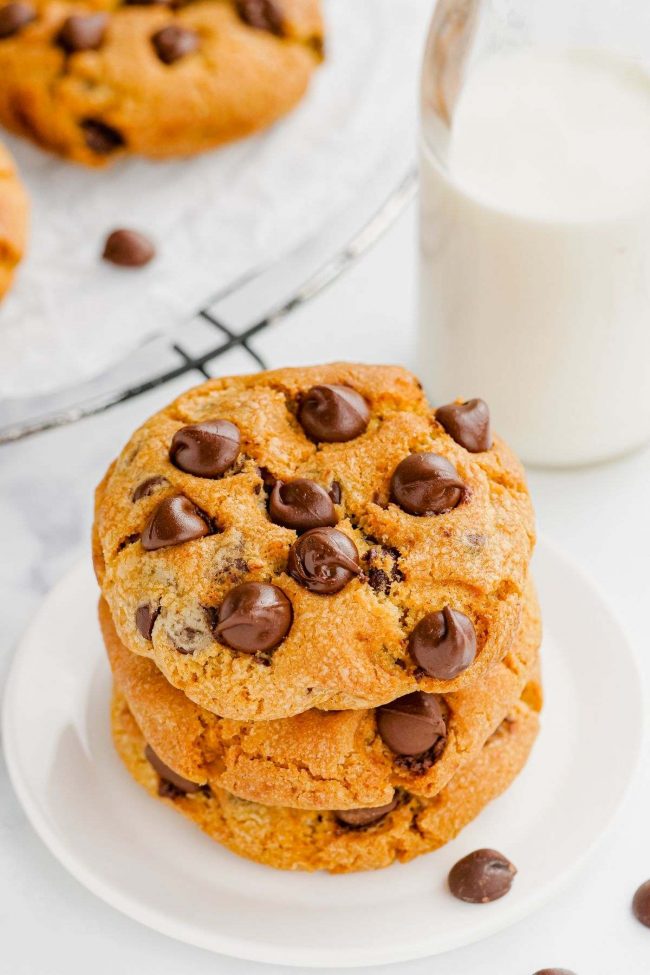 Air fryer cookie ingredients
You probably already have what you need for these cookies.
Unsalted butter or refined coconut oil for dairy-free vegan. I recommend refined coconut oil so that there's no coconut taste.
Granulated sugar
Brown sugar
Eggs or chia eggs for vegan
Vanilla extract
Baking soda
Salt
All-purpose flour or GF baking blend
Chocolate chips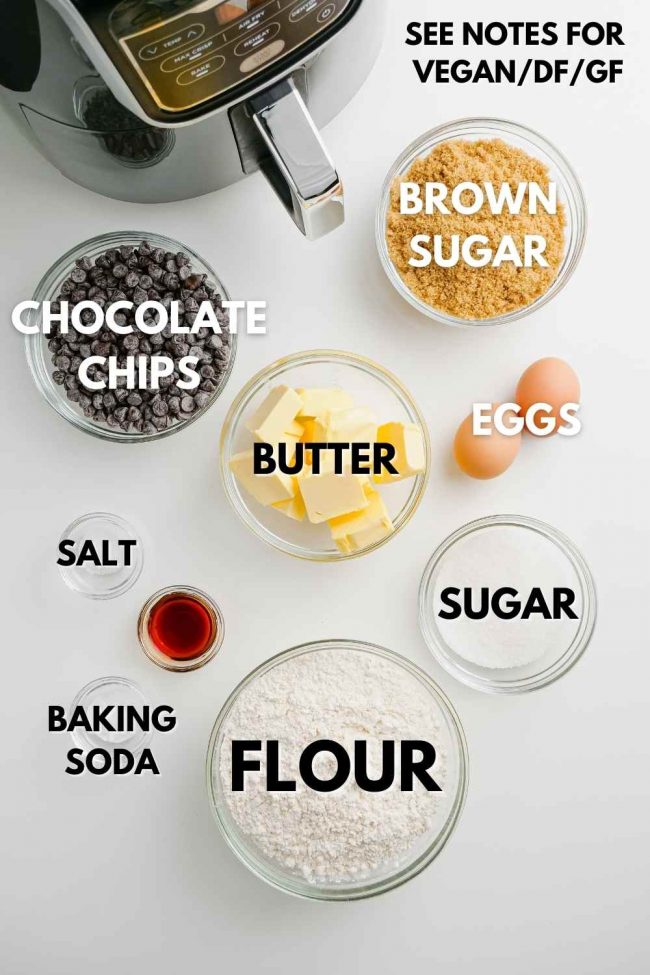 Why make air fryer chocolate chip cookies?
Before I owned an air fryer, I asked my husband, "Why would anyone ever make cookies in an air fryer? That's so stupid. People have lost their minds."
His response was something along the lines of, "Uh, portion control?"
So that "stupid" idea immediately turned into a genius one. If you're like me and have serious issues with not eating 3/4 of a batch of cookies in a day, this recipe is for you.
With an air fryer, you can just bake a few at a time and freeze the rest of the dough. Or you can refrigerate it for a day or two.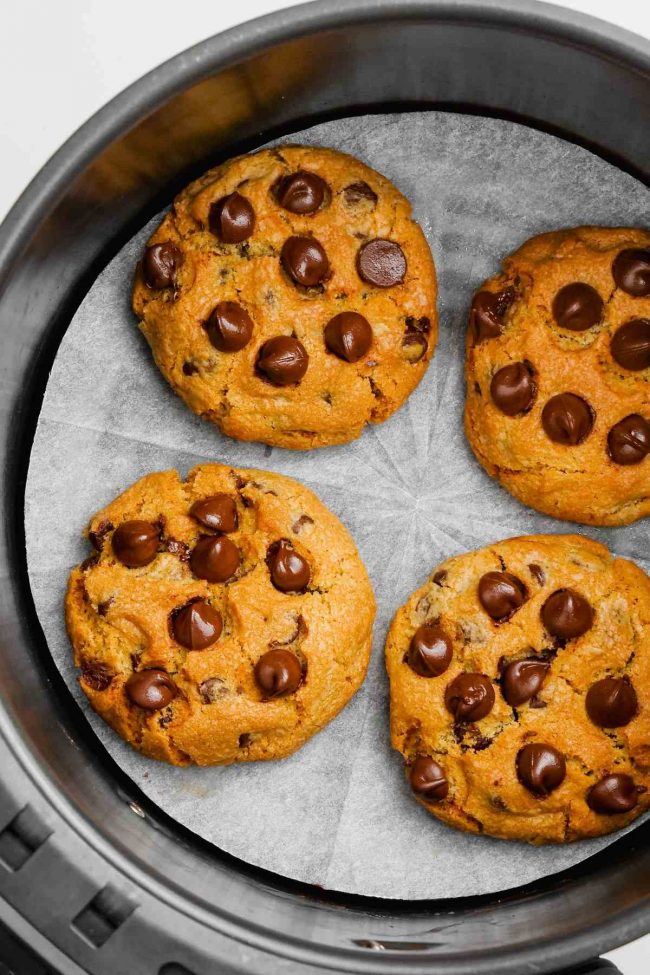 Here's another reason to use an air fryer to bake cookies – let's say it's summer, and you don't want to turn on the oven, but you need cookies. And not those sad mug cookies but actual cookies.
Or, you live without AC, it's 90 °F, and you can't turn on your oven if you don't want to heat up the whole place for days.
The air fryer preheats in just a minute – at least mine does. That means cookies QUICK!
Also, when recipe testing, I can test my cookies one at a time and not have the huge oven on for that. It is so darn energy efficient!
I am obsessed with this thing. And these cookies.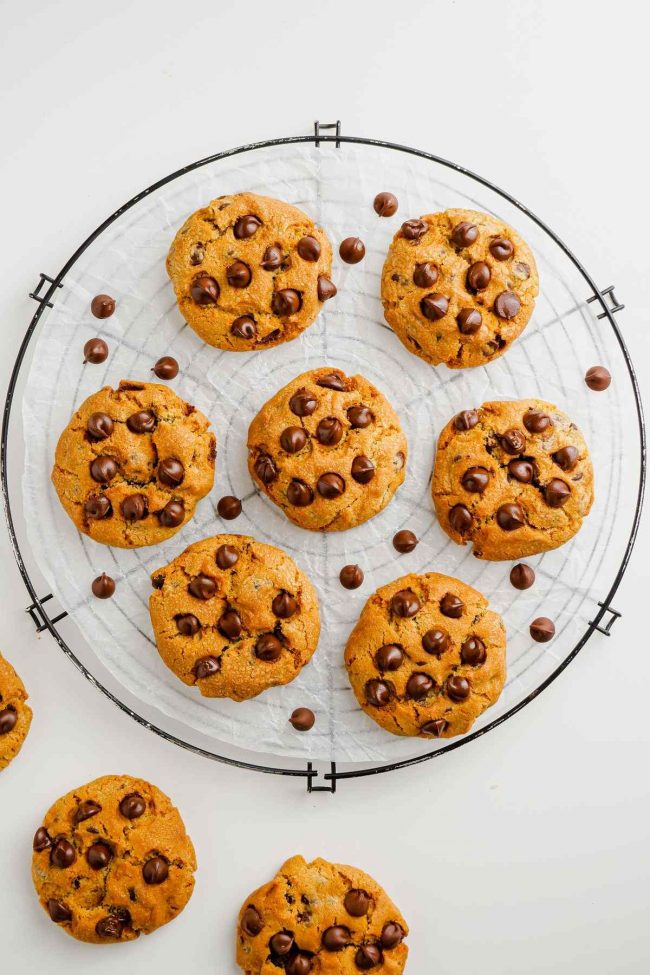 What air fryer I used
The air fryer you see in the photos is the Ninja Max XL Air Fryer.
Each 1/4 cup (75-gram) ball of dough was 3.3 in (8.5cm) after baking. They spread a lot. But I hope those numbers help you determine how many cookies to bake at once!
I think 3 is a safe amount.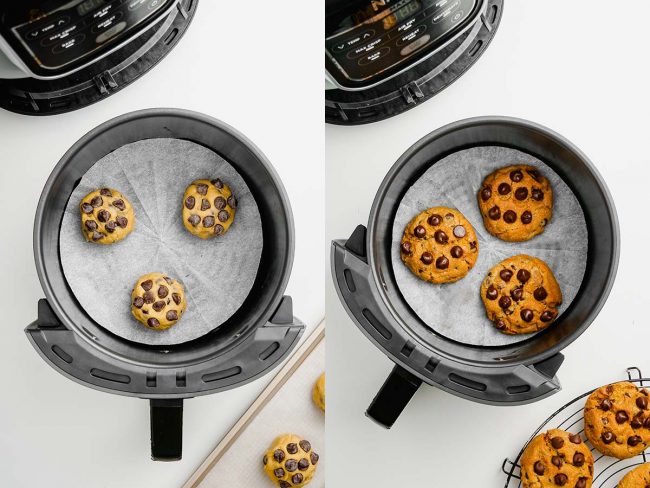 These cookies also work in the Ninja SP101 Foodi 8-in-1 Digital Air Fry.
I feel like I could be a salesperson for that machine. You can fit so much more food in there than a regular air fryer! It has air fry, air roast, air broil, bake, bagel, toast, and dehydrate functions.
It really preheats within a minute and the only reason I turn on my oven now is if I can't fit the pan in the Ninja. I bought it, promising my husband that I'd put it upright when I was done with it (another sales point), but we both use it so often that it just sits there all the time.
Also, I could bake nine cookies in there at once!
And if you're reading this post at Christmas time, check out these Air Fryer Christmas Cookies for an option that will free up your oven on Christmas.
If you don't need any dietary-friendly options, you can scroll down to the recipe now.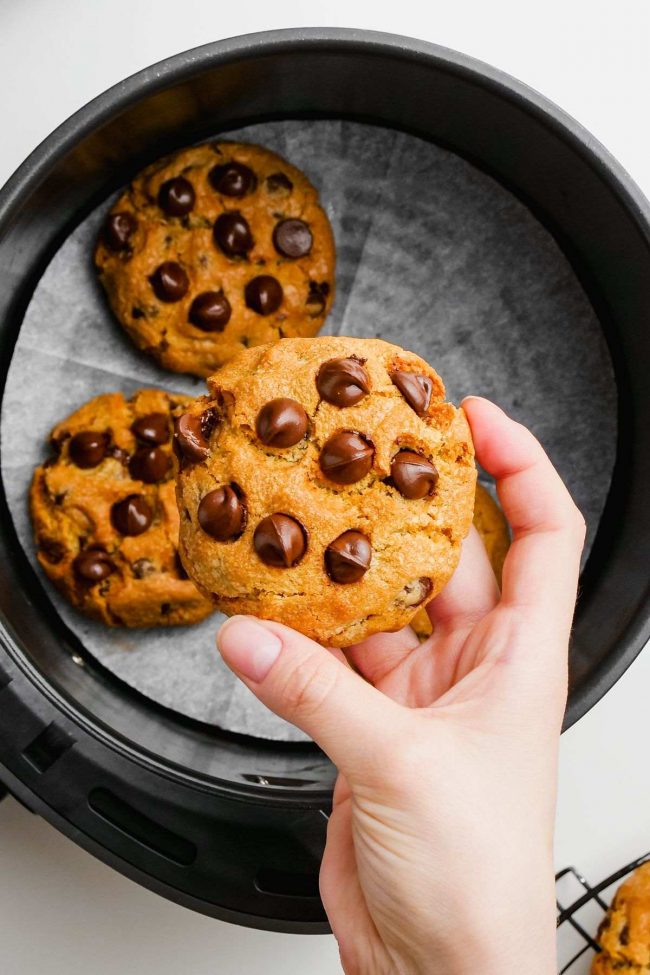 Sugar sub?
I tried the gluten-free version with coconut sugar and the cookies had a gritty texture. They didn't hold together quite as well as they should have.
I haven't tried an all-purpose flour + coconut sugar version so I haven't listed coconut sugar as an option. If you try it, please let me know in the comments how it works out!
I haven't tried making them with keto sweeteners and have no idea if they'd work well. I suggest finding an already keto or sugar-free free recipe! I can highly recommend these Almond Flour Chocolate Chip Cookies.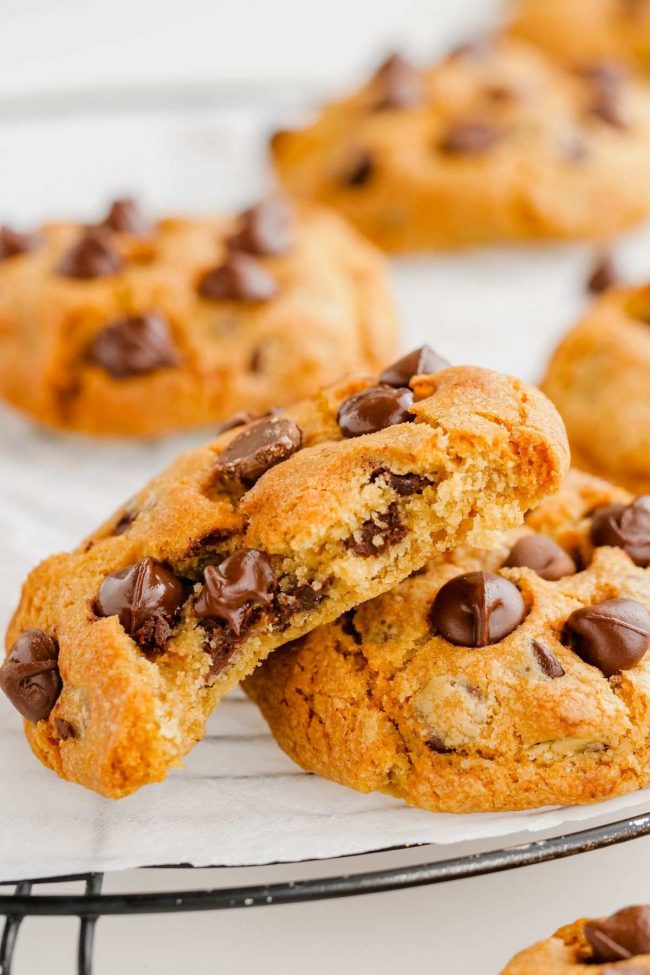 Gluten-free option
You can use Bob's Red Mill 1-to-1 Gluten-free Baking Flour in place of the all-purpose flour. The result is a bit sandy. If you want cookies that have 100% the same texture as a non-gluten-free version, this isn't them.
They're still super delicious, though! Just a bit sandy.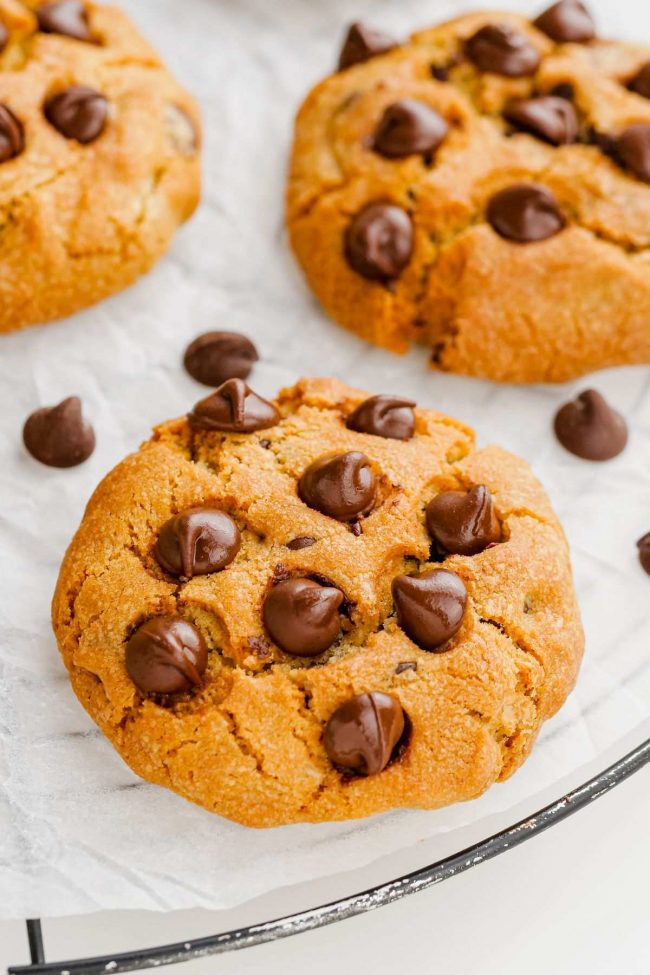 I don't believe you'd have better luck with a different type of gluten-free flour blend. And I can tell you for sure that buckwheat, oat flour, and other gluten-free flours won't work.
I like my gluten-free recipes to taste 100% like their traditional counterparts, so I came up with a paleo version that's actually better than the gluten-free version. I'll post that tomorrow!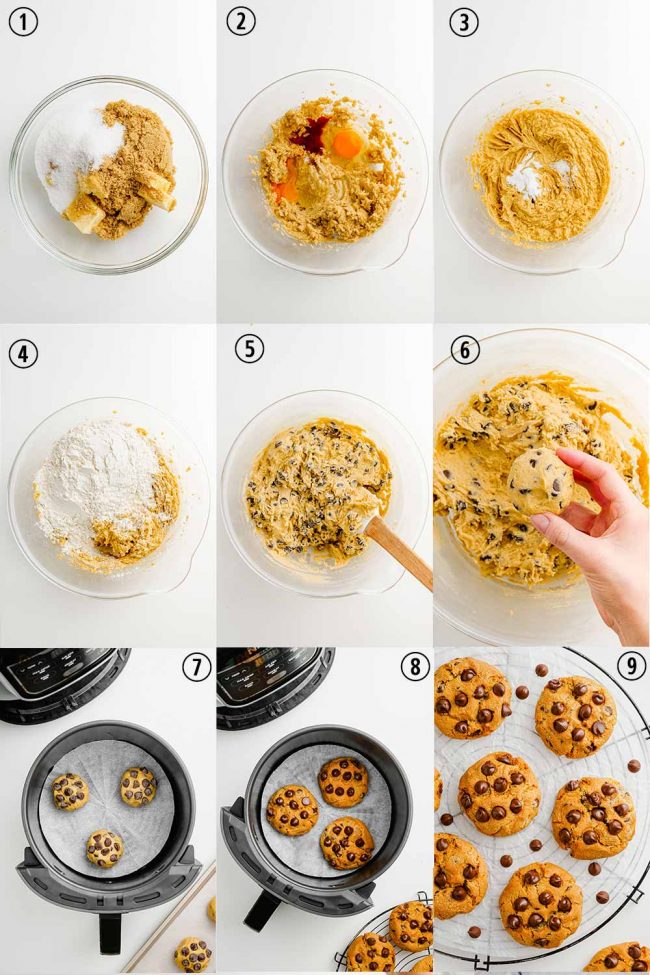 Recipe source
This recipe was adapted quite heavily from this Epicurious recipe. I used 1 cup less sugar (the cookies are still a normal sweetness!), 1 fewer egg, and 1/2 teaspoon less of both salt and baking soda. And I doubled the vanilla because… why not?
Those changes resulted in a chewier, thicker and more delicious cookie.
That's it! I hope you'll enjoy these air fryer chocolate chip cookies! If you make this recipe, I'd really love to see pictures of your creations on Instagram, Facebook and Twitter! Please hashtag them #texanerin so I can find them. :)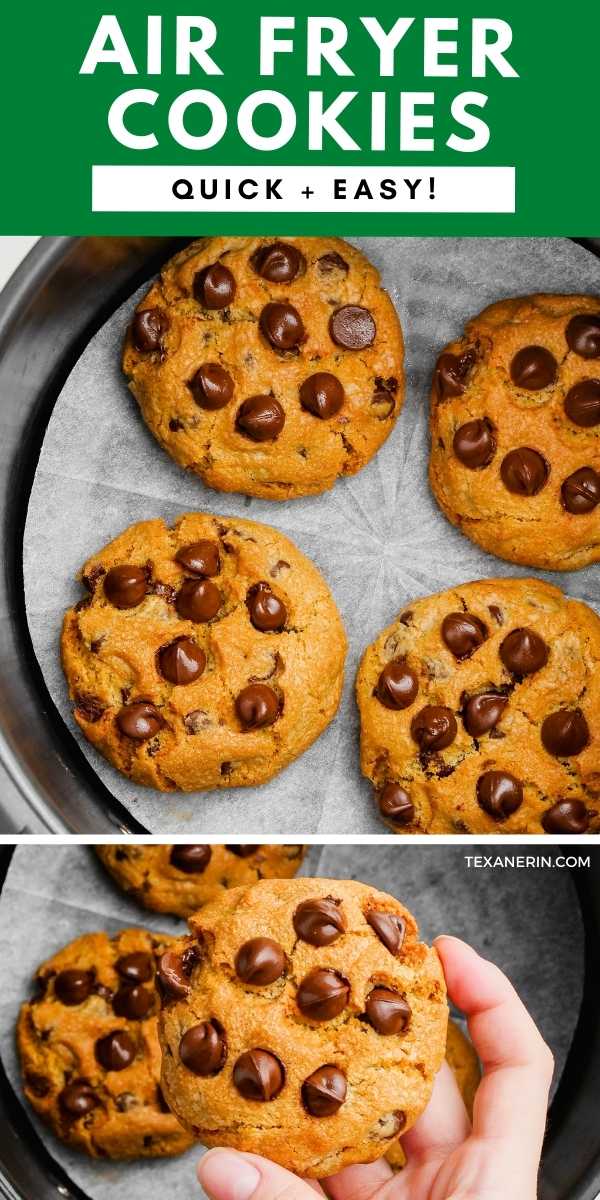 ❀
Air Fryer Chocolate Cookies (gluten-free/vegan options)
Prep Time:
Cook Time:
Ready in:
Yield:

17 big cookies
Ingredients
1 cup (225 grams) unsalted butter, softened or 15 tablespoons (210 grams) refined coconut oil, softened but not melted for dairy-free/vegan1
1/2 cup (100 grams) granulated sugar
1 cup (200 grams) brown sugar
2 large (50 grams each, out of shell) eggs, room temperature, or 2 chia eggs for vegan2
1 tablespoon vanilla extract
1 teaspoon baking soda
1 teaspoon salt
3 cups (376 grams) all-purpose flour or for a gluten-free version, use 3 cups (414 grams) Bob's Red Mill 1-to-1 Gluten-free Baking Flour3
2 1/4 cups (383 grams) semi-sweet chocolate chips, divided (use vegan chocolate chip, if desired)
Directions
Air fryer directions:

In a large mixing bowl with a stand mixer, beat together the butter, sugar and brown sugar until light and fluffy. Beat in the eggs and vanilla until well combined.
Sprinkle the baking soda and salt on top, beat until combined, and then add in the flour on low speed.
Stir in 1 3/4 cups of chocolate chips until combined.
Preheat the air fryer to 320 °F (160 °C). Place a piece of parchment paper in the basket (on top of a crisper plate, if you have one). I took a larger piece of parchment paper and wrapped it around the crisper plate, trying to tuck it well underneath. Then I also poked a few holes for better air circulation.
Form 1/4 cup (75-gram) balls and press the remaining chocolate chips on top.
Place in the air fryer. After baking, mine were 3.3in (8.5cm) wide so that should tell you how many you can fit.
Cook for 9-13 minutes or until lightly browned. The time will depend on your air fryer.
Let sit for 5 minutes or until soft enough to remove to a cooling rack. Store cooled cookies in an airtight container for up to 5 days. The baked cookies can also be frozen or you can roll the dough into balls and freeze those for up to 3 months.

Oven directions:

Preheat the oven to 350 °F (175 °C). Line a baking sheet with a piece of parchment paper.
Follow the above method to prepare the dough. Place 4" apart on the prepared baking sheet.
Bake for 12-16 minutes or until lightly browned around the edge.
Let cool completely on the baking sheet. Store cooled cookies in an airtight container for up to 5 days. The baked cookies can also be frozen or you can roll the dough into balls and freeze those for up to 3 months.
Notes
The coconut oil should be soft enough that it can be blended in with the other ingredients but should not be melted or even melty because then the dough will be very greasy.
To make the chia eggs for this recipe, mix together 2 tablespoons of ground chia seed with 6 tablespoons of water until well combined. Let sit for about 1-2 minutes or until goopy like regular eggs.
Please read the post concerning the texture of the gluten-free version!
Recipe adapted heavily from this Epicurious recipe