In December, we took a trip to US and Charleston was one of our stops. We also went to Savannah and New Orleans (which you can read about here). I wanted to show Mr. Texanerin the South and am so happy I picked those cities!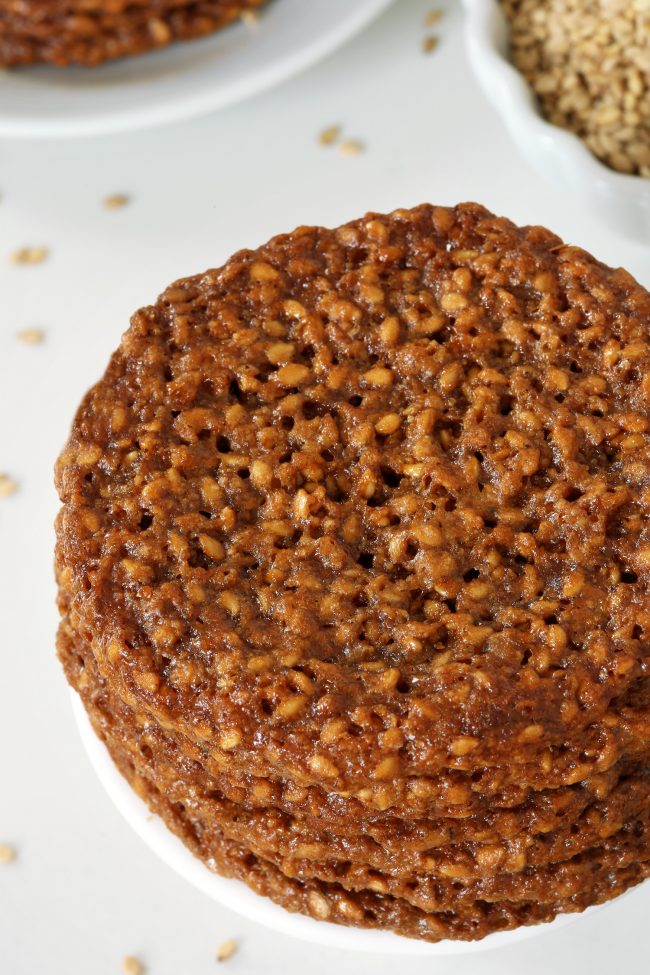 One of the treats we enjoyed in Charleston were benne wafers, or crisp sesame seed cookies, which are a specialty of the gorgeous coastal area of South Carolina called the Low Country. Sesame was probably first grown in Africa and brought to the US, along with sweet potatoes, peanuts, collard greens, black-eyed peas and okra, by slaves in the 17th and 18th centuries. Why are they called benne wafers? Benne is the Bantu word for sesame seeds, which were thought to bring luck.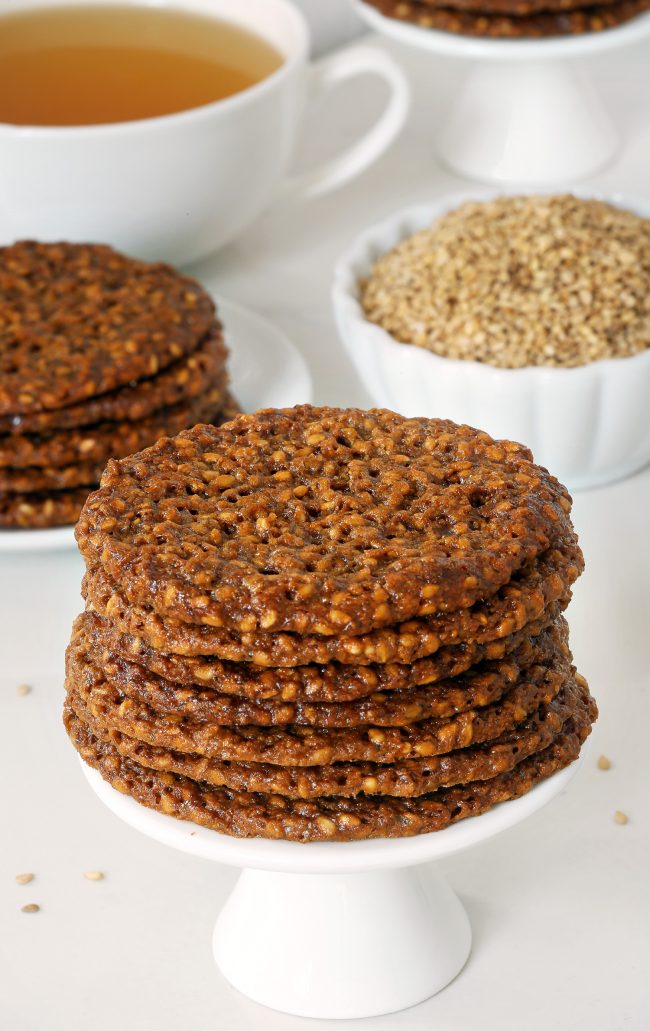 Benne wafers are thin and crisp. That's not usually my kind of cookie, and I'm not big on sesame seeds, either, but I actually thought these cookies were pretty addictive. I found a recipe on My Recipes that was pretty easy to make paleo. Just switch out the flour, sugar and fat and bam! Paleo benne wafers.
I used coconut sugar, but if you prefer dates, check out these black sesame cookies!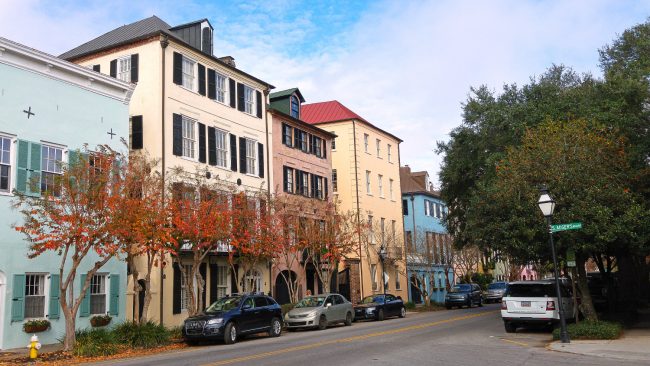 And now I'll tell you a bit the trip that inspired this recipe! Like I mentioned in my New Orleans post, the first thing we do in a new city is go on a free walking tour – the kind where you tip the guide at the end. We did one with Scott of Free Tours by Foot and loved him! He was super fun, knowledgeable and the tour gave us a bunch of great background info on Charleston.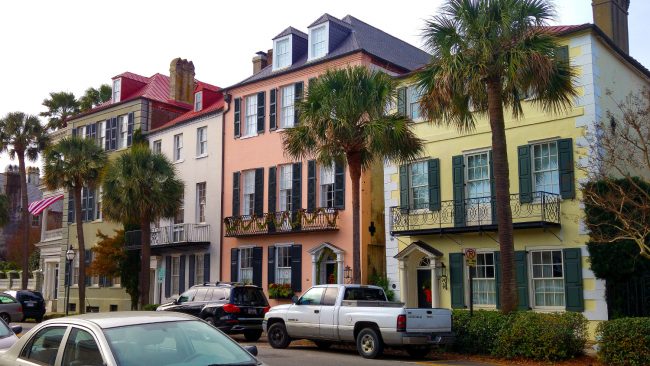 Before we discovered these tours, we'd just wander around cities on our own and not learn anything of the history. You get such a better understanding of a city after only a 2-hour tour, which is why we always make it our first stop.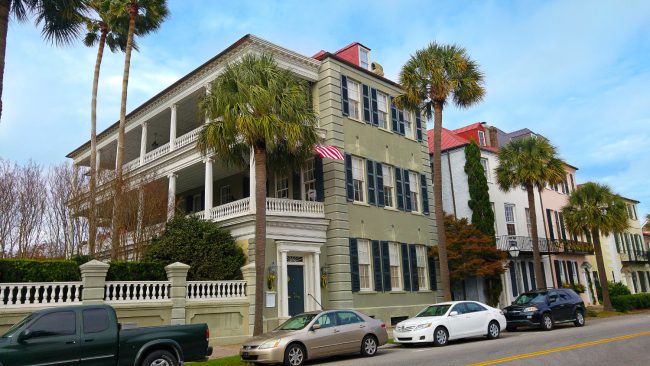 The architecture in Charleston is beautiful. If you don't want to do a tour, you could just walk around for hours looking at the pretty houses.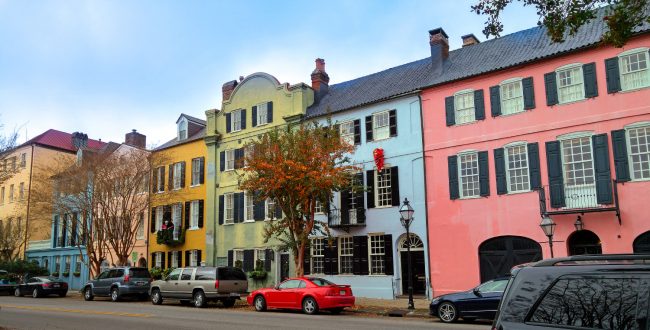 Above you see Rainbow Row, which is a series of 13 historic houses.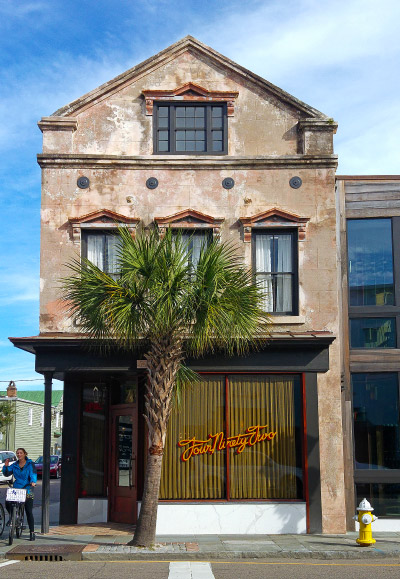 Is it weird that palmetto trees, one of South Carolina's symbols, make me happy?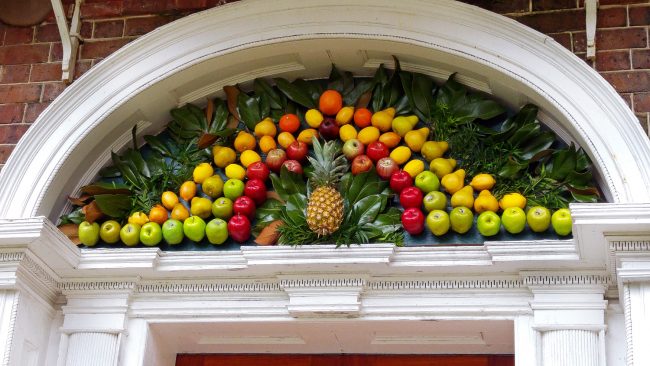 You'll see pineapples, which are a symbol for hospitality, everywhere in Charleston. Apparently they were all the rage in American colonies and hostesses who offered pineapple were proclaiming their affluence. We also learned that sea captains would spear a pineapple on a stick in front of their house to let others know that they were home.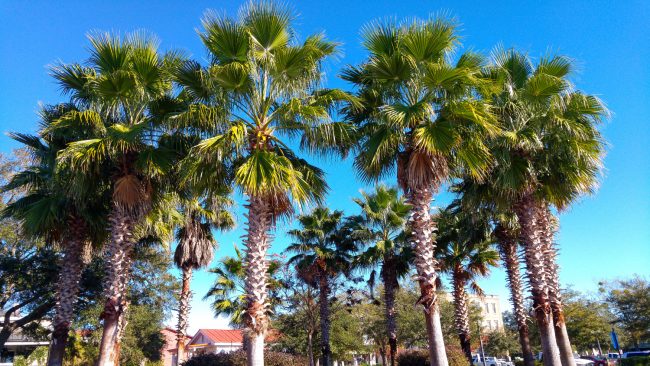 I feel like a lot of US cities don't have such an interesting history. Not all, but a lot of them. I mean, Dallas, for example, was founded in 1841. Nobody throw rocks at me, but I don't find its history very compelling. Charleston, though, was founded in 1670 and has a rich history and culture.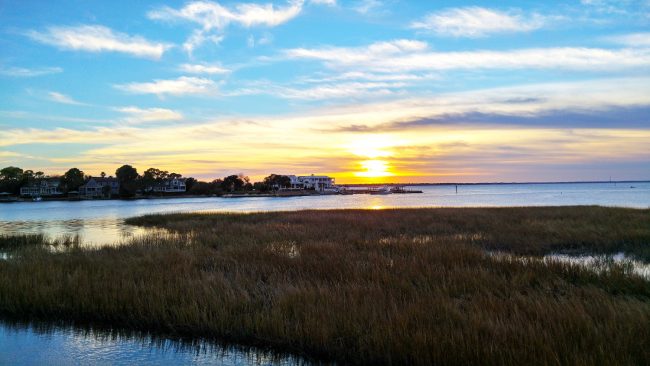 The reason we went to South Carolina was to visit Caroline of Chocolate & Carrots. Her family lives in Mount Pleasant, which is just outside of Charleston and has lovely beaches where we could watch the sun set!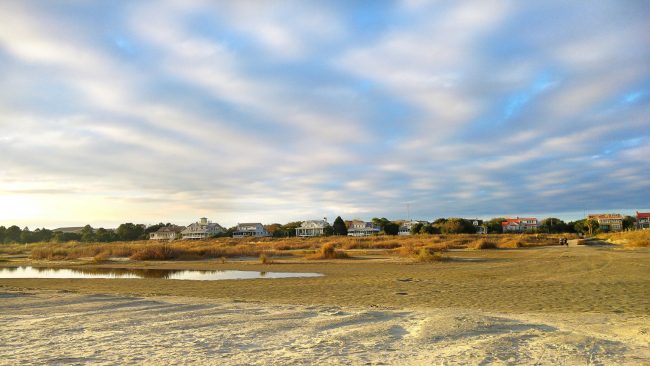 One night during our stay with Caroline, Mr. T and I went into Charleston and stayed at the Fulton Lane Inn, which is right on King Street – one of the main streets in town.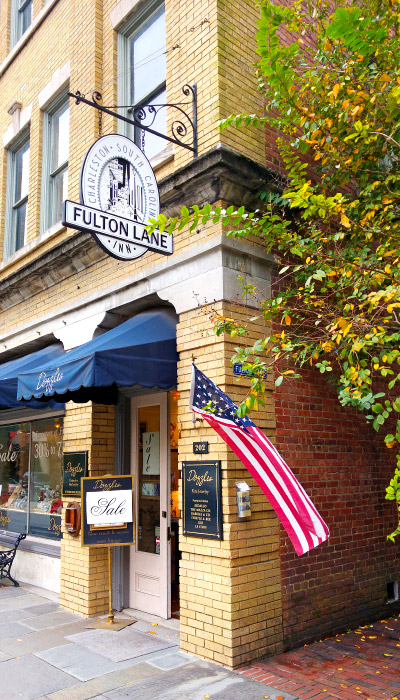 We had never stayed in such a central location and LOVED how convenient it was to everything. In the past, Mr. T and I would choose locations that are a bit outside of the city center to save some money. We're quite frugal travelers, I have to admit. ;) But staying here has spoiled us.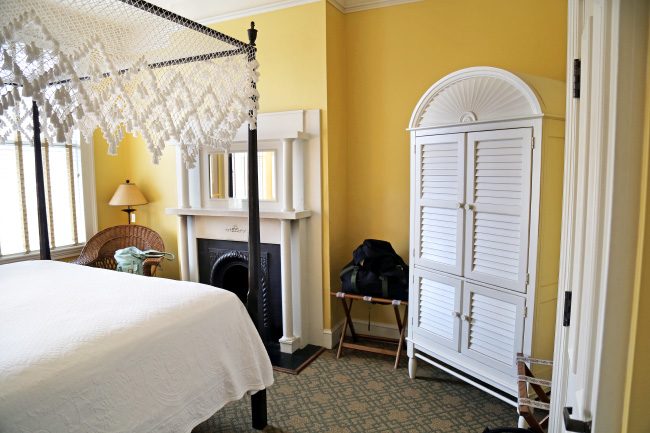 Our room was bright, spacious and comfortable. It even had a fireplace! Too bad that it was t-shirt and shorts weather, even in December. ;)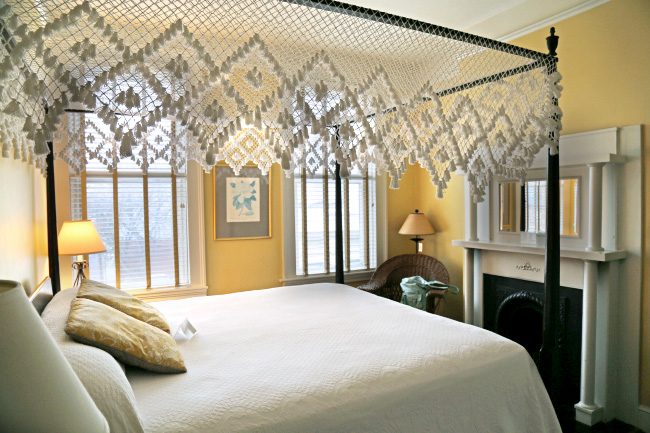 People were soooo friendly in Charleston and the staff at Fulton Lane Inn was no exception. Check-in is normally a straightforward, "Here's your key! Now be off!" kind of thing but Zane, who checked us in, was so happy to give us tips, talk with us and to be honest, he was really entertaining. If you're looking for Southern hospitality, then Fulton Lane Inn is for you.
Something that puzzled us were random people walking down the street asking, "How are you?" In Savannah, when we were out of the tourist areas, it was seriously like every other person who would greet us like that. We didn't know how to answer! "Do they really want to know?! Are we supposed to ask them how they are, too? Is it the same exchange you do at the grocery store?"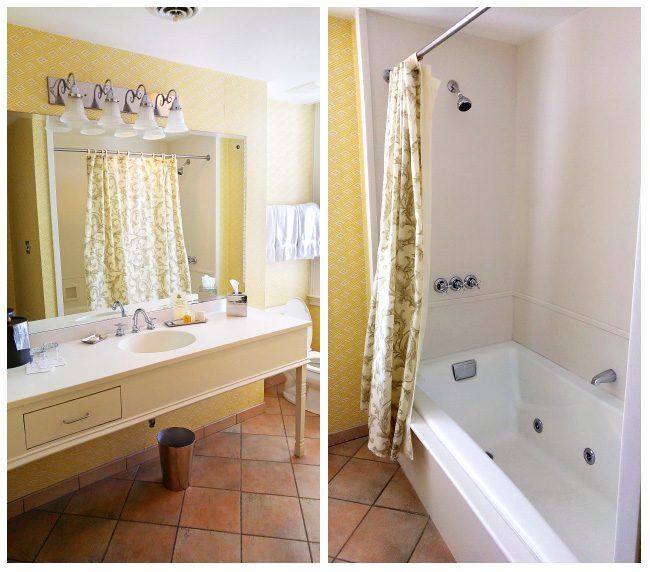 But back to the inn! The bathroom was huge. Like twice the size of your typical Berlin kitchen. :D And immaculate!
Every evening, they have a wine and cheese reception as well as evening sherry. We thought that was a fun way to meet others and get the evening started!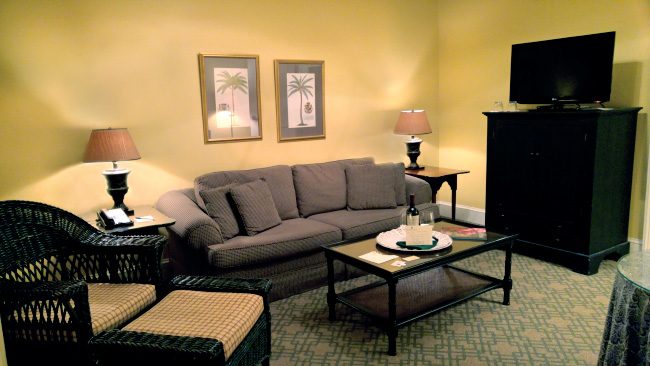 Our room even had a living room and a full kitchen. How cool is that?!
We normally love to have a kitchen but there's so much amazing food just footsteps away I don't know if you'll need it. Cooking was the last thing on my mind but it was pretty awesome to have a fridge and a microwave to reheat leftovers!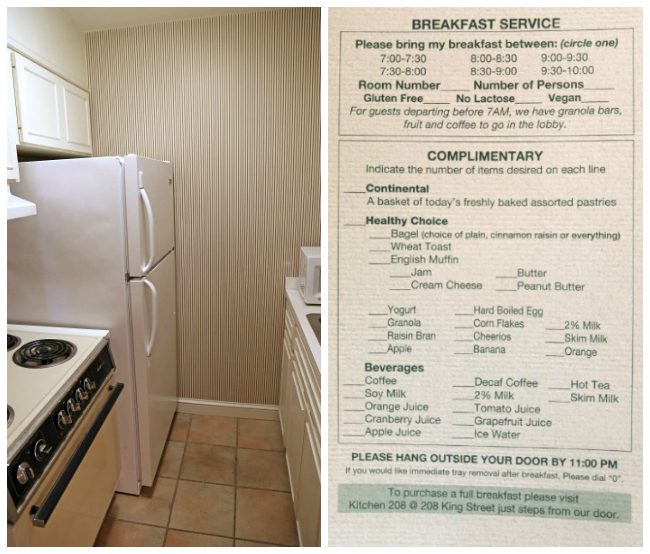 Something we thought that was really cool was the breakfast. The rates include complimentary continental breakfast, which you can order the night before using this card and they'll deliver it during your desired timeframe. You can even choose gluten-free, lactose-free and vegan! If you don't feel like eating in your room, you can walk next-door to their sister property to eat (it's the same menu, though, so I say let it be delivered and be cozy in your pajamas! ;))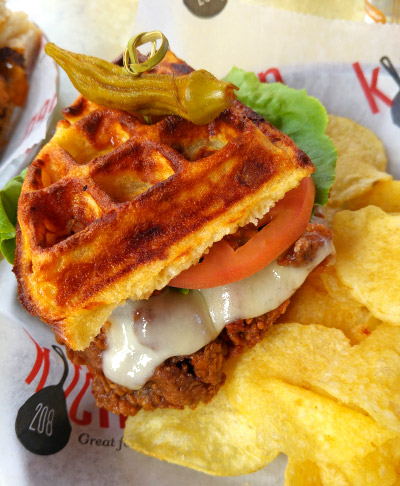 Another option for breakfast is Kitchen 208, which is also next-door, but the other way! When I saw the Belle Gem, which is buttermilk fried chicken on a bacon waffle, on their menu, I was sold. It was so, so good. I've read that they have an awesome brunch so be sure to check that out if you're there on the weekend!
It was such a great stay. We had no complaints and would love to go back when we're in the city again! Seriously, y'all, that location can't be beat! The cozy, charming rooms, the amenities and welcoming staff were just icing on the cake. :) Whether you're looking for a romantic getaway or a trip with family, I think it's an awesome choice.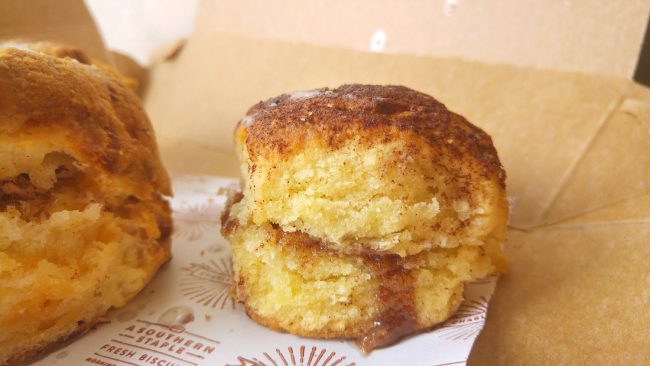 My only problem with Charleston is that there were too many amazing places to eat and so little time. This biscuit came from Callie's Hot Little Biscuit. We got three different types of biscuits for $5 and wished we would have gotten more! I sure miss biscuits. There's not even a word for them in German because they don't exist here.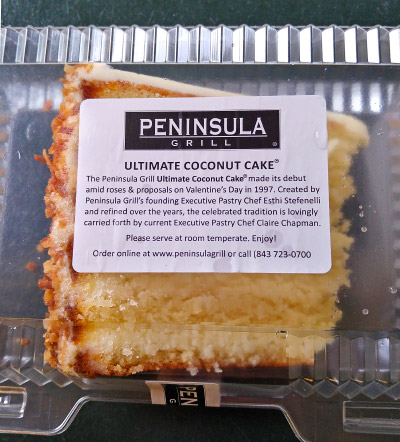 One thing I was super excited to try was the famous coconut cake from Peninsula Grill, a fine-dining restaurant. Mr. T and I can't imagine spending $100+ on dinner, but I had heard so much about this cake that I just had to try it. You can order it to go or to eat at the bar. But here's the thing – it was $13.95. For a piece of cake. We could have gotten two nice lunches for that price in Berlin! It was really yummy… but $13.95. ;)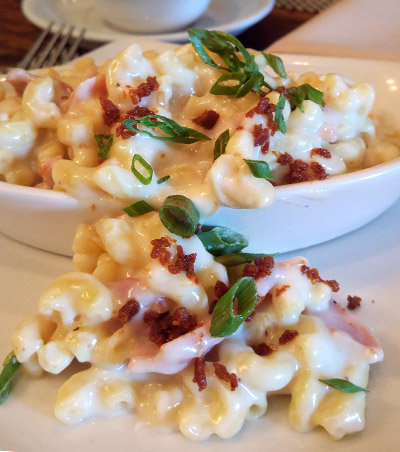 Poogan's Porch was great for lunch. When looking for restaurants with Low Country specialties, they stood out. We seriously thought about ordering every starter and a main dish. I really wanted to show my German that American food is a thing (not just hot dogs and hamburgers like so many Europeans seem to think) and that it's amazing. My favorite part was the smoked Gouda mac and cheese! And the biscuits.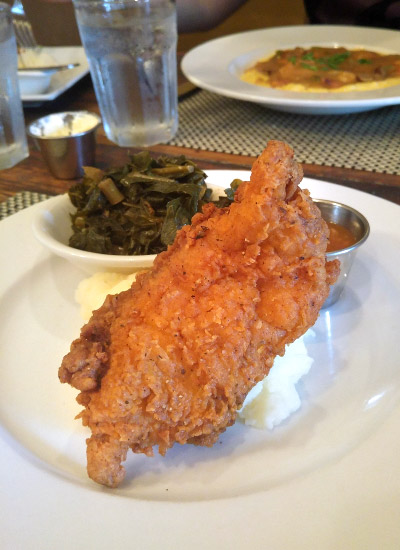 I do wish there had been more to my buttermilk fried chicken platter, though Mr. T's portion of shrimp and grits was very generous! He felt so incredibly full after eating that and a cup of she crab soup that we had to go back to the hotel and nap for a while.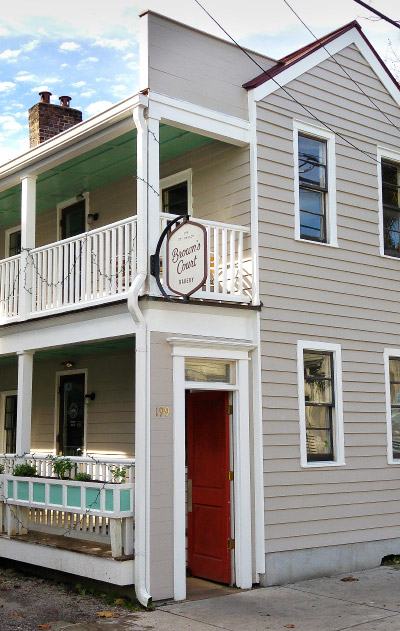 During our last few hours in Charleston, we visited 5 different bakeries. I had plans to write this great bakery guide to Charleston but we were disappointed in most of them. I don't want to badmouth any of them so I'll just tell you about the one that we did like!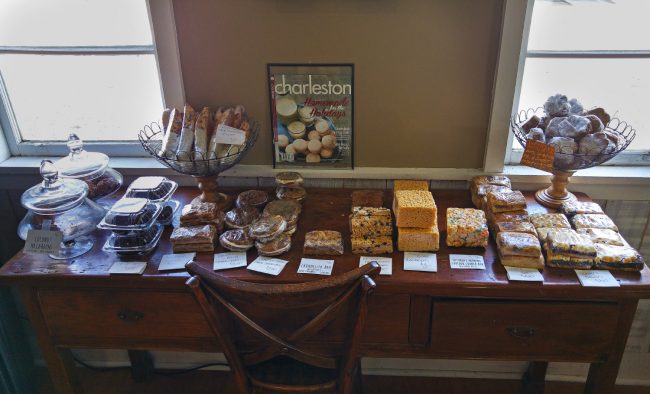 Brown's Court Bakery had a great selection of fresh pastries, bread and other sweets. They also had a section with pre-packaged homemade goodies that you could grab on-the-go. My favorite was the chocolate babka! We really liked everything we tried, though.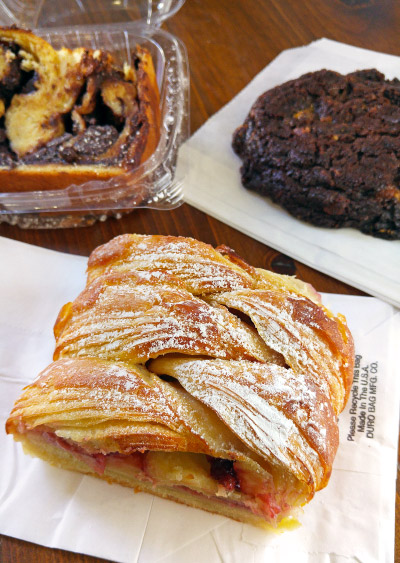 One day was definitely way too short for Charleston and we know that we'll be back. What are some of your favorite places in the city?
Thanks to Fulton Lane Inn and Charming Inns for hosting us! As always, all opinions expressed are my own. :)
❀
Paleo Sesame Cookies (grain-free, gluten-free, dairy-free with whole wheat option)
Prep Time:
Cook Time:
Ready in:
Yield:

24 cookies
Ingredients
1/2 cup (50 grams) almond flour or 1/2 cup (62 grams) white whole wheat or all-purpose flour (use almond flour for paleo)1
1/2 teaspoon salt
1/8 teaspoon baking soda
1 cup (200 grams) coconut sugar or brown sugar (use coconut sugar for paleo)
3 tablespoons + 2 teaspoons (51 grams) coconut oil2 or 1/4 cup (56 grams) unsalted butter, softened (use coconut oil for paleo)
1 large egg
1 teaspoon lemon juice
2 teaspoons vanilla extract
1 cup toasted sesame seeds3
Directions
Preheat the oven to 350 °F (175 °C) and line a baking sheet with a piece of parchment paper.
In a small mixing bowl, stir together the almond flour, salt and baking soda. Set aside.
In a medium mixing bowl, beat the sugar and fat with an electric hand mixer until light and fluffy. Add the egg and beat until well combined. Add the flour mixture, and mix just until combined. Stir in the lemon juice, vanilla, and sesame seeds. Drop by tablespoonfuls onto the prepared baking sheet about 4" apart (they spread a lot!)
Bake for 8-10 minutes or until lightly browned. They'll be soft when you remove them from the oven but will crisp up as they cool. Cool completely on the baking sheet and then put away in an airtight container. These get soft if left at room temperature. Will stay crisp for at least 4-6 days.
Notes
If you use white whole wheat or all-purpose, these will come out looking less like lace cookie-like.
I like to use refined coconut oil, which doesn't have any coconut taste.
You can toast them in a dry skillet over medium heat. About 3-5 minutes should do it, while stirring occassionally, or until lightly browned. You can also bake them on an ungreased baking sheet for 8-10 minutes at 350 °F (175 °C). Keep a close eye on them to make sure they don't burn!
Adapted from Benne Wafers on My Recipes