This paleo ice cream doesn't taste at all like coconut, has a strong vanilla flavor, with hints of caramel from dates, maple syrup and cashews. It's no-churn – all you do is blend and freeze! It's also vegan and dairy-free.
I've never really loved any paleo vanilla ice cream – until this one!
The recipes I've tried were too icy and not flavorful enough for me. And they had way too much coconut flavor.
I don't want coconut-flavored vanilla ice cream, so I added cashews. And dates. And maple syrup. All that goodness kills off the coconut flavor.
It still doesn't taste exactly like traditional vanilla ice cream. But it's still incredibly delicious.
I sent this recipe to a reader, Holly, last year. She had asked if I had a good vanilla ice cream recipe the previous year or maybe even before that, and so I sent her the recipe as soon as I had it. When I finally posted it a year later, she said, "Thanks to you I've been making this ice cream on regular rotation for my family. This is waaaay better than anything I've ever bought or made by far. So rich and creamy and tastes like pure vanilla ecstasy!"
So there you have it. From someone who isn't me. ;) It really is good stuff!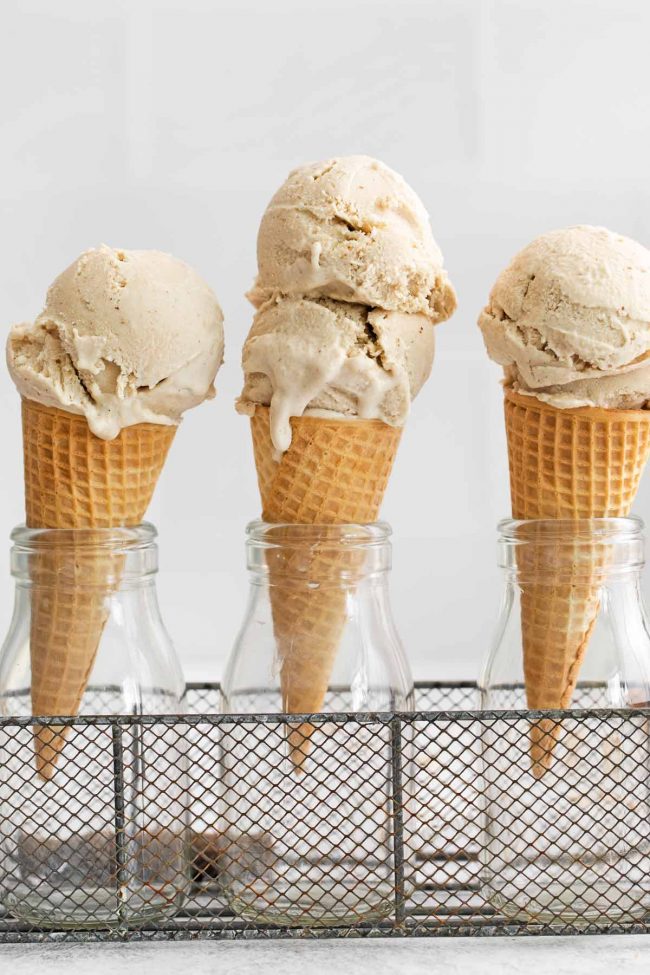 High-speed blender vs. food processor
To make it, you don't need an ice cream maker, but you do need a high-speed blender. It might work in a food processor, but I'm not sure you could get the cashews 100% obliterated.
I think if you soak the cashews and the dates, it'd probably work if your food processor bowl isn't huge.
Can I use an ice cream maker?
I tried it out with one and there was no difference between the no-churn and churn versions.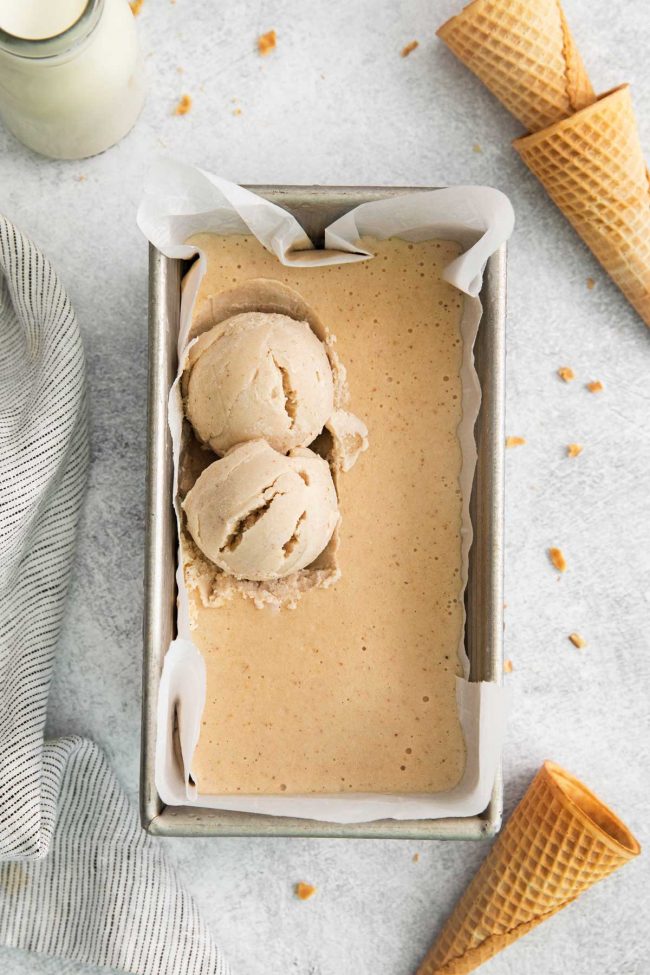 Needs to defrost after freezing
The one downside of this recipe is that it's too hard to scoop from the freezer. A real bummer, but it's so tasty I had to share it, anyway.
My Vegan Gelato also uses dates and coconut milk and is so silky smooth, and you can scoop it from the freezer.
The chocolate recipe doesn't have cashews like today's recipe but does have dates, so that seems to be the difference.
But the taste without the cashews in this paleo ice cream wasn't nearly as good. So we'll just have to live with defrosting the ice cream. It's worth the trouble. ;)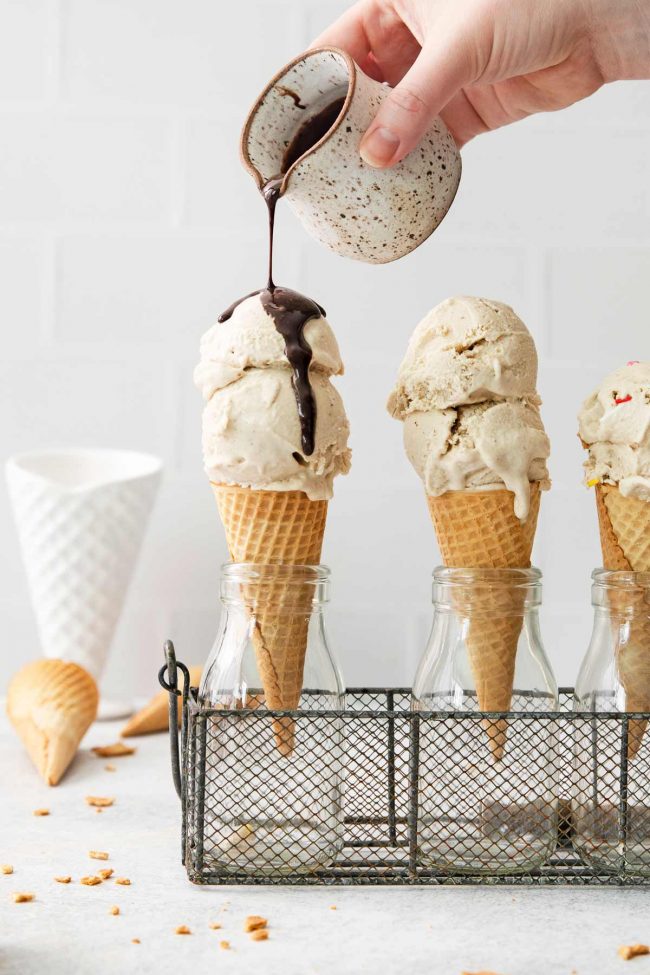 Super rich vs. regular versions
One version, which is what you see in the photos, calls for 1 full can of full-fat coconut milk plus an extra 3/4 cup of coconut cream. That's what I got from 1 can of full-fat coconut milk that I had chilled overnight.
The ice cream is actually creamier than what you see in the photos. Instead of just scooping soft ice cream into a bowl or ice cream cone and then taking photos, photographers freeze individual scoops of ice cream until hardened. That gives them more time to take their photos before it starts to melt.
The photographer was pretty quick with the photos, which is why the scoops look so frozen and hard.
But this version is a little icy. I don't like having any iciness at all in my ice cream, so my preferred version omits all the water in the can of coconut milk. And reduces the maple syrup amount by 4 teaspoons.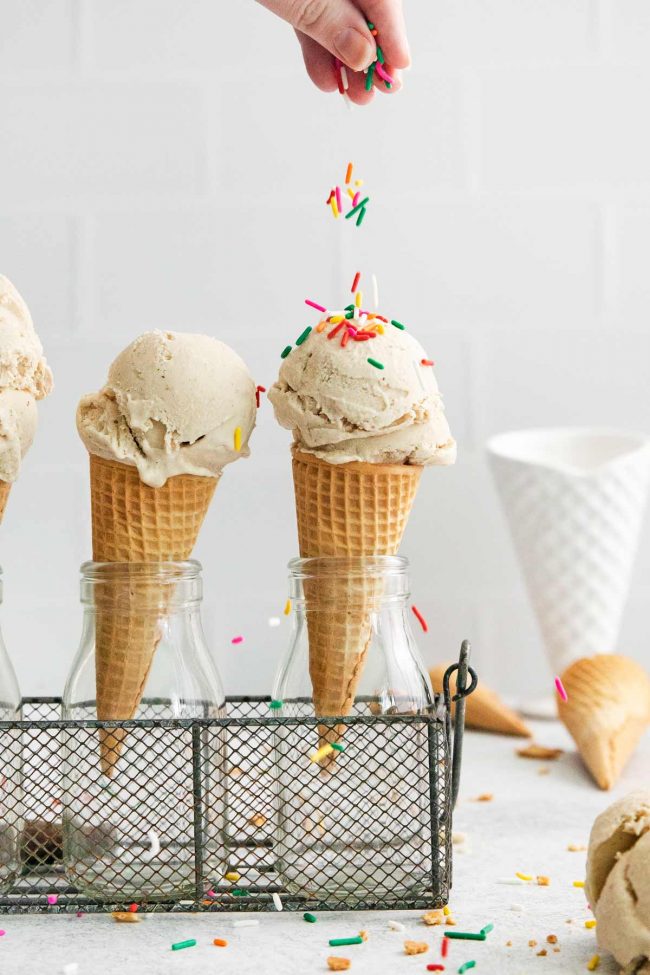 That makes the second version pretty much just sugar and fat (healthy fat, though!), but in my opinion, it's so, so much better.
However, I know not everyone likes super-rich ice cream when it's insanely hot and you already feel blah, so both versions are in the recipe box below.
If you make the rich version, try some after blending. If it's too over-the-top for you, simply add part of the remaining coconut water that's in your can of coconut milk. And if you used canned coconut cream and not a can of coconut milk, meaning you don't have leftover coconut water, you can add up to 1 cup (240 ml) of water or paleo milk.
And if you do love rich ice cream, you should really try my Healthy Peanut Butter Ice Cream. I always make it with sunflower seed butter for a paleo version!
There's also a paleo version listed in my Black Ice Cream recipe, but that recipe yields ice cream that's a bit lighter than the peanut butter one.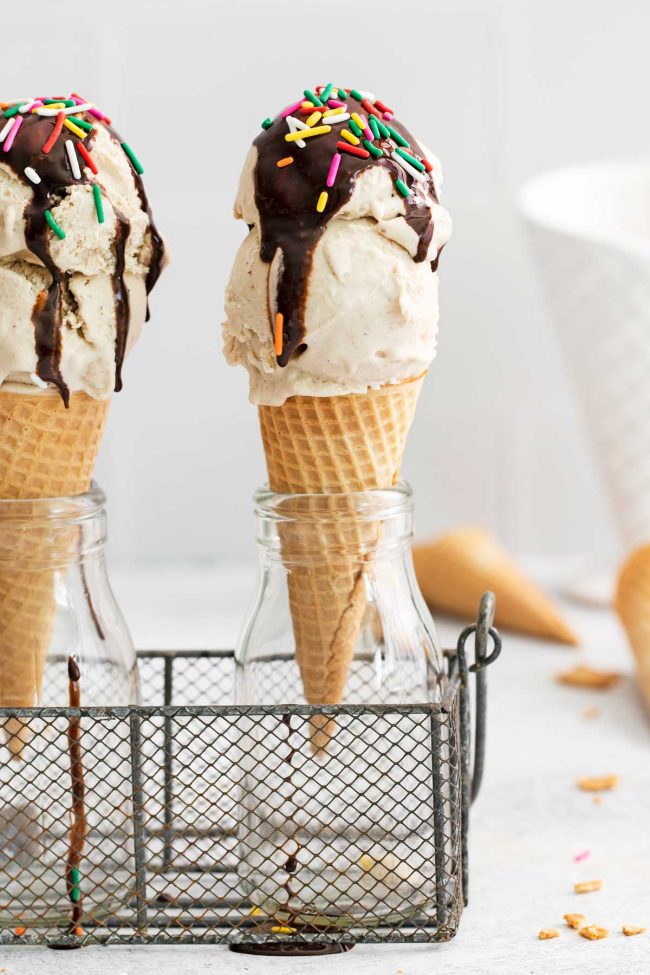 Can I make it keto?
It's not possible due to the dates, which can't be subbed or omitted. They're essential not just for the flavor but also for the texture of the ice cream.
Can I use something other than coconut milk/cream?
No, because nothing else is as thick as coconut milk/cream. Please don't attempt this with another type of milk.
"Sprinkles aren't paleo!"
I know. I was originally going to call this vegan ice cream, and the photographer added some sprinkles.
If you're paleo, there aren't any paleo sprinkles you can buy, but you can make your own homemade paleo sprinkles.
If you're vegan but not paleo, make sure your sprinkles are vegan!
I hope you'll enjoy this paleo ice cream! I'd love to hear what you think if you try it out. Thanks! :)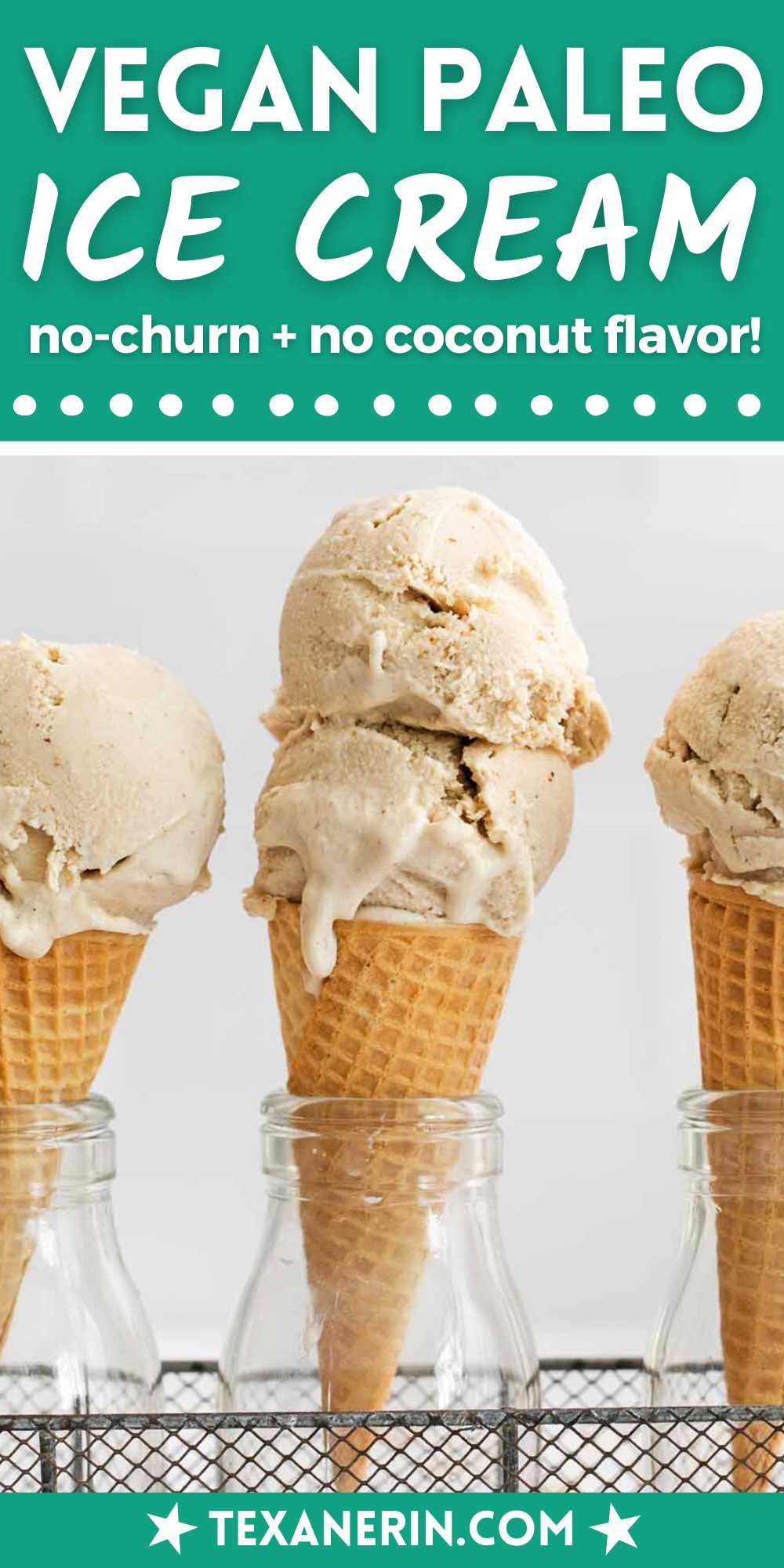 ❀
Paleo Ice Cream
Prep Time:
Cook Time:
Ready in:
Yield:

4 cups or about 3 cups if just using cream
Ingredients
3/4 cup (170 grams) coconut cream 1
1 1/4 cups (166 grams) raw cashews2
1/2 cup (80 grams) pitted dates
1/4 to 1/3 cup (80 to 107 grams) maple syrup
1 1/2 tablespoons vanilla extract or vanilla bean paste or the seeds of 1 1/2 vanilla beans
3/4 teaspoon sea salt
one 14-oz (400-ml) can full-fat coconut milk OR another 3/4 cup (170 grams) coconut cream for a much richer version
Directions
If your dates are dry and hard, you can soak them with the cashews. To soak the cashews, put them in a little pot and pour boiling water over them; let sit 5 minutes and rinse.
To a high-speed blender, add 3/4 cup coconut cream, cashews, dates, 1/4 cup maple syrup, vanilla and salt. If you find it hard to blend, you can add a little of the coconut milk, but if you add it all at once, it'll take a lot longer to completely blend the dates.
Blend on high until totally combined and no chunks of dates remain. This took me about 30 seconds.
Add the can of coconut milk or the additional coconut cream and blend for about a minute. If you used the full can of coconut milk (rather than just the additional 3/4 cup cream), add another 4 teaspoons of maple syrup. If you made the richer all coconut cream version, taste and if it's too rich for you, blend in coconut water, regular water or paleo milk (like unsweetened cashew milk) until it's your desired richness.
Pour into a freezer-safe container and freeze for about 4-8 hours (it depends on how thick the layer of ice cream is, the thickness of your container, your freezer temp, etc.)
Let thaw about 10-15 minutes before scooping.
Can be kept frozen for up to 3 months.
Notes
I put a can of full-fat coconut milk in the fridge overnight and got ¾ cup of coconut cream from that. You can use canned coconut cream if you want, but it should be very thick. Drain any liquid in the can. Make sure to use coconut milk/cream that doesn't have any stabilizers or weird stuff. That could prevent the coconut cream from rising to the top of the can.
Roasted and salted cashew also work, but then the ice cream has more cashew flavor. Omit the salt from the recipe and then add to taste.