These chocolate coconut flour cookies have an amazing texture, just like traditional cookies! This recipe is paleo but can also be made vegan as well as keto. Thanks to Bob's Red Mill for making today's post possible.
I was kind of sad once I posted my coconut flour cookies recipe because it meant that I was done testing them and no longer had an excuse to make them every week.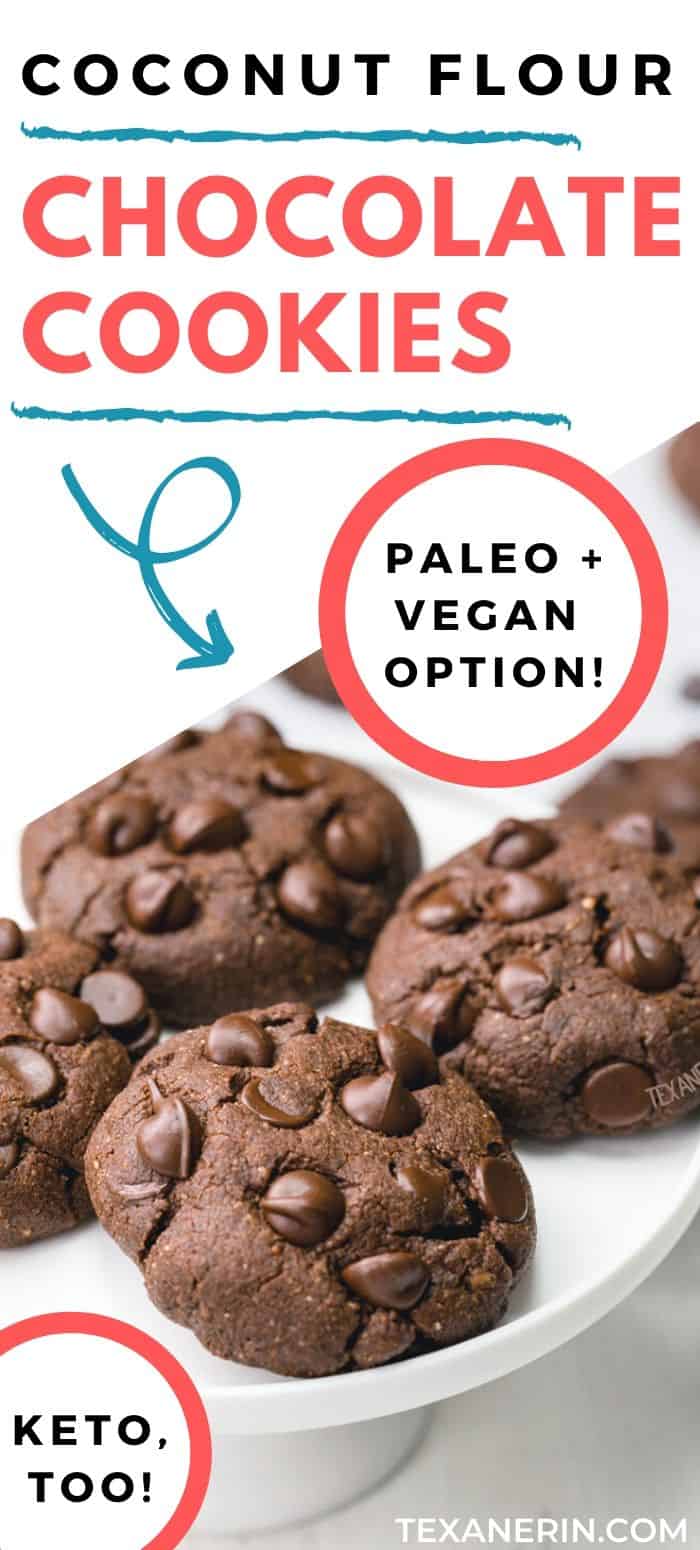 I think that's the only recipe that I've experienced that with. Not because the others are less delicious, but because I'm usually just so darn frustrated by the end of the process.
The cookies are so quick to make and I could easily make fourth batches, which is a lot simpler than making the same pie 14 times. Which is why I rarely post pies. ;)
So I figured that I'd make another version of those coconut flour cookies. It was a good excuse to make them a few more times. I added some cocoa powder, made a few other adjustments and, voilà, here we have these amazing chocolate coconut flour cookies!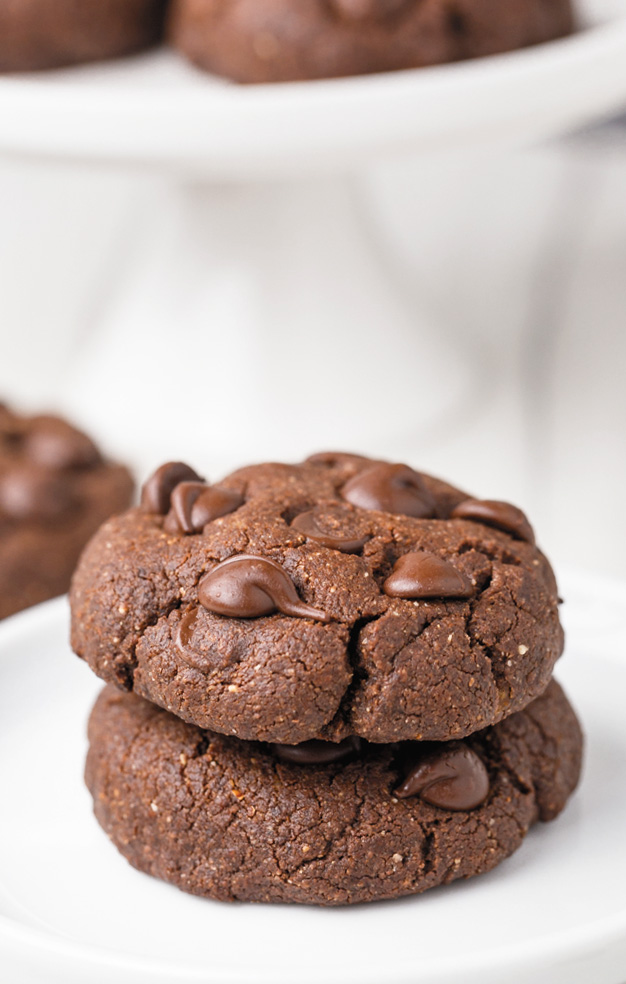 One of the commenters on the original recipe mentioned that her cookies didn't hold together and that she even weighed the ingredients. I was stumped as to what the problem could have been because I've made those cookies SO many times – both the regular egg and the vegan chia egg versions.
But then I checked out the reviews for the type of coconut flour she said she had used. Someone said that the coconut flour they had received was grainy and didn't absorb liquid the right way.
I don't know if that was the cause of my commenter's problem but it would definitely explain it! I've often had that issue with almond flour and sometimes coconut flour.
I used random German brands of coconut flour in those coconut flour cookies because I had run out of Bob's Red Mill. Since I live in Germany, I sadly can't just run to the store and buy more.
By the way, if you live abroad (which I know is a tiny fraction of my readers, but still!), you can order so much Bob's Red Mill stuff from iHerb at ridiculously low shipping rates. I actually got free shipping when I ordered two bags of coconut flour. I have no idea how it works but I'm not complaining. :D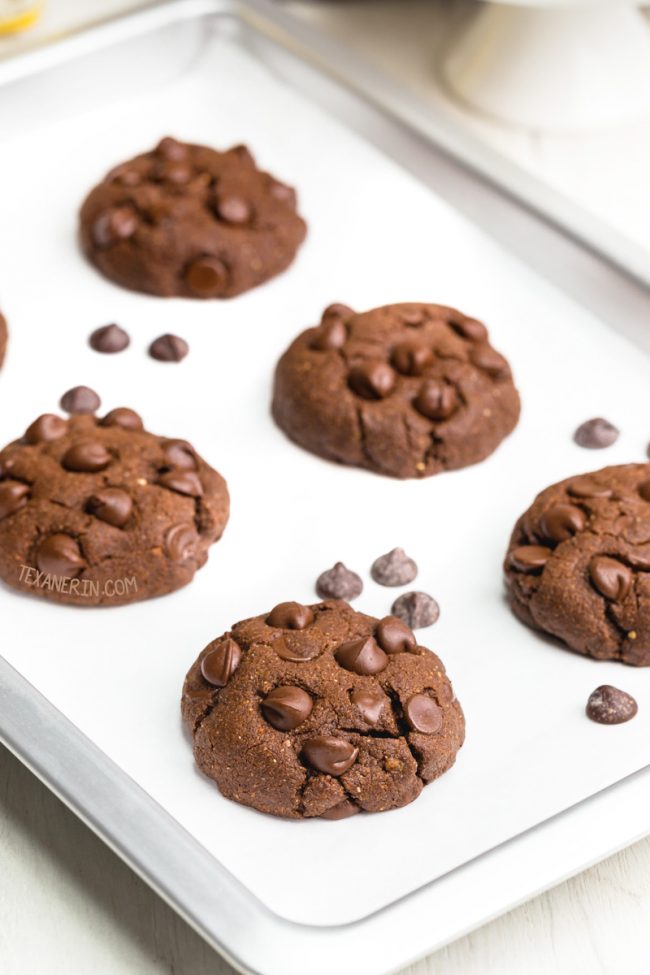 It's also where I order Bob's Red Mill Gluten Free 1-to-1 Baking Flour, which is hands down my favorite gluten-free all-purpose flour. I use it all the time, like in this gluten-free carrot cake or this gluten-free cornbread.
So I ordered some more coconut flour from Bob's Red Mill to confirm that the cookies held together well.
And they did! They had an amazing texture. You can definitely see the difference when you use other brands of coconut flour that aren't as powdery. Sometimes they're a little greasier or crumbly.
So I can definitely recommend getting yourself a bag of Bob's (you can get a $1 coupon for any of their products here) and making these cookies! And then my paleo coconut flour brownies, which are seriously just as delicious as the regular wheat- and dairy-based version!
I also tried out a keto version this time! My taste testers thought that they were really good but I want to point out that they weren't nearly as chewy as the coconut sugar version.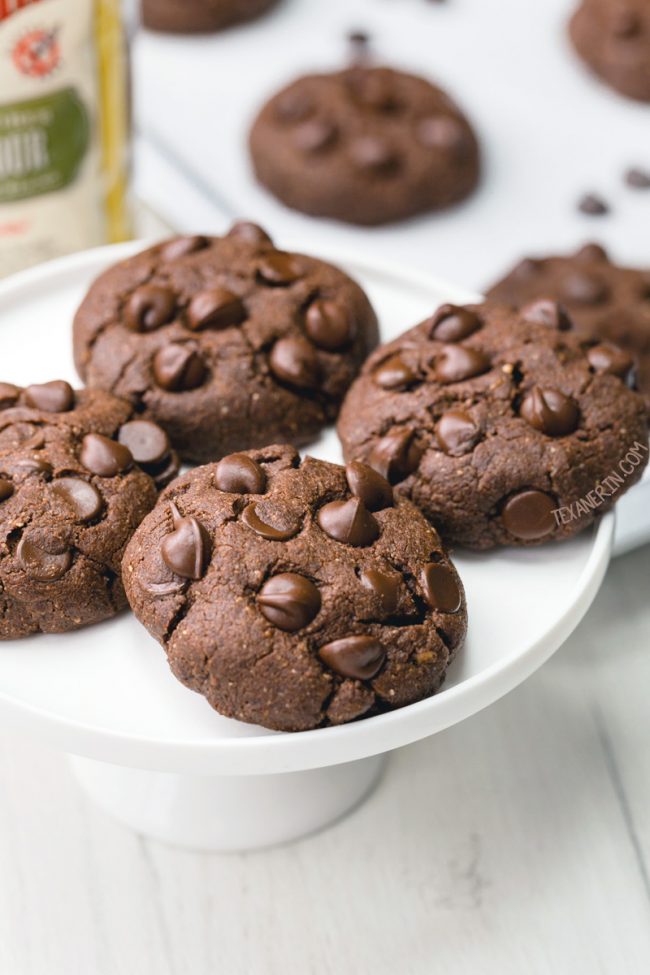 I also think they were best hot from the oven, which is a little weird because I thought the opposite for the coconut sugar version.
They also didn't really spread out. At all. So be sure to press those into shape!
If you're making these cookies for a paleo friend, ask if they're okay with sugar alcohols. I don't consider keto sweeteners to be paleo but some people do so be sure to ask to be on the safe side.
By the way, my body doesn't like keto sweeteners, which is why I've never offered a keto option before. It's not because I'm lazy or don't want to be helpful. :)
If you try these cookies out, I'd love to hear how you like them!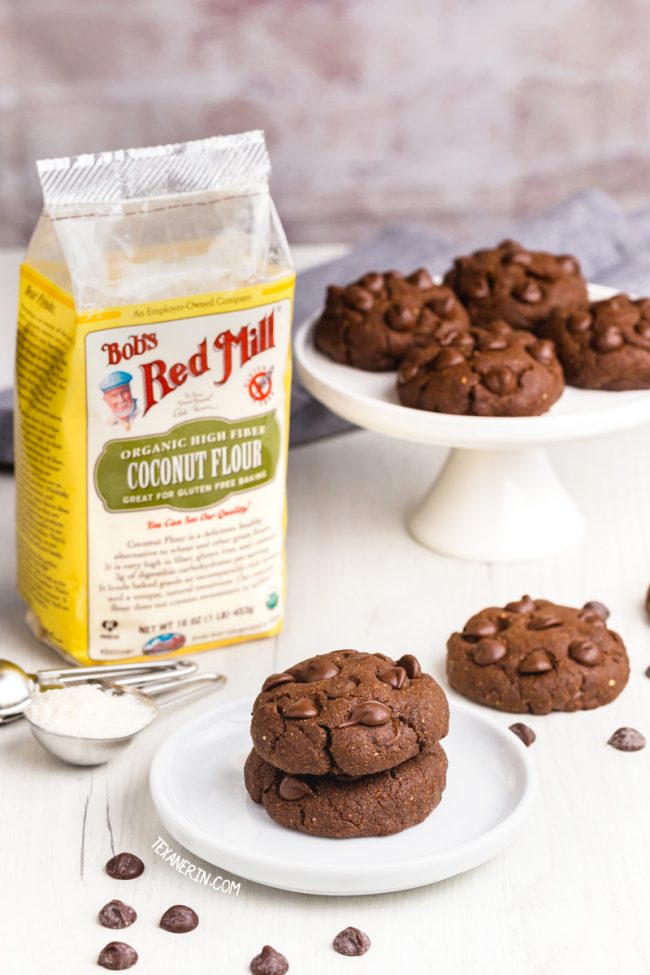 Substitution questions for these chocolate coconut flour cookies:
Can I add a whole egg instead of an egg yolk?

You could but the texture would be more cakey and might not hold together as well.

What can I use instead of the egg or chia egg?

Those are the only two I've tried. Coconut flour recipes are usually more finicky than wheat-based or even other gluten-free recipes where you can often use whatever egg replacer you'd like. Flax eggs would probably work, but I haven't tried.

Can I use something instead of coconut sugar or erythritol + monkfruit sweetener?

Brown sugar would work if you don't care about these being paleo. Using a liquid sweetener wouldn't work.

I've only tried the one keto option. I'm most definitely not a keto baking expert so if you want to try out another sweetener, I honestly have no idea how it'd work. I would love to hear how it goes if you experiment!

Can I use something instead of coconut flour?

Nope! There's no sub for coconut flour – especially in a recipe like this where it's the only flour and there's not just a tablespoon or some small amount.

Can I use X type of cocoa powder?

You can use any kind of unsweetened cocoa powder. I almost always use Dutch-process because I like the dark chocolaty taste but natural cocoa powder (like Hershey's unsweetened) or raw cacao powder should work, too.

Can I use butter / ghee in place of the coconut oil?

Butter will work. Based off of what people have told me, ghee should work (but I haven't tried it!).

Can I use something instead of almond butter?

For a nut-free version, you can use sunflower seed butter. I can't say for sure that these chocolate coconut flour cookies would come out as well as they did with almond butter. Whatever you use should be free of added fat and sugar if you decide to give it a try.

Can I freeze the dough / baked cookies?

Absolutely! Let the dough thaw overnight in the fridge. You can also freeze the balls and just add a few minutes to the baking time. The baked cookies only take about 10-20 minutes to thaw at room temperature.

Click below for a how-to recipe video for these chocolate coconut flour cookies! (if you're reading this from the newsletter, you have to visit the blog post to see it)

❀

Prep Time:
Cook Time:
Ready in:
Yield:

12 cookies

Ingredients

7 tablespoons (56 grams) Bob's Red Mill Coconut Flour
1/3 cup + 4 teaspoons (48 grams) Dutch-process cocoa powder
1 teaspoon baking soda
1/4 teaspoon salt
7 tablespoons (98 grams) coconut oil (must be solid, like room temp butter and not melted or the dough will be greasy)
3/4 cup (150 grams) coconut sugar, very tightly packed (it's best to weigh this) or 3/4 cup Lakanto Classic for a low-carb version
6 tablespoons (98 grams) natural almond butter (the kind with just almonds and salt)
1 1/2 teaspoons vanilla extract
1 egg + 1 egg yolk or 1.5 chia eggs for vegan1
1 cup (170 grams) semi-sweet chocolate chips (make sure to use low-carb or paleo chocolate, if needed), divided

Directions

In a medium mixing bowl, stir together the coconut flour, cocoa powder, baking soda and salt. Set aside.
In a large mixing bowl with an electric hand mixer or using a stand mixer, beat together the coconut oil, sweetener, almond butter and vanilla at medium speed until well combined, about 1 minute. The low-carb version might be a little crumbly at this point.
Beat in the egg and egg yolk on low and mix until well incorporated. Stir in the flour mixture until well combined. Then stir in 3/4 cup (128 grams) chocolate chips. Chill the dough for about 1-2 hours or until the dough is firm. If making the low-carb version, they might not need to chill.
Preheat the oven to 350 °F (175 °C) and line a baking sheet with a piece of parchment paper.
Roll the dough into 12 (54-gram) balls and place the remaining 1/4 cup (43 grams) of chocolate chips on the top and on the sides of the dough balls. Place 4" apart on the prepared baking sheet. Press the balls slightly down with the palm of your hand. If making the low-carb version, press the balls flat as they won't spread.
Bake for 10-13 minutes or until the surface of the center of the cookies no longer appears wet. They'll be very soft but will continue to cook as they sit on the cookie sheet.
Let cool completely on the baking sheet. They'll still be quite soft but will firm up after several hours, when they become kind of like brownie cookies (at least the coconut sugar version does - the low-carb version isn't as chewy). The coconut sugar version doesn't taste very good straight from the oven and needs some time to sit. The low-carb version, on the other hand, is best hot from the oven. Store in an airtight container for up to 3 days.

Notes

To make a chia egg, mix together 1 tablespoon of ground chia seeds and 2.5 tablespoons water. Let sit 5-15 minutes or until goopy like an egg. So for this recipe with 1.5 chia eggs, you'd need 1.5 tablespoons of ground chia eggs and 3 tablespoons + 2 1/4 teaspoons water.