This vegan eggnog is an amazing sub for traditional eggnog. It's cashew- and date-based, but it doesn't taste like it! The result is a super thick and luscious eggnog and adding dark rum adds even more fun.
I have an eggnog White Russian recipe coming up tomorrow, but I first wanted to share this vegan eggnog with you.
It's the same recipe as I posted yesterday, this Paleo Eggnog, but with less milk, fewer dates, and some added dark rum and maple syrup.
Don't want an alcoholic version? Just check out the paleo eggnog I just linked to. :) No need to keep reading here!
And if you read that post, you can skip most of this post (except the last 2 questions at the bottom) because the information on ingredients and how to make it is the same.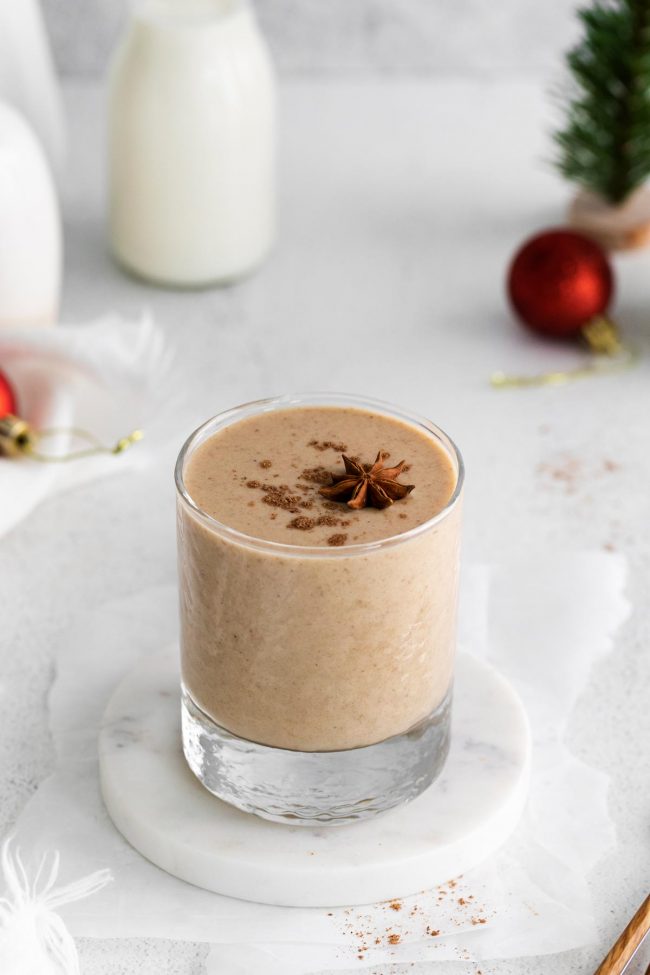 I wanted to make two separate posts because the drinks look a bit different. Also because I've gotten some comments about how it'd be easier to read the recipes if I didn't have so many options listed.
And finally – because I didn't want to include alcohol in a recipe with paleo in the title. I know cavemen weren't drinking alcohol.
Just as they weren't using coconut flour and almond flour that you find in so many paleo recipes. However, I don't need the paleo police after me. ;)
Like I said in my paleo eggnog post, I don't like eggnog at all. I never drink it.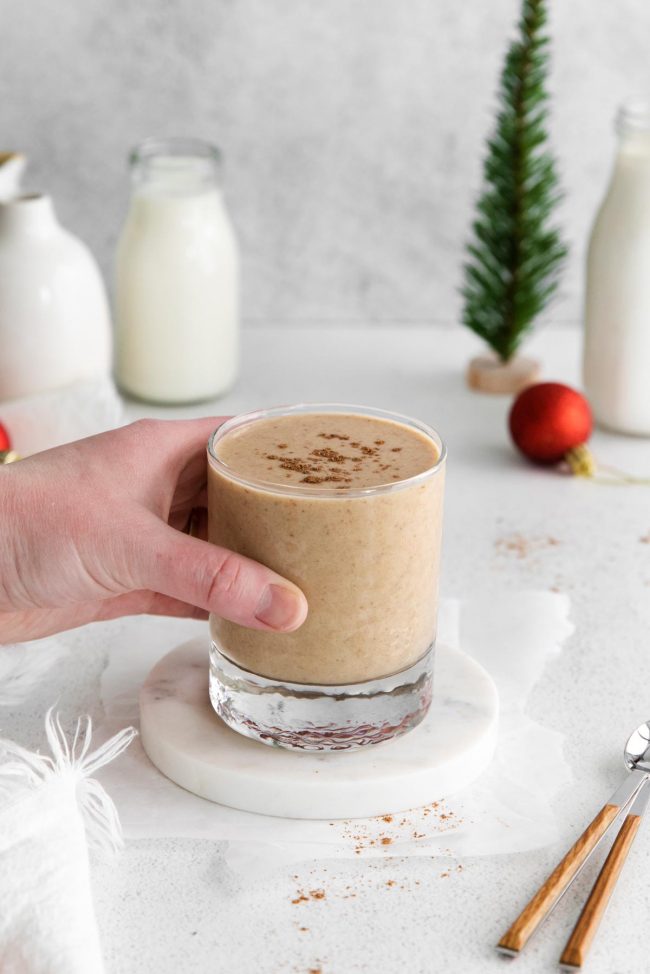 To me, it's bland and the eggs weird me out. But this I absolutely love. It's my new favorite Christmas drink!
Other than the rum and maple syrup, it only calls for healthy ingredients. Maple syrup isn't exactly unhealthy compared to sugar, but it's still sugar.
Cashews and dates?! Eh…
If you've never made cashew-based vegan treats before, you might be thinking that this sounds awful. I totally understand.
This was my experience the first few times I tried cashew-based sweets. But the problem was the recipes! They just weren't very good.
I'm not vegan, so know that if I post something vegan, it's every bit as delicious as a non-vegan recipe. And I think in this case, this eggnog is better than traditional eggnog. My taste testers agreed!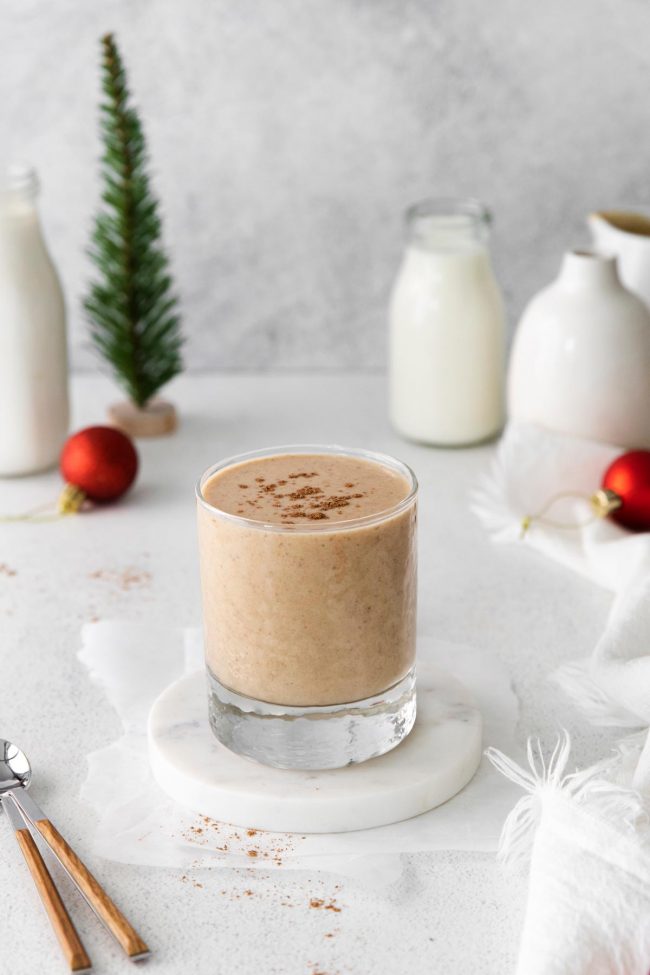 Ingredients:
Cashews – I usually use raw cashews but roasted cashews work, too. If using salted cashews, you'll likely need to omit the salt from the recipe. I do not think any other type of nut would work in this recipe.

A lot of vegan eggnog recipes call for tapioca or arrowroot starch to thicken the eggnog. I prefer to avoid starch if I can (although I use it quite often) and with this method, there's no risk of grittiness that you sometimes get from starches.


Pitted dates – I just used regular pitted dates, but if you want to use Medjool dates, that shouldn't be an issue.


Cashew milk – lately, I've been using cashew milk in my vegan recipes that need a sub for regular dairy milk. I love how creamy it is, and I much prefer the taste over almond milk.

But you can use almond milk or whatever milk you'd like! Just note that the taste of the eggnog will be different.

What you don't want to use is canned coconut milk. That is way too thick for this already thick drink.


Vanilla extract – you can use whatever form of vanilla that you like. But don't omit it! It adds a ton of flavor.


Cinnamon, nutmeg, salt – you can omit the cinnamon if you have to, but not the nutmeg, as it's what gives this drink its eggnog taste. And make sure to add the salt or the eggnog will be a bit flat.

If you try it and think something might be missing, it's probably salt! Just add a pinch more.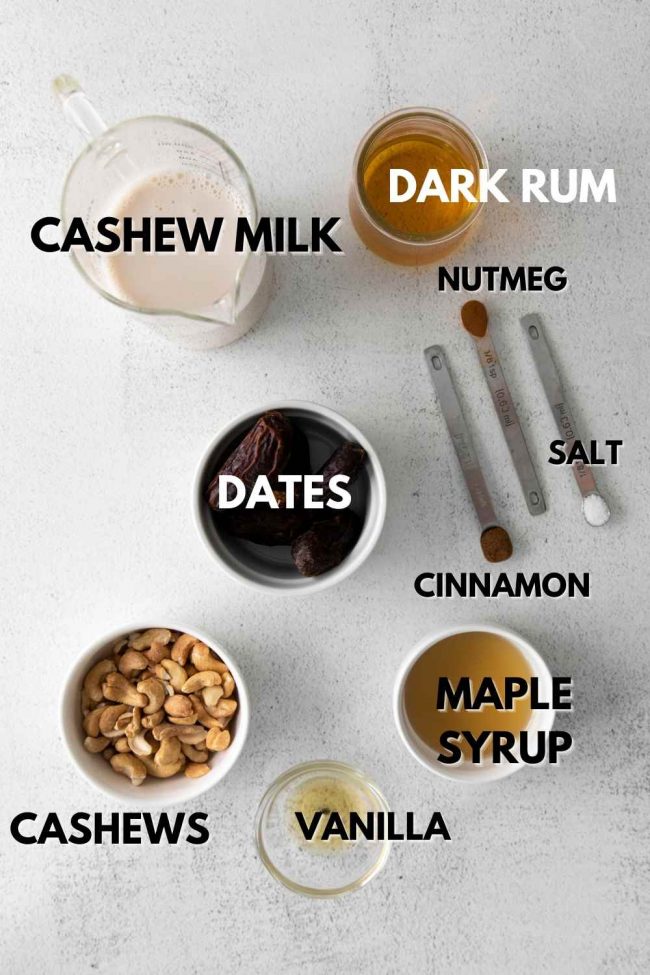 How to make it
First, soak the cashews and dates. That makes them easier to blend. Place the cashews and dates in a tiny pot, large mug, or some kind of dish into which you can pour boiling water.
Pour boiling water over the top. If you're in a hurry, you can just let them soak for about 5 minutes before rinsing and draining. But then you need another 1-2 minutes of blending.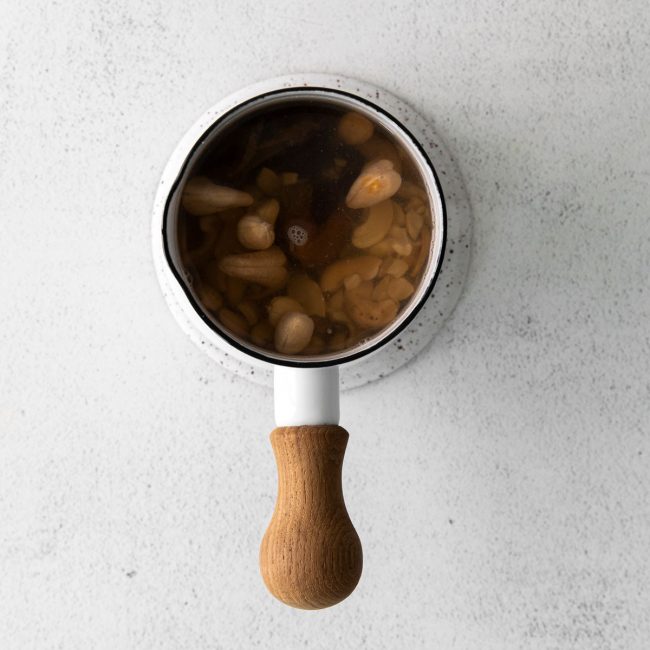 I like to let them sit for about 20-30 minutes so that blending is quicker. I live in an apartment and processing nuts in a Blendtec is a very noisy business that gets one of our neighbors really upset.
While the nuts and dates are soaking, add the remaining ingredients (using just a cup of milk) to the high-speed blender. And unfortunately, I think you really need a high-speed blender for this, like a Vitamix or Blendtec.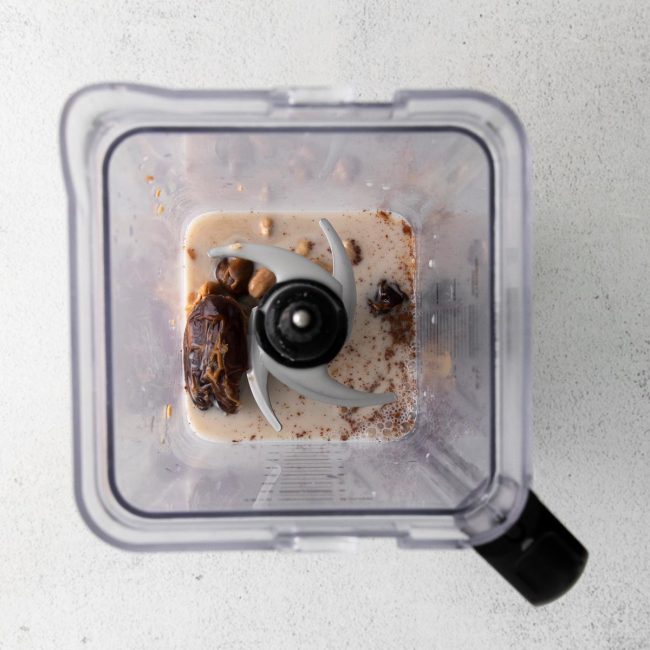 I don't think a regular blender would work, but I haven't tried it, so I can't be 100% sure. I would hate for anyone to destroy their blender or waste a bunch of ingredients!
I, unfortunately, don't have space for a normal blender (because – apartment life ;)) or I'd try it out for you! If anyone tries, please let us know in the comments how it works out.
And now you just blend until it's totally smooth. There shouldn't be any lumps. The result should be 100% silky smooth.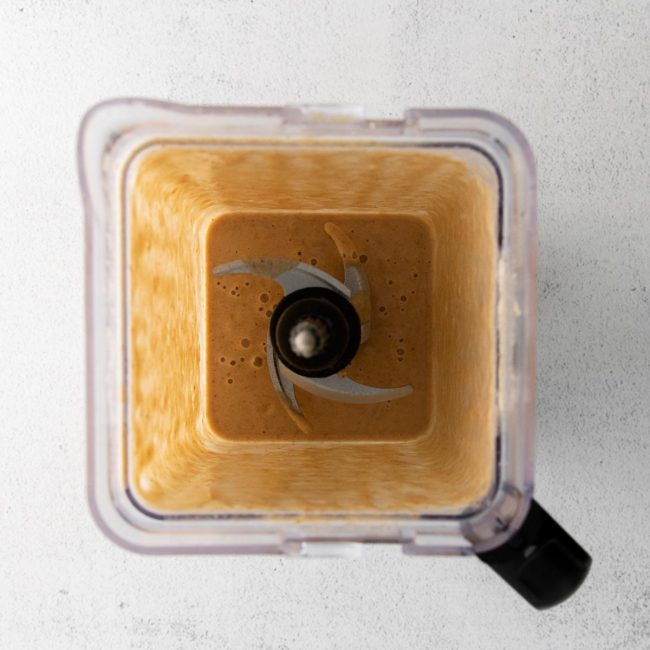 If you went with the short soak option, your blender might get quite warm. Take a short break or two, if needed.
Now add the rum!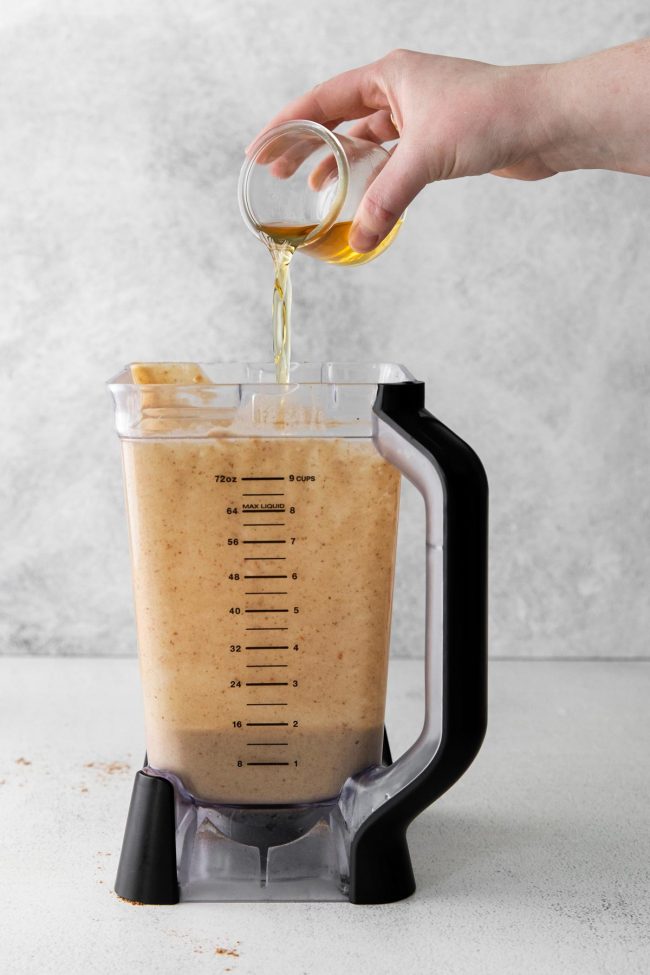 If you made the short soak version, your eggnog will be quite warm. You can serve it now or if you like, chill it (which is what I prefer). Then garnish with some nutmeg.
Can I use this in place of eggnog in recipes?
I definitely would not use this in place of eggnog in baked recipes because this is a cashew- and date-based recipe. My guess is that'll do some weird stuff in the oven!
If you want to use it in place of regular eggnog in a glaze or something no-bake, I think it'd work fine.
How do I sub the cashews or dates?
They're necessary for this recipe, so there's no sub. They're the base of the recipe. If you can't have cashews or dates, I'd recommend finding a different eggnog recipe that has ingredients you can eat.
Do I have to use dark rum?
Nope! It's just my preference. Dark rum has more flavor, which I like.
Light, white or silver rum can also be used. Brandy would also be delicious in place of the rum!
I looked up how to properly spike eggnog. Every page I read recommends using a 5-to-1 proportion of eggnog to rum. So that's what I've done.
And it is just perfect. But you can, of course, add more or less.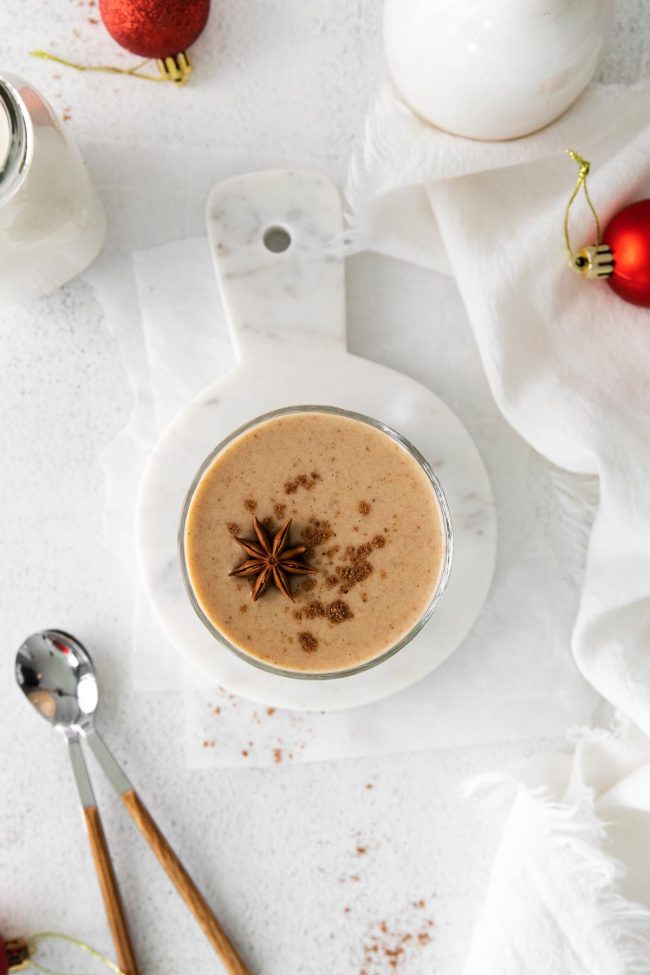 Do I have to add the maple?
No. But I thought that after adding the rum, a little bit of sweetener was needed. And maple fits perfectly!
If you don't want to use maple syrup, you can use whatever sweetener you think would pair with the other flavors well. Granulated sugar would be fine. I just like maple because you don't have to worry about dissolving it or having any granules at the bottom of the glass.
You can use whatever sweetener you'd like. Coconut sugar might add a bit of a dark, caramel-like taste. That could be great, or perhaps a bit odd. If you try it out, let us know how it goes!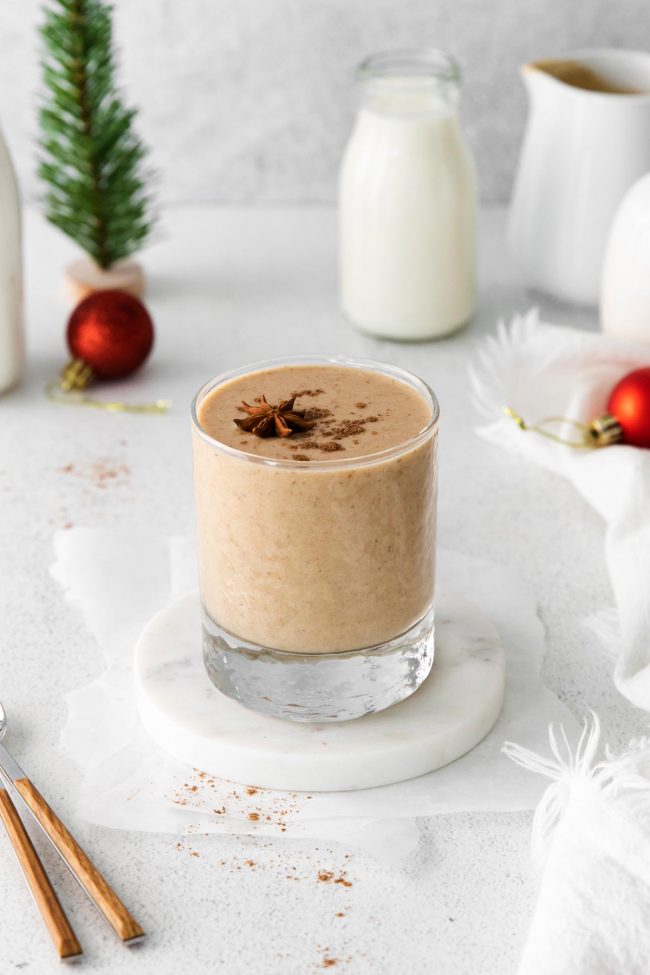 More vegan Christmas treats
Enjoy! If you try this vegan eggnog, please let me know how it turned out! Just drop a comment below or update your social media with a photo and tag #texanerin so I can be sure to see it!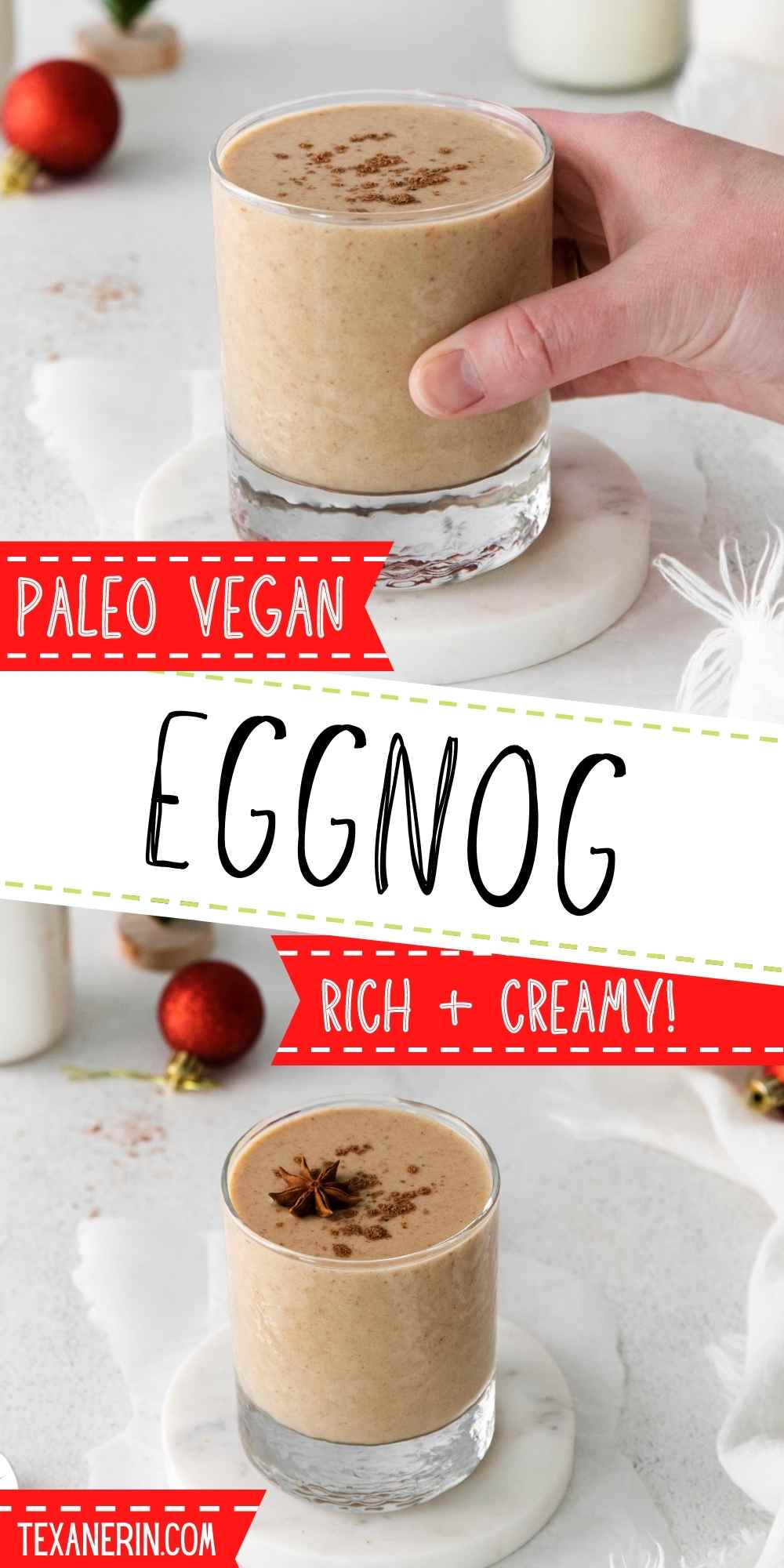 ❀
Vegan Eggnog
Prep Time:
Cook Time:
Ready in:
Yield:

2 3/4 cups
Ingredients
1/2 cup (65 grams) raw cashews1
3/4 cup (125 grams) pitted dates
1 1/2 cups (355ml) unsweetened cashew milk
1 1/2 teaspoons vanilla extract
1/4 to 3/8 teaspoon nutmeg
1/8 teaspoon cinnamon
1/8 teaspoon salt + more to taste
6 1/2 tablespoons dark rum
2 to 3 tablespoons maple syrup

Garnish:

nutmeg
Directions
Place the cashew and dates in a tiny pot, large mug, or some kind of dish into which you can pour boiling water.
Boil water (I used about 1 cup) and pour enough that the cashews and dates are covered by about 1/4".
Let sit for 20 minutes, rinse and drain the water, and pour the cashews and dates into the container of a high-speed blender (like Blendtec or Vitamix, not a normal blender).
Add just 3/4 cup of cashew milk, the vanilla, 1/4 teaspoon nutmeg, cinnamon and salt.
Process at high speed for about 1-2 minutes or until totally smooth.
Once the dates are completely broken down (there should be no lumps at all), add the remaining 3/4 cup of cashew milk, rum, and 2 tablespoons maple syrup.
Process another few seconds until combined. Taste and add another 1/8 teaspoon nutmeg and 1 tablespoon maple syrup, if desired (I add both).
Serve warm or chill for about 2 hours until cold. I think this is tastier cold, but that's just personal preference.
Pour into glasses and garnish with nutmeg.
Cover and refrigerate for up to 4 days. It will thicken a little once chilled.
Notes
You can use raw or roasted cashews. If using salted cashews, omit the salt in the recipe and then add to taste.