These raw mini mascarpone berry cakes are grain-free and refined sugar free and make for an awesome healthy July 4th (or anytime!) treat.
I'm super excited to be bringing you a post from Rose of The Clean Dish today! Last year, she shared this grain-free raspberry sour cream crumble cake and today she's got these cute little very July 4th appropriate mini mascarpone berry cakes! And in true Rose fashion, they're super healthy. Grain-free, gluten-free, and sweetened with just a little maple syrup. Now over to Rose! :)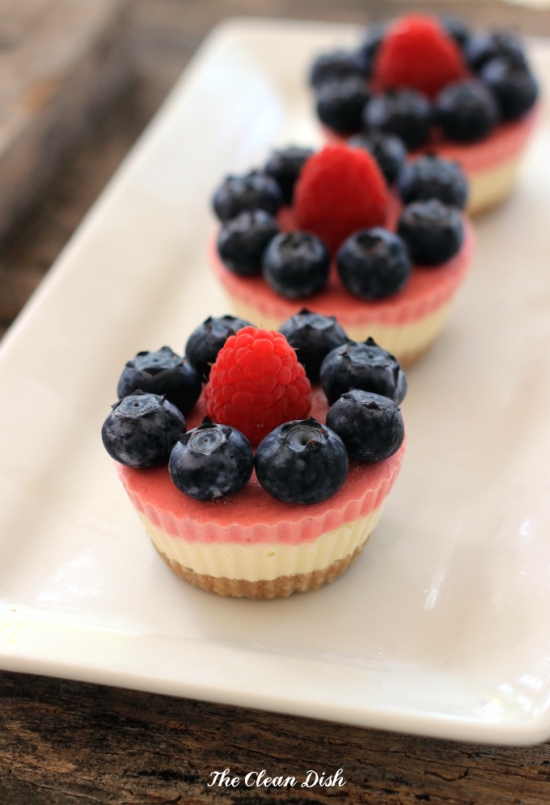 I'm absolutely thrilled to be guest posting again for my dear friend Erin! Some of you may remember me from last year; I had just started my own blog The Clean Dish – I was a total newbie yet Erin kindly invited me to contribute a recipe to her wonderful blog.
Fast forward to now: I'm happy to report that I'm still blogging with a passion, so is Erin (evidently), and as per Erin's only request for this guest post of mine, I am bringing you something sweet!
With July 4 around the corner, I couldn't help but make it tricolor. Plus it's berry season and since I'm all about shopping locally grown, in-season produce, this was really a no-brainer.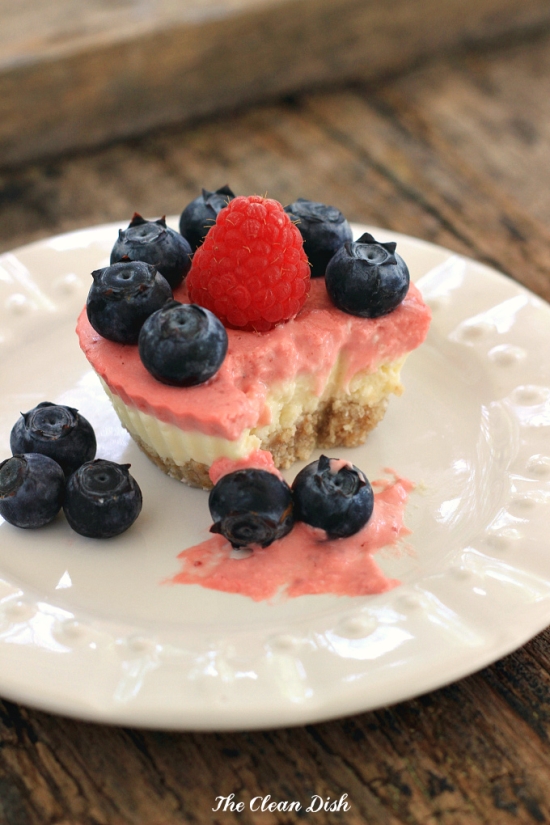 My recipe for these Mini Mascarpone Berry Cakes is definitely versatile. You can use any berry you like or add layers to it – I can think of so many variations. Get creative with it!
The only "special" equipment you need is silicone cup molds, like these. I consider them a sound investment as they are reusable and easy to clean.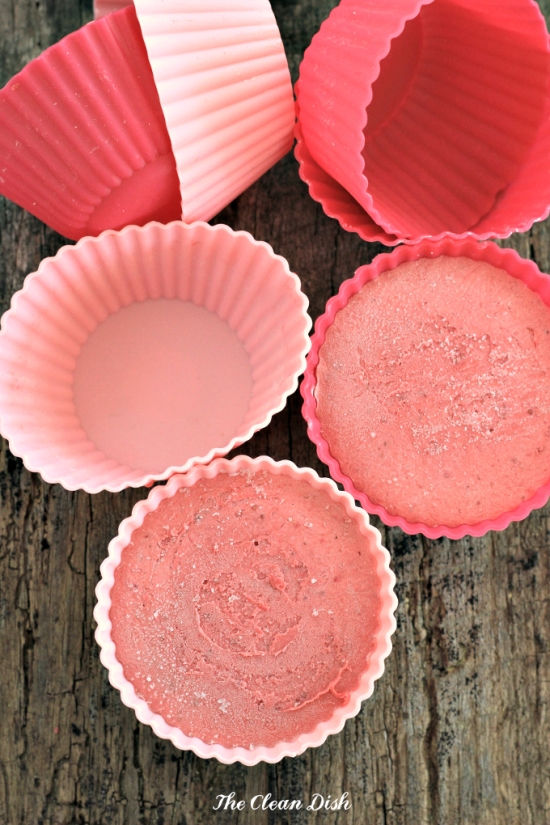 What I love the most about these cute little cakes is that you can make them ahead and just keep them in the freezer until you need them! I'm saving a batch for our 4th July get-together. Dessert – check! :)
Don't have access to raw cream cheese? Make your own! Check out this recipe for organic raw cream cheese. And here's a recipe for vegan mascarpone and one for raw + vegan mascarpone cheese.
Erin again! If berries aren't your thing, here are some of my favorite recipes on The Clean Dish. Rose has lots of grain-free baked goodies but I thought I'd share some of her no-bake desserts in case anyone else is experiencing some it's-too-hot-to-bake weather!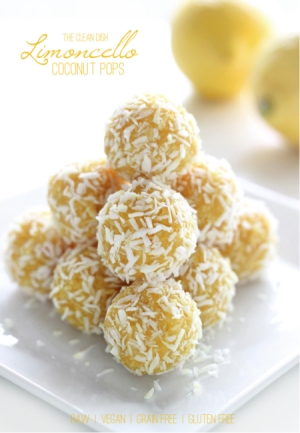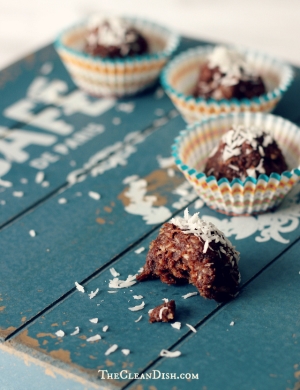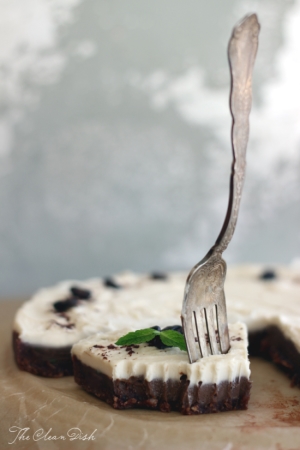 ❀
Raw Mini Mascarpone Berry Cakes
Prep Time:
Cook Time:
Ready in:
Yield:

12 cupcakes
Ingredients
Crust:

3 tablespoon coconut oil
1/2 cup dates, chopped
1/2 cup coconut flour
1 teaspoon vanilla extract
pinch of salt

Filling:

8 ounces mascarpone (room temperature)
8 ounces cream cheese (room temperature)
1/4 cup maple syrup
1/2 teaspoon vanilla extract
1/2 heaving cup berries (e.g. raspberries, strawberries)

Topping:

Berries of your choice (e.g. raspberries, blueberries, strawberries)
Directions
For the crust:

In a small saucepan, slowly melt coconut oil until liquefied.
Meanwhile, add dates to a food processor and process until blended.
Add coconut oil, coconut flour, vanilla extract and salt and process again until you have a crumbly-wet texture (scrape down sides if necessary).
Take about 1/2 tablespoon per cupcake cup and press crust to the bottom.
Place cupcake cups with crust in the freezer for about 15 minutes.

For the filling:

Add all ingredients except for berries to a medium bowl.
Using a hand mixer, mix until ingredients are well combined.
Set 1/4 of the filling (roughly 3/4 cup) aside for later and start filling cupcakes: about 1 generous tablespoon of filling per cupcake.
Place cupcakes back in the freezer for about 30 minutes.
Combine the filling you set aside with 1/2 cup of berries in a food processor and process until smooth.
Spread the berry mixture on top of the cupcakes (a generous 1/2 tablespoon per cup cake) and freeze for at least 4 hours or overnight.
Remove silicone cups and transfer to refrigerator about 3 hours prior to serving; decorate with berries.
Please keep these cupcakes covered and refrigerated until you're ready to serve; they will get soft and melt if they sit out for too long!
Enjoy :)
As an Amazon Associate, I earn from qualifying purchases. For more info, see my disclosure.