This paleo vegan maple cream frosting is cashew-based, maple-sweetened and super creamy! The perfect frosting for pumpkin cake and other fall treats.
After making the vegan vanilla sauce I posted last month, I knew I had to turn it into a frosting. It was too delicious to just use as a sauce!
It was an easy recipe to adapt. Add more cashews and omit almost all the water. The result is a super delicious maple cream frosting that's quite soft, kind of like a whipped cream frosting. So you definitely can't pipe it.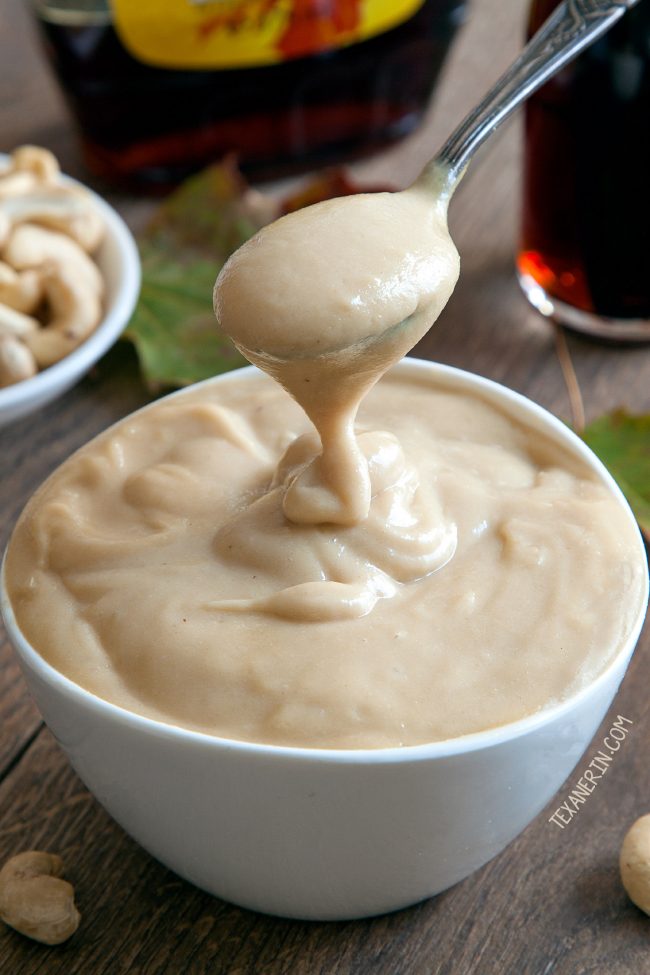 I'm sure you could add a bunch of palm shortening or something to firm it up, but that just didn't sound appetizing to me. Nor did coconut oil. Or coconut butter or anything coconutty. No coconut products were allowed in my maple frosting. :D
You'll want to make sure to use raw cashews. I first tried it with roasted salted cashews and just like the vanilla sauce, I think it tasted peanut buttery the next day. But don't go using roasted salted cashews on purpose, thinking you'll be making something that resembles peanut butter frosting. Mr. didn't agree that it tasted peanutty.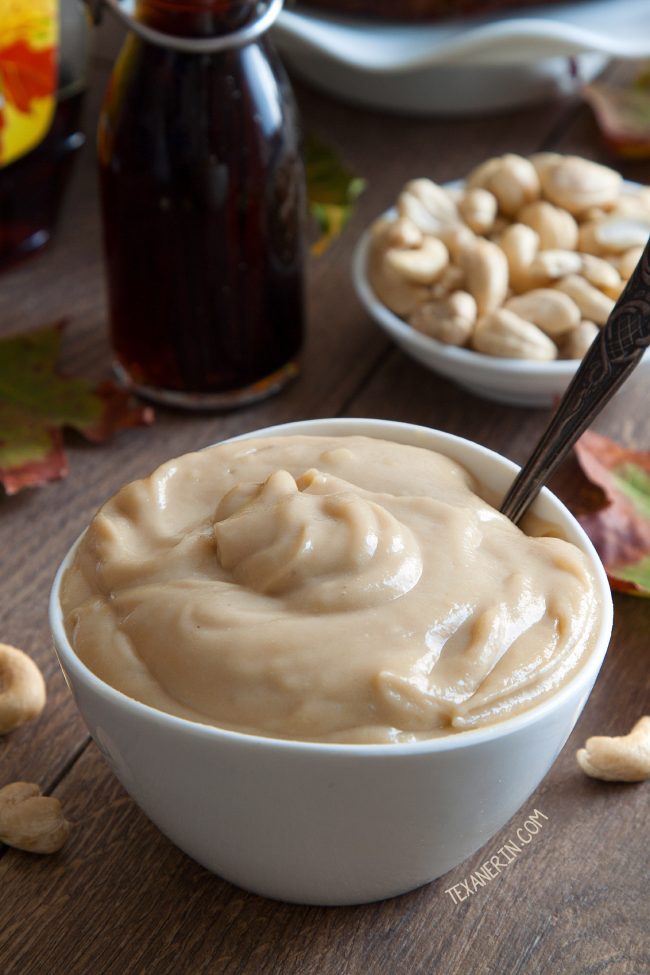 Mr. T did make me promise to tell you something about this maple cream frosting recipe. He thinks that spreading it on anything is a total waste because, "It tastes best from the spoon."
Well. Cakes and cupcakes need frosting. So I'm happy to use this and don't think it's a waste at all!
❀
Autumnal paleo treats!
So yeah. They're actually all muffins but throw this maple frosting on top and they become cupcakes. :D
One last thing – don't omit the lemon juice! It's a small amount but is necessary to make the other flavors pop. And make sure to use the darker Grade B kind of maple syrup so that the maple flavor is more intense. You could also add a bit of maple extract (if you're not paleo).
The below cake is this paleo pumpkin cake and they're perfect together!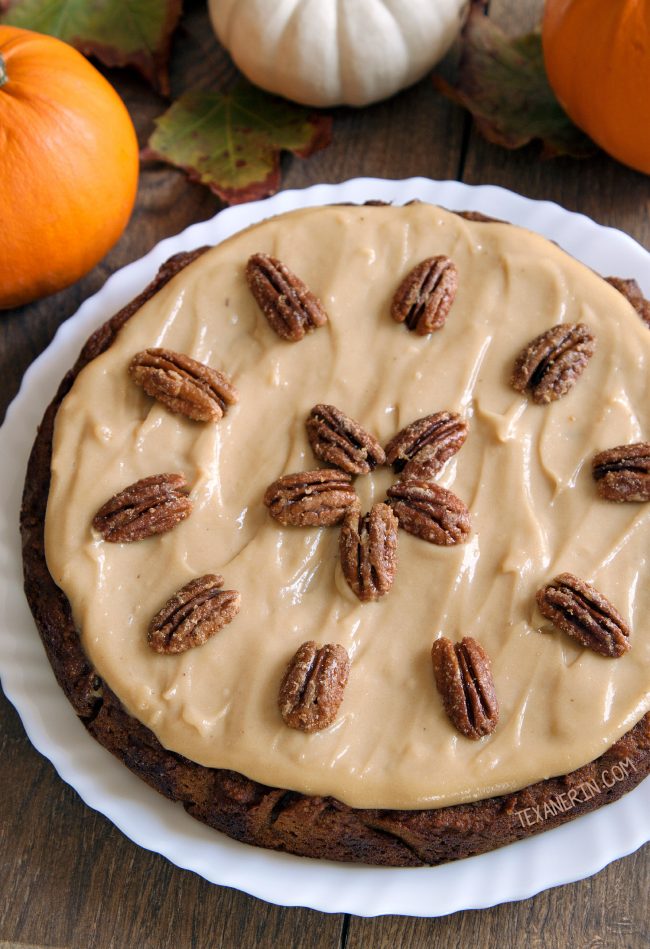 ❀
Paleo Vegan Maple Cream Frosting
Prep Time:
Cook Time:
Ready in:
Yield:

slightly less than 1 1/2 cups
Ingredients
1 1/2 cups (198 grams) raw unsalted cashews, soaked1
1/3 cup + 1 tablespoon maple syrup (I recommend using the darker Grade B kind so that the maple taste is more intense)
1 tablespoon water
2 teaspoons vanilla extract
3/16 teaspoon salt
1 1/2 teaspoons lemon juice
Directions
Drain the cashews and place all the ingredients in a high speed blender jar (I don't think this would work in a food processor).
Process on high speed for about 40 seconds or until totally smooth and no chunks remain.
Add more lemon juice, vanilla and salt, if desired. Refrigerate for about 2 hours before frosting your cake or cupcakes.
Refrigerate in an airtight container for up to 3-4 days. I like to use 1 cup (about 2/3 of the batch) on a 1-layer 9" cake.
Notes
To soak the cashews, place them in a large mug, small pot, or some kind of container that's safe to pour boiling water into. Pour enough boiling water over the cashews to cover them. Let them sit 1 1/2 to 2 hours.
As an Amazon Associate, I earn from qualifying purchases. For more info, see my disclosure.