These grain-free Samoa cupcakes feature a coconut flour and brown sugar based cupcake and homemade coconut caramel topping!
My latest post over on My Baking Addiction is these gluten-free Samoa cupcakes. When Jamie threw out the idea of me making some cupcakes, I freaked out because hers look like works of art. Mine usually look like something a four year old put together. So I knew there was no way I was even going to attempt piping frosting on top of these cupcakes. I think I found a good solution, though – just dip them in chocolate ganache and mound some coconut caramel on top!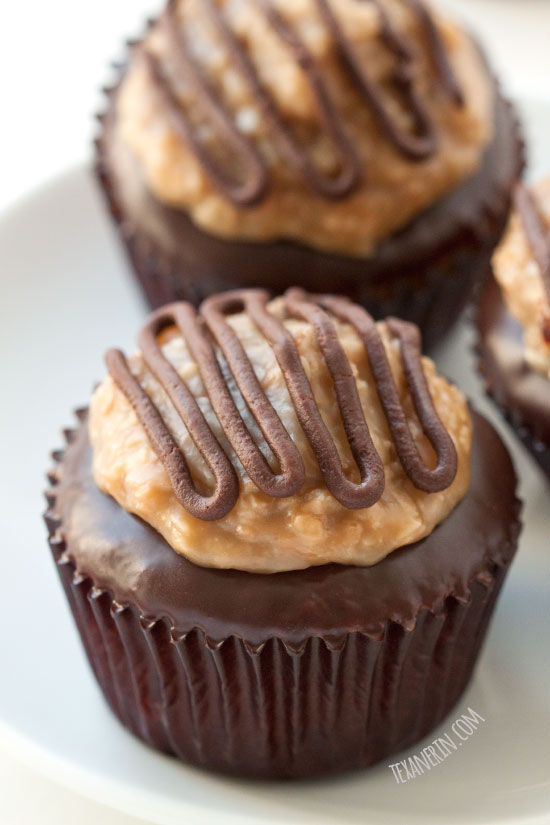 Putting them together isn't difficult but it does take some time. If you want something quicker, forget the ganache and just sprinkle some chocolate chips over the coconut caramel. Couldn't be any simpler than that!
You can use any cupcake base you fancy. Just pay attention to the yield as the coconut caramel makes enough for 16 cupcakes. Here are some whole wheat chocolate cupcakes and some grain-free chocolate cupcakes. This gluten-free cupcake recipe also looks great.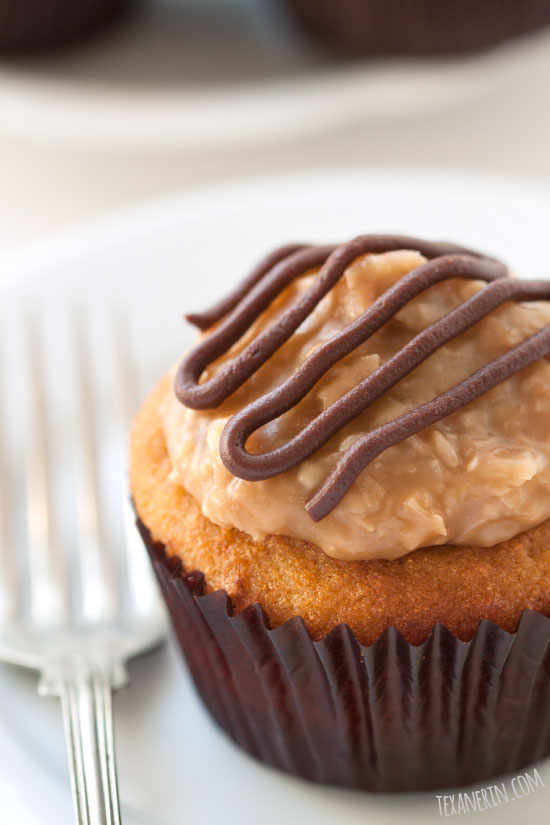 I rarely like treats made exclusively with coconut flour. In my grain-free baking, I almost always use a lot of almond flour with a little coconut flour mixed in. I was definitely pleasantly surprised when these Samoa cupcakes worked out! Just don't try them when they're warm. I almost threw away the entire batch after eating one fresh from the oven. They definitely need to cool first!
These cupcakes have the same topping as in these totally from scratch Samoa bars. I used brown sugar and still haven't gotten around to trying coconut sugar, so I really have no idea if that'd work. I get awfully nervous when it comes to messing around with a caramel recipe! Experiment with caution. ;)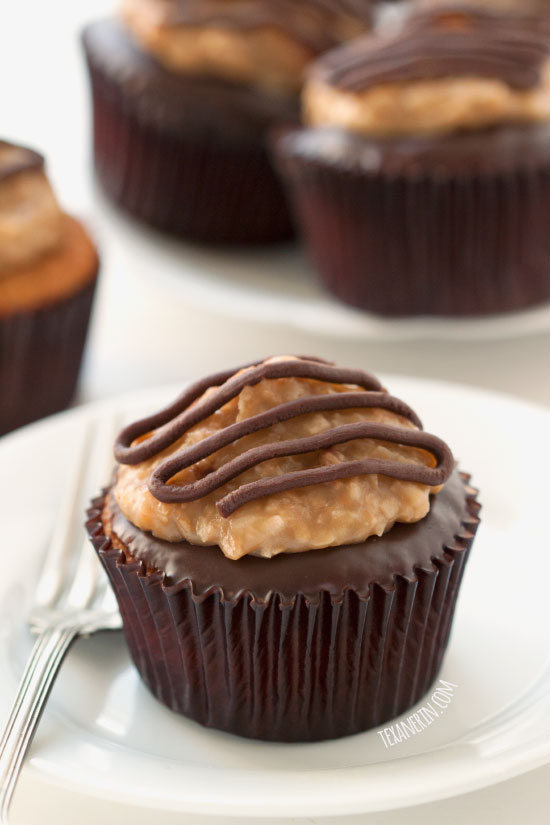 So what's your favorite Girl Scout cookie to recreate? Samoas are my absolute favorite but now I feel ready to branch out and try something new! By the way, these Gluten-Free Thin Mints look incredible.
❀
Grain-free Samoa Cupcakes
Prep Time:
Cook Time:
Ready in:
Yield:

16 cupcakes
Ingredients
For the caramel:

1 1/2 cups (120 grams) sweetened shredded coconut (you can use unsweetened, too)
3/4 cup (163 grams) packed dark brown sugar (light brown works, too)
2/3 cup (158 milliliters) whipping cream
7 tablespoons (98 grams) unsalted butter, cut into 7 chunks
1 teaspoon vanilla extract
3/8 teaspoon salt

For the cupcakes

1 cup (128 grams) coconut flour
1/2 teaspoon baking soda
1/4 teaspoon salt
2/3 cup (150 grams) unsalted butter, melted
1 cup + 2 tablespoons (244 grams) packed dark brown sugar (light brown sugar works, too)
8 large eggs, room temperature
1/2 cup (120 milliliters) whole milk
4 teaspoons vanilla extract

For the ganache:

3/4 cup (128 grams) semi-sweet chopped chocolate or chocolate chips
6 tablespoons whipping cream or heavy cream
Directions
Preheat the oven to 350°F. Prepare two muffin pans with 16 muffin liners.
Place the coconut on a rimmed pan and toast for 5-8 minutes or until lightly browned. Keep a close eye on it as it burns quickly and stir after every 3-4 minutes to ensure even browning. Remove from the oven and set aside.
Prepare the cupcakes. In a medium mixing bowl, stir together the coconut flour, baking soda and salt. Set aside. In the bowl of a stand mixer fitted with the beater blade, beat the melted butter, brown sugar, eggs, milk and vanilla together until well combined. Stir in the dry mixture to the wet and beat at medium speed until no lumps remain.
Fill each muffin liner with slightly less than 1/3 cup of batter. The liners should be about 4/5 full. Bake for 20 minutes or until a toothpick inserted in the center of a cupcake comes out clean. Let the cupcakes cool for 5 minutes in the pan and then remove the cupcakes to a wire rack to cool completely.
Once the cupcakes are almost cool, prepare the ganache. Place the chopped chocolate in a small bowl. Heat the cream in a small saucepan over medium heat until hot and steamy. Pour the cream over the chocolate and stir until thoroughly combined and no chunks of chocolate remain. Let the ganache sit for about 5-10 minutes to firm up slightly.
Dip the tops of the cupcakes in the ganache and place back on the wire rack. Place the rack in the refrigerator to allow the chocolate to firm up.
Prepare the caramel coconut topping. Heat the sugar, cream, butter, vanilla and salt in a heavy bottom saucepan (do not use non-stick) over medium heat. Stir until well combined and no more chunks of butter remain. Simmer for 8 minutes, readjusting the heat as needed. Do not stir. If needed, tilt the pan to redistribute the mixture. Remove from the heat. The caramel will be quite thin at this point. Let it cool for 20 minutes or until considerably thickened and just barely pourable. Add the toasted coconut and stir until combined. Add a little more than 1 tablespoon of caramel coconut topping to the top of each ganache dipped cupcake.
Pipe on the remaining ganache or use a fork to drizzle it on top.
Store in an airtight container for up to 2 days. Refrigerate any leftovers after that
Source: My post on My Baking Addiction – Gluten-free Samoa Cupcakes. Caramel adapted from Chocolate Nut and Caramel Shortbread Tart.