These soft and chewy spiced apple oatmeal cookies are gluten-free, dairy-free and 100% whole grain.
I'm super excited about today's post! A few weeks ago, I was asked if I'd like to contribute some gluten-free recipes to My Baking Addiction. I'd been a huge fan of Jamie's since long before I started blogging so you can imagine how shocked and excited I was. I had to reread the email a few times before I actually believed it. My reaction was something along the lines of – "Huh? ME? No way. Was this supposed to go to one of the other Erins…?"
For my first post, I wanted to make something without any unusual ingredients. These gluten-free apple spice cookies are the very first gluten-free recipe on My Baking Addiction and I wanted to make it as friendly as possible for non-gluten-free households. I didn't use my usual almond and coconut flours (I will be posting recipes with those later on!) but oats and oat flour. That means anyone with a bag of oats can make these apple cookies! If you don't have oat flour and you don't know how to make it yourself, go check out my post on MBA.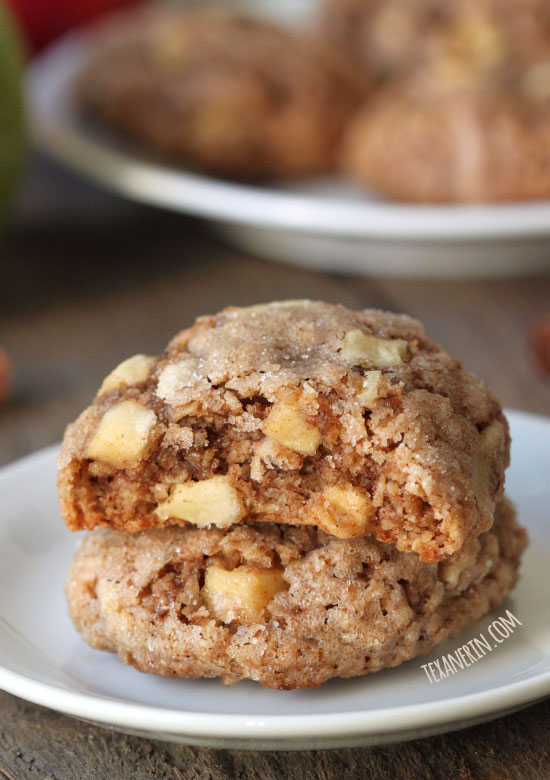 I initially tried these cookies with butter and while they came out decently, I preferred them with coconut oil. Plus using coconut oil makes them dairy-free, which I know makes a lot of you happy. They're also 100% whole grain so you can get your fiber while downing these cookies. Aren't apples also high in fiber? Why, yes they are! I just calculated that if you eat half a batch (that would be 18 cookies) you have your entire fiber intake for the day! You're welcome. :D
If spiced apple oatmeal cookies aren't your cup of tea, you can switch or leave out the spices and toss in whatever add-ins you want. The cookies are softer than gluten-containing cookies and therefore more fragile. Chocolate chips or chopped nuts or fruit would be okay but make sure the pieces aren't too big or else your cookies will come out in strange shapes and may fall apart a little. So keep it chocolate chip sized or smaller and you should be good. :)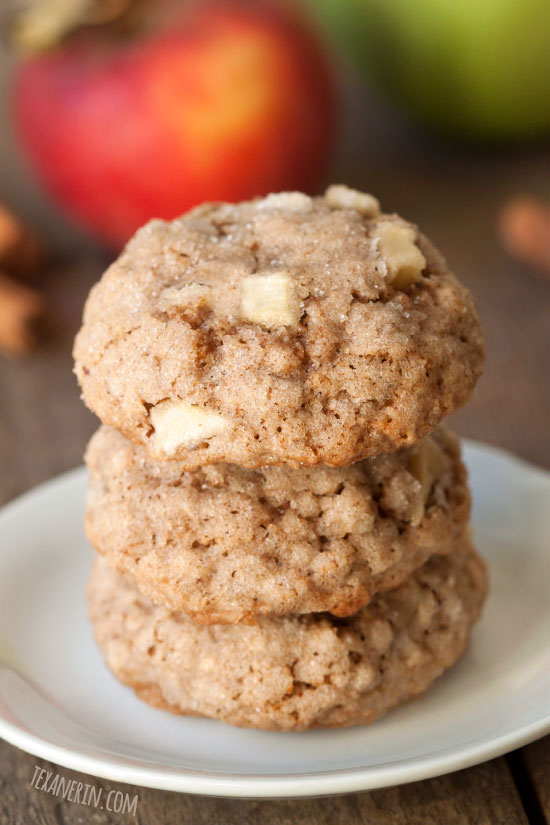 ❀
Spiced Apple Oatmeal Cookies
Prep Time:
Cook Time:
Ready in:
Yield:

36 cookies
Ingredients
1 1/2 cups (188 grams) oat flour (certified gluten-free, if necessary)
1 teaspoon baking soda
1 teaspoon baking powder
1 tablespoon ground cinnamon
1/2 teaspoon nutmeg
1/2 teaspoon cardamom
1/2 teaspoon salt
3/4 cup (168 grams) coconut oil
1/2 cup (134 grams) almond butter
1 1/4 cups (250 grams) light brown sugar
2 large eggs, room temperature
1 tablespoon vanilla extract
2 3/4 cups (248 grams) quick oats (certified gluten-free, if necessary)
1 1/2 cups (162 grams) apple chunks (about 1/4" in size)
1/4 cup (50 grams) granulated sugar for rolling
Directions
In a medium mixing bowl, stir together the oat flour, baking soda, baking powder, cinnamon, nutmeg, cardamom and salt. Set aside.
In a large mixing bowl, stir together the melted coconut oil, almond butter, sugar, and vanilla extract. Beat in the eggs.
Add the dry mixture to the wet mixture and stir just until combined.
Stir in the oats until almost combined and then stir in the apples. The dough will be quite sticky.
Wrap the dough in plastic wrap and refrigerate for 2 hours or until the dough is firm enough to be rolled into balls.
Preheat the oven to 350°F and line a baking sheet with a piece of parchment paper. Place the sugar in a small bowl.
Roll the dough into 1" balls and roll in the sugar.
Place the dough balls 3" apart on the prepared baking sheet and bake for 9-12 minutes or until the tops of the cookies no longer appear wet on the surface. They will be quite soft but will firm up slightly as they cool.
Let cool for 3 minutes on the baking sheet and then remove to a wire rack to cool completely.
Store in an airtight container for up to 4 days.
This recipe was created for my post on My Baking Addiction: Gluten-free Apple Spice Cookies