You won't miss the dairy in these vegan hot chocolate bombs! They're made with spheres of chocolate and filled with hot chocolate powder and marshmallows. Pour over some hot milk and you've got yourself a really decadent treat. Don't need these to be vegan? Just use regular chocolate, milk and marshmallows!
How do you make hot chocolate bombs?
That's what I was asking myself after Thanksgiving when I started seeing them absolutely everywhere.
You use a half-sphere mold and brush some melted chocolate in each half-sphere. Chill the mold so that the chocolate hardens. Fill half of the chocolate domes with hot chocolate powder (there's a super quick homemade version included in the below recipe).
Then you melt the rim of an unfilled half on a hot pan for a few seconds to make it melty. Put this dome on top of one of the filled domes to create a sphere. Then you chill it until the chocolate sealing the two half-spheres is solid.
Put the finished hot chocolate bomb in a mug, fill it with hot milk, and it'll "explode."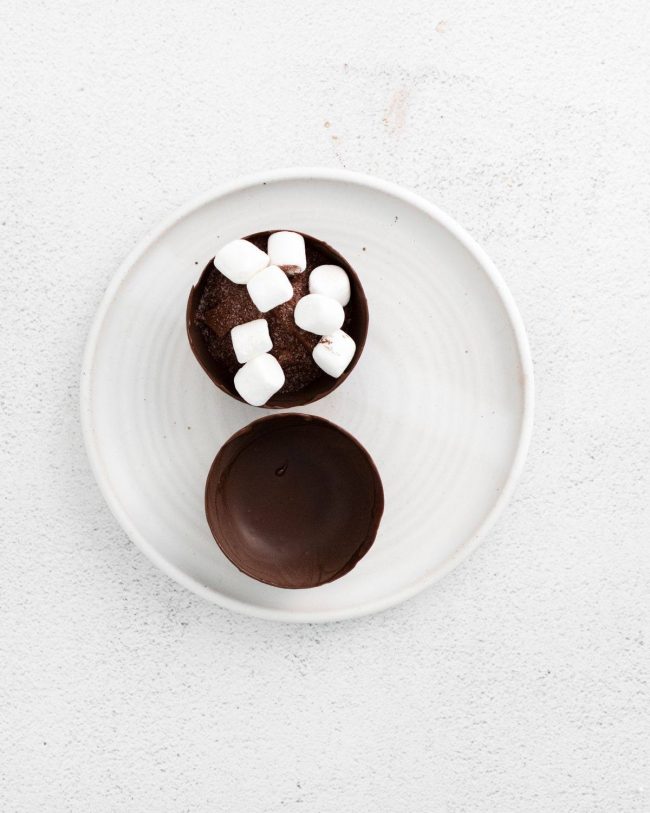 Great if you're bored or need a fun gift
I have to admit that I don't really get the hot chocolate bombs hype. It's way easier to just make regular hot chocolate. ;)
They do make for a nice gift! And I bet they're fun to make with kids. Same goes for these Hot Chocolate Spoons!
But because I've gotten several requests for vegan hot chocolate bombs over the last month, here you go!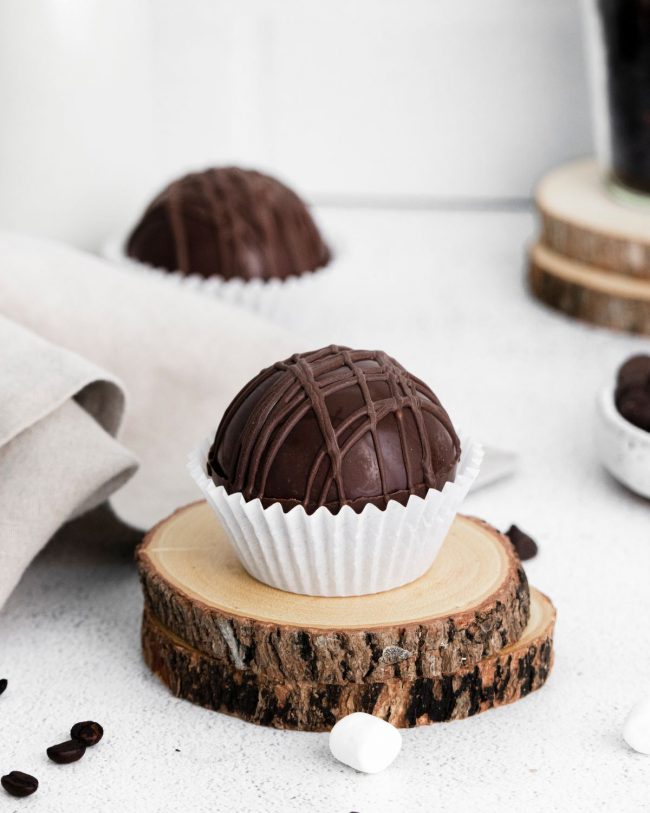 This hot chocolate isn't healthy, so if that's what you need, check out my vegan hot chocolate. It's totally date-sweetened and super-rich + creamy! So is this definitely-not-healthy Baileys hot chocolate.
Today's recipe is also really, really rich. I poured 1 cup of hot cashew milk over each hot chocolate bomb. If you don't want it super-rich, just add more milk.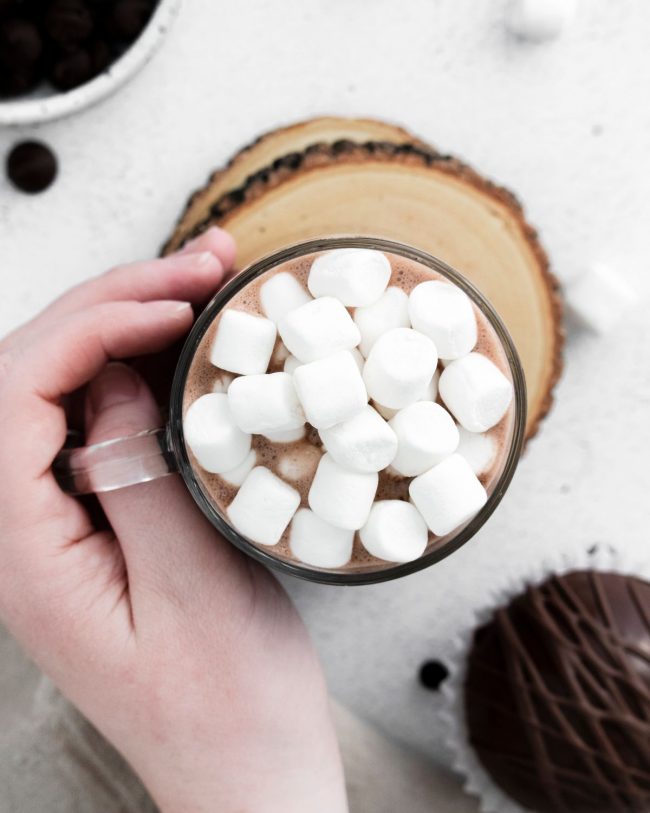 Ingredients for vegan hot chocolate bombs
I used homemade hot chocolate powder for the filling, but if you have a store-bought mix you like, you can use that. You need two tablespoons per bomb.
For the homemade hot chocolate mix, you need a granulated sweetener, unsweetened cocoa powder and chopped chocolate.
To assemble the hot cocoa bombs, you need more (like 2 pounds of it!) chopped chocolate, the hot chocolate powder mix, marshmallows and sprinkles, if you'd like.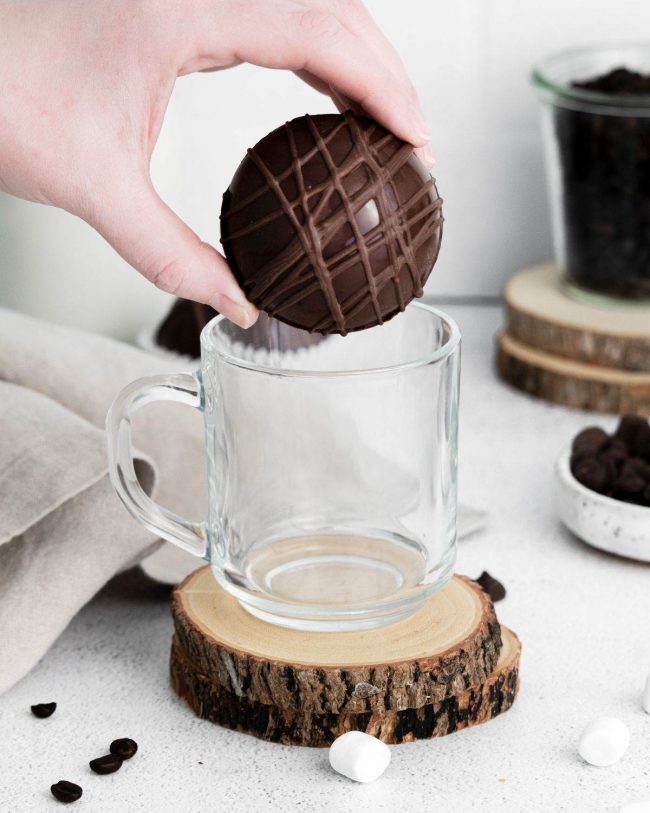 To serve: Just some vegan milk!
Milk
You can use whatever kind you'd like. I don't really like the taste of hot chocolate with almond milk, but that's just a personal preference. I think cashew milk is way better.
You can use soy, oat, hazelnut – really whatever you want. Canned coconut milk is a bit thick, and this hot chocolate is already really thick; so if you use that, you may want to use a mix of 1/2 cup water and 1/2 cup coconut milk to pour over the bomb.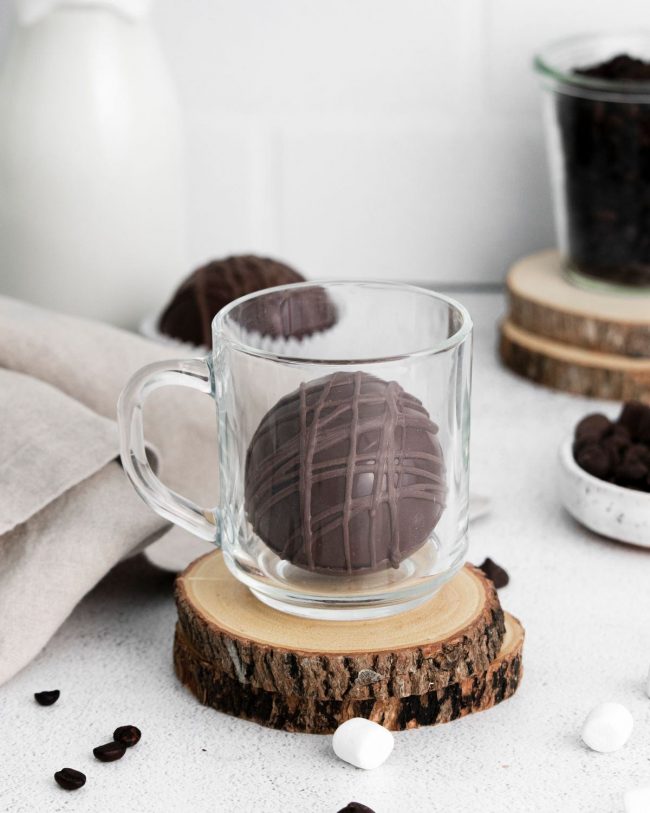 Marshmallows
You can find vegan marshmallows in a lot of full-sized grocery stores in the US (so – not Aldi, Lidl, etc.). All Trader Joe brand marshmallows are vegan (at least at the time of writing). Dandies are also great and on Amazon.
It kind of takes away from the fun, in my opinion, but you can omit them if you want.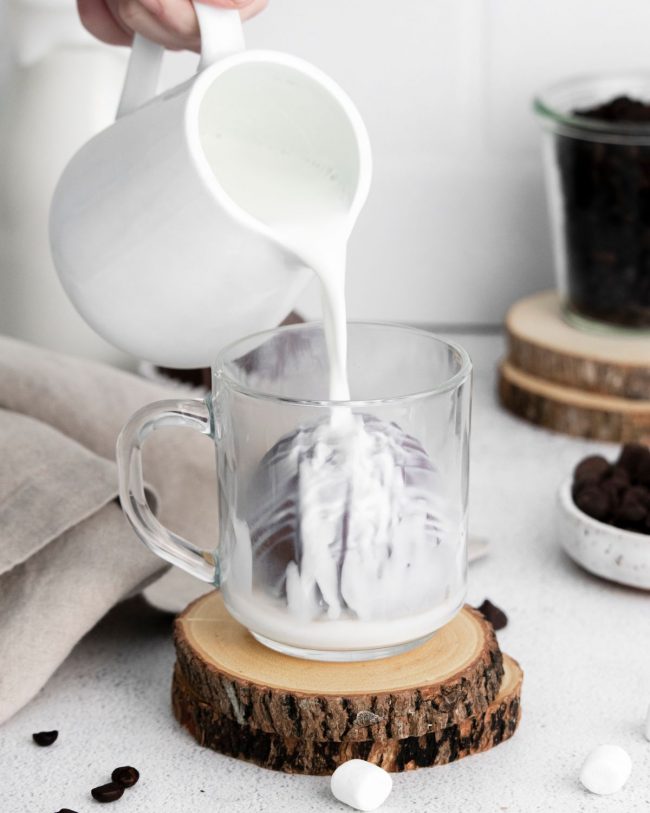 The sweetener
You can use powdered sugar or coconut sugar. I thought that the result with coconut sugar would be a bit grainy, but it wasn't at all.
And the cocoa flavor covered up the stronger taste of coconut sugar. So use whichever you prefer!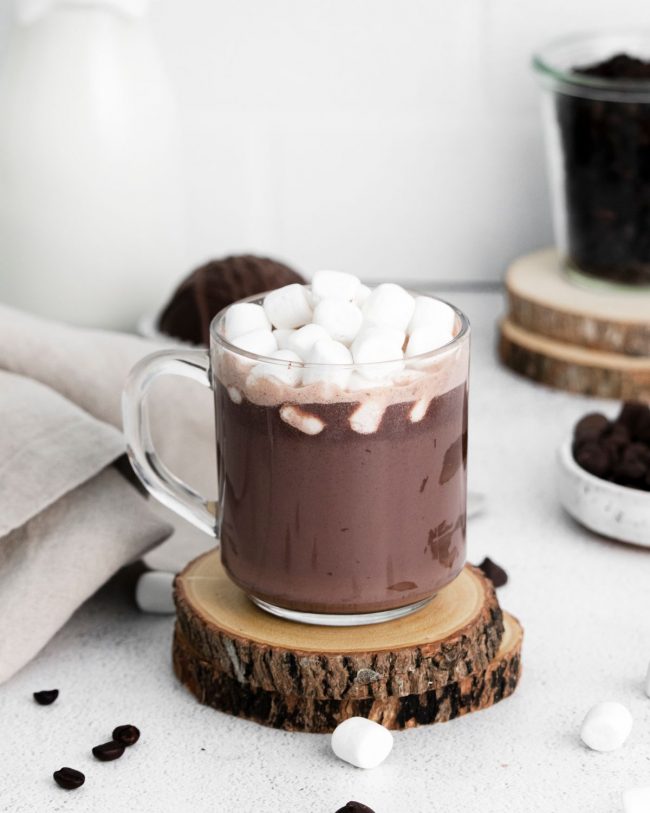 Chocolate
You need unsweetened cocoa powder for the hot chocolate powder. Easy. The coating gets more tricky.
Regular hot chocolate bombs use candy coating, aka candy melts or candy bark, instead of real chocolate. That's because it melts very smoothly and hardens easily and has a nice shine.
If you just melt regular chocolate, without tempering it first, it melts okay but it won't be super shiny after it's hardened.
Most candy melts contain dairy – even the dark chocolate ones. Vegan semi-sweet candy melts don't seem to be a thing (though there's one brand, Gefen, that does carry white chocolate candy melts).
So use regular (but vegan) semi-sweet chocolate. I rarely come across semi-sweet that isn't vegan (however, I live in Germany).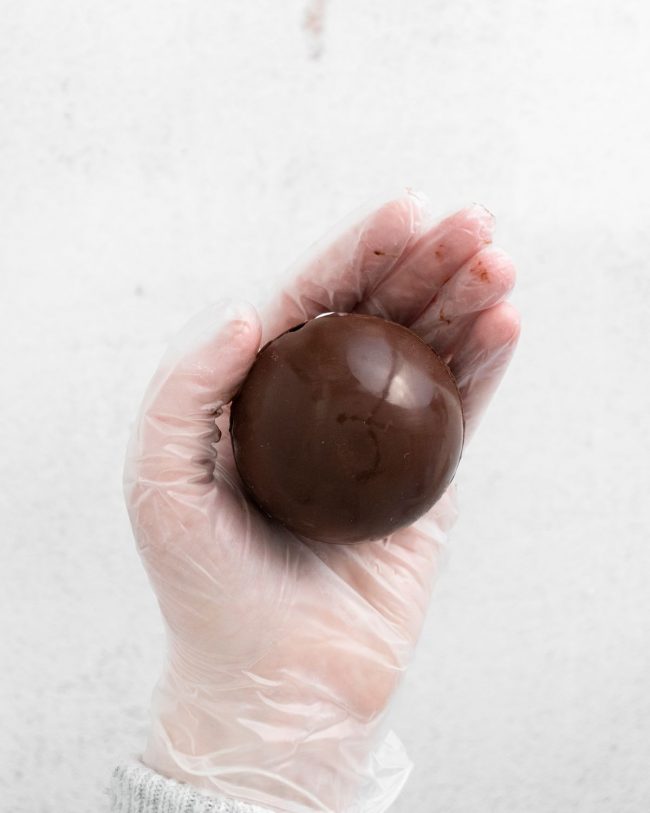 Why temper chocolate:
For smooth and glossy, rather than dull and matte, hot chocolate bombs
It keeps it from easily melting when you handle it
Bombs with untempered chocolate might also develop bloom, which is when it gets spotty/streaky
Tempering makes removing the chocolate easier from the molds
Normally, I couldn't be bothered. I've never recommended it for any recipe on my site. But for this recipe, I'd recommend it.
How to temper chocolate:
Chop a pound of chocolate. It's best if the pieces are all around the same size.
Place two-thirds (10.6 ounces or 300 grams) of the chocolate in the top part of a double boiler.
Heat the chocolate over hot but not boiling water, while stirring constantly, until the chocolate reaches 110 °F–115 °F (43 °C–46 °C).
Place the top pan on a towel and let the chocolate cool to 95 °F–100 °F (35 °C–37.7 °C).
Then add the remaining chopped chocolate and stir until melted.
It's ready!
What kind of mold to use
They're called half-sphere, semi-sphere, or dome silicone molds. You can find them at Hobby Lobby, Michael's and other craft stores near the candy and cake supplies.
I used this one from Amazon, but I'd actually recommend one that's not brown because it makes it almost impossible to see where you've missed a spot when brushing on the chocolate.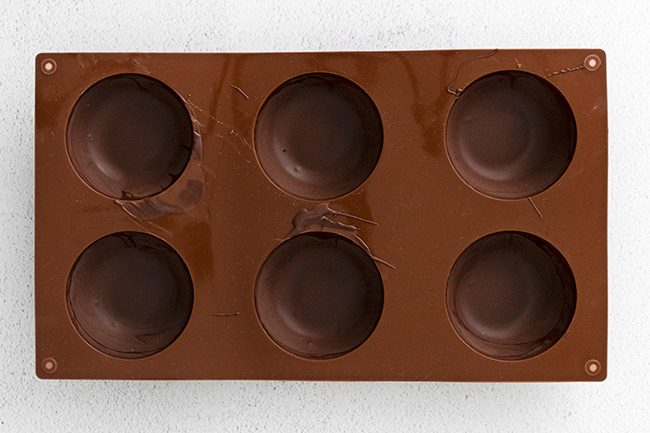 Don't have the right mold?
You should ideally use a half-sphere silicone mold. It lets you easily push the mold to pop the chocolate out.
I'm here to tell you that baby food silicone molds do not work. ;) Or at least mine didn't. They were much too firm to easily pop the chocolate out. Each one broke.
Some sites suggest using hollow chocolate figures. Like chocolate snowmen, Santas, bunnies, etc. This article has a tutorial on how to use that method.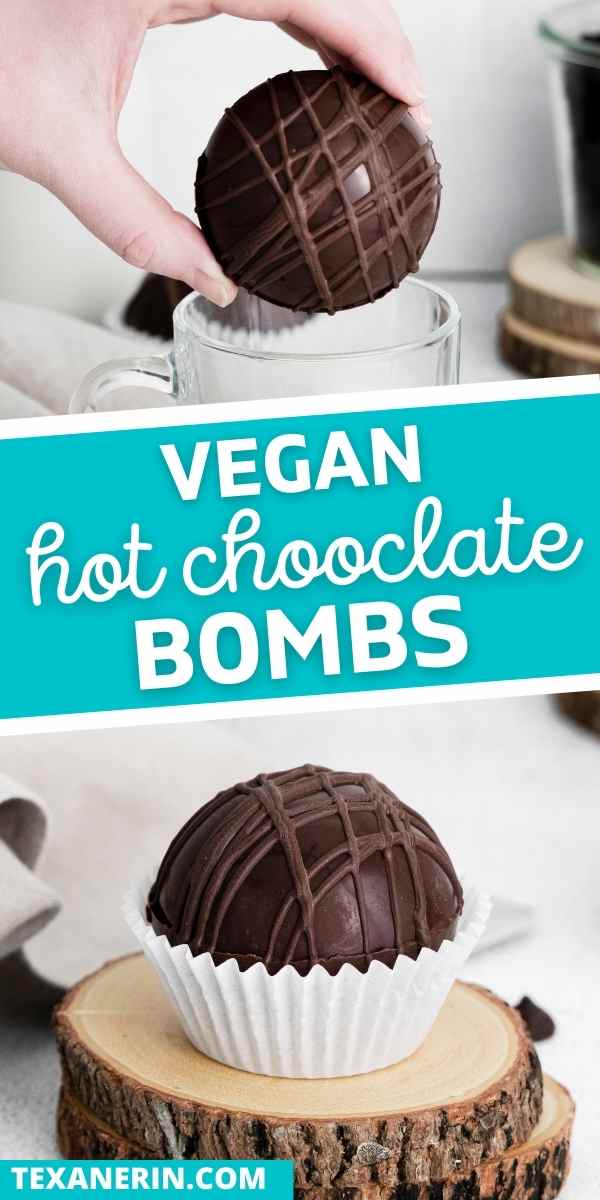 Creative solution didn't work?
If your attempt at moldless hot chocolate bombs didn't work, just take 75 grams of that sad, broken chocolate, put it in a cup with 2 tablespoons of the hot chocolate powder, and pour 1 cup of super hot milk on top. Stir until melted.
If you want to use that chocolate for something else (like these healthy peanut butter balls, paleo peanut butter bars or this vegan fudge), you can use 1/4 cup of the hot chocolate mix powder, 1 cup of milk, and if needed, about a teaspoon of maple syrup. That version is more like a regular hot chocolate and not the crazy rich version with a whopping 75 grams of chocolate.
I enjoyed it just as much. I was just annoyed by the waste of time!
So. Good luck and enjoy. :D If anyone makes these, please tag me on Instagram! I'd love to see them. And if you're looking for another great gift to make, try this Bento Cake!
❀
Vegan Hot Chocolate Bombs
Prep Time:
Cook Time:
Ready in:
Yield:

6 servings
Ingredients
For the hot chocolate powder:

2/3 cup (80 grams) powdered sugar or 1/2 cup (100 grams) coconut sugar1
1/4 cup (29 grams) unsweetened cocoa powder (I prefer Dutch-process)
2 tablespoons (22 grams) finely chopped vegan semi-sweet chocolate

For the bombs:

2 pounds (907 grams) vegan semi-sweet chocolate
the above hot chocolate powder or 3/4 cup store-bought vegan hot chocolate powder
1/2 cup vegan mini marshmallows

For decoration:

a drizzle of chocolate or sprinkles (also vegan)

To serve, per bomb:

1-1 1/2 cups (240ml-355ml) very hot vegan milk
Directions
For the hot chocolate powder:

Stir all the hot chocolate powder ingredients together or put them in a jar and shake until totally combined.

To temper the chocolate:

Chop 2 pounds (907 grams) of chocolate. It's best if the pieces are all around the same size.
Place two-thirds (21.2 ounces or 604 grams) of the chocolate in the top part of a double boiler.
Heat the chocolate over hot but not boiling water, while stirring constantly, until the chocolate reaches 110 °F–115 °F (43 °C–46 °C).
Place the top pan on a towel and let the chocolate cool to 95 °F–100 °F (35 °C–37.7 °C).
Then add the remaining chopped chocolate and stir until melted. It's ready to be used.

To make the hot chocolate bombs:

Scoop about 2 tablespoons of the tempered chocolate into each of the silicone molds. You may need more if you used a mold with really large half-spheres.
Make sure that the entire half-sphere is well covered with a thick layer of chocolate. If your chocolate goes on thick you can just do one coat. If you feel it is too thin, and you think it may break apart easily, you can do two coats, placing the mold in the fridge for about 10 minutes after the first coat.
Transfer the mold to the refrigerator for about 10 minutes.
Once the chocolate has hardened completely, remove the chocolate from the mold. I recommend using food-safe disposable gloves if you don't want to leave behind any fingerprints. If your rims are a little uneven, heat a small non-stick pan over low heat. Melt the rims just so slightly in order to even out the rims. You'll just need a second or two.
Fill one chocolate cup with 2 tablespoons of the hot chocolate powder and 5-7 mini marshmallows.
If you haven't already - over medium-low heat, heat a small non-stick pan. Place the rim of one unfilled chocolate dome on the pan for just 2-3 seconds, or until you can see it start to melt a bit.
Place the two chocolate halves together and press gently to seal them together. Drizzle with chocolate and decorate with sprinkles, if desired.
Repeat with the remaining half spheres. Refrigerate the complete chocolate bombs for 5-10 minutes to set. The bombs can sit in an airtight container at room temperature for several weeks.

To serve:

Place the hot chocolate bomb in a mug. Pour 1 cup (for a very rich hot chocolate) of very hot vegan milk over the hot chocolate bomb. Stir to melt the bomb. Add more milk, if desired, to thin it down.
Notes
While 100 grams of coconut sugar weighs quite a bit more than 80 grams of powdered sugar, I didn't find it too sweet at all.