These chocolate covered cashews aren't just covered in luscious chocolate; they're super toasty with a little crunch and sparkle of flaky sea salt. You can make these with just a handful of steps and 4 ingredients, and you can use whatever chocolate you prefer. You can also make them traditionally or vegan, keto or paleo.
These chocolate cashew clusters are a great treat to have around the holidays. They're smooth and chocolaty with a nutty crunch and finish with a flash of salt.
They make great gifts and are super easy to make.
I just posted these Pecan Clusters, and it's basically the same recipe, except, of course, we're using rich and buttery, creamy cashews.
So for all the cashew and chocolate lovers, let's make some clusters!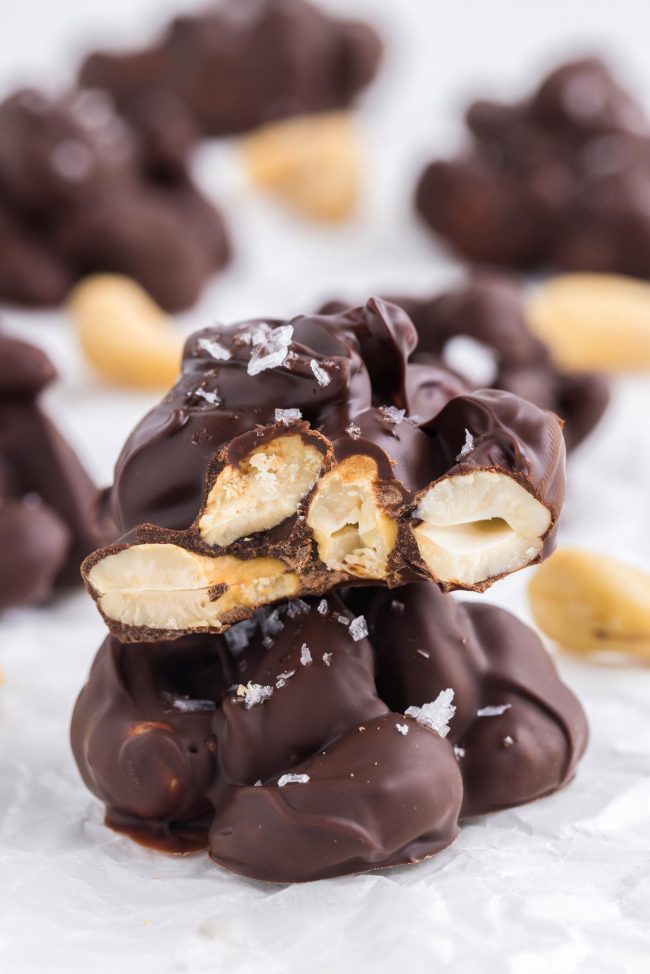 Ingredients
Roasted and salted cashews — are healthy, nutrient-dense nuts that actually make you happy (details below!).


Semi-sweet chopped chocolate — you can use semi-sweet, milk or dark. More details below.


Coconut oil or butter — helps make the chocolate coating softer.


Flaky sea salt — enhances flavor and adds sparkle.
For measurements and complete instructions, scroll to the recipe box at the bottom of the page.
Roasted cashews
The recipe will work with raw cashews, but I really think they're too soft and lackluster. Roasted cashews are highly recommended!
You can buy them pre-roasted, but it's easy to roast them yourself. Check out How to Roast Cashews to learn how to roast cashews in the oven, on the stovetop, in the microwave and even in the air fryer.
Cashews are expensive, especially if they come roasted, so you can save a little by buying raw cashews and roasting them yourself.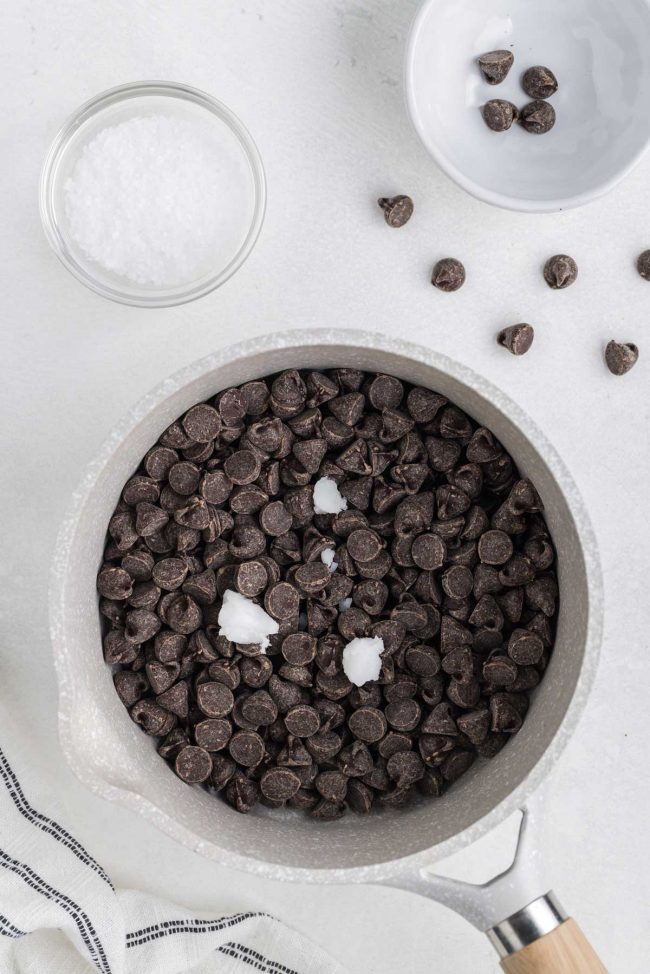 Equipment
No need for fancy kitchen tools to make these clusters!
You can use a double boiler, a microwave, a saucepan, or a slow cooker to melt chocolate.


A spatula for stirring.


Use a small cookie scoop to dish out the clusters, or use a tablespoon.


Parchment paper, wax paper or silicone mat all work for easy clean-up.


A baking sheet or cookie tray makes an excellent surface for the clusters to harden.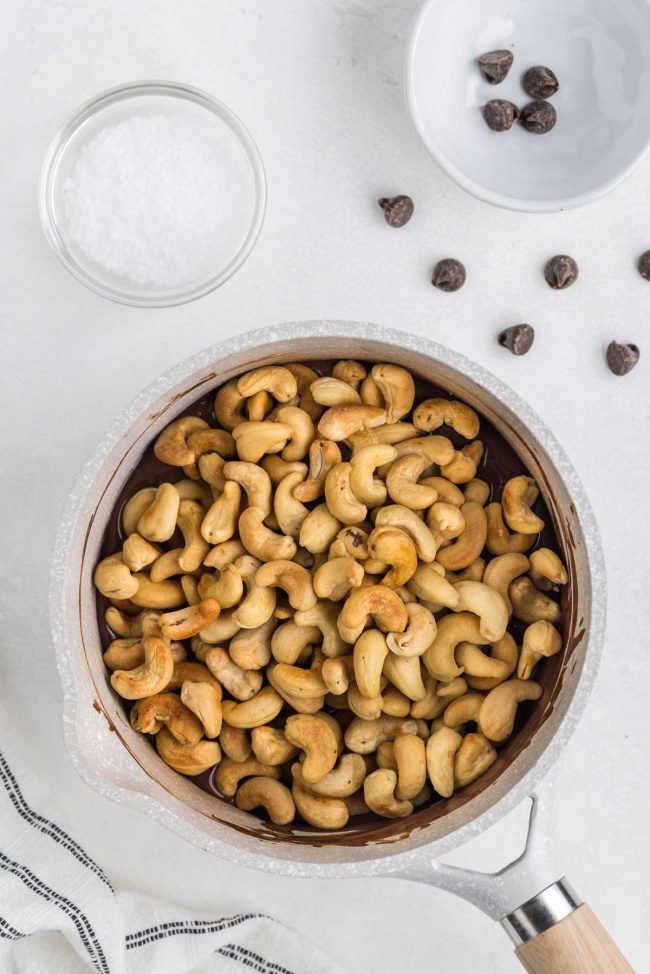 How to store
Store these chocolate covered cashews in an airtight container at room temperature for up to a week.
They'll be suitable for a few weeks if you store them in the fridge.
If you want to make them ahead, store them in the freezer; they should last up to 3 months.
If frozen, just set them on the counter to let them come to room temperature or place them in the fridge overnight.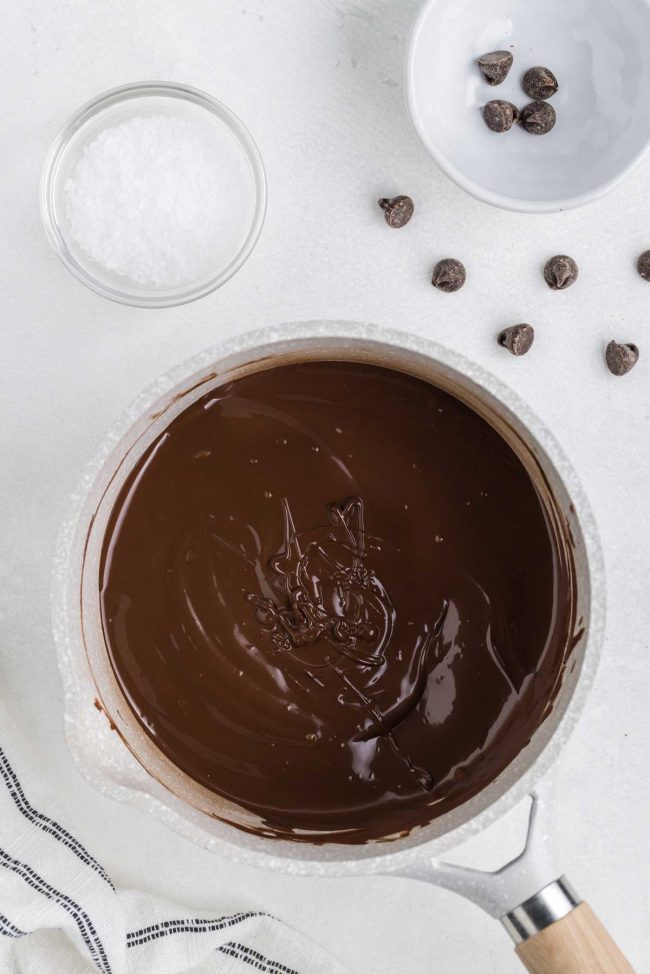 Variations
This chocolate cluster recipe is highly versatile. You can use whatever type of chocolate and any nut you prefer.
If you want to use white chocolate, you just need to keep reading because white chocolate doesn't melt as well, so see below for methods that will work.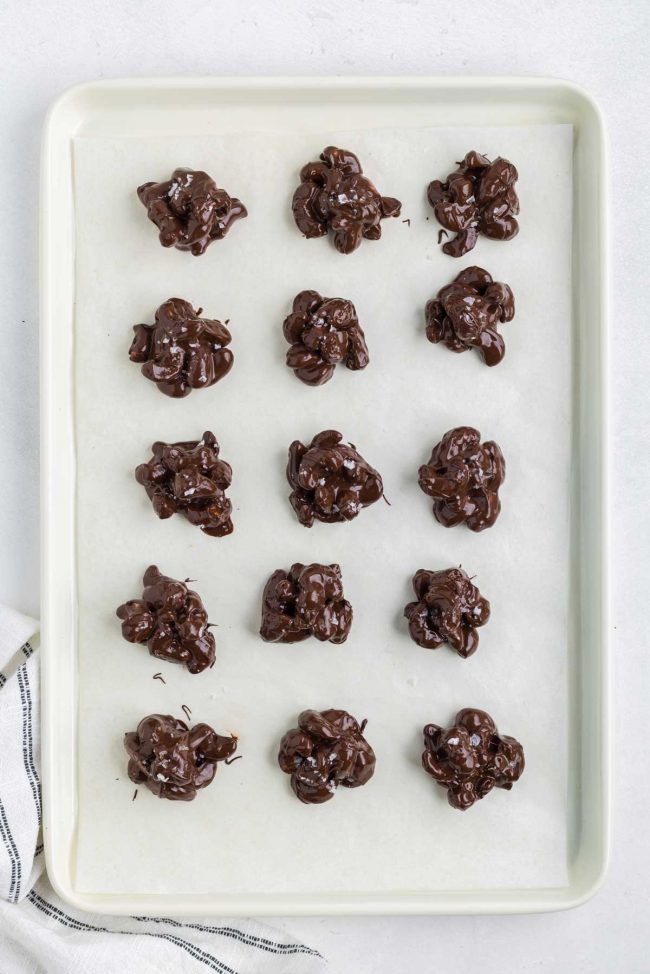 Vegan option
To make these chocolate cashew clusters vegan, you only need to use vegan chocolate and make sure to use the coconut oil option.
Paleo option
Use paleo chocolate to make paleo clusters. Hu Gems is a great option; they work well. And like above, use coconut oil.
Keto option
Just use keto chocolate, and everything else remains the same.
I tried these clusters with ChocZero Dark Chocolate Sugar-free Chocolate Chips and liked them, but any brand of keto chocolate you want will work here.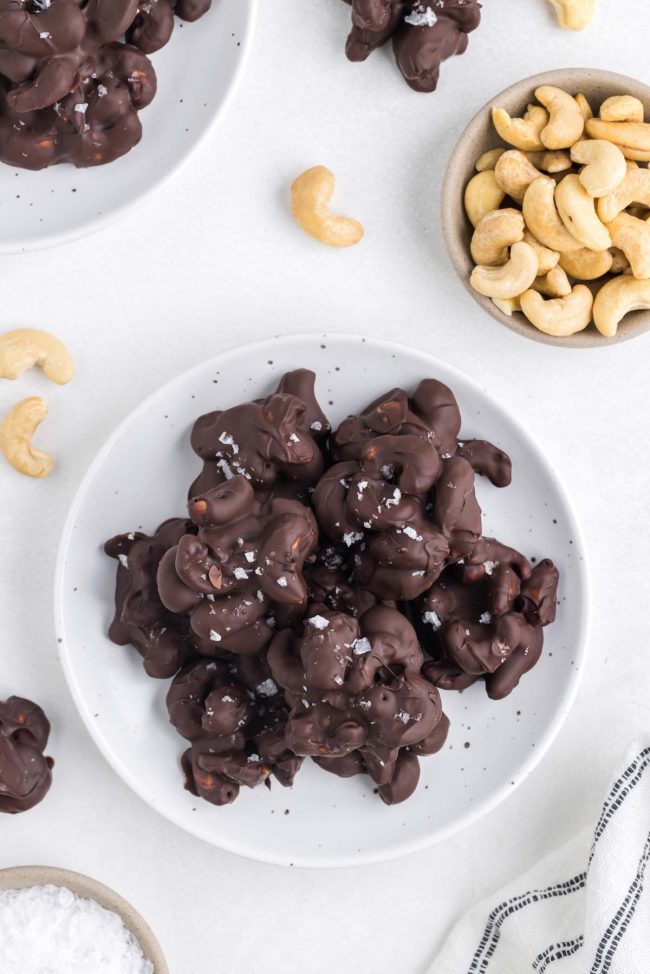 Did you say cashews actually make you feel happy?
That's right! Cashews are rich in tryptophan which our bodies turn into serotonin and makes you feel good. Plus, cashews have lots of magnesium and vitamin B6, essential for controlling mood swings.
So just between you and me, I'm loading up on cashew clusters this season and spreading them around! ;)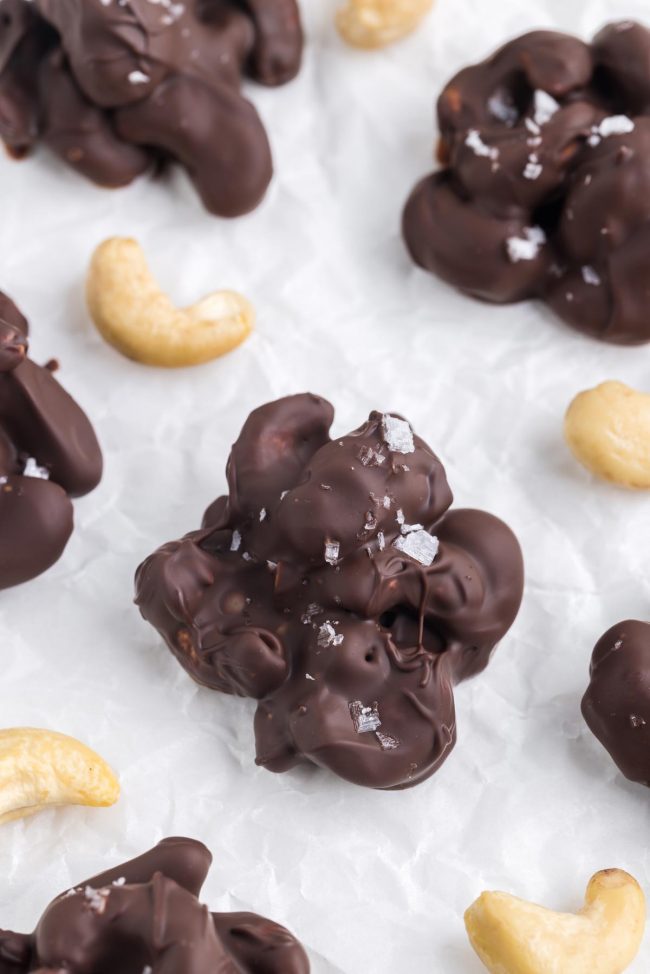 Additions
I keep these clusters simple because they're perfect as they are. Plus, I like my cookies, and candy super simple!
If you want to add a bit more flavor, you could add something like a dash of cinnamon to the melted chocolate.
Dried fruit like cranberries or raspberries is also lovely. Or give them an extra kick with 1/2 teaspoon of espresso powder.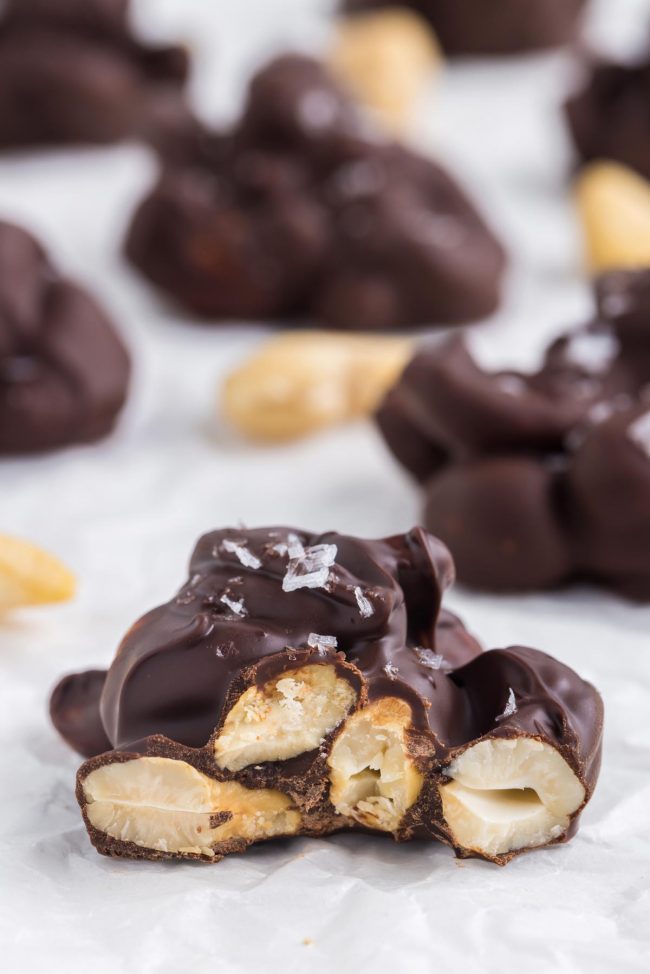 How to melt chocolate
I covered this extensively in the pecan cluster post, so I'll send you over there for more information on how to melt chocolate on the stovetop, in the microwave, slow cooker or double boiler. You'll find the link above in the introduction to this post.
How to melt white chocolate
Know that melting white chocolate can be tricky, and white chocolate can burn quickly and become a clumpy, unusable mess.
You'll need to use a white chocolate bar instead of chips because white chocolate chips have stabilizers added to help keep the form of the chips, and thus they don't melt as smoothly as the bars.
Just break the white chocolate bars into chunks and melt them in the microwave to ensure it doesn't burn.
Use 30% power to get the smoothest texture without burning it. Using full power will likely overcook and seize white chocolate.
Place the white chocolate chunks in a microwavable bowl.


Microwave for 30 seconds at 30% power.


Stir, then continue to microwave in 30-second intervals until it is completely melted and smooth.
If you notice lumps, microwave again for only 15 seconds until it is smooth.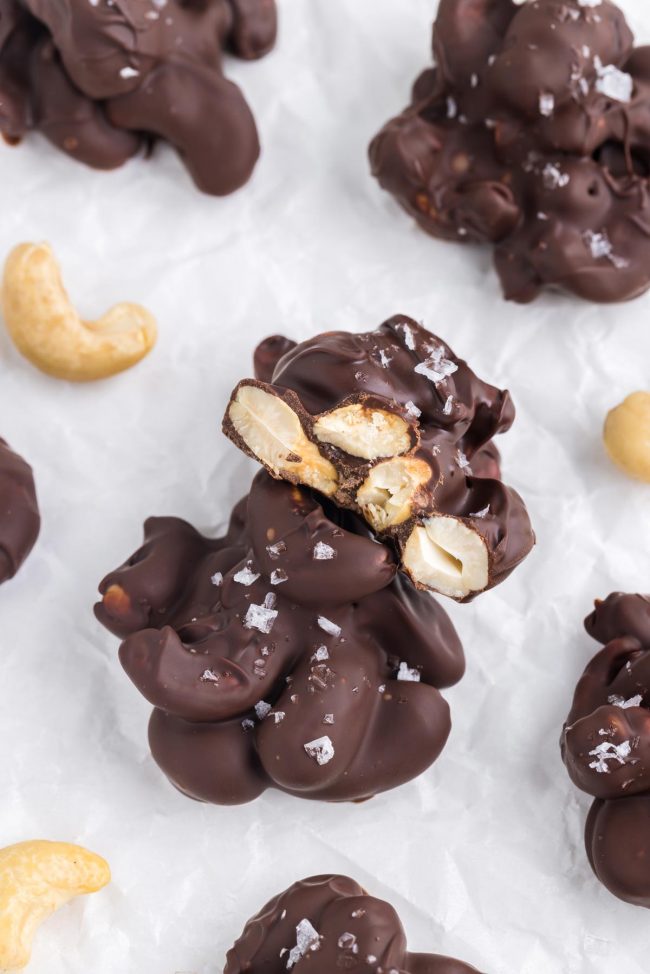 Do I have to use sea salt flakes?
No, if you're reducing your salt intake, you can omit the salt flakes.
But adding that little extra salt gives the clusters a flash of flavor and a nice sparkle, so I recommend using it.
You can use sea salt instead if you don't have salt flakes.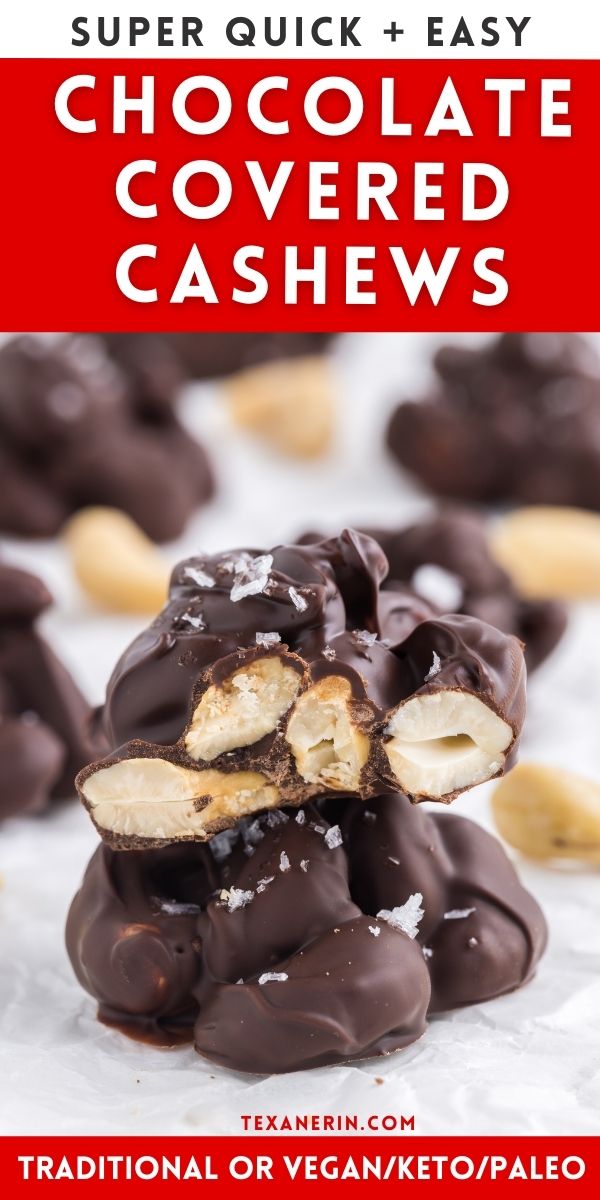 Other treats that make great food gifts
If you enjoy these chocolate covered cashews, please leave us a comment below and tell us more! If you share on social media, please mention @texanerin or tag #texanerin so I can see your creations. Enjoy!
❀
Chocolate Covered Cashews
Prep Time:
Cook Time:
Ready in:
Yield:

24
Ingredients
2 cups roasted and salted cashews
1 1/2 cups (255 grams) semi-sweet chocolate chips or chocolate, chopped (use keto/paleo/vegan chocolate, if needed)
1/2 teaspoon unsalted butter or refined coconut oil for paleo/vegan
flaky sea salt
Directions
In a small pot over low heat, melt together the chocolate and butter or coconut oil, stirring frequently.
Line a cookie sheet with a piece of parchment paper.
Dump in the cashews and stir until combined.
Drop the chocolate cashews by the tablespoon onto the prepared pan. You can use a silicon spatula to spoon the leftover chocolate over the tops of the clusters.
Top with flaky sea salt.
Place in the fridge for about 1 hour to firm up. Or they can firm up at room temperature for a few hours. Store them in an airtight container at room temperature for up to 1 week. You can also refrigerate them for a few weeks. If you want to make them in advance, store them in the freezer (don't salt the tops), and they should be ok for up to 3 months. Once they've fully thawed, then you can top them with flaky salt.