These whole wheat oatmeal raisin cookies are soft and chewy and are just as, if not more delicious, than the traditional version! If you don't have whole wheat on hand, these can be made with all-purpose flour. I've also made these as gluten-free oatmeal cookies, which are just as delicious!
Looking at this recipe in the summer when it's too hot to bake? Try these no-bake oatmeal cookies! They're SO good. :D They're also 100% whole grain and naturally gluten-free + vegan.
(The pictures were updated in April 2016 in case you've made these before and are confused by the different pictures!)
I know that oatmeal raisin cookies aren't all that exciting for most people. But they're so homey. And they make me think of school lunches, visits with grandparents, and baking with my mother.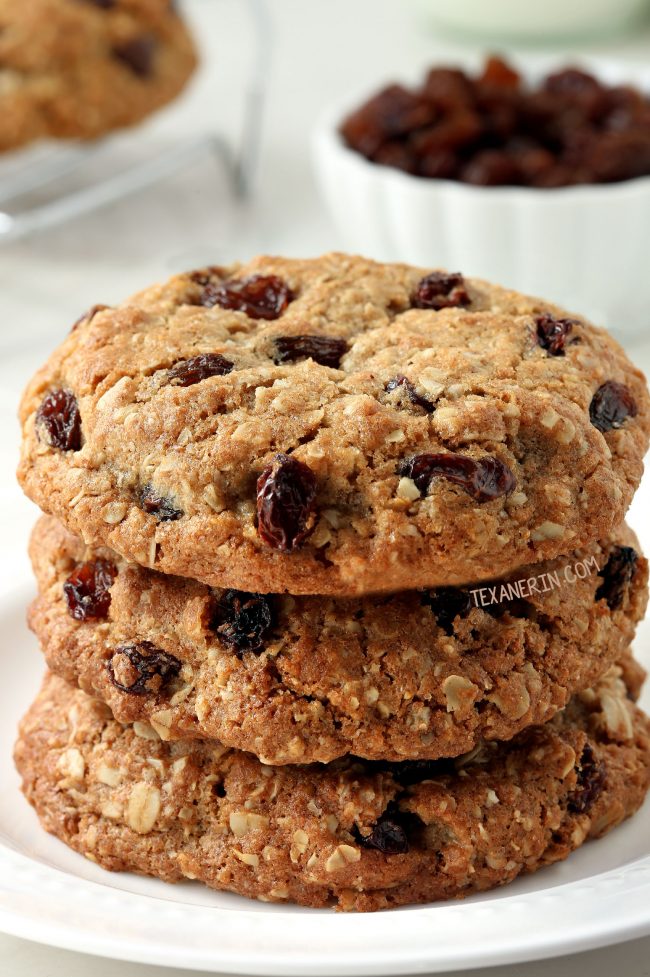 People are stuffing all kinds of sweets into other sweets these days, and although I'm not exactly against it, I really love simple traditional goodies. You know, the kind our grandmas made. Today I was going through my recipe index and realized that I only have one such recipe: banana bread. No chocolate chip cookies, blueberry muffins, or chocolate brownies. All I've posted are more complex and, okay, more interesting versions of these. But sometimes I just want a plain brownie!
I realize that almost everyone already has their favorite recipe for such baked goods, but do most people have favorite healthified versions which taste just as good as their white flour counterparts? Nope! At least I hope not because every now and then, I'm going to post some traditional favorites that have been given a little nutritional makeover. I hope you all won't find this boring!
This recipe substitutes coconut oil for butter, uses about half of the sugar a lot of recipes use, and is 100% whole grain. I used whole spelt, which I really prefer and recommend, but you can also use whole wheat. Regular whole wheat works as well as white whole wheat. Whichever you choose, these oatmeal raisin cookies don't taste the least bit whole grain!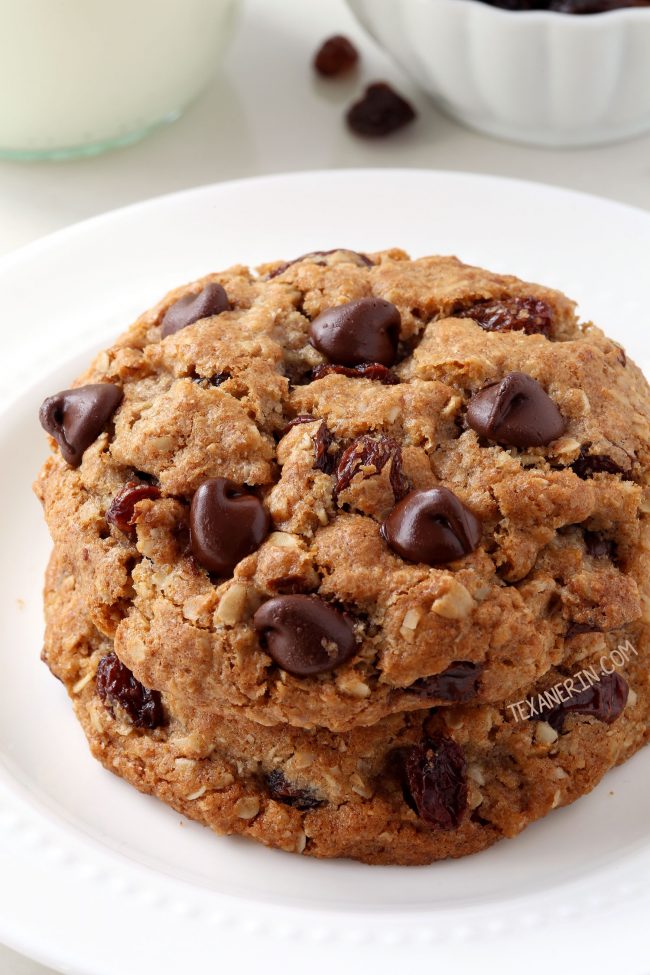 And even more important for me – the texture! These whole wheat oatmeal raisin cookies are SO thick and chewy. And they don't have that slightly cakey feel that some healthy cookies have. At least if you don't over bake them, which I did, thinking that they weren't done.
Should you prefer more traditional cookies, check out these quaker oatmeal raisin cookies!
Are there any traditional favorites that you'd like a healthified version of? Let me know and I'll see what I can do!
❀
100% Whole Grain Chewy Oatmeal Raisin Cookies (dairy-free)
Prep Time:
Cook Time:
Ready in:
Yield:

18-20 large cookies
Ingredients
1 1/2 cups (190 grams) whole spelt flour, whole wheat flour, white whole wheat flour or all-purpose flour
1 teaspoon baking soda
1 teaspoon baking powder
1/2 teaspoon salt
1 teaspoon cinnamon
3/4 cup (168 grams) coconut oil (unsalted butter works, too, but the cookies are chewier with coconut oil)
1 1/3 cups (266 grams) raw sugar, coconut sugar or brown sugar
2 large eggs
1 tablespoon vanilla extract
2 3/4 cups (260 grams) quick oats
1 1/4 cups (190 grams) raisins (you could sub in some chocolate chips for a portion of the raisins or just place a few on top after baking, like I did in the picture)
Directions
Preheat the oven to 375°F (190°C) and line a cookie sheet with a piece of parchment paper.
Stir together the dry ingredients in a medium mixing bowl and set aside.
In a large mixing bowl, stir together the melted coconut oil, sugar, eggs, and vanilla and stir.
Add the dry mix to the wet mix and stir just until combined. Stir in the oats and raisins, again stirring just until combined.
Form the dough into 75-gram balls, about two inches or slightly over 1/4 cup in size, and place 4" apart on the prepared baking sheet. Press the balls down slightly with the palm of your hand. If your dough is too soft to roll into balls, refrigerate for about 30 minutes or until scoopable.
Bake for 13-17 minutes or until the middle appears to be set and the cookies have evenly browned.
Let cool completely on the baking sheet. Store in an airtight container up to 5 days.