These Nutella swirl banana muffins are 100% whole grain, dairy-free and made healthier with better for you ingredients!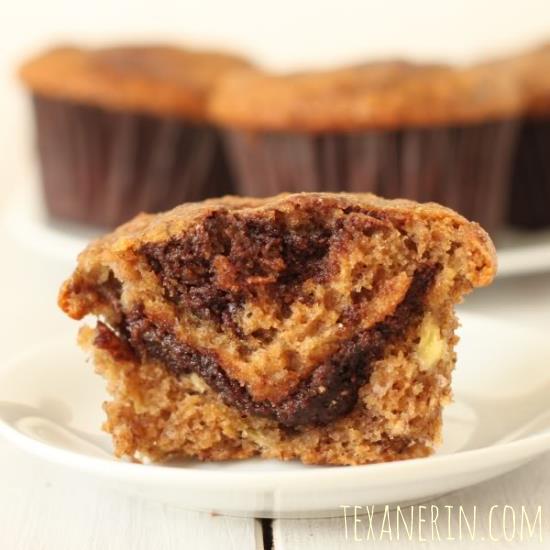 My very first post was 100% whole grain banana bread and it's one of maybe four or five baked goods that Mr. Texanerin really loves. The first few months of blogging, he'd check it every now and then to see if anyone had commented. But nobody did and it was always the least viewed recipe. For some reason I'm not really sure I understand, this made him very sad.
So I made him these banana muffins a while back as a, "Hey! We know the truth. Don't be sad about your banana bread. At least we know it's a star." He's one of those eat-Nutella-from-the-jar types and I thought he'd really enjoy these. But noooo. I "ruined" his banana bread and "wasted" his Nutella. He's crazy. These are way better than boring banana bread. ;)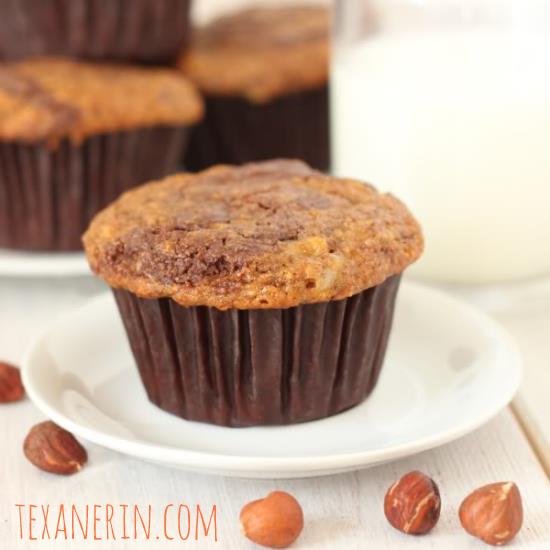 The second time I made these I made my Nutella muffins with homemade chocolate hazelnut spread, but the chocolate taste wasn't strong enough. They were much better with real Nutella but then that's not so surprising, is it? They were still good, just not as good!
These are nice and moist and don't taste healthier. They're just as good as muffins made with white flour! And like I said, these are way better than plain banana bread. :)
And as a bonus, these banana muffins are dairy-free if you use homemade Nutella. Feel free to use whole spelt instead of whole wheat flour! They come out wonderfully with either type of flour. And if Nutella isn't your thing, use peanut butter. I haven't tried it but I imagine the commercial stuff (Jif, Skippy, etc.) would taste better than the natural king that's just peanuts. Peanut butter and bananas – it's one of my favorite combinations ever!
For a gluten-free, autumnal version, try this delicious looking gluten-free pumpkin banana bread!
❀
100% Whole Grain Nutella Swirl Banana Muffins
Prep Time:
Cook Time:
Ready in:
Yield:

12 muffins
Ingredients
1 1/2 cups (180 grams) whole spelt, whole wheat pastry, or whole wheat flour
1 teaspoon baking soda
1/2 teaspoon baking powder
1/2 teaspoon salt
2 teaspoons cinnamon
1/3 cup (66 grams) unrefined sugar, or normal brown sugar
2 eggs
1/4 cup (80 grams) honey
3 tablespoons canola oil
1 teaspoon vanilla
4 medium super ripe bananas, mashed
1/3 – 1/2 cup (85 – 128 grams) Nutella (for the dairy-free version: homemade chocolate hazelnut spread)
Directions
Line 12 muffin tins with liners and preheat your oven to 350°F / 175°C.
In a medium-sized bowl, whisk together flour, baking soda, baking powder, salt, cinnamon and sugar.
In another medium-sized bowl, lightly beat the eggs.
Add honey, canola oil, vanilla and mashed bananas.
Add the wet mix to the dry mix, but just until combined.
Spoon about 1/4 cup of the batter into each liner. Then drop about 1 tablespoon of Nutella over the batter. Then fill the liners with the remaining batter.
Add another spoonful of Nutella to the top and swirl around with knife. If the Nutella is giving you trouble, you can put some in a bowl and microwave it for a few seconds until it's a little melted.
Bake for about 18 – 22 minutes or until a toothpick comes out clean.