This pecan pie fudge only calls for 5 ingredients and is relatively healthy as far as fudge goes! Naturally paleo, vegan, dairy-free and gluten-free.
After making my maple peanut butter fudge a while back, I immediately tried several other versions. And this pecan pie version is my favorite!
All you need is maple syrup, pecan butter, cinnamon, coconut oil, vanilla and salt. Just let it boil for 2 minutes (no candy thermometer needed!), pour into a mini muffin pan and freeze. The key is the salt.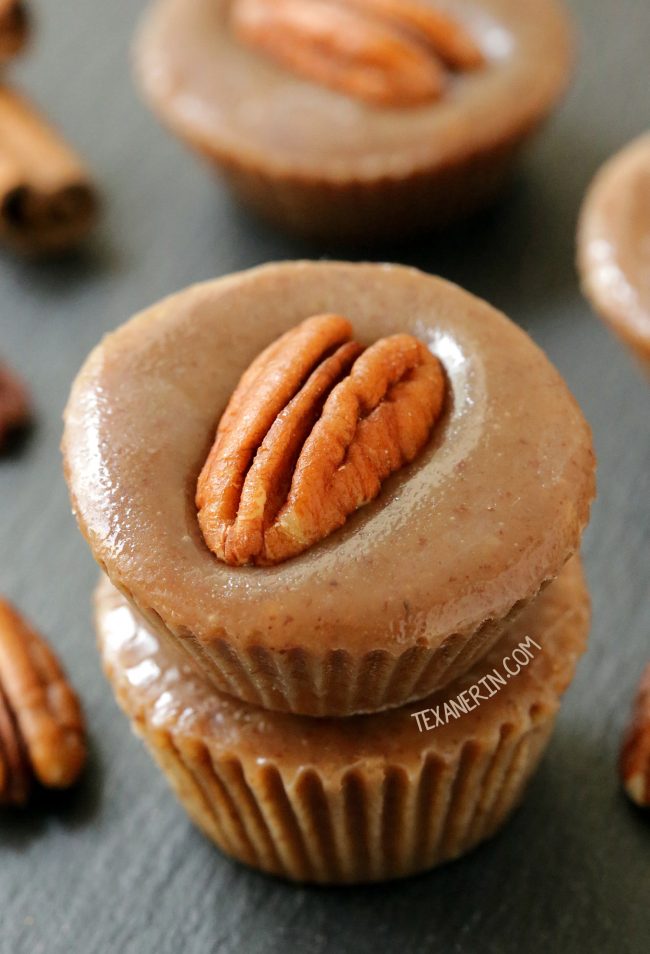 This pecan pie fudge has got this salty-sweet combination going on and it's amazing. If you don't enjoy your sweets salty, then only use 1/4 teaspoon salt.
My only issue is that it's not the cheapest candy to make with 1/2 cup of maple syrup for 12 pieces. If maple syrup weren't so expensive, I'd be making copious amounts of this fudge and handing it out to everyone during the holidays.
I actually forgot to add in the chopped pecans after boiling the fudge so I just plopped a half pecan on top of each piece. I loved how smooth and creamy the fudge was that way but for a truly pecan pie-ish experience, don't forgot the pecans!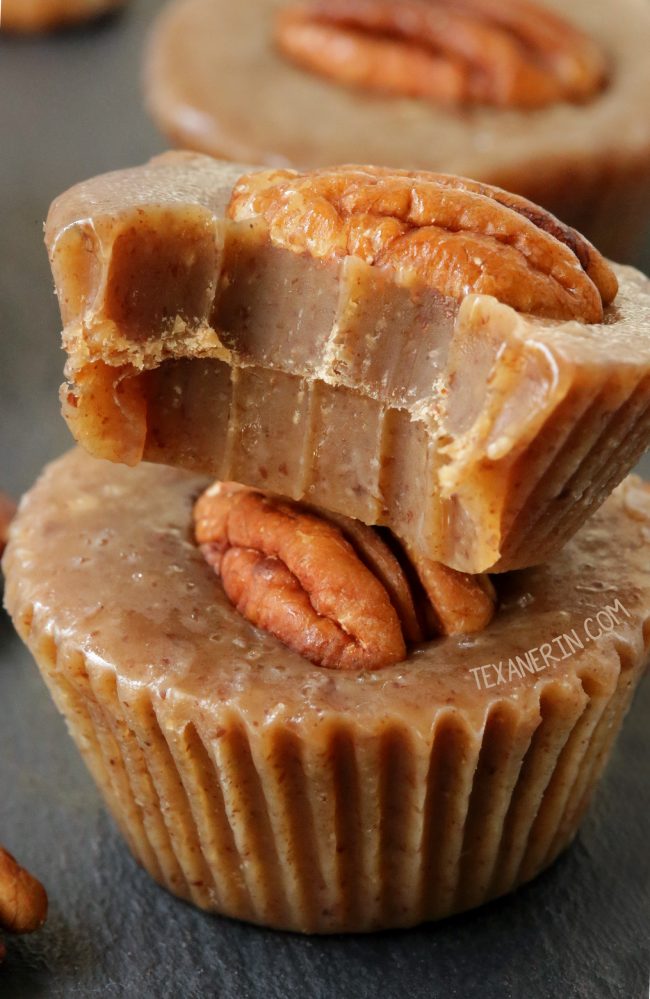 It also calls for 1/3 cup pecan butter but that's easy and cheap enough to make on your own! Just toss 3/4 cup (85 grams) pecans into a food processor and process until creamy and smooth like natural peanut butter.
If you've got a large capacity food processor like I do, you'll need to process more than 3/4 cup to get it to do its thing properly. I did 1 1/2 cups, which gave me enough to make this pecan pie fudge twice.
I've never tried doubling this recipe so I don't know how the cook time would be affected. Plus if I made a double batch of this, I'd just eat it all within a day or two, anyway. So making it on two separate occasions works for me. :D
Looking for more great Thanksgiving recipes? Click on the below images for more!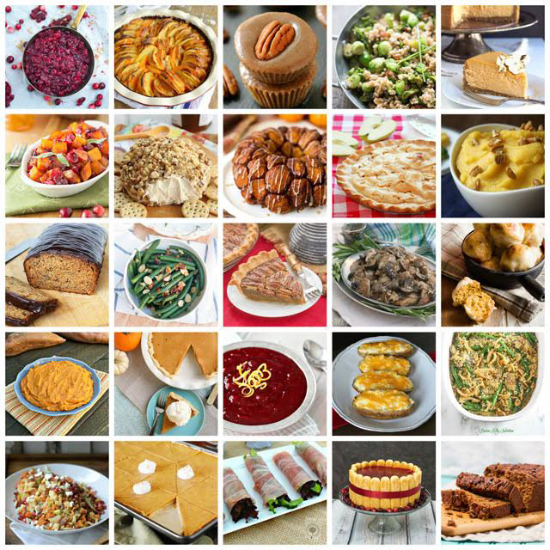 ❀
5-Ingredient Pecan Pie Fudge (paleo, vegan, gluten-free)
Prep Time:
Cook Time:
Ready in:
Yield:

12 pieces
Ingredients
1/2 cup (120 milliliters) pure maple syrup
1/3 cup (85 grams) natural pecan butter1
1/2 teaspoon ground cinnamon
3/8 teaspoon salt
1/4 cup (56 grams) coconut oil2
2 teaspoons vanilla extract
5 tablespoons roasted pecans, coarsely chopped, optional
12 pecan halves, optional
Directions
Line a mini muffin pan with 12 waxed or silicone muffin liners. You can alternatively line a small container with parchment paper or waxed paper. This fudge will stick to regular paper liners!
In a small saucepan, mix together the maple syrup, pecan butter, cinnamon, salt and coconut oil over medium heat. At first it won't appear to come together well. Stirring constantly, bring to a boil and while continuing to stir constantly, boil for about 2 minutes. It should have thickened a bit. If you use a heavy bottom pan, you may need to boil it another minute or two. Stir in the vanilla until well combined. Stir in 5 tablespoons chopped pecans, if using.
Pour into the waxed or silicone liners, top with pecan halves, if using, and place the pan in the freezer. If you don't have room in your freezer, refrigerate for a few hours until firm and then transfer the fudge pieces to a small container that does fit in your freezer.
Freeze for about 2-3 hours. The liners will be easy to remove once the fudge has thoroughly frozen.
This fudge does not travel well (unless you have a cooler!) It should be kept refrigerated or frozen.
Notes
The kind with just pecans. See the post for directions on how to make your own.
I used refined coconut oil, which doesn't have any coconut flavor. If you use unrefined coconut oil, this fudge may have some coconut flavor to it.