This Alexander cocktail is a super creamy gin cocktail with only three ingredients. It's a delightful chocolaty treat to indulge in the tastes of the holidays. With a vegan option.
This drink made with creme de cacao and half-and-half has robust aromas of cocoa with a hint of vanilla. Adding a dash of nutmeg turns this cocktail Alexander into a white Christmas drink, but it certainly ranks high as a perfect after-dinner dessert cocktail year-round.
It takes less than 5 minutes to pour this cocktail, and it's so easy that the only effort you'll make is a vigorous shake.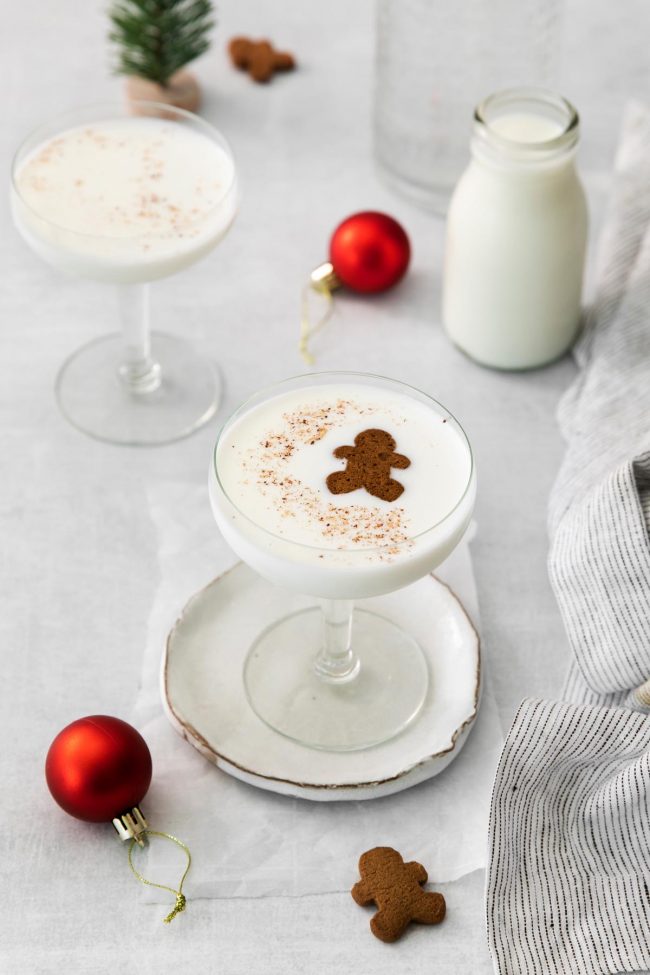 What is an Alexander?
This original Alexander cocktail is made with gin which I was surprised to learn as the brandy Alexander has certainly taken center stage. As a classic gin cocktail, the traditional Alexander has maintained its status as the original Alexandar No. 1 for over 100 years.
The original recipe calls for egg whites which adds to the texture but not the taste. I'm not big on drinking egg whites, so I'll just stick to the basics.
Stanley Clisby best described this cocktail in his book Famous New Orleans Drinks and how to Mix 'Em, writing, "Smooth as cream, delicate as dew and easily prepared is the Alexander… it is truly Alexander the Great among drinks in its class."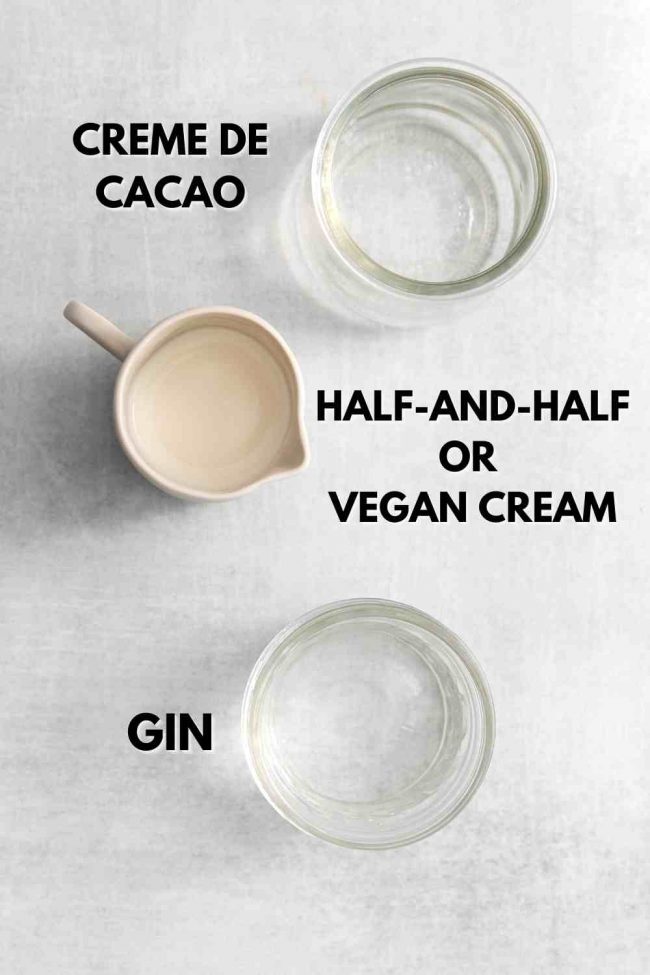 What is white creme de cacao?
White creme de cacao is a clear chocolate liqueur. It's delicately sweet with the potent aroma of chocolate and has a soft buttery finish with slight notes of vanilla and caramel.
What's the difference between white and dark creme de cacao?
White creme de cacao is clear in color and has a more delicate chocolate flavor than dark creme de cacao.
The difference besides the color is in how they produce the liqueur. White creme de cacao is flavored with distilled cacao beans, whereas dark cacao liqueur's more robust chocolate flavor comes from percolated cacao beans. Both additionally use vanilla to enhance the flavor of the liqueur.
It is possible to use dark creme de cacao as a substitute for the white cacao liqueur if that is what you have on hand, but note it might look muddy compared to the clear, white liqueur, and the chocolate flavor will be more intense.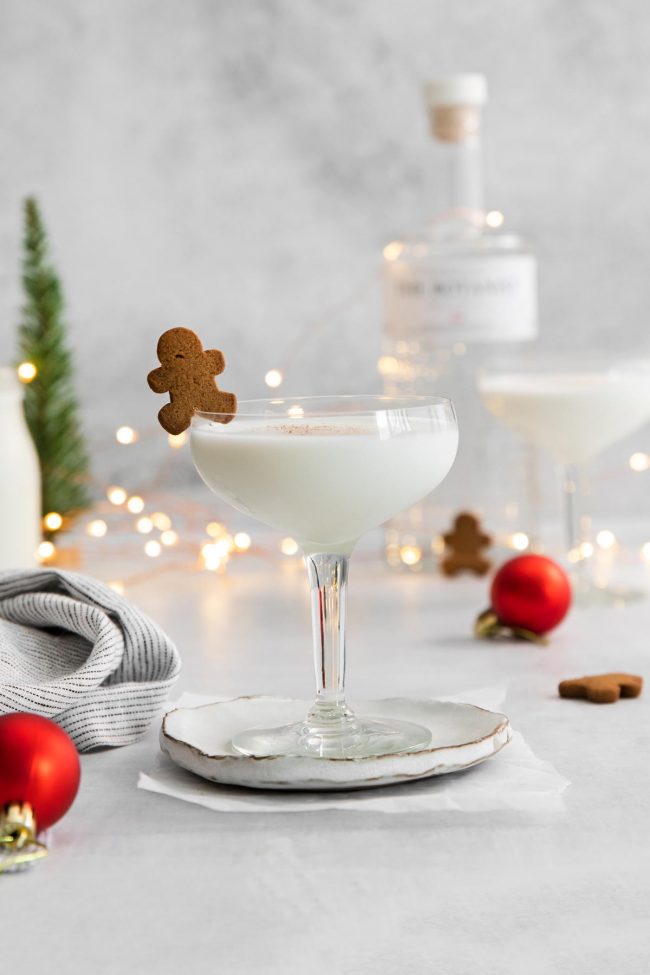 What kind of gin to use?
I'm not one to spend mega bucks for high-dollar liquor, especially when mixing drinks. So I would go with whatever fits your budget.
Besides, quality doesn't always correlate with the cost of some brands of alcohol. I can safely say that most gin brands will be fine for mixing.
When mixing with the liqueur, the gin gets diluted, so it won't be that noticeable should you use a lower-quality brand.
You might not want to use the absolute cheapest option, but cheaper gins like Beefeater, Bombay Sapphire and Gordon's are all suitable options.
Vegan option
I first tried a vegan version with cashew milk. It was way too thin for my liking.
Canned coconut milk is more similar to half-and-half in terms of thickness, but the coconut cream tends to clump together and that's not very appetizing. But if you warm it up a bit so that it's totally smooth, without any lumps at all, then it combines with the other ingredients great.
The drink does has a slight coconut taste to it then, but it was still tasty.
You can also use vegan cream or unsweetened vegan coffee creamer.
You need to make sure to use vegan creme de cacao and gin. This site has info from Bols confirming that their creme de cacao is vegan and the Giffard website confirms that theirs is vegan and gluten-free.
Almost all gin is vegan. Some popular brands are Beefeater, Gordon's, Bombay Sapphire, Sipsmith, Greenall's, Edinburgh Gin, and Tanqueray.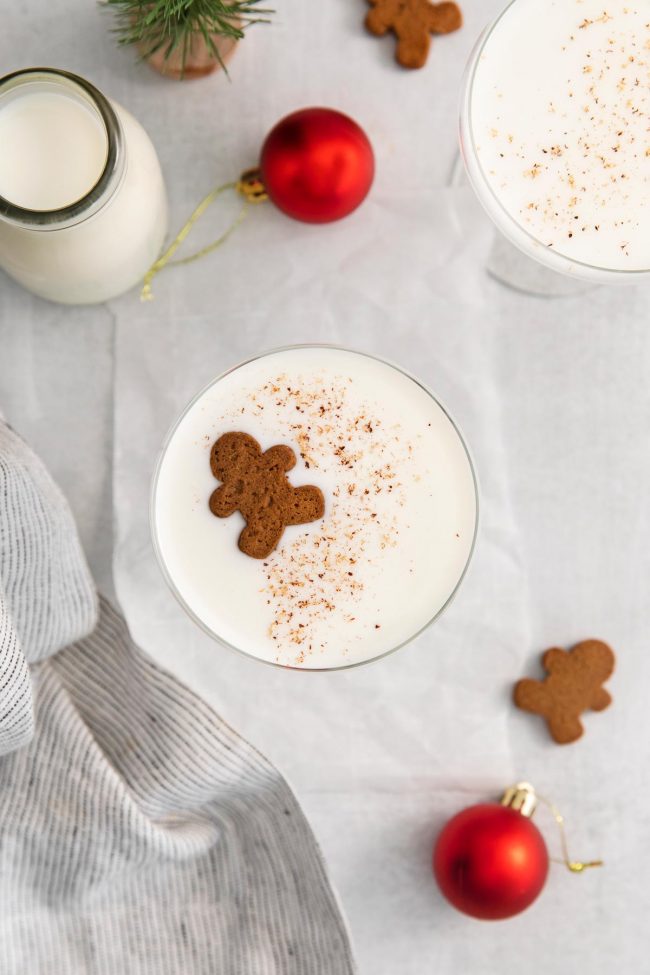 Equipment
To make this Alexander cocktail, you'll want to use a cocktail shaker and a nice wide-mouthed glass, so get out your fancy glassware!
The cocktail shaker makes it super easy to serve mixed drinks because it quickly combines and chills the ingredients and strains the ice with little effort.
If you don't have one, other items in the kitchen will work, like protein shakers, blender bottles, travel coffee mugs and mason jars. Then all you need is a strainer, and you're ready to pour and garnish.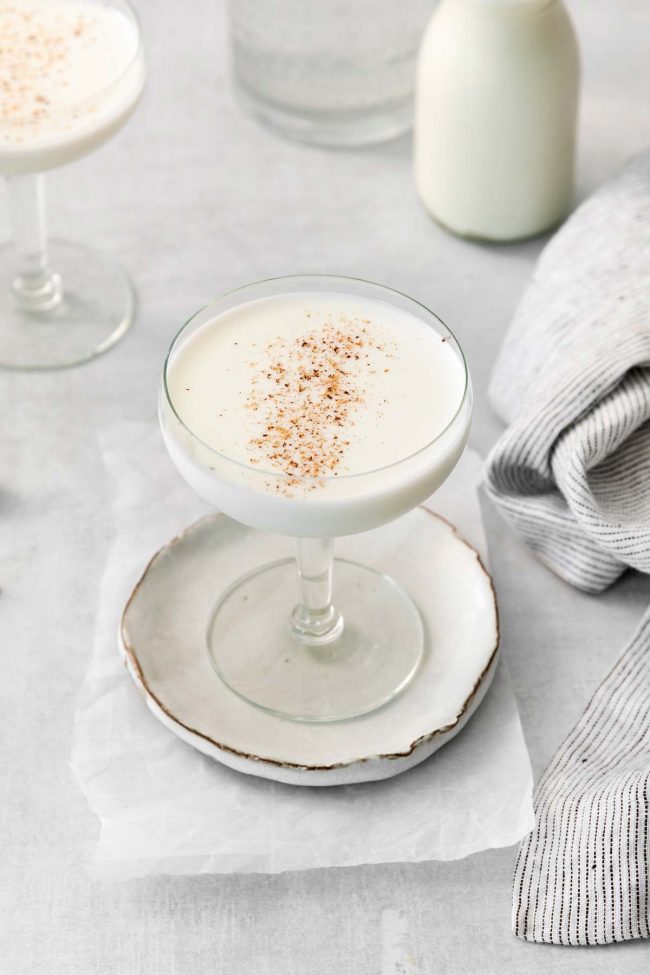 Garnish
Grated nutmeg is the traditional garnish for the Alexander cocktail, giving it a warm, spicy aroma and nutty flavor.
Nutmeg is both sweet and woody. Because it can be quite aromatic, especially if using ground nutmeg, it is best in small doses. If you use too much, the drink can taste soapy or bitter. So just a sprinkle will do.
If you grate the nutmeg, you'll have less chance of overdoing it.
As for other garnishes, I think grated white chocolate flakes would be a nice touch. Cinnamon, too, is also an appropriate garnish for the holidays.
Looking for another Christmas cocktail? This Eggnog Martini is a great choice!
A sprig of mint would be good, or for a pop of color, a maraschino cherry would look festive.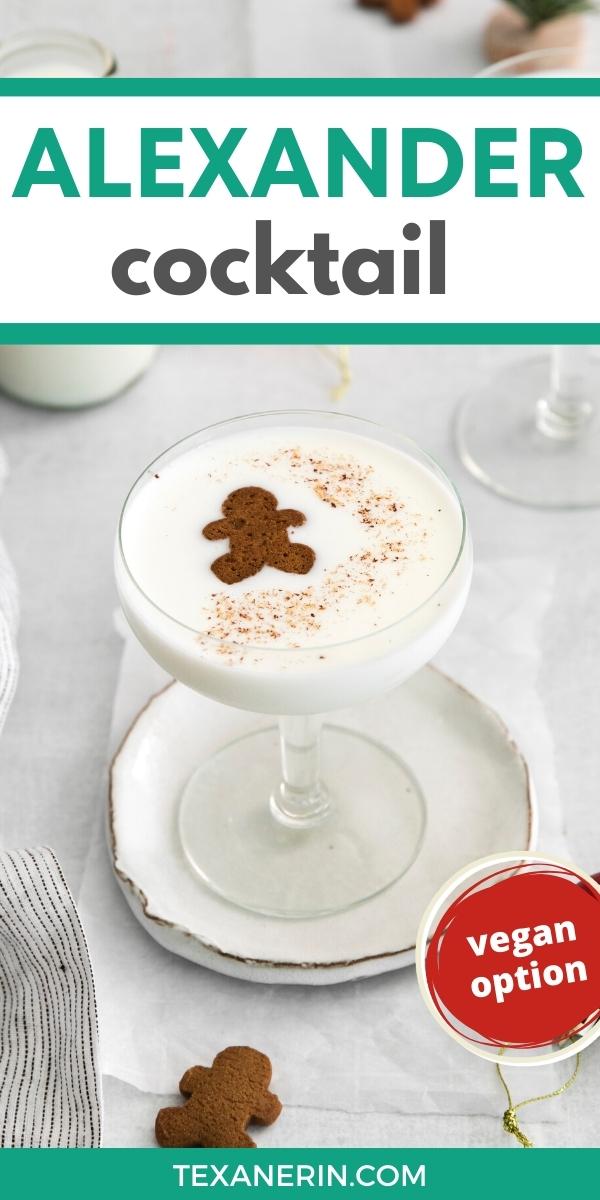 More dessert cocktails
Be sure to check out our list of drinks because we've been posting new festive cocktails, and here are a few of our holiday favorites.
I hope you enjoy this classic Alexander cocktail. Please comment below or tag #texanerin on social media if you try it. I can't wait to see your creations! Happy Thanksgiving to anyone who celebrates. I found mold in our pantry yesterday, so Thanksgiving is canceled for us. :/
❀
Alexander Cocktail
Prep Time:
Cook Time:
Ready in:
Yield:

1 drink
Ingredients
1 oz (2 tablespoons) gin
1 oz (2 tablespoons) white creme de cacao
1 oz (2 tablespoons) half-and-half or for vegan, use vegan cream, vegan creamer or totally smooth canned coconut milk1
nutmeg
Directions
Fill the cocktail shaker about halfway full with ice.
Add the gin, creme de cacao and half-and-half or vegan alternative.
Shake well and strain into the glass.
Garnish with nutmeg.
Notes
To make the coconut milk totally smooth, I had to warm it up a bit in the microwave.
If you're vegan, make sure to use vegan gin and creme de cacao.