This vegan espresso martini is a classic coffee martini with a vegan twist! It's easy to make in just 5 minutes and a great cocktail to share with friends.
Last year, I posted this Espresso Martini with Baileys, and it's received great reviews, but it's not vegan.
Today's cocktail is basically an espresso martini without Kahlua, but with Tia Maria, and cashew milk for added creaminess.
All you need is some vodka, Tia Maria coffee liqueur, espresso, maple syrup, and plant-based milk to make this sweet and creamy espresso martini.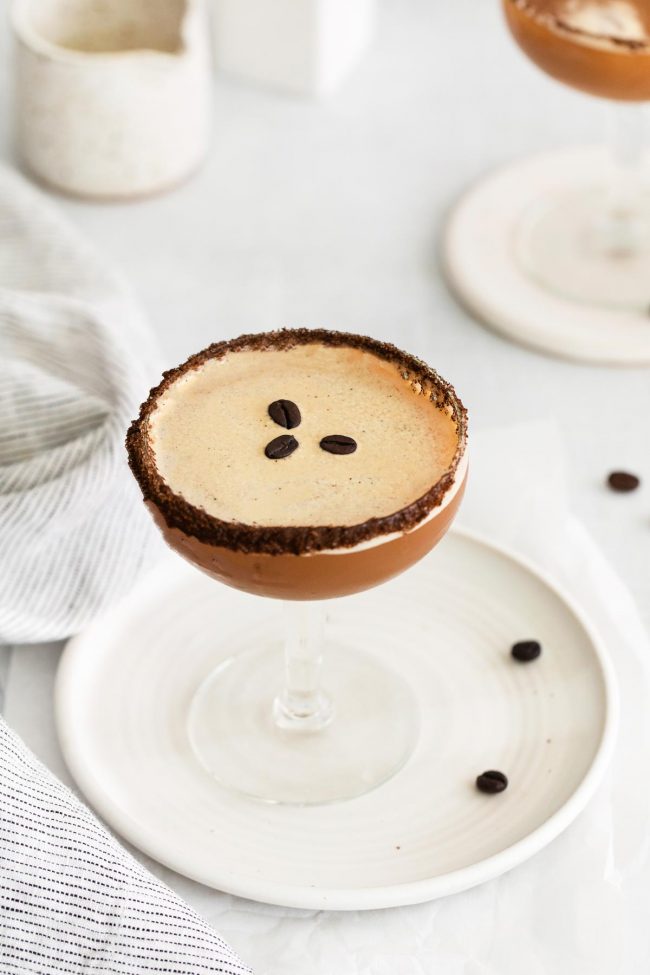 What is Tia Maria?
Kahlua and Tia Maria are probably the most popular coffee liqueurs worldwide, but only one is vegan-friendly.
If you're vegan, Kahlua isn't for you because one of their sugar suppliers uses a non-vegan-friendly process. It is dairy-free, though, should dairy be your only concern.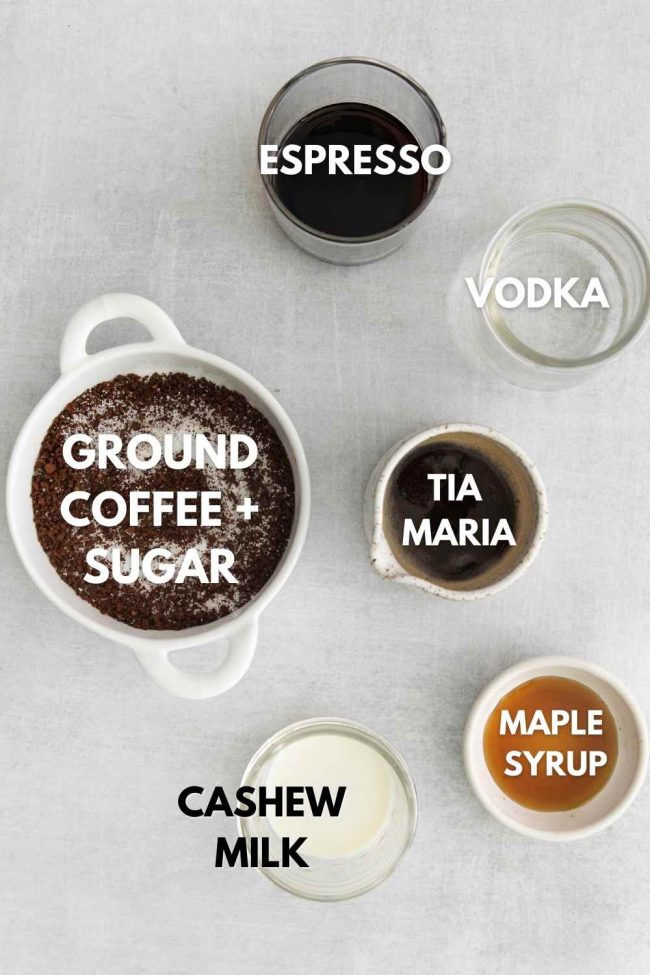 But Tia Maria is vegan!
The ingredients are: sugar, water, Jamaican rum, coffee extract, coffee flavour, vanillin, citric acid, and caramel.
Sometimes sugar can be manufactured with the help of bone char, but Tia Maria has confirmed they're "100% vegan," meaning they don't use bone char.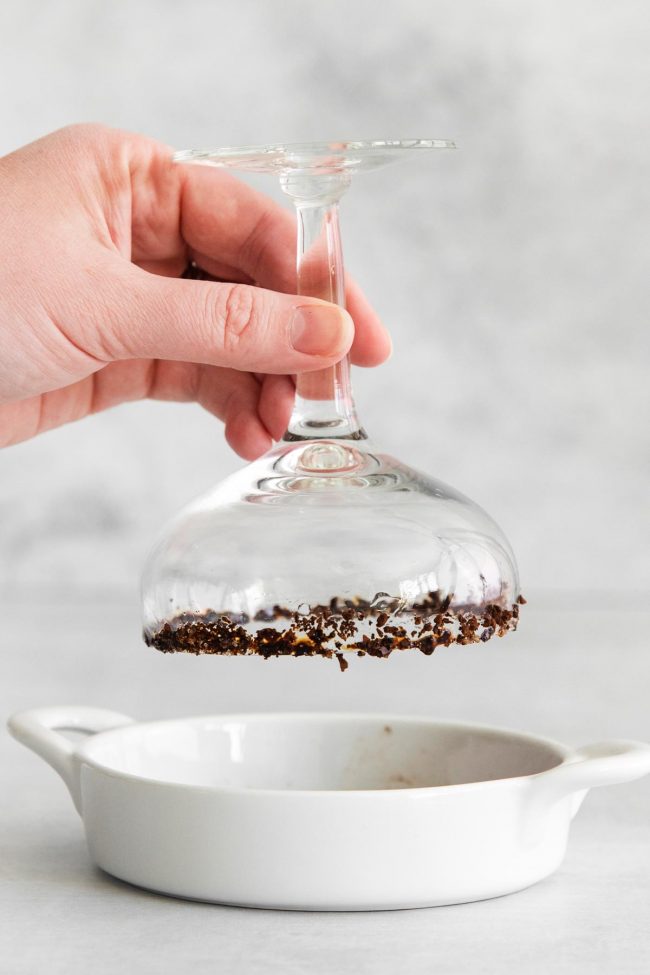 I first bought some to try out a vegan version for my Baileys Iced Coffee. I had read several reviews of Tia Maria, with most saying it's way better than Kahlua, and I have to agree.
Kahlua is definitely much more syrupy and sweet, but in a cocktail, you can't really tell a big difference.
It also has a stronger coffee flavor and is more complex and smoother than Kahlua. It's thinner than Kahlua, but again, you can't really tell when it's in a cocktail.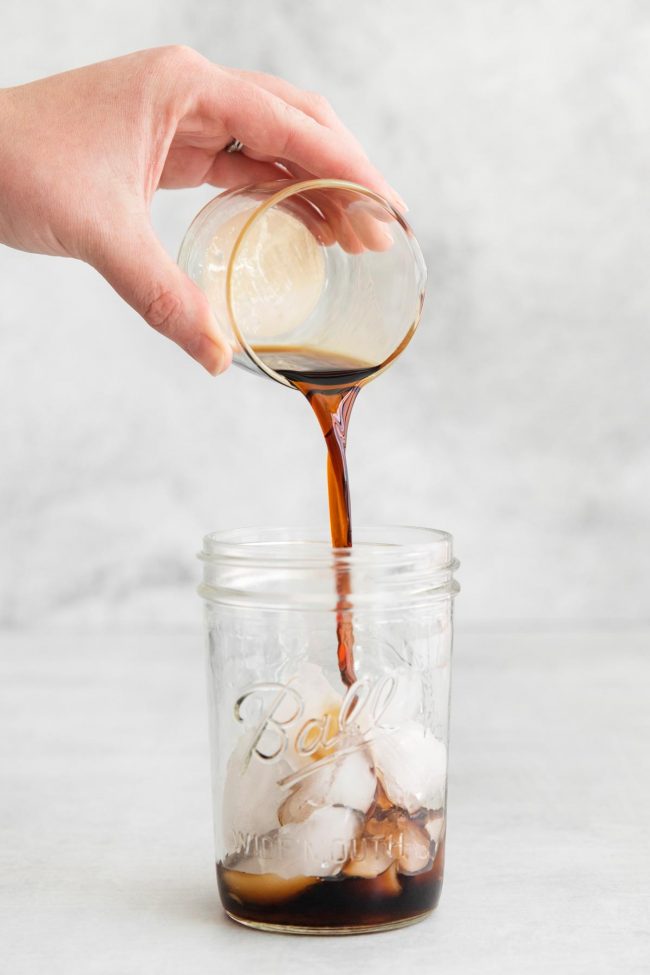 I checked their website and it says it's both vegan and gluten-free. I'm talking about their original Tia Maria Coffee Liqueur.
I see there's also a Tia Maria Matcha Cream Liqueur! It doesn't say gluten-free or vegan, and it's definitely not what you want for this recipe. 😆
If you'd like to try a different brand of coffee liqueur, it's best to google whether it's vegan or not. Alcohol brands aren't required to disclose ingredients on the label, making it impossible to tell just by looking at the bottle.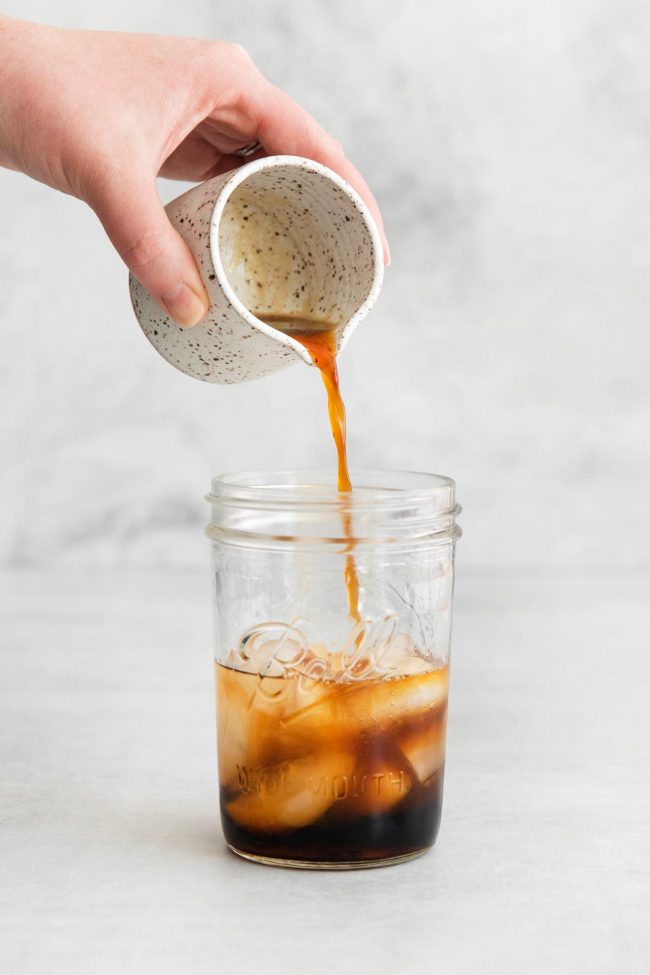 Do I have to use cashew milk?
No, I use cashew milk because I prefer it over other plant-based milk, but you can use whatever you like best. I think canned coconut milk would be too chunky, though, unless you warm it up.
If you're not vegan, you could use a bit of half-and-half or cream in this drink.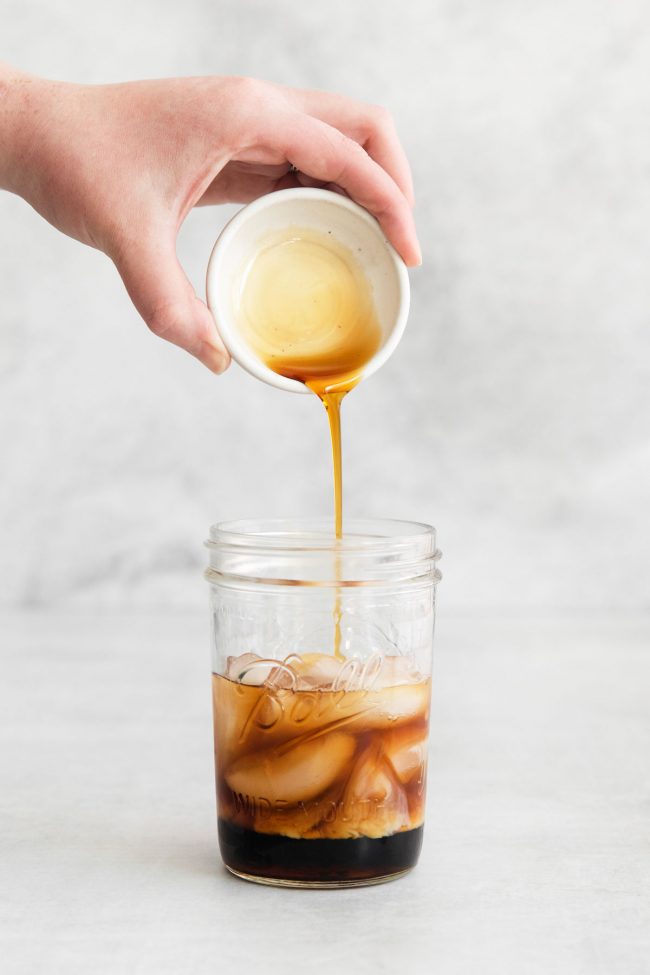 How to make espresso without a machine
If you don't have an espresso maker at home, you can easily make French Press Espresso. Using a French press to make espresso is easy, and you can even froth plant-based milk in it, making it twice as functional.
If you make espresso for this drink and have some left over, check out my post on Can You Froth Almond Milk if you'd like to top your espresso off with a bit of froth.
If you don't have a French press, then this Cold Brew Espresso I just posted requires nothing but a jar!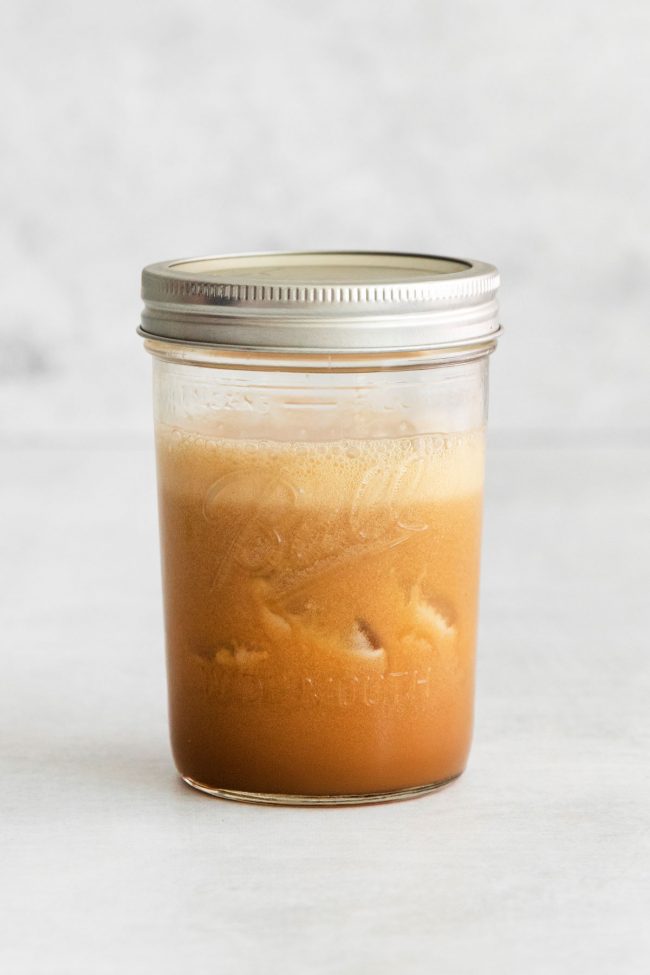 What kind of coffee should I use?
That's a good question! Here is an in-depth look at Espresso Beans vs Coffee Beans. You'll find more details about what is best suited to make espresso and the grind size you need for the French press.
But basically, you'll probably want to use dark roast coffee beans or espresso beans (which are really just coffee beans – the espresso label is a marketing tool to help people know what to buy).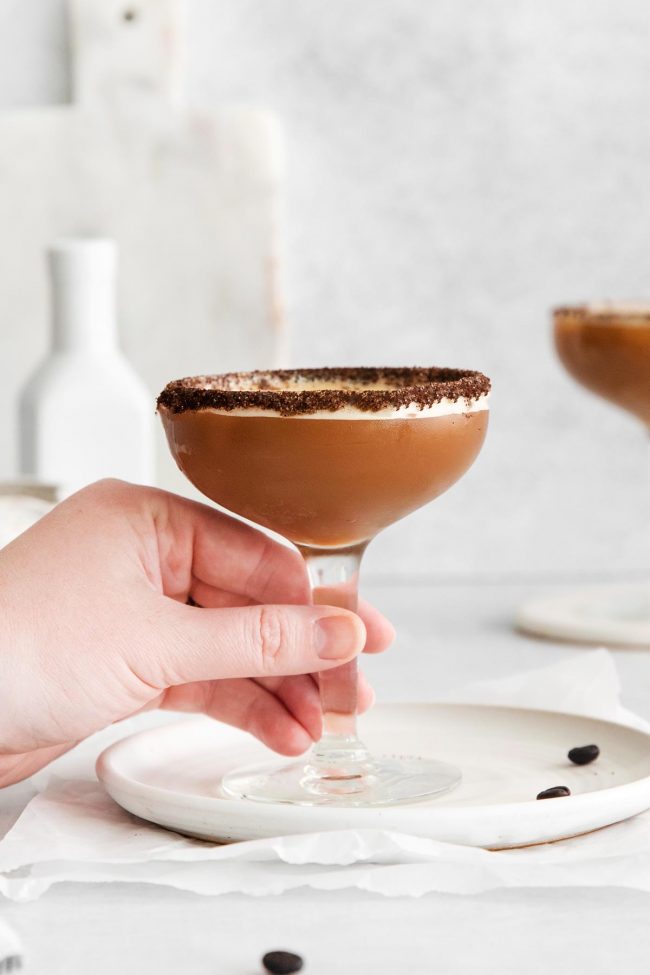 Other vegan cocktails
I have lots of vegan recipes, including drinks! Here are my favorite vegan cocktails.
I hope you enjoy this vegan espresso martini! If you make it, please let us know what you think. :)
❀
Vegan Espresso Martini
Prep Time:
Cook Time:
Ready in:
Yield:

2
Ingredients
For the rims:

2 teaspoons granulated sugar
2 teaspoons ground coffee

For the cocktail:

ice
1.5 oz (3 tablespoons) vodka
1.5 oz (3 tablespoons) espresso
1.5 oz (3 tablespoons) Tia Maria
optional, for a creamy martini – 1 tablespoon unsweetened cashew milk1
Up to 2 teaspoons maple syrup, optional
Directions
Mix together the sugar and ground coffee on a small plate.
Pour a little espresso (or water) into a saucer, flat plate, or shallow bowl larger than your glass.
Dip glasses in the espresso to wet the rims. Then dip in sugar. Set aside.
Fill the cocktail shaker about halfway full with ice.
Add the vodka, espresso, Tia Maria and cashew milk.
Shake well, at least 20 seconds (in hopes of creating some foam). Taste and add maple, if desired. Shake a few more seconds and quickly (so that the foam is still there) strain into the rimmed glasses.
Top each with 3 coffee beans and/or grated coffee beans.
Notes
You can use any type of plant-based milk that you'd like instead of cashew milk. Canned coconut milk would probably be too chunky, though, unless you warm it up first.