This vodka mocktail is the perfect combination of sweet and puckery. It has a great apple flavor and a nice bite, thanks to what we're using in place of the vodka. It can also be made vegan and paleo.
This mocktail tastes like an appletini without alcohol. Instead of spirits, I used a bit of apple cider vinegar and tonic (or sparkling) water to give it that bite and burn of vodka.
Since vodka is in the name of this mocktail, I was challenged to make this non-alcoholic drink taste like a vodka martini. I went with the taste of an appletini.
First, I tried it with just apple cider vinegar as a vodka replacement, but it was kind of off-putting, so I reduced the vinegar to 1/2 teaspoon and added tonic water. I feel like the combination of the acid from the vinegar and tonic really gives you that vodka pucker.
It's perfect for those days when you want a fizzy drink without alcohol or a ton of sugar, and it's ideal to offer to designated drivers and guests who don't drink alcohol.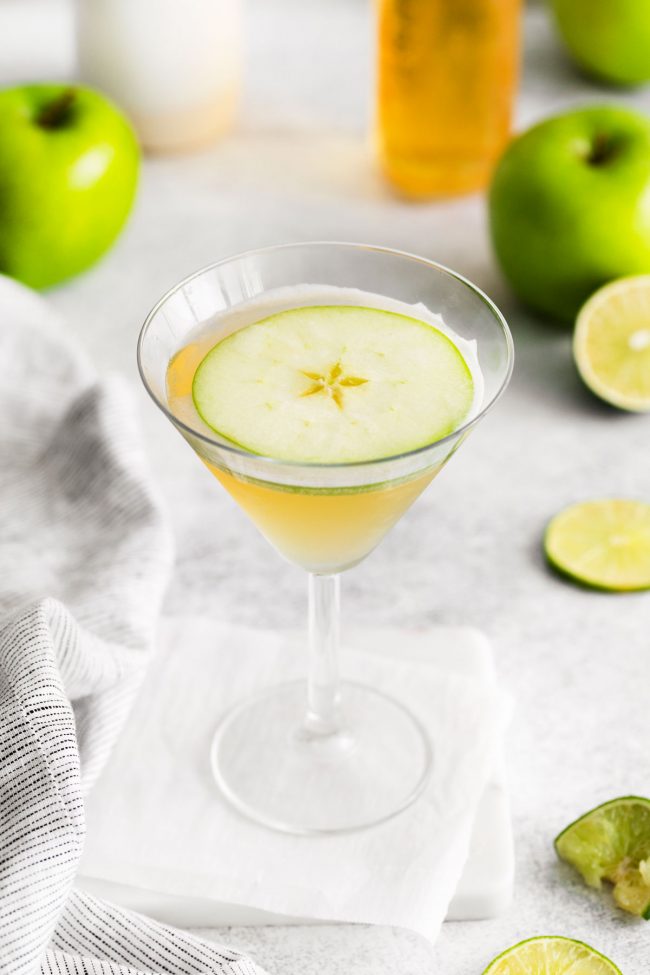 Ingredients
Apple juice – this is the base of the mocktail and adds a bit of sweetness and, of course, apple flavor. I recommend a good quality apple juice or apple cider.


Lime juice – this adds a bit of acidity to the mocktail. Lemon juice would also work!


Maple syrup or simple syrup – if you're not paleo, you can use simple syrup. And if you use sparkling water instead of tonic water, you might want to add a tiny bit more sweetener. Maybe 1/4 teaspoon or so? But that comes down to personal taste.


Apple cider vinegar – combining apple cider vinegar with tonic water, we can emulate the taste of vodka but without the alcohol. It sounds nasty, I know, but only a tiny amount is called for and the drink doesn't taste at all like vinegar!


Tonic water or sparkling water – creates a fizzy drink without adding additional flavor. Use sparkling water if you're paleo.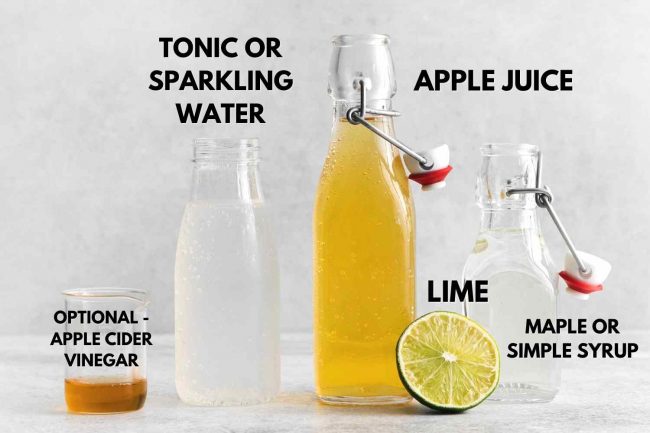 Do I have to use apple cider vinegar?
Nope! Then you have a light refreshing apple drink. But it won't have the bite of a normal alcoholic cocktail.
I only use 1/2 teaspoon. With that amount, it doesn't taste or smell of apple cider vinegar.
I gave my husband a try of this vodka mocktail with 1/2 teaspoon apple cider vinegar. He liked it and didn't realize there was any vinegar in there.
I then gave him a try of the first version I had made with 1 teaspoon. He gagged.
So! Try the drink first with 1/4 teaspoon and then add another 1/4 teaspoon if you think it's needed.
My photographer liked it with 1 teaspoon, so I think it comes down to your brand of apple cider vinegar and personal taste.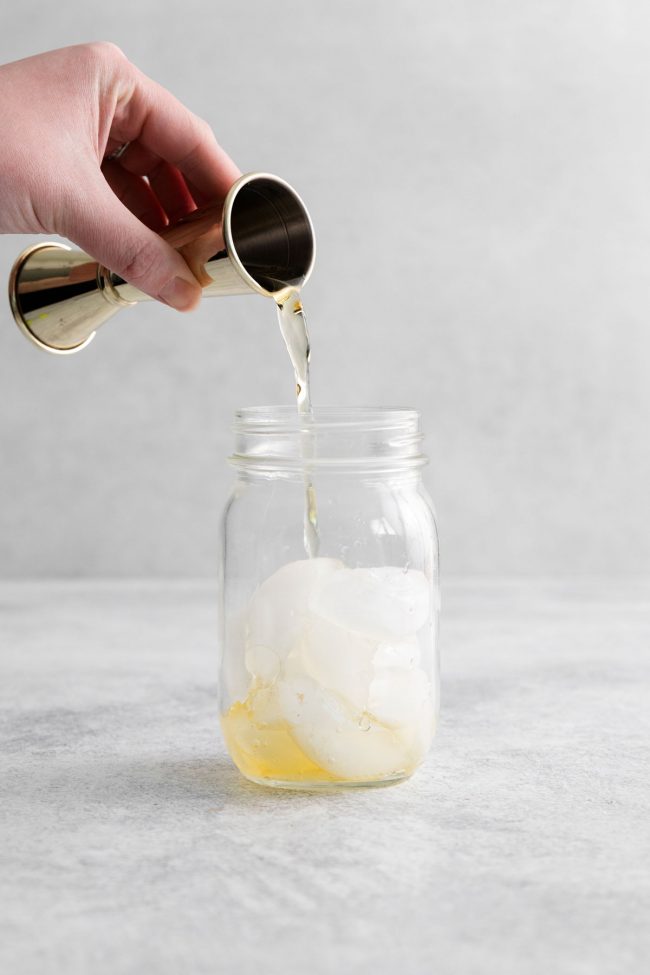 Tonic water vs sparking water
Tonic water is carbonated water with added sweetener, quinine and often also preservatives. It's not, by the way, a healthy replacement for soda.
In the US, Schweppes, Canada Dry, and most store-brand tonic waters use high fructose corn syrup as the sweetener. In Europe, regular sugar is used in Schweppes.
Quinine comes from the bark of the cinchona tree and is used to treat malaria. It has a bitter, astringent taste that makes tonic water something of an acquired taste. People perceive bitter flavors differently.
So some people find tonic water okay, while others, like me, find it terrible on its own.
You're not using a large amount in this drink, though, so if you're never had it before – don't be scared. ;)
Tonic water + apple cider vinegar better mimics vodka in this mocktail, but sparkling water is a great alternative. It's what I use as I don't like tonic water on its own and I don't like the ingredients, either. I definitely don't want to be left with a bunch left over.
Sparkling water is just water that has been carbonated, either naturally or artificially. There are many flavored types available, but for this drink, you just want the plain kind without added flavor.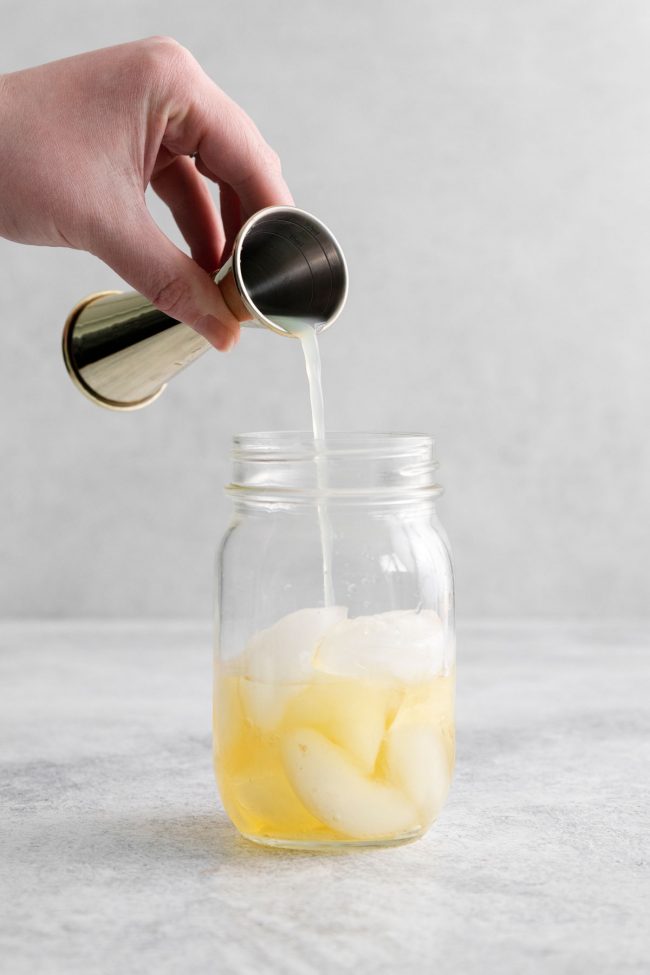 Tips
Don't shake the tonic/sparkling water! You will shake out the fizz if you add the tonic water to a cocktail shaker with the other ingredients.


Cocktail shakers not only chill but also combine the ingredients quickly. If you don't have one, you can use protein shakers, a blender bottle, a mason jar with a tight lid or even a coffee travel mug.


Serve in a chilled martini glass if you have time to plan. To do that, wet a martini glass and place it in the freezer for 15 to 30 minutes.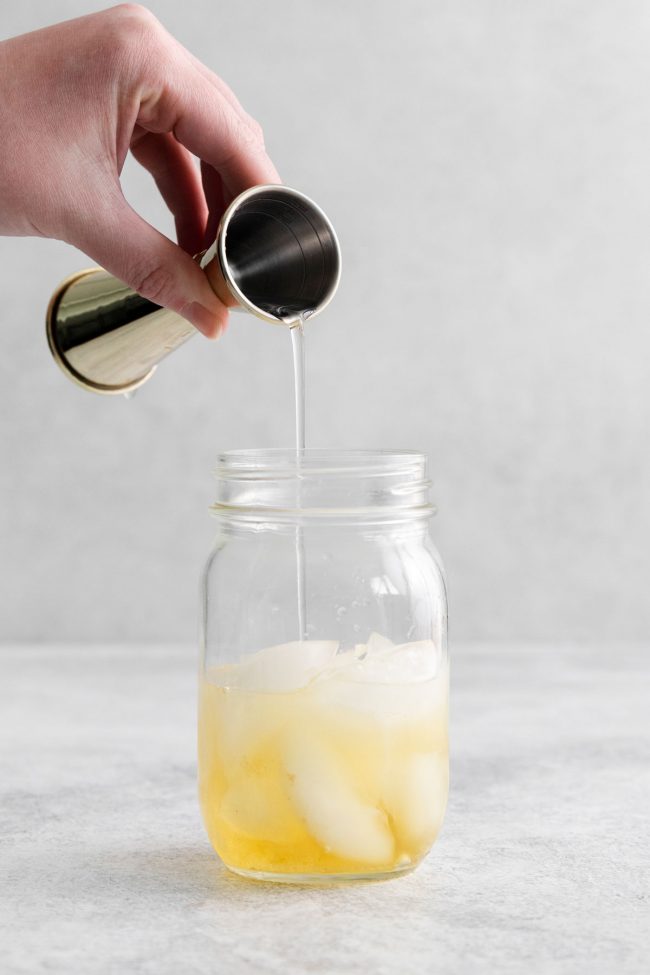 What is a mocktail?
A mocktail or mock cocktail is simply a non-alcoholic mixed drink meant to replicate a cocktail in presentation, complexity and taste.
You may remember ordering a virgin strawberry daiquiri when you were under the drinking age. But it takes more than just leaving out the alcohol to make an inspired mocktail.
Taking that next step to mimic a classic cocktail's taste takes practice to get the complexity and taste just right.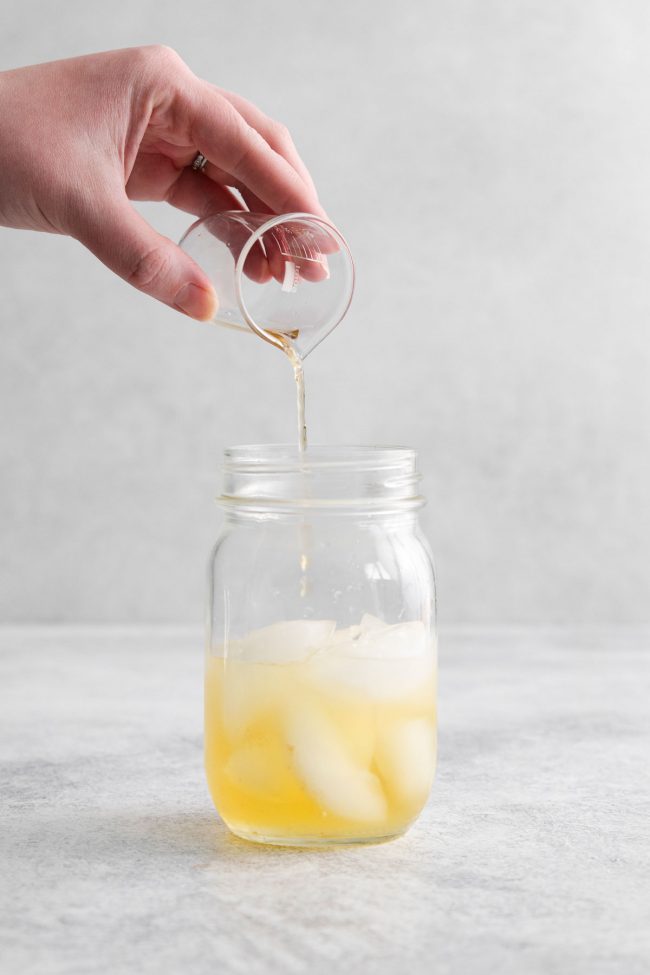 To make an excellent mocktail recipe, you must combine sodas, juices, herbs and syrups to create a unique flavor close to its original counterpart. It can be an art form, just like making cocktails.
Everything from ingredients (minus the alcohol) to its appearance and garnish makes a truer mocktail than just leaving out the rum in a rum and coke. ;)
So mocktails should be presented in appropriate glasses, contain fresh ingredients to create unique flavors, and have finishing touches like sugar rims and garnishes.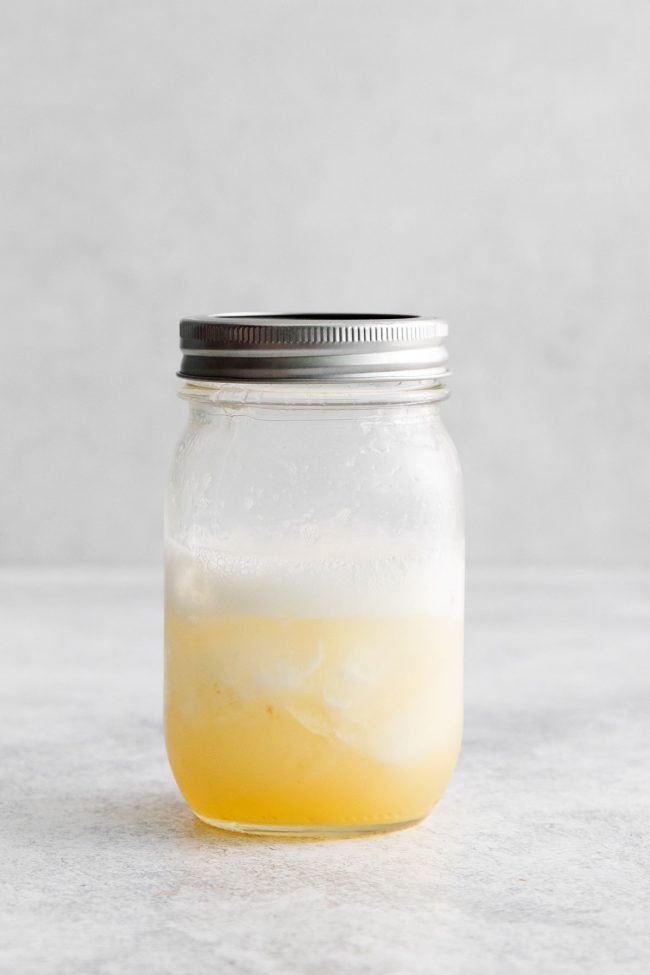 But why?
Mocktails are socially enjoyable, just like cocktails, but without the hangover.
If I'm entertaining, I like to have options that fit everyone's lifestyle.
So mocktails are for those who simply don't feel like consuming alcohol, are pregnant, underage, or want to pace themselves through long work parties and events.
Mocktails are for those that want to be part of a social experience without the social pressure of drinking alcohol.
And let's not forget about the designated drivers! They need fancy drinks, too.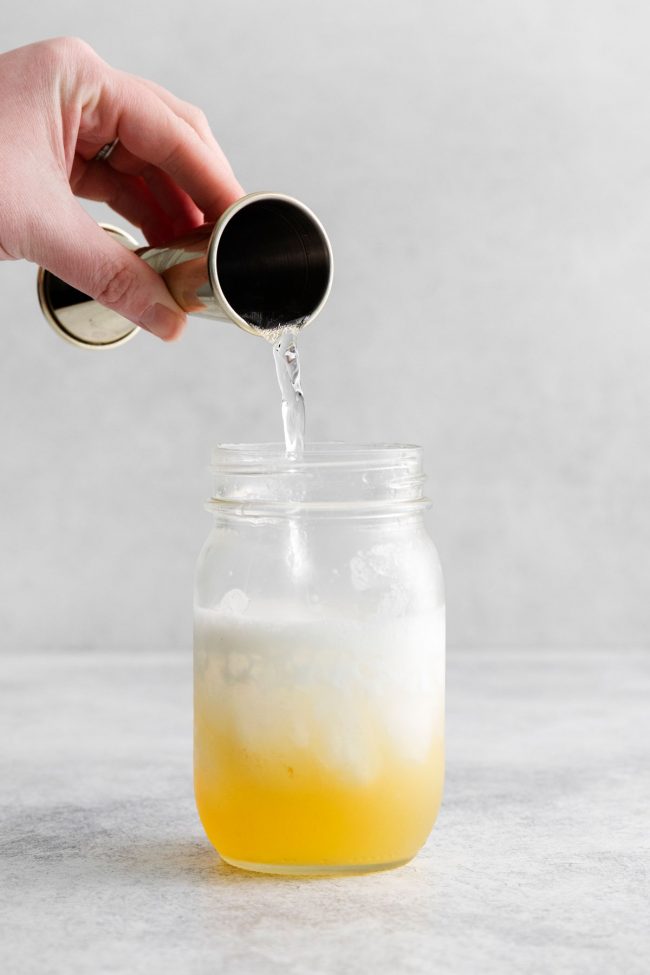 How to make simple syrup
If you don't have maple syrup or simple syrup on hand, here's what to do.
Making simple syrup is easy, and it's a 1:1 combination of sugar and water.
Boil water, and add equal parts granulated sugar. When the sugar is dissolved, it's ready.
Use 1/4 cup of sugar and 1/4 cup of water to make a small portion.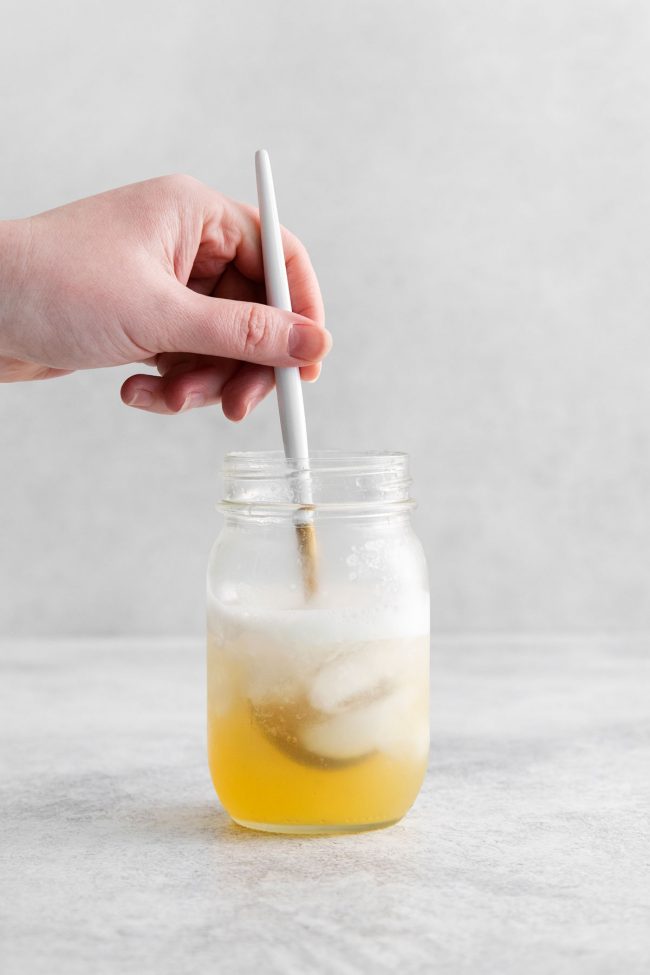 If you'd like a sweeter version, you can do a 2:1 ratio. So 2 cups of sugar and 1 cup of water using the same technique above.
You can use raw sugar or any type of granulated sugar you'd like.
Store it in the fridge for 2 to 4 weeks. You can tell when a simple syrup has gone bad when it is cloudy.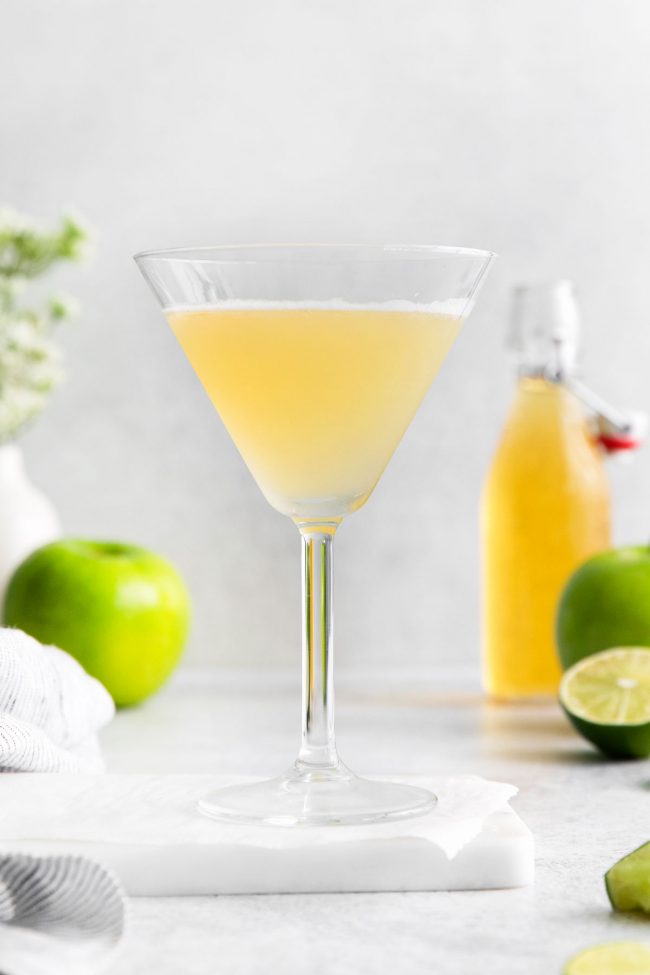 Variations
This recipe is a virgin appletini, but you can make slight adjustments to make different concoctions.
To make a virgin lemon drop, swap the apple juice for lemonade and use lemon juice instead of lime juice.
For a virgin cosmopolitan, swap the apple juice for cranberry juice.
For a dirty martini, omit the simple syrup and garnish with two olives.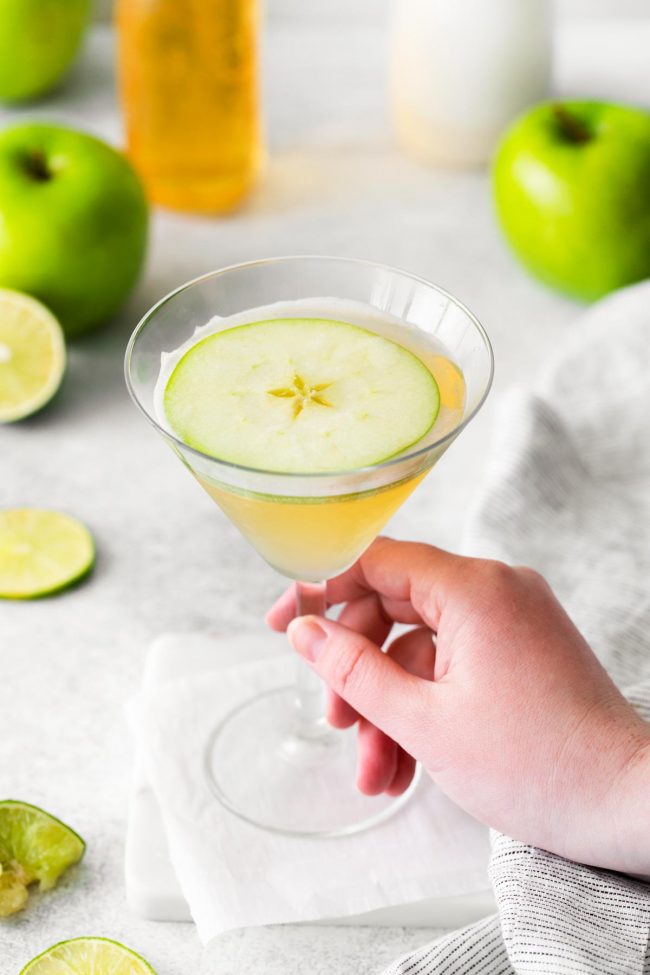 Garnish
I garnish drinks rather simply at home, but if you're entertaining, you can use a lemon or lime twist or a sliver of green apple.
I like to brush lemon or lime juice on apple slices to keep them from turning brown.
If you want to go all out, you can find appletini green rimming sugar to rim the glass with color and sweetness.
I think this mocktail is sweet enough, but if you like it a little sweeter, green sugar would probably do it without making a sweeter simple syrup.
If you'd like to create your own naturally colored sugar for this drink and other holiday baked goods, check out this post!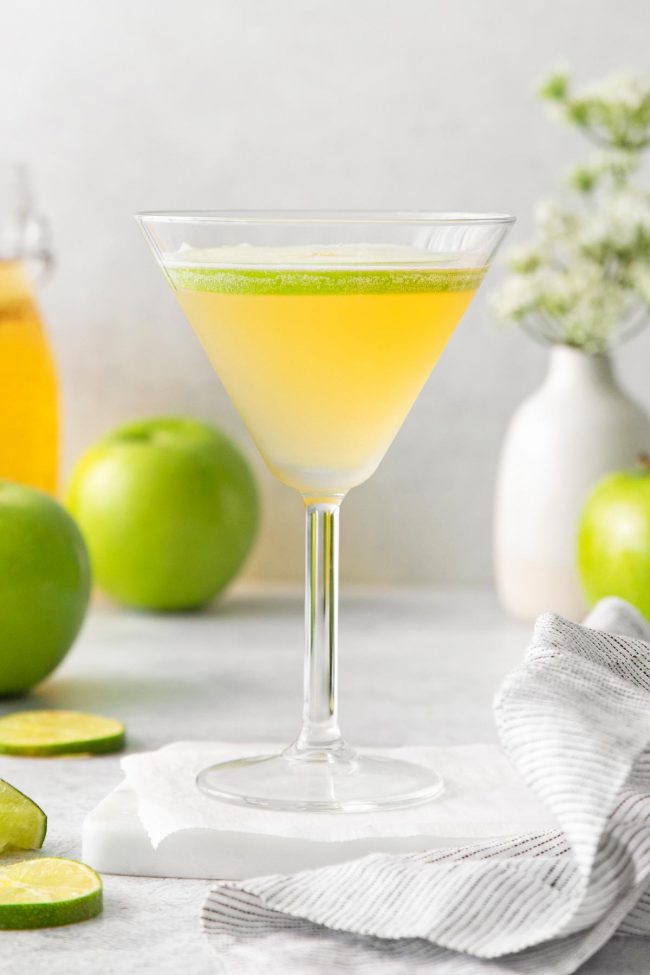 Other non-alcoholic drinks
If you want options to serve drinks for guests or you're looking for tasty treats, here are some of my favorites.
I hope you like this vodka mocktail! If you make it, please leave a comment and let us know how it turned out. And, of course, if you're on social media, I'd love for you to tag #texanerin so I can be sure to see your creations. Cheers!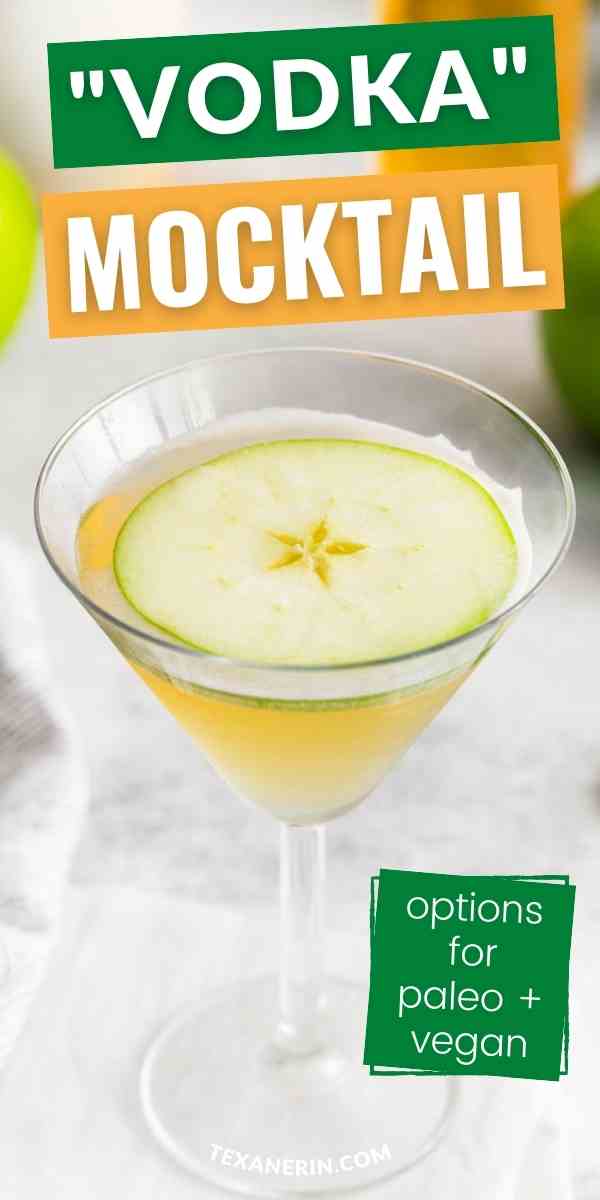 ❀
Vodka Mocktail
Prep Time:
Cook Time:
Ready in:
Yield:

1 drink
Ingredients
2 ounces (1/4 cup) 100% apple juice
1/2 ounce (1 tablespoon) freshly squeezed lime juice
1/4 ounce (1/2 tablespoon) maple syrup or simple syrup
1/4 to 1 teaspoon apple cider vinegar
1 ounce (2 tablespoons) tonic water or sparkling water
Directions
Fill a cocktail shaker halfway with ice. Add the apple juice, lime juice, 1/4 teaspoon apple cider vinegar, and maple or simple syrup.
Shake until well chilled, about 30 seconds.
Add the tonic/sparkling water and stir to combine. Don't shake the tonic/sparkling water! Use a spoon to sample a bit. Want more bite? Add another 1/4 teaspoon apple cider vinegar at a time (up to another 3/4 teaspoon).
Strain into a martini or coupe glass and enjoy. Garnish with a lemon twist or slice of green apple.
Notes
For paleo, make sure to use maple syrup and sparkling water.