These super moist gluten-free apple muffins have the most amazing texture and are super simple to make! Grain-free and gluten-free.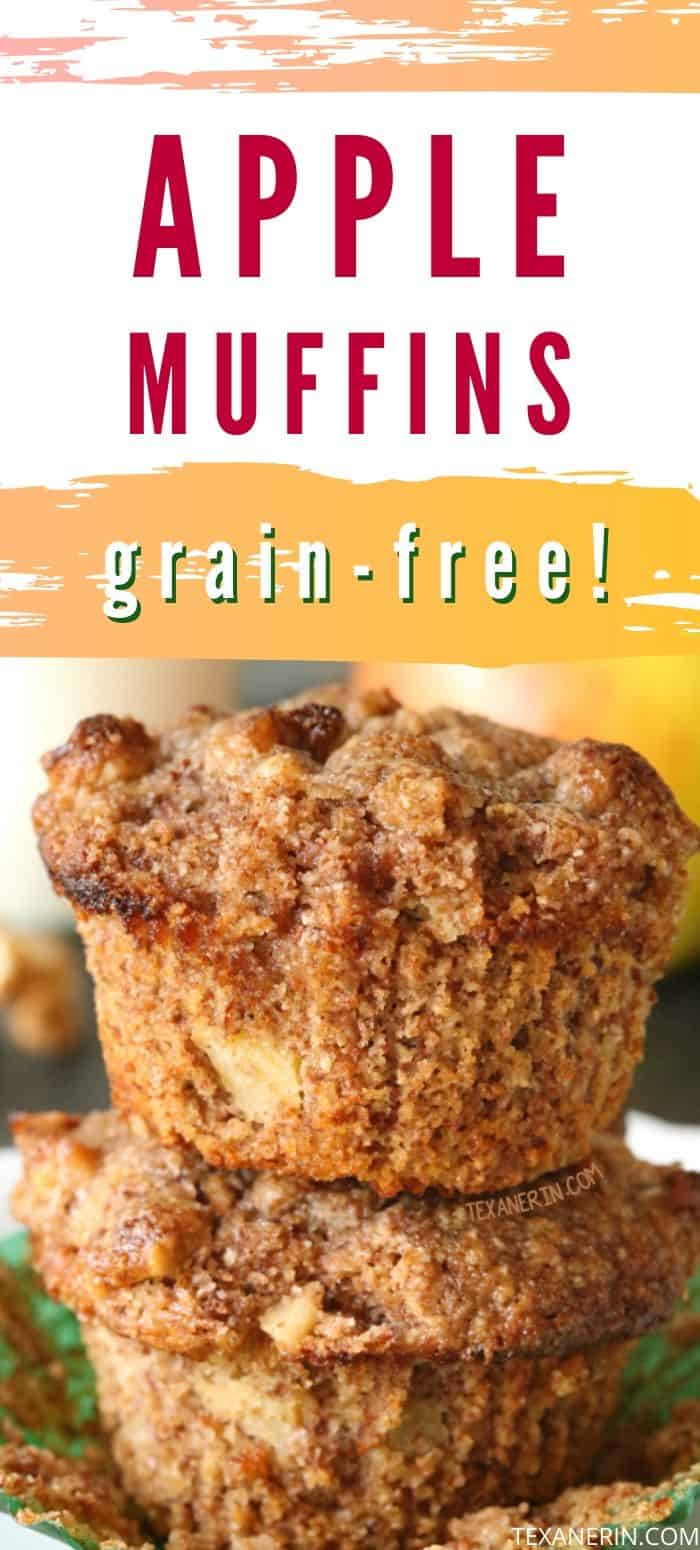 If you've ever tried grain-free recipes before, you've probably run into some funky textured baked goods. But these?! These apple muffins are nice and moist but not at all getting into soggy territory. They're just perfect. They're like little grain-free miracles.
At first I tried baking these as donuts. The instructions for the apple muffins say to bake at a high temperature first and then lower it. I wasn't sure if I should do that when making the donuts, but I went with it anyway. That did not work. So if you feel adventurous and want to make these as apple donuts, make sure to bake them at 350°F the entire time! Even though they stuck, they were the best grain-free donuts I've ever had.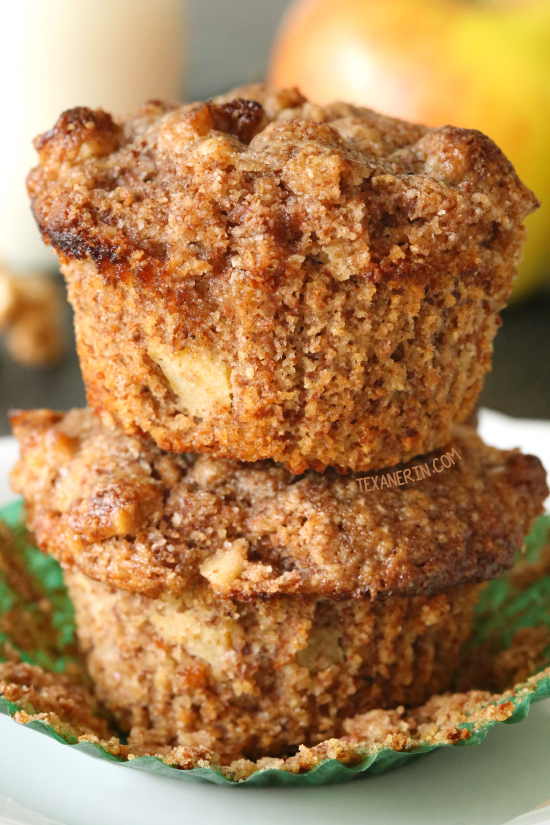 I found this recipe while browsing FoodGawker. This apple muffin recipe comes from Cooking ala Mel. Mel used almond meal in her muffins, which you can find at Trader Joe's and is a lot cheaper than almond flour. Almond flour and almond meal are the same price over here (only about $4 / pound!) so I used almond flour, which is made up of blanched almonds (unlike almond meal) and is finer ground than almond meal.
I got 14 muffins out of this recipe but Mel got 12. I guess I didn't fill mine as full as I could have, but I was happy with the result! Also, if you prefer a mostly Stevia sweetened version, check out the original recipe.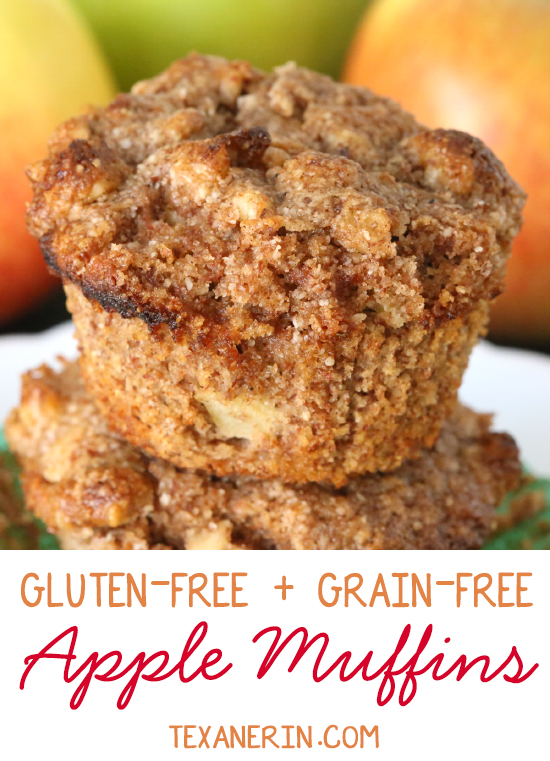 I'm not a big fan of grain-free streusel in general and I think I would have preferred these without the topping but the recipe is there, just in case you want to try. The muffin batter and streusel just seemed to blend together, so it didn't seem worth the effort. Next time, I'll just toss some nuts on top.
If you ever bake grain-free, you have to try these muffins! And by the way, they don't taste their best on the first day. They taste good, but not nearly as good as on the second day. It's kind of odd but I often find this is often true of grain-free goodies!
❀
Apple Muffins (grain-free, gluten-free)
Prep Time:
Cook Time:
Ready in:
Yield:

14 muffins
Ingredients
Muffins:

200 grams (~2 cups) almond flour or almond meal
1/4 cup (28 grams) coconut flour
1/2 teaspoon salt
2 teaspoons baking powder (make sure to use grain-free baking powder, if necessary)
1/2 teaspoon baking soda
4 teaspoons ground cinnamon
1/2 teaspoon ground ginger
1/2 teaspoon ground nutmeg
3 large eggs
2/3 cup honey
1 1/2 teaspoons vanilla extract
1/2 cup (120 grams) plain Greek yogurt
1 1/2 cups (170 grams) peeled and diced apples

Streusel:

1/4 cup (25 grams) almond flour
1 teaspoon coconut flour
3/4 teaspoon ground cinnamon
1 tablespoon (14 grams) coconut oil, room temperature
1 tablespoon maple syrup
pinch of salt
1/3 cup (36 grams) chopped pecans or walnuts (about ¼" in size)
Directions
Preheat the oven to 425 degrees F (218 degrees C). Line 14 muffin cups with muffin liners.
First, prepare the streusel topping by mixing everything together, except for the pecans, in a small bowl. Add the pecans and stir until well combined. Set aside.
In a medium bowl, mix together the dry muffins ingredients (almond flour through nutmeg).
In a large bowl, mix together the wet muffins ingredients (eggs through Greek yogurt).
Add the dry mix to the wet and stir just until combined! Do not over mix. Fold in the apples.
Pour 1/3 cup of batter into each muffin cup. Sprinkle the streusel on top.
Bake at 425 degrees F for 5 minutes and then lower the temperature to 350 degrees F (176 degrees C) and for another 8 - 15 minutes or until a toothpick inserted in the middle of a muffin comes out clean. My smaller muffins only needed 8 minutes but larger muffins may need up to 15.
Let the muffins cool in the pan for 10 minutes and then remove the muffins to a wire rack to cool completely.
These are super moist and need to be kept refrigerated in an airtight container after the first 24 hours.
Adapted from Apple Streusel Mufffins (Gluten-free) – Cooking ala Mel