This healthier apple cream cheese bundt cake with praline frosting is made with 100% whole grains (or all-purpose flour) but is still deliciously moist and bursting with fall flavors!
Today's recipe is the first of many apple cakes to come this fall. Whenever I travel abroad, a bakery, or perhaps a grocery store with an in-store bakery, is usually the first stop after dropping off our luggage at the hotel. It seems like everywhere I go, each country has their own special apple cake. They're usually quite different than our American apple cakes and I thought it'd be fun to share some of the ones I've tried.
So every Monday, I'm going to be sharing some kind of international apple cake recipe. I'm starting off with this non-international American apple bundt cake, just because I'm so excited about the pictures. They were the first pictures I took with my new camera. I had no idea what a huge difference a better quality camera would make!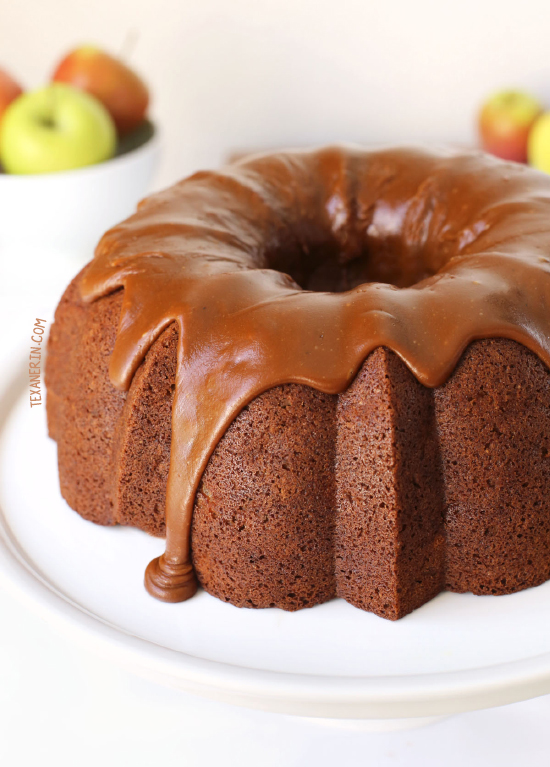 This apple cake is quite heavily spiced, as American apple cakes often are. None of the other apple cake recipes I'll be sharing have very much, if any, spices. It seems as though other countries prefer to showcase the apples rather than throw them in as an afterthought into their spice cake. I love spice cake so I certainly don't mind the addition of apples!
I haven't posted a bundt cake recipe in so long because my last several attempts have all been mega-disasters. No matter how much I greased the pan, my bundt cakes always fell apart. I figured that either my bundt pan was to blame or I was just hexed.
So I bought this bundt pan. If we're being honest here, when it comes to kitchenware, I normally buy the cheapest option with great reviews. But after all my bundt cake issues, I thought it may be worth the few extra dollars. And after using my new bundt pan a few times, I can say that it was totally worth the money! I LOVE this pan. Quality does matter, it seems. ;)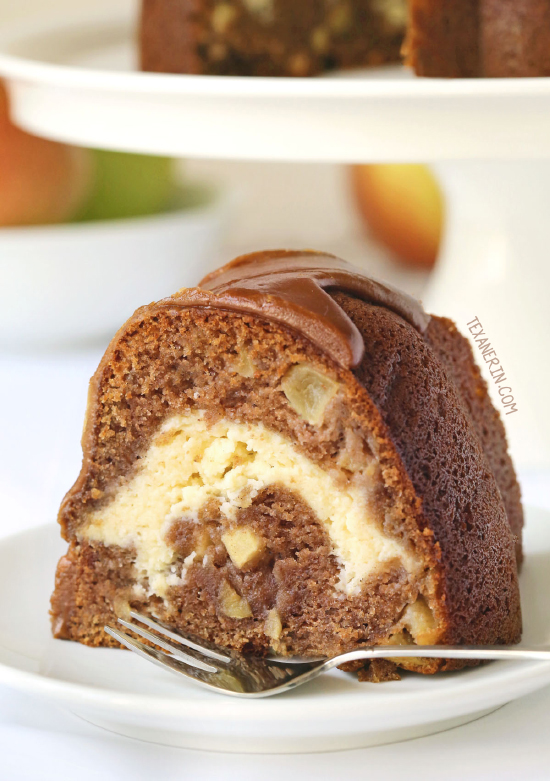 The new pan (perhaps in combination with some Pam) resulted in this cake plopping right out. I was so happy I was shaking and have to admit that I almost cried. I have bundt cakes back in my life!
I've made this apple bundt cake SO many times. I heavily adapted it to make it a little healthier from a recipe I found on My Recipes years ago. Things like honey and coconut sugar instead of brown and granulated sugar, whole wheat or whole spelt instead of all-purpose, and coconut oil instead of canola oil.
If you don't want to make the filling, then just reduce the baking time. It'd also be great without the praline frosting and a little powdered sugar dusted on top. But really, the praline frosting is so incredibly good I don't recommend skipping it!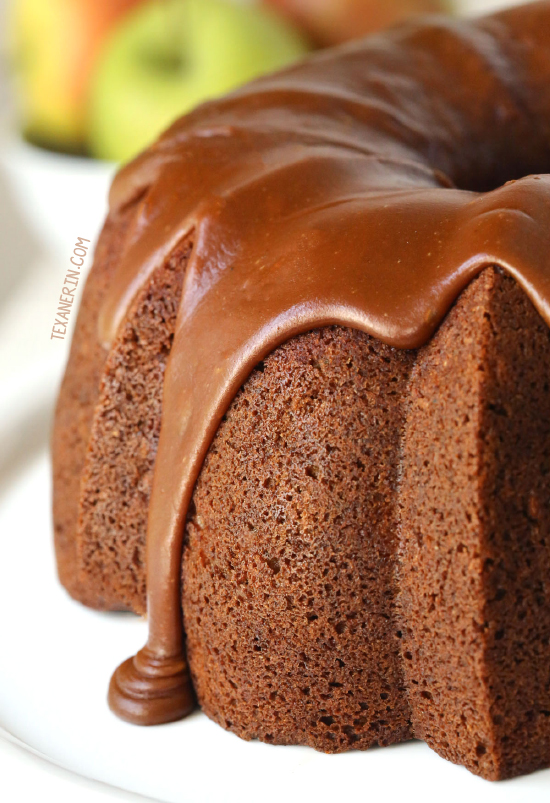 I used coconut sugar instead of brown sugar in the frosting and it came out looking pretty dark. But it tasted amazing! If you don't want to use powdered sugar in the frosting , you can make your own powdered coconut sugar. It'd have an even darker taste but I bet it'd still work (though I haven't tried it so I'm not making any guarantees!)
The original recipe calls for baking the cake for 60-75 minutes. I've made this cake in different pans and in different ovens and never needed more than 50 minutes. I think it most likely has to do with me subbing in 1/2 cup of honey for the sugar and whole wheat flour instead of all-purpose. If yours takes a little longer than 50 minutes, don't be alarmed and just continue baking until a toothpick inserted in the center comes out clean.
I hope y'all enjoy the cake and stick around for my next apple cake – a Norwegian one! Or maybe Italian. Or Polish. It's honestly kind of overwhelming how many apple cakes are out there to be enjoyed. ;)

❀
Healthier Apple Cream Cheese Bundt Cake (100% whole grain)
Prep Time:
Cook Time:
Ready in:
Yield:

12-14 pieces
Ingredients
Filling:

8 ounces (225 grams) cream cheese, softened
1/4 cup (56 grams) butter, softened
1/2 cup (100 grams) coconut sugar or granulated sugar
1 large egg
2 tablespoons whole wheat flour, white whole wheat flour or all-purpose flour
1 teaspoon vanilla extract

Cake:

3 cups (400 grams) whole wheat flour, white whole wheat flour or all-purpose flour
1 cup (200 grams) coconut sugar, raw sugar or half granulated / half brown sugar
1 teaspoon salt
1 1/4 teaspoons baking soda
2 1/2 teaspoons ground cinnamon
1 teaspoon ground nutmeg
1/2 teaspoon ground allspice
3 large eggs
1/2 cup (160 grams) honey
3/4 cup (175ml) olive oil, canola oil, or melted coconut oil1
3/4 cup (186 grams) unsweetened applesauce
1 tablespoon molasses
1 1/2 teaspoons vanilla extract
3 1/2 cups peeled and diced apples (this was 645 grams of whole apples and 410 grams of peeled and chopped apples)

For the praline frosting:

1/2 cup (100 grams) coconut sugar or brown sugar
1/4 cup (56 grams) unsalted butter
3 tablespoons milk
pinch of salt
1 teaspoon vanilla extract
3/4-1 cup (86-115 grams) powdered sugar (I used 3/4 cup but you may want up to 1 cup)
Directions
For the cake:

Preheat your oven to 350 °F (175°C). Spray a 12 or 14-cup bundt pan very thoroughly with cooking spray.
For the filling, combine the cream cheese, butter, and sugar in a medium bowl. Beat with an electric mixer until well combined and then add the egg, flour and vanilla. Beat just until combined.
For the cake, mix together the dry ingredients in a large bowl. In a medium bowl, mix together the wet ingredients. Add the wet mix to the dry and stir, just until combined. Fold in the apples.
Pour about 1/2 of the batter into the greased pan and then top with the cream cheese filling, keeping a one inch border around the pan's edge. Pour the rest of the batter over the filling.
Bake for 50-60 minutes, or until a toothpick inserted in the center of the cake comes out clean. It might be a little sticky and that's okay because it'll continue to cook even after it's out of the oven. Let the cake cool in the pan for 15 minutes and then turn out onto a wire rack to let cool completely.

For the praline frosting:

In a small saucepan over medium heat, mix together the coconut sugar, butter, milk and salt. Whisking continuously, bring to a boil and continue boiling, while whisking continuously, for 1 minute. Remove the pan from the heat and stir in the vanilla. Gradually whisk in the powdered sugar and mix until totally smooth. Stir occasionally for about 3 minutes or until the frosting has slightly thickened. Immediately pour over the cooled cake. If you wait until the frosting is too cool, it'll make glazing the cake more difficult. If it's thickened too much, place back on the heat for a few moments until it's more liquid.
Cover and refrigerate any leftover cake. Stays well for 3-4 days when refrigerated.
Notes
I used refined coconut oil, which doesn't have any coconut taste. If you use unrefined coconut oil, this cake may have a hint of coconut taste to it. However, I think that's unlikely given how much spice is in there!
Adapted from My Recipes