These paleo vegan peppermint cookies are perfectly soft, chewy and full of mint flavor! Thanks to Bob's Red Mill for making today's post possible.
I have a whole bunch of Christmas cookie recipes coming your way! Up today we have a third variation of my perfect paleo chocolate chip cookies (these double chocolate chip cookies were the second version). Both recipes have gotten great reviews and the original is actually my most popular recipe ever!
Although this paleo mint chocolate cookies version is basically the double chocolate recipe + mint extract and baked in a different form, I felt like it needed its own post because these cookies are insanely delicious and I also wanted to share some interesting things I've learned from the 600+ comments in the first post.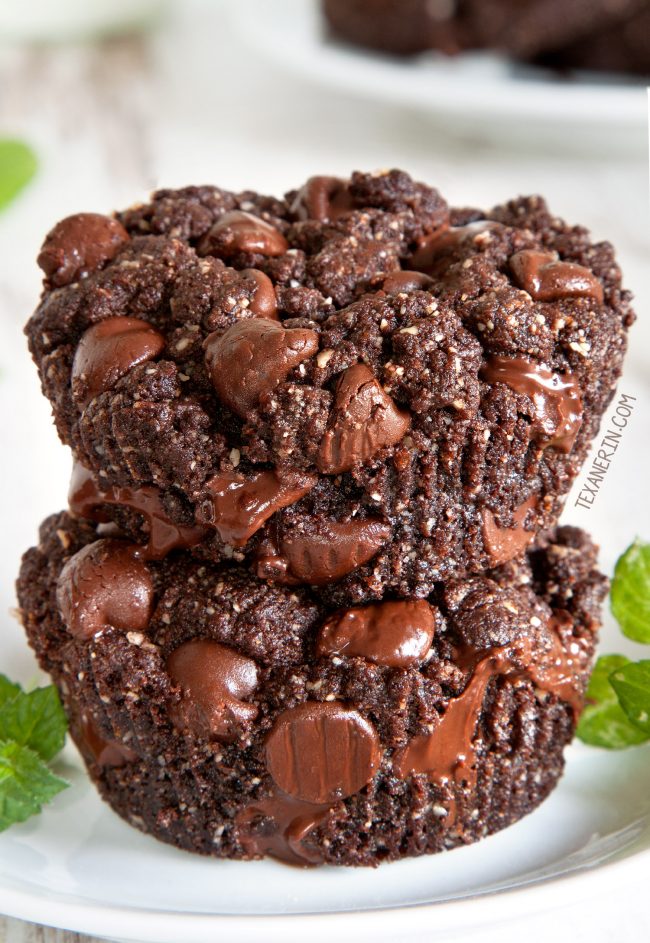 You can't use melted coconut oil in the cookies! During the summer, when room temperature coconut oil means melted coconut oil, it was discovered that using melted coconut oil results in super greasy dough and the inability to thoroughly mix in the chocolate chips.

With melted oil, even after you refrigerate the dough, you can't properly incorporate the chocolate chips and the cookies come out greasy. So make sure your coconut oil isn't melted. By the way, you should never use melted coconut oil or butter unless a recipe specifically calls for it. :)
Homemade almond flour doesn't work in these cookies. People have tried. I used Bob's Red Mill almond flour and suggest using that as I've tried other brands that weren't ground as finely and the cookies came out flatter and greasier.

A lot of gluten-free bloggers used to recommend another brand of almond flour, saying that they had the finest ground almond flour. I guess Bob's Red Mill read those posts and listened to customer feedback because as of about a year ago, they now sell Super-Fine Almond Flour and it's incredibly finely ground. I've never had anything but awesome results with it! If it's been a while since you've tried their almond flour, I recommend giving it another try.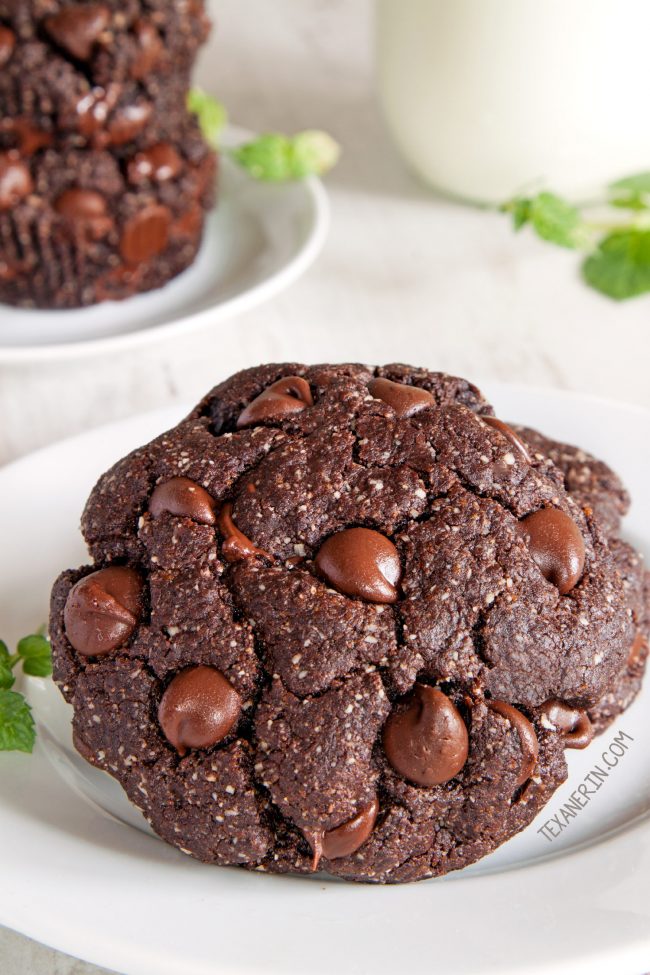 If you live in a different country, what you call almond flour may actually be what is called defatted almond flour in the US. I've never ever even seen defatted almond flour in the US. When US blogs call for almond flour, they mean blanched ground almonds.

For example, in Germany, they have Mandelmehl, which translates directly to almond flour. But most of the time, Mandelmehl is actually defatted almond flour, which doesn't work the same as US almond flour (ground almonds). It's really powdery and a bit of a mystery to me. What you should use is actually called blanchierte gemahlene Mandeln (blanched ground almonds).
If you use natural cocoa powder (like Hershey's), then the cookies may come out cakey. I always use Dutch-process cocoa powder in my recipes for a darker, more chocolaty taste and think you should give it a try if you haven't already!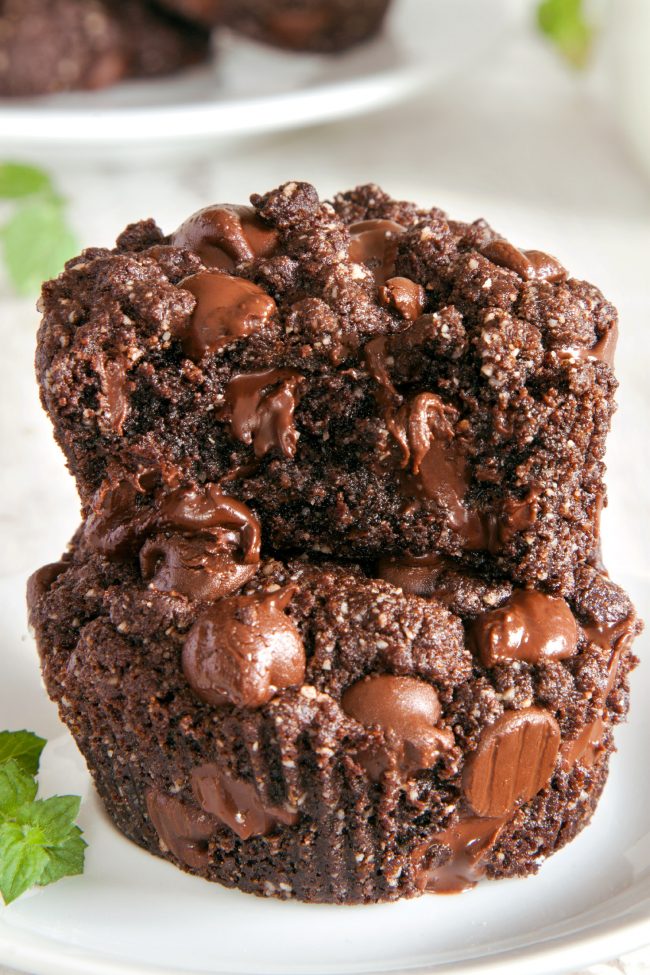 Vegan options! People seem to like flax eggs and say they're flavorless. But I tried the cookies with a flax egg and could taste the flax, which I don't like. They ruined the cookies for me. So then I tried a chia egg and it was perfect! You can use either one for these cookies to make them vegan but if you don't want to use those, I recently saw that Bob's Red Mill now offers a gluten-free vegan egg replacer. I just ordered some and can't wait to try it! I can't guarantee that it'll work in these cookies but I'm pretty sure it would. :)
Baking the dough in different pans: One commenter wrote about how she made the cookies as muffins or cookie cups and while that didn't work out for me with the original version, I LOVE how they came out with the double chocolate version. If you don't feel like using a muffin pan, rolling into balls and baking them like normal cookies works just as well! People have also baked the original recipe in an 8×8 pan but I haven't tried that with this double chocolate version yet. If you try it out, I'd love to hear how it goes!
Quite a few paleo + vegan treats need to be refrigerated (or at least, a lot of mine do!), which is always kind of frustrating when it comes to get-togethers. These paleo mint chocolate cookies most definitely don't need to be refrigerated so this is what I'll be bringing to holiday parties this year.
These vegan paleo oatmeal cookies and paleo peanut butter cookies will also be going in my goodie bags! Both recipes are also adapted from the original paleo chocolate chip cookie recipe I linked to above.
By the way, if you're having over friends or family with allergies this holiday season, this blog post from Bob's Red Mill about hosting people with dietary restrictions is helpful. I had never thought about #4 before! And gluten in cinnamon? Yikes. I would have never imagined!
If you don't need your cookies to be grain-free, try these gluten-free hot cocoa cookies for another Christmas chocolate cookie! So what all are you bringing to holiday parties this year? I'd love some more ideas!
Thanks again to Bob's Red Mill for sponsoring this post! As always, all opinions expressed are my own.
❀
Paleo Peppermint Cookies (vegan, grain-free, gluten-free, dairy-free)
Prep Time:
Cook Time:
Ready in:
Yield:

16 cookies or 12 muffin cups
Ingredients
3/4 cup (75 grams) almond flour
1/4 cup (32 grams) coconut flour
1/3 cup + 4 teaspoons (48 grams) Dutch-process cocoa powder (using regular natural cocoa powder may result in cakey cookies)
1 teaspoon baking soda
1/4 teaspoon salt
7 tablespoons (98 grams) coconut oil (if your coconut oil is a little melty, put it in the fridge for about 10-20 minutes or until firmer, like softened butter. If you use slightly melted coconut oil, the dough will be greasy and the chocolate chips will be hard to incorporate.)1 or unsalted butter2 , room temperature
3/4 cup (150 grams) coconut sugar or brown sugar
6 tablespoons (98 grams) natural almond butter (the kind with just almonds and salt), room temperature
1 1/2 teaspoons peppermint extract3
1 large egg (50 grams, out of shell), room temperature or 1 chia egg 4
1 1/4 cups (213 grams) semi-sweet chocolate chips, divided (use paleo / dairy-free chocolate, if needed)
Directions
In a medium mixing bowl, stir together the almond flour, coconut flour, cocoa powder, baking soda and salt. Set aside.
In a large mixing bowl with an electric hand mixer or using a stand mixer, beat together the fat and sugar at medium speed until well combined, about 1 minute. If you use coconut oil, it may not come together easily. If that's the case, use your hands to combine it and then beat another 20 seconds.
Beat in the almond butter and peppermint extract on medium speed and mix until combined. Beat in the egg on low and mix until well incorporated. Stir in the flour mixture until well combined. Then stir in 1 cup (170 grams) and reserve the remaining 1/4 cup to place on top of the rolled dough balls.
If you want to make cookie muffins: Preheat the oven to 350 °F (175 °C) and line a muffin pan with 12 liners. Scoop 1/4 cup (58 grams) of dough into each cup. Press down slightly, cover with remaining chocolate chips, and bake for 12 minutes or until the top no longer appears wet. Let cool at least 20 minutes in the pan. Store in an airtight container for up to 3 days.
If you want to make them in cookie form: Place the bowl in the refrigerator for about 1 hour or until the dough is firm. Preheat the oven to 350 °F (175 °C) and line a baking sheet with a piece of parchment paper. Roll the dough into 8 (93-gram) balls and place the chocolate chips on the top and on the sides of the dough balls. Place 3" apart on the prepared baking sheet. Press the cookies down lightly with the palm of your hand. Bake for 11-14 minutes (if using coconut sugar) or 12-15 minutes (if using brown sugar) or until the surface of the center of the cookies no longer appears wet. They'll be very soft but will continue to cook as they sit on the cookie sheet. Let cool completely on the baking sheet. Store in an airtight container for up to 3 days.
Notes
I used refined coconut oil. If you use unrefined, these cookies may have a little coconut taste to them.
Butter works in these cookies but they're fudgier and in my opinion, better, with coconut oil.
I don't recommend mint extract, which has more of a spearmint taste.
To make a chia egg, mix together 1 tablespoon of ground chia seeds and 3 tablespoons water. Let sit 5-15 minutes or until goopy like an egg. I've also tried these cookies using a flax egg but I didn't like the taste.
For paleo: use coconut sugar, coconut oil, and paleo chocolate.
For dairy-free: use coconut oil and dairy-free chocolate.
Adapted from my Perfect Paleo Chocolate Chip Cookies