This avocado pesto takes just minutes to make, calls for five ingredients, and is ultra-creamy. It's also naturally vegan, whole30, keto, paleo and nut-free.
We've been making this pesto for ages. It's definitely one of our favorite healthy dinner recipes.
I've tried a lot of vegan pesto recipes but always come back to this one. It's so easy, and it freezes well, so I like to make big batches and freeze the leftovers.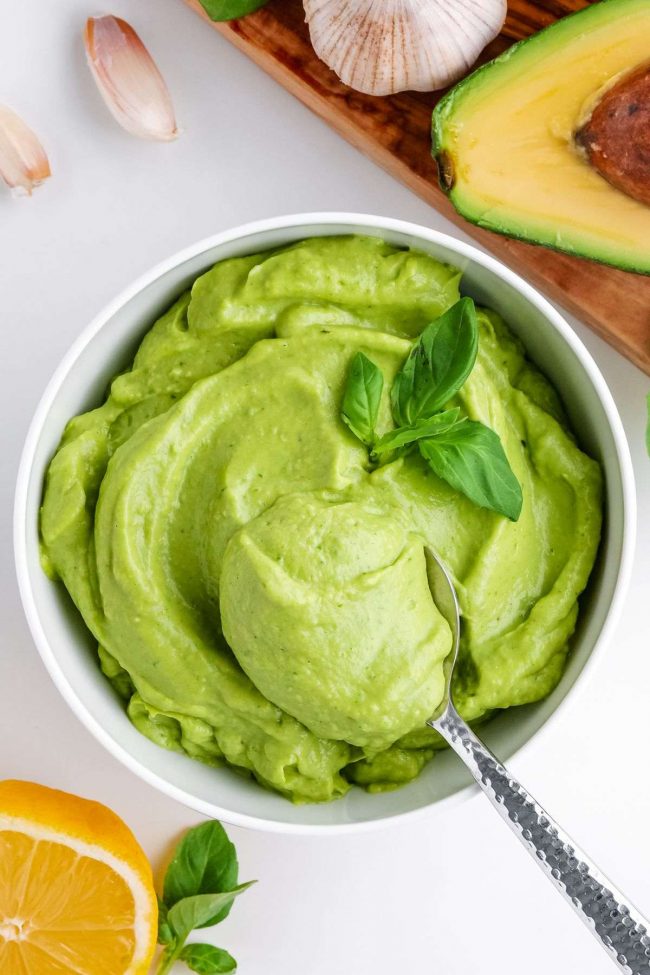 Avocado pesto ingredients
One reason I love this recipe is that you don't need a huge amount of basil. You just need 1 1/4 cups.
For normal pesto, like my homemade basil pesto, you need so much more, and the yield is smaller. But this avocado pesto is still packed with basil flavor!
The avocado adds a lot of bulk. And, of course, nutrition! New to cooking with avocados? Be sure to check out my guide to avocados.
This is what you need:
Olive oil – Use any kind you want. Regular, extra virgin, light – it doesn't matter in this recipe.


Lemon juice – You can omit this if you have to. I used to not use it, as my kid shouldn't have it, and we still enjoyed it. I prefer it with the zing that lemon adds. But, you absolutely must use fresh lemon juice. I tried it with bottled and it ruined an entire batch.


Garlic – I also had to omit this for a long time! So if you're allergic to garlic, don't worry. It's still tasty without it. But if you can have garlic, please use it. ;)


Basil leaves – I'm going to have to insist that you use fresh basil! I've tried it with dried basil, just so I could say I tried it, and I thought it was repulsive.


Avocado – I used Haas, but any type works. The flesh of two avocados came out to about 160 grams.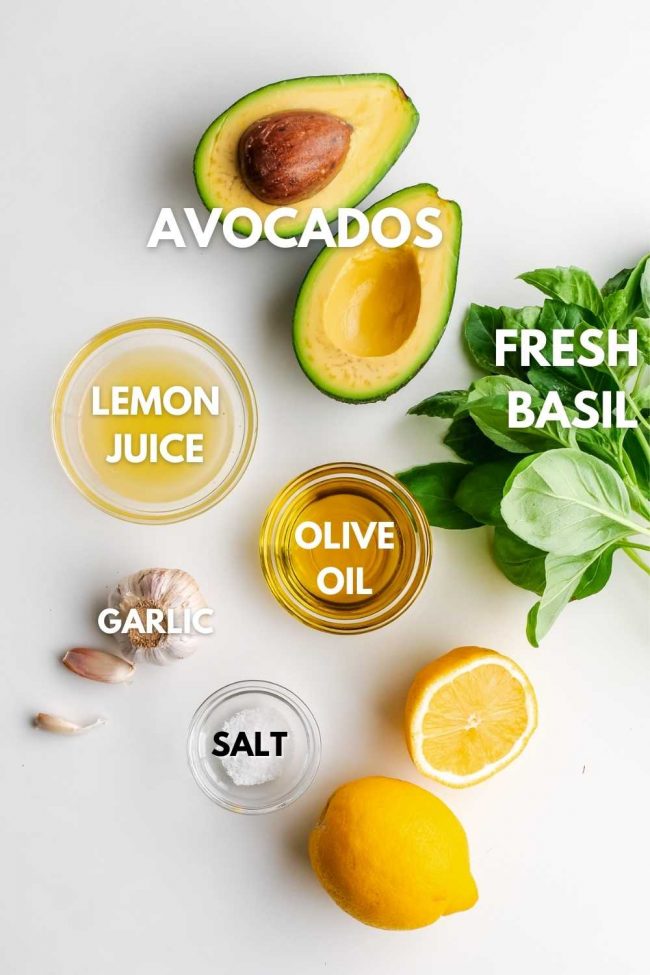 With spinach?
We normally eat this vegetarian pesto pasta with lots of cooked frozen spinach. I've seen some avocado pesto recipes call for defrosted, but uncooked spinach. We always cook ours to reduce oxalic acid.
My kid actually won't eat it without the spinach. I have no idea why. He also used to only want to eat it plain. No zoodles.
But I do know that it helps with the color. The top part will still turn brown a bit after sitting a while, but with the dark spinach in there, you can just stir it in, and it'll be unnoticeable.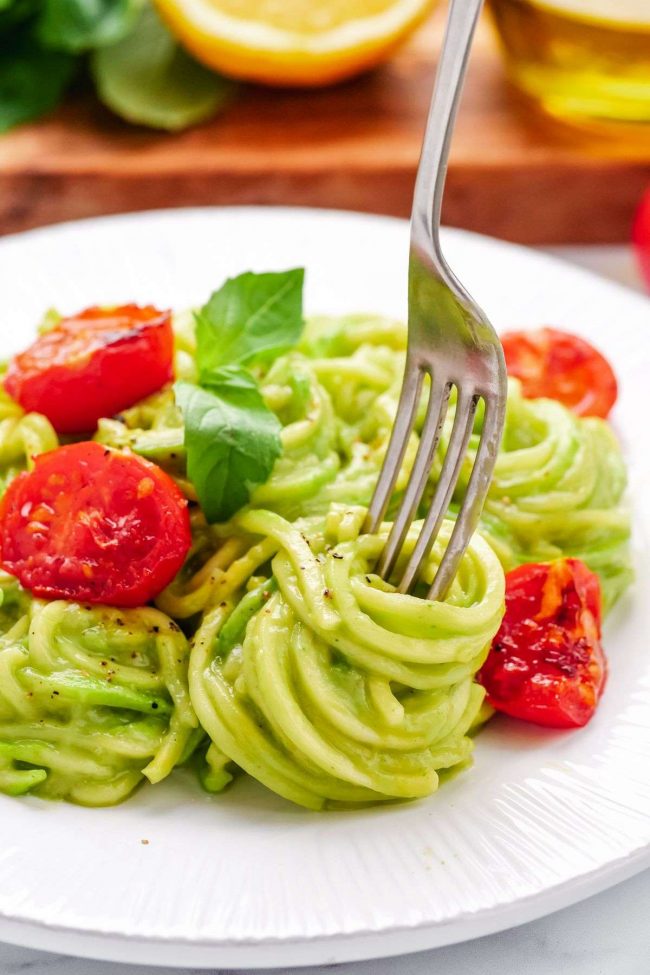 How to serve it
We always make it with zoodles, but regular pasta also works. And it's delicious!
A little too delicious, at least for me. I always find myself in a carb coma after eating noodles. I just have zero control when it comes to pasta.
If you make it with zucchini noodles, then this avocado pasta is whole30, keto, paleo, and grain-free. If you need a zucchini pasta recipe, check out this very thorough guide on how to make zucchini noodles.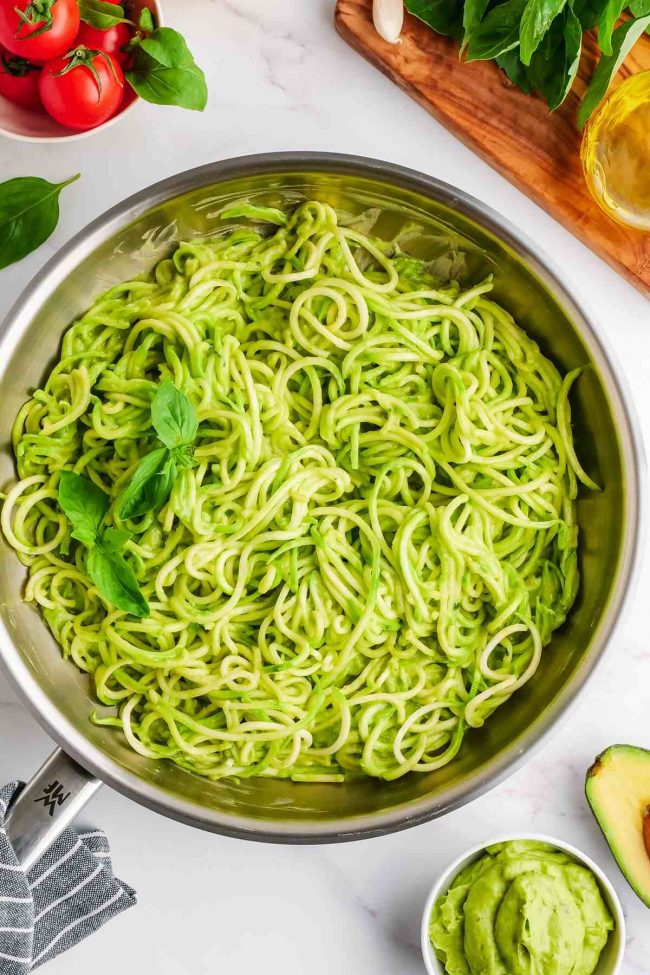 If you don't like zoodles, there are several brands of paleo, keto and grain-free pasta you can buy.
Paleo – I've been dreaming of the day I could try this cassava flour penne from Jovial. It's not available here, but I keep seeing people rave about it.
Keto – Most homemade keto recipes I've seen use a huge amount of cheese and eggs. Like… just cheese and eggs. I can't eat that much cheese, so I've never tried them. There is a huge variety of low-carb pasta on Amazon, though!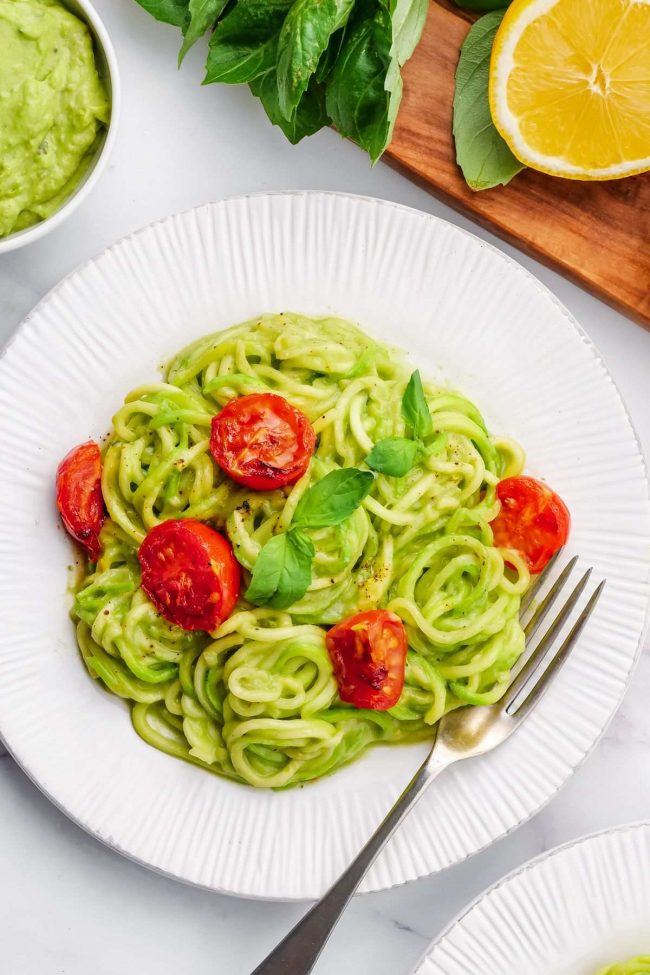 Cheese, if you eat dairy
Some Pecorino Romano or Parmesan sprinkled on top is not a bad thing. ;) Parmesan would be good, but I haven't bought that since I first bought Pecorino Romano. It's my favorite cheese because it adds SO much flavor.
It's not needed, so if you're vegan, don't feel like you need to find a sub for these avocado pesto zoodles. It's not even listed in the recipe!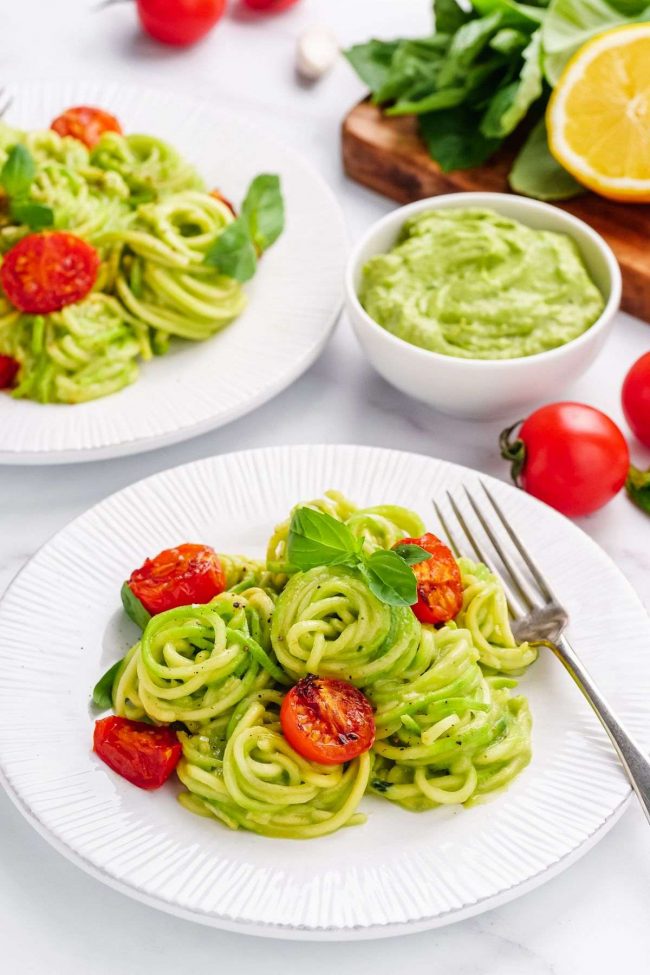 It freezes great
Whenever basil or avocado is on sale, I buy a ton and make up a large batch of this avocado pesto in the food processor. For a single batch, I use the nut butter jar of my Blendtec.
I freeze this pesto (with the spinach stirred in) in silicone baby food containers so I can just take out a cube or two when needed for last-minute meals.
If you don't have a food processor or blender, it's a bit difficult to make. If you make it by hand, you'd just have smashed avocados with chopped basil. That doesn't sound very good to me.
Let me know if you try this vegan avocado pesto pasta recipe! I'd love to hear what you think.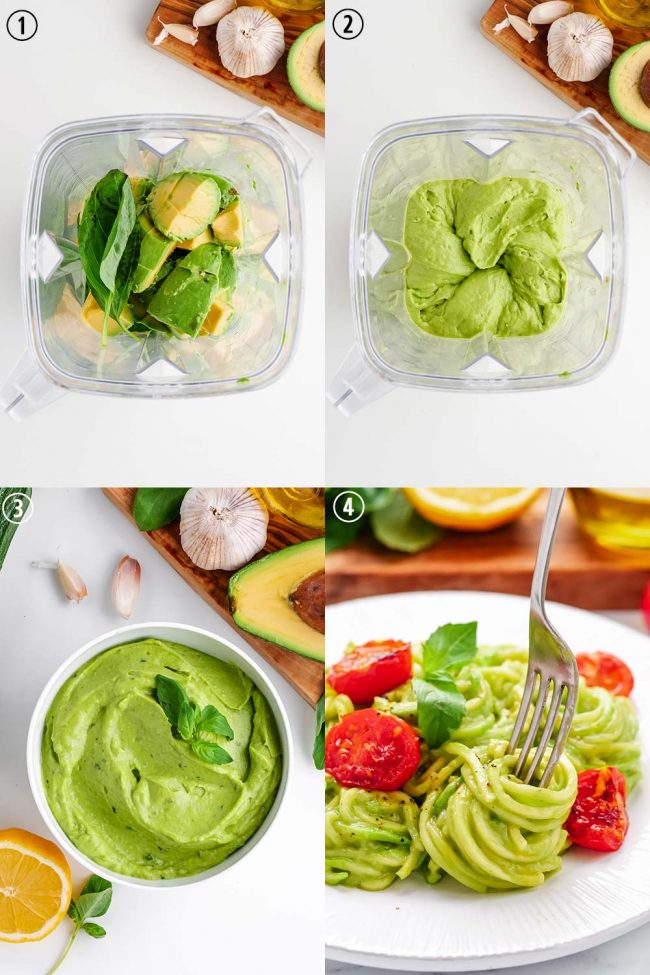 ❀
Avocado Pesto Recipe (whole30, vegan, keto, paleo)
Prep Time:
Cook Time:
Ready in:
Yield:

1 3/4 cups
Ingredients
For the pesto:

3 tablespoons olive oil
1-2 tablespoons fresh lemon juice
2 cloves garlic (7 grams), chopped
1 1/4 cups (12 grams) basil leaves1
2 large avocados (320 grams of flesh)
1/2-3/4 teaspoon salt

For the zucchini noodles:

3 or 4 medium (mine were around 255 grams each) peeled zucchini
2-4 teaspoons olive oil
Directions
Add the pesto ingredients, using just 1 tablespoon lemon juice and 1/2 teaspoon salt, in the order listed to a high-speed blender. Blend until smooth. Taste and add another tablespoon of lemon juice and more salt, if desired (I use a total of 3/4 teaspoon salt).
Spiralize the zucchini. Preheat a large, non-stick pan over medium-high heat.
Add 1-2 teaspoons (I only need 1) of oil to the pan, swirl it around to coat the pan, and cook half the zucchini noodles for about 1-3 minutes under tender. Cook the remaining noodles.
Toss only the zoodles you want to eat immediately with the pesto. Store remaining pesto in an airtight container in the fridge for up to 2 days. It'll turn brown on the top, but it can be stirred in without affecting the color too much. Or you can take that layer off and just eat it. It freezes great.
Notes
I really recommend weighing this! I packed down the cups a little, but not very tightly.