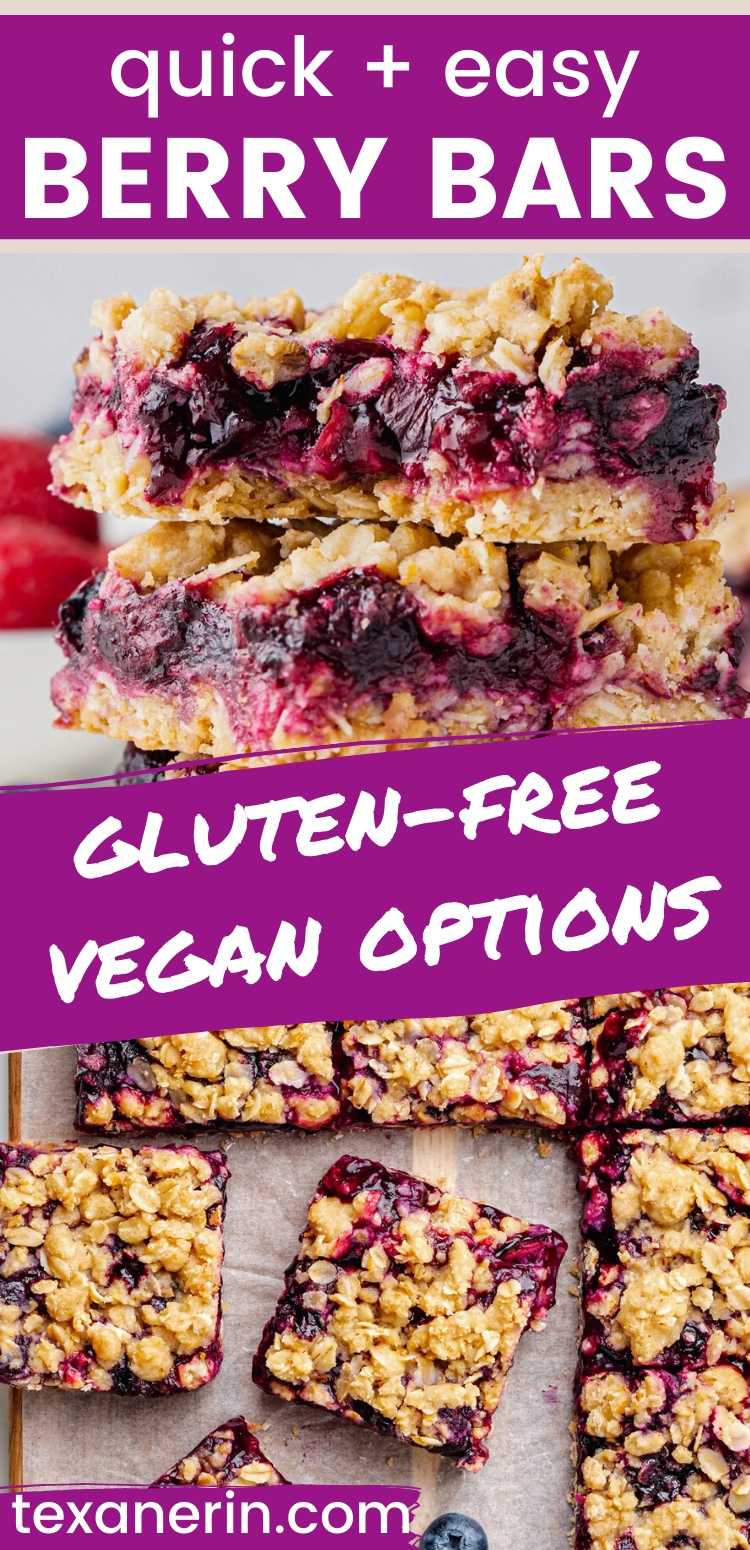 These berry bars have a thick layer of blueberries mixed with berry jam nestled between a crumble-like crust and topping! They can be made with all-purpose, gluten-free or whole wheat flour. This recipe also includes a dairy-free and vegan option.
These delightful bars are an adaption of my chocolate raspberry oat bars. In today's all berry version, I've upped the amount of berries and added lemon zest.
Berries + lemon zest is the best, right? That combination always cheers me up!
I used blueberries and raspberry jam, but I think any combination of berry and jam type would work well! I can't wait to try them with my homemade strawberry jam.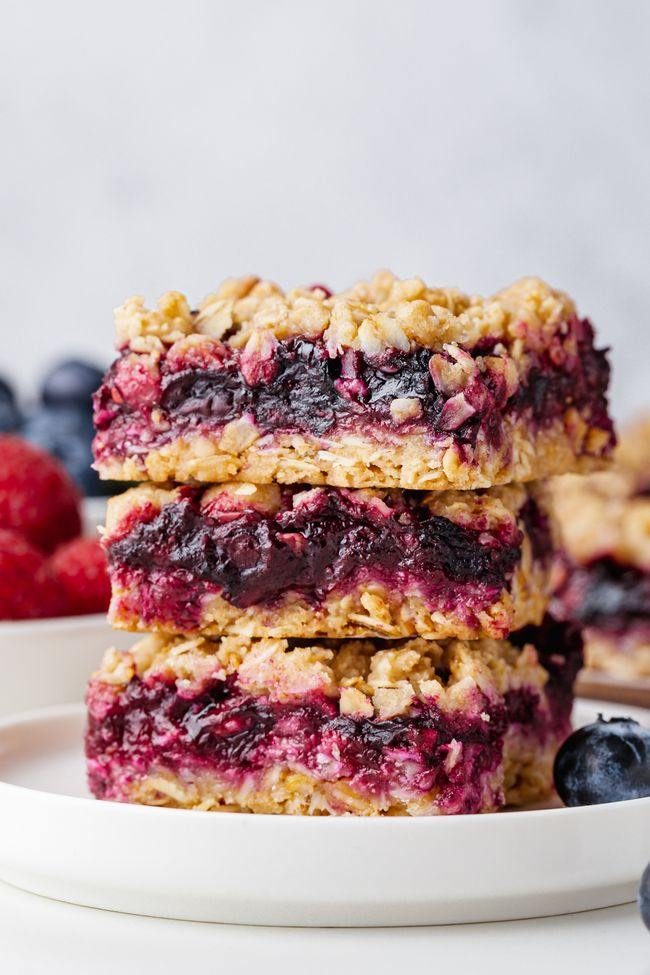 Normally I'd say no to using strawberries in a bar recipe since they're so juicy but I know they work because I've made these strawberry oat bars with the same base several times.
One thing that I really love about this recipe is that it uses the same dough for the crust and the topping (like in my pumpkin pie bars). A lot of crumb bar recipes have you make a crust and a separate topping.
I'm sure they're delicious but I can't imagine them being more delicious than these and this way saves time and dishes!
I had posted this berry bars recipe previously with whole wheat flour and had been meaning to try these with gluten-free flour for years. I finally did.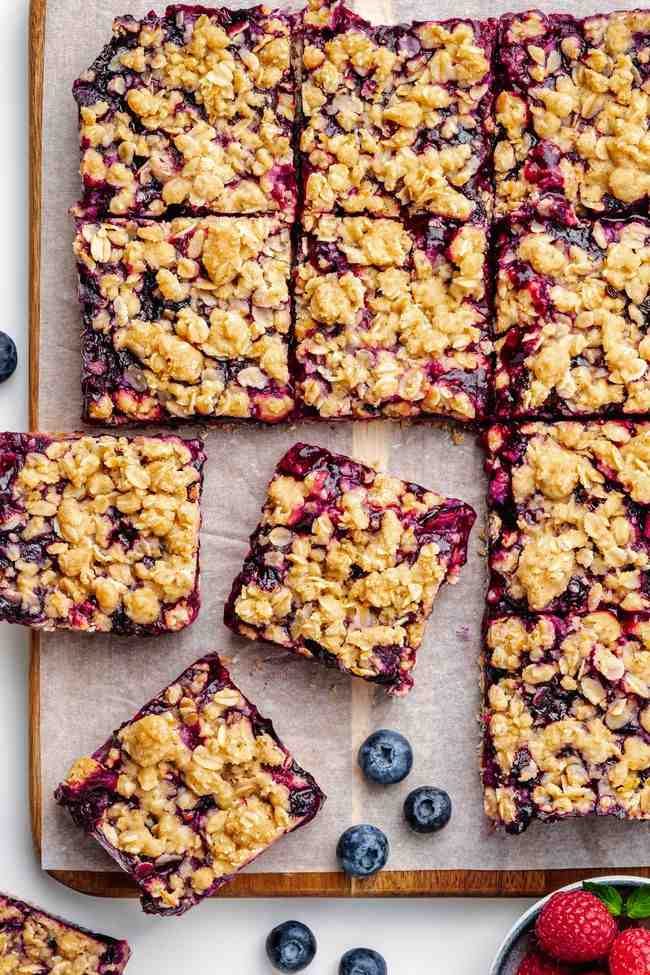 They came out wonderfully so I thought I should post them again.
I used this 1-to-1 Gluten-free Baking Flour and am not sure if other brands work just as well. You can use all-purpose flour in this recipe so I'd hope that other blends that are supposed to be a 1-to-1 sub for all-purpose flour would work well here (but since I haven't tried any other brands, I can't say!).
Do note that if you use gluten-free flour, your berry bars won't be as pretty. The topping doesn't hold its shape as well as the whole wheat version, which is what's shown. And the whole wheat version looks like the all-purpose flour version.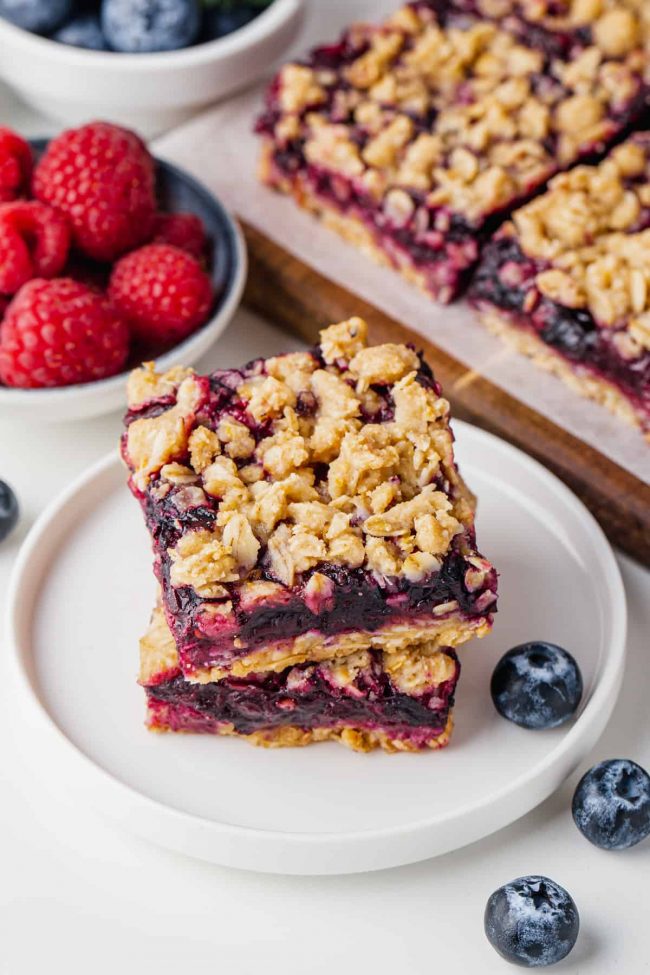 If you want to use whole wheat in these crumble bars, make sure to use white whole wheat, which is also called ivory whole wheat. It lets the lemony taste shine through.
Even though white whole wheat is quite mild in taste, I still like to add some flavor to the batter or dough to cover up the little whole grain taste it does have. Citrus zest and extract (like in these blueberry cookies), cocoa powder, and spices are all awesome ways to hide any whole grain taste. Or rum, as in the case of this coconut rum cake. ;)
If you use traditional whole wheat, I'm pretty sure these bars would taste whole wheaty rather than bright and lemony. What you could do is use cinnamon (I'm guessing 2 teaspoons) in the base / topping. That should cover up the whole wheat taste!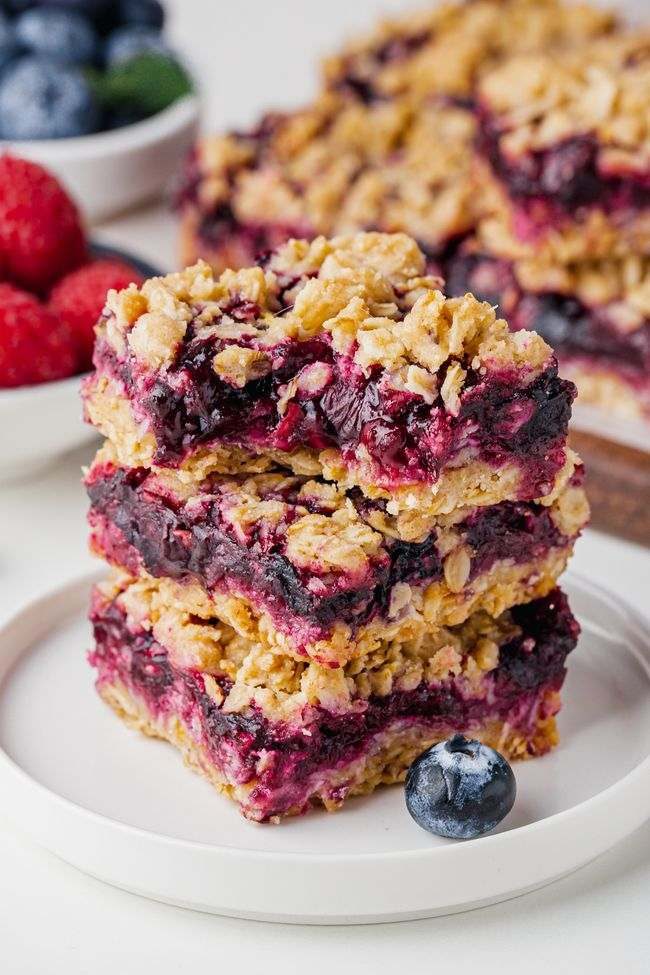 These blueberry crumb bars are also easy to make vegan. You just have to choose the coconut oil option instead of butter. Or use vegan butter if you want. If you'd like another great dairy-free treat, try this Blackberry Cobbler Recipe!
In the mood for something even more citrusy? Try these paleo vegan lemon bars! These gluten-free lemon bars also look great. And for something with a bit of protein, try these triple berry SunButter bars! They're also gluten-free and vegan.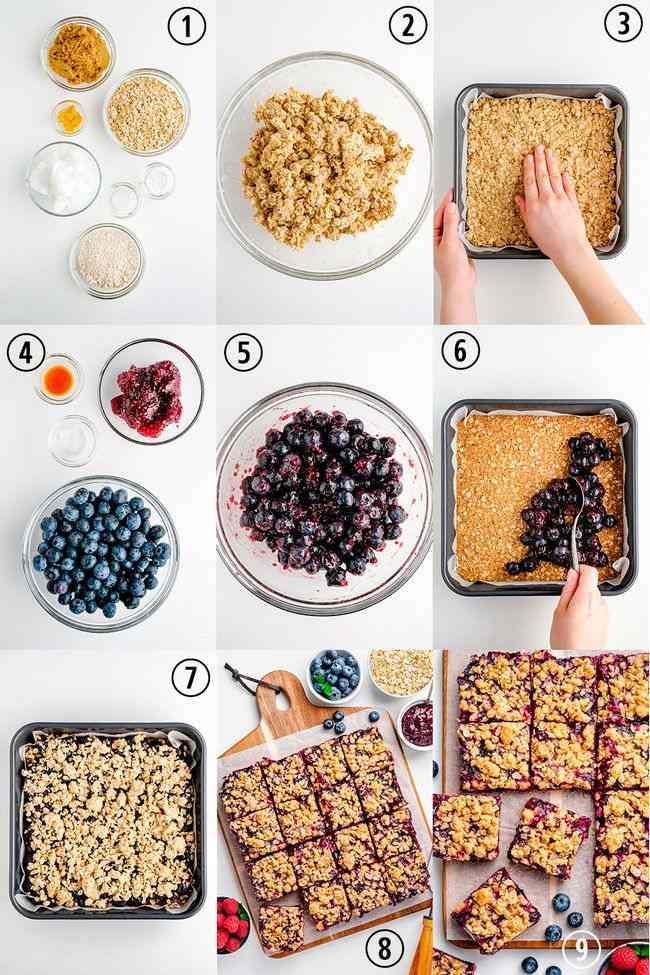 Questions about these berry bars?
Can I use something instead of rolled oats / omit them?

Quicks oat likely would work but not instant oats, steel cut oats, or oat groats. You can not omit them.

Can I use a different flour?

Those are the only ones I've tested. If you have another flour that's a good direct sub for wheat flour, you could give it a try.

Can I use a different type of sugar?

A liquid sweetener won't work. You could use probably use granulated sugar or a sugar sub that's meant as a 1:1 sub for brown sugar. But I don't recommend coconut sugar. It's a weird flavor combination with the lemon.

Can I use something instead of coconut oil or butter?

Those are the only two I've tried and so the only two that I can recommend.

Do they taste like coconut if using coconut oil?

Not if you use refined coconut oil. If you unrefined, they'll probably have some coconut taste to them.

Do I have to use fresh berries?

I've tried these with frozen blueberries and the result was a soupy mess. Some of the commenters have used frozen. Deb said she "coated the blueberries in a 1/2 tsp of sugar and a tablespoon of flour" and that they came out great.

Do I have to use the jam?

Yes! I've tried making these without the jam and they just kind of fell apart. The jam holds everything together. You can use whatever flavor you'd like!
If you try these berry bars, I'd love to hear how they come out!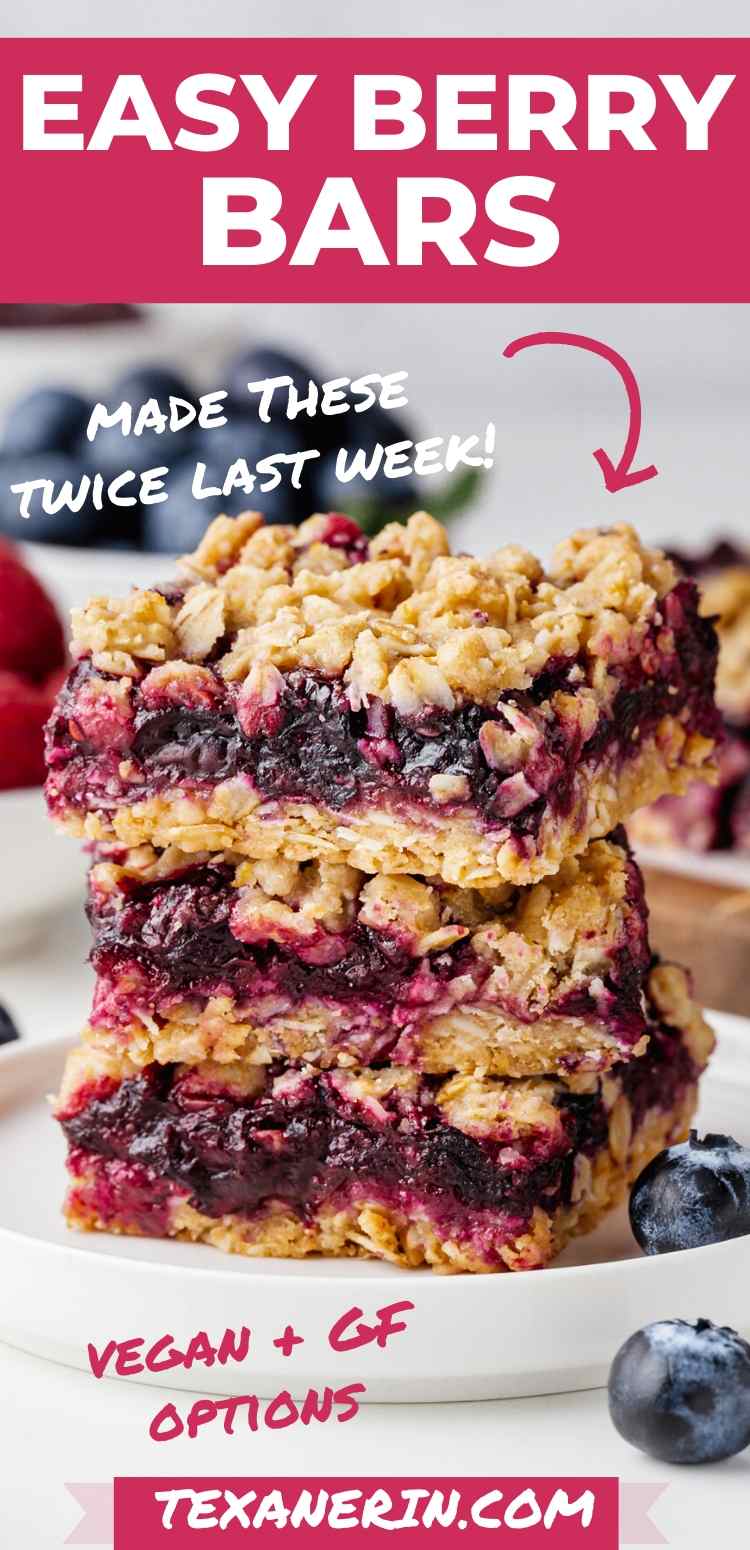 ❀
Berry Bars (vegan, gluten-free options)
Prep Time:
Cook Time:
Ready in:
Yield:

16 bars
Ingredients
For the crust and topping:

1 1/2 cups (150 grams) rolled oats (make sure to use certified gluten-free oats for a gluten-free version)
3/4 cup (94 grams) ivory whole wheat flour or all-purpose flour or for a gluten-free version, use 3/4 cup (104 grams) Bob's Red Mill 1-to-1 Gluten-free Baking Flour
1/2 cup (100 grams) brown sugar or raw sugar
1 tablespoon lemon zest
1/4 teaspoon baking powder
1/4 teaspoon salt
2/3 cup (149 grams) room temperature coconut oil1 (should be as soft as room temperature butter) or 3/4 cup (168 grams) unsalted butter for a non-vegan and non-dairy-free version

For the filling:

2 1/2 cups (355 grams) fresh blueberries (do not use frozen)
7 tablespoons (125 grams) raspberry or another type of berry jam (make sure to use vegan jam, if necessary)
1/2 teaspoon vanilla extract
pinch of salt
Directions
Preheat the oven to 375°F (190°C) and line an 8"x8" (20cmx20cm) baking pan with parchment paper.
In a large bowl, mix together the rolled oats, flour, sugar, lemon zest, baking powder and salt.
Use your hands to incorporate the coconut oil and mix just until a dough forms. It should not be very crumbly, but should stick together.
Gently press a little less than two-thirds of the dough onto the bottom of the prepared baking pan.
Bake for 10-13 minutes or until the edges have just started to brown.
Meanwhile, prepare the filling. In a medium bowl, mix together the berries, jam, vanilla extract and salt. Spoon this over the still warm crust and sprinkle the remaining oat mixture over the berries.
Bake for another 22-27 minutes or until the top has lightly browned and the filling is bubbly.
Remove from the oven and let the bars cool completely. Refrigerate for 2 hours before cutting.
Store any leftovers in the refrigerator for up to 4 days. These can also be frozen.
Notes
If you use unrefined coconut oil as opposed to refined coconut oil, these bars will likely have a coconut taste to them. If your coconut oil is liquid at room temperature, you can use melted coconut oil in these bars. Mix all the crust / topping ingredients together and then put the bowl in the refrigerator for 10-20 minutes or until firm enough to be pressed onto the bottom of the pan.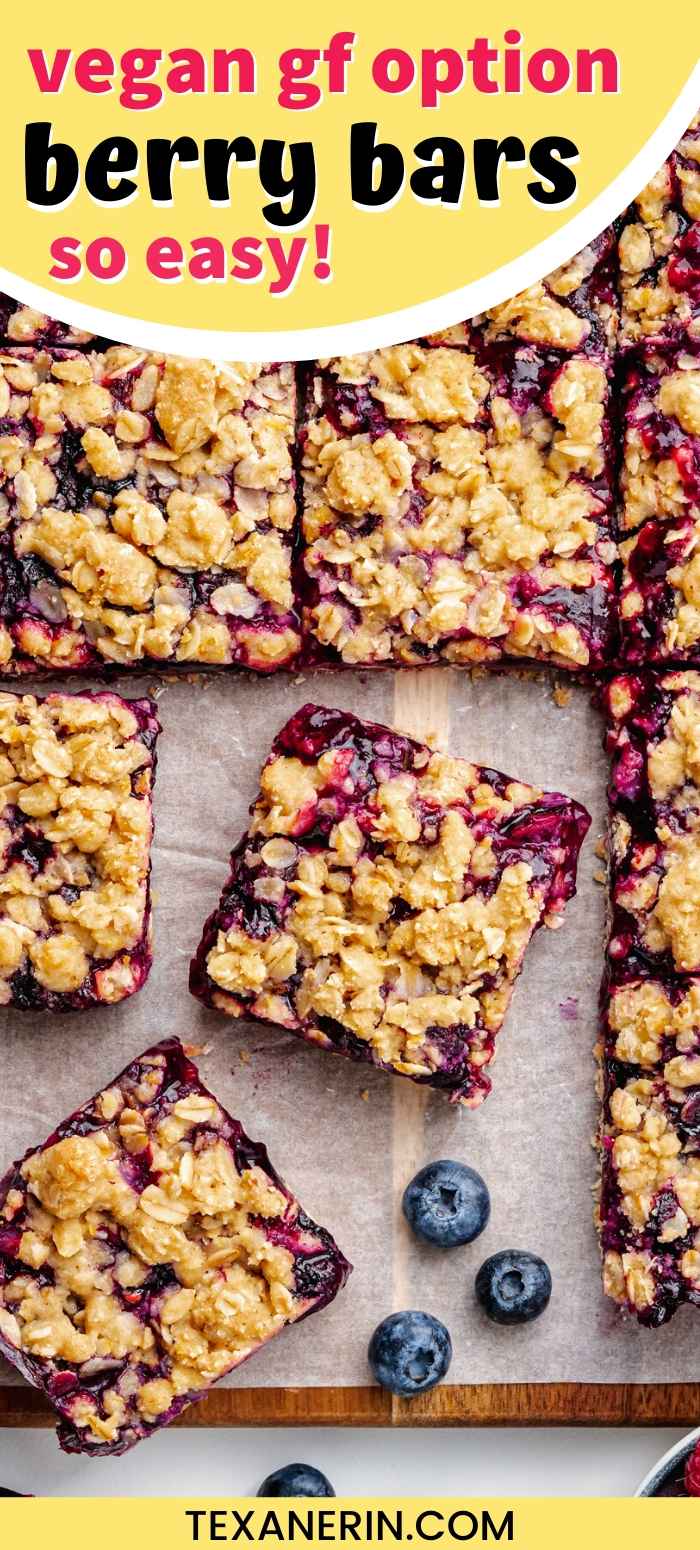 As an Amazon Associate, I earn from qualifying purchases. For more info, see my disclosure.