This chocolate almond butter recipe only calls for four ingredients, is naturally sweetened and takes 5 minutes to make. This super decadent and easy treat is also paleo, vegan and no-bake.
This is the spreadable version of my paleo fudge. So yes, this is basically gooey, spreadable fudge. If you like the thought of spreadable candy-like treats, also check out my maple almond butter.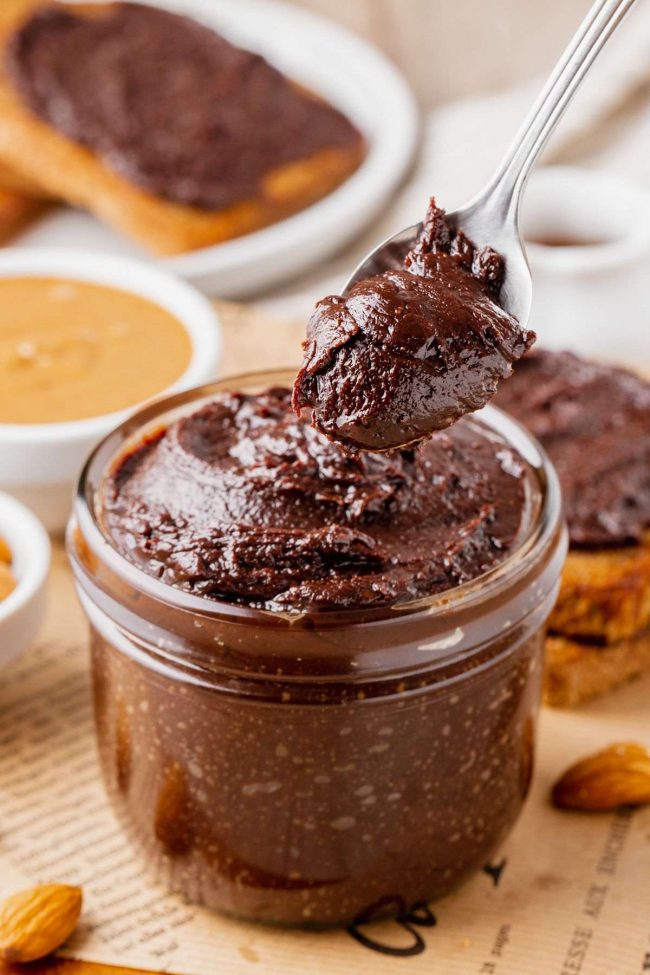 This recipe came about as I was trying to come up with vegan brownies. I was making a batter, tasted the first few ingredients and decided that I should stop what I was doing and just make this be the recipe.
I wouldn't have imagined that the mix of these few ingredients would yield such a delicious treat.
You only need maple syrup, almond butter, cocoa powder, vanilla extract and salt. Mix everything together and you're done!
We just eat it on a spoon. You can spread it on bread but we liked it most in its purest form.
Whenever I have a chocolate craving and need something immediately and can't wait around for almond flour brownies or molten lava cakes to bake, this is what I make.
I've memorized the recipe for 1/8 batch and that's all I make in order to prevent myself from eating a full batch in one sitting.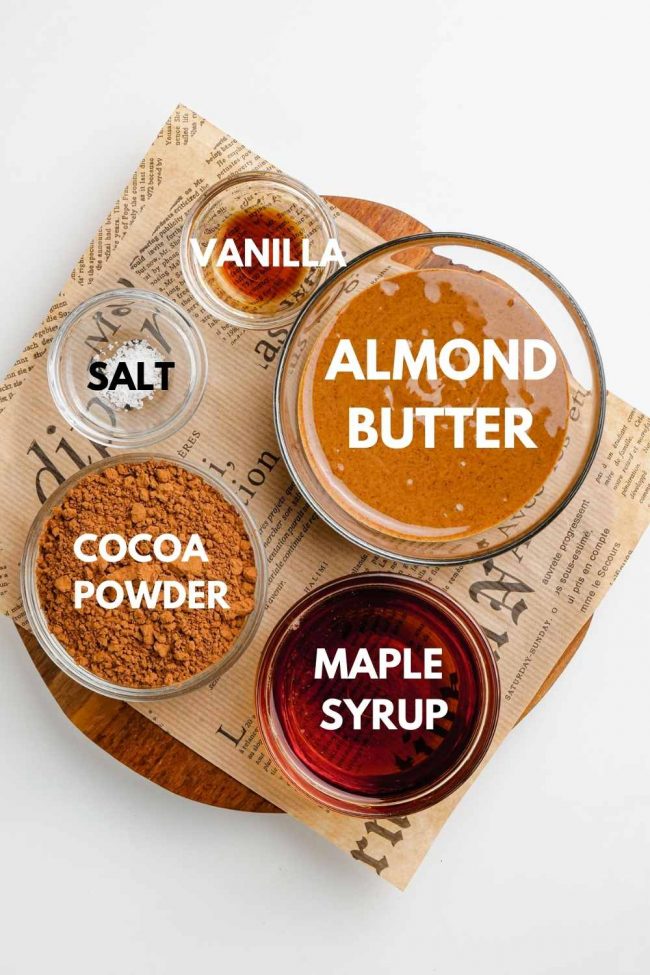 Great Nutella alternative
I will say that we found this chocolate almond butter tastier than Nutella. And it's without the undesirable ingredients!
Nutella consists of sugar, modified palm oil, hazelnuts, cocoa powder, skimmed milk powder, whey powder, soy lecithin, and artificial vanillin. Compared to other processed spreads, I don't think the ingredients list is that terrible, but it still contains a ton of sugar.
So I'm really happy with this alternative. It tastes better and just contains healthy ingredients. Or at least healthier.
It has a lot of maple syrup but I'll take maple syrup over regular sugar. And there are so many almond butter benefits, so it's not totally void of nutrition.
I doubt it would work perfectly as a Nutella sub in recipes. But I say this of all homemade Nutella recipes.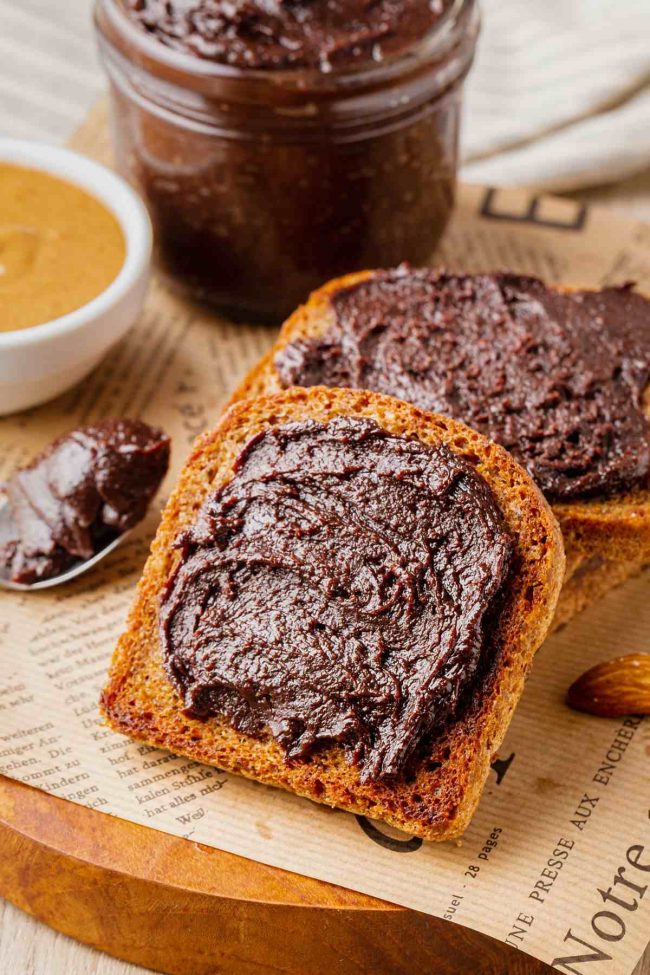 Using other nut butters
Normally I'd say no to using nut butters that I haven't tested. But this is just a spread so it doesn't matter if the fat content of the nuts is different, the way it does in baked and even some no-bake recipes.
So go for it. Use whatever you want. But read more below.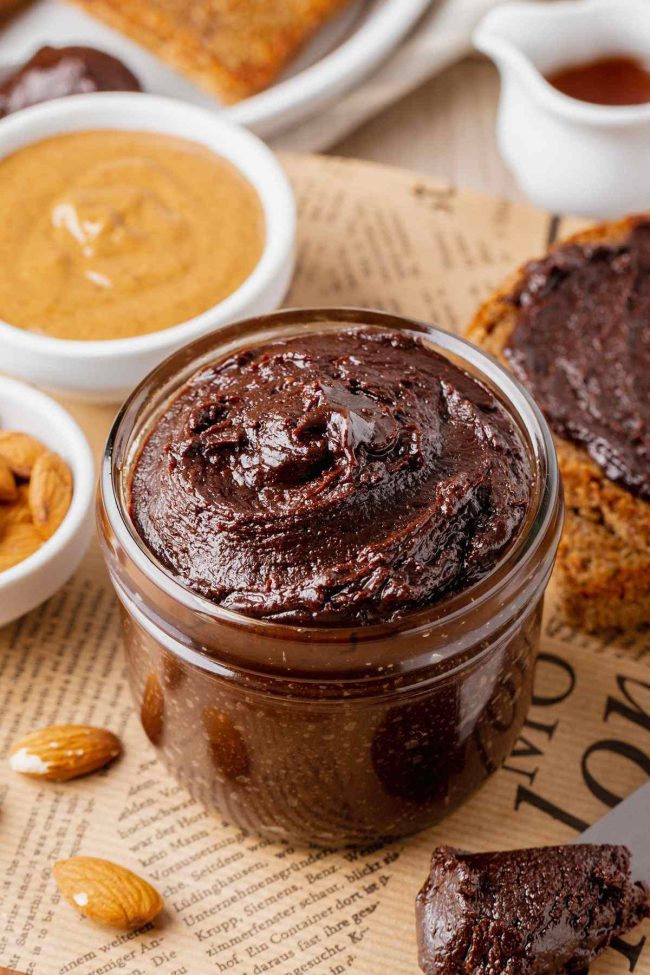 Sunflower seed butter
I've made this recipe with sunflower seed butter for a nut-free version. I had to add a little extra salt, as sunflower seed butter is a little bitter without a bit more salt. And it's not quite as sweet as the almond butter version.
But we still loved it, though maybe not as much as the almond butter version. Because sunflower seed butter is so much runnier than almond butter, the spread is more liquidy with it.
Hazelnut butter
I have yet to try this with hazelnut butter! I believe it'd work just fine.
I already have a chocolate hazelnut spread recipe but I think this one would be even tastier. And more like Nutella!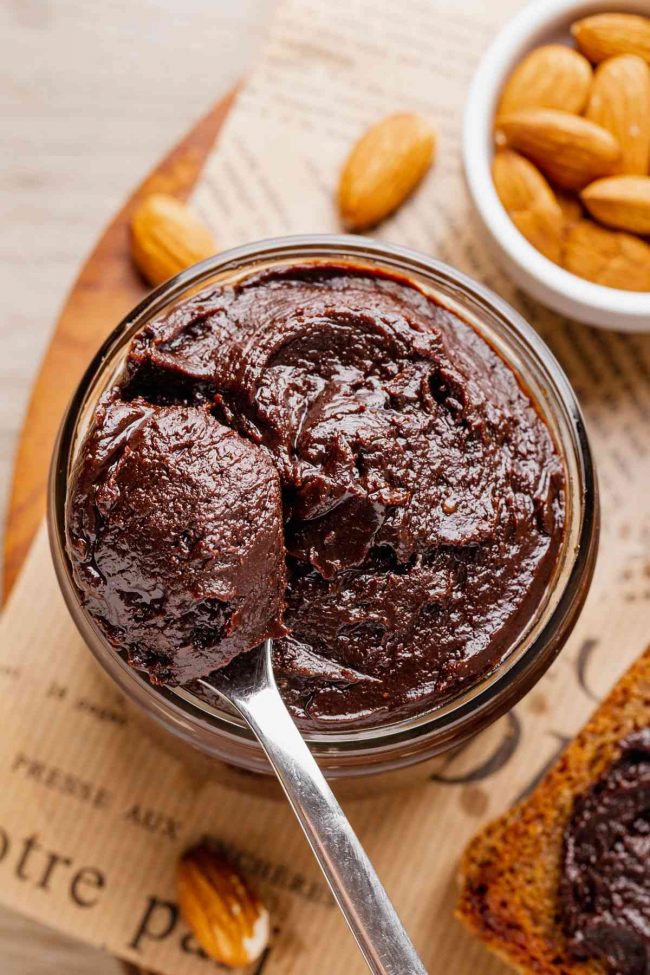 Cashew butter
If you use cashew butter, the fudge will be a bit firmer and harder than with other nut butters.
Walnut butter
Should you use walnut butter, the result will be less sweet. But still sweet enough, I think.
If you soaked your walnuts to make the walnut butter, the result won't be bitter. If you used unsoaked walnuts to make your walnut butter, the chocolate almond butter will be a little bitter.
The chocolate walnut butter will also have a strong walnut flavor. The almond butter version is more balanced and doesn't taste strongly of almonds, but rather a really nice blend of maple, chocolate and almonds.
Storage
If you store it in the fridge, it's too firm to really spread. It's great to eat from the spoon, though!
Should you want to spread it on something, keep it at room temperature. Ideally, open almond butter and maple syrup should be kept in the fridge. But this chocolate almond butter is fine for at least a week at room temperature.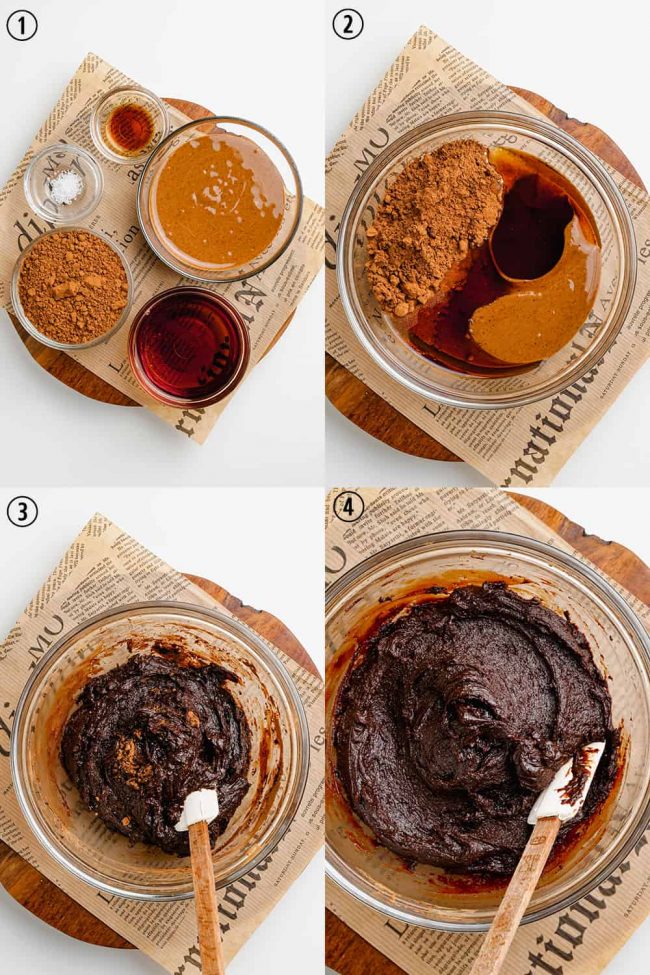 It's also always recommended to refrigerate maple syrup after opening to prevent mold from growing. I've kept opened bottles in the pantry and it takes quite a while for mold to grow.
So I wasn't worried about keeping this chocolate almond butter on the counter for about a week.
If you don't want too much on your hands, this is a super easy recipe to halve or fourth. You could also just refrigerate or freeze it and take out a bit at a time and then keep that at room temperature.
If you give it try, please let me know how you like it!
Questions about this chocolate almond butter?
Can I use something instead of almond butter?

You can experiment, but if you use a different nut butter, the result won't be exactly the same. Read the post for more info. :)

Can I use a different sweetener?

I tested this with Lakanto's Sugar-free Maple Flavored Syrup and it worked texturally but it tasted terrible. Nobody would eat it.

Then I tried this recipe with sugar-free granulated sweeteners. I tried to dissolve them in the coconut oil but the result was still grainy.

Honey could possibly work, if you don't care about this chocolate almond butter being vegan, but it'll likely have a rather noticeable honey taste and I don't think it'd be as balanced as the maple version. It'd also be thicker.

Can I reduce the maple syrup?

I know this recipe calls for a ton of maple syrup. But it yields a ton.

If you want to reduce it, go ahead and try but don't go wild. I'd suggest making it first with 3/4 cup (knocking off the last 2 tablespoons) and if you want, reduce it another 2 tablespoons the next time you make it.

I'm worried that if you mixed it all together and then tried adding more maple syrup because you decide you need it after all, it might not combine properly.

If you find it too sweet with 3/4 cup maple syrup, then add more cocoa powder to make it less sweet and more chocolaty. Adding cocoa powder to the already mixed chocolate almond butter shouldn't give you a problem the same way adding maple might.

Can I use a different type of cocoa powder?

I almost always prefer to use Dutch-process cocoa powder, like in these gluten-free chocolate cupcakes and this kladdkaka, but I like this one best with the regular kind of cocoa powder, which is called natural cocoa powder. I'm pretty sure you can use whatever type of cocoa / cacao powder you'd like (but of course, unsweetened!).
❀
Chocolate Almond Butter (paleo, vegan)
Prep Time:
Cook Time:
Ready in:
Yield:

2 1/2 cups
Ingredients
1 cup (256 grams) natural almond butter (the kind with just almonds) - here's how to make almond butter
3/4 cup + 2 tablespoons maple syrup
2 teaspoon vanilla extract
1/4 teaspoon salt
3/4 cup (86 grams) cocoa powder
Directions
Mix everything together until smooth. It'll be very thick. It's a spread like Nutella so can be put on bread or eaten with a spoon.
Store at room temperature for 1-2 weeks. Once refrigerated, it's not quite as soft but can be stored there for long-term use.
As an Amazon Associate, I earn from qualifying purchases. For more info, see my disclosure.