These coconut flour brownies are super fudgy and are also paleo, grain-free and dairy-free! Topped with chocolate fudge frosting.
Please note that the batter in the video is much thicker than it should be. The coconut oil had hardened.
I keep getting questions about how to make this and that recipe with just coconut flour and not a blend of almond flour and coconut flour, which is what I usually use, like in these paleo carrot muffins or paleo peanut butter cookies.
I'm not usually a fan of treats with just coconut flour. The often have a weird, eggy texture and not-so-awesome taste (at least in my opinion), so I have very few recipes that call for just coconut flour.
These coconut flour brownies are an exception! They're every bit as delicious as traditional brownies. People won't even know that these are gluten-free, much less made with just coconut flour.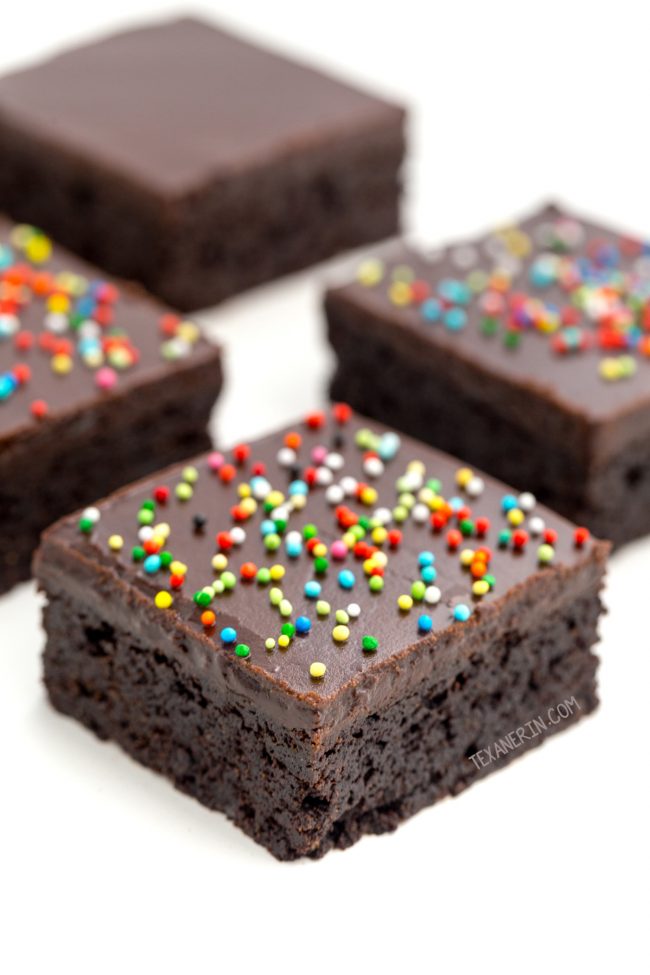 Same with these chocolate chip coconut flour cookies! They taste exactly like regular chocolate chip cookies.
I also experimented with making these brownies vegan. That didn't work out at all. Do not try using egg replacer in these! At least not chia or flax eggs. They came out so greasy!
I've been playing around with this coconut flour version for about a year and one thing is super clear – the order in which you add the ingredients is really important! If you don't do it the way it's written, the wet and dry ingredients don't really combine well and the result is oily.
These coconut flour brownies are also paleo (if you leave out the sprinkles)! And the most delicious paleo brownies I've ever had. They're a bit heavy on the sugar (though not compared to a traditional brownie recipe), but they are brownies so I'm not going to beat myself up over it.
And they're also nut-free. Something that's not all that common with paleo desserts! I love my almond flour and nut butters but don't miss them at all in these brownies.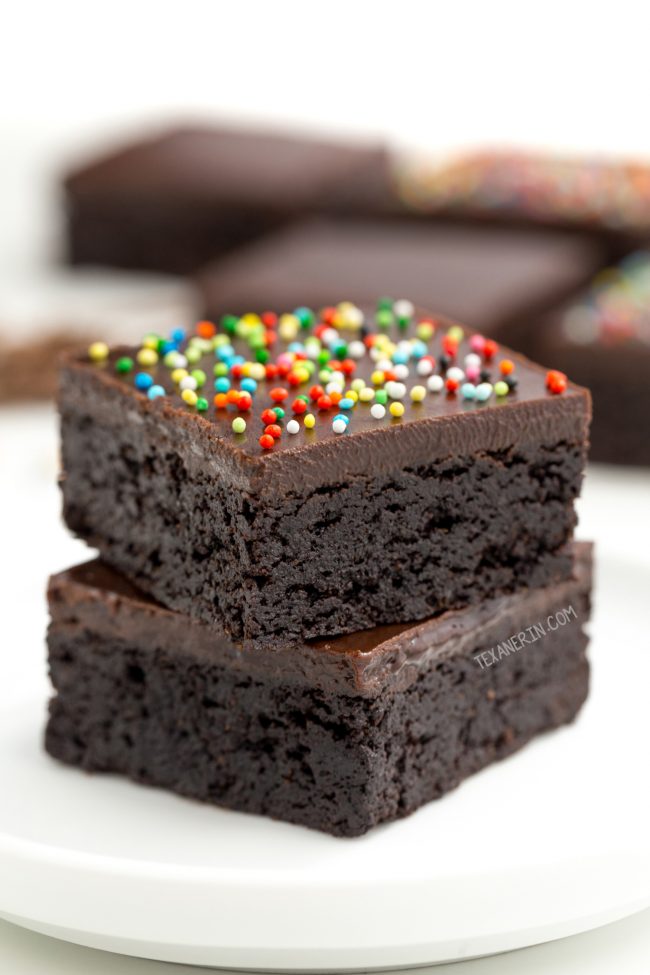 Like the original gluten-free brownie recipe, these are also dairy-free. Though if you want to use butter in place of the coconut oil, I'm pretty sure you can! They'll just be a tiny bit less fudgy.
And these are incredibly fudgy so a tiny bit less gooey is no big deal.
You can either throw chocolate chips into the batter or use the paleo chocolate fudge frosting that I did. The recipe is listed below but check out that post if you want to read the reviews for the frosting. Just if you need convincing. ;)
By the way, I'm working on an all coconut flour version of my chocolate chip paleo cookies! And they're amazing. Can't wait to share!
I've answered most sub questions in the post above but here it is again for easy reference!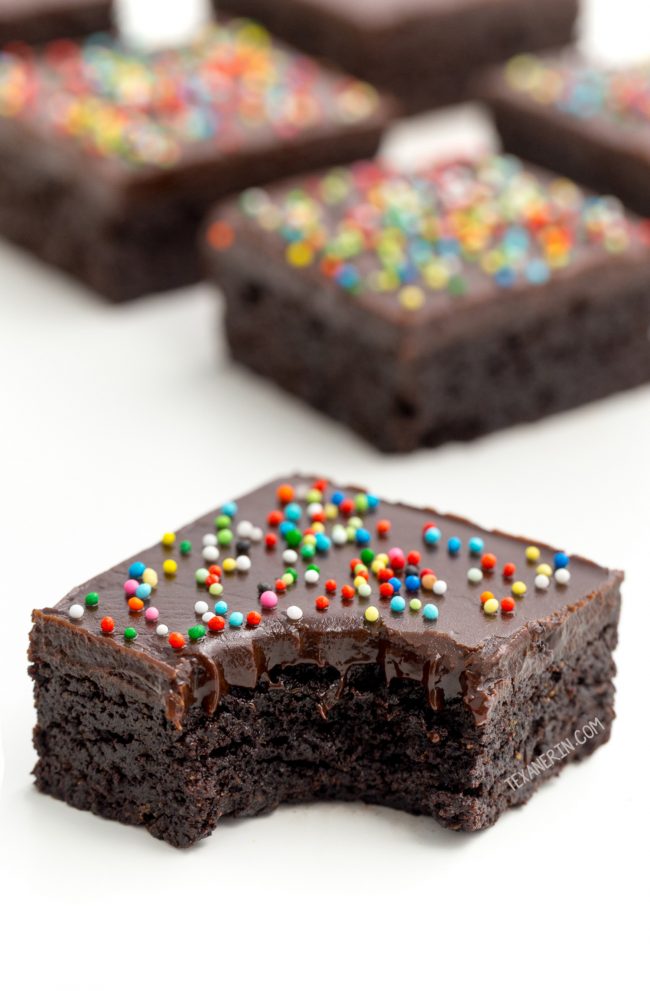 Substitution questions for these coconut flour brownies:
Can I omit the eggs / use an egg replacement? I tried with chia and flax eggs and they were a complete disaster. I don't recommend trying that or any egg replacer. And definitely don't just omit the eggs.


Can I use another type of flour?

You can! Go check out my gluten-free brownies recipe for instructions on how to make them with teff, buckwheat, or whole wheat flour.



Can I use something else in place of the coconut sugar? You can use granulated sugar (which means they're no longer paleo). Liquid sweetener won't work. I also have no idea how to make these low-carb.
Wondering what else to do with coconut flour? Try these coconut flour chocolate pancakes from Pint Sized Baker!
❀
Coconut Flour Brownies (paleo, gluten-free, dairy-free)
Prep Time:
Cook Time:
Ready in:
Yield:

16 brownies
Ingredients
For the brownies:

1 1/3 cups (266 grams) coconut sugar, broken up if lumpy (granulated white sugar for non-paleo)
1/3 cup (43 grams) coconut flour, sifted if lumpy
3/4 cup (86 grams) Dutch-process cocoa powder, sifted if lumpy
1/4 teaspoon salt
3/4 cup + 2 tablespoons (196 grams) coconut oil, melted (but it shouldn't be so hot that it cooks the eggs) or butter for non-paleo
1 tablespoon vanilla extract
3 large eggs (50 grams each, out of shell), room temperature (it's important that they're not cold – cold eggs will make the coconut oil harden)

For the frosting:

1 cup (170 grams) chopped semi-sweet chocolate or chocolate chips (make sure to use paleo chocolate)
1/4 cup (60 milliliters) milk of choice (make sure to use dairy-free milk like almond milk for paleo, but not canned coconut milk)
1/4 cup (56 grams) coconut oil (butter for non-paleo)
1 teaspoon vanilla extract
pinch of salt
Directions
Preheat the oven to 350 °F (175 °C) and line an 8"×8" (20cmx20cm) pan with parchment paper.
In a medium mixing bowl, stir together the sugar, flour, cocoa powder, and salt. Set aside.
In a large mixing bowl, stir together the melted coconut oil, vanilla extract and eggs. Stir until combined.
Add the dry mixture to the wet and stir until combined. Do not overmix! The mixture will be more of a batter than what you see in the video.
Pour the batter into the prepared pan and bake for 16-20 minutes or until the brownies appear set in the middle. It'll have the appearance of cake. They won't be gooey and wet, but shouldn't be dry like cake, either. The brownies will continue to bake as they sit in the pan and will firm up as they cool. These brownies don't have the best texture straight out of the oven, when they're quite cakey. They need to cool for the best texture.
Let the brownies cool completely, about 60-90 minutes, and then prepare the frosting.
In a small saucepan over medium-low heat, mix together all the ingredients. Stir until melted and completely smooth.
Let cool for about 10-20 minutes or until no longer warm, but still pourable, and then pour over the brownies.
Place the pan in the refrigerator and chill for 1-2 hours or until the frosting is firm (it should be hard enough to cut into squares without making a mess). The frosted brownies are fine at room temperature for 1 day. The frosting won't harden enough to stack the brownies, but it won't be as soft as the warm frosting is.
Unfrosted brownies can also be kept at room temperature for a few days. Cut into 16 squares.