This dairy-free banana bread is the perfect banana bread recipe! It doesn't use any dairy subs or any odd ingredients, is full of banana flavor + cinnamon and is super moist.
I've gotten a lot of requests for dairy-free recipes that aren't gluten-free. Just plain dairy-free.
Most of my gluten-free recipes are already dairy-free, but the problem is that people aren't finding them because they're not called dairy-free in the title. There are only so many words that I can fit in there.
So this is the same recipe as my gluten-free banana bread, but made with whole wheat or all-purpose flour.
If you need a grain-free and paleo version, try my almond flour banana muffins. I haven't tried converting it to a loaf yet, though, so I'd recommend sticking to muffin format.
Today's recipe has been my favorite banana bread recipe for 15 years and I see no reason to change it. I had tried so many recipes before this one but none were moist and flavorful enough for me.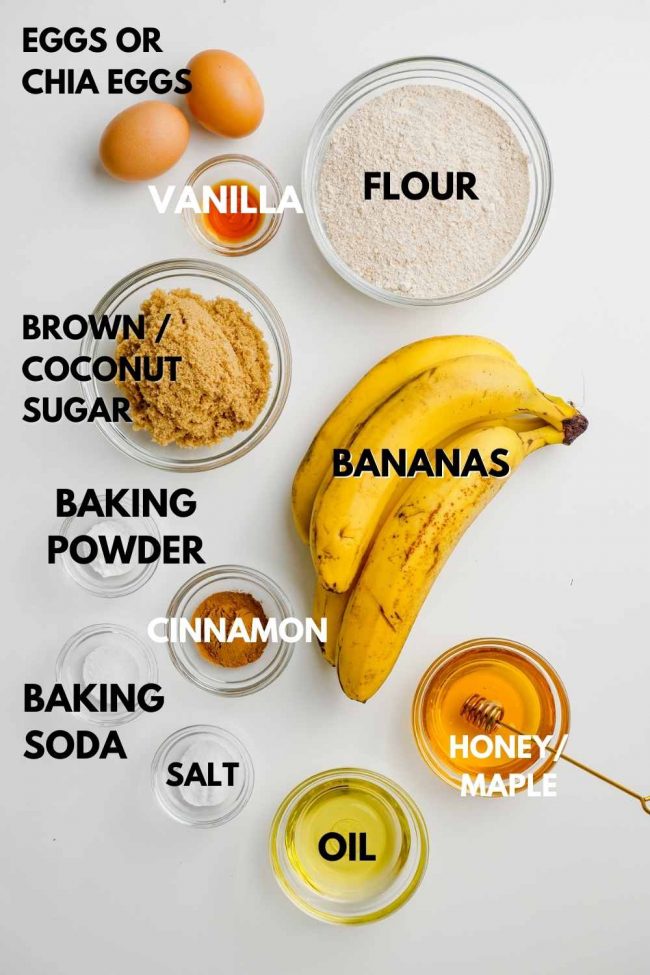 No unusual ingredients
Some dairy-free recipes just call for dairy-free subs (like dairy-free cream cheese, dairy-free yogurt, etc.) but this recipe is already naturally dairy-free.
The ingredients
The flour
You can use regular all-purpose flour, whole wheat flour, white whole wheat flour or whole spelt flour. There's so much banana and cinnamon flavor that all the different versions taste the same.
The sugar
I've only used brown sugar and coconut sugar. Brown sugar was used in these photos.
If you use coconut sugar, the bread will be darker in color. It'll also have a darker, slightly more caramel-like taste, but it's no less delicious.
You could also use regular white granulated sugar and probably any granulated sugar that you use as a 1:1 sub for regular sugar.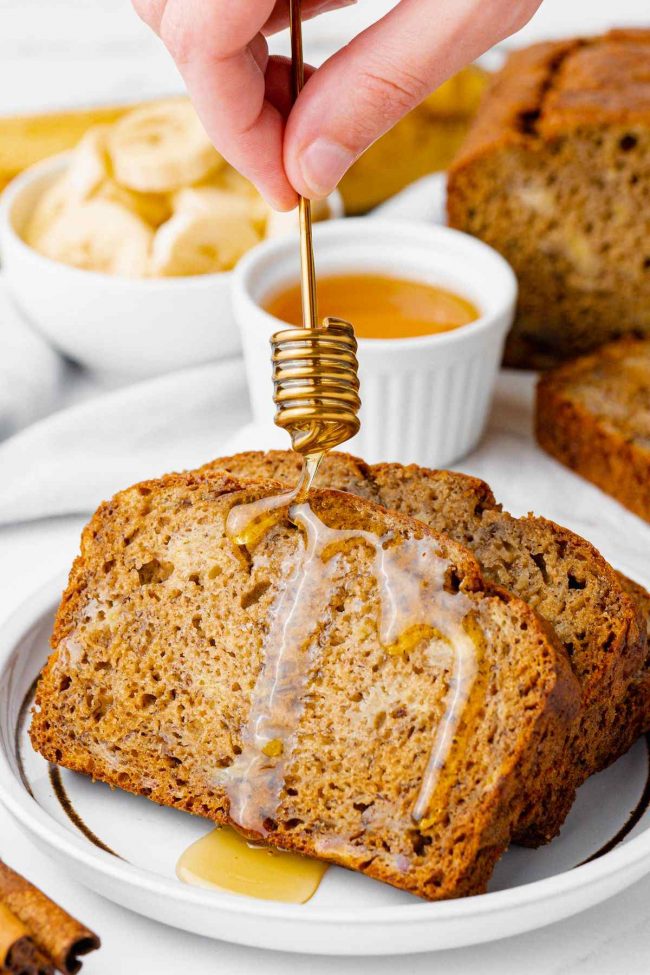 The eggs
If you can't have eggs, I've got you covered with my vegan option. And I'm really shocked that it worked out. Chia eggs worked out great in this recipe!
Honey / maple syrup
If you use both and have no preference, I can say that the honey version is slightly sweeter. But I don't think most people would be able to tell the difference.
You can't actually taste either in the bread. It's all banana and cinnamon!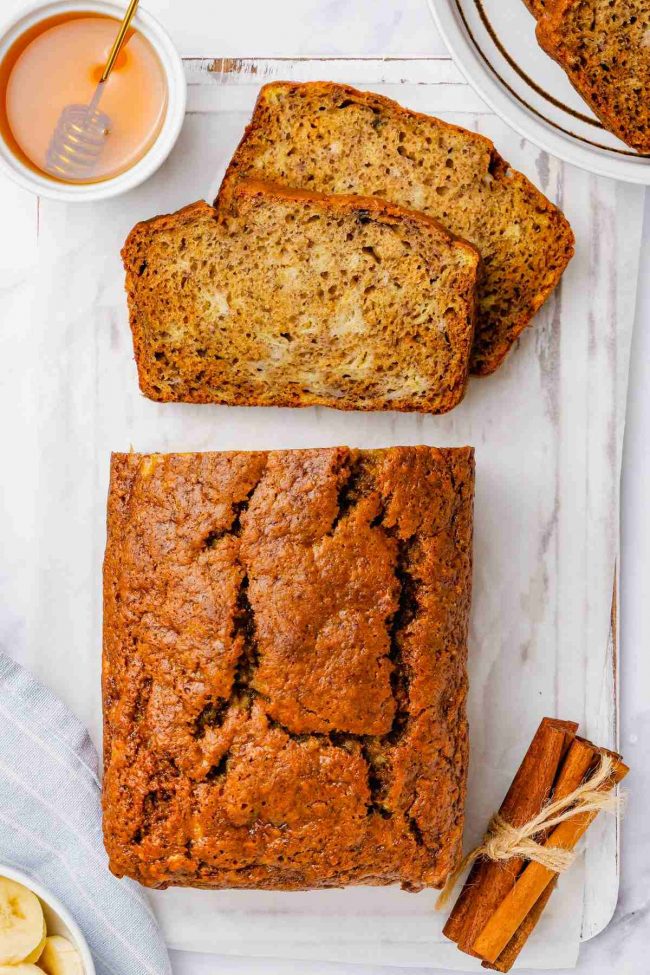 The oil
This recipe uses oil instead of butter, which helps it be extra moist. You can use whatever type you'd like.
If you use coconut oil, I recommend refined coconut oil for no coconut taste. Although, there's so much cinnamon and so little oil that maybe you wouldn't be able to taste it.
If using olive oil, you're able to taste it in the batter and when warm, but not once it's cooled. You can use a light flavored olive oil if you're worried about that.
You can, of course, use canola oil, grapeseed oil or whatever neutral oil you'd like.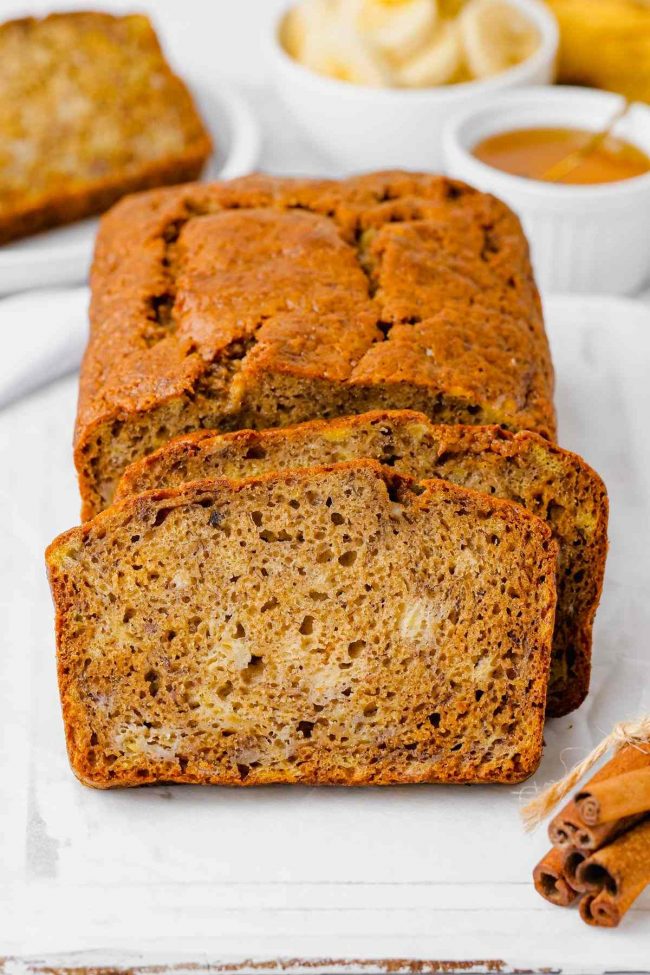 How to serve this bread
I think we all know how to eat banana bread but if you want to add a bit of healthy fats, add a bit of homemade peanut butter or enjoy the benefits of almond butter by slathering some of that on.
One thing I've been meaning to try is banana bread French toast! It sounds so tempting but any time I eat something sweet like that for breakfast, I end up in a carb coma and am useless for the rest of the day.
I'd love to hear how you like this banana bread if you try it out!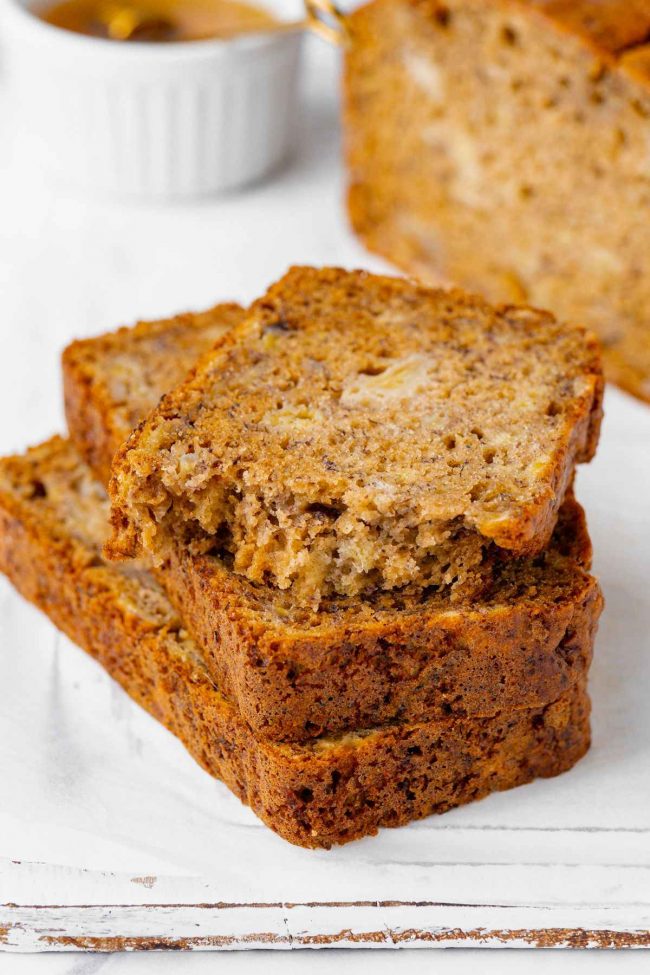 Substitution questions about this dairy-free banana bread recipe?
Can I use a different type of flour?

The 4 I have listed are the ones that work. If you want it to be gluten-free, check out my post on gluten-free banana bread.

Non-wheat flours like coconut flour, almond flour, etc. will not work here.

Can I use something instead of brown or coconut sugar?

Granulated sugar or raw sugar work but I think the bread tastes better with more flavorful sugars.

Can I use something other than eggs / chia eggs?

Those are the only egg subs I've tested. I can't really say if other subs would work.

Can I use something other than honey or maple syrup?

I think any liquid sweetener that you'd use in place of honey or maple would work.

Can I make them as muffins?

Yes, you can bake 12 muffins at the same temperature and for about 15 – 22 minutes or until a toothpick comes out clean.

What can I use in place of the bananas?

Someone always asks this so… I simply recommend finding a non-banana bread recipe if you don't like bananas. :)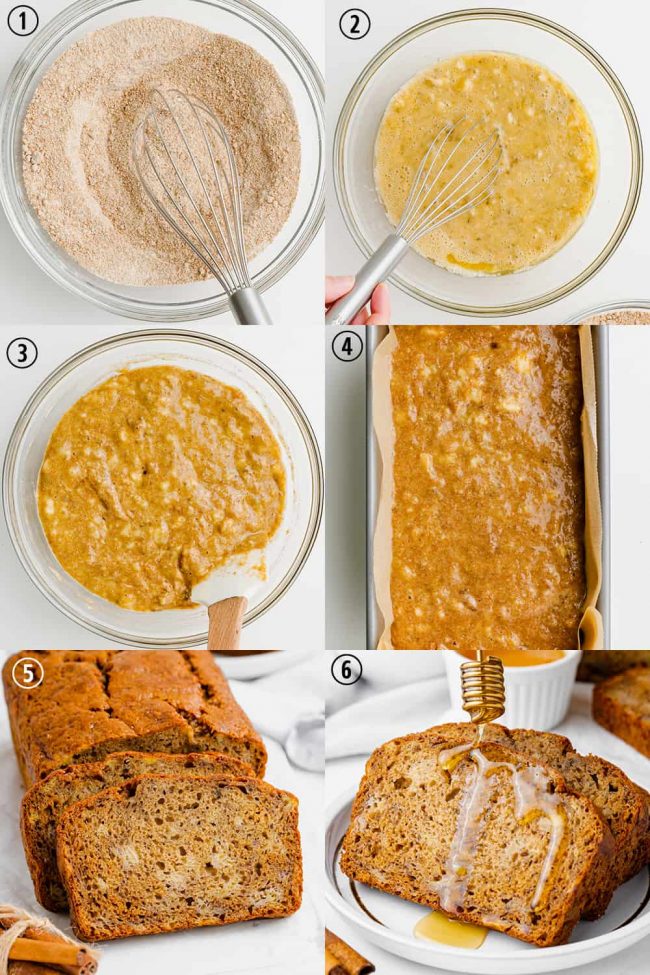 ❀
Dairy-free Banana Bread (vegan option)
Prep Time:
Cook Time:
Ready in:
Yield:

8-12 slices
This dairy-free is naturally dairy-free, is super moist, flavorful and easy to make.
Ingredients
1 1/2 cups (188 grams) all-purpose flour, whole wheat flour, white whole wheat flour or whole spelt flour
1 teaspoon baking soda
1/2 teaspoon baking powder
1/2 teaspoon salt
2 teaspoons cinnamon
1/2 cup (100 grams) brown sugar or coconut sugar
2 large (50 grams each, out of shell) eggs or chia eggs for vegan
1/4 cup (80 grams) honey or (60 ml) maple syrup for vegan
3 tablespoons oil (any kind)
1 teaspoon vanilla extract
4 medium (480 grams without the peel) overripe bananas, mashed (I mash them in a bowl with the bottom of a glass)
Directions
Preheat the oven to 350 °F (175 °C). Place a piece of parchment paper in a 9"x5" loaf pan.
In a medium-sized bowl, whisk together the flour, baking soda, baking powder, salt, cinnamon and sugar.
In another medium-sized bowl, lightly beat the eggs. Add honey, oil, vanilla and mashed bananas.
Add the wet mix to the dry mix, but just until combined.
Pour into the prepared pan.
Bake for 45 minutes or until a toothpick inserted in the middle comes out clean.
Remove to a rack to cool for 15 minutes before turning out onto the rack to cool completely. Store in an airtight container for up to 5 days.