This Christmas hot chocolate is made with just three ingredients and is thick, creamy and rich, making it perfect for the holidays. It can also be made paleo and vegan.
I'm sort of skipping past Thanksgiving this year and working on adding more Christmas recipes, of which I have shockingly few.
But you can obviously make this hot chocolate any time! Omit the Christmas decorations, and you've got Thanksgiving hot chocolate. ;)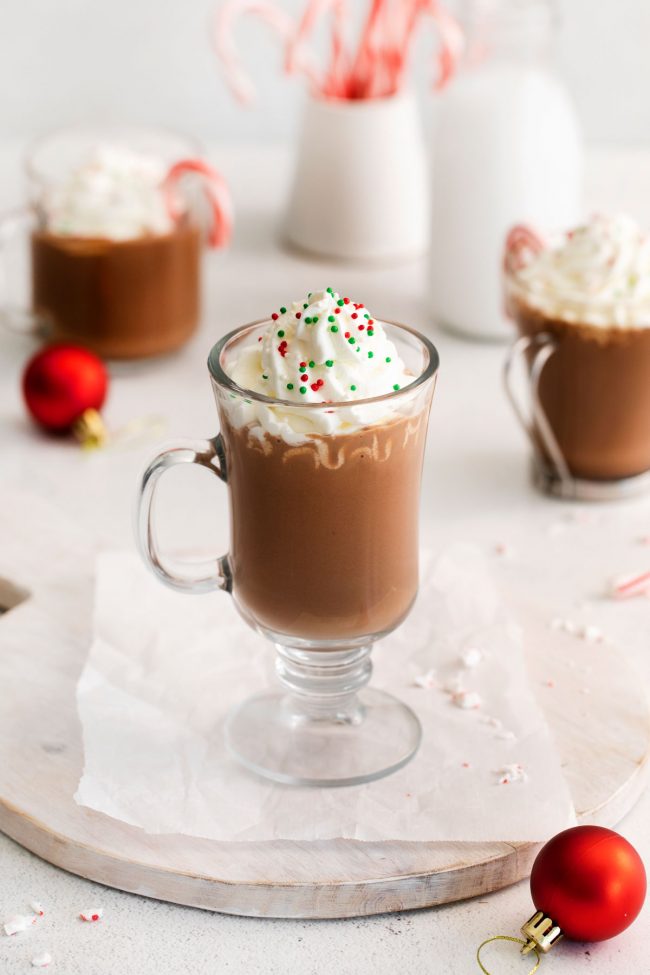 Super rich + creamy
I'm super picky with my hot chocolate. Most are too thin, not sweet enough and not chocolaty enough for me.
Even my healthy hot chocolate recipe, this Paleo Vegan Hot Chocolate, is insanely thick and rich. I posted that recipe 6 years ago, and it's still my favorite.
Tastewise, it's tied with this Christmas hot chocolate, but I prefer the ingredients in the other recipe. It calls for cocoa powder, dates, coconut milk and vanilla.
But you need a high-speed blender to make it, which I know not everyone has, so here's another decadent option.
Today's recipe consists of evaporated milk or coconut milk, chocolate and vanilla. That's it.
You can make it paleo and vegan, and if you use naturally sweetened chocolate, it's not absurdly unhealthy. But it's still a treat.
If you don't want to start off the day with something so rich, I suggest this fruity Christmas morning punch! There's no added sugar, and everyone loves it.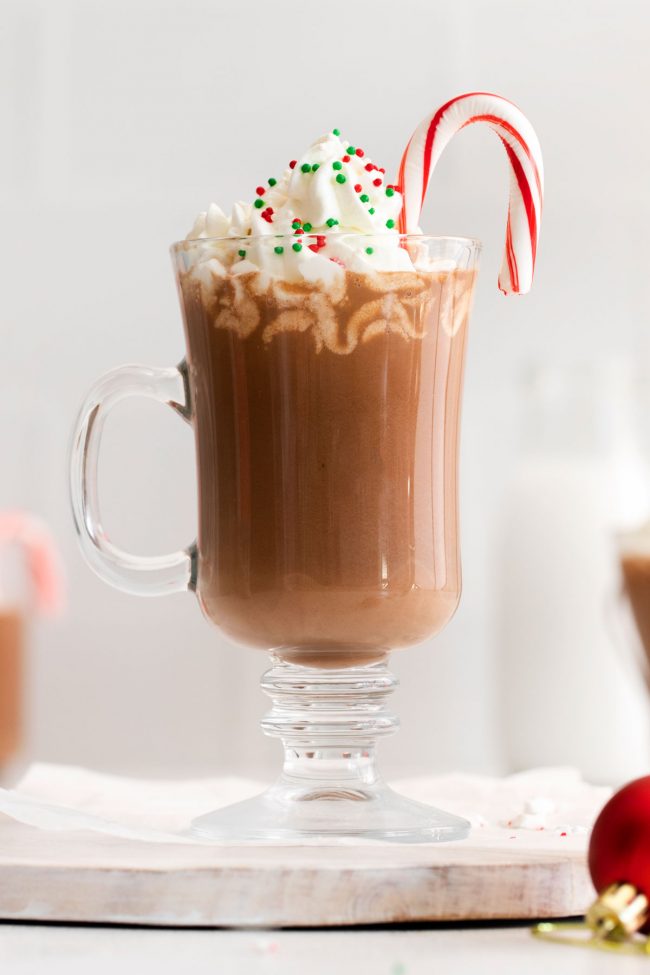 Yield
This recipe yields about 2 cups, meaning 2 measuring cups, not drinking cups. It's so thick and rich that those 2 cups are likely enough for 4 people.
It might be too rich for some people. In that case, let them stir in a little milk until it's to their liking.
I've served this to one person who said it was too rich for her. It's been a big hit with everyone else.
Booze
You can add up to 2 tablespoons of liqueur, like Baileys or Kahlua, per serving. Start off with 1 tablespoon and add more to taste.
If you want to add something like rum, or brandy, I'm thinking 2 tablespoons would be a bit excessive. 😄 Add 1/2 tablespoon per serving and add more to taste. You could also try this Spiced Rum Hot Chocolate!
Amaretto is also fantastic in hot chocolate! And Frangelico.
Make it in advance
It only takes a few minutes to make, but if you're like me and would prefer to have everything possible prepared ahead of time, then you can make this 2 to 3 days in advance.
It'll firm up in the freezer. I just keep it in the pot, put on the lid, and then a few minutes before serving, place it on medium heat to warm up.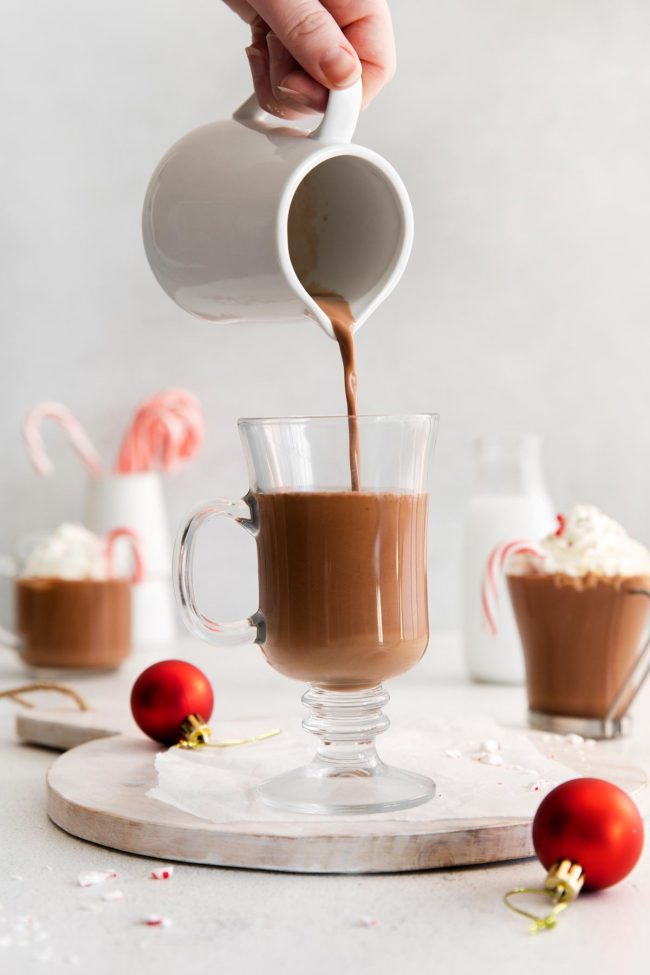 What is evaporated milk?
Evaporated milk comes in a can in the US and often in a tetra pak in other countries, and is shelf-stable. It undergoes a heating process to evaporate 60% of the water, leaving you condensed, unsweetened, creamier, thicker milk.
It was popular before refrigeration because of its shelf life, and it can be reconstituted by adding water.
The difference between evaporated and condensed milk is that condensed milk is sweetened, and evaporated milk is not. Both undergo the same evaporation process, and it's just a matter of adding sweeteners.
Paleo and vegan option
You have to use canned coconut milk, or a mix of canned coconut milk + a thinner milk, like cashew milk, whipped coconut cream for the topping, and paleo or vegan chocolate.
There are so many brands of truly paleo chocolate now! That wasn't the case a few years ago.
If you use something very lightly sweetened, then your hot chocolate will be very lightly sweetened.
The recipe was developed with chocolate of a regular sweetness. If I used my son's date-sweetened chocolate in this, I'd probably have to add quite a bit of maple syrup.
Hu Gems are easy to find these days and are labeled as both paleo and vegan. They're sweetened with coconut sugar and work in this recipe.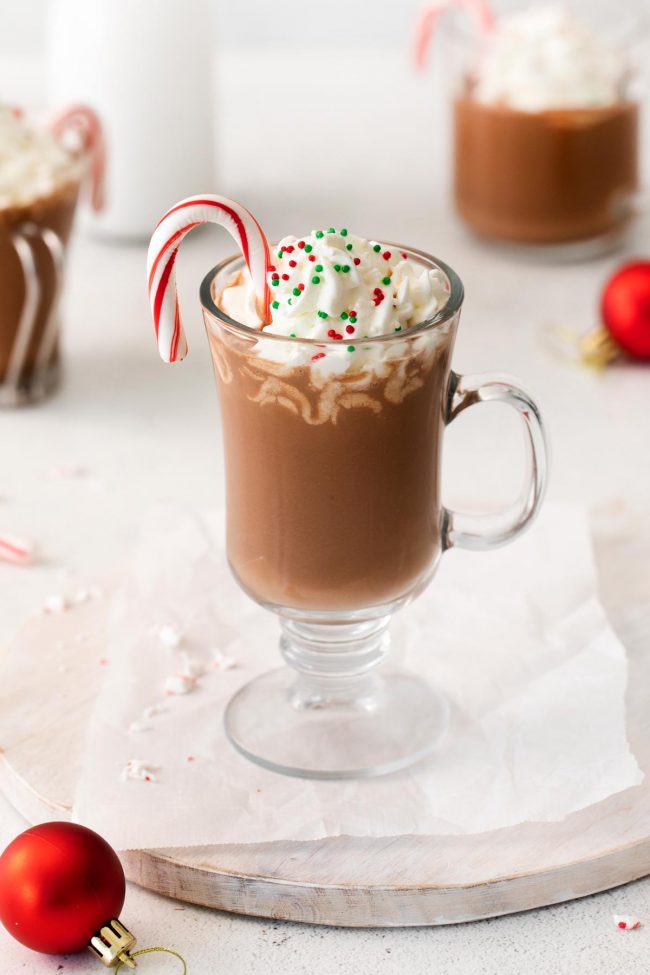 But, unless you like dark chocolate, you'll need to add sweetener. I added 2 teaspoons of maple syrup per serving. So that'd be 2 tablespoons + 2 teaspoons maple syrup for the whole batch.
If you prefer to use cocoa powder instead of chocolate, check out my Vegan Hot Chocolate Recipe. It's also paleo.
If you're paleo, you also need to omit the sprinkles (or make homemade paleo vegan sprinkles) and candy cane. Rather than making homemade sprinkles, I would sprinkle some freeze-dried strawberry or raspberry powder on top of the whipped coconut cream.
If you don't have powder, just break up freeze-dried strawberries or raspberries with your hands. Or put them on a cutting board and use a mallet if that sounds like fun. ;)
If you're vegan, use vegan sprinkles and candy canes. Most brands of candy canes are already vegan! Make sure to read the ingredients on the package before buying.
For the sprinkles, I found these Vegan Christmas Sprinkles that are also labeled gluten-free, soy-free and they don't have artificial dyes.
Keto?
I tried this with ChocZero Dark Chocolate Baking Chips. I took a sip and spat it out.
I don't love the chips on their own, but they're okay (to my taste). But in combination with the coconut milk, it was just awful.
I added 2 teaspoons of maple syrup to my serving and then it tasted almost like the Hu Gems version, but with a tiny bit of aftertaste.
I think adding any kind of keto sweetener would have just made it taste worse. So I can't recommend this recipe if you're keto.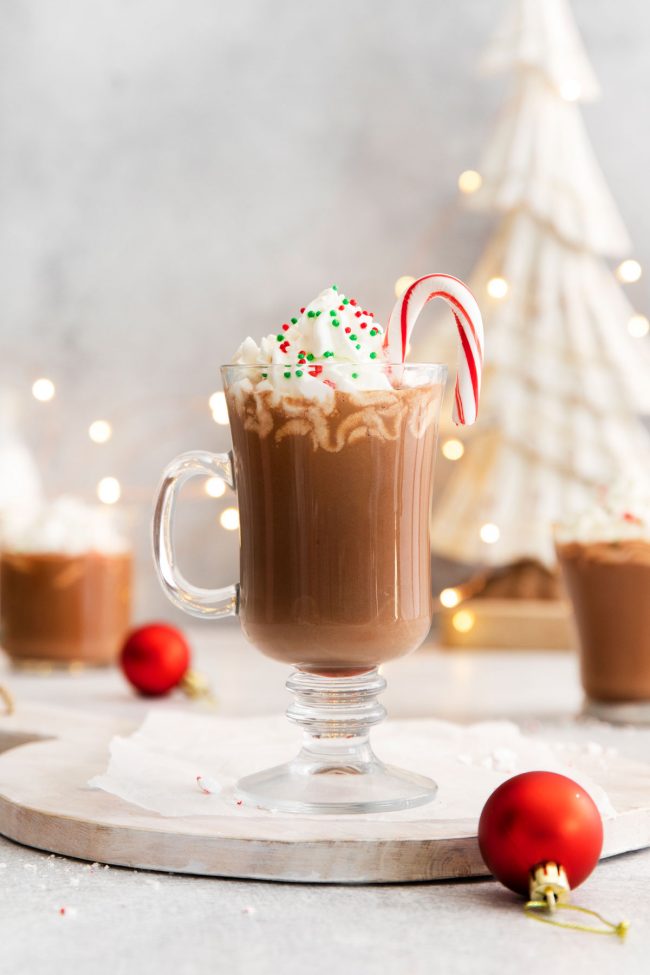 Other Christmas drinks
Here are some of my favorites for the holidays.
That's it! If you try this Christmas hot chocolate, I'd love to hear about it! Please leave a comment or snap a pic and tag #texanerin, so I can be sure to see it. Thank you. :)
❀
Christmas Hot Chocolate
Prep Time:
Cook Time:
Ready in:
Yield:

2 cups (450 ml) - about 4 servings
Please see the notes at the bottom for the vegan / paleo version!
Ingredients
1 12-ounce (340-gram) can evaporated milk (that's 1 1/2 cups)
2/3 cup (113 grams) semi-sweet chocolate chips or chopped chocolate
pinch of salt
1 teaspoon vanilla extract
optional add-ins: 1-2 tablespoons Kahlua (or another liqueur such as Frangelico or Amaretto) and / or 1/2-1 teaspoon espresso powder
milk, optional – to thin it down a bit
Directions
In a small saucepan over medium heat, stir together the evaporated milk and chocolate.
Continue stirring until melted – about 3 minutes.
Stir in the remaining ingredients. Let sit for 5 minutes and then serve. If it's too rich and thick, add milk to taste. This can be covered and refrigerated for up to 3 days.
Notes
For a paleo, vegan and dairy-free version - you can make this with canned coconut milk or half cashew milk (or whatever you like) and half canned coconut milk if you don't want it so rich. Make sure to use vegan/paleo-friendly chocolate. When using Hu Gems, I had to add 2 tablespoons + 2 teaspoons of maple syrup to make the hot chocolate sweet enough for me, but note that I do not like dark chocolate.
Adapted from thick and rich homemade hot cocoa on Sing For Your Supper