These gluten-free apple muffins are ultra moist, flavorful and have a delicious streusel topping! They also have a dairy-free option. The best apple muffins I've ever had!
I've got a whole bunch of apple muffin recipes. This one is my favorite!
And the least healthy! Go figure.
If you need a paleo version, check out my paleo apple muffins. And if you can have dairy but want something grain-free, I've got these grain-free apple muffins.
If you prefer to use whole wheat flour or all-purpose flour in this recipe, that works for a non-gluten-free version. Each version is equally delicious!
See the notes below the recipe for how to make them non-gluten-free. The streusel recipe is slightly different than the gluten-free version.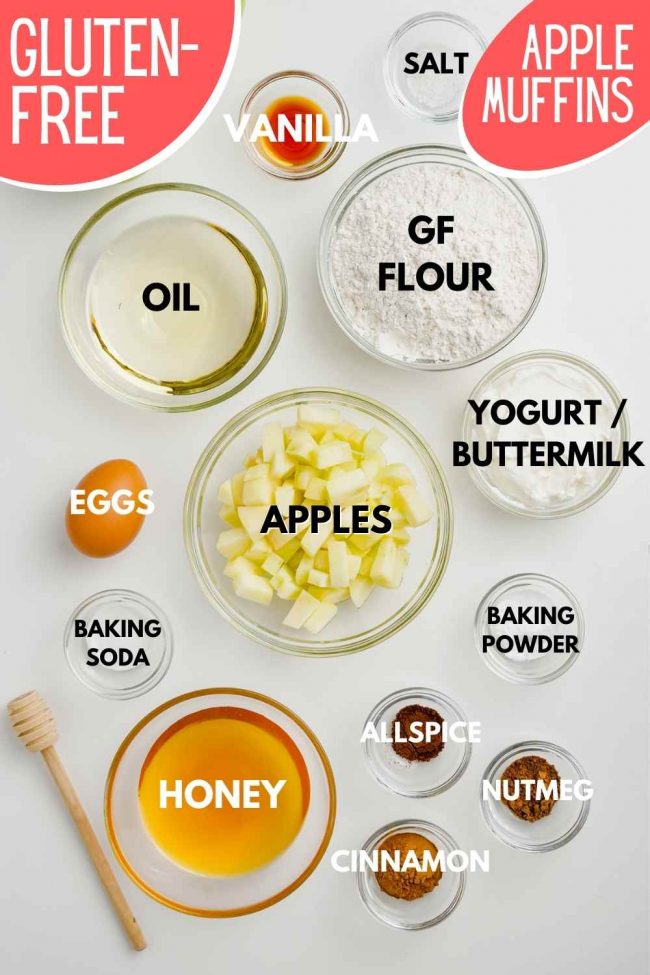 These apple muffins don't really need the streusel but how could I not? It's just so darn delicious. I like to pick it all off the muffin and then eat the actual muffin. Anyone else do that? :D
These apple muffins are light, fluffy and definitely not reminiscent of cardboard. They're not gummy, dense or anything weird.
I'm just bummed I couldn't make a vegan option work. There's only one egg so I thought it'd be easy to replace.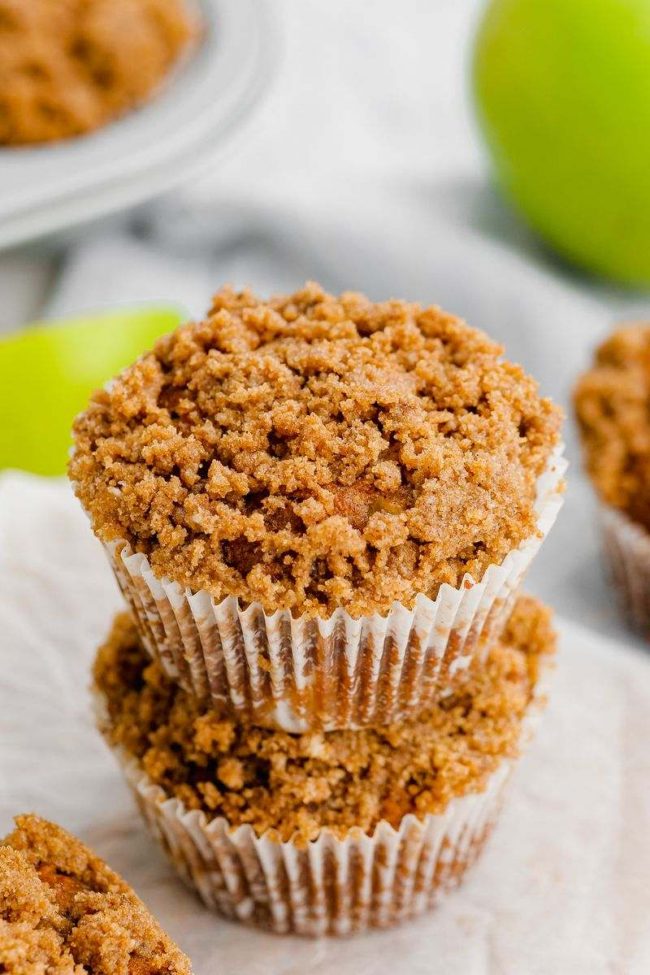 But the result was so dense. I really can't recommend it. It looks like I need to make one more apple muffin recipe so that I have something for everyone!
These gluten-free apple muffins together with the pumpkin muffins I'll post soon are my favorite fall muffins. The texture and flavors are just perfect.
My favorite other gluten-free apple desserts are this Swedish apple pie and this gluten-free apple crisp. Both can also be made vegan!
Questions about these muffins?
Can I use a different flour? You could probably use a different gluten-free baking blend that's meant as a 1-to-1 sub for all-purpose flour. They might not have such an awesome texture, though. With the one listed, they're not dense, gummy, gritty or anything weird. They're perfect!

Can I omit the spices? Definitely use the cinnamon and nutmeg! If you don't have nutmeg on hand, increase the cinnamon to 2 teaspoons. You can omit the allspice but I think it's a nice addition.

How can I replace the egg? I tried with a chia egg and the result was horrible. I don't recommend it!

Can I use something other than honey? Maple syrup would probably work, though I haven't tried it. If you use a type of granulated sugar, you'd have to add a little more liquid. Without trying it myself, I can't say how much you'd need to add. So I recommend sticking to a liquid sweetener!

Can I reduce the sweetener? You could likely use 1/4 cup instead of 1/3 cup. They'll probably be less moist but I still think they'd be good.

Can I use a different oil? I'm guessing any type of oil would work. I've used extra-virgin olive oil, canola oil and refined coconut oil. Butter would reduce the amount of fat in the recipe, though (as it's 80-82% fat versus 100%) so I don't recommend that unless you're okay with the muffins being a little drier.

Can I use something other than yogurt or buttermilk? You need some kind of acidic ingredient here for the baking soda to do its work. So please use yogurt or buttermilk! You can make homemade buttermilk (with dairy or dairy-free milk).

To make dairy-free buttermilk for this recipe, add 3/4 teaspoon of lemon juice, white vinegar or apple cider vinegar to a 1/4-cup measuring cup. Fill it with dairy-free milk and then let sit for 5 minutes

Can I use a different fruit / omit the apples? I'm reluctant to recommend other fruit because these muffins are very moist and other types of fruit are usually so watery. I'm thinking fresh blueberries or raspberries would be great.

Can I use applesauce / grated apples? Definitely no to the applesauce. You'd need to rework the whole recipe to include applesauce. I'm 50 / 50 on grated apples. You'd be adding a bit of liquid to the recipe so I don't recommend it.

Can I use something other than coconut oil in the streusel? That's the only way I've tried it. I'm guessing any type of oil would work. If you want to use butter, you'd probably need to use a little more. I'm guessing an extra teaspoon for a total of 51 grams of butter. But it's just a guess!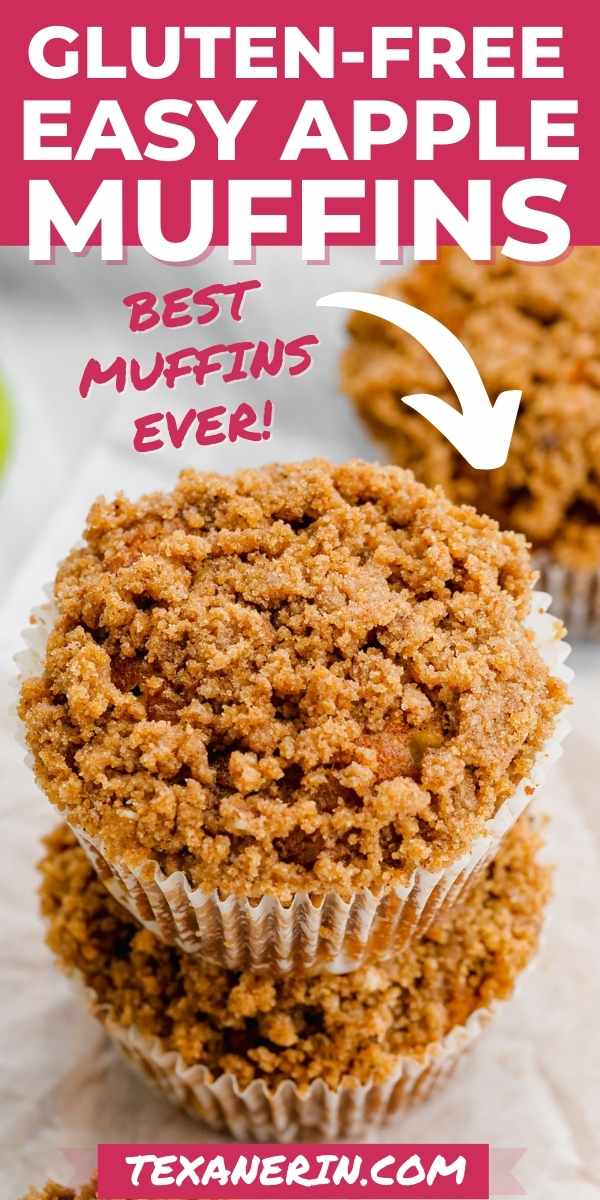 ❀
Gluten-free Apple Muffins (dairy-free)
Prep Time:
Cook Time:
Ready in:
Yield:

9 muffins
Ingredients
MUFFINS:

1 cup (138 grams) Bob's Red Mill Gluten-free 1-to-1 Baking Flour
3/4 teaspoon baking soda
1/2 teaspoon baking powder
1/4 teaspoon salt
1 teaspoon cinnamon
1/2 teaspoon nutmeg
1/4 teaspoon allspice, optional
1 large (50 grams, out of shell) egg
1/3 cup (106 grams) honey
1/4 cup + 2 tablespoons (90 ml) oil (any kind - if you use coconut oil, I recommend refined so the muffins don't taste coconutty. If using olive oil, a lighter one would be best.)
1 teaspoon vanilla extract
1/4 cup (60ml) yogurt (dairy or non-dairy)
1 cup (120 grams) diced and peeled apples, preferably from baking apples like Granny Smiths (I needed one medium / large apple and diced chunks about 1/4" in size)

STREUSEL:

1/2 cup (69 grams) Bob's Red Mill Gluten-free 1-to-1 Baking Flour
7 tablespoons (88 grams) brown sugar or cococnut sugar
3 tablespoons + 1 teaspoon (47 grams) melted coconut oil (I prefer refined coconut oil for no coconut flavor)
2 teaspoons cinnamon
1/8 teaspoon salt
Directions
Mix the streusel ingredients in a small bowl until well combined. Set aside.
Preheat the oven to 350°F / 175°C. Line a muffin tin with 9 muffin liners.
In a medium bowl, whisk together the dry ingredients (flour through salt).
In another bowl, mix the wet ingredients (egg through yogurt).
Add the flour mix to the wet mix. It just needs to be combined, so be careful not to overmix.
Then fold in the apples, being careful not to overmix.
Fill the liners with the batter, filling them about 2/3 full.
Divide the streusel between the muffins. If you like being exact, that's 23 grams per muffin. It's a little more than a tablespoon.
Bake for about 17 minutes or until a toothpick comes out clean.
Let the muffins cool for 5 minutes and then turn out very carefully onto a wire rack to cool.
When the muffins are completely cooled, place them in an airtight container. Store at room temperature for about 4 days or refrigerate for 5-6 days.
Notes
If you want to use wheat, use the muffin base with 1 cup (125 grams) whole wheat flour. In place of the streusel recipe, you need to use:

1/3 cup (45 grams) whole spelt, whole wheat flour or all-purpose flour
1/2 cup (100 grams) brown sugar or coconut sugar
2 tablespoons (28 grams) melted unsalted butter
2 teaspoons cinnamon
1/8 teaspoon salt