These mini pecan pies are easy to make and perfect for Thanksgiving! They can be made 100% whole grain, gluten-free or with all-purpose flour and have a vegan and dairy-free option. They're also made without corn syrup!
I posted these mini caramel apple pies last week and thought I'd continue with the mini theme with these mini pecan pies.
But these are even smaller! The apple pies are done in a regular muffin pan and these individual pecan pies are made in a mini muffin pan.
Right before I wanted to publish this post, I had the idea that someone might ask about making them in a regular muffin pan. So I tried that and you definitely need to use a liner if you feel like trying (you don't need liners with the mini muffin pan version).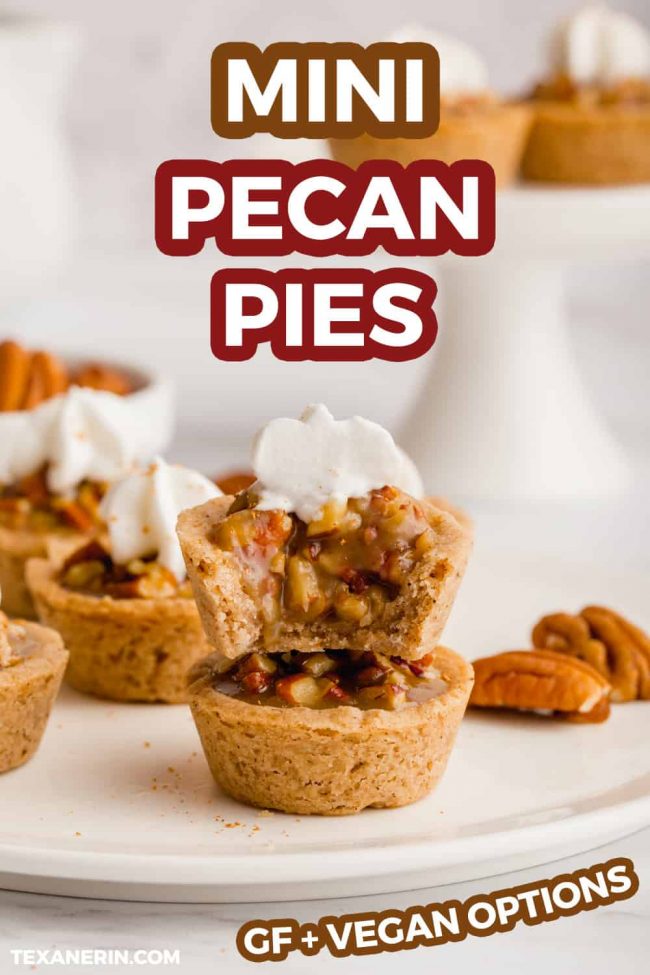 I used double the amount of crust per mold (28 grams instead of 14) as I did for the mini muffin pan and they were quite brittle. If you want to eat them with a fork, I think it'd probably work.
You might be safer using triple the amount of crust! That would make them more sturdy.
If these mini pies sound like too much fuss (they're really not that difficult), you could try my pecan pie bars. I also have these pumpkin pecan pie bars, which give you two classic Thanksgiving desserts rolled into one.
For this mini pecan pie recipe, I've tried a traditional butter and cream version as well as a dairy-free and vegan one. If you use butter and cream, they'll taste like caramel pecan pies (because I adapted the filling from my mini caramel pecan tarts).
The filling will also look a bit opaque, just like in the mini caramel pecan tarts. I reference those because it's hard to see in the photos for these mini pecan pies (the photos were taken of the butter and cream version).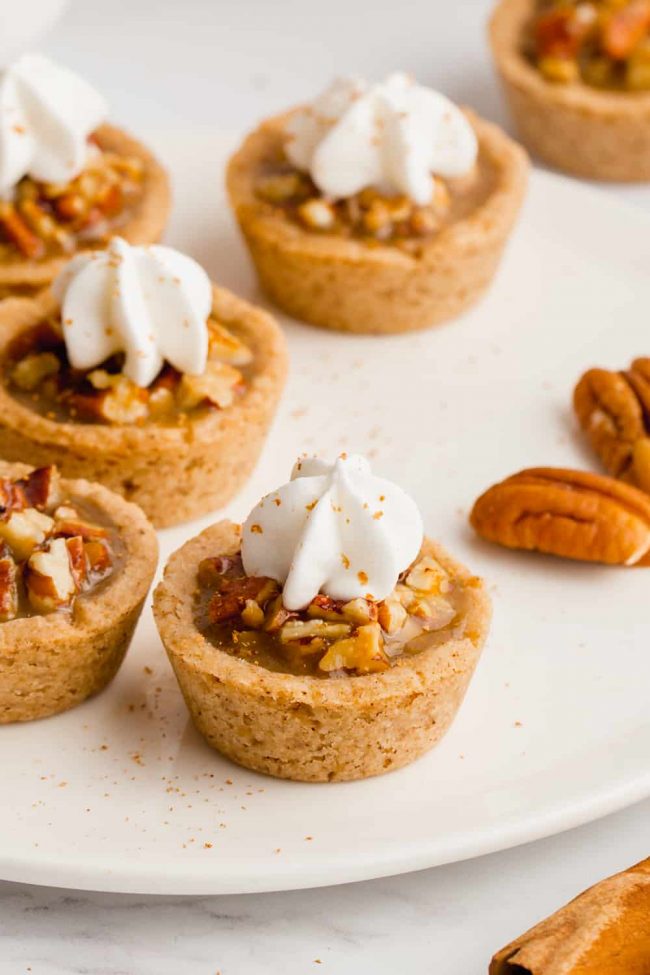 If you make the vegan / dairy-free version with coconut oil and coconut milk, they don't taste as caramel-y but more like the filling of a pecan pie! But way less sweet, which I think is a good thing.
I added some cinnamon to the dough because I like crusts with flavor and a little more salt than I'd normally use. I think with the sweet filling, it's a perfect balance.
Just be careful not to overbake the crusts! If you do, they'll be crumbly.
The crust texture is kind of like a crisp, sandy shortbread crust. If you prefer something more cookie-like and softer, I think the crust in my cheesecake cookie cups would work. But as I haven't tried it, I can't be positive.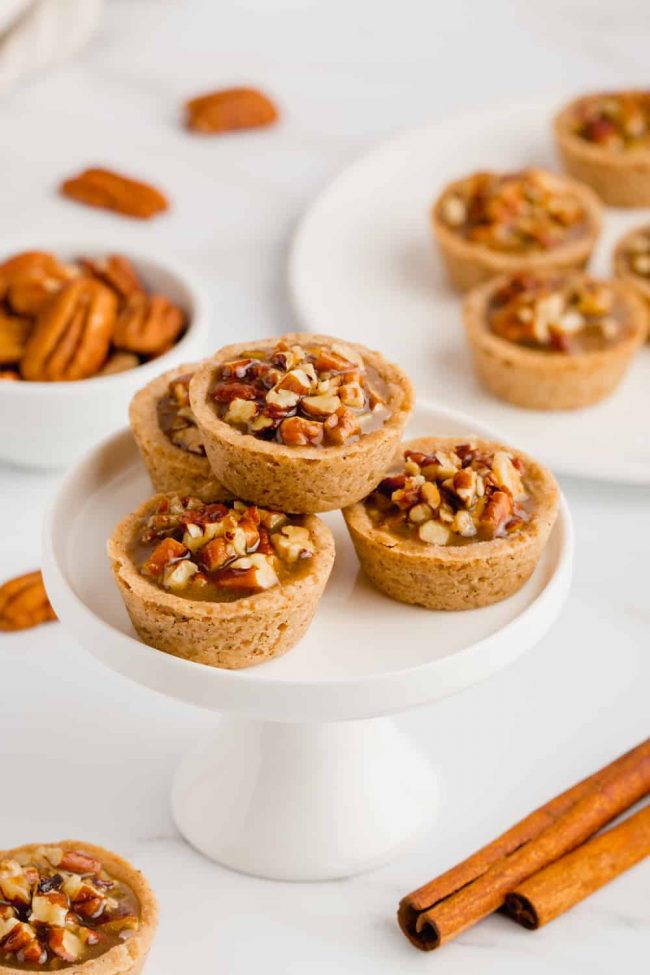 If you want to try that, I'd recommend storing the pies in the fridge instead of at room temperature. That'll keep the caramel firmer and less likely to make the softer crust soggy. Again, it's just a feeling and not tested. :)
For more Thanksgiving goodies, check out my paleo vegan pumpkin pie, vegan pumpkin cheesecake or my caramel pecan cheesecake pie.
Questions about these mini pecan pies?
Can I use something instead of the listed flours?

The three listed flours are the ones I've tested and the ones I'm sure that work. I'm not sure if any other gluten-free baking mix would work. And there's no good grain-free sub for regular wheat flour so unfortunately, I don't have a way to make these pecan pies grain-free or paleo.

Can I use something other than powdered sugar?

I'm pretty sure if you wanted to make powdered coconut sugar (for which you need a high-speed blender), that'd work fine. I think regular coconut sugar is too coarse for these crusts.

Can I use unrefined / extra-virgin coconut oil?

You can if you don't mind a coconut taste!

Can I use something instead of whipping cream / coconut milk?

Almond milk, soy milk, etc. are too thin. So nope. You have to use one of those options, unfortunately.

Can I use something instead of brown sugar or coconut sugar?

Maple sugar would probably work. Can't think of anything else that would. Liquid sweeteners definitely do not work! They'd make the filling way too runny.

Can I make this as one big pie / tart?

Nope. You wouldn't be able to cut it. Stick to a mini muffin pan or check out the top of the post where I talk about using a regular muffin pan.
If you try these mini pecan pies out, I'd love to hear how it goes! Feedback makes me very happy. :D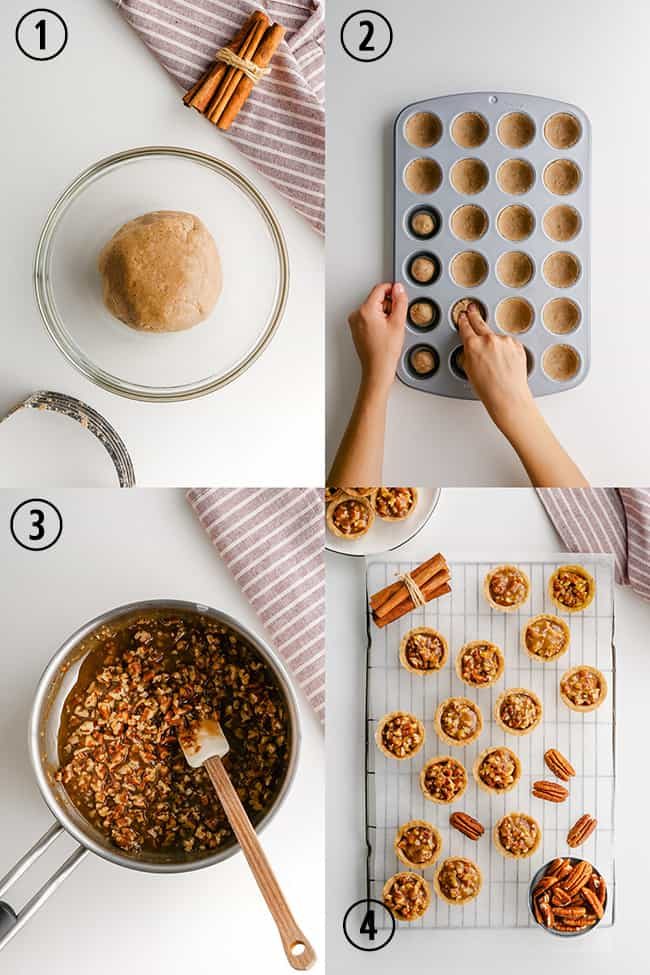 ❀
Mini Pecan Pies (gluten-free, vegan options)
Prep Time:
Cook Time:
Ready in:
Yield:

24 mini pies
For vegan / dairy-free, make sure to use the coconut milk and oil options!
Ingredients
For the crust:

1 1/4 cups (156 grams) white whole wheat flour, all-purpose flour or for gluten-free, use 1 1/4 cups (172 grams) of this 1-to-1 Gluten-free Baking Flour1,
6 tablespoons powdered sugar, sifted if lumpy
2 teaspoons ground cinnamon
1/2 teaspoon salt
1 tablespoon vanilla extract
1/2 cup (113 grams) unsalted butter, cold or 7 1/2 tablespoons (98 grams) solid, non-melted coconut oil + 1 teaspoon water, 2

For the filling:

6 tablespoons (75 grams) brown sugar or coconut sugar
1/3 cup (80 milliliters) whipping cream or full-fat canned coconut milk
3 1/2 tablespoons (49 grams) unsalted butter or 3 tablespoons (42 grams) coconut oil2
1/2 teaspoon vanilla extract
1/8-1/4 teaspoon salt (1/4 teaspoon gives you more of a salted caramel taste, which I prefer)
1 cup (110 grams) pecans, chopped in 1/4" or slightly smaller pieces so they're easy to fit in the crusts
Directions
For the crust:

Preheat the oven to 375 °F (190 °C) and get out a mini muffin pan. In a large mixing bowl, mix together the flour, powdered sugar, cinnamon and salt. Add in the vanilla and then cut in the fat using a pastry cutter and then use your hands to combine it until a ball of dough comes together. You can also make this in a food processor.
Press two teaspoons of dough (13 grams) over the bottom and up the sides of 24 molds of the ungreased mini muffin pan. I think it's easiest to roll it into a ball first and then press in the mold. I used a non-stick pan and the crusts popped out very easily after they were baked. You can use liners if your pan is scratched and you're worried about them coming out in one piece. You could also do a test with just one crust and see if it works well.
Bake for 8 minutes or until very lightly browned (the gluten-free version will be much lighter than in these photos and should have just turned brown) and they feel firm. You don't want them to be too browned or they'll be a little crumbly. Remove the pan from the oven. The middle of the crust may have puffed up a little. Take the back of a 1-teaspoon measuring spoon and flatten the bottom of the crust with it. Let the crusts sit in the pan for 5 minutes (and only 5 minutes!) Then use a knife to wedge them out of the molds and let cool on a wire rack to cool completely, about 20 minutes.
After you take the crusts out of the oven, turn the heat down to 350 °F (167 °C). Place the pecans on a baking sheet and place in the oven for about 5-8 minutes or until they smell toasty. Remove from the oven and let cool while you prepare the filling.

For the filling:

Heat the sugar, whipping cream or coconut milk, fat, vanilla and salt in a heavy bottom saucepan (do not use non-stick) over medium heat.
Stirring occasionally, bring to a simmer, and then simmer for 8 minutes. Do not stir. If needed, tilt the pan to redistribute the mixture.
Remove from the heat. The filling will be quite thin at this point. Let it cool for 5-10 minutes or until it's thickened a little but is still easily pourable, and then stir in the pecans. Fill the crusts with the filling. The filling will firm up more as it cools.
Serve cold or at room temperature. These can be left at room temperature for 1 day and then refrigerated. Top with whipped cream (or coconut whipped cream) before serving, if desired. I used chocolate chips in a few but thought just whipped cream was best.
Notes
I've tested only tested these with Bob's Red Mill 1-to-1 Gluten-free Baking Flour and that worked perfectly. Can't say for sure that these pies would work with any other GF flours.
You don't use the 1 teaspoon of water for the butter version. I used refined coconut oil, which doesn't have any coconut taste. If you use unrefined coconut oil, these pies will likely have a coconut taste to them.