These mini pecan pies are easy to make and perfect for Thanksgiving! They can be made 100% whole grain, gluten-free or with all-purpose flour and have a vegan and dairy-free option. Plus a chance to win a KoMo Classic Grain Mill and interchangeable insert!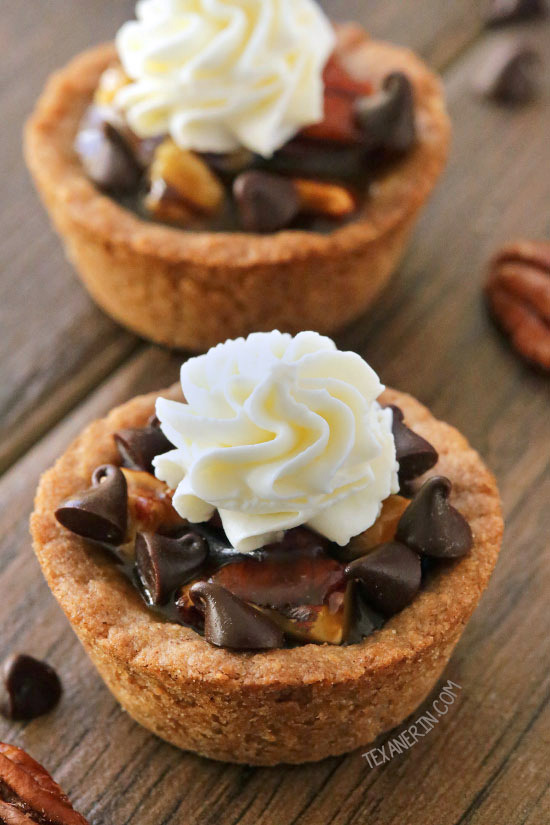 There are quite a few organic shops in my area that have grain mills for the customers to use. You can buy wheat berries, oat groats and a few other grains and grind them fresh right there. When I was writing my ancient grains cookbook and needed a lot of specialty flours, it was really helpful to have access to a grain mill. The wheat germ in some flours, such as einkorn, deteriorates quickly after milling and those should therefore be freshly milled. Eating rancid whole grains is pretty bad for you so I thought it was worth the extra effort to grind my own flour. Not only that, but freshly ground flour is the most nutritious and flavorful.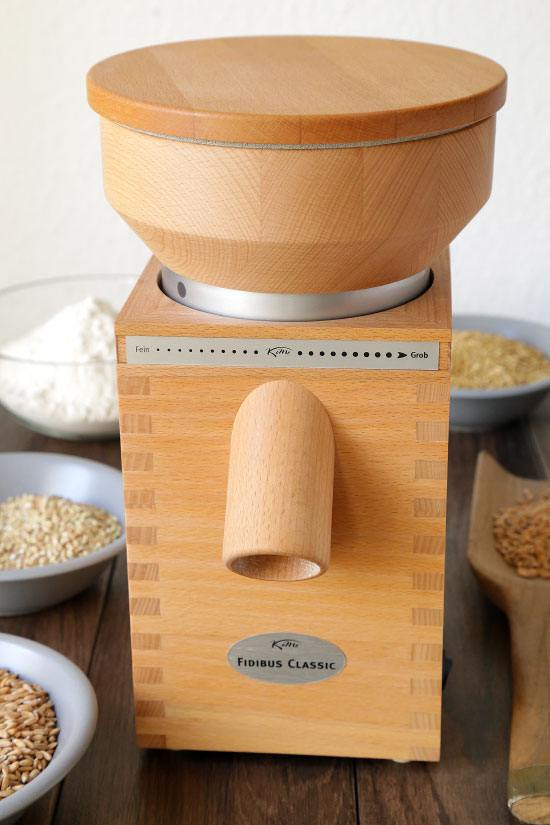 It wasn't an ideal situation, though. It seemed like the mills were out of service half the time, I was limited to only grinding certain grains, and the mills were so, so loud. I felt awkward grinding kilogram after kilogram of flour, especially when the shops were seemingly so full of moms and their sleeping babies, right when I wanted to use the mill. ;)
So I started looking into getting my own grain mill and it became clear which one I wanted – the KoMo Classic Grain Mill. So I reached out to KoMo, a German / Austrian company, and asked if they'd be willing to send me a mill for review as well as one to give away to my readers. I've been using it for about a month now and love it.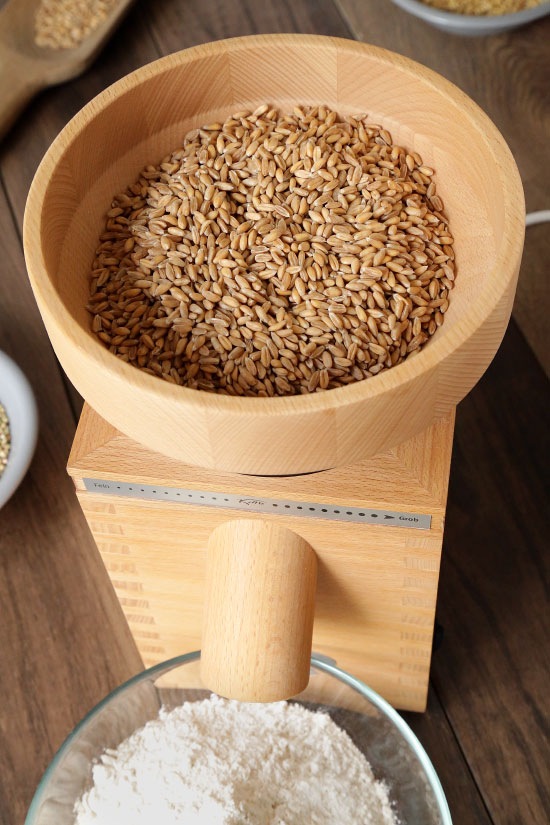 What I love about it:
It's infinitely adjustable so you can produce very fine flour or cracked grains, and anywhere in between. The flour is just as fine and even finer than some store-bought whole grain flours.
At most of the stores I used to grind my grains at, there were signs saying you could only grind 5-6 of their huge selection of grains. Some grain mills just don't grind everything. But the KoMo? All dry grains can be ground, including wheat, oat groats, rice, triticale, kamut, spelt, buckwheat, barley, rye, millet, teff, quinoa, amaranth, sorghum and dent corn. It'll also grind lentils and dry beans (pinto, red, garbanzo, kidney, etc.) So if you're gluten-free, there's tons you can do with it! However, you can't grind herbs, oilseeds like flax or sesame, popcorn, or fibrous materials. And no nuts!
With the other mills I've used, I had to stand there and hold the bag around the sprout or flour would fly around and make a mess. With the KoMo, I just turn it on and go about my business. No mess!
As previously mentioned, it's relatively quiet and one of the quietest mills on the market. FAR less noisy than the other ones I've used. You can hear how loud it in the little clip above! That's Mr. Texanerin's arm by the way. My arm isn't quite as hairy. By the way, the two little videos in this post are the first I've ever made so please excuse their simplicity. :)
The material. The KoMo is made almost entirely out of wood, and instead of metal grinders, which some of the cheaper plastic mills use, it has corundum-ceramic stones. It's said that that type of stone produces a higher quality flour.
Extremely easy to use. You plug it in, put a bowl under the sprout, flip the power switch and then pour in the grain. It's so easy that I mill exactly the amount I need when I need it. While it's running, I add the remaining dry ingredients in the recipe to the bowl.
The one pictured here is made out of beechwood and I think it looks quite attractive. In the US, it's also available in American Walnut and it's gorgeous. You can see a picture of that version here.
It's a little more than 15 pounds and easy to move. I was expecting it to be more cumbersome to move around but it's so light-weight it's not a problem.
Perfect for people who do gluten-free baking! Read more below.
The only thing that I thought could be improved was the inclusion of a little cap for the outlet sprout to keep out moisture and bugs. I've been covering mine up with a small plastic bag and a rubber band. It works fine but a cap would be even easier!
The only thing that I could think of that would prevent someone from buying the KoMo Classic Grain Mill is the price. At $499.99 it's not cheap but after reading reviews of different mills from different brands, it seems like there's a definite correlation between price and quality. If you do a lot of baking, I think it's a great, worthwhile investment. And since it comes with a 12-year warranty, I know I'll have it for a long time to come! Totally worth the price, in my opinion. For a more economical version, check out the Fidibus 21. It's slightly smaller but the flour it produces is just as fine as the Classic.
Gluten-free options
One thing that I found really cool is that all mills for the US market are tested with gluten-free flour during production. So no need to worry about contamination! If you're like me and aren't gluten-free but do a lot of gluten-free baking for friends or family, KoMo offers a really cool interchangeable insert. With that, you can exchange the stones and the silicone chamber liner. You can also use it to grind spices and coffee. I was a little intimidated when I opened up the box but it only takes about a minute to switch everything out.
Electric flour sifter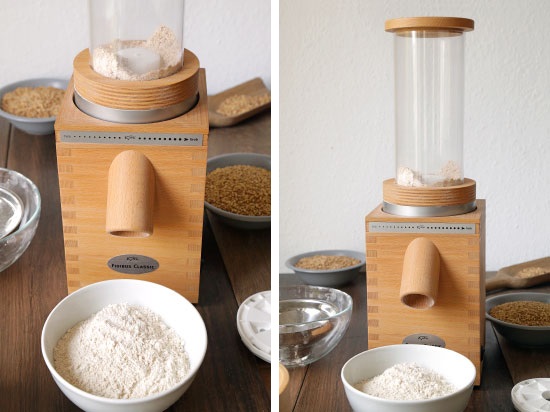 They also offer an electric flour sifter. I almost always use whole grain flour but sometimes, all-purpose flour is necessary. This nifty device comes with three interchangeable stainless steel screens, which separate the coarser bran, leaving you with extra fine, fine or medium flour. If you exclusively bake with whole grains, you probably won't need this. If you do a lot of baking with all-purpose flour, then it's extremely handy! It's super quick and does an amazing job (see video below – if you just want to see how quick it sifts the flour, skip to 00:35).
Some tips
Freshly milled flour is much less compact than store-bought flour, so always go by weight. Luckily, I provide gram measurements for all my recipes. :)
Pleasant Hill Grains carries a huge selection of grindable grains, lentils and dried beans. You can also find them in organic shops or on eBay and Amazon.
Whole grain kernels keep at room temperature almost indefinitely.
Only grind what you plan on using within a day or two as whole grain flour milled at home becomes rancid quickly.
So. Who wants one?! I'm giving away a KoMo Classic Grain Mill and an interchangeable insert. Use the form above to enter the giveaway! It's open to people 18 years and older with a US, German or Austrian mailing address. The giveaway will run until November 29th at 11:59pm EST. Thanks to KoMo for sponsoring this giveaway! You can find KoMo's entire line here on Pleasant Hill Grain. If you're in Germany or Austria, you can order with free shipping from here.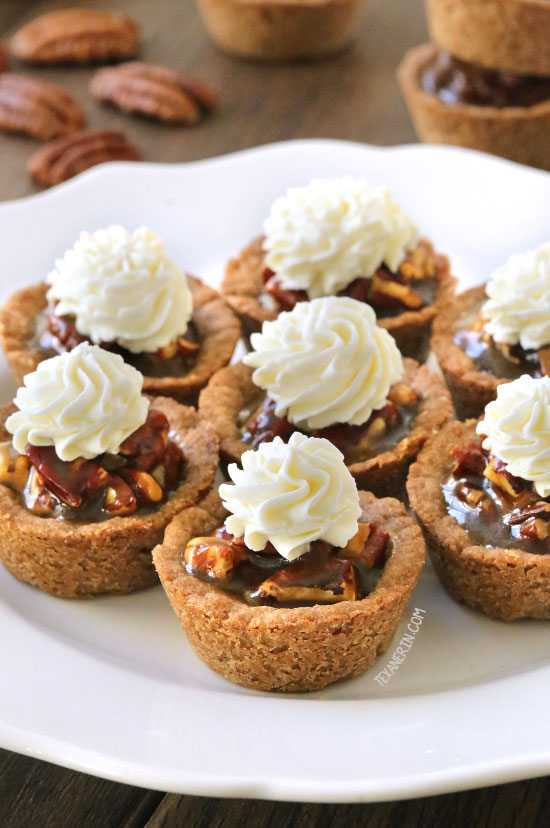 Now for these cute little mini pecan pie tarts! You can make them a few different ways. If you use butter and cream, they'll taste like caramel pecan tarts (because I adapted the filling from my mini caramel pecan tarts. The filling will also look a little more opaque, just like in the mini caramel pecan tarts. If you make the vegan / dairy-free version with coconut oil and coconut milk, they don't taste as caramel-y but more like the filling of a pecan pie! But much, much less sweet.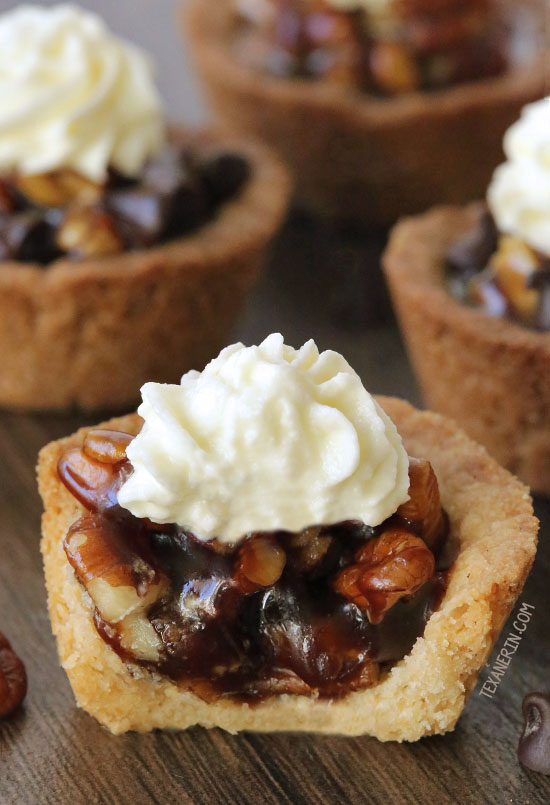 The crust is a little bit like shortbread. Slightly crumbly and not that sweet. I added some cinnamon to the dough because I like crusts with flavor and a little more salt than I'd normally use. I think with the sweet filling, it's the perfect balance!
❀
Mini Pecan Pies (gluten-free, vegan, 100% whole grain options)
Prep Time:
Cook Time:
Ready in:
Yield:

24 mini pies
Ingredients
For the crust:

1 1/4 cups (156 grams) white whole wheat flour, gluten-free all-purpose flour1, or all-purpose flour
6 tablespoons powdered sugar, sifted if lumpy
2 teaspoons ground cinnamon
1/2 teaspoon salt
1 tablespoon vanilla extract
1/2 cup (113 grams) unsalted butter, cold or 7 tablespoons (98 grams) coconut oil, room temperature2

For the filling:

6 tablespoons (75 grams) brown sugar or coconut sugar
1/3 cup (80 milliliters) whipping cream or full-fat canned coconut milk
3 1/2 tablespoons (49 grams) unsalted butter or 3 tablespoons (42 grams) coconut oil2
1/2 teaspoon vanilla extract
1/8-1/4 teaspoon salt (1/4 teaspoon gives you more of a salted caramel taste, which I prefer)
1 cup (110 grams) pecans, chopped in 1/4" or slightly smaller pieces so they're easy to fit in the crusts
Directions
For the crust:

Preheat the oven to 375 °F (190 °C) and get out a mini muffin pan. In a large mixing bowl, mix together the flour, powdered sugar, cinnamon and salt. Add in the vanilla and then cut in the fat using a pastry cutter and then use your hands to combine it until a ball of dough comes together. You can also make this in a food processor.
Press two teaspoons of dough (13 grams) over the bottom and up the sides of 24 molds of the ungreased mini muffin pan. I think it's easiest to roll it into a ball first and then press in the mold. I used a non-stick pan and the crusts popped out very easily after they were baked. You can use liners if your pan is scratched and you're worried about them coming out in one piece. You could also do a test with just one crust and see if it works well.
Bake for 8-11 minutes or until lightly browned and they feel firm. You don't want them to be too browned or they'll be a little crumbly. Remove the pan from the oven. The middle of the crust may have puffed up a little. Take the back of a 1-teaspoon measuring spoon and flatten the bottom of the crust with it. Let the crusts sit in the pan for 5 minutes (and only 5 minutes!) Then use a knife to wedge them out of the molds and let cool on a wire rack to cool completely, about 20 minutes.
After you take the crusts out of the oven, turn the heat down to 350 °F (167 °C). Place the pecans on a baking sheet and place in the oven for about 5-8 minutes or until they smell toasty. Remove from the oven and let cool while you prepare the filling.

For the filling:

Heat the sugar, whipping cream or coconut milk, fat, vanilla and salt in a heavy bottom saucepan (do not use non-stick) over medium heat.
Stirring occasionally, bring to a simmer, and then simmer for 8 minutes. Do not stir. If needed, tilt the pan to redistribute the mixture.
Remove from the heat. The filling will be quite thin at this point. Let it cool for 5-10 minutes or until it's thickened a little but is still easily pourable, and then stir in the pecans. Fill the crusts with the filling. The filling will firm up more as it cools.
Serve cold or at room temperature. These can be left at room temperature for 1 day and then refrigerated. Top with whipped cream (or coconut whipped cream) before serving, if desired. I used chocolate chips in a few but thought just whipped cream was best.
Notes
I've tested these with Bob's Red Mill Gluten-free 1-to-1 Baking Flour and that worked perfectly. I baked them for 8 minutes, used the back of a 1-teaspoon measuring spoon to push down the puffed up crust, and then baked them for another 3 minutes. I've also tested these with oat flour and a little bit would crumble when removing them from the pan. If you really want to try that, you could use liners and then refrigerate them (the finished pies) before unwrapping them. I can't say for sure if it'd work.
I used refined coconut oil, which doesn't have any coconut taste. If you use unrefined coconut oil, these pies will likely have a coconut taste to them.
For gluten-free: use gluten-free flour.
For vegan: use coconut milk and coconut oil and make sure the sugar is certified vegan.
For dairy-free: use coconut milk and coconut oil.
For people in Germany: since white whole wheat doesn't exist here and there's not an equivalent for American all-purpose flour, I recommend using whole spelt flour. It's milder than whole wheat.