These key lime pie bars have an extra thick layer of filling and an easy homemade coconut cookie crust! Can be made with gluten-free, whole grain or all-purpose flours. For a grain-free version, check out these paleo no-bake key lime pies.
I posted these key lime pie bars over on My Baking Addiction last month but didn't post them here just because they're so unhealthy. But being as today is my birthday, I figured I could post these today and get away with it. :D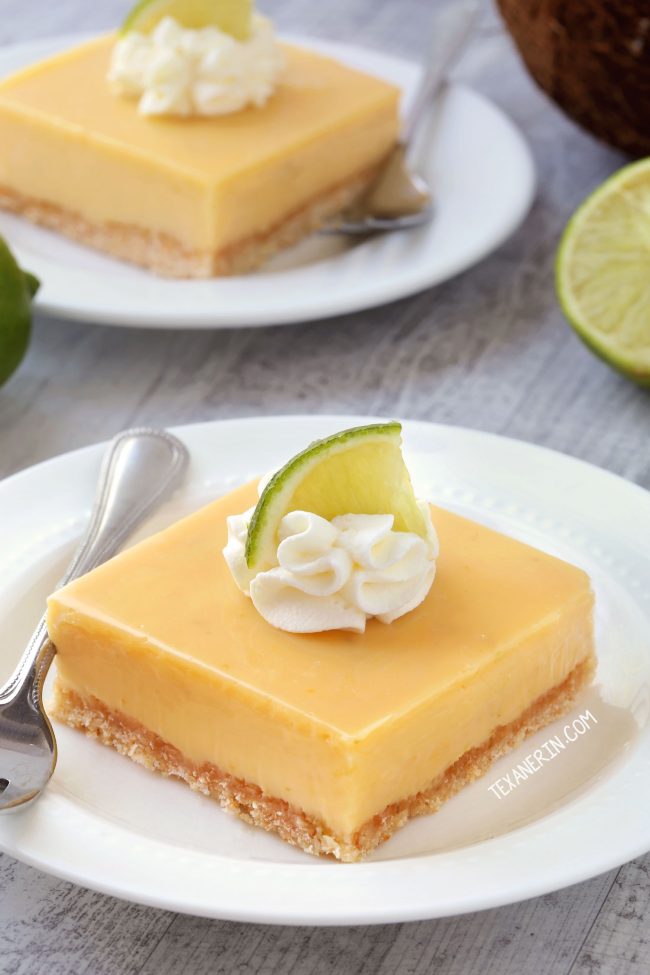 I thought that the world didn't need another key lime pie bar recipe with a graham cracker crust so I went with something totally different.
So these bars have a coconut cookie crust! It's super easy to make and you can use white whole wheat, 1-to-1 gluten-free baking flour or all-purpose flour.
I didn't bother with a grain-free option because there are 2 cans of sweetened condensed milk in these bars. Whoops. I was assuming that someone who eats grain-free likely wouldn't be interested in this filling recipe.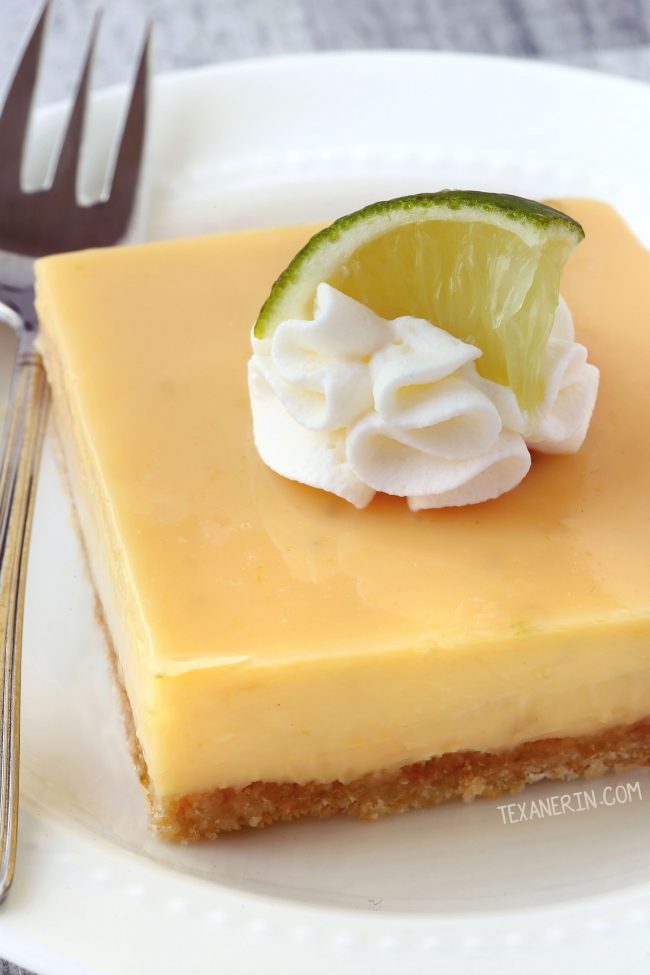 I've been working on paleo mini key lime pies so that recipe will hopefully be coming soon! Stay tuned. :) Update: here they are – paleo no-bake key lime pies!
There's so much sweetened condensed milk in these bars because they have double the amount of filling that most key lime pie bars have. Key lime pie is tied with peanut butter pie for my favorite dessert ever and I didn't want a dinky layer of filling.
The filling recipe comes from the comments of a recipe on Allrecipes. I've been making it for at least 10 years and I've never had a key lime pie I like better!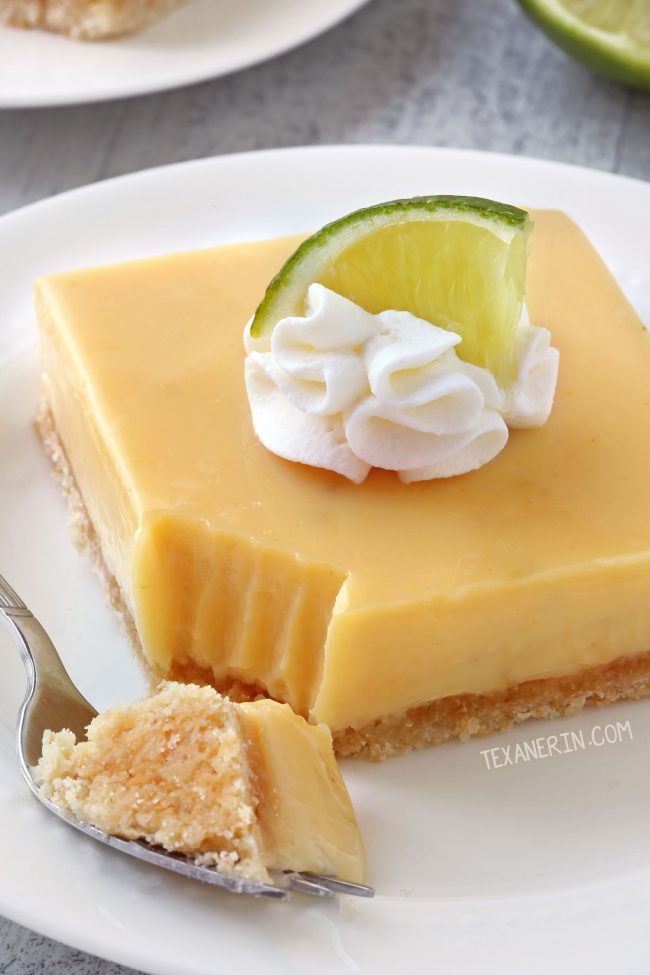 This recipe calls for a full cup of lime juice which requires a whole bunch of limes. With the cost of limes and the number of times I had to remake these bars to get the crust right, I switched over to lime juice that comes in a glass bottle after a while (not the kind in the green plastic lime-shaped bottle!).
You could notice a difference but it was actually much better than I thought it'd be! I'll probably use half freshly squeezed and half bottled lime juice (if I have some around) in the future. Or even only 1/4 fresh.
They freeze well so if you're worried about overloading on sugar, which is super easy with these bars, hide them away in the freezer. ;)
And for another fun key lime treat, try this key lime pie shot. These key lime pie ice cream bars are also gluten-free, as long as you use gluten-free graham cracker crumbs.
I hope you'll enjoy the bars! If you try them out, I'd love for you to leave a comment below. Thanks!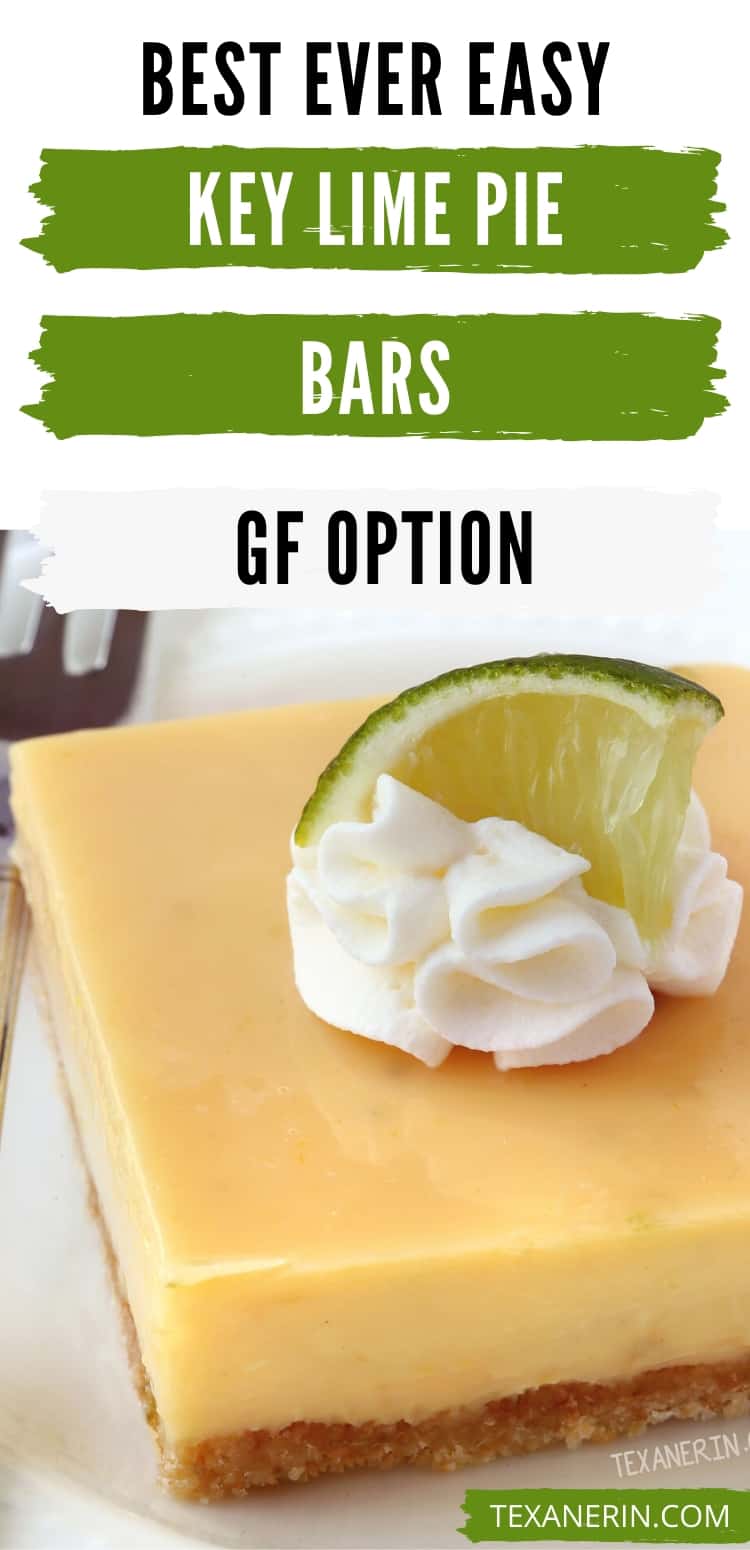 ❀
Thick Key Lime Pie Bars with Coconut Cookie Crust (gluten-free, whole grain options)
Prep Time:
Cook Time:
Ready in:
Yield:

12 bars
Ingredients
For the crust:

2/3 cup unsweetened shredded coconut (not flaked coconut)
1 cup (125 grams) white whole wheat or 1 cup (125 grams) all-purpose flour or 1 cup 1-to-1 gluten-free baking flour
1/3 cup (67 grams) granulated sugar
1/4 teaspoon salt
1 teaspoon coconut extract
6 tablespoons (84 grams) unsalted butter

For the filling:

2 (14-ounce) cans sweetened condensed milk
4 large egg yolks
1 cup (240 milliliters) lime juice
1 1/2 teaspoons lime zest
pinch of salt
Directions
Preheat the oven to 350 °F (175 °C) and line an 8"x8" pan with a piece of parchment paper.
Place the coconut on a baking sheet and bake for 4-6 minutes. Keep a close eye on it and stir as soon as you see it start to brown. Continue cooking for another minute or two until most of the coconut is lightly browned. Remove from the oven and cool completely.
In a medium mixing bowl, stir together the toasted coconut, flour, sugar, and salt. Sprinkle the coconut extract over the top and use your hands to incorporate the butter until thoroughly combined. When pinched, it should hold together. You can alternatively pulse everything together in a food processor until well combined.
Pat the dough firmly onto the bottom of the prepared pan and bake for 15 minutes or until lightly browned.
While the crust is baking, prepare the filling. In a large mixing bowl, stir together all the filling ingredients until thoroughly combined.
Remove the crust from the oven, let it sit for 2 minutes and then pour the filling over the crust. Bake for 15 minutes or just until set. Little pinholes or bubbles may form on the surface.
Remove from the oven and let cool to room temperature, about 2 hours, before chilling in the refrigerator for another 2 hours before serving.
Store in the refrigerator for up to 5 days.
Source: My post on My Baking Addiction – Key Lime Pie Bars and the filling was adapted from the comments on Easy Key Lime Pie on Allrecipes
As an Amazon Associate, I earn from qualifying purchases. For more info, see my disclosure.