This Raspberry Margarita has zip and zing with freshly squeezed lime juice and blushes full of crimson color. It's a fruity raspberry twist on a classic margarita, well-balanced and maple-sweetened. It's also naturally vegan and gluten-free.
If you follow my blog, you might be wondering where the desserts are. My usual photographer (I stopped taking my own photos when my son was born) hasn't been able to send me any of the recipes I sent her after Christmas.
And I have no idea when I'll get them. I hope soon! But until then, I don't have many sweets to share.
This Raspberry Margarita is nice and sweet, though. Something nice for Cinco de Mayo if that's something you celebrate. :)
I recently posted this Limoncello Spritz and thought I'd continue with the summery drinks.
So up today, we have a refreshing, slightly slushy, rosy twist on a classic margarita made especially for weekends!
This margarita is so easy that the recipe can quickly be made into a big batch to serve a larger crowd.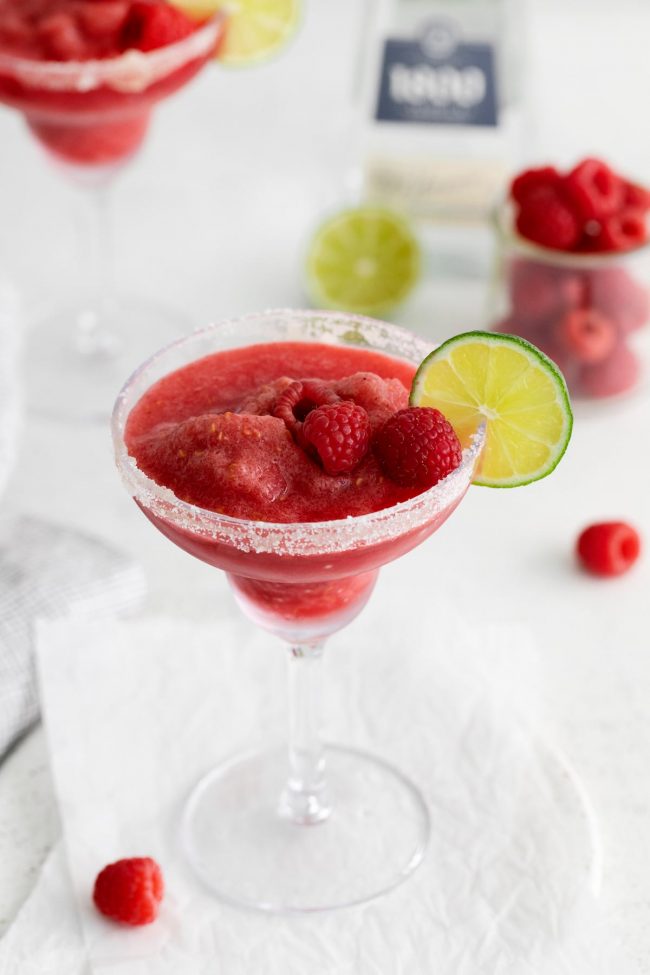 Ingredients
Tequila – I recommend white tequila.


Cointreau or triple sec – I write about the differences below. I have and use both and don't prefer one over another.


Freshly squeezed lime juice – please don't use bottled! It makes such a difference in this drink (and desserts, like these no-bake key lime pies!)


Fresh or frozen raspberries – I use frozen because they're cheapest and make the drink nice and cold. If you use fresh, your drink will be much thinner – which isn't necessarily a bad thing!


Maple syrup or simple syrup – I wanted to naturally sweeten this margarita, so I used maple syrup, and it was perfect.


Ice – what you see in the photos was made with the upper amount of ice + a handful extra.
How to rim the glasses
Add a little water or lime juice to a shallow bowl.
Pour sugar into a second shallow bowl.
Dip the rim of the glass into the liquid and then the sugar.
Once the margarita is ready, pour, garnish and serve.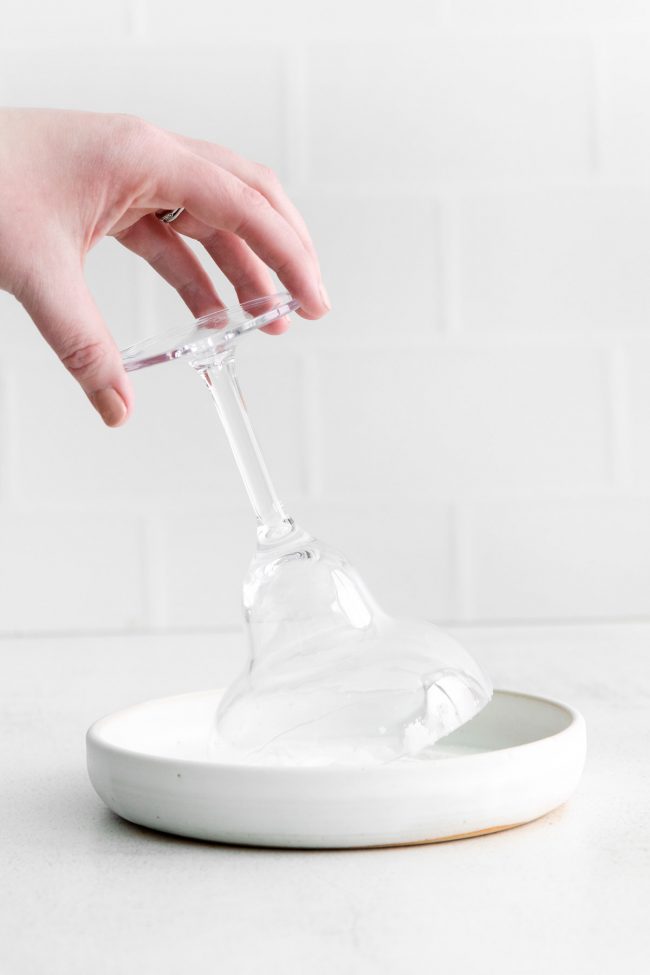 How to make a raspberry margarita
You basically add all the ingredients to a blender and blend them together.
Rim the glass, pour, garnish and serve!
If you like it sweeter, add a touch more maple syrup, blend, taste, pour and it's ready to sip.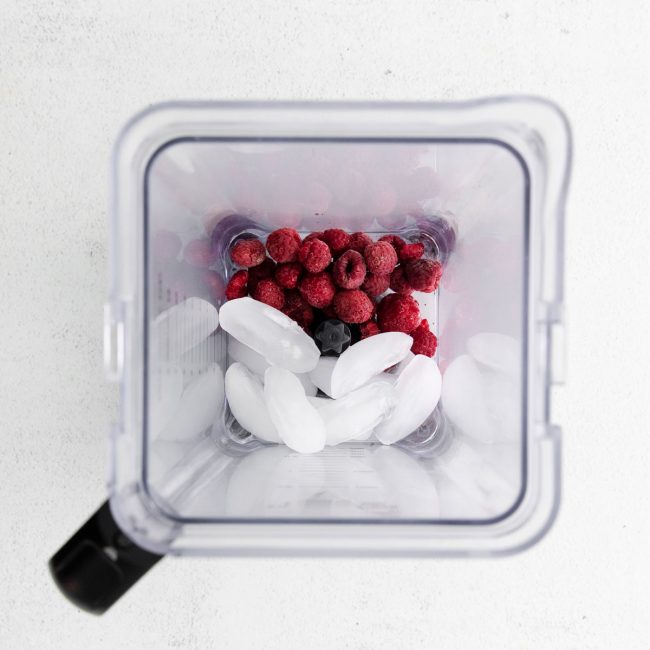 Tips
Using frozen raspberries is cheaper and makes the drink colder. So that's what I use. But frozen raspberries are often less sweet than fresh, so you might need the extra maple.


I recommend placing the frozen raspberries at the bottom of the blender to get them as smooth as possible.


If you prefer margaritas on the rocks, then using fresh raspberries might be better. Using the blender, give it a swirl and pour over ice. Fresh raspberries are highly perishable, so be sure to keep them in the fridge and use them within 2 days.


If you don't have maple syrup on hand, then use simple syrup instead. I did try it with honey, but the frozen raspberries + ice prevented it from combining with the rest of the ingredients.

If you want to use honey, then use fresh raspberries, blend until totally combined, and then add your ice.


If you like your margaritas on the puckery side, add more lime juice.


I recommend mixing the cocktail just before serving to keep it cold.


Drink responsibly!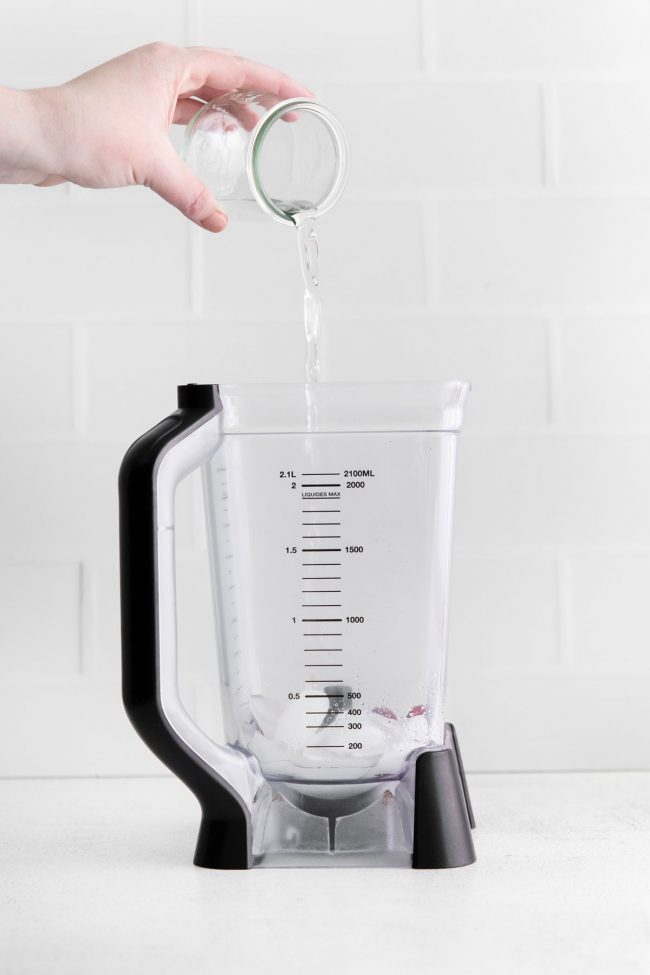 What tequila to use?
If I had to make a recommendation, I would suggest a nice quality white tequila. White tequilas are young and aged for only a couple of months in stainless steel containers. It's not oak-y like gold tequila which means it has a crisp, clear appearance and mixes well with others.
White tequila balances well with fruit and other sweeter flavors. Especially in this Passion Fruit Margarita!
Gold tequilas are aged in oak and give them a distinct taste. Color additives aid in giving it a sunny golden hue. They have a strong woody flavor and are best for sipping and enjoying straight. There are different types of gold tequilas, and each type is aged for different durations.
Caramel coloring is usually added to gold tequila before fermentation. If the tequila doesn't say 100% agave, then coloring has been added to get that gold color.
If what you have is gold and you like the taste, then you can probably use that here.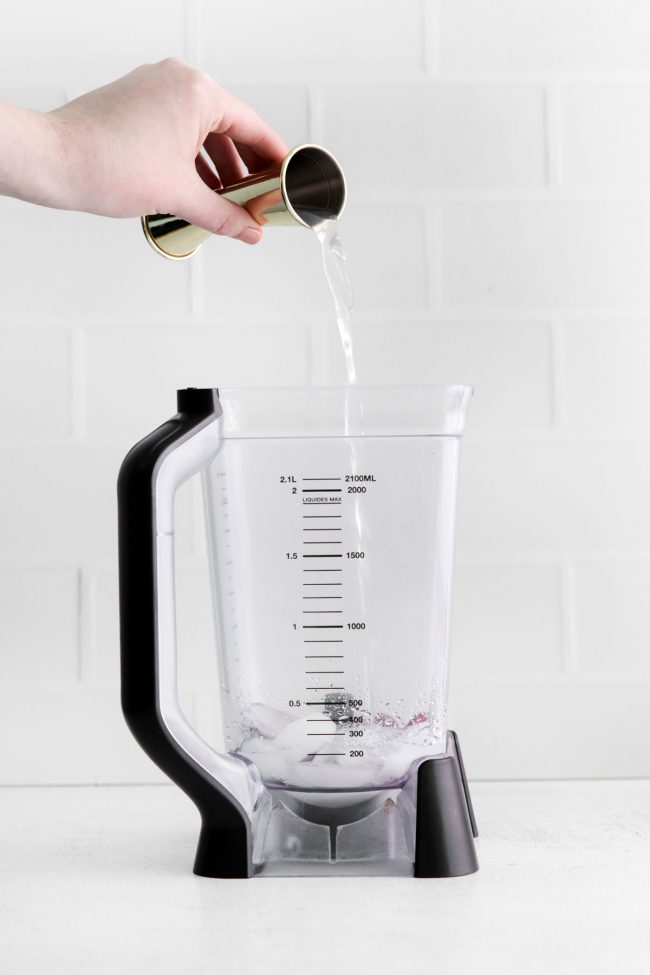 Is triple sec the same as Cointreau?
Nope, not exactly. Both are indeed a type of orange liqueur.
And Cointreau is a type of triple sec, but when a recipe calls for Cointreau, they're recommending you specifically use Cointreau.
When a recipe calls for triple sec, you can use Cointreau, but it's not mandatory.
Triple sec is much, much cheaper than Cointreau and lower quality. Cointreau has a more complex, stronger, and smoother flavor than triple sec.
Because this raspberry margarita isn't heavily reliant on the orange liqueur for its taste, you can use cheap triple sec (but perhaps not the absolute cheapest) or Cointreau.
Do I have to use tequila?
Margaritas are a classic cocktail made with tequila, triple sec and lime juice.
This citrusy Gin Margarita is made especially for those that don't care for tequila, so if you like your margarita more classic, might want to give that a try.
If you're not a tequila fan, then you can swap it out with vodka, rum or gin. It might not be called a margarita using a different spirit, but you'll be happy using a liquor of your choice, and it will still give you a delicately sweet summer cocktail.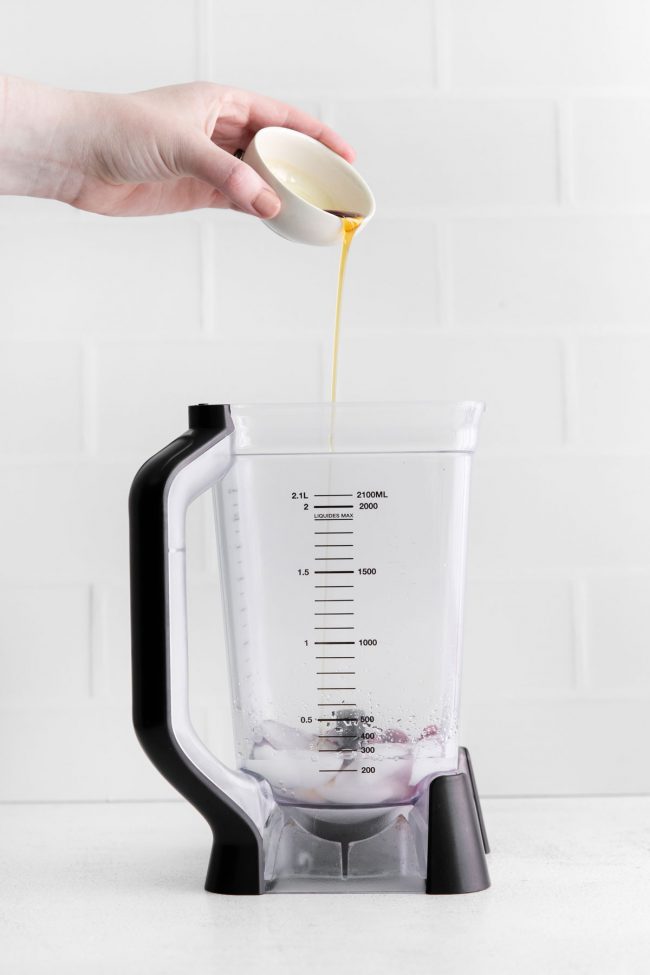 Maple syrup in a margarita?!
Yes, and it works perfectly in combination with raspberries! The drink doesn't taste maple-y at all.
At least if you don't use a dark, very flavorful maple syrup. But even if you did use something stronger, I don't think you'd be able to taste it.
Is this margarita vegan?
It depends! Tequila is the most vegan-friendly of all liquors. According to Barnivore, only 4% of tequila brands are non-vegan.
But to make sure you're buying the right brand to make a vegan cocktail, be sure to check out the manufacturer's website. The ever-so-popular Patron is vegan if you need a head start.
Most Triple sec brands are vegan-friendly, meaning they have not been made with any animal products. Using the Barnivore guide above, all of the triple secs listed were vegan except Marie Brizard Triple Sec Liqueur.
Be sure to check the guide for more information on every type of alcohol.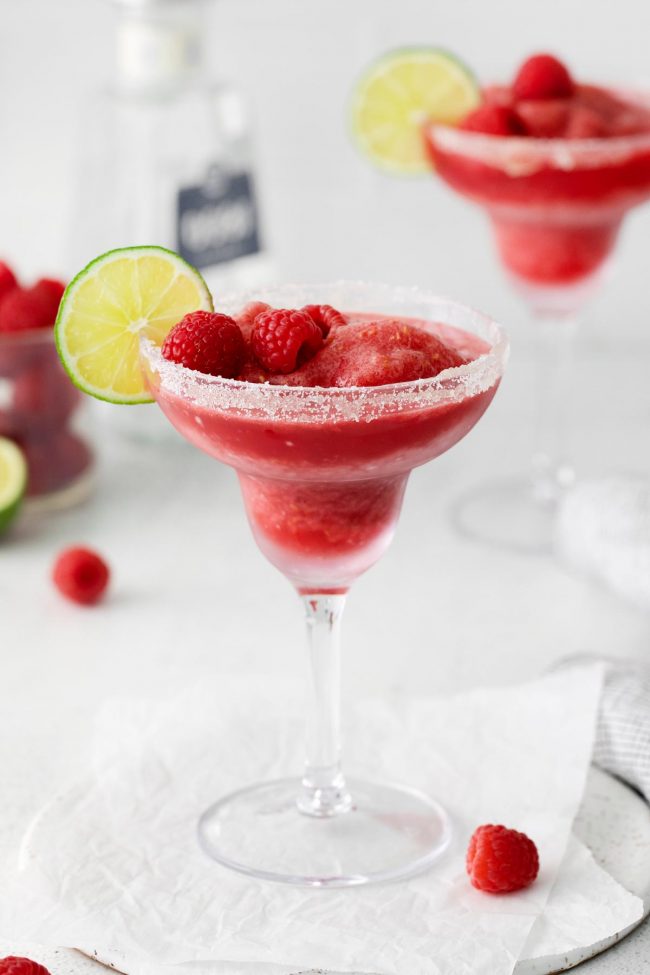 Is this margarita gluten-free?
Yes! All of the ingredients in this margarita, according to Beyondceliac.org, are gluten-free due to the distillation process. The same is true of my Pumpkin Margarita and Apple Margarita recipes. But when selecting tequila, be aware of cross-contamination.
Pure, distilled tequila that is made with blue agave is considered gluten-free. Even if it is a mix of agave and other sugar, it is safe for people with celiac disease.
Again, Patron shows up on the list of pure distilled tequila, but when in doubt, check the manufacturer's website for more.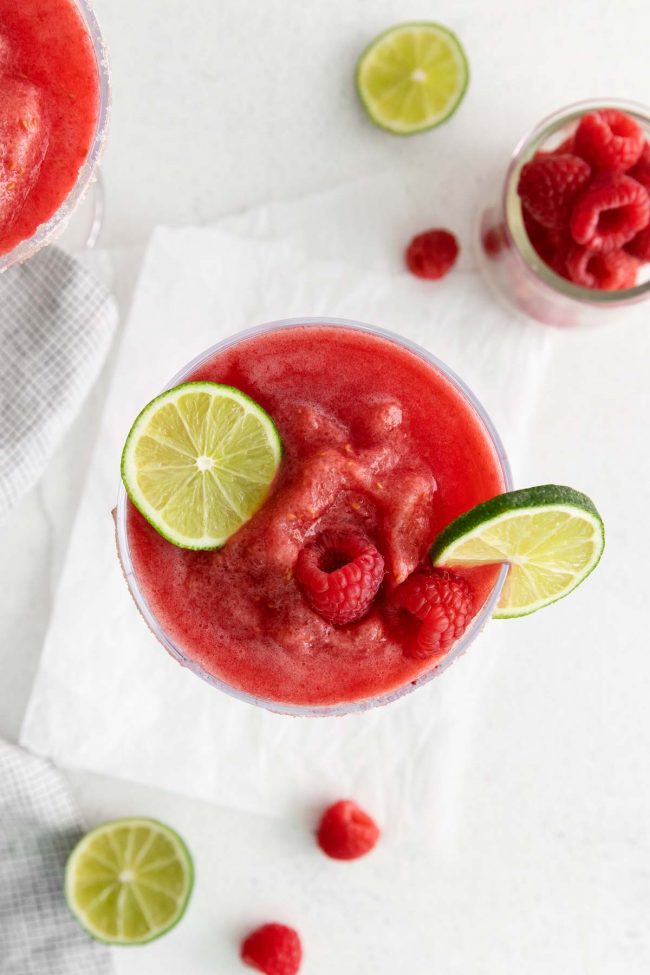 Source
This recipe is adapted from this one on The Spruce Eats. That recipe doesn't call for any sweetener.
I'm not sure what kind of freakishly sweet raspberries they were using! But I definitely needed to use some maple syrup.
I also increased the amount of triple sec and decreased the ice.
I know some people like them slushier, like in the photos you see here, so I've included a range for the ice.
Serving size
There's a lot of alcohol in this margarita. In the recipe, I list the amounts for a smaller 2/3 cup-serving and a bigger 1 1/3 cup serving (that's the yield when using the upper amount of ice).
I normally make the larger version and share it with my husband as a treat.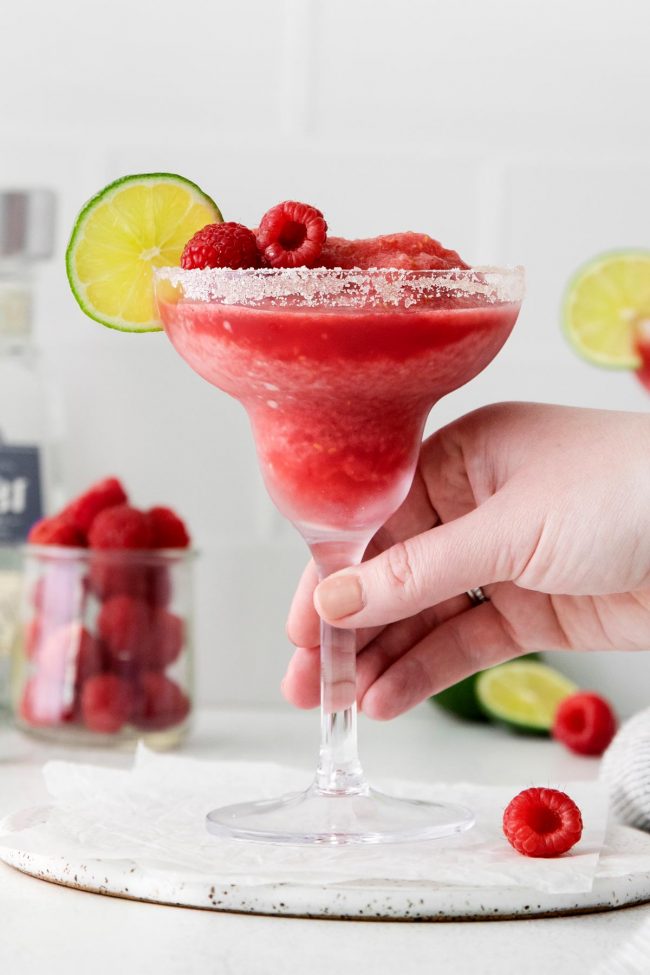 Refreshing summer drinks
I have lots of drinks on the site. Ranging from cocktails to smoothies, you can find a drink for any occasion.
If you make this Raspberry Margarita, please be sure to leave us a comment below. Thanks! :)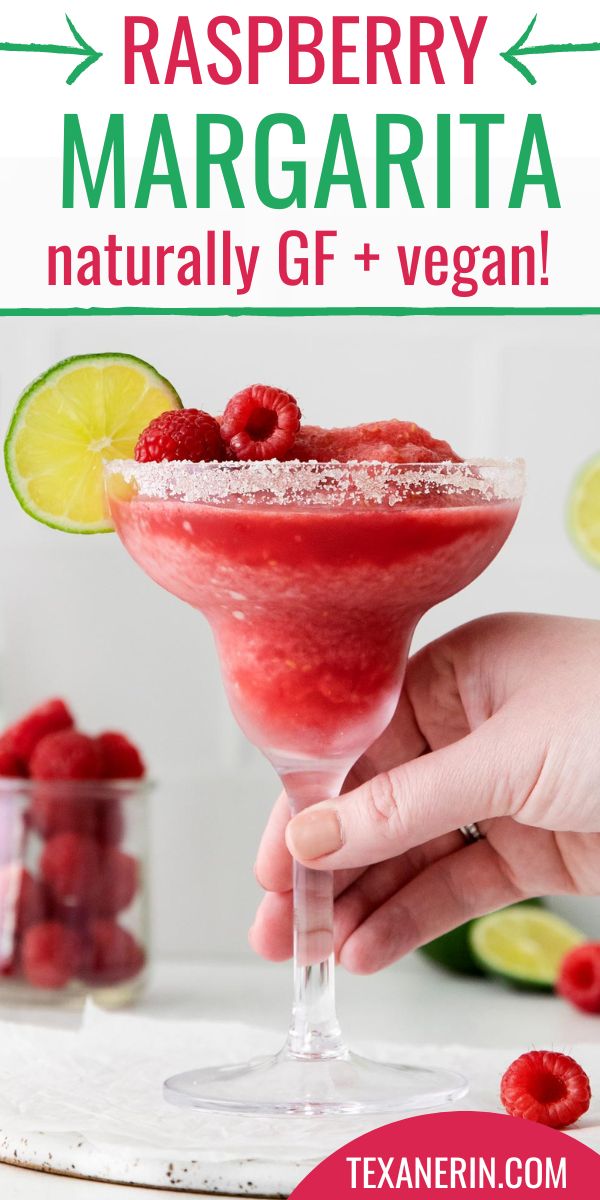 ❀
Raspberry Margarita
Prep Time:
Cook Time:
Ready in:
Yield:

1 large or 2 smaller drinks
Ingredients
For a small 2/3 cup serving:

1oz (2 tbsp) tequila
1oz (2 tbsp) Cointreau or triple sec
2/3oz (4 teaspoons) freshly squeezed lime juice
1/3 cup (40 grams) raspberries1
4-6 teaspoons maple syrup or simple syrup
1/3 to 2/3 cup ice2

For a large 1 1/3 cup serving:

1.5oz (3 tbsp) tequila
1.5oz (3 tbsp) Cointreau or triple sec
1oz (2 tbsp) freshly squeezed lime juice
1/2 cup (62 grams) raspberries
2-3 tablespoons maple syrup or simple syrup
1/2 to 1 cup ice
Directions
Add the tequila, Cointreau, lime juice, raspberries, and the lower amount of sweetener + ice to a blender.
Blend on high until totally combined.
Taste and add more maple and ice, if desired.
Add a lime wedge. Serve immediately.
Notes
Using frozen raspberries is cheaper and makes the drink colder. So that's what I use. But frozen raspberries are often less sweet than fresh, so you might need the extra maple.
The margarita in the pictures was made with the upper amount of ice + a handful extra, but I think it's better without the extra handful.
Note that the serving sizes use the upper amount of ice.