This Italian lemon almond flour cake (also known as torta caprese bianca) is full of lemon flavor and has a lovely texture! It's also gluten-free and grain-free.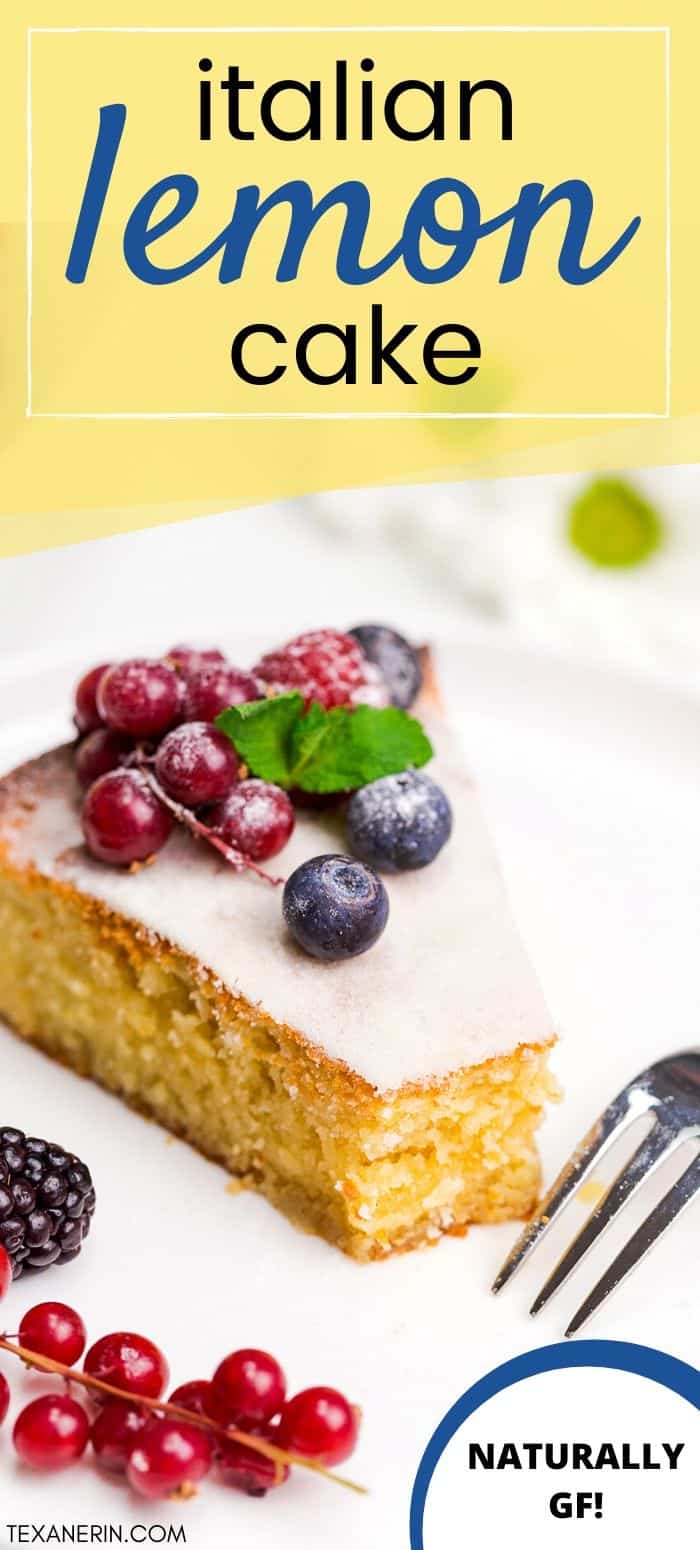 I posted this cake recipe six years ago and am reposting it today with new pictures (you can see the old one at the bottom of the post) because the old ones didn't do it justice and because hardly any of my readers were around here back in 2012.
It's gotten tons of reviews and everyone seems to love it so I thought you all needed to see it, too. :) It's been a hit for gluten and non-gluten eaters alike.
If you're tired of carrot cake for Easter, this would be a great option for Easter dessert! If you're not tired of carrot cake, then I can highly recommend the gluten-free carrot cake I posted last week. Or these paleo carrot cupcakes!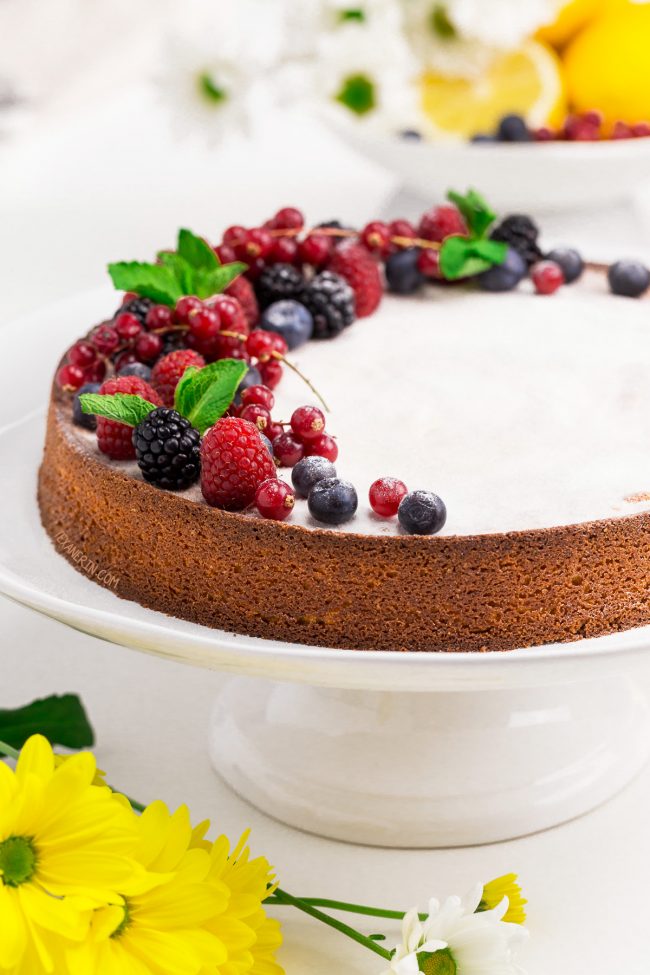 One thing that people keep asking about this almond flour cake is if you can omit or replace the 1 cup + 3 tablespoons of chopped white chocolate. Unfortunately that'd be a no.
That's a whole lot of something to omit from a recipe! It's not an add-in. It's needed for sweetness and the structure of the cake.
A few reviewers have experimented with it, but I haven't. So please check out the reviews if you're interested in that.
This almond flour cake really isn't one of my regular healthy (or at least healthy-ish) recipes. If you'd prefer something without all the sugar, try my paleo lemon cookies or these paleo lemon bars. Both are also vegan! As is this awesome-looking vegan panna cotta, which I can't wait to try.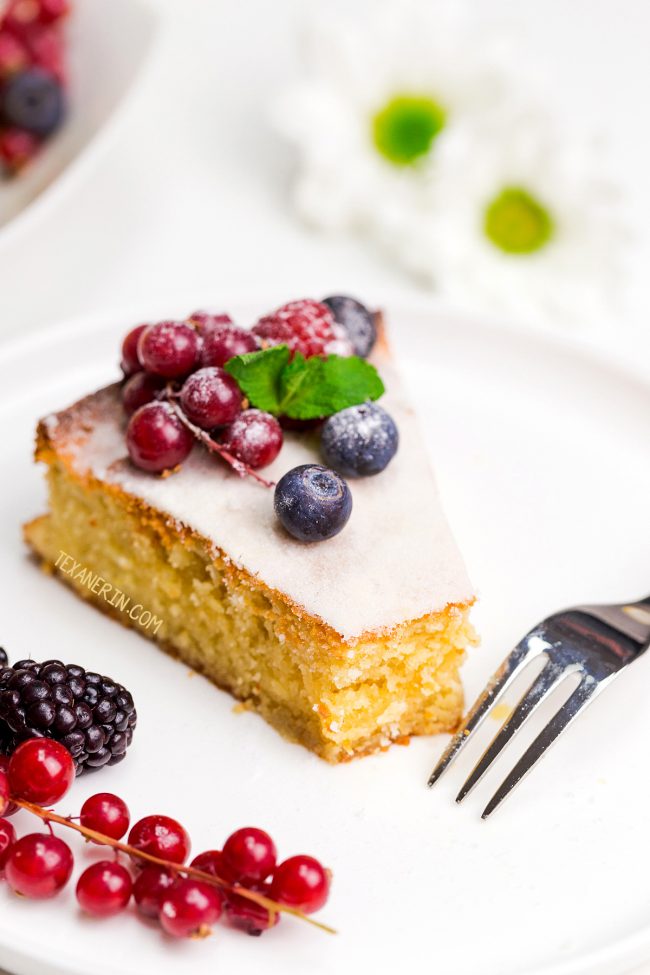 The traditional Italian torta caprese, which I have yet to make, is made with semi-sweet chocolate. This one uses white chocolate but weirdly enough, the chocolate flavor isn't really apparent.
I can't really even tell it's in there. If you dislike white chocolate, I think you'd have no problem with this lemon cake!
And although I thought the cake was lemony, it wasn't extremely lemony. Normally I don't do subtle.
If I want something lemony, I want the lemon flavor to punch me in the face and not just be hanging around in the background. But it worked here.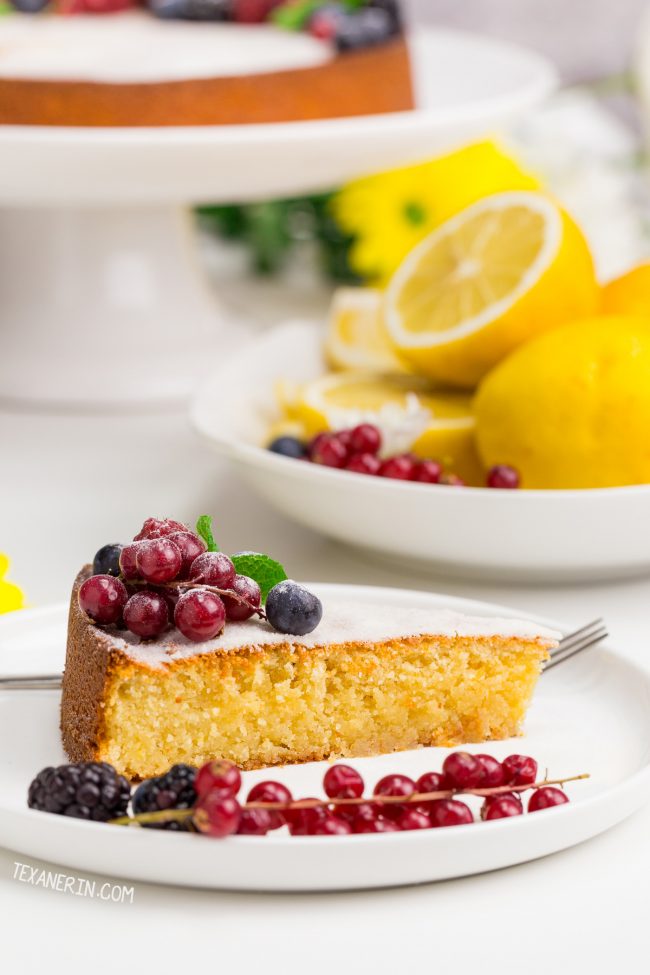 If you cut into it and it looks a little underdone in the middle, don't panic! That's how it's supposed to be.
You can see what that looks like in the bottom picture. You can't really see it in the new pictures.
A few random things – you don't have to refrigerate the cake, but it tastes much better that way. And this recipe halves wonderfully! Use a 7″ cake pan and bake for 30 minutes.
Also, since this almond flour cake recipe was converted from an Italian one, the cup measurements are a bit unusual. If you have a scale, I recommend using it! I know I always say this but it's especially helpful for this recipe.
Want some more lemony goodness? Try these gluten-free lemon sugar cookies!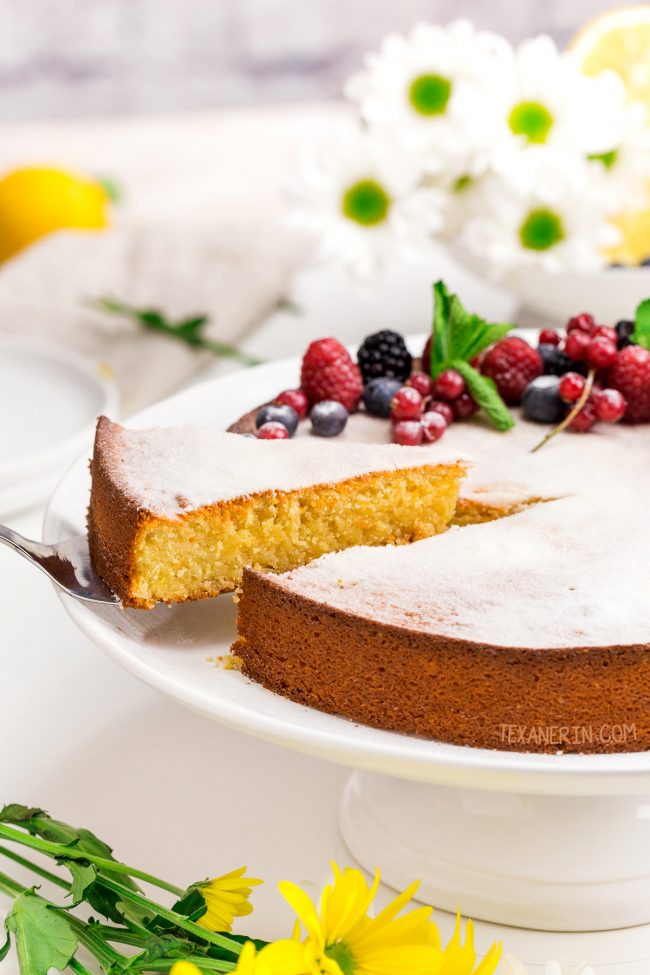 Questions about this Italian lemon cake?
Can I omit the white chocolate? You unfortunately can't just omit 19 tablespoons of an ingredient from a cake recipe and expect it to work. One commenter did that and said that original version is better.

Other commenters have tried out other things in place of the white chocolate so check out the comments if you're interested. I'm not listing any of them here because I haven't tried them and have no idea how they compare to the original!


Can I reduce the white chocolate? I'm guessing a reduction down to 3/4 cup would be okay and not have a huge effect on the outcome but again, I haven't tried it!


Can I use semi-sweet chocolate instead of white chocolate? I've been meaning to try that but haven't gotten around to it yet! I think it'd work but am not positive. If you try it out, please let us know how it worked out. :)



Can I omit the eggs / use an egg replacement? Nope. You're beating the yolks and whites separately for this recipe and it's important for the texture.


Can I use another type of flour? I've only tried this with almond flour. Another type of nut flour / meal might work but I can't say for sure since I haven't tried it. I don't think any other nut flour, except maybe cashew, would go with the lemon very well!

All-purpose gluten-free flour, wheat flour, rice flour, etc. will not work here. If you want something with a different type of flour, try this gluten-free lemon pound cake!


Can I use something else in place of the lemon zest, extract and juice? Lime sounds tasty! Or orange.



Can I use a different sized pan? Yes, but you'll just have to watch it and take it out when you think it's ready. I have absolutely no idea of baking times until I try it myself. Sorry I can't be more helpful! I do know that you can use a 7″ cake pan and bake for 30 minutes.


Can I use something else in place of the sugar? The Italian recipe uses granulated sugar but I tried it out with coconut sugar. If you use coconut sugar, your cake will be darker than the pictures but will still be delicious! Liquid sweetener won't work and as always, no idea how to make this low-carb (which isn't even really a possibility anyway with all that white chocolate!).


Can I use something else in place of the butter? If you want to use coconut oil, I'd recommend using 10 tablespoons coconut oil + 3 tablespoons water. This is because coconut oil is 100% fat and butter is only 80-82% fat. Using the full amount of coconut oil (13 tablespoons) would make this cake too oily.

I haven't tried olive oil or any liquid oils and am not super optimistic about them.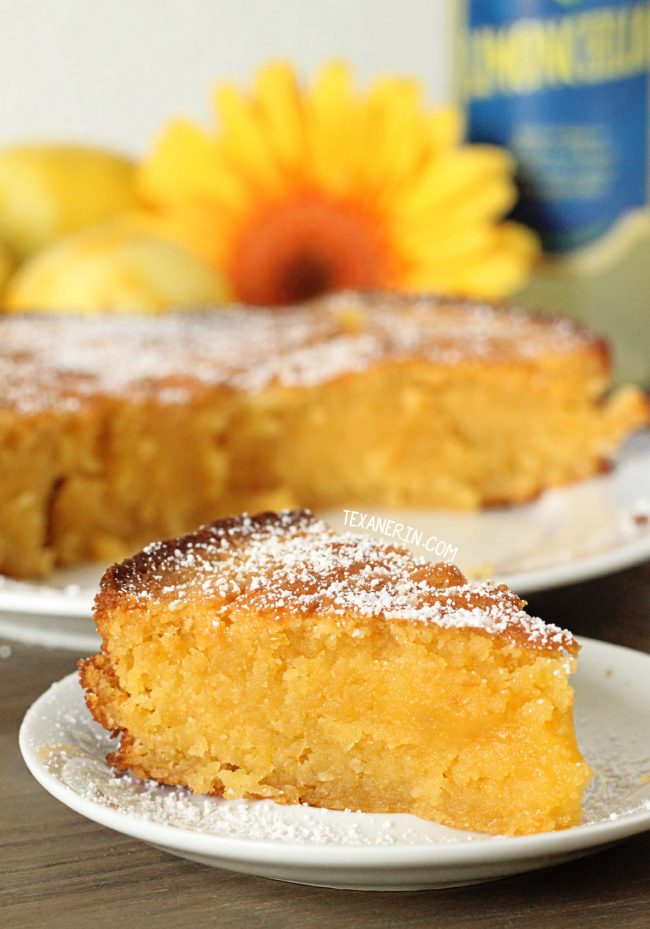 If you're in more of a cupcake mood, try these gluten-free lemon cupcakes from What the Fork Blog!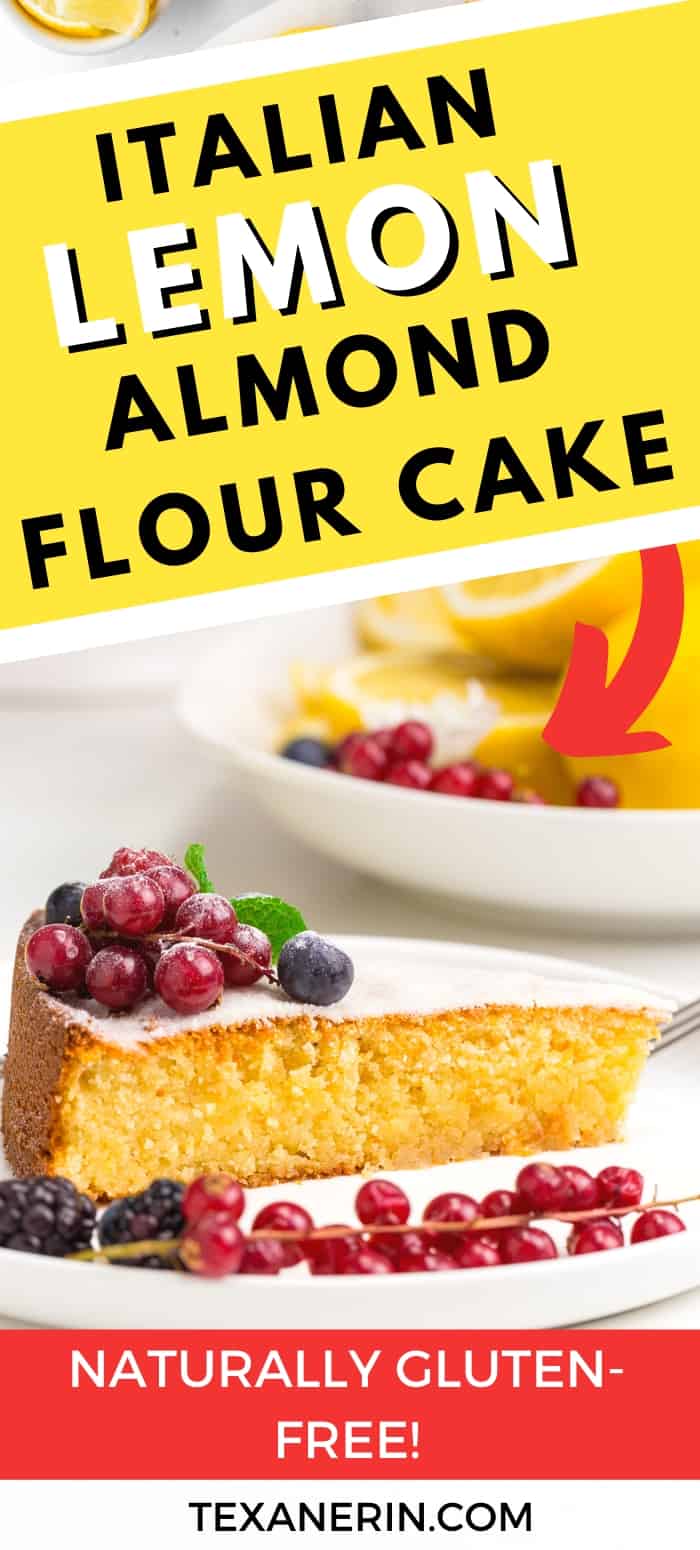 ❀
Italian Lemon Almond Flour Cake (Torta Caprese Bianca - grain-free, gluten-free)
Prep Time:
Cook Time:
Ready in:
Yield:

One 10" cake
Ingredients
320 grams (this is about 3 cups + 3 tablespoons) almond flour (not almond meal) or blanched almonds, ground into almond flour
200 grams (1 cup + 3 tablespoons) white chocolate, chopped
2 tablespoons whipping cream or milk (I used 1.5% milk)
180 grams (3/4 cup + 1 tablespoon) unsalted butter, softened
130 grams (about 2/3 cup) granulated sugar or coconut sugar1, divided
zest of 4 lemons, about 2 tablespoons
4 large eggs, separated
1 teaspoon lemon extract
40 grams (about 2 tablespoons) of limoncello or lemon juice
berries and powdered sugar as garnish, optional
Directions
Preheat your oven to 350°F / 176°C and grease a 10" / 26cm pan or line it with parchment paper. If using blanched almonds instead of almond flour, process them in the food processor until they're pretty finely ground. If you grind them too much, they'll release oil and become almond butter.
Combine the white chocolate and milk / cream in a microwave safe bowl.
Heat in 30 second increments and stir after every 30 seconds. Set aside to cool while you prepare the rest. Beat the butter with 100 grams of sugar and beat until fluffy.
Add the lemon zest, egg yolks and lemon extract and beat until well combined. Then add the almond flour / ground almonds and the melted chocolate. Add the limoncello / lemon juice and beat until combined.
In a separate bowl with spotlessly clean beaters, beat the egg whites until soft peaks form. Gradually add the remaining 30 grams of sugar to the egg white mixture. Fold the egg whites into the almond batter until well combined. Spoon the batter into the greased pan and bake for 40 - 45 minutes. If making half the cake, use a 7" / 18cm pan and bake for 30 minutes. The cake will puff up in the oven, but when cooling, it'll fall back down.
Let it cool completely in the pan and then invert the cake onto a plate, and then flip that back into the pan or onto another plate (so that it's not upside down). Sprinkle on some powdered sugar if desired and top with berries, but only before serving. Cake can be stored at room temperature for up to 3 days or refrigerated (I think it's best that way) for up to 5.
Notes
If using coconut sugar, blend in a coffee grinder first so that it's basically like powdered coconut sugar. I'd be worried about how well non-grinded coconut sugar would do with the egg whites. I'm guessing not well. Please note that your cake will be brown and not yellow! It's unfortunately not possible to use coconut sugar and have the cake come out yellow.
Adapted from Dolce Mania - Torta Caprese Bianca