These monster mouths are perfect healthy Halloween treats and just use fruit, strawberry jam, nut butter, and almonds / sunflower seeds. Naturally paleo, vegan, nut-free, grain-free, gluten-free and dairy-free.
I've been trying to come up with healthy Halloween treats free of processed junk and it's pretty difficult. It seems like all the cute stuff is full of candy or food coloring. Then I got the idea for these!
I'd seen these kind of Halloween monster mouths before but they contain candy, usually marshmallows, and sometimes red food coloring. And none of them had cool eyes!
Or bloody mouths. Or were munching away on flies (dried cranberries).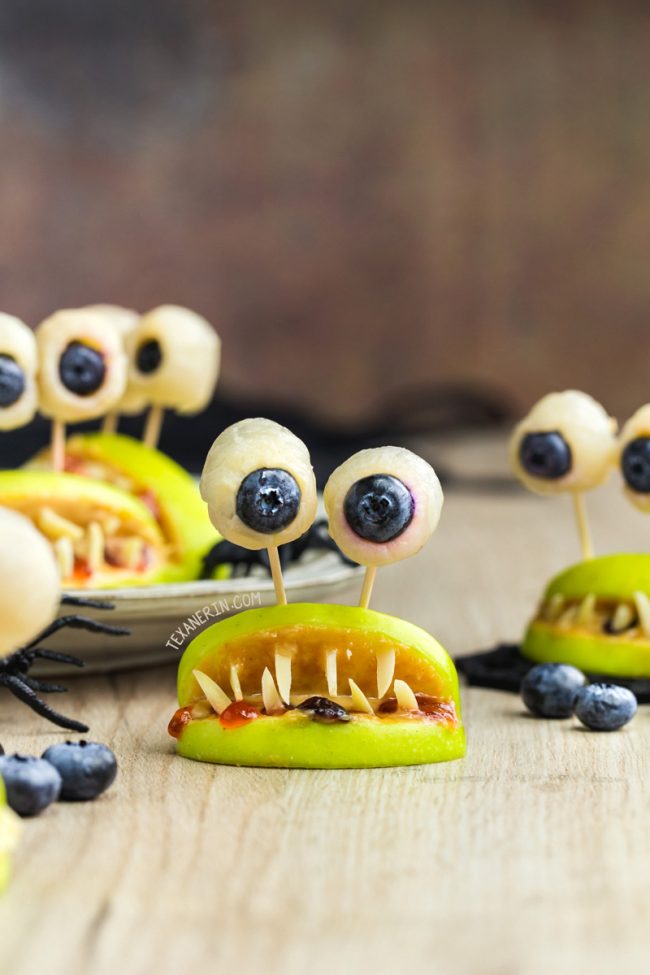 Since the whole point of making these was to offer something free of processed food and junk in general for Halloween, I had to come up with something different. We came up with these:
Blackberries – Too expensive unless they're on sale.
Romanesco broccoli – Looks really neat but I've only seen this a few times in my life (not that I ever actively look for it).
Blueberries or raspberries – I'm guessing the blueberries would be too small and raspberries are again too expensive.
Olives – Nope. Not going to happen. These are for kids! Maybe that'd turn them off? Or maybe that's just me.
Physalis – I don't even know if these are common in the US, where most of you live, so… no.
10/14/14 update: I just saw this idea on Pineapple & Coconut for lychees and blueberries. Check out Shanna's creepy eyeball martini to see how she did it. This is, by far, the best creepy eye idea!
10/30/15 update: One reader, Cymbre, used purple carrots for the eyes. They look great!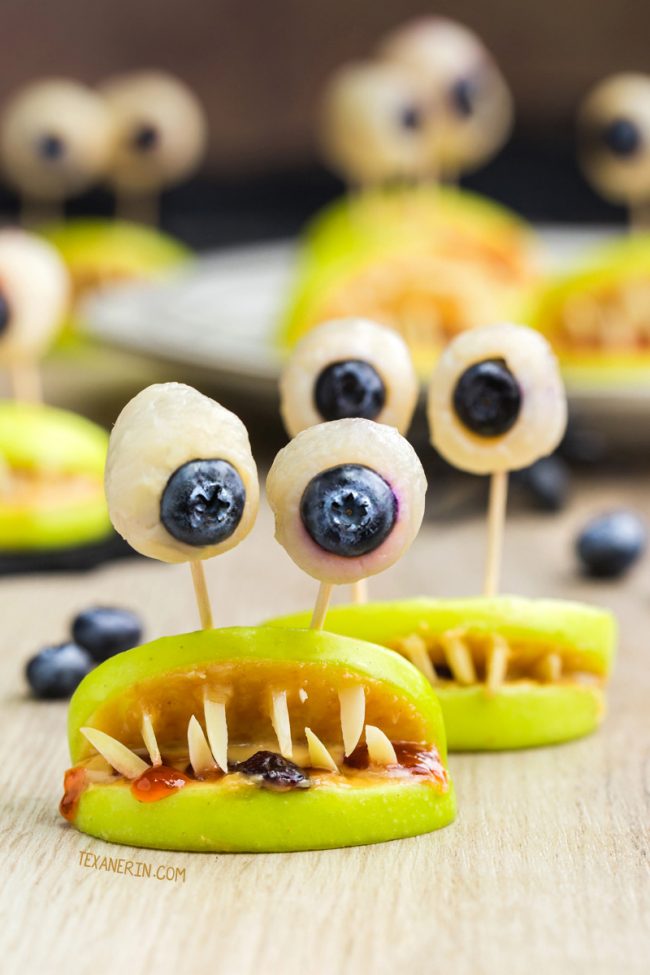 Figuring out the blood was easy. Homemade strawberry jam sweetened with just honey. I used strawberry jam for blood in these witch finger cookies and it looks and tastes great.
The most difficult part about these is cutting the wedge out of the apple slice to make room for the mouth but it wasn't all that difficult. You could have an extra apple around as a practice apple, just in case. I got 5 monster mouths out of 1 apple, making this, in my opinion, an economical Halloween treat. :)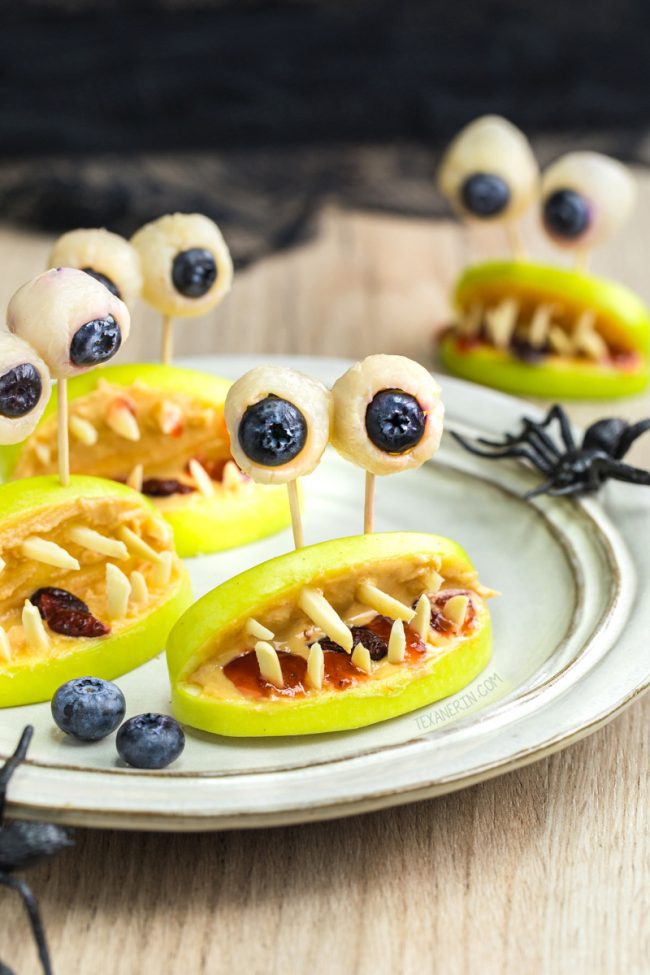 I used slivered almonds for the teeth in these monster mouths and they were perfect. Just make sure to poke a hole with a sharp paring knife where you want to place the teeth to make it easier to stick the almonds in. And when inserting the upper teeth, flip the apple wedge upside down to make it easier.
And because these are just fruit, nut butter and chocolate, if you choose, these monster mouths are super allergy-friendly. They're naturally paleo, grain-free, gluten-free, dairy-free + vegan (be careful of the jam and chocolate you use) and can be nut-free if you use Sun Butter and sunflower seeds for the teeth.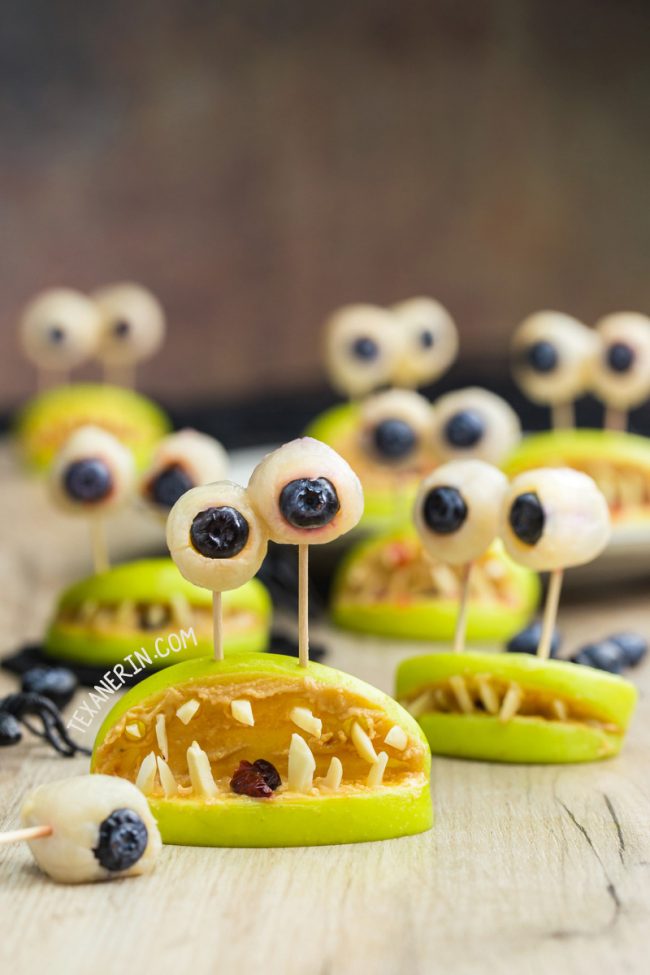 For something less healthy, try my spider cupcakes, which also have grain-free, gluten-free and whole wheat options!
For another whole wheat option, these healthier Halloween sugar cookies are awesome!
Pictures updated in August 2018! Here's an old one for reference.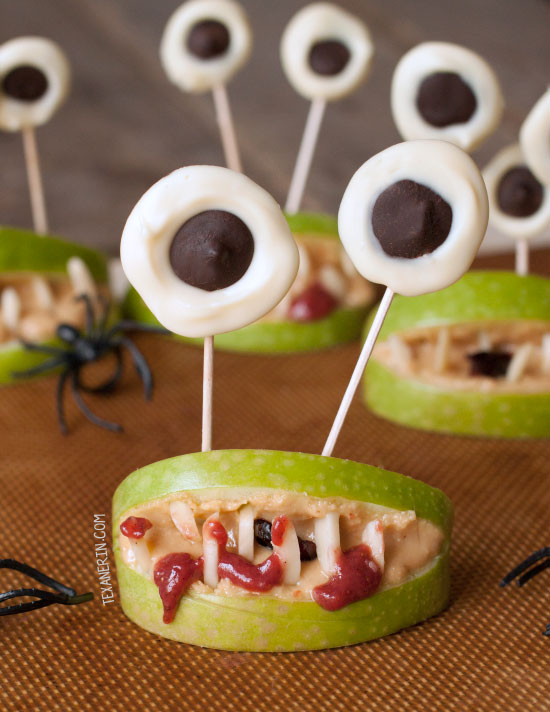 ❀
Healthy Halloween Monster Mouths (paleo, vegan, nut-free options)
Prep Time:
Cook Time:
Ready in:
Yield:

18 mouths
Ingredients
36 toothpicks
lemon juice
4 large apples
natural peanut butter (I used this homemade peanut butter but you can use any kind of nut butter or Sun Butter)
dried cranberries or other dried berries
slivered almonds
36 lychees (I used canned - you might need 2 cans) + 36 blueberries (you need 2 of each for each mouth)
Directions
Core the apples and cut into 4-5 pieces (it'll depend on the size of your apples). Try to cut them at such an angle that they stand easily on their own.
Cut out a wedge for the mouth. Try not to have the bottom half of the wedge be at a downward angle so that the peanut butter doesn't seep out. Also try to make the wedge large enough so that you can easily add the teeth.
Use a pastry brush or dip the backs and bottoms of the apples in the lemon juice. This is to prevent the apples from browning. There's no need to use lemon juice on the inside mouth part since that'll be covered up with peanut butter.
Spread on a little bit of peanut butter.
If you want to add strawberry jam do that now. You can also do it after adding the teeth but it's a little more difficult then.
Toss in a dried cranberry.
Use a sharp knife to stab the parts where you want to add the teeth. There's no need to dig a hole. This will be inserting the teeth easier.
Insert the teeth on the bottom. Flip the mouth over, stab the parts where you want to add the teeth, and insert the teeth. Turn back over.
Place the mouths on the serving plate.
Rinse the lychees and pat them dry with paper towels. Place a blueberry in the center of the lychee and place on a paper towel-lined plate until all the eyeballs are ready.
Serve! If using lemon juice, these stay at room temperature for at least 8 hours without browning.
Notes
Please see the last paragraph of the post for allergy-friendly notes!
I did a backwards date search to try to find who came up with the original apple mouth idea. It appears to be from Family Fun magazine in 2008 but I can't find anything on their website to link to.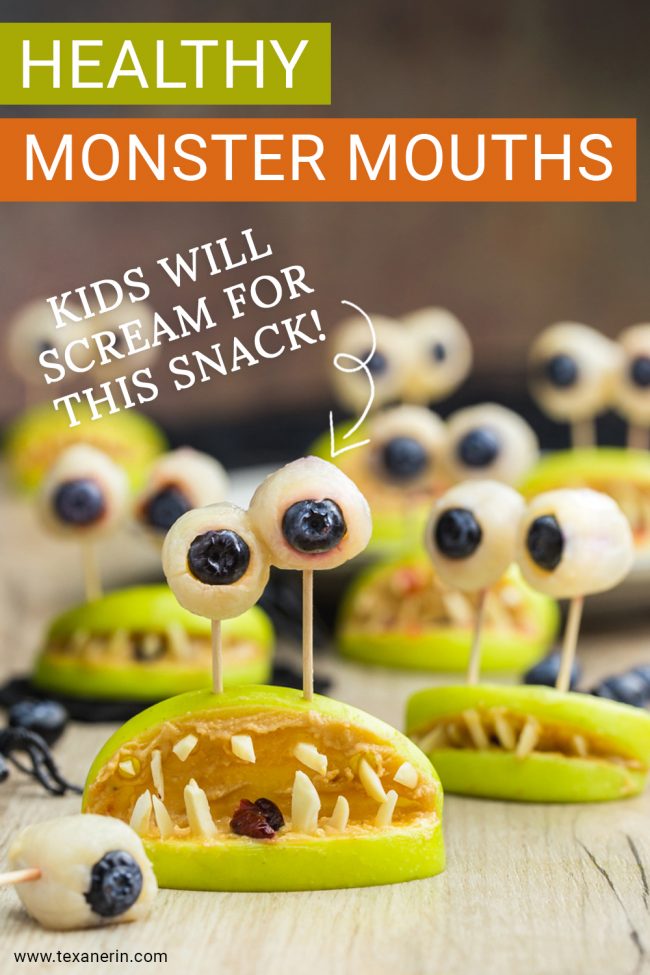 As an Amazon Associate, I earn from qualifying purchases. For more info, see my disclosure.