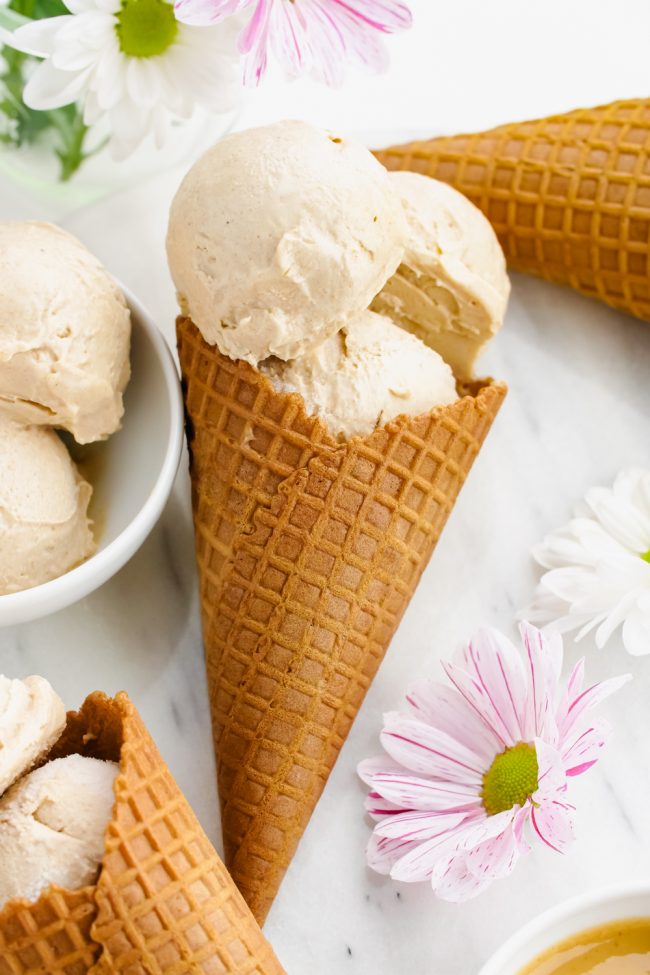 This healthy peanut butter ice cream does not taste at all healthy but is rich, dense and creamy. It's no-cook, no-churn and doesn't freeze rock hard! Can be made with sunflower seed butter for a paleo and nut-free version and it's also vegan.
I don't have a lot of ice cream recipes on the blog because generally, I think healthy ice cream is sad. It's usually not creamy enough or real ice cream-like enough for me.
The exception would be my chocolate vegan gelato which is SUPER rich and amazingly delicious. A small scoop goes a long way!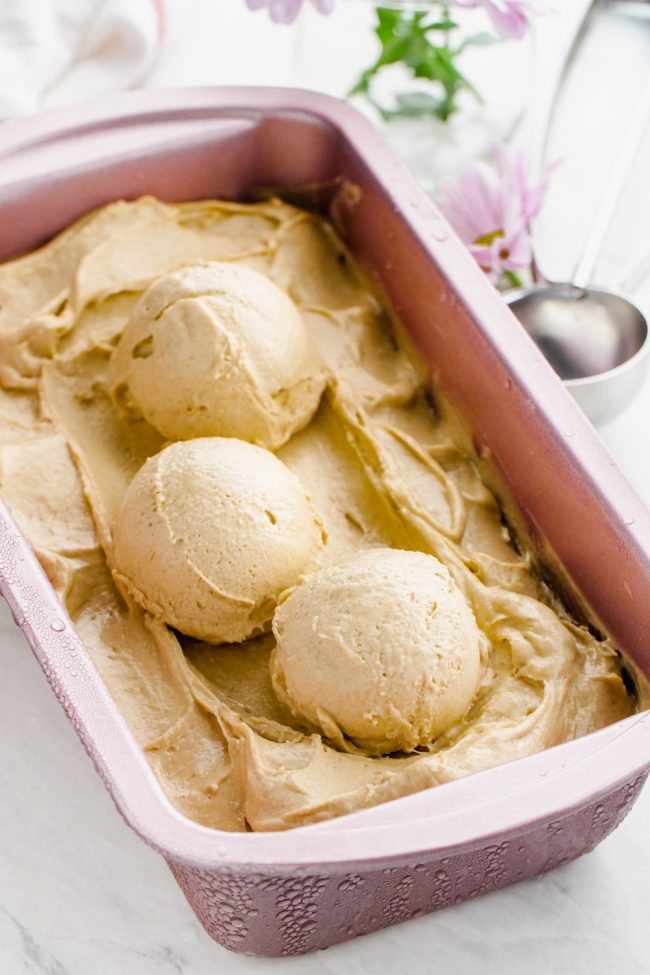 The same goes for this healthy peanut butter ice cream (and this amazing ube ice cream). You only need a small amount!
By the way, I'm not actually sure about the yield. I've made it a few times and have forgotten to measure it each time. I'm going to guess it's about 3 cups.
I came up with this recipe as something to give my son. I'm always trying to find ways to get more healthy fat + calories into him and dates have their own health benefits so I thought this healthy ice cream would be perfect.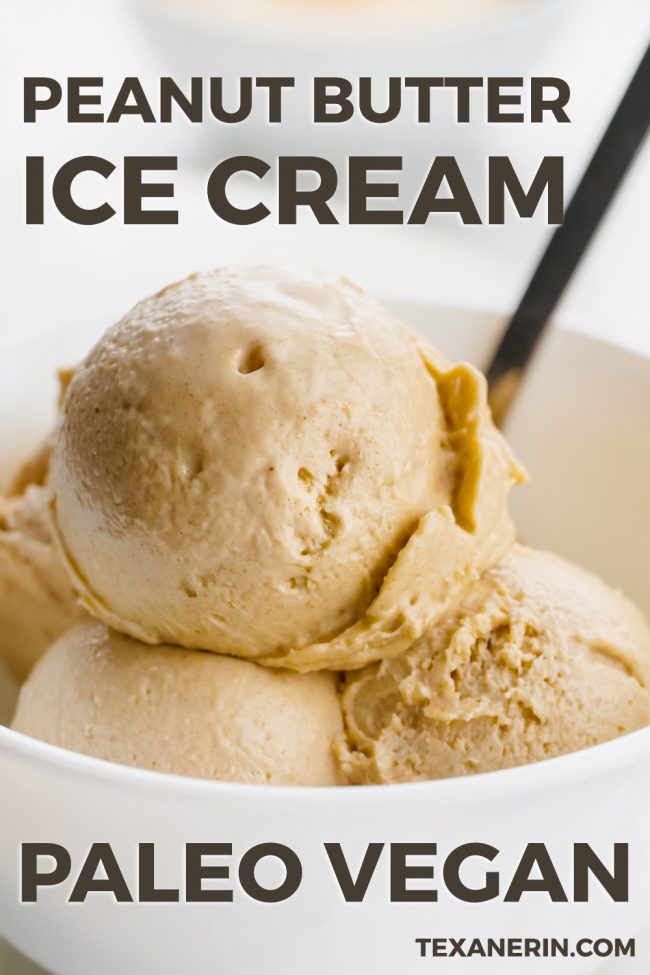 But no. This boy prefers tomatoes, cucumber and a plethora of other low-calorie and low-fat food. He turned away with disgust before even trying a bite of this. Crazy! But that's okay. There was more for me then!
Just like the chocolate ice cream recipe I mentioned above, this one is no-churn. We have a second freezer and there's still no room for something like a clunky ice cream bowl. I'm guessing most people don't have an ice cream maker so even better that it's no-churn!
Healthy ice cream, and I think most homemade ice cream, freezes rock hard. I was so incredibly excited when I went to the freezer the next morning after making this ice cream to find that it was still soft enough to scoop.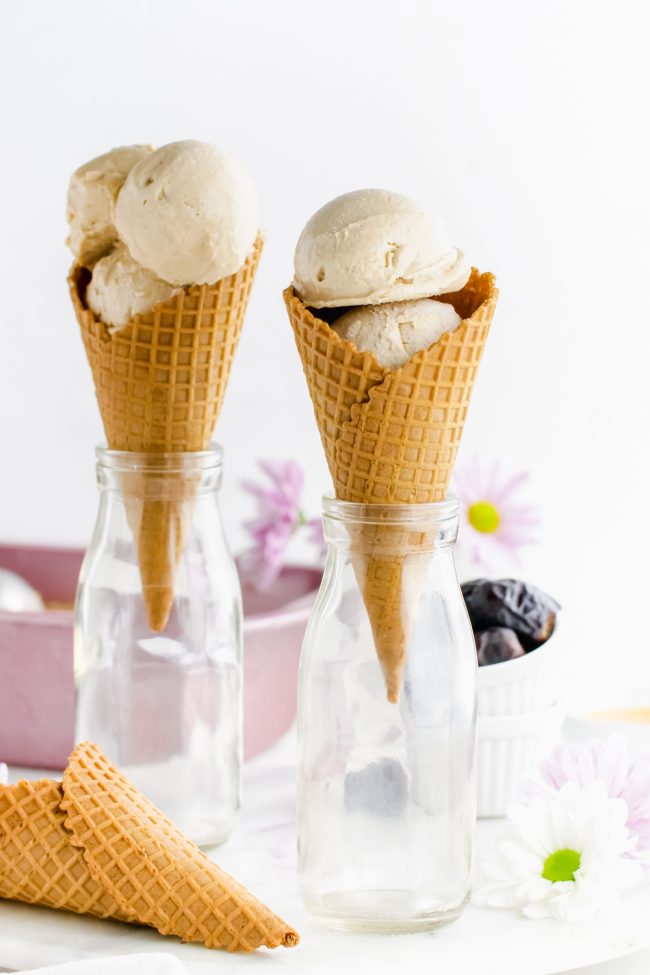 It's not super soft, like frozen yogurt or something, but soft enough to scoop (at least from my freezer!). The key to that is the dates (low-carb readers – I don't think there's a sub for them in this recipe! Sorry.)
Peanut butter (here's how to make peanut butter) is what I used for the photos but I also make it with sunflower seed butter and it tastes really similar to peanut butter! If you use that, then you have yourself some paleo "peanut butter" ice cream. :)
I haven't tried it with almond butter or any other nut butters but I think they might be too bland. Except hazelnut butter (but oh my, how expensive that would make this ice cream!).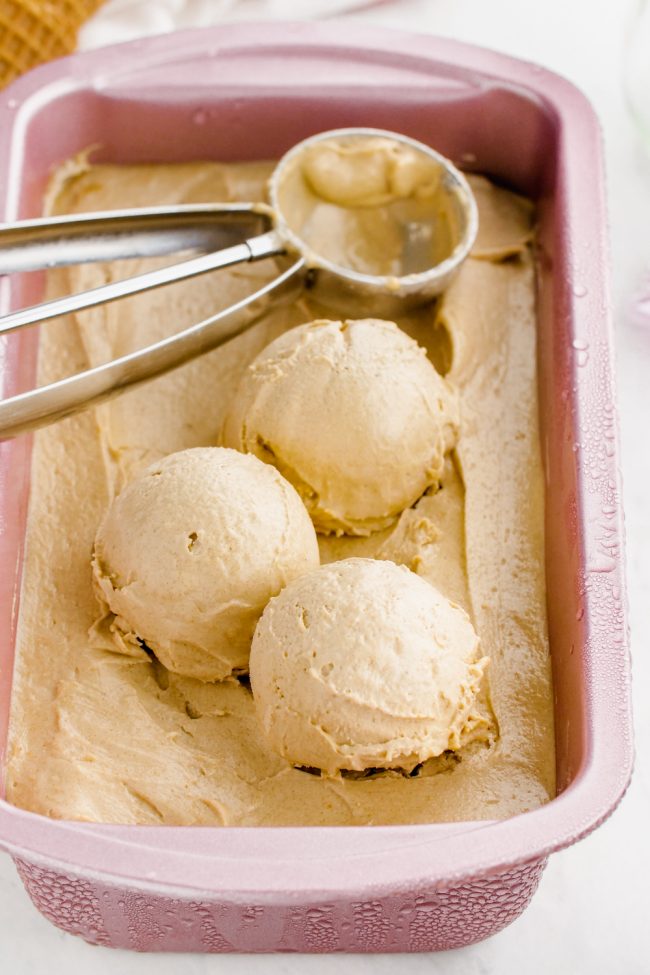 The recipe calls for a full cup of nut butter so the peanut butter flavor is nice and intense. Definitely not subtle!
If you try this out, I'd love to hear what you think! I'm SUPER excited about it. :D And if you want to make PB&J ice cream, why not top this ice cream off with this great Strawberry Sauce? Or this Strawberry Compote!
Questions about this healthy peanut butter ice cream?
Can I use something other than coconut milk? I think other milks (whatever kind) should work. Coconut milk is quite a bit thicker than other types of milk, so the result will just be lighter and probably a bit icy (it's not at all icy with coconut milk).

Can you taste the coconut? No, this healthy peanut butter ice cream tastes like regular (though a very rich and dense!) peanut butter ice cream!

What can I use instead of dates? I haven't tried it but perhaps prunes would work. I'm not sure how different they taste but I think with all the peanut butter, it'd cover up any unusual taste. The bulk and texture of the dates is key to this recipe so granulated or liquid sweetener wouldn't work.

Can I use something other than peanut butter or sunflower seed butter? Anything should technically work but I think almond butter or cashew butter might result in some bland ice cream. Hazelnut butter would probably be tasty! Coconut butter would not work.

Do I need a high-speed or blender food processor? I used a high-speed blender and it made this ice cream 100% smooth with no flecks of dates. I think a food processor would probably work and I've included some special notes at the bottom of the recipe for how to make this peanut butter ice cream recipe with one.

Can I omit the vanilla? If you omit it, your ice cream will freeze hard. The alcohol prevents that. If you want to sub it for another type of alcohol, that should be fine. But I really recommend using vanilla, even if you don't care about it freezing hard. A whole tablespoon of vanilla adds a ton of flavor!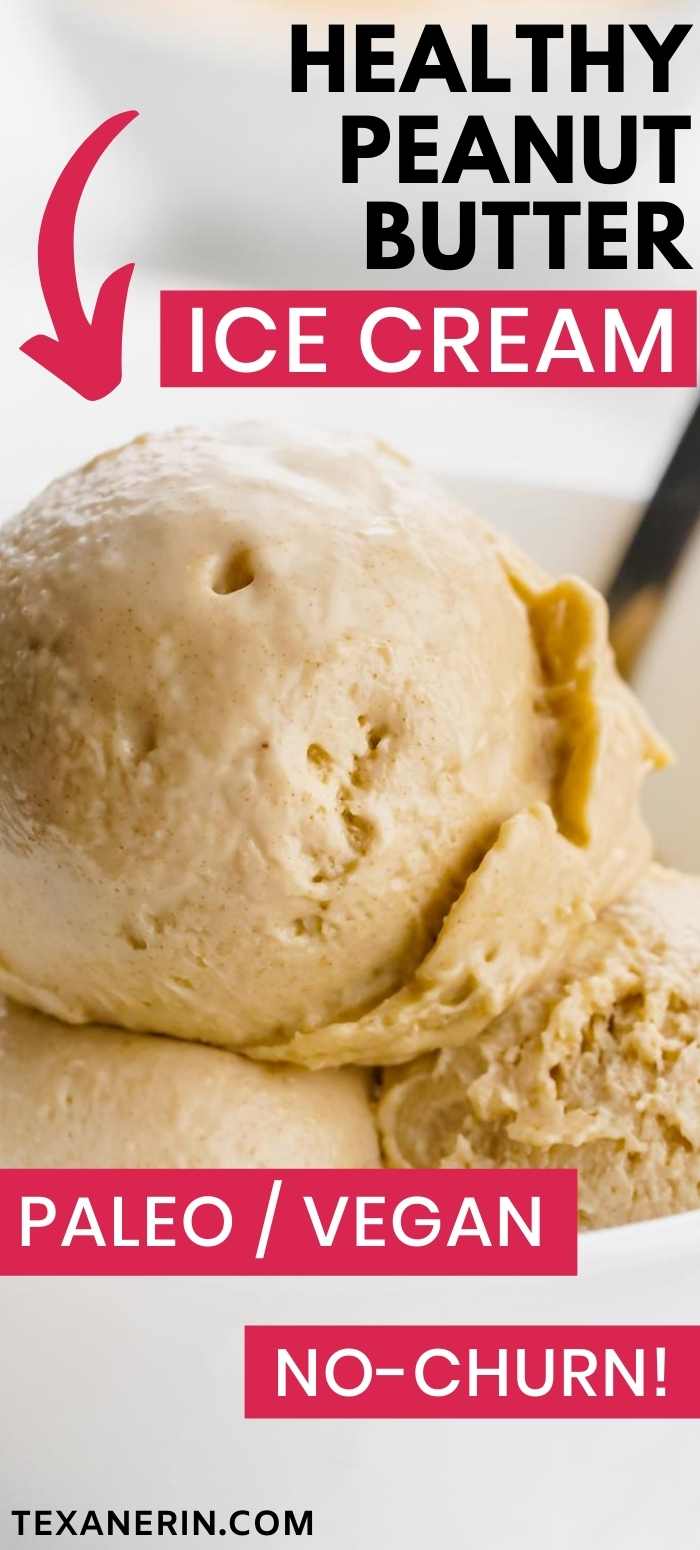 ❀
Healthy Peanut Butter Ice Cream (vegan, paleo option)
Prep Time:
Cook Time:
Ready in:
Yield:

about 6-8 servings
Ingredients
1 14-ounce can full-fat canned coconut milk, room temperature1
1 1/4 cups (176 grams) pitted dates (should be quite soft and not dried up and hard)2
1 cup (256 grams) natural peanut butter or sunflower seed butter (no added fat or sugar)
salt (my nut butter was unsalted and I added 1 teaspoon, you might want to start off with 1/2 teaspoon)
1 tablespoon vanilla extract
Directions
Add the coconut milk and dates to a high-speed blender and blend until totally smooth. Then add the remaining ingredients and continue processing until totally combined and smooth. It took me about 3 minutes total. Take breaks, if necessary, so that your blender doesn't overheat.
Pour into a container and freeze for about 6-8 hours (it'll depend on the container and freezer) or until firm. It doesn't freeze rock hard but you may need to let it thaw a few minutes to scoop nicely (it'll depend on your freezer and container).
Notes
If your nut butter is cold, you might want to heat the milk up so that the dates don't become hard from the coldness. It'll also make blending in a food processor easier. I'm not 100% that you'll get the dates totally blended in, though.
If your dates aren't super soft or you're using a food processor, pour boiling water over the dates to soak them for about 15 minutes to help blending.