Is oat milk gluten-free? Yes and no. I've included a list of safe brands, but even those might not be safe for people with celiac disease. Read on to find out more!
Alternative milk sources have become quite popular in the last few years. This is because of dietary restrictions such as lactose intolerance, as well as general health concerns. One of the most popular choices of plant-based milk is oat milk.
Oat milk is a lactose-free, dairy-free, and vegan-friendly substitute for cow's milk. It's created by soaking oats that have been mixed with water and then milling the mixture to a fine consistency.
What Is Oat Milk Used For?
From breakfast cereal to baking, oat milk is swiftly becoming one of the most popular plant-based milks. It's a very new dairy-free milk replacement that's been gaining popularity in recent years particularly because oats are low in allergens.
Unlike milk made from soy and nuts, most people can enjoy oat milk without any issues.
It has a creamy consistency that is to be loved and can be used as an alternative in dairy milk recipes. If you're looking for a milk substitute, oat milk could be just what you're looking for! You can use it for baking, dairy-free sauces, cereal, and even coffee! It's actually been named a top choice for coffee lovers and baristas.
Ingredients in Oat Milk
As mentioned, oat milk is basically made from oats and water. When packaged, it may contain additional ingredients like preservatives and flavoring to make it more palatable. Some additives could be added to help with the texture and consistency of the milk, giving it a texture similar to dairy milk.
How Is It Made?
Oat milk is processed the same way that any other nut milk or dairy-free milk is. Oats and water are placed in a high-powered blender, combined, and blended.
After blending, the liquid is filtered to remove any leftover particles. The liquid left is oat milk and can be used in any of your favorite recipes or on cereal.
In factories, it's usually processed with various additives as previously mentioned.
First Things First: Are Oats Gluten-free?
Oats are naturally gluten-free, and they are suitable to eat on a gluten-free diet when prepared in a specialized gluten-free facility.
Unfortunately, most times, oats aren't tested, and therefore not labeled, to be gluten-free. This is because they are prone to cross-contamination during processing when they come into contact with gluten-containing cereals.
Cross-contamination of gluten in oats can occur when rye, barley, or wheat, are processed on the same equipment as oats. Some people cannot stomach oats at all, regardless of whether they are labeled as gluten-free or not. If you're one of them, you should avoid all oat products, including oat milk.
For more info, read my post on Are Oats Gluten-free?
So, Is Oat Milk Gluten-free?
Plant-based milk whether it's derived from rice, soy, coconut, seeds, or nuts, is generally gluten-free. As such, you would automatically expect oat milk to be gluten-free. Well, the answer is not so simple.
Unprocessed oats do not contain gluten. It appears simple, but there's a catch: oat milk is frequently processed on the same machinery as wheat goods.
In simple words, oat milk is often not gluten-free because of the high risk of cross-contamination. Gluten contamination is often unavoidable because most facilities that process oat milk also process wheat goods on the same machinery as the ones used in processing oat milk.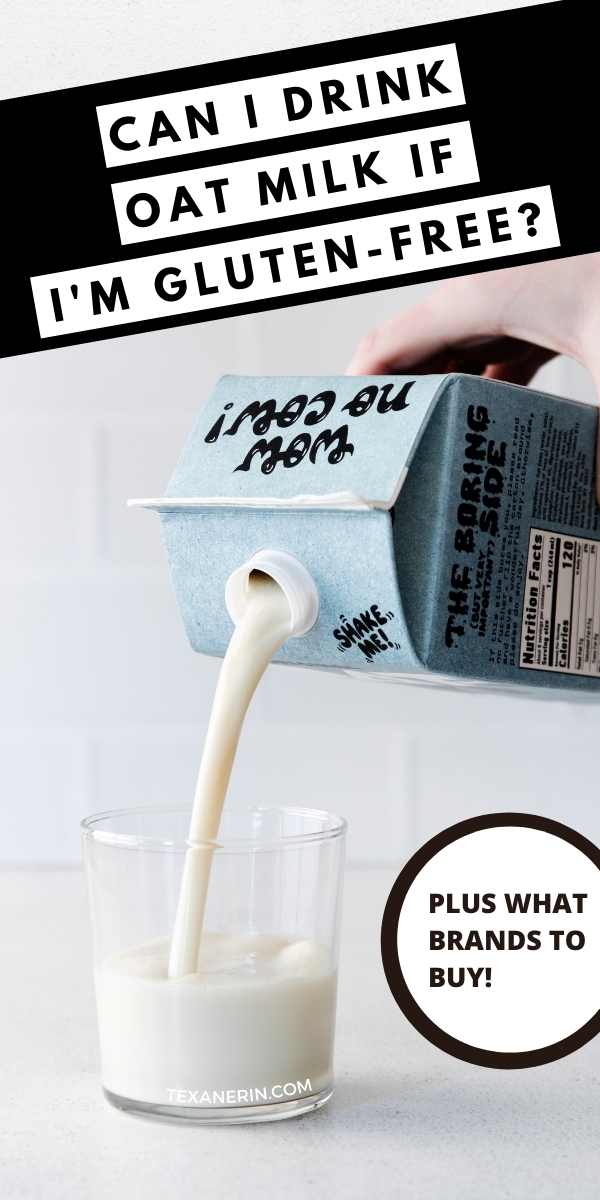 Celiacs + avenin
Even certified gluten-free oats may trigger a negative reaction in people with celiac disease.
That's because a protein named avenin is found in oats and elicits a reaction similar to gluten. However, it's not a problem for most celiacs.
According to this, "Less than 1% of celiac patients show a reaction to a large amount of oats in their diets." I've found other sources quoting slightly higher numbers, like 5%.
If you have a gluten intolerance or celiac, ask your doctor about eating oats.
For more information, you can read this article from Medical Sciences on Why Oats Are Safe and Healthy for Celiac Disease Patients. I'm just a blogger who has read a lot about this issue. I'm not a doctor but there are plenty of academic articles out there you can read to find out more.
That's because there's avenin in oats, which elicits a reaction similar to gluten. However, it's not a problem for most celiacs.
According to this, "Less than 1% of celiac patients show a reaction to a large amount of oats in their diets." I've found other sources quoting slightly higher numbers, like 5%.
That said, people with celiac disease who can tolerate oats should be cautious while purchasing oat milk. There's a high chance that the oats used in oat milk have come into touch with grains at a processing plant unless they're certified gluten-free.
What Might Prevent Some Brands From Being Gluten-free?
Gluten is generally safe to consume, but it can cause inflammation and damage to the lining of the small intestine in people with celiac disease and non-celiac gluten sensitivity. As a result, anyone with these diseases must avoid gluten at all costs.
Oats are gluten-free by nature. However, they're commonly cross-contaminated with gluten because they're farmed near wheat or other gluten grains and processed in facilities that also handle wheat products. As a result, oat milk is prone to contamination as well.
⚠️⚠️⚠️ One research study found that of 133 oat samples, a whopping 88% of them were contaminated with more than 20 parts per million (ppm) of gluten. In this sense, most brands cannot meet the certified cutoff for oat milk to be called gluten-free.
Gluten-free Oat Milk Brands
Luckily, oat milk brands with less than 20ppm of gluten exist. If you're looking for a gluten-free oat milk brand, you can search for some of these options at the grocery store. All of these brands have gluten-free labels, so you don't need to worry about doing extra research.
1. Elmhurst
Elmhurst is a New York-based dairy company that was founded in 1925. It switched to plant-based milks in 2017. The company sells oat milk made from "milked oats" in a variety of flavors including plain, chocolate, and unsweetened.
Each of their milked oats is prepared with only five ingredients (whole grain oats, filtered water, natural flavors, salt, and cane sugar) and no gums or emulsifiers. Furthermore, their products have a gluten-free label, ensuring that the gluten content is less than 20ppm.
2. Planet Oat
Planet Oat's oat milk is frequently described as "just right." It provides heft to a smoothie without muffling the flavors of whatever else is in your blender because it's not overly sweet or too oat-y. Their oat milk comes in a variety of flavors, all of which are gluten-free.
Their oat milk is not only gluten-free but is also free from lactose, soy, artificial preservatives, artificial colors, artificial flavors, tree nuts, and peanuts. It also comes in various delectable flavors such as extra creamy, vanilla, original, and dark chocolate. Better yet, their oat milk boasts soluble fiber and 2 grams of protein!
3. Califia Farms
Califia Farms is a California-based company that claims to be committed to lowering sugar in its products. Since 2014, the firm claims to have decreased sugar by 57% by introducing new unsweetened options. It has vanilla options, protein boosts, blends of mushrooms & oats, and many others.
Its gluten-free Oat Barista Blend is produced with oats harvested in North America. There are no gums or stabilizers in the milk. It's also free of carrageenan, sugar, and dairy. As the cherry on top, it's kosher, vegan, and non-GMO.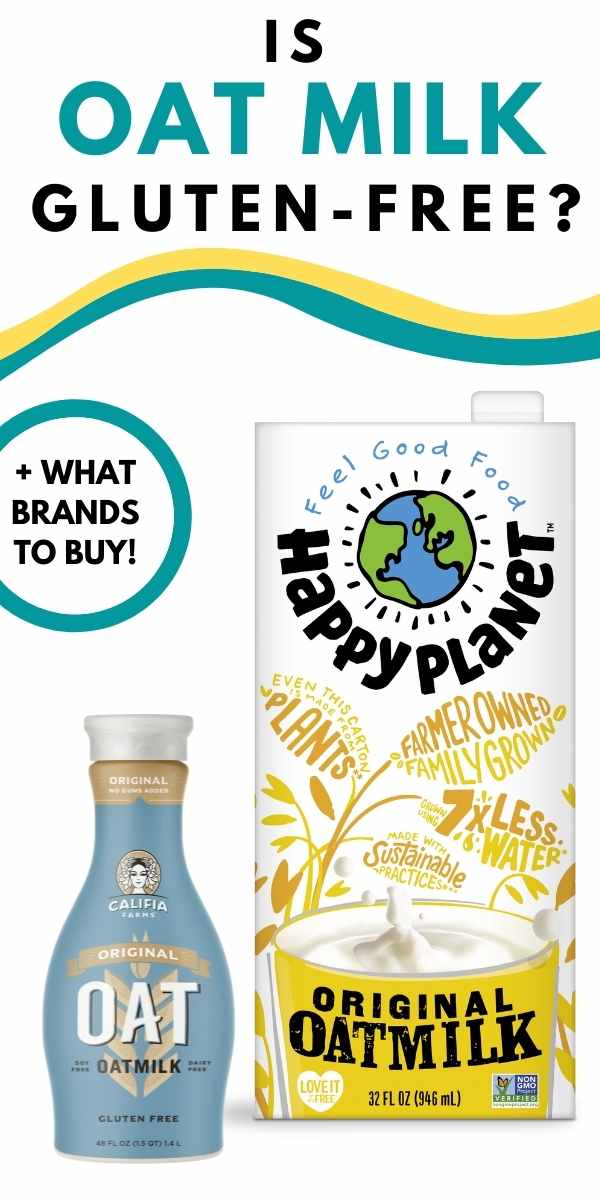 4. Happy Planet
There are several various types of oat milk available at Happy Planet, including those found in the cold case and shelf-stable variations. All of their items are gluten-free. They include barista oat milk, Original, vanilla, chocolate, and many others.
5. Mooala
Mooala creates coconut oat milk with no added sugar as well as gluten-free oats. If you're avoiding both gluten and dairy, this is an excellent dairy-free milk option. Their creamy milk serves as a good source of fiber and calcium.
6. Oatly
Oatly uses gluten-free oats to manufacture its oat milk. They have a variety of flavors to choose from, all of which are suitable for a dairy-free diet. This is hands down, the greatest alternative milk for all of your cappuccino and latte needs for the coffee fanatics out there.
It's prepared from liquid oats with no added sugars and is high in unsaturated fat, simulating all of the benefits of whole milk. It comes in a chilled barista edition, full fat, low fat, and many others.
Are There Brands That You Should Avoid?
Here is a list of brands that do not have a gluten-free label, or have gluten. If you're on a gluten-free diet, strictly avoid them:
Thrive Market
Pacific Foods
Chobani Oat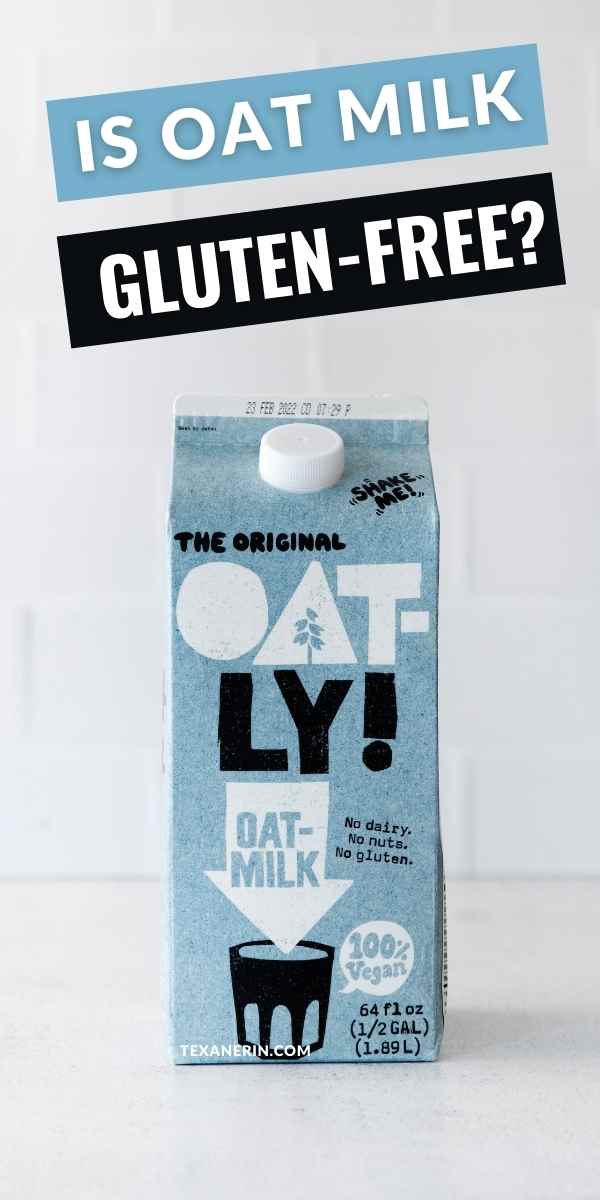 Homemade Gluten-free Oat Milk
If you don't have any of those brands near you or don't want to order online, gluten-free oat milk can be made at home with just two ingredients: certified gluten-free oats and water.
Simply soak a cup of certified gluten-free oats in enough water to cover them for 15 minutes, drain, and blend for 30 seconds with up to 4 cups of water. From there, strain the mixture, chill the milk and you're good to go!
Gluten-free Recipes that Use Oat Milk
By the way, I have 430 gluten-free recipes, with most of them being sweets. Here are some of my favorites that you could use oat milk in!
I hope I've answered your question on whether oat milk is gluten-free or not! If you have any other questions, feel free to leave them below and I'll be happy to answer. :)