This gluten-free pudding is quick, easy and calls for ingredients you probably already have in your pantry. It can also be made vegan and dairy-free.
I already have a vegan chocolate pudding recipe and vegan chocolate chia pudding. Both are paleo and naturally sweetened.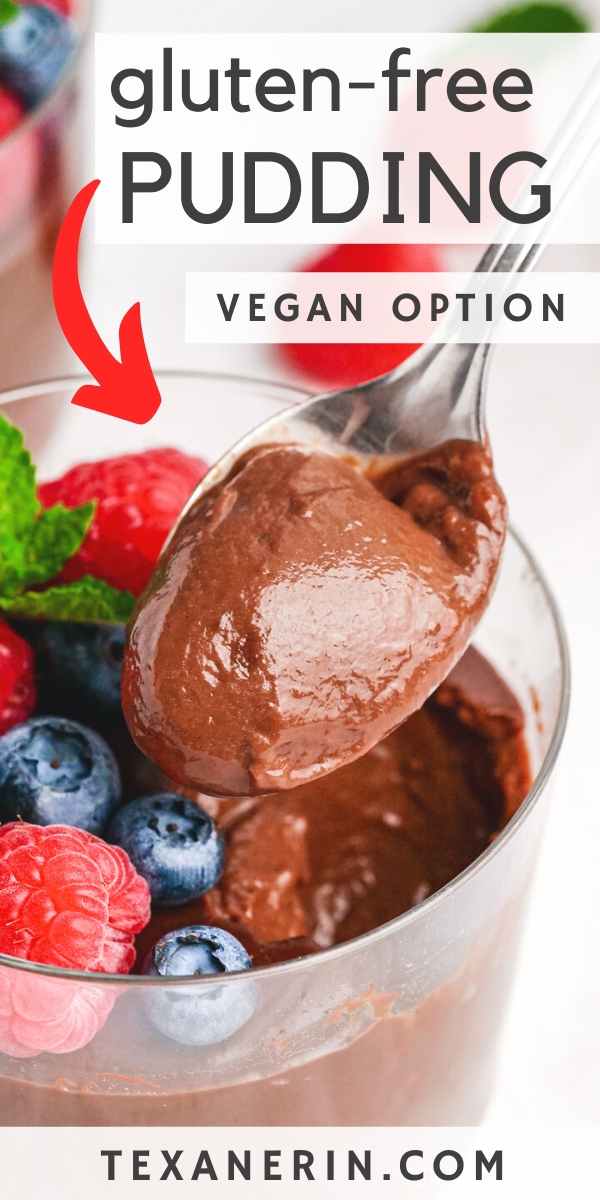 The chia pudding is also no-cook, in case you don't want to turn on the stove!
Today's gluten-free chocolate pudding recipe is more of a traditional chocolate pudding recipe with milk and brown sugar. But it's easy to make vegan.
Just use almond milk instead of dairy milk and coconut oil instead of butter.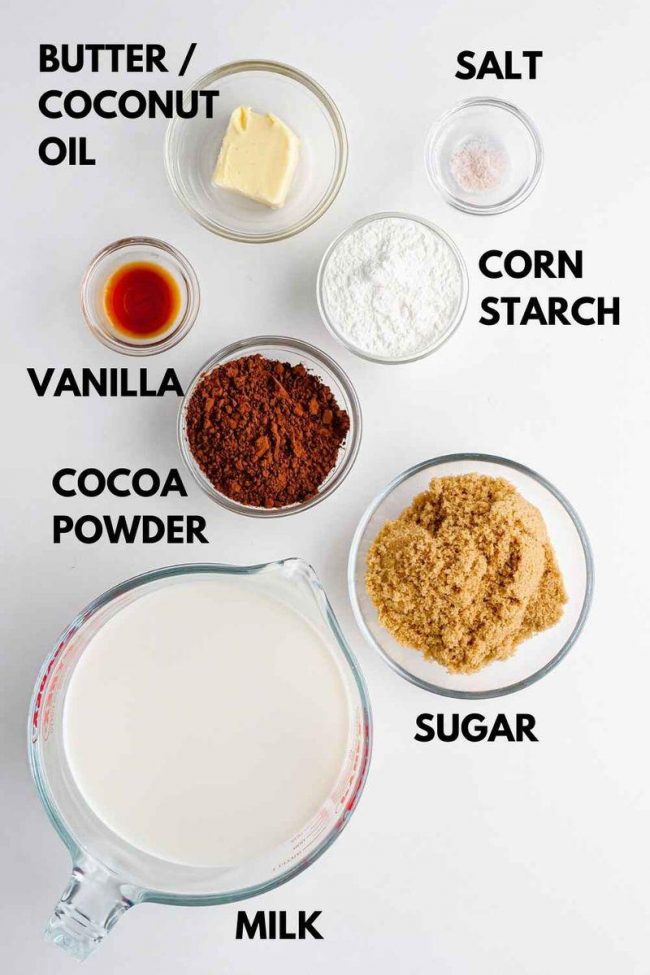 You can also use coconut sugar for a naturally-sweetened version, if you prefer. I love it either way.
If you don't have brown sugar, you can use white sugar or probably any other granulated sugar. We just like brown sugar because it tastes a little more complex.
A lot of pudding recipes call for eggs but I prefer starch-based puddings. I don't find them any less rich than the egg-based ones, which are much easier to screw up.
With eggs, you risk them curdling. With starches, you're safe as long as you don't let the pudding simmer too long. You also need to let it simmer long enough to thicken.
I used to make a lot of puddings that thickened while cooking and later broke down into a runny mess in the fridge. I was either over- or undercooking them.
If you're wondering why – Cornstarch must be cooked to 95°C (203°F) before thickening begins. At that point, it usually thickens fairly quickly and the sauce turns from opaque to transparent. When cornstarch thins after it's thickened, it's usually due to continued stirring. Once the thickening network forms, any agitation interferes with the setting process. The sauce thins when the starch network that sets and traps the liquid is broken. Liquid is released and thins the sauce. – The Science of Cooking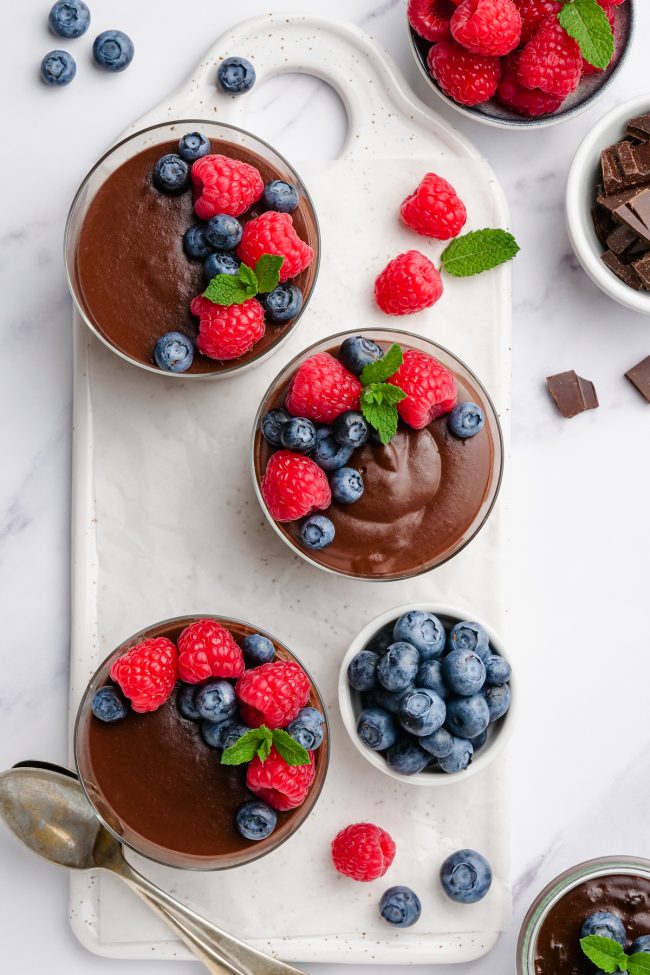 You definitely don't need a thermometer for this recipe, though. You'll see it clearly thicken. Like I said, it's an easy recipe.
I've never had any issues with any of my pudding recipes and neither have commenters and I think it's because the directions clearly say to not boil the pudding for more than 1 minute.
One thing that's always important when making homemade pudding – do not taste the pudding and put that spoon back into the pot! The enzymes in saliva will cause pudding to become runny.
I don't usually share my pudding and so I used to do this all the time, only to find soupy pudding in the fridge hours later.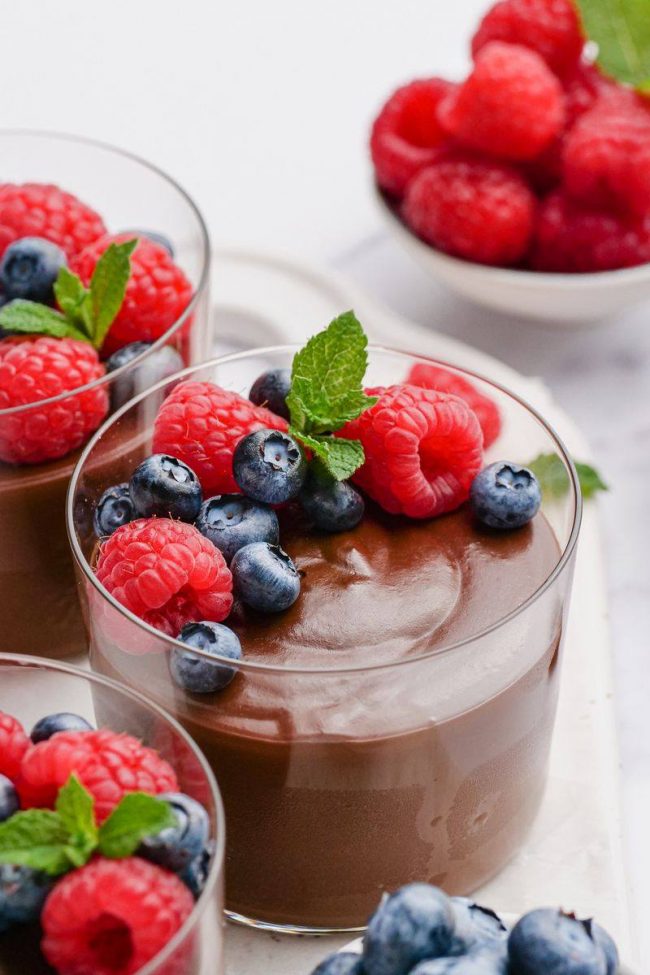 Is pudding gluten-free?
If we're talking about this kind of creamy custard-like pudding and not bread pudding, Yorkshire puddings or savory puddings, then yes. Most brands of store-bought pudding are.
At the time of writing, Jell-o doesn't use any ingredients containing gluten in their puddings but that can always change. They do not, however, label themselves as gluten-free.
You can read more about this in my article here → Is Jello Pudding Gluten-free?
If you're worried about cross-contamination, it's always better to find one that's labeled gluten-free.
Or make your own pudding! I can't imagine why a homemade pudding recipe would have gluten in it.
I just called this recipe gluten-free pudding because I needed a name.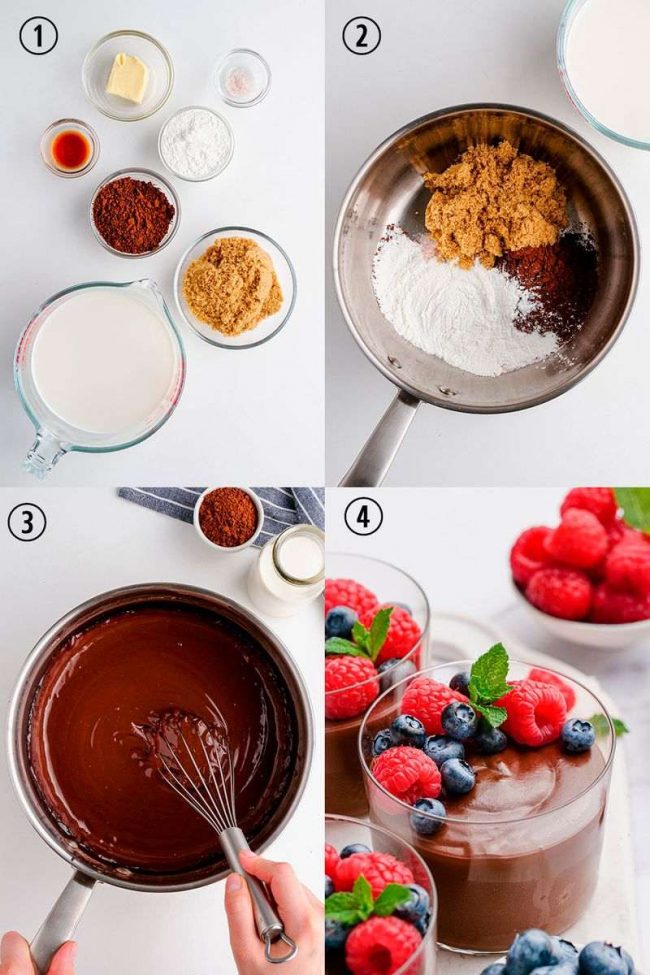 When you make your own chocolate pudding, you don't have any nasty ingredients. The stuff in boxes can contain some pretty funky stuff.
This recipe uses cornstarch and I know a lot of you prefer to use arrowroot or tapioca starch. At least I do! But they're not 100% interchangeable.
If you want to use tapioca starch, please check out the vegan chocolate pudding recipe linked to at the top of this post.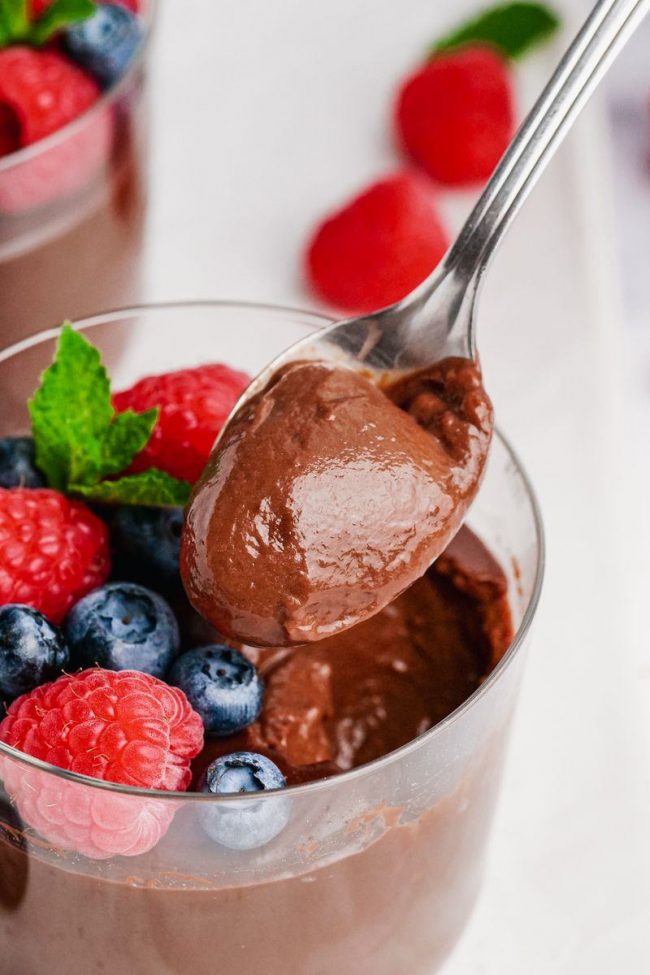 Questions about this chocolate pudding recipe?
Can I use a different sweetener?

You could use granulated sugar but we prefer the taste with brown sugar or coconut sugar. It tastes a little more complex. I think any granulated sugar would probably work.

A keto version is coming soon! It needs a little more work.

Can I use X type of cocoa powder?

I used Dutch-process because I like the dark chocolaty taste, but natural cocoa powder (like Hershey's) would work, too.

What can I use instead of cornstarch?

Read the part right above the questions section!

What can I use instead of dairy milk or almond milk?

You can use any kind of milk that you want. I feel like this pudding is already pretty rich but if you prefer, you could use canned coconut milk.

What can I use instead of butter or coconut oil?

Ghee would probably work. If you don't want to add one of those three options, just omit it. Adding a liquid fat like olive oil would just make it runny.

Are all cocoa powders brands gluten-free?

Cocoa powder is naturally gluten-free, but if you're celiac, you might want to read Is Cocoa Powder Gluten-free? for more info on brands that are tested and labeled as gluten-free. You can also read more specifically about Hershey's here → Is Hershey's Gluten-free?
If you try out this gluten-free pudding, I'd love to hear how you like it! Feedback makes me so happy. :)
❀
Gluten-free Chocolate Pudding (vegan option)
Prep Time:
Cook Time:
Ready in:
Yield:

6 servings
Ingredients
1/2 cup (100 grams) brown sugar or coconut sugar
1/4 cup (29 grams) cocoa powder
1/4 cup (31 grams) cornstarch
1/4 teaspoon salt
2 3/4 cups full-fat milk or almond milk (or another type of non-dairy milk) for vegan
2 tablespoons (28 grams) butter or coconut oil for vegan (I prefer refined coconut oil as it has no coconut taste)
1 teaspoon vanilla extract
Directions
Combine the sugar, cocoa powder, cornstarch and salt in a medium saucepan until no lumps remain. Stir in the milk, turn the heat to medium, and while stirring occasionally, bring to a boil. Let boil for up to about a minute or until the pudding coats the back of a spoon. Do not let it boil too long or it'll break down later. It's important to not taste the pudding with a spoon and put it back in the pudding! It'll make the pudding break down into soup.
Remove the pan from the heat and stir in the butter and vanilla extract. Let cool to room temperature, stirring every 15 minutes or so, then place plastic wrap over the pudding to prevent a skin from forming. Let chill for about 2-3 hours and then serve.
Store covered in the fridge for up to 4 days.