This vegan custard may be eggless but it's thick, creamy and super flavorful and nobody will know it's vegan! It's absolutely perfect on pies, crisps and crumbles. With a paleo option.
What is custard?
This sure is a confusing term. Webster defines it as "a pudding-like, usually sweetened, mixture made with eggs and milk."
It seems to mean a ton of different things and it differs depending on where you live.
Today's recipe is a sauce meant to be poured over pies and other desserts. You could also call it crème anglaise or vanilla sauce.
I already have a paleo vegan vanilla sauce recipe. I really love it.
But that recipe requires a high-speed blender, which not everybody has, so here's a recipe made on the stovetop.
When I first started testing vegan custard recipes, I thought they all tasted terrible. So I tried five or six from other blogs. I thought that they were bad, too.
Which is weird because most of them had good reviews. The texture was fine – I wasn't doing anything wrong.
It was the taste. I think I discovered the issue with them!
The sweetener
If you use all sugar, then egg-free custard tastes like overly sugary thickened milk. Yuck.
If you use all maple syrup, you've got a strong maple flavor. Which I don't think is a bad thing, but maple doesn't fit every dish that you'd want to pour this custard on.
So in my recipe, you use half sugar and half maple syrup.
You can also use all sugar instead of maple + sugar. Or you can use all maple syrup for a paleo version.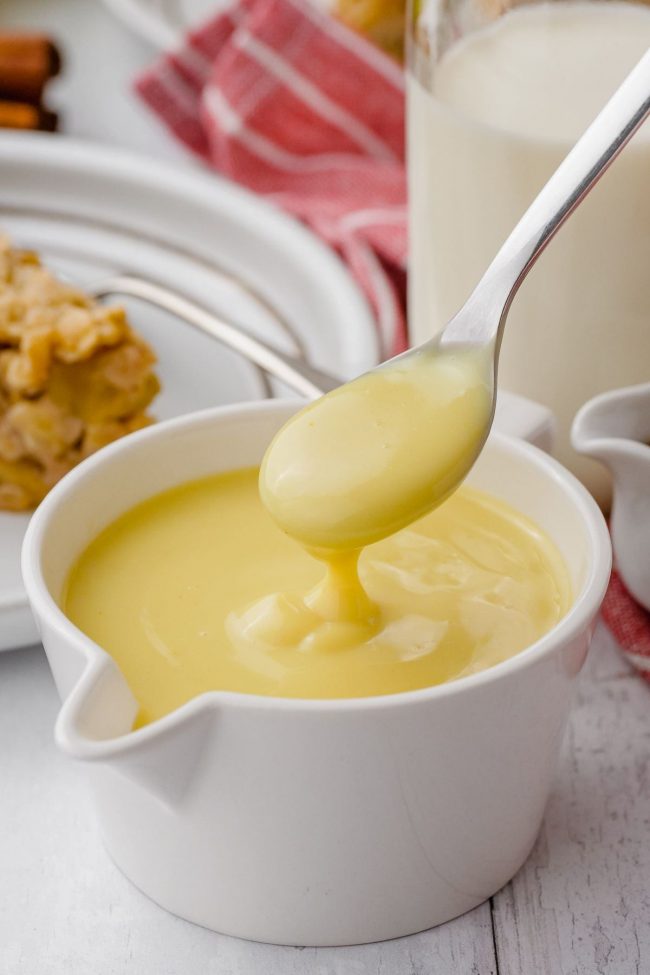 How to create an egg yolk color
Another thing that confused me in the 5-6 recipes that I tried is that they call for 1/8 teaspoon of turmeric to add color. Supposedly, you shouldn't taste it at all.
With my expired turmeric, I could definitely taste the turmeric. So much so, that in one recipe, I couldn't bring myself to eat it.
So my recipe calls for just a pinch of turmeric. I used the tines of a fork to add mine.
Add a tiny amount, taste, and add some more until you're happy with the color, or until you get the tiniest hint that you're starting to taste the turmeric.
Or just omit it! I can absolutely understand why you'd want a little bit of color to make it look "normal" but it doesn't add anything to the taste – it's just a visual thing.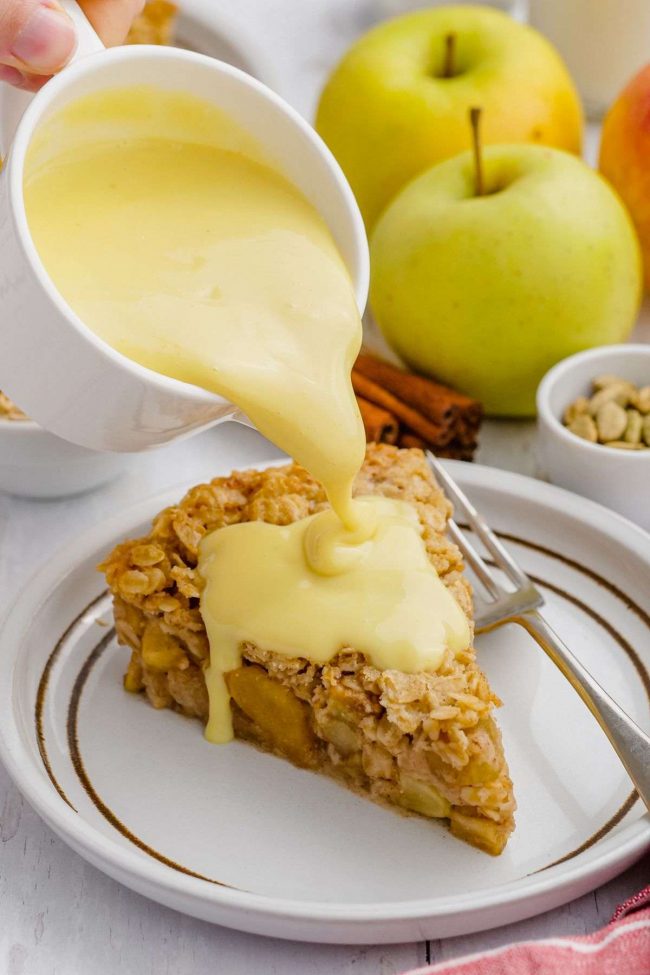 Which milk to use
During my custard experimentation, I thought the versions with almond milk were way too almondy. The result didn't taste like custard.
A lot of people recommend soy milk but I don't use it, so I have no idea how that'd work. I also tried oat milk but didn't love that.
The tastiest blend of milk for this recipe, at least according to me, is canned coconut milk + cashew milk.
Using all coconut milk resulted in a coconut flavor and it was too thick. Using all cashew milk resulted in a thin sauce. Do half and half for the best taste + texture.
Vanilla bean or vanilla extract?
I first started my testing with vanilla beans but got tired of throwing out batches of custard that were inedible. I didn't want to waste any more vanilla beans. I actually don't want to waste anything, but especially not insanely expensive vanilla beans.
So I switched over to vanilla extract and when I made the below recipe, I found it to be just as delicious as with the beans.
If you prefer to use vanilla beans, you can use half of one. You'll need to scrape out the seeds and put the seeds + bean pod in the milk, let it simmer a bit, and then add the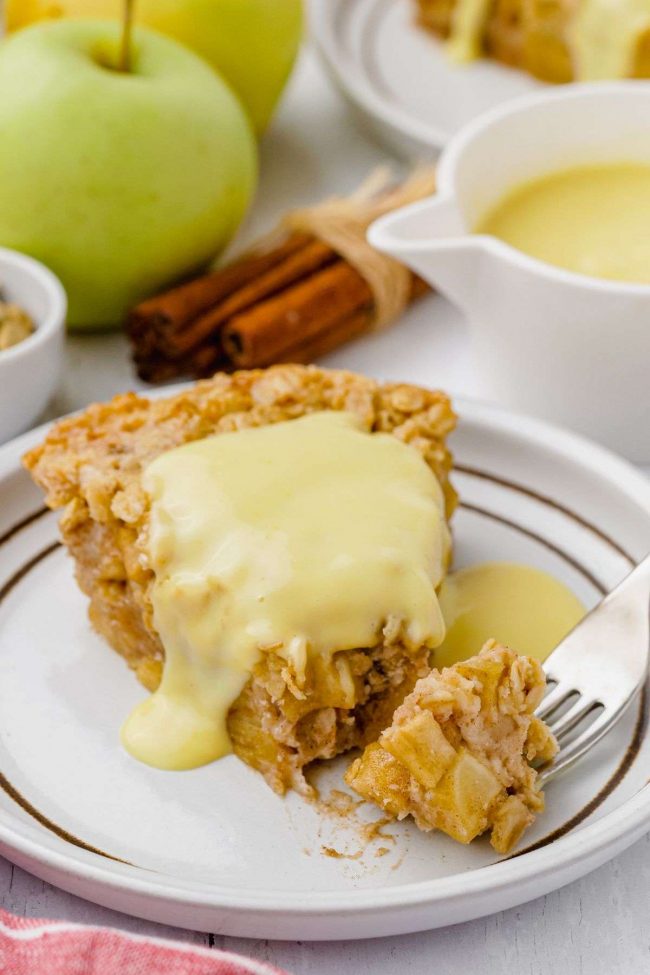 Which starch to use
The paleo vegan vanilla sauce I link to at the beginning of the post is starch-free. If you don't want to use starch or want to use a different one other than tapioca starch, arrowroot starch or cornstarch, please check out that recipe.
It's super luscious, creamy and delicious. But it's not really custard-like.
I know people don't want to use cornstarch so I tested a paleo alternative – tapioca flour / starch and arrowroot starch.
Some sources will tell you to use twice the amount of tapioca starch when using it in place of cornstarch.
I tried that and it was a gloopy mess. I had to add 6 tablespoons of cashew milk and it was still gloopy.
Then I tried it again, using 6 teaspoons instead of the 4 1/2 teaspoons called for if using cornstarch. That worked much better!
Arrowroot starch / flour didn't need that adjustment.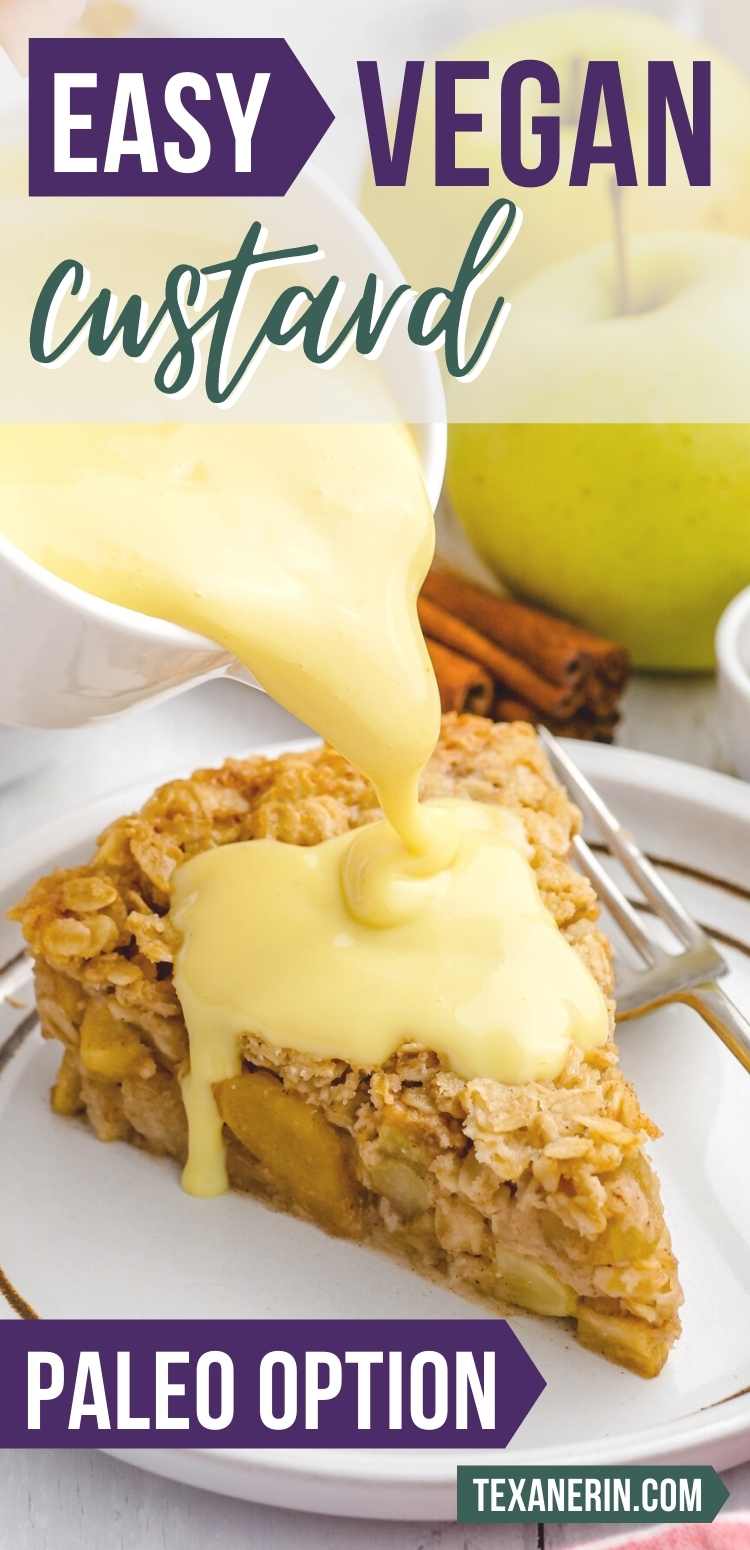 But note that you have to use all maple syrup. I haven't tested a tapioca / arrowroot + half sugar / half maple version.
I think it'd work just fine but haven't tried it. If it turns out too thick, just add a little milk when it's done cooking.
The texture of both paleo versions was different than the cornstarch one, though. The cornstarch version is exactly like regular custard / vanilla sauce, and the paleo version was a bit jiggly.
At least in the pan. It was weird. Once we poured it over our desserts, we didn't notice the difference.
If you're trying to impress someone, I'd probably go with the cashew-based vanilla sauce. There's no weird at all there!
Also note that the paleo, all-maple version is browner than the version that uses half maple syrup. You're not going to get as nice of a yellowish color.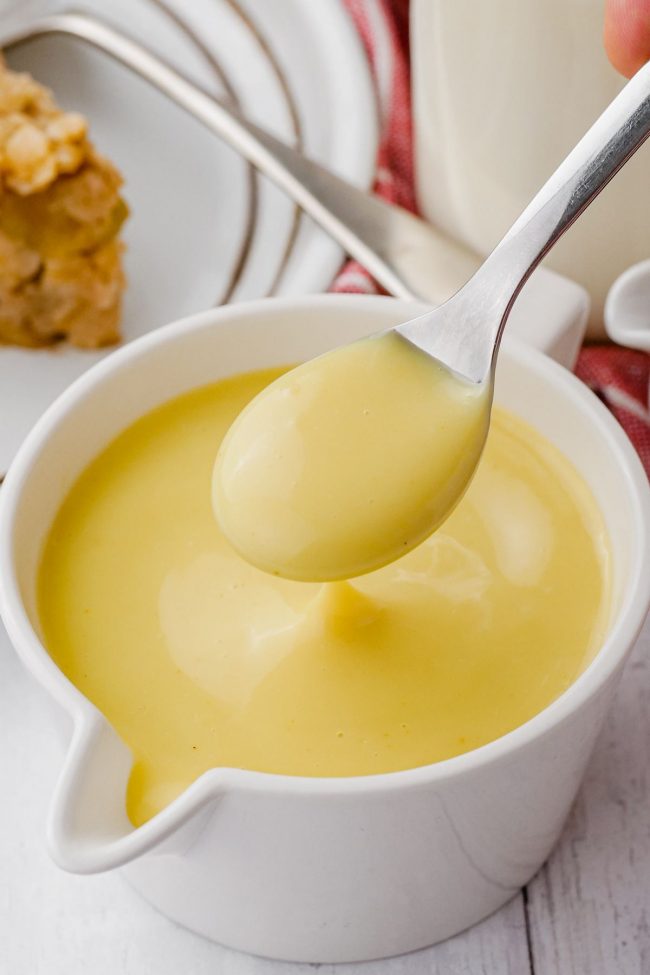 What not to do with this custard
Like I mentioned in my post on gluten-free pudding, do not taste the custard and then put that dirty spoon back into the pan! The enzymes in the saliva will cause custard to become runny.
It won't happen straight away but rather minutes or hours later. You'll open the fridge door to take out your delicious vanilla custard and find that it's now a soupy mess.
Also, ignore the video where the cornstarch and cashew milk are first mixed together in a little bowl. I apparently was not thinking by involving an extra bowl.
Just mix it together in the pot and then add the other ingredients.
What does this custard go with?
It's delicious enough to eat with a spoon but if you want to be a bit more sensible, try it on any of these gluten-free + vegan recipes: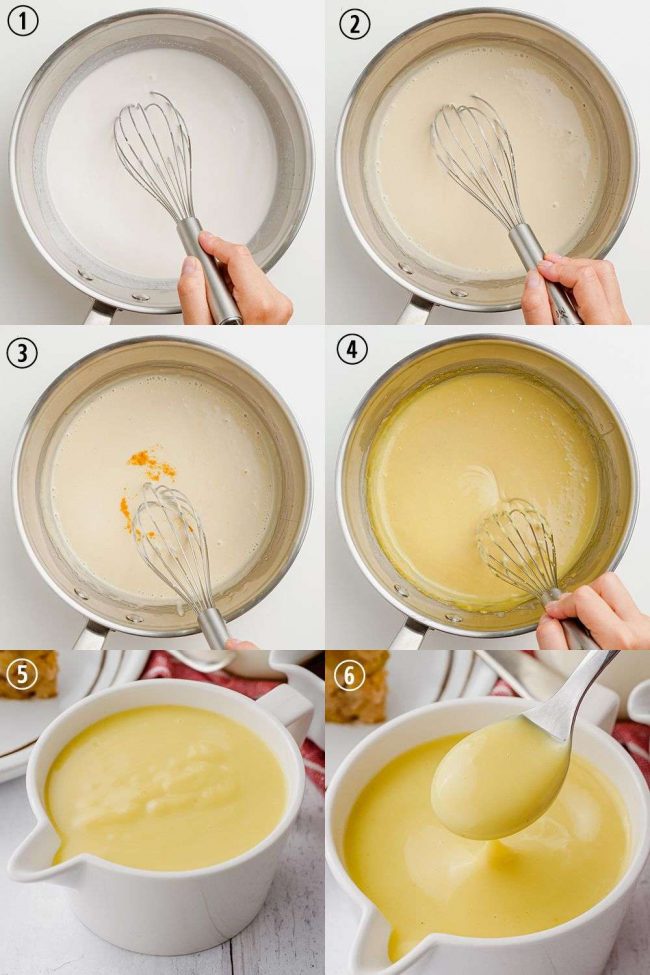 If you try out this recipe, I'd love to hear how you like it!
Questions about this custard?
Can I use a different starch?

Check out the notes below the recipe and the section above called What Starch To Use. There you can find out how to make this vegan custard a paleo one by using tapioca starch.

I haven't tried it with arrowroot and don't have any idea of the amount you'd need.

Do I have to use cashew milk + coconut milk?

You can use whatever combination of milks you'd like. However, I tried several different combinations and this was the clear winner.

Does it taste coconutty?

If you follow the recipe, not at all! At least we couldn't detect any coconut taste. It might be different with other brands. If you use all coconut milk, which I don't recommend, then yes – it'll be very coconutty.

Do I have to use granulated sugar?

You could probably use all maple syrup if you want a maple flavor and don't mind if it's a little runnier. See the notes below the recipe on how to make it with all maple + tapioca starch.

I don't recommend coconut sugar as it'd totally change the taste. Raw sugar should be fine. I'm not sure about any other sweeteners.

What can I use instead of maple syrup?

I made this custard so many times to get the taste just right. I think while brown rice syrup, agave or other liquid sweeteners might work, the taste would be wrong. So I really recommend sticking to maple syrup.
❀
Vegan Custard (paleo option)
Prep Time:
Cook Time:
Ready in:
Yield:

slightly more than 1.5 cups
This vegan custard may be eggless but it's thick, creamy and super flavorful and nobody will know it's vegan. With a paleo option.
Ingredients
4 1/2 teaspoons (15 grams) cornstarch (see below for how to use other starches)
3/4 cup (175 ml) cashew milk
3/4 cup (175 ml) canned full-fat coconut milk
3 tablespoons granulated sugar
3 tablespoons maple syrup (if you don't want a strong flavor, use Grade A) or 3 tablespoons more granulated sugar
pinch of salt
1 1/2 teaspoons vanilla extract
tiny bit of dried turmeric, optional - for a more golden color
Directions
In a medium saucepan, mix together the cornstarch and about half of the cashew milk until combined. Add the rest of the cashew milk, coconut milk, sugar, maple syrup and salt.
Bring to a simmer while stirring frequently to make sure that the cornstarch doesn't stick to the bottom.
Let it simmer for about 1 minute, stirring frequently, or until thickened and it coats the back of a spoon. Don't let it simmer too long or it'll separate (possibly later in the fridge).
Add the vanilla, stir and then add tiny, tiny amounts of turmeric until it's more golden (note that the custard appears overly yellow in some browsers). It'll thicken a little bit more as it sits. The flavor also improves if you let it sit about an hour. Serve warm or room temperature. Do not try the custard and put that spoon back in the custard or it'll separate in the fridge.
Store in an airtight container in the fridge for up to 5 days.
After it's refrigerated, gently warm before pouring over your desserts.
Notes
For a paleo version, read the post concerning the texture difference. If you still want to make it, use 2 tablespoons of tapioca starch OR 4 1/2 teaspoons of arrowroot powder. Use 3 tablespoons of maple syrup instead of granulated sugar (using a total of 6 tablespoons of maple syrup for the recipe). Stir it constantly. The tapioca version thickened very, very quickly and had to be removed before it even bubbled. The arrowroot version thickened more quickly than the cornstarch version. You might just need 30 seconds.