These honey sweetened lemon blueberry muffins are gluten-free, grain-free and dairy-free but still have a great texture and are deliciously summery!
If you're interested in almond flour but haven't baked with it, I'd recommend these lemon blueberry muffins. They don't exactly taste like normal muffins but they are delicious (as are these Almond Flour Blueberry Muffins!).
I gave one to Mr. Texanerin, the whole grain baked goods hater, and he said that these were way better than that "stuff you normally make." Hmm. I don't agree. I think I prefer a nice whole grain chocolate muffin, but these are nice too.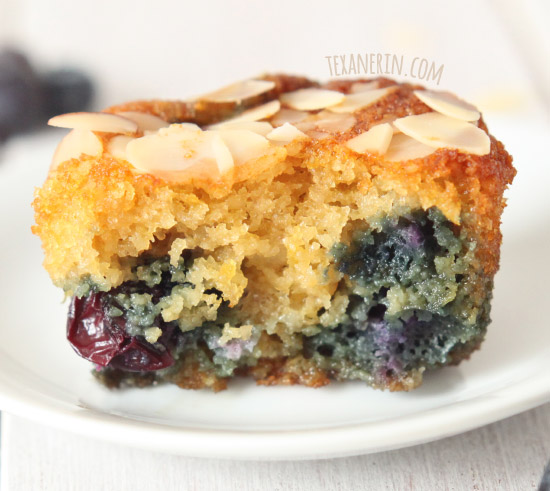 These are definitely my favorite grain-free muffin so far (May 2013 update: Now these grain-free lemons muffins are my favorite :)) and I think these are a pretty nice sub for traditional muffins.
They're not at all cardboardy, have a decent texture, and the lemon is really nice. If you've missed it, I really dislike almonds and I think that for me to like these, which are made out of ground up almonds, means something. They're not super sweet but they have some sweetness to them and is enough to hit the spot. At least for me.
The first time I made these lemon blueberry muffins, which is when I took the pictures, I forgot the blueberries until they were in the oven. Not only that, but it was the second time in a row that I had done that with my blueberry muffins. I guess I'm a little forgetful. So I took them out, shoved the blueberries to the bottom of each liner, and that is why the blueberries aren't well distributed. Don't forget the blueberries and yours won't turn out that way!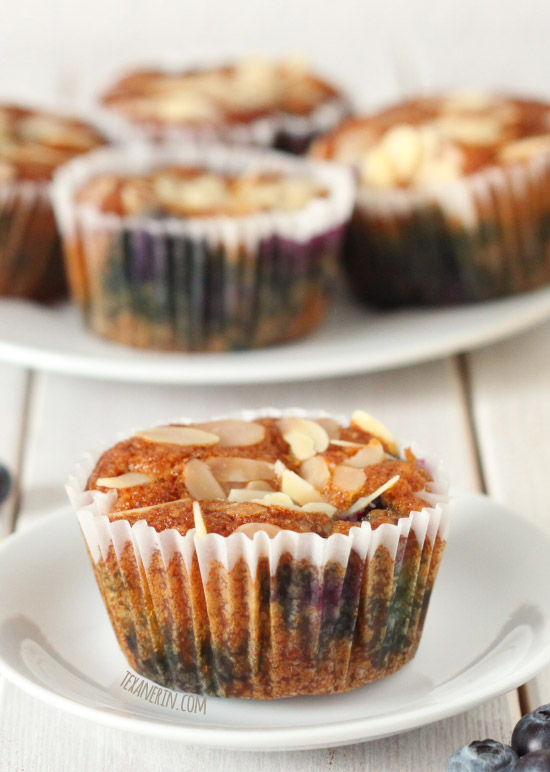 It's much easier to just weigh the ingredients for this recipe. And please please please weigh the almond flour! The 2 1/2 cups is just there to give you an idea. Each brand is different and the way people measure is different. Weigh it out and you can't go wrong. And if you're worried about using so much almond flour on something you're not sure you'll like, halve it! This recipe halves quite nicely.
❀
Lemon Blueberry Muffins (grain-free, gluten-free, dairy-free)
Prep Time:
Cook Time:
Ready in:
Yield:

12 muffins
Ingredients
225 grams (~2 1/4 cups) blanched almond flour
1 teaspoon baking soda
1/4 teaspoon salt
2 large eggs, room temperature
6 tablespoons (120 grams) honey
65 grams coconut oil, melted (~4 1/2 tbsp)
2 teaspoons lemon extract
zest of 3 lemons
170 grams (1 1/4 cup) fresh blueberries1
sliced almonds, optional
Directions
Preheat your oven to 350°F / 175°C. Line a 12 cup muffin tin with muffin liners.
Combine the almond flour, baking soda and salt in a medium bowl.
In another medium bowl, combine the eggs, honey, melted coconut oil, lemon extract and zest.
Stir the almond flour mixture into the wet mixture and stir until well combined. Fold in the blueberries.
Fill each of the 12 liners about halfway. If you like, sprinkle some sliced almonds over the top.
Bake for 20 minutes. A toothpick inserted in the middle should come out clean and they should be golden brown. Immediately turn out onto a wire rack to cool. They tend to get greasy if you let them sit in the pan.
Notes
I've tried these with frozen blueberries, which is what I normally use in my muffins, but they came out soggy. So use fresh!