Making these healthy cinnamon apple chips costs a fraction of the store bought kind! You can use no sweetener at all but for a real treat, a little maple syrup adds an amazing touch.
For these homemade apple chips, you just need some apples, maple syrup and cinnamon. Slice and apples and lay them out on a baking sheet and bake for a few hours. That's all you do! You can make them super crispy but what I like to do is slightly underbake them. That results in a slightly chewy and candy-like chip. Really, like candy! At least to me. The really crisp ones weren't nearly as exciting, but I'm not a fan of crispy things.
I made some apple chips without anything at all on them and they were okay, but once you try one with the maple cinnamon mixture, I don't think you can go back to eating the plain version. But for a healthy sugar-free snack, they're great.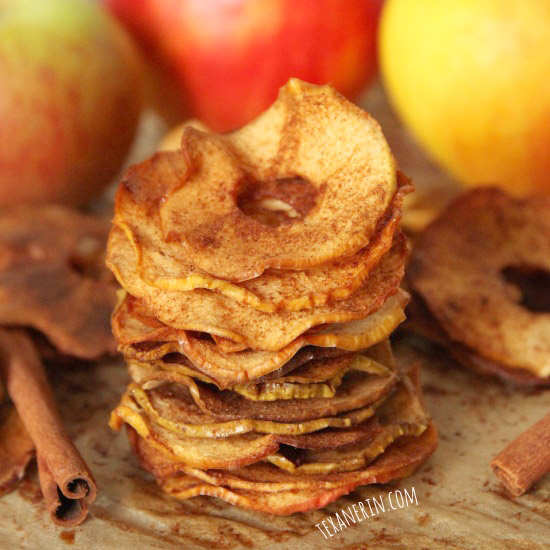 These healthy apple chips pretty easy to make if you have a mandoline and doable with just a knife, but I'm not very talented in the cutting department, so I went with the madoline. My only issue with these is that you can't make loads at a time. The apples can't overlap and even with three trays in the oven at once, I wanted more. The two of us went through them so quickly that I really don't recommend making these for a party (that'd be a healthy party, wouldn't it? ;)) or for any crowds. You won't want to share!
Despite that, these cinnamon apple chips are absolutely worth making!
Apples vary in size and moisture content, so it might take you more or less time. Find something to do in the kitchen and keep an eye on them after the first 30 minutes! And if you have leftover maple cinnamon mix, just keep it for pancakes.
❀
Maple Cinnamon Apple Chips
Prep Time:
Cook Time:
Ready in:
Yield:

3 trays
Ingredients
3 - 5 medium apples
3 tablespoons maple syrup
2 teaspoons cinnamon
Directions
Preheat your oven to 250°F (121°C) and prepare three jellyroll pans or cookie sheets with Silpats or parchment paper.
Mix together the maple syrup and cinnamon in a large bowl big enough to hold all the apple slices and set aside.
If you have an apple corer, core the apples. Start with three apples and if you still have room after those are on the trays, core the last two. If you don't have an apple corer, it's not a problem. Use a knife to cut them as evenly as possible. Using a mandoline, slice the apples to about 1/8". Mine were a little thinner. If you didn't core the apples, discard the seeds.
Place the apples in the maple cinnamon mixture and coat the apples very, very carefully so that they don't break. Alternatively, you can just place the uncoated apples on the Silpat and use a pastry brush to coat each one, but I found that this takes too long.
Place the apple rings on a Silpat or piece of parchment paper, making sure that the apples aren't overlapping.
Bake for 1 1/2 - 2 hours, but check at 30 minutes and every 20 minutes following that. I was in the kitchen and was able to open the oven door every 10 minutes for the first 40 minutes to let out the moisture. This will make your baking time be closer to 1 1/2 hours instead of 2. Turn the chips every 30 minutes.
When you take the apple chips out of the oven, they'll still be quite soft, but what you can do it let them sit at room temperature for 5 or 10 minutes and if they don't crisp up, put them back in the oven.
Store in an airtight container at room temperature for up to 5 days.
Notes
If you don't have a Silpat, you can use parchment paper but some of the apples will stick. Just make sure to loosen them when you take them out of the oven.
If you leave these uncovered for too long, they'll get soft again. I put them back in the oven for 10 minutes or so and they crisped right up. Make sure you store them in something airtight to prevent them from getting soft.