Wondering how to make apple chips? It's super easy and no dehydrator is needed. While they can be made without sweetener, a little bit of maple syrup turns these baked apple chips into a real treat! Naturally paleo and vegan.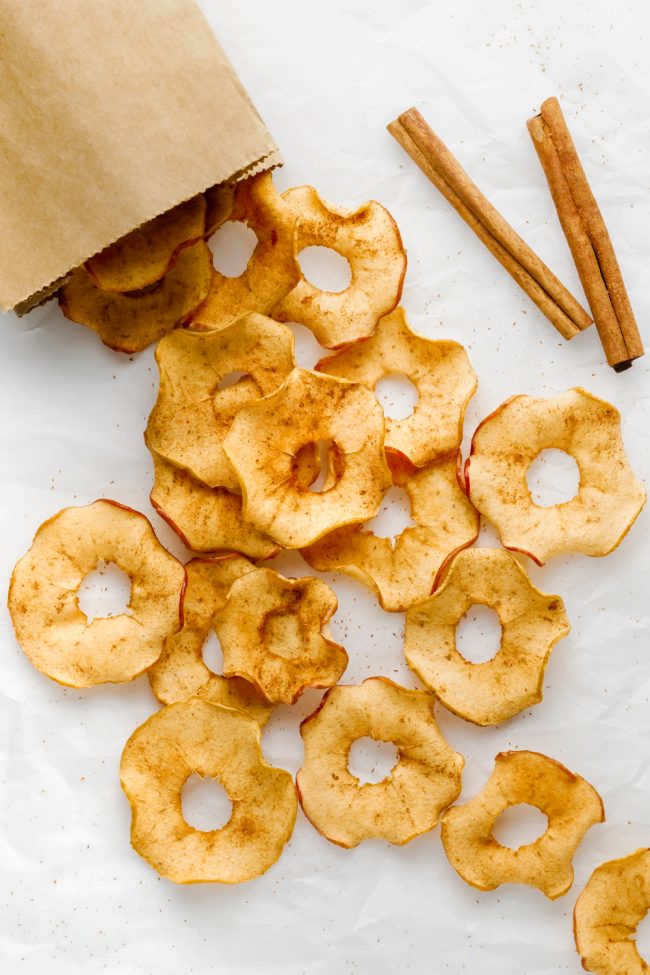 A really nice thing about where we live is all the apple trees. We're in an apartment but looking out of our living room windows, I can see 3 apple trees (that we can pick from!). And you see them alongside the road here and there.
Björn is loving it. He seems almost obsessed with apple trees. He harvests the apples that fall onto the ground and then he gets to eat them (or really, the apples that we pick from the tree) while we read him his book about apples.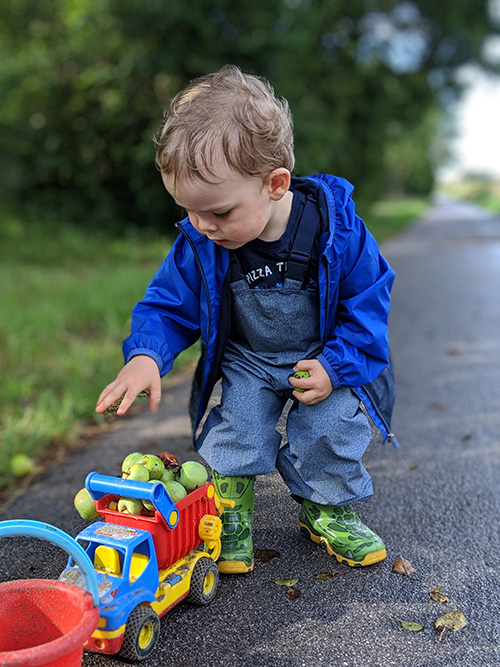 So now – how to make apple chips! You might be asking why you'd even want to do that.
You can buy apple chips pretty much in any and every grocery store but I've always found them to be kind of bland. At least that's true of the apple chips we have here in Germany, which contain 100% apples.
I'm sure there are all kinds of delicious, sweetened and flavored apple chips in the US. And I'm betting they're pretty expensive. So make these instead!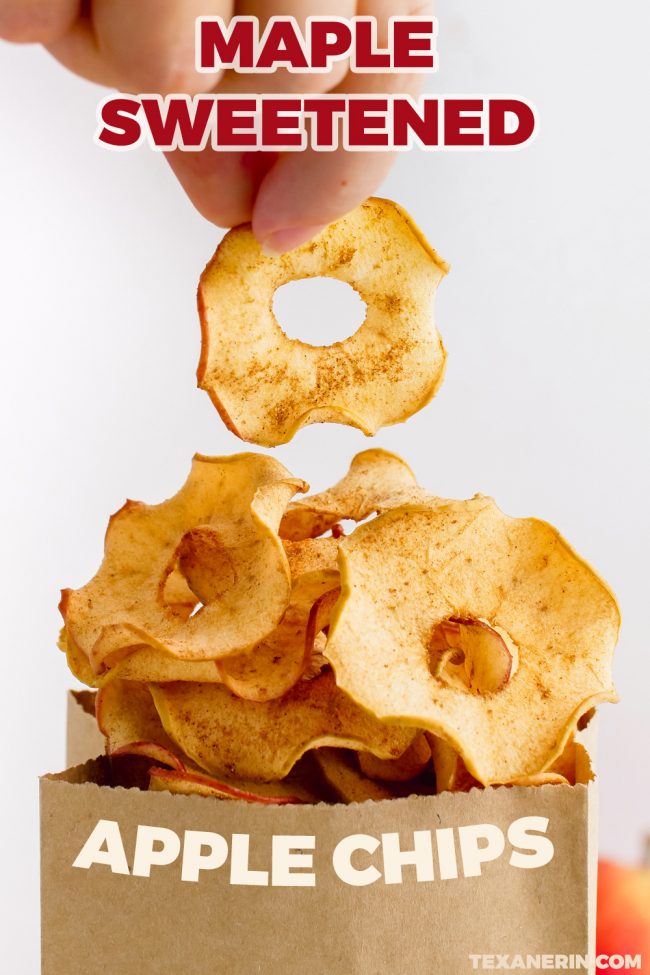 For this apple chips recipe, you just need apples, maple syrup and cinnamon. Slice the apples, lay them out on a baking sheet and bake for a few hours. That's all you do!
If you love cinnamon + apple like I do, try these paleo apple muffins or these whole wheat cinnamon apple muffins!
I'm sure that some of you are thinking that apples are already naturally so sweet and you're right. But I think that just a bit of maple syrup (and cinnamon!) adds so much flavor.
You can make them super crispy if you'd like but what I like to do is slightly underbake them. That results in a slightly chewy and candy-like chip. Really, like candy! At least to me.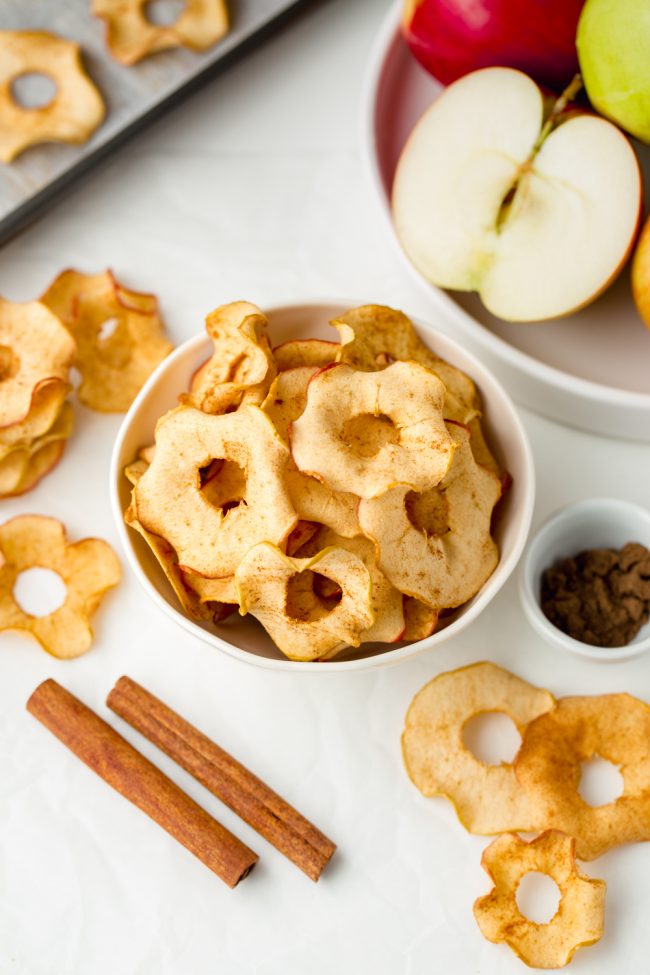 I made some apple chips without anything at all on them and they were okay, but once you try one with the maple cinnamon mixture, I don't think you can go back to eating the plain version.
These healthy apple chips pretty easy to make if you have a mandoline and doable with just a knife, but I'm not very talented in the cutting department, so I went with the mandoline.
My only issue with homemade apple chips is that you can't make loads at a time. They take 1 1/2 – 2 hours in the oven. Apples vary in size and moisture content, so it might take you more or less time for them to bake.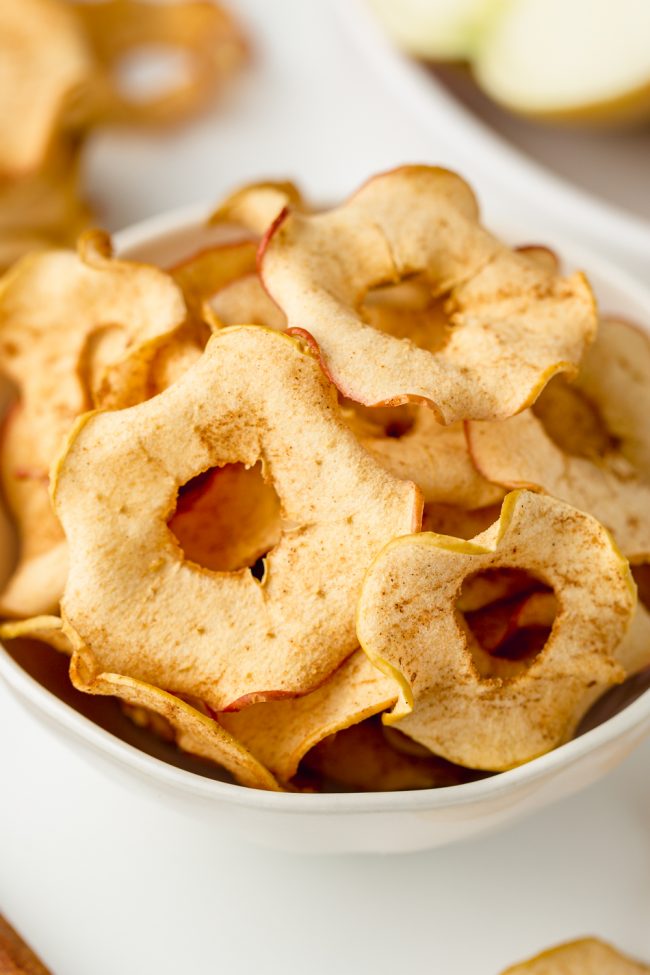 Definitely don't stray too far! Find something to do in the kitchen and keep an eye on them after the first 30 minutes.
The apples can't overlap and even with three trays in the oven at once, I wanted more. Mr T and I went through them so quickly that I really don't recommend making these for a party (that'd be a healthy party, wouldn't it? ;)) or for any crowds. You won't want to share!
I've only tried this recipe with maple syrup and have absolutely no idea if any other liquid sweetener would work. I think honey might brown too quickly and am not hopeful about the taste of others (like date syrup). I'd suggest sticking to maple syrup!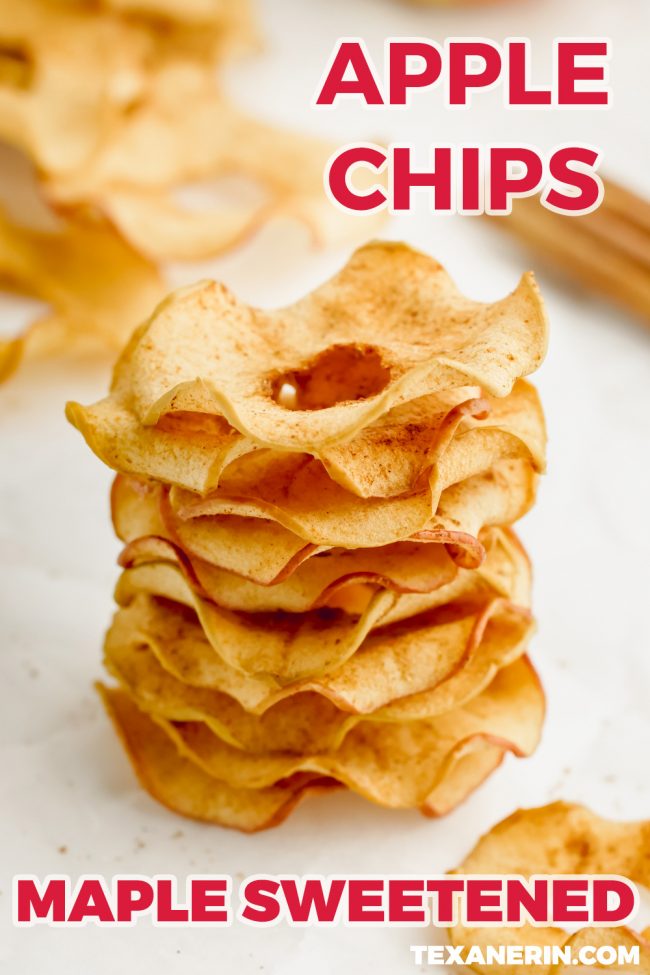 I used a light Grade A (instead of something darker and more mapley) and they still tasted great.
For the apples, Golden Delicious, Fuji, Pink Lady, and Gala are great. Here's an article on what apples to use for apple chips if you want even more tips!
If you try these baked apple chips out, I'd love to hear what you think. :)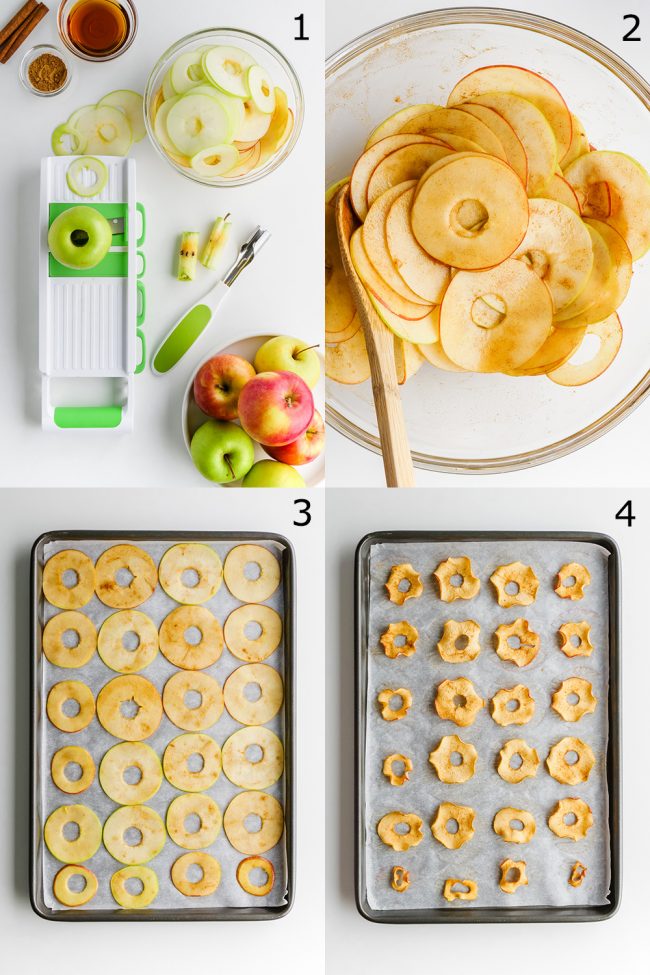 ❀
How to Make Apple Chips (paleo, vegan, gluten-free)
Prep Time:
Cook Time:
Ready in:
Yield:

3 trays
Ingredients
3 - 5 medium apples
3 tablespoons maple syrup
2 teaspoons cinnamon
Directions
Preheat your oven to 250°F (120°C) and prepare three jellyroll pans or cookie sheets with Silpats or parchment paper.
Mix together the maple syrup and cinnamon in a large bowl big enough to hold all the apple slices and set aside.
If you have an apple corer, core the apples. Start with three apples and if you still have room after those are on the trays, core the last two. If you don't have an apple corer, it's not a problem. Use a knife to cut them as evenly as possible. Using a mandoline, slice the apples to about 1/8". Mine were a little thinner. If you didn't core the apples, discard the seeds.
Place the apples in the maple cinnamon mixture and coat the apples very, very carefully so that they don't break. Alternatively, you can just place the uncoated apples on the Silpat and use a pastry brush to coat each one, but I found that this takes too long.
Place the apple rings on a Silpat or piece of parchment paper, making sure that the apples aren't overlapping.
Bake for 1 1/2 - 2 hours, but check at 30 minutes and every 20 minutes following that. I was in the kitchen and was able to open the oven door every 10 minutes for the first 40 minutes to let out the moisture. This will make your baking time be closer to 1 1/2 hours instead of 2. Turn the chips every 30 minutes.
When you take the apple chips out of the oven, they'll still be quite soft, but what you can do it let them sit at room temperature for 5 or 10 minutes and if they don't crisp up, put them back in the oven.
Store in an airtight container at room temperature for up to 5 days.
Notes
If you don't have a Silpat, you can use parchment paper but some of the apples will stick. Just make sure to loosen them when you take them out of the oven.
If you leave these uncovered for too long, they'll get soft again. I put them back in the oven for 10 minutes or so and they crisped right up. Make sure you store them in something airtight to prevent them from getting soft.
As an Amazon Associate, I earn from qualifying purchases. For more info, see my disclosure.