This rich and creamy maple ice cream is entirely maple sweetened and perfect alongside apple pie, crumbles and other desserts!
Healthy ice cream isn't really my favorite. I like the blended frozen banana thing, but that's not ice cream. I've tried dairy-free ice cream with coconut milk, but that's too icy for me (update! My paleo and vegan chocolate ice cream is some of the richest ice cream I've ever had!). If I'm going to eat ice cream, it needs to be rich and creamy, hence all the heavy cream and egg yolks in this maple ice cream recipe.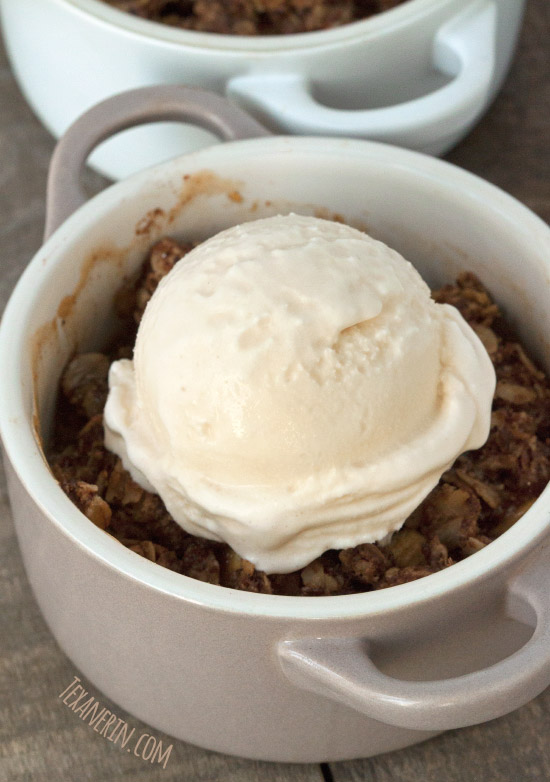 Before I moved to Germany, I made a ton of ice cream in my ice cream maker and everything came out super creamy and not at all icy. I've made those same recipes over here with my current ice cream maker and every single one comes out icy. This maple ice cream was no exception but I don't know if it's because of my ice cream maker (which I think it is) or if it's because of the recipe. So there – you've been warned. :)
If you're worried about it, I recommend trying this recipe in which you boil down the maple syrup first. Or you could just boil the maple syrup in this recipe for 5-10 minutes or until it's reduced to 1/2 cup + 1 tablespoon.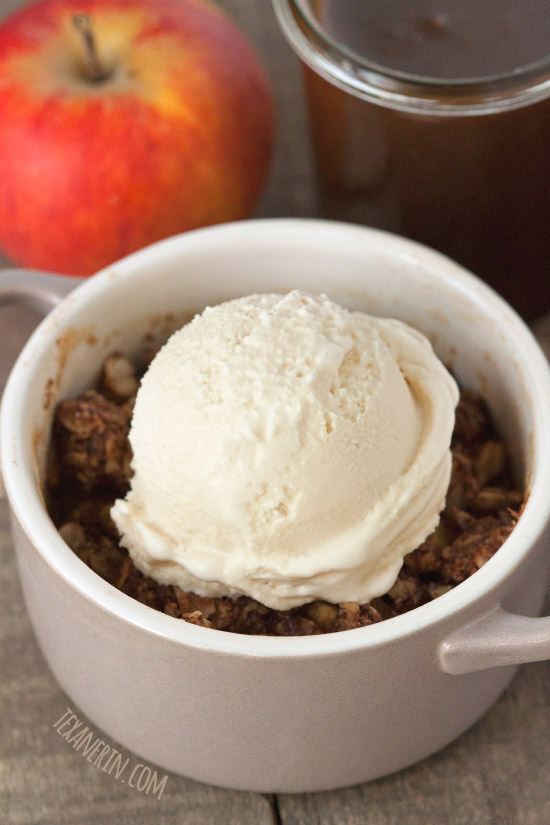 Make sure to use Grade B maple syrup, which has a more pronounced maple taste, if you want some maple flavor. Otherwise, this is just maple sweetened ice cream. Or you could add some maple extract. It may be artificial but it's so good I don't really care.
I thought that I'd make a cinnamon maple variation of this but just a tiny bit of cinnamon overpowered the maple flavor so I don't recommend that. But if you're making it with Grade A maple syrup, just to make naturally sweetened ice cream, go for it! Cinnamon ice cream is good stuff.
I plopped my maple ice cream on top of this gluten-free apple crumble. They're amazing together. :) This gluten-free apple crisp is also a great option!
For a jazzed up version of maple ice cream, try this maple bacon crunch ice cream from Crazy for Crust!
❀
Maple Ice Cream
Prep Time:
Cook Time:
Ready in:
Ingredients
2 cups (473 milliliters) heavy cream (or whipping cream for a lighter version)
1 1/4 cups (296 milliliters) half-and-half (or whole milk for a lighter version, which is what's picture)
1/8 teaspoon salt
4 large egg yolks
1 teaspoon vanilla extract
3/4 cup (180 milliliters) Grade B maple syrup
Directions
Over medium heat, mix together the cream, half-and-half and salt in a medium saucepan until hot and steamy, but not simmering (about 5 minutes).
Place the egg yolks in a medium mixing bowl and whisk until combined.
Pour half of the warm milk mixture into the yolks in a slow and steady stream, whisking constantly.
Pour the mixture back into the saucepan and heat over medium heat, stirring constantly, until the mixture is thick enough to coat the back of a spoon. If using a candy thermometer, the mixture should reach 170°F (77°C).
Remove from the heat and stir in the vanilla and maple syrup.
If the mixture has any bits of egg yolk clumps (which mine didn't), strain the mixture through a fine-mesh sieve or a food mill set over a storage container. Let the ice cream cool completely, about 1 hour, and then refrigerate for at least 2 hours (preferably overnight) before churning according to your ice cream maker's instructions.
Serve immediately for soft serve ice cream. For firmer ice cream, place the ice cream in a freezer-safe airtight container. Press a piece of plastic wrap against the ice cream (to prevent ice crystals from forming). Freeze for 2 to 3 hours or until firm. After 4 to 5 hours, it will become quite hard and not very easy to scoop. Let sit at room temperature for 10 to 15 minutes or until easier to scoop. Freeze for up to 2 weeks.
As an Amazon Associate, I earn from qualifying purchases. For more info, see my disclosure.