This pineapple daiquiri is the perfect frozen summer drink! It's cool and refreshing, with a hint of sweetness, a bit of tart lime juice, and lots of tropical pineapples. This recipe can be easily scaled up or down, so you can make one daiquiri for yourself or enough for a whole party!
This pineapple daiquiri is so easy to make. Toss everything in a high-speed blender and blend until smooth. Divide it into two glasses and garnish.
There's no need to buy a mix when you can make this drink with fresh ingredients to get a tropical daiquiri. It's smooth, sweet, and wonderfully refreshing.
I only have one other drink, the Georgia Peach Cocktail, which is made with rum, but I do have the best ever Rum Cake from Scratch if you need help finishing off the rum.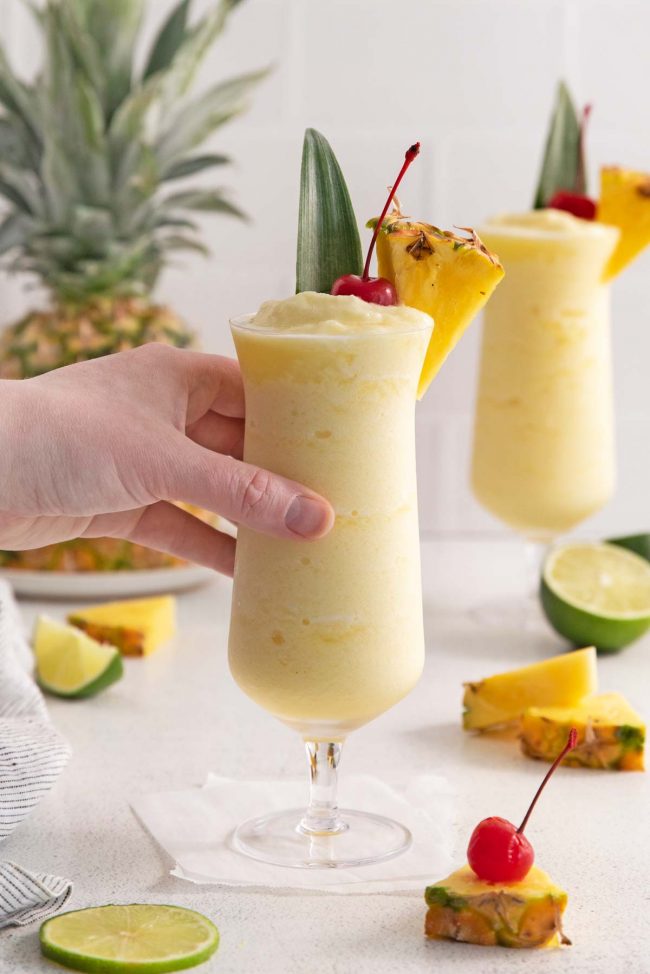 Here's what you need to make this pineapple daiquiri
Frozen pineapple chunks — help thicken the daiquiri and add even more pineapple flavor.


Ice — thickens and chills the daiquiri.


White rum — is most commonly used in daiquiris, but spiced rum and coconut rum are also delicious with pineapple.


100% pineapple juice — adds sweetness and pineapple flavor to the daiquiri.


Freshly squeezed lime juice — adds a hint of acidity to brighten up the pineapple flavor.


Simple syrup, maple syrup or agave — (optional and to taste) adds a little extra sweetness to the drink. Feel free to add as much or as little as you like.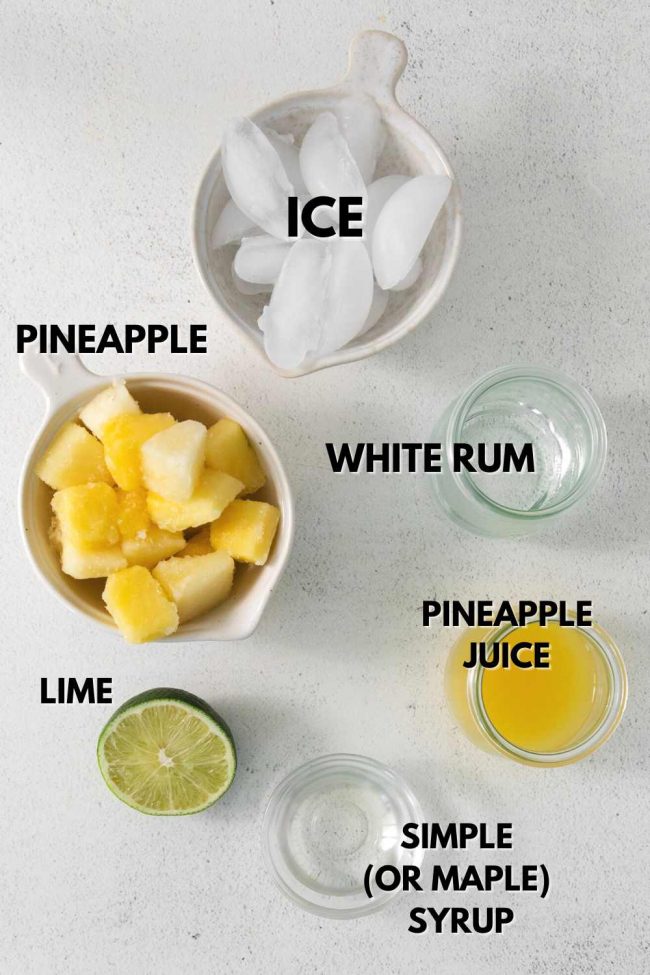 What kind of rum?
A classic daiquiri is made with white rum, but you can mix it up to create a signature daiquiri.
You get a fruity finish with white rum, but with aged rum, you're adding notes of vanilla, coconut and a hint of citrus.
Dark rum has a more caramel-forward flavor with additional spices like cinnamon.
Coconut rum is more like a liqueur with a strong coconut flavor, and it would be an excellent alternative if you like coconut. It will make a sweeter drink, so you might wait to add the simple syrup to taste if you make this daiquiri with coconut rum.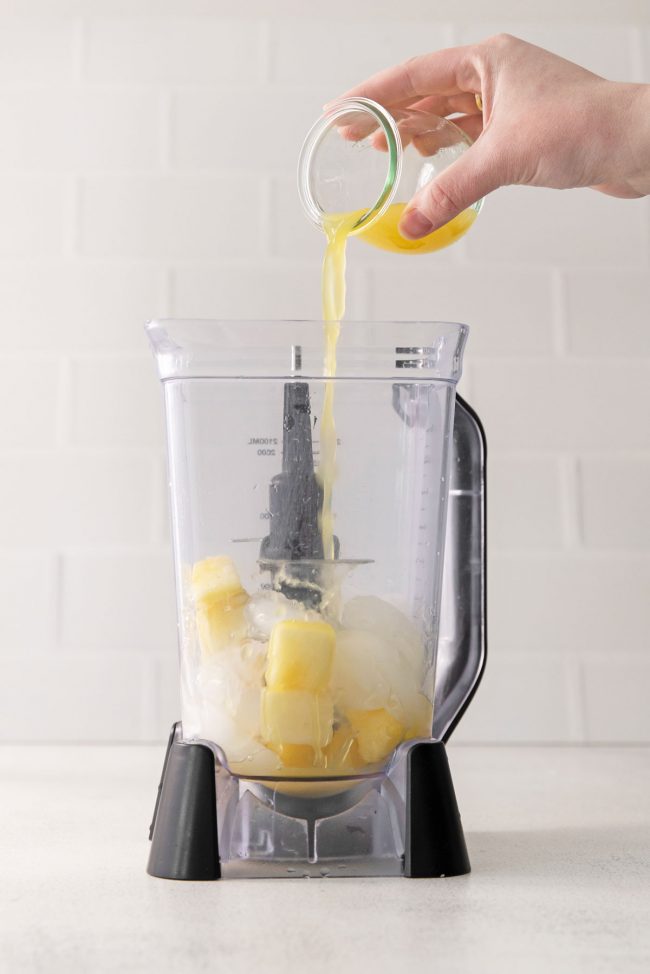 Simple syrup
To add more sweetness to this drink, I used a simple syrup, which is optional and should be added to taste. It's easy to make, and you can sweeten other drinks like this Chocolate Cream Cold Brew.
Use equal parts granulated sugar and water. I typically use 1/2 cup water and 1/2 sugar.
Add the sugar and water to a small saucepan over medium heat and stir until it becomes clear.
Allow the syrup to cool to room temperature. You can store it in a mason jar with a lid or any other bottle you may have on hand. Refrigerate until ready to use. It lasts for about 1 week.
Maple syrup and agave also work great! Maple syrup is what I usually use, and you can't taste any maple through all the pineapple flavor. Just make sure to use a light maple syrup and not a dark, robust one.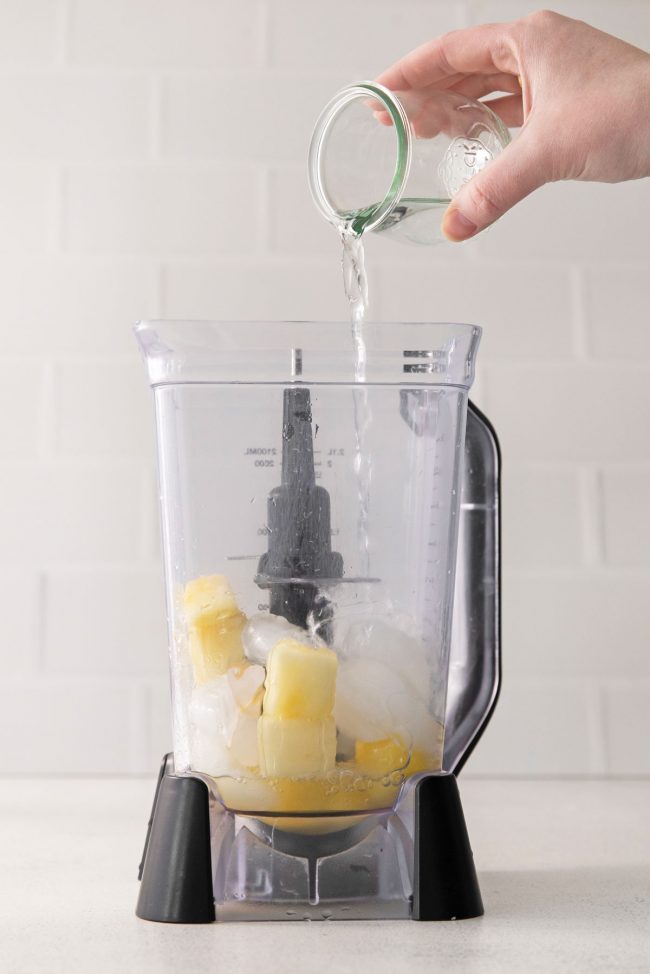 Variations
I like to use frozen pineapple because it cuts down on the ice, and anyone living in Europe knows ice is hard to come by. In fact, ice trays are a seasonal item that I find only during the hot months.
Frozen pineapple also means I can make this daiquiri or this Healthy Pina Colada Smoothie any time of year. The same is true of this delicious Pineaple Smoothie!
Classic daiquiris are not frozen, so if you'd rather serve this drink over ice with chilled ingredients, that is an option. Add the chilled ingredients to a cocktail shaker with a little ice and shake until it's frosty and cool; pour over ice and enjoy.
You can also use fresh pineapple. I like to buy it on sale, then chop it into chunks (here's how to cut a pineapple), lay them on a baking sheet with a little space in between, and freeze them. Once frozen, you can transfer them to a freezer bag, and when the cravings strike, you're ready to blend.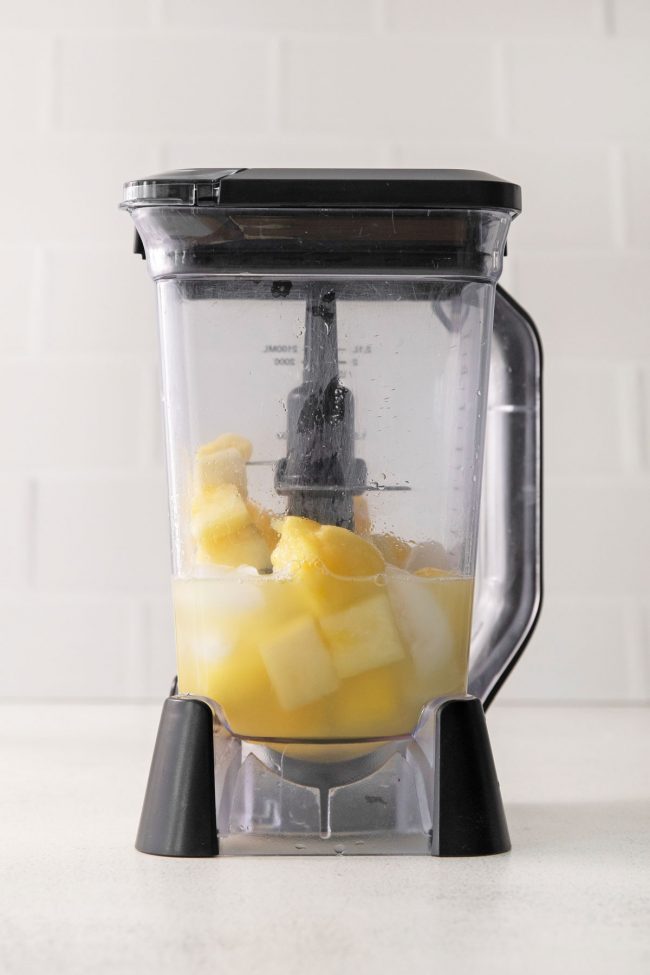 Garnishes
I use what I have for garnishes, so in this case, I added a wedge of pineapple. If you buy a fresh pineapple, you can also grill it. Or use it as garnish for this Pineapple Vodka Martini.
Fresh strawberries or any fresh berries would be nice.
As for herbs: basil, cilantro, mint and rosemary all go nicely with pineapple, so a sprig of mint would also be nice here.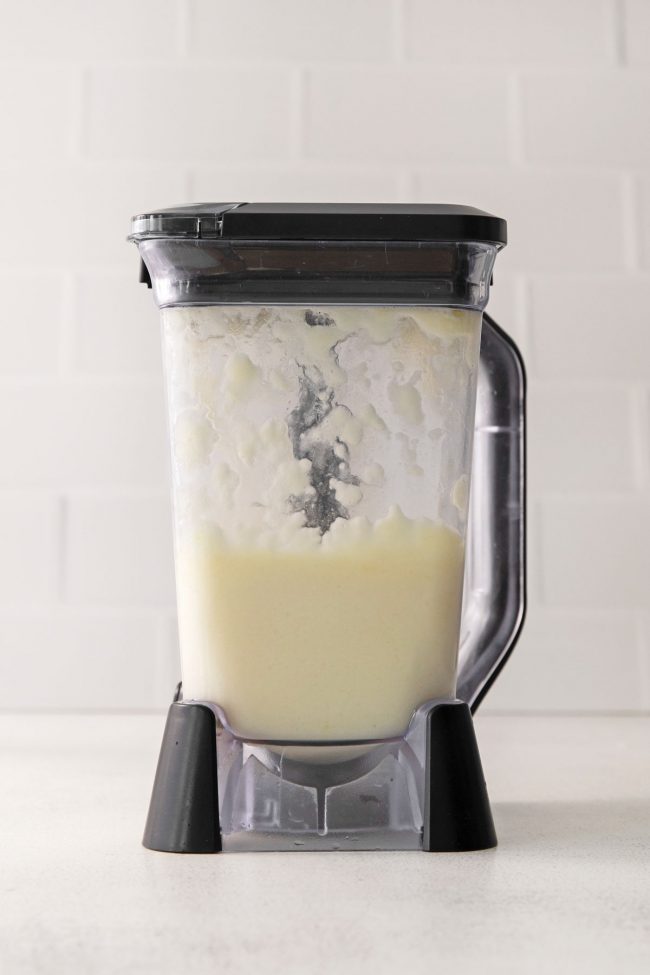 Vegan and gluten-free?
Yup! This daiquiri is naturally gluten-free and vegan (like this delicious Pineapple Coconut Ice Cream), as long as you're not using some kind of unusual simple syrup that has animal products or gluten in it.
I would say that such a product doesn't exist, but who knows these days?
Also make sure that you're buying pure, distilled rum. That's also gluten-free and vegan.
But if you use a flavored rum, you need to check the ingredients. It might have honey, for example.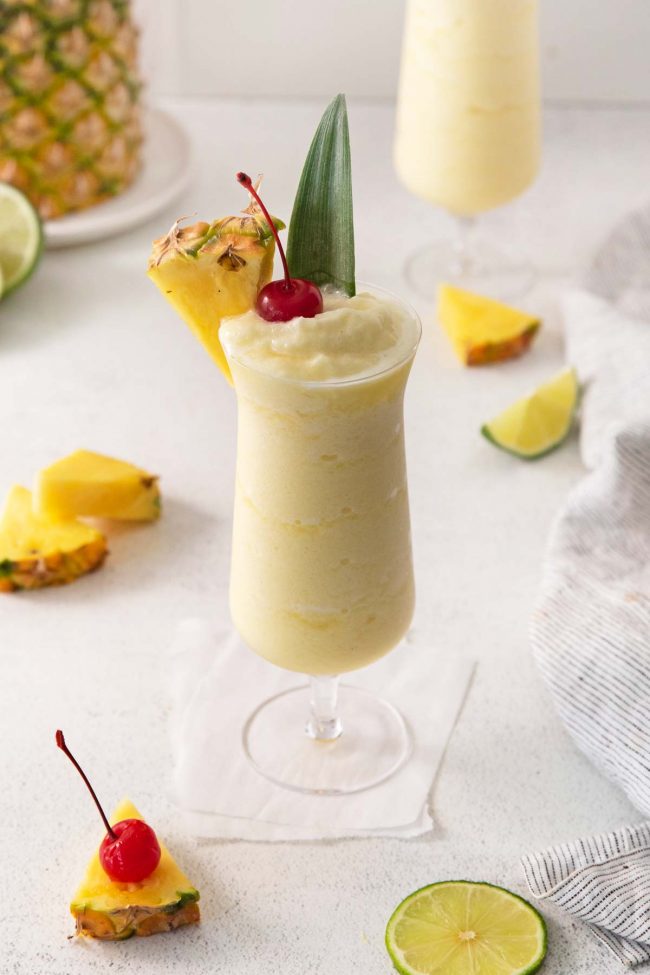 More summery cocktails
This fun Blue Lagoon Mocktail recipe is a great place to start! Some of my other favorites are below.
Please let us know if you make this pineapple daiquiri! We're always eager to hear feedback. :) You can comment below or tag #texanerin on social media posts so I can be sure to see your creations. Thanks!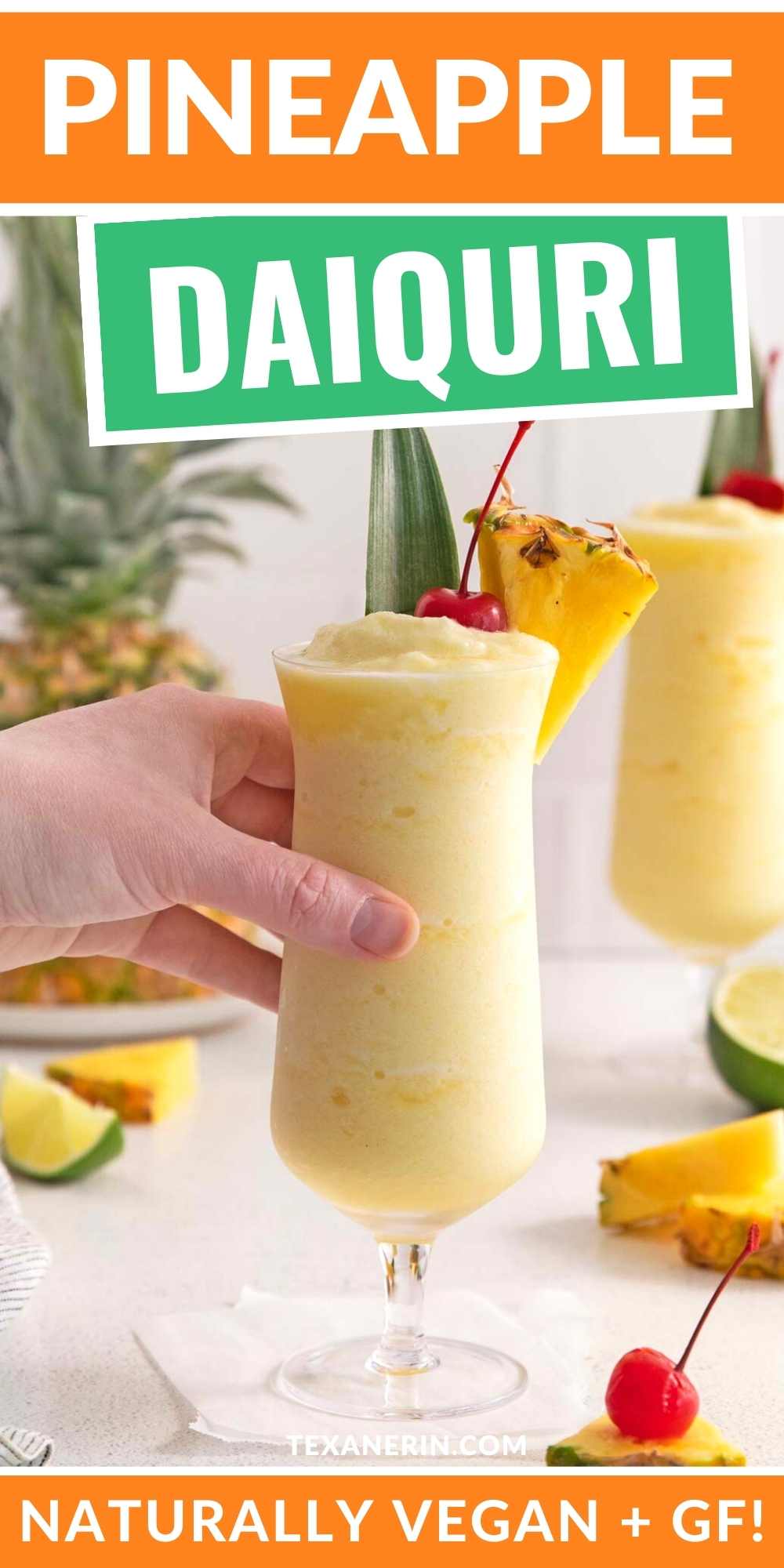 ❀
Pineapple Daiquri (naturally vegan, gluten-free)
Prep Time:
Cook Time:
Ready in:
Yield:

2
Ingredients
2 cups (420 grams) frozen pineapple chunks
1 cup (220 grams) ice
1/4 cup (60 ml) white rum
1/4 cup (60 ml) pineapple juice
2 tablespoons (1 ounce) freshly squeezed lime juice
2 tablespoons simple syrup, maple syrup, or agave - optional and to taste
Directions
Add the frozen pineapple, ice, rum, pineapple juice, lime juice, and simple syrup to a high-speed blender and blend until smooth – about 1 minute.
Divide between two glasses and enjoy immediately.