This Mojito Espresso is a perfectly balanced, mildly sweet and creamy cocktail that is super refreshing with a smooth mint finish. It's made with rich espresso, fresh mint, white rum and half-and-half. With a vegan option.
This mojito is a classic summer cocktail with an interesting twist. I will say that it's a slightly odd and unusual pair – coffee and mint.
If you don't think you'd like the combination, then I won't try to convince you to try it. Because I think it's a bit of an acquired taste.
The mint cuts through the bitterness of the espresso and adds a light aroma and fresh taste which makes it smooth and invigorating. But, still – it's different.
So this recipe is really for the people who already know that they like espresso mojitos. ;)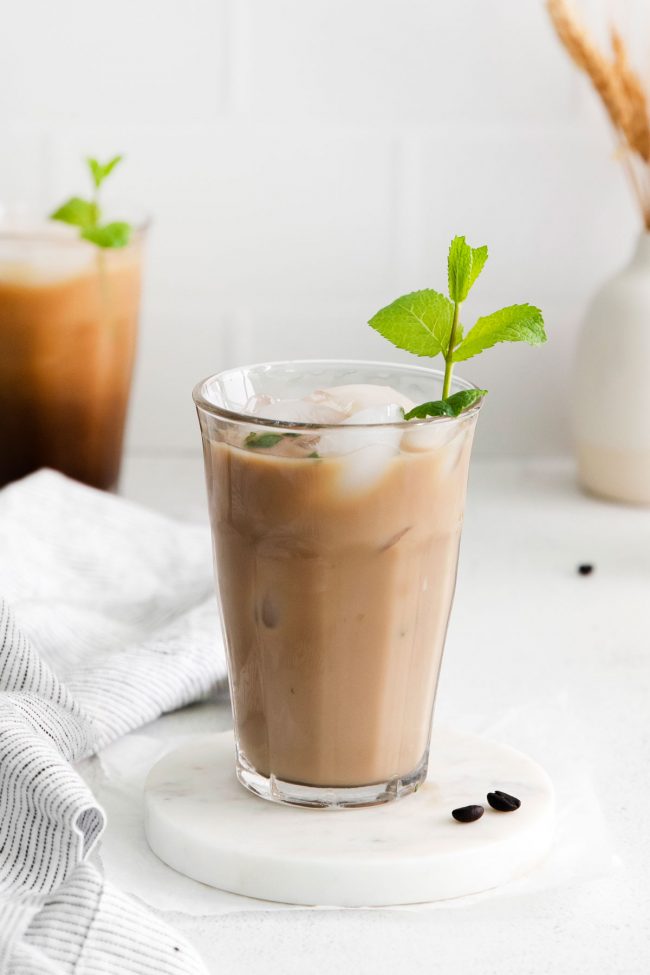 Ingredients
Mint leaves – are the star of a classic mojito so we're starting this cocktail the same way. Make sure to use the freshest mint you can find as it will have the most flavor.


Quick dissolve sugar or agave – this is used to sweeten the drink, but it also helps muddle the mint. You can use quick dissolve sugar (also known as cocktail sugar), a sugar cube, or agave.

I did try it with maple syrup as I don't like to use agave and wanted to offer another white sugar alternative, but man – that was a terrible combination. Maple + coffee + mint = no.


Espresso – I recommend espresso that has a robust flavor (medium to dark roast) that isn't too nutty. Lighter floral notes would work well in this cocktail.

Look for coffee that is from Ethiopia, Rwanda or Guatemala as they tend to be more floral.


Half-and-half – this adds a bit of creaminess to cut through the coffee. Feel free to leave it out or swap it with canned coconut milk or cream for a dairy-free and vegan drink.

If using that, then you should warm the coconut milk/cream first so that it's totally smooth and not lumpy.

If you just stir the coconut milk/cream in the can and then add it to the cocktail shaker, you might end up with little coconut cream bits in your mojito. It's not very appetizing! And you can't get the lumps out by shaking it in the cocktail shaker.


White rum – you can omit it if you must, but I think it's a good addition.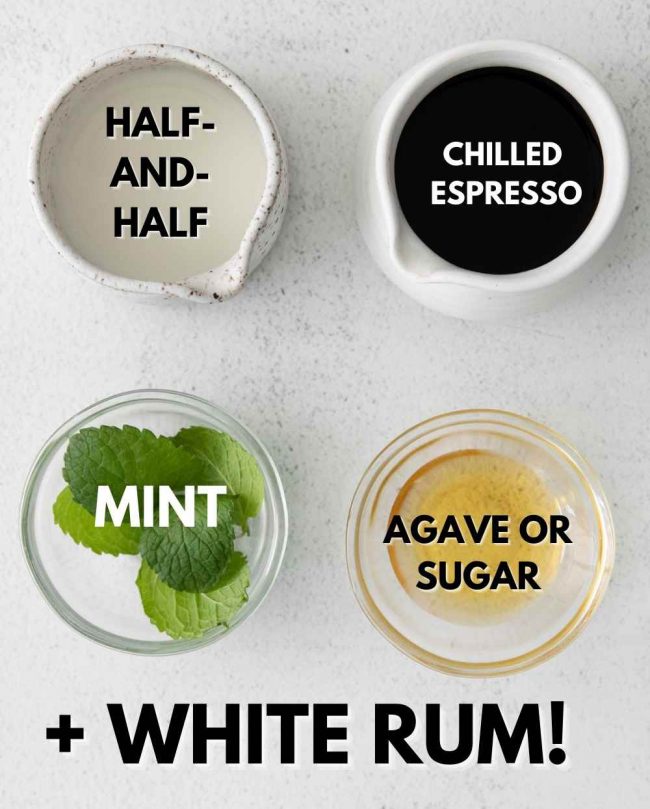 Tips
Note: If you're making this as a cocktail and including the white rum, the CDC would recommend that you use decaffeinated espresso because, "When alcohol is mixed with caffeine, the caffeine can mask the depressant effects of alcohol, making drinkers feel more alert than they would otherwise. As a result, they may drink more alcohol and become more impaired than they realize, increasing the risk of alcohol-attributable harms" (source).

If you're making it without the rum, caffeinated is fine. I personally use caffeinated when using rum and don't have issues, but thought the safe thing to do was to include the CDC recommendation.


Quick dissolve sugar is made with finer sugar crystals than granulated sugar. It allows the sugar to dissolve rapidly and is perfect for sweetening hot or cold beverages.


If you want to go the extra mile for a super chilled glass, wet the glass with water and pop it in the freezer, so it gets nice and frosty.


Serving guests? Just double or triple the recipe and add it to a pitcher. The more ice you add, the weaker the drink, so I wouldn't add any. I would rather chill the filled pitcher and fill the glasses with ice instead, right before pouring.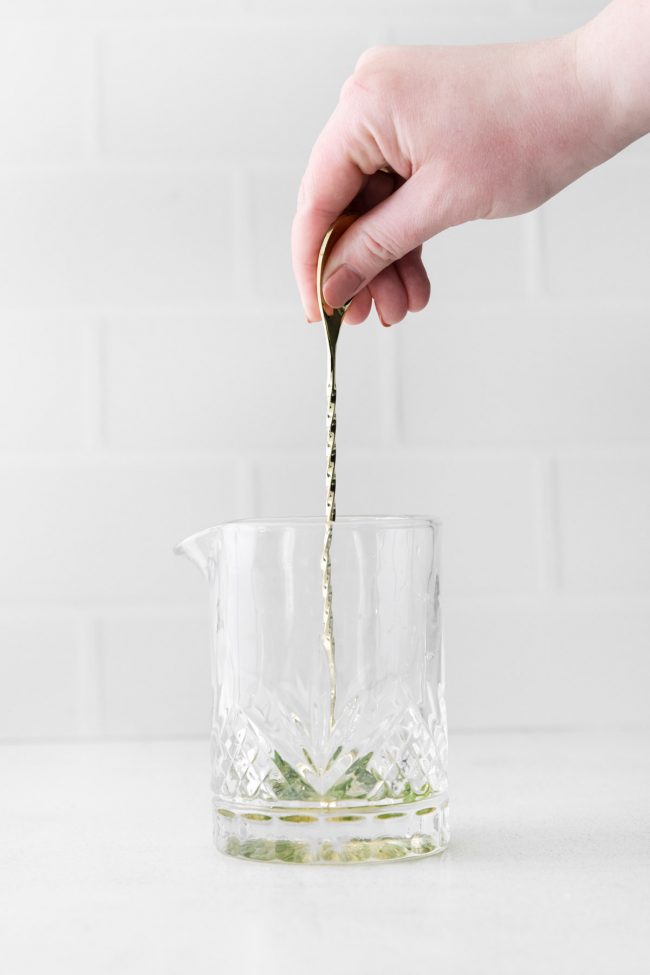 How to muddle mint
Muddling mint is important to making any mojito. Excessive muddling can make cocktails taste more like toothpaste than a nice smooth refreshing drink.
In a cocktail shaker, add the leaves and sweetener (maybe this Mint Simple Syrup would work?). Gently crease the leaves to release the essential oils. You only need to crease the mint 3 or 4 times to get the juices flowing.
The mint should be delicately muddled. You want to release the oils without the mint breaking into tiny pieces.
If you shred or crush the mint, then you'll release chlorophyll, which is bitter and will turn this into a grass-flavored mojito. Yuck!
You'll want to strain it when you pour. If you want a stronger mint flavor, then you can use some of the muddled mint in the drink to get that extra lift.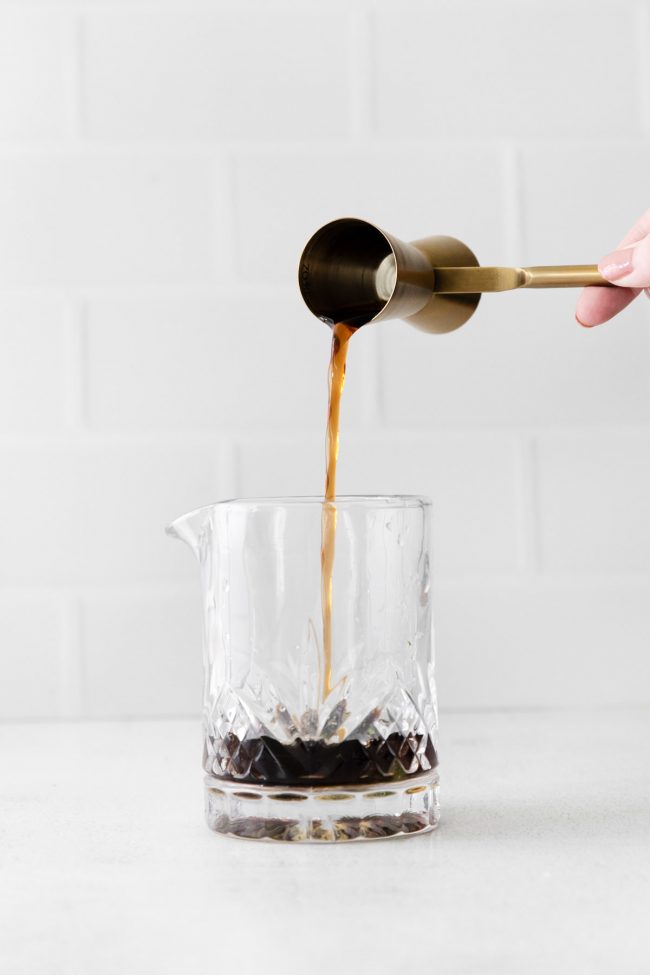 Don't have a drink muddler?
No worries! A muddler is a bartending tool much like a pestle.
It's used to extract oils from herbs or smash fruits for cocktails. If you don't have one, there are plenty of common kitchen tools you can use.
You can use an unfinished wooden spoon, a long teaspoon, or a French rolling pin to muddle mint. Make sure the muddler, whatever type you use, is clean of any trace of flours, oils or spices.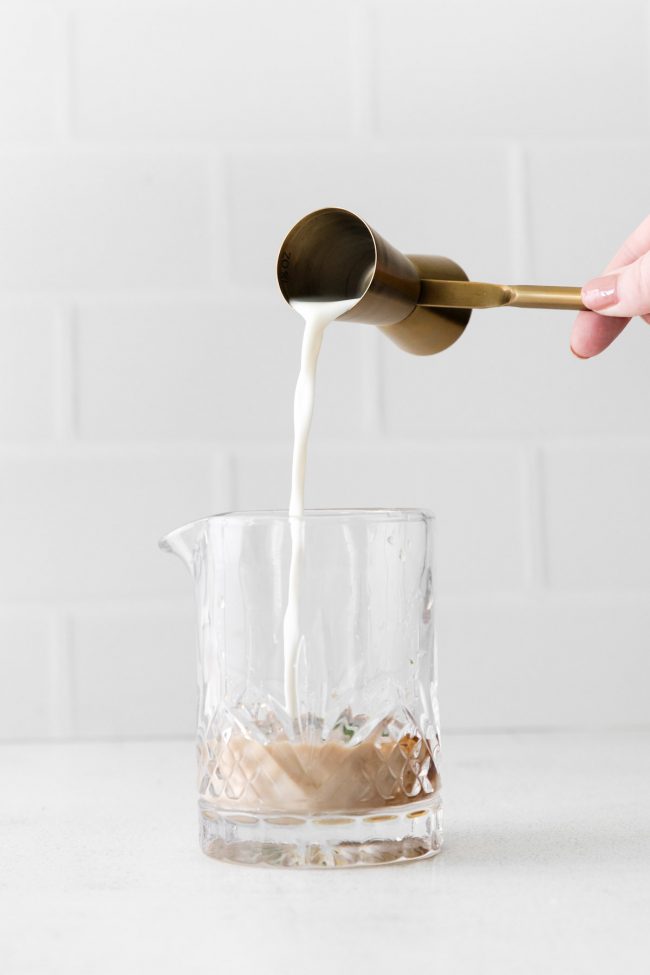 Don't have a cocktail shaker?
Cocktail shakers are great because they quickly chill cocktails and have a strainer built in. It's an all-in-one tool. You can muddle, chill, shake, strain and pour.
If you've ever had a cocktail where all you taste is alcohol, then you might understand the benefit of having a cocktail shaker. It turns an average drink into a well-blended exceptional one.
Stainless steel shakers are ideal because they help chill the drink, but you can, of course, use whatever you have.
What can I use instead of a cocktail shaker?
You can use a travel coffee cup! Usually, travel cups have are double-walled designed to contain heat and cold and will do very well at keeping the chill in this cocktail.
They also won't leak because they're designed that way. It's best if you have a larger coffee cup rather than one made for espresso shots.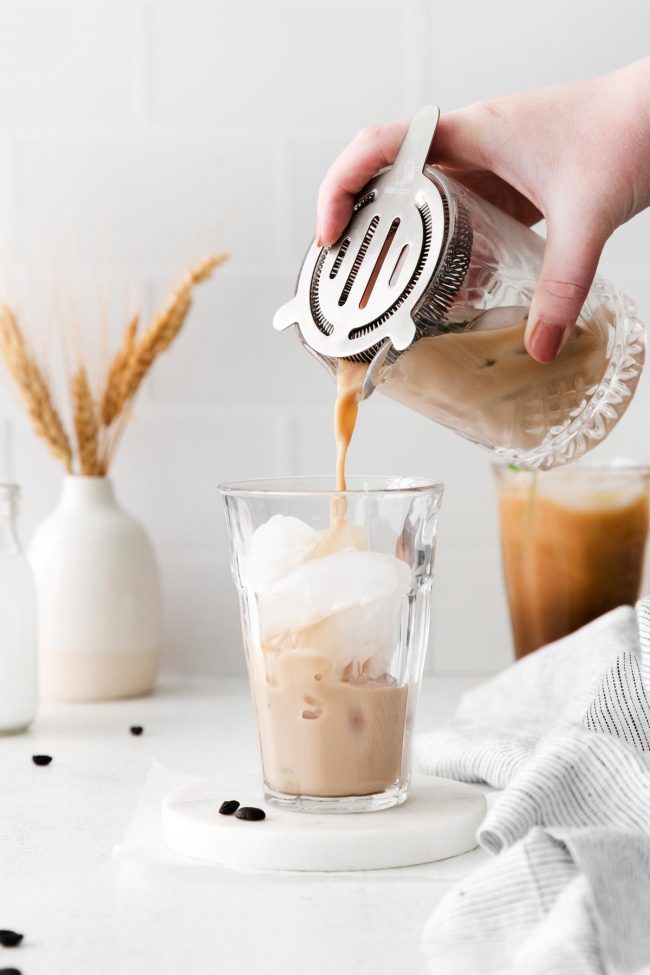 You can use a protein shaker. A protein shaker with a metal mixing ball and a lid is great for mixing ingredients, and there's no need to run to the store for a stainless steel shaker.
Got a blender bottle? Blender bottles are much like protein shakers with screw-on lids. They mix cocktails well because they have a narrow lid making it easy to strain and pour.
Have a mason jar with a lid? That's a pretty common alternative. They have enough space and a screw-on lid that reduces the risk of leaking. Make sure the jar is tempered and heavy-duty or risk the glass breaking.
Tempered glass is less prone to shattering, so it's best for shaking cocktails. Because you are rapidly changing the temperature and vigorously shaking with ice, it could easily break. So always use tempered glass and be cautious when shaking.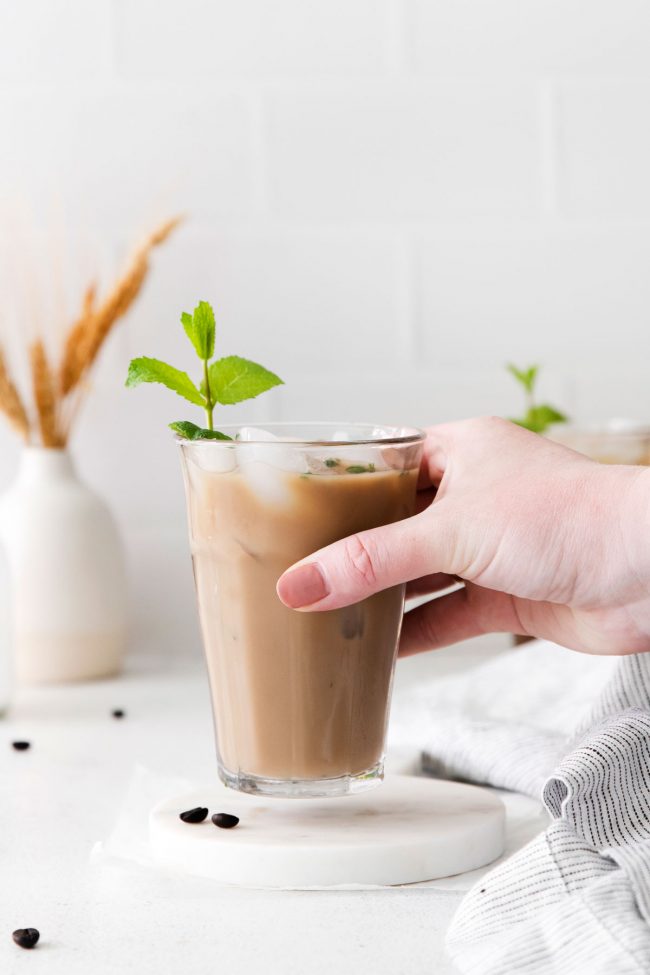 How to make espresso without machine
Espresso is a highly concentrated coffee drink that is made by pushing hot water through packed coffee. It's easiest to make with an espresso machine.
Some people will tell you that's the one and only way you can make espresso. I suppose they're technically correct, but you can make espresso-like drinks just fine at home without any special equipment!
Here's how you can make French Press Espresso. You just need a French press, coffee beans and water. The result works perfectly in this recipe!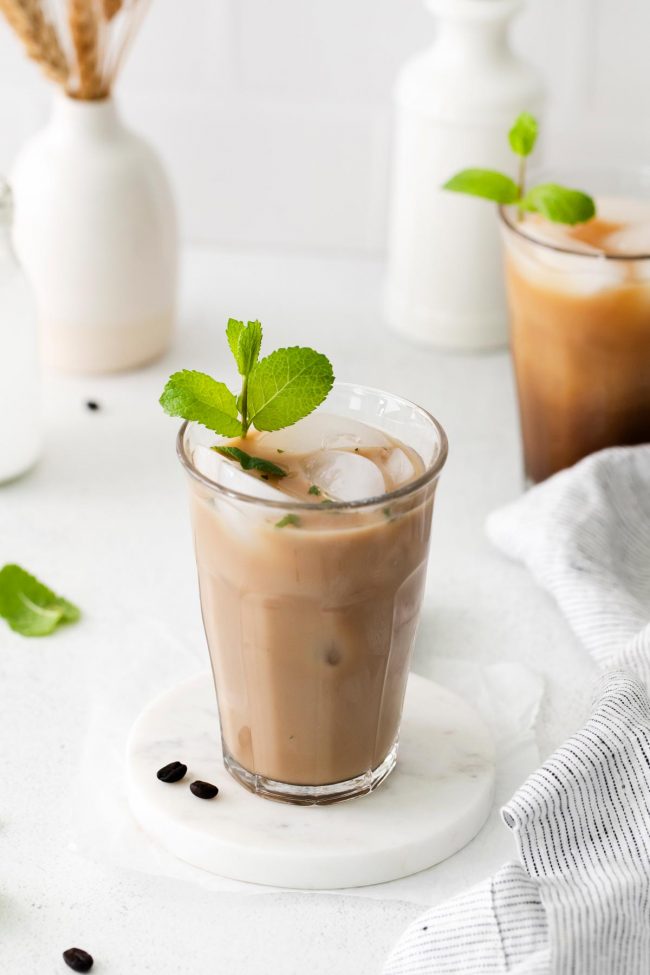 Other great cocktails
I think you have everything you need to make this Mojito Espresso! If you make it, leave a comment and let me know what you think! And for more details on how to make mojitos, check this out → How to Make a Mojito. And for a fun mojito dessert, try this Mojito Cheesecake.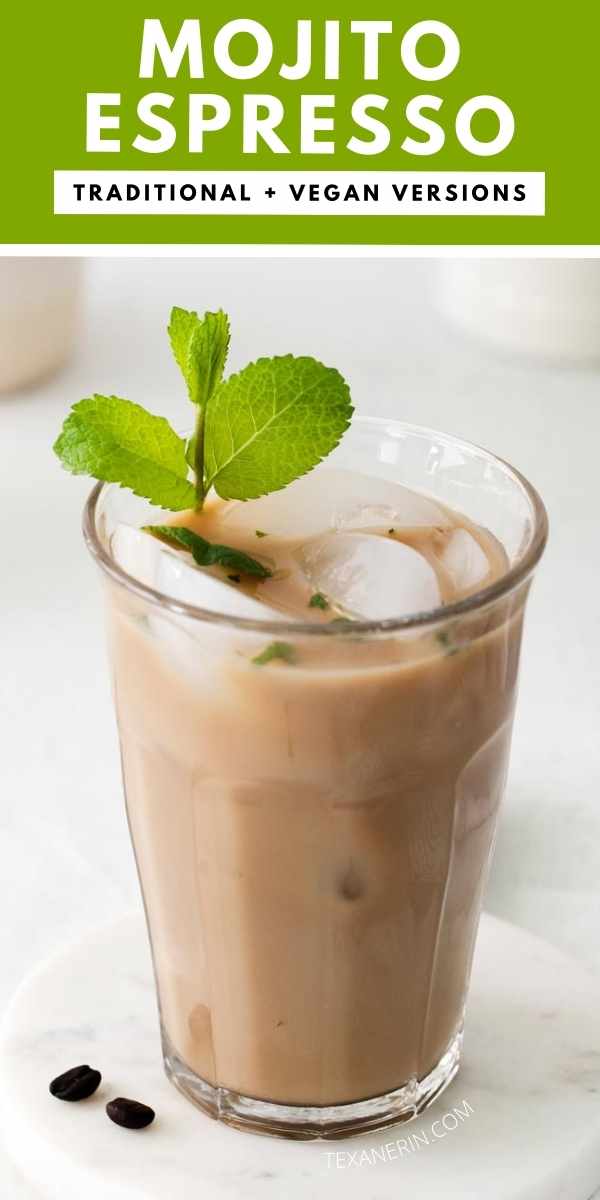 ❀
Espresso Mojito
Prep Time:
Cook Time:
Ready in:
Yield:

1 cocktail
Ingredients
5 large mint leaves
2 teaspoons quick dissolve sugar or agave
2 shots (6 tablespoons) espresso, chilled
½ shot (1 1/2 tablespoons) half-and-half
1 shot (3 tablespoons) white rum
Directions
Add the mint leaves and sugar (or agave) to a cocktail shaker and muddle them until they are broken up – about 10 seconds.
Next add the espresso, half-and-half, and rum. Stir to combine.
Fill the shaker with ice and stir until the drink is fully chilled – about 15 seconds.
Fill a glass with ice and strain the cocktail into the glass (you don't want to drink any muddled mint). Garnish with additional mint leaves and enjoy.