These apple cider mimosas just call for apple cider and sparkling white wine. Rimmed with sugar and cinnamon, these super simple drinks make the perfect fall cocktail.
It's festive, it's simple and it's an amazing apple cider cocktail that is both fresh and light with subtle hints of cinnamon.
You can even make your own Homemade Apple Cider if you have an abundance of apples.
This drink is perfect for the season and a terrific alternative to your traditional Thanksgiving drinks.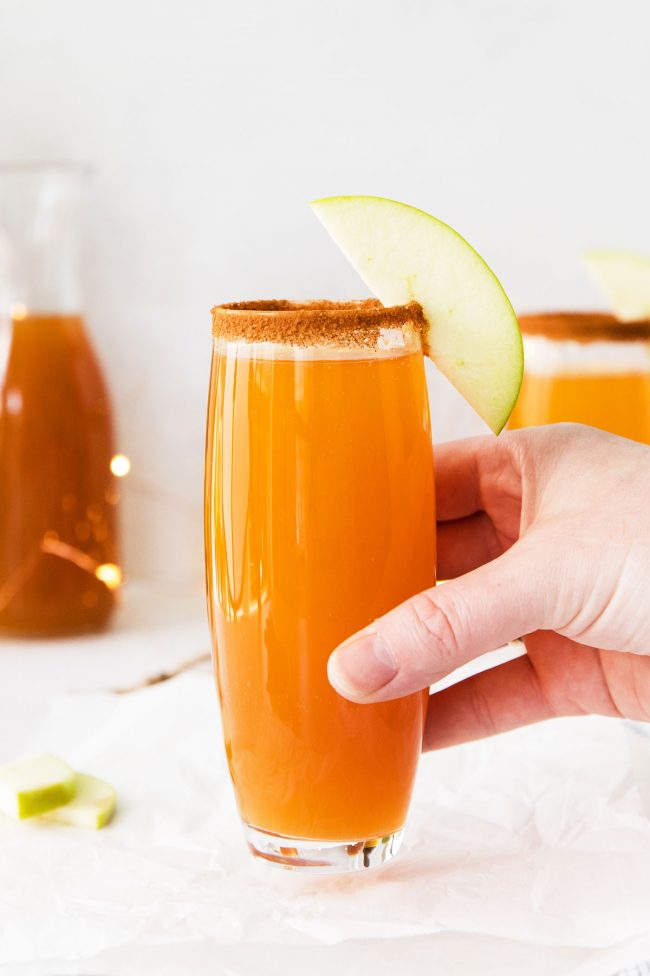 Ingredients:
Apple cider (the kind that's 100% juice)
Sparkling white wine
Granulated sugar (or coconut sugar) and ground cinnamon for the rim
Apple slices for garnish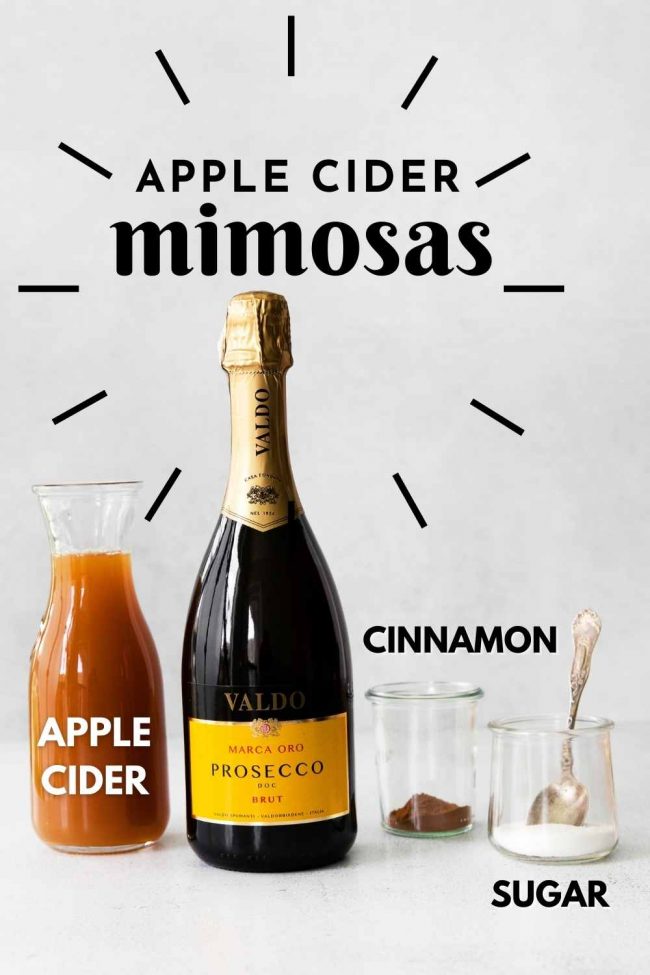 How to rim a cocktail glass:
Mix together the cinnamon and sugar on a small plate.
Dip champagne glasses in a little apple cider to wet the rims.
Dip in cinnamon sugar.
How to make the cocktails:
Rim the flute.
Fill each champagne glass 2/3 (or 1/2 – more on this below) full with apple cider.
Top off with sparkling white wine.
Garnish with apple slices and serve.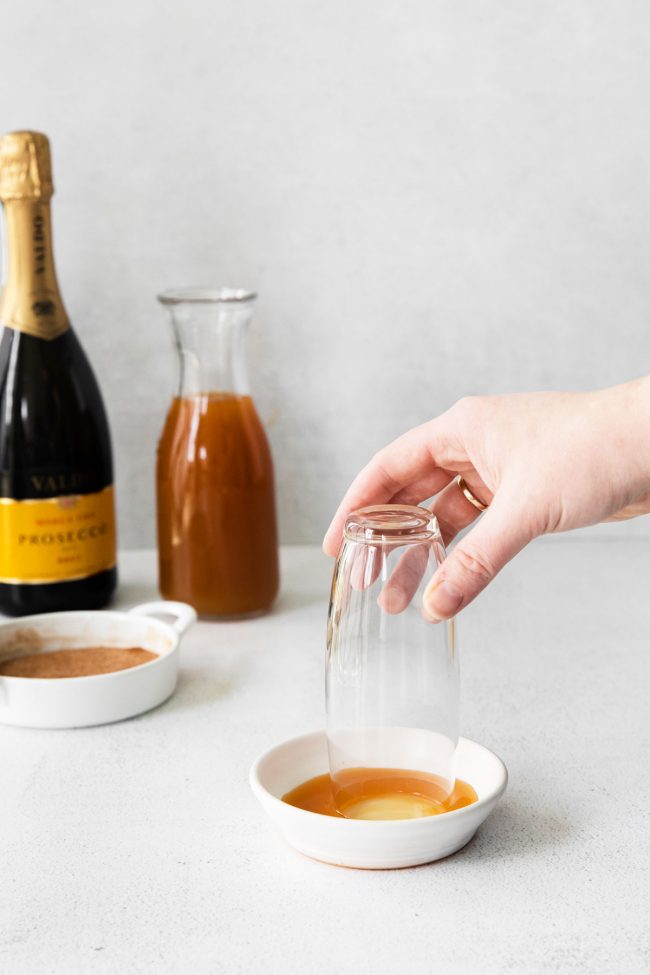 What are mimosas?
Mimosas traditionally are a combination of sparkling wine and citrus juice – mostly orange juice unless otherwise stated.
Mimosa cocktails got their name from the mimosa plant which bursts with yellow flowers much like the color of sparkling wine and orange juice.
Many different flavors have transformed this simple drink into complex, aromatic, specialty drinks like sparkling wine and lavender-infused syrup.
The mimosa up today is made with apple cider and it sings with the season, so get ready to have a bubbly, sweet, cinnamon-spiced apple cocktail.
Do I have to use champagne?
No, you can use any type of sparkling white wine.
Prosecco is great, as well as cava, and will cost much less than a good bottle of champagne.
Because we are using just a little fizz for these drinks and we are flavoring it with juice, I would definitely opt for a lesser expensive bottle.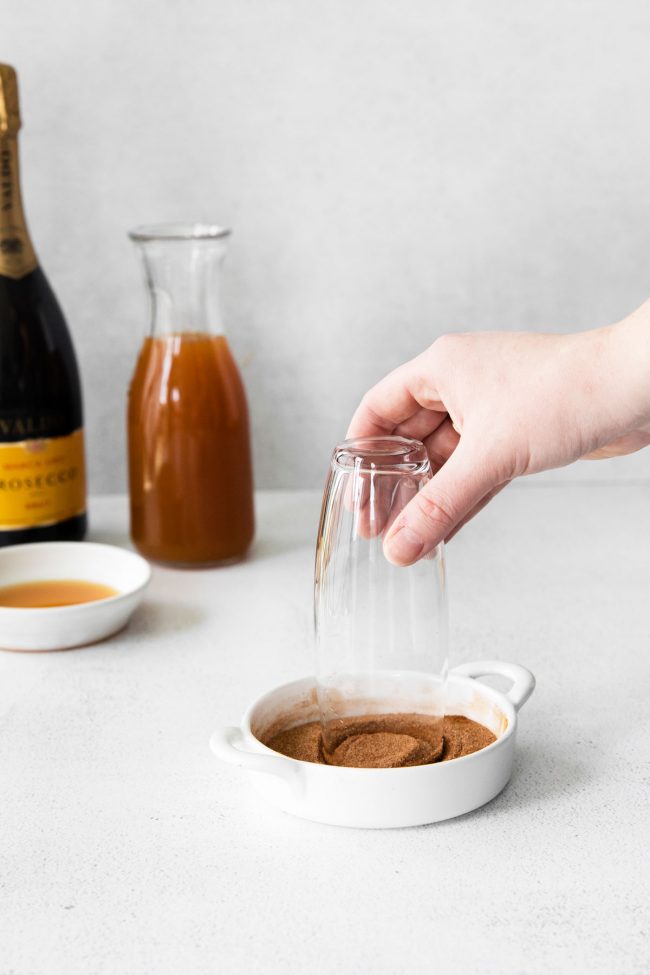 What's the difference between these sparkling wines?
Champagne is a French sparkling wine. It is made in a particular region, Champagne. Any other sparkling wine outside of this region cannot be called champagne because it is branded and protected by the place of origin. It has subtle notes ranging from citrusy to tasting yeasty or toasty.
Prosecco is an Italian white sparkling wine that is made in over 9 regions in Italy. It's made from the Prosecco grape and it can have a range of bubbles from sparkling (spumante) to semi-sparkling (frizzante). So if you don't like so much fizz, you can choose your preference. Prosecco tends to be on the fruitier side.
Cava is Spain's most popular sparkling wine. It goes through the same process as champagne. It is mostly made in the northern parts of Spain and leans toward an earthy taste.
American sparkling wines are finally getting some kudos. You might find they're a little pricier, but it might be worth it to buy local.
If I were to recommend one over the other, I would say pick a country and find a bottle that is mid-range like above $10 but doesn't cost an arm and a leg. After all, we're not just sipping on the bubbles, we'll be mixing it with apple cider and we want to taste all of the flavors together.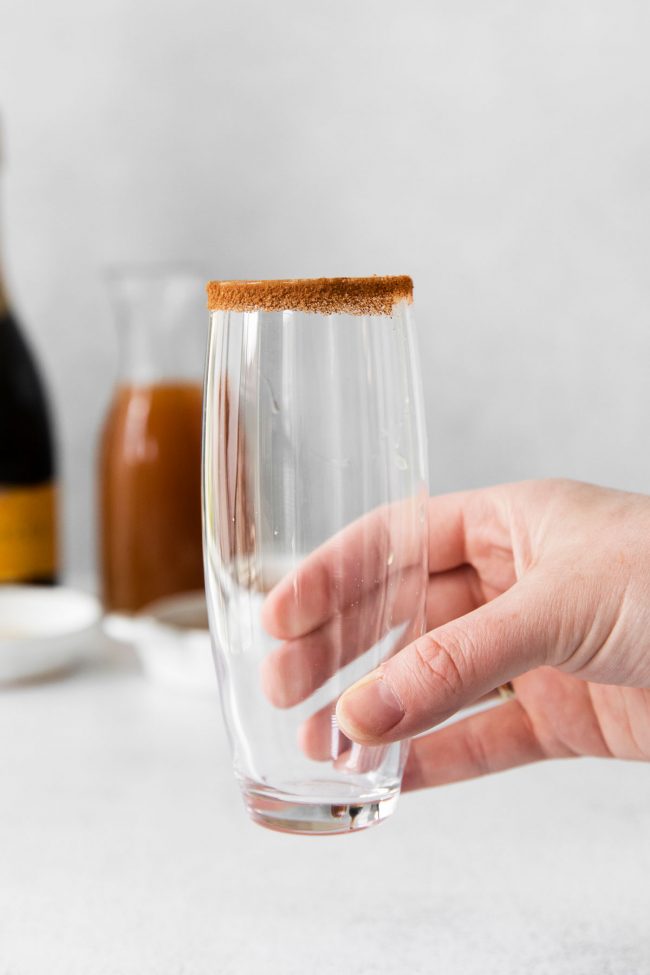 How strong is the apple flavor?
I list two ways to make these. I recommend trying it the first way listed and if the sparkling wine taste isn't strong enough, try it the second way listed.
In the first way listed, these mimosas are heavier on the apple flavor than the sparkling wine flavor.
I started off using 75% sparkling wine and 25% apple cider. I couldn't taste the apple cider at all.
Then I did half and half. Still couldn't taste the apple cider!
BUT! I should say that a lot of other apple cider mimosa recipes call for an equal amount of apple cider and sparkling wine. So perhaps it comes down to the brands of cider and wine you use.
I figured there's no purpose in apple cider mimosas if you can't taste the apple cider, so I tried 66% apple cider and 33% sparkling wine. That of course results in a lighter sparkling wine taste but a clear apple taste.
So that's the first version listed. Try that first and then if you want more sparkling wine taste, try the second way.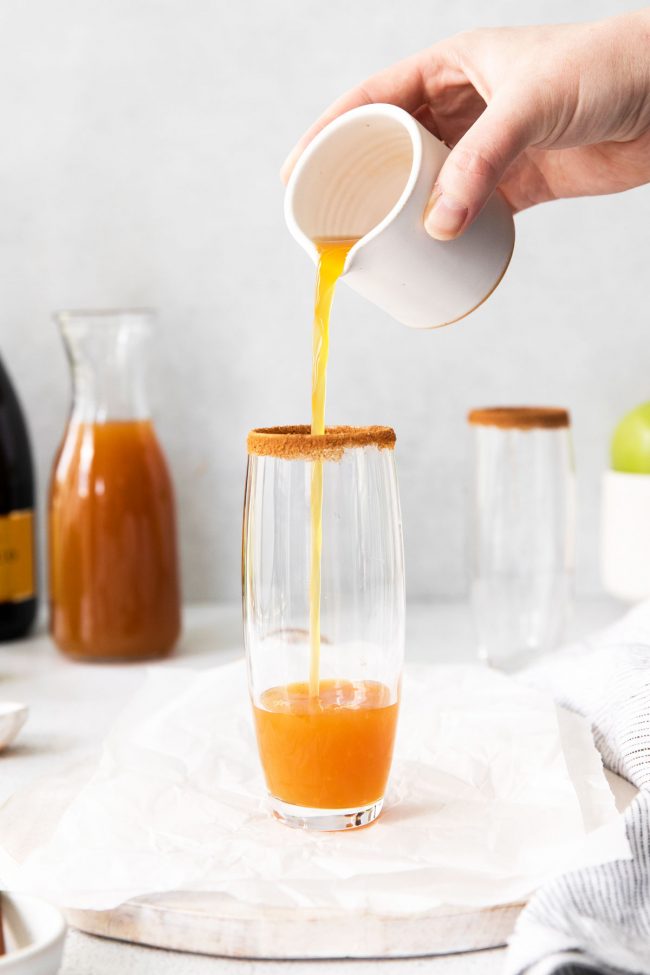 Can these be made ahead?
Unfortunately not. You don't want to pour sparkling wine in advance.
That's because a bottle of sparkling wine that is recorked will only last 3 to 5 days. To make these ahead will cause the effervescence to evaporate making this bright and bubbly drink a flat and dull one.
How many to make
This recipe yields just the right amount for six 187-ml (6.3oz) champagne flutes. They're apparently the most common size.
The recipe yields 6 because I thought that there's no point in creating a recipe that uses just a fraction of the sparkling wine bottle. What's the use in just letting it sit around getting flat, right?
So you need 1 demi bottle. A demi bottle is 375ml (12.7oz). It's half the size of a standard bottle.
If you need 12 mimosas, then you need a full standard-sized 750-ml (23.4-oz) bottle.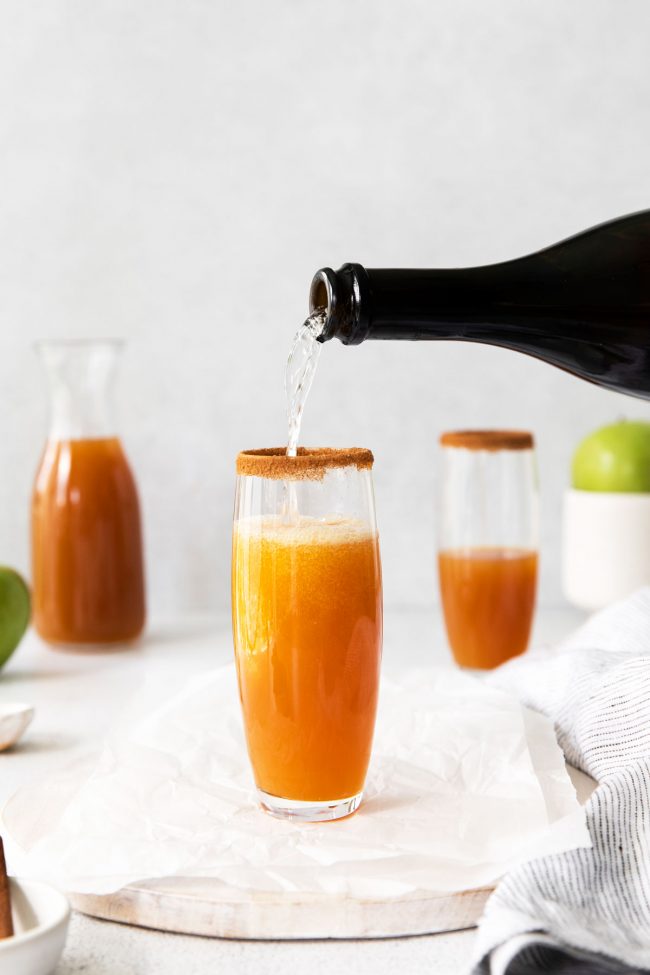 Difference between apple cider and apple juice
The gist of it is apple juice has gone through a filtration process and is pasteurized. But apple cider has not been filtered, so you will have more sediment and pulp.
An unopened bottle of apple juice can sit in the cabinet for months, but apple cider needs to be refrigerated. Unpasteurized apple cider can ferment and you'll have hard cider.
I wouldn't recommend hard apple cider for this mimosa as it might be too stout. Nor would I recommend already spiced apple cider.
We're going for a simple, yet flavorful fall drink with natural flavors of the season. Using plain apple cider is the best choice.
Can I use apple juice instead?
Sure! The mimosas will just be a bit sweeter but not by much.
Can I make it non-alcoholic?
Yes, you can. There are plenty of non-alcoholic sparkling wines to choose from whether it's champagne, prosecco or cava. It's interesting because with sparkling wines, the alcohol is extracted after the normal winemaking process.
I would stay away from the flavored sparkling alcohol-free wines like peach or honey because it might be a strange concoction with the apple cider in this cocktail.
Prefer a classic version? Check out this Mimosa Recipe!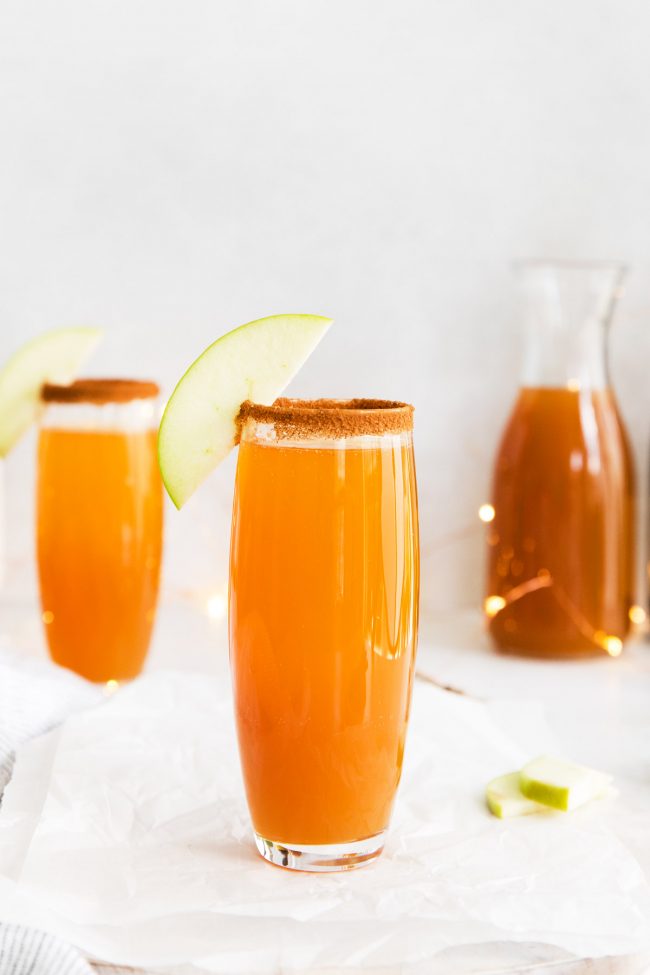 Other seasonal drinks
Boozy:
This Baileys Hot Chocolate is super-rich and ceamy. It's perfect for those colder nights and can also be made paleo or vegan.


This warm Alcoholic Wassail Recipe from Food Doodles is great for Christmas gatherings. It's easy with just fruit juices, spice and spirits. It can be made in a slow cooker or on the stovetop.


This White Christmas Cocktail is a must. It's super quick to make and just wonderful with white chocolate shavings! Can easily be made vegan.
Non-alcoholic:
Cheers! I hope you enjoy this Apple Cider Mimosa! If you try it, leave a comment below or give a shoutout on your favorite social media with #texanerin so I can see your favorite pics.
❀
Apple Cider Mimosa Recipe
Prep Time:
Cook Time:
Ready in:
Yield:

6 servings
Ingredients
For the rims + garnish:

2 tablespoons granulated sugar (or coconut sugar)
1 tablespoon ground cinnamon
apple slices for garnish

Version with more apple taste:

3 1/4 cups (767 ml) apple cider + extra for dipping rims
1 demi bottle (375-ml) sparkling white wine

Version with more sparkling wine taste:

2 1/2 cups (590ml) apple cider + extra for dipping rims
2 1/2 cups (590ml) sparkling white wine
Directions
Mix together the cinnamon and sugar on a small plate. The cinnamon sugar should be about 1/4" high and wider than the rim of the glass you're using.
Pour a little cider into a saucer, flat plate, or shallow bowl larger than your glass.
Dip champagne glasses in a little apple cider to wet the rims. Then dip in cinnamon sugar.

Version with stronger apple taste:

Fill each champagne glass 2/3 full with apple cider (each flute will have 127ml (8.5 tbsp) of cider) and then top off with sparkling white wine (that'll be 60ml (1/4 cup) per flute).
Garnish with apple slices. Serve immediately.

Version with stronger sparkling wine taste:

Fill each champagne glass 1/2 full with apple cider and top with sparkling white wine.
Garnish with apple slices. Serve immediately.