This gin margarita is so refreshing, light and tangy, and super easy to make. If you love the citrusy taste of a traditional margarita, then you'll love this gin twist. There's no sugar added, so it's a healthier citrus-forward drink that is best served on hot sultry days. It's also vegan and gluten-free.
I'll be back next week with something sweet, but for now, here's one more recipe fit for Cinco de Mayo! Or whenever, really.
Margarita is Spanish for daisy, and in the cocktail world, daisy refers to cocktails that have a base spirit, liquor and citrus. It's a smooth drink with aromatic notes, and it won't add to your waistline. This gin margarita, like any margarita, is a real daisy. ;)
Simple Ingredients
2 ounces gin – my preferred gin in this margarita is Bombay Sapphire, but Oregon Foraged and Old Tom are also delicious. I recommend staying away from anything floral (like Roku or Hendrick's Summer Solstice), as it tends to overpower the flavor of the lime.



1 ounce triple sec – if you don't have triple sec on hand and want to know what type to buy, here's a whole article on the best brands of triple sec for margaritas.



1 ounce fresh lime juice – please don't use bottled! In a drink like this, it makes a huge difference.



Coarse salt to rim the glass – optional, but has a purpose! More on that below. You could use coarse sugar if you prefer.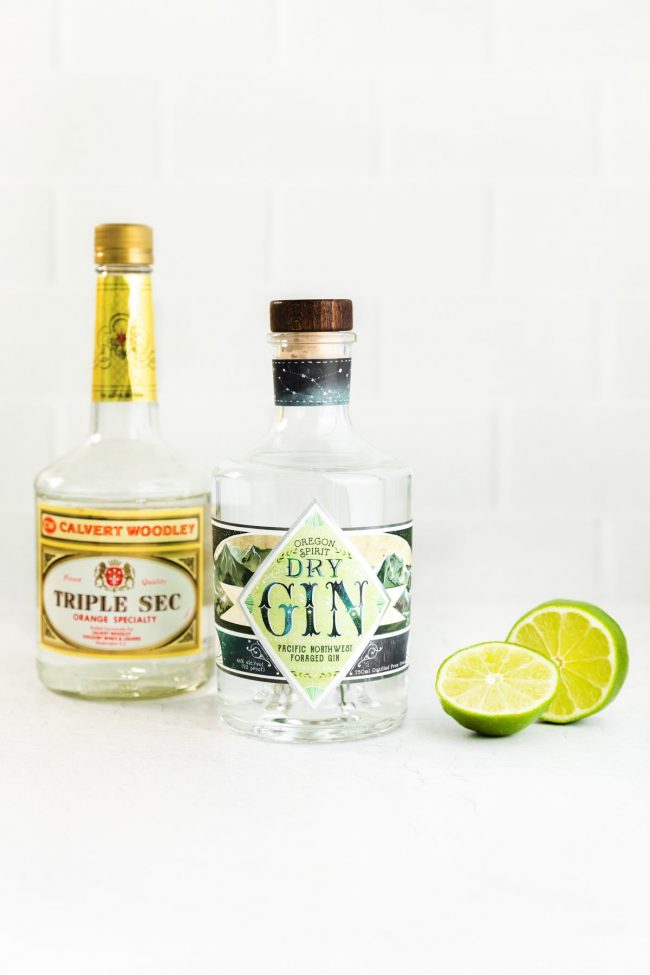 How to make a margarita?
This drink couldn't be any quicker to make!
Take your favorite glass, rim it with salt (dip the edge of the glass slightly into water and dip it in salt) and add some ice.
In a cocktail shaker: combine more ice, a little gin, a bit of triple sec, and add some lime juice.
Stir (never shake your gin) for 10-15 seconds, then strain into the glass.
It's ready to be enjoyed in less than 5 minutes.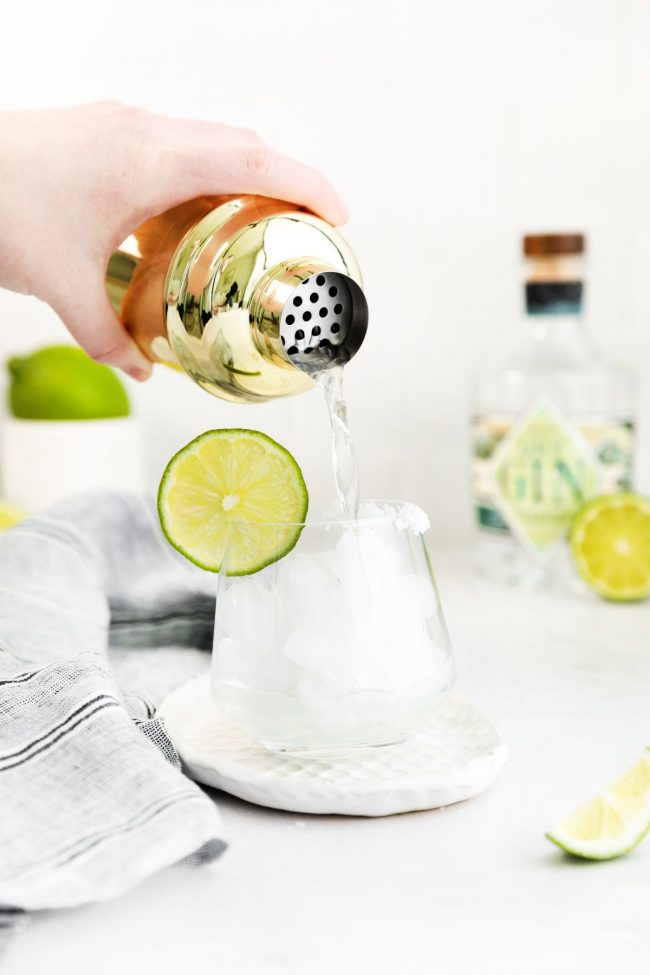 Why is salt used on the rim of margaritas?
Salt is a taste enhancer and makes citrus flavors brighter. The taste of the salt actually enhances your sense of smell and lets the fragrant aromas of juniper berries in the gin shine through. This Margarita Salt would add even more citrus flavor!
Why stir and never shake gin?
It's science! Really!
Gin has a distinctive odor from the juniper berries and the more you agitate it, the more you bruise the gin causing the odor to dissipate and become lackluster. The result is bland, and no one wants a dull cocktail.
Want a sweeter and/or frozen margarita?
Just add agave syrup or simple syrup to taste. I don't think my favorite natural sweeteners, like maple syrup or coconut sugar, would work here at all.
For a frozen margarita, throw everything except the gin into a blender and blend until smooth. Then add the shot of gin and lightly stir.
If you want frozen + sweet, definitely check out my Frozen Pineapple Margarita, which is sweetened by pineapple + 100% pineapple juice!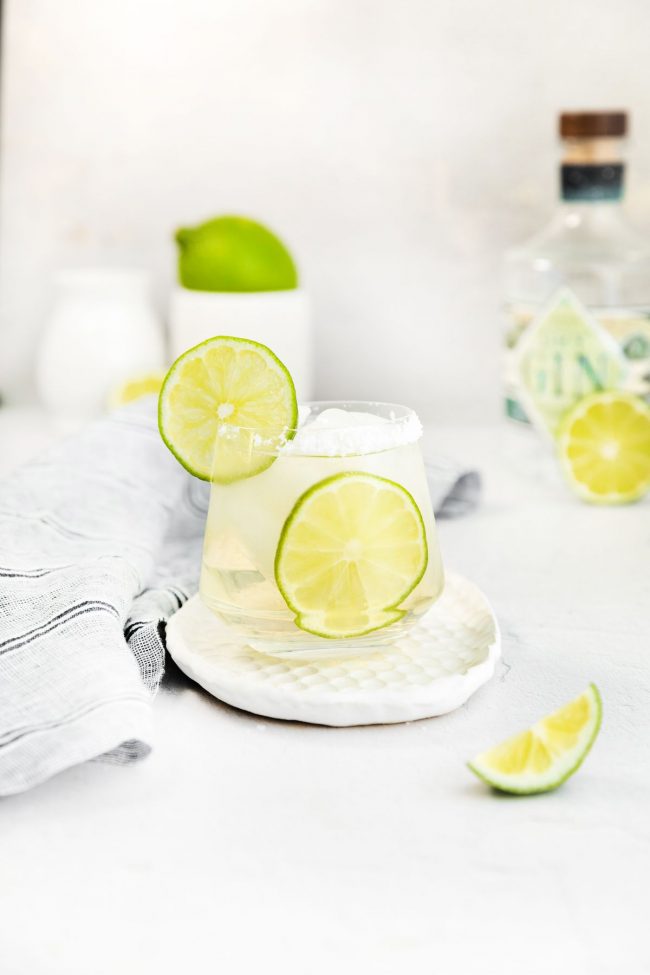 Kind of a healthy choice!
If you're going to drink alcohol, this gin margarita isn't a terrible choice (and neither is this Gin and Tonic!).
Gin has less sugar and fewer calories than some other liquors. Since we aren't adding any sugar to this drink, it's safe to say this margarita is a low-sugar, low-calorie, exquisite tasting cocktail.
It's also allergy-friendly. It's vegan unless you use a honey-infused gin.
It's also gluten-free. According to the Coeliac Disease Foundation, distilled alcohol doesn't contain gluten peptides. For more info, read my post on Is Gin Gluten-free?
Also, flavored gins or gins with additives could likely contain or have come into contact with gluten, so it's best to avoid those altogether. I found this gluten-free alcohol list from Urban Tastebud so you can double-check your favorite brands.
The healthiest thing of all is moderation, of course! Drink wise, drink friendly and eat well.
Can I make it into a mocktail?
Unfortunately not. Without the alcohol, you're left with a salted rim and lime juice.
If you add water in place of the alcohol and keep the salted rim + lime juice, you would have a tart drink that helps replenish sodium and nutrients in the body helping to hydrate, rejuvenate, and combat muscle cramps and fatigue.
However, I wouldn't consider it to be tasty without any sweetener. If tart is not your thing, then try one of these sweeter non-alcoholic treats:
Both are positively invigorating! And this Roy Rogers Drink also looks amazing.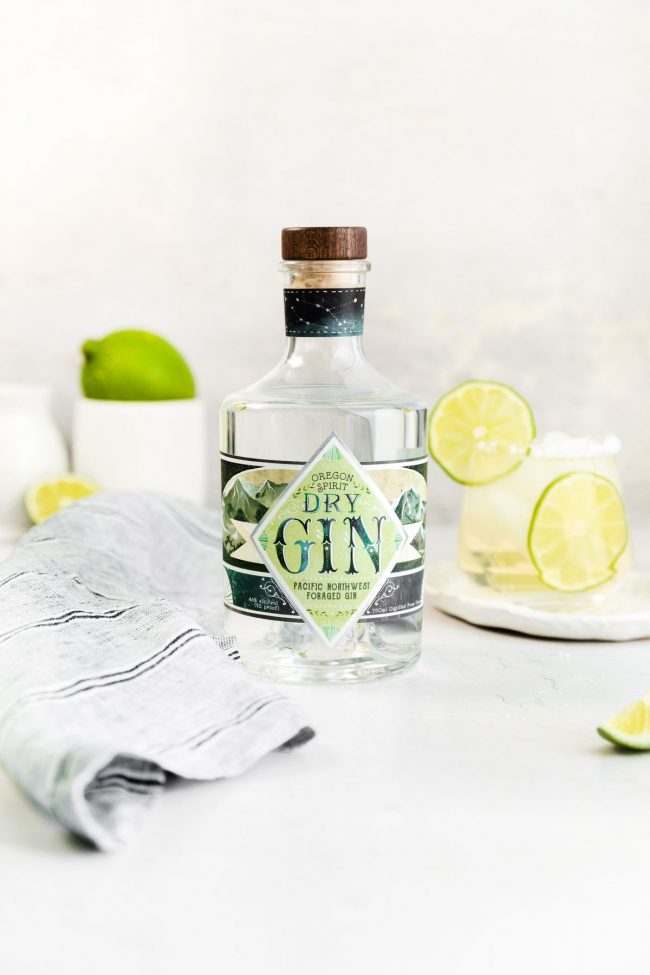 What to serve with this gin margarita?
To start, try some of these:
That's it! I hope you'll enjoy this gin margarita. If you make any of my recipes, I'd love to see 📸 pictures of your creations on Instagram, Facebook and Twitter! Please hashtag them #texanerin so I can find them.
❀
Gin Margarita
Prep Time:
Cook Time:
Ready in:
Yield:

1 drink
Ingredients
2 ounces (1/4 cup) gin
1 ounce (2 tablespoons) triple sec
1 ounce (2 tablespoons) fresh lime juice
rock salt or coarse sugar for the rim
Directions
To rim your glass, dip the edge of the glass in water and then in rock salt or coarse sugar and set aside until ready to use.
Fill a glass with ice.
In a cocktail shaker, combine more ice, the gin, triple sec, and lime juice. Stir for 10-15 seconds and strain into the glass. Enjoy immediately!
For a frozen margarita, throw everything except the gin into a blender and blend until smooth. Then add the shot of gin and lightly stir.