This pumpkin margarita is a traditional cocktail with a quintessential fall twist made just for the season. It's made with regular margarita ingredients, indulged with some pumpkin puree and spice, and sweetened with maple syrup. Gluten-free and vegan.
I'm excited about this fall margarita because it's perfect for both Halloween and Thanksgiving. It's a nice orange color, and just like this Apple Margarita Recipe, you get all the great tastes of a margarita combined with an autumnal twist.
Perfectly blended with pumpkin spice, this drink makes a unique fall-inspired cocktail.
If you're not ready for a cocktail, you might try:
Making this cocktail is as easy as adding ingredients to a cocktail shaker, giving it a hearty shake and pouring it into a rimmed glass over ice.
If you want to make a big batch, no problem – just fill a pitcher, and you're ready to celebrate!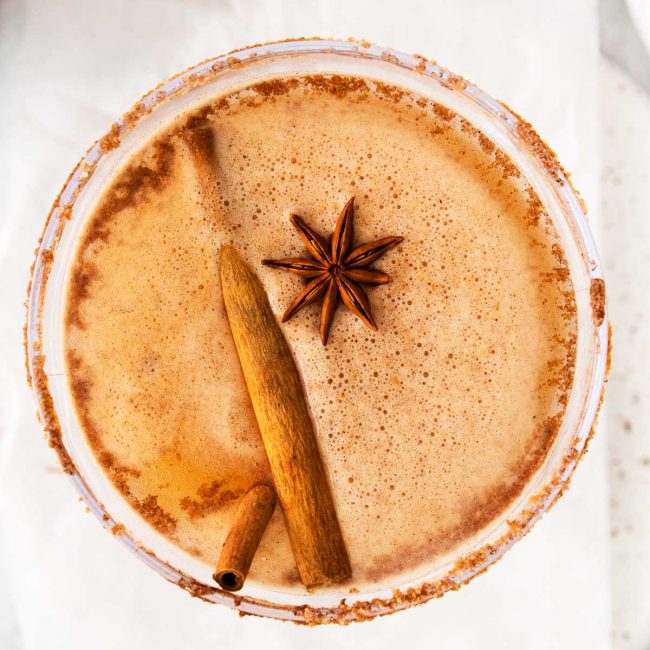 Notes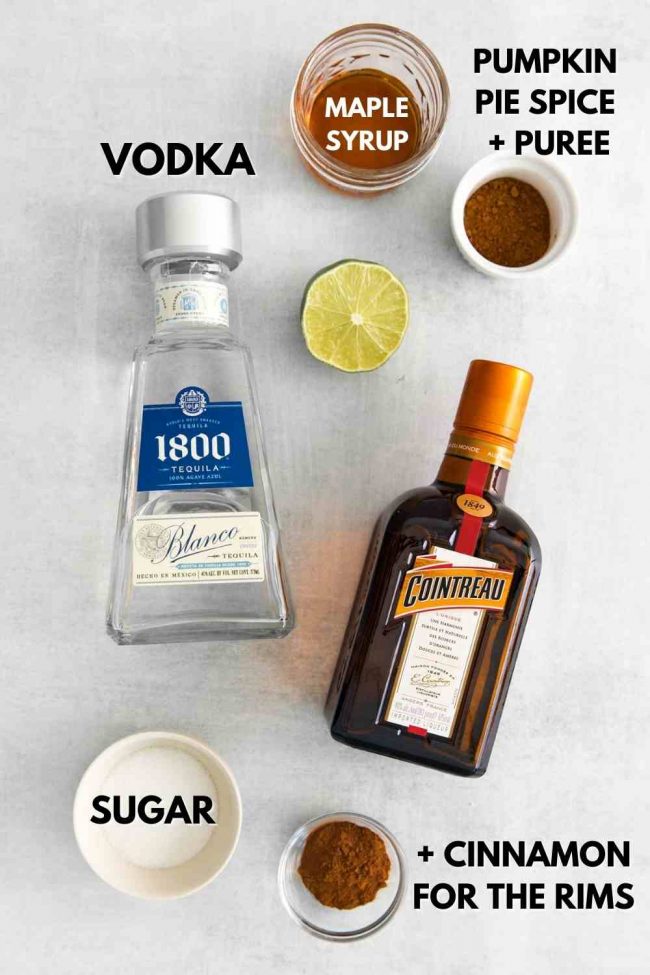 What tequila is best
I recommend white tequila, but you can use whatever you have and prefer. The flavor profile will mostly come from what is added to flavor the margaritas.
I wouldn't recommend the cheapest of the lot, and I would definitely choose one made of 100% agave to avoid added colorings or flavors.
Most margaritas (like this Rasberry Margarita) are made with white tequila. It's known to be crisp and clean with citrus notes. It is a young liquor meaning it is not aged and is usually inexpensive.
Reposado tequilas or gold tequilas have a golden hue and aged in oak. It's used for premium mixed drinks and is more expensive.
Caramel coloring can sometimes added to the gold tequilas, so if you go for gold, definitely find one that says 100% agave, especially if you have dietary restrictions.
As far as flavor profiles, there is not much difference when mixed.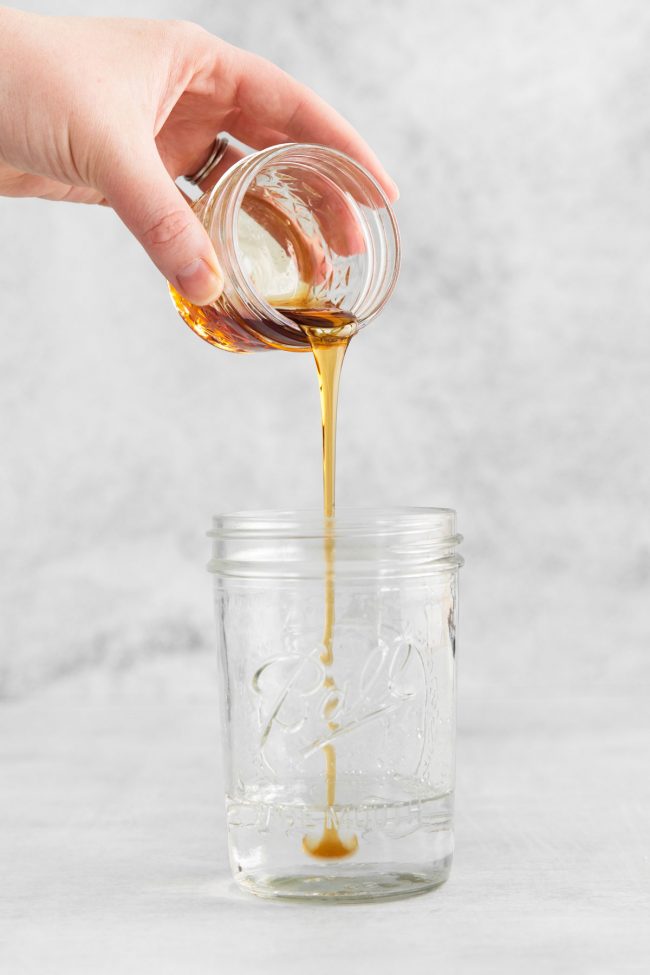 What is Cointreau
Cointreau is a French orange liqueur that falls into the triple sec category. If a recipe calls for Cointreau, it's best to use what it for the best flavor profiles.
If a recipe calls for triple sec, you can use Cointreau but not the other way around.
Although triple sec is much cheaper than Cointreau, it's also lower in quality. To get complexity and smoother flavors, Cointreau is the way to go.
But in recipe like this where you've got pumpkin puree and pumpkin pie spice, I don't think it makes a huge difference. So use whatever you have!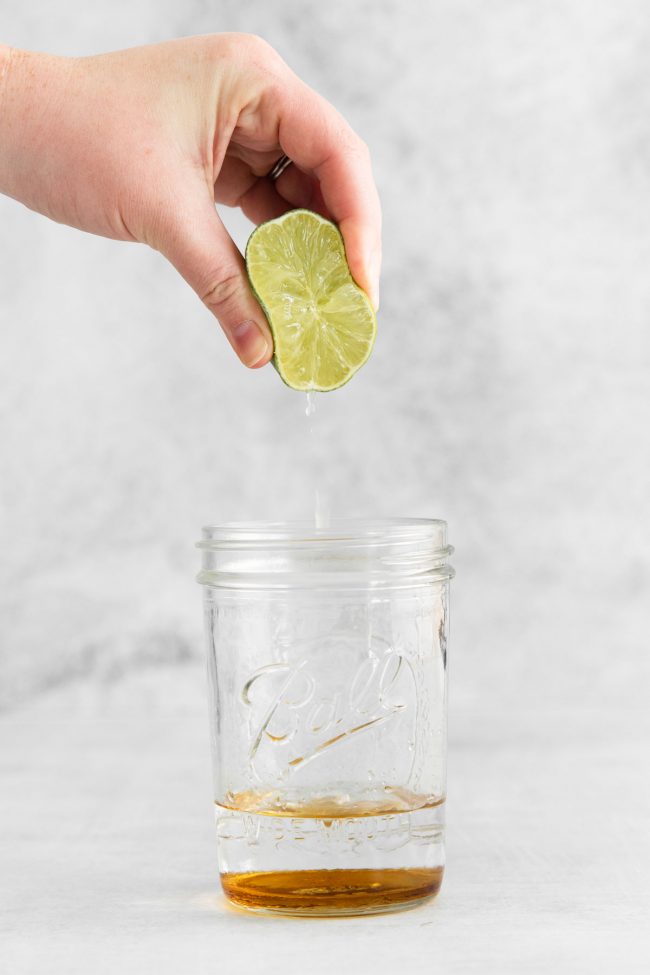 Do I have to use maple?
If you don't have maple syrup, yes, you can use another sweetener. It might have a different flavor profile, but if it suits your taste, then go for it.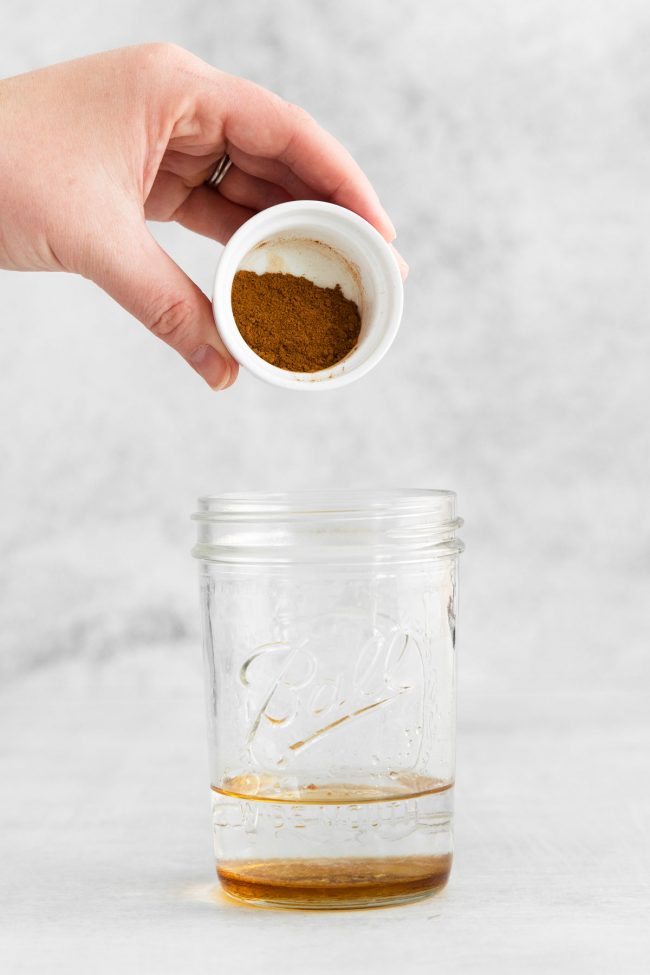 What to do with remaining pumpkin puree
Whether you use canned pumpkin puree or make your own, this drink recipe only calls for 2 tablespoons, so here are some recipes you can bake to use it up.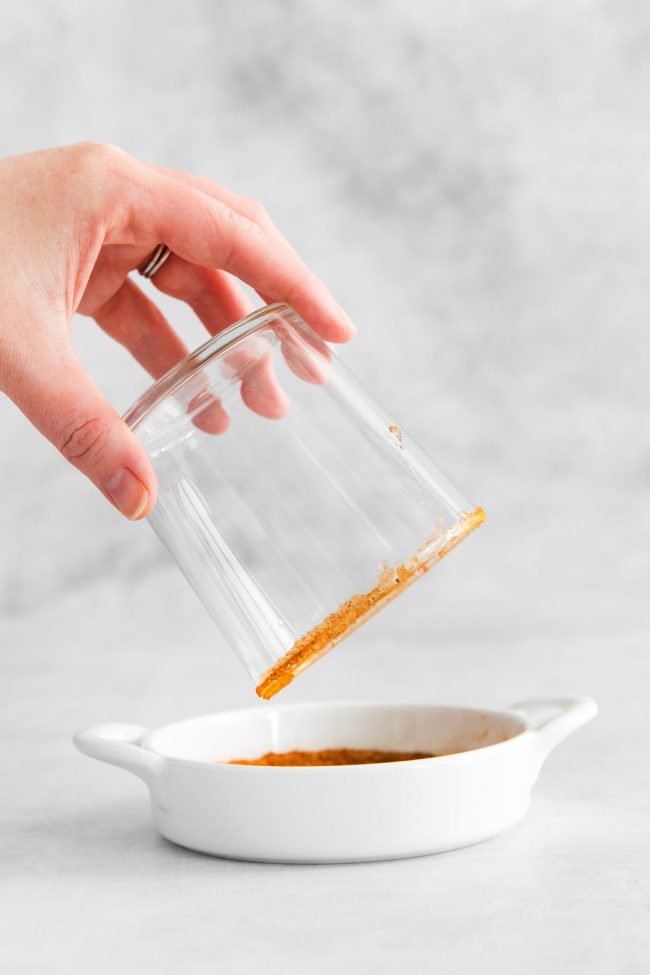 Other ways to garnish
I usually go with a simple garnish when I make cocktails at home. But I can do fancy if I'm serving a crowd.
I simply added a cinnamon stick and orange twist for a pop of color and extra sweet spice in this drink.
But you could go fancy with a black salt rim for a Halloween flare.
If you'd like to garnish with sugar, you can color sugar naturally!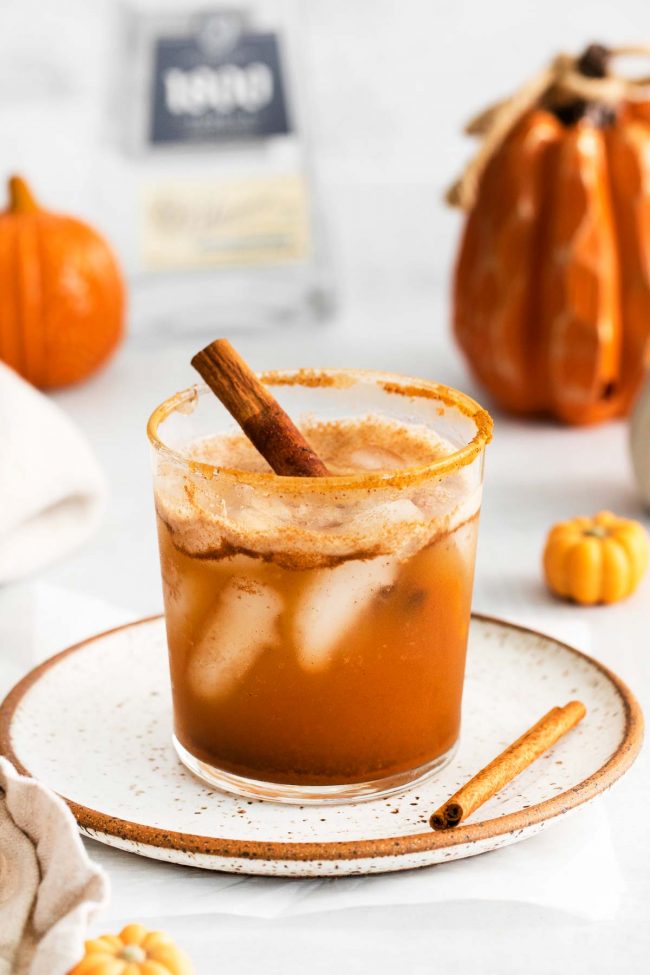 Going with the Halloween theme, to color sugar black, you can use activated charcoal (so clever)! See how here. The post offers an array of vibrant natural dyes for sugar, so you can get creative!
I like to add a little salt to the rim of my margaritas because it enhances the flavors, and mixing brown sugar with a little sea salt and cinnamon would elevate the flavors even more in this margarita!
You could bring it down a notch and use ground cinnamon or pumpkin spice on the rim, as well.
If you're making it for Thanksgiving, clap a sprig of sage in your hands and garnish the drink to bring out the best flavors of the holiday.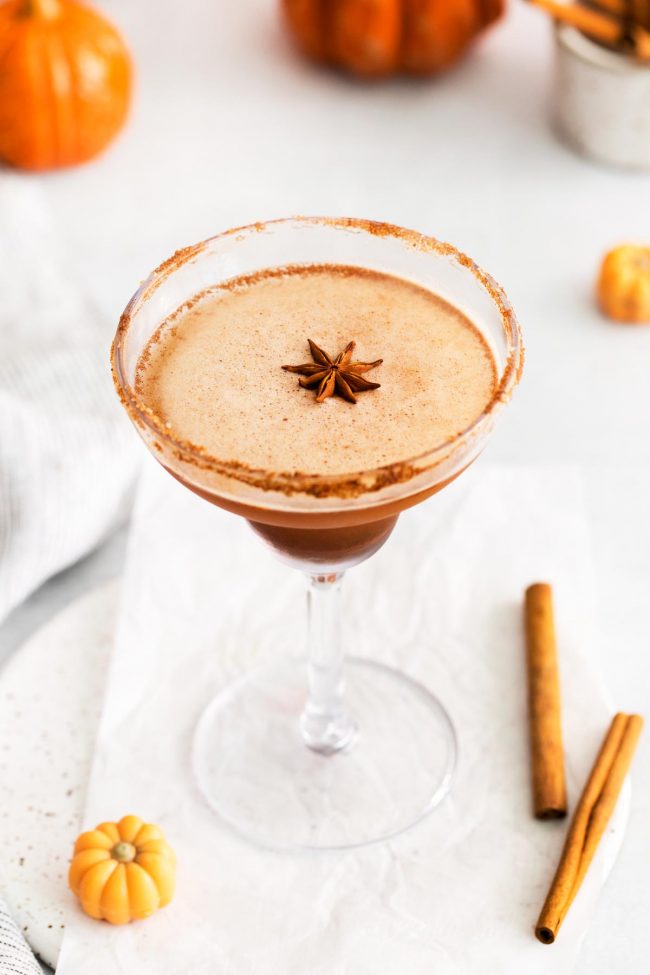 Don't have a cocktail shaker
It's ok. You can use other household items to shake and chill the cocktail.
Travel coffee cups work great, protein shakers make good mixers, blender bottles get it done quickly, and a good old mason jar with a tight lid works well.
There should be no problems finding something that will work from your kitchen.
If you think you'll be a master mixer this holiday season, you might consider it an investment. They have multiple uses like muddling, shaking, chilling and straining, all in one container.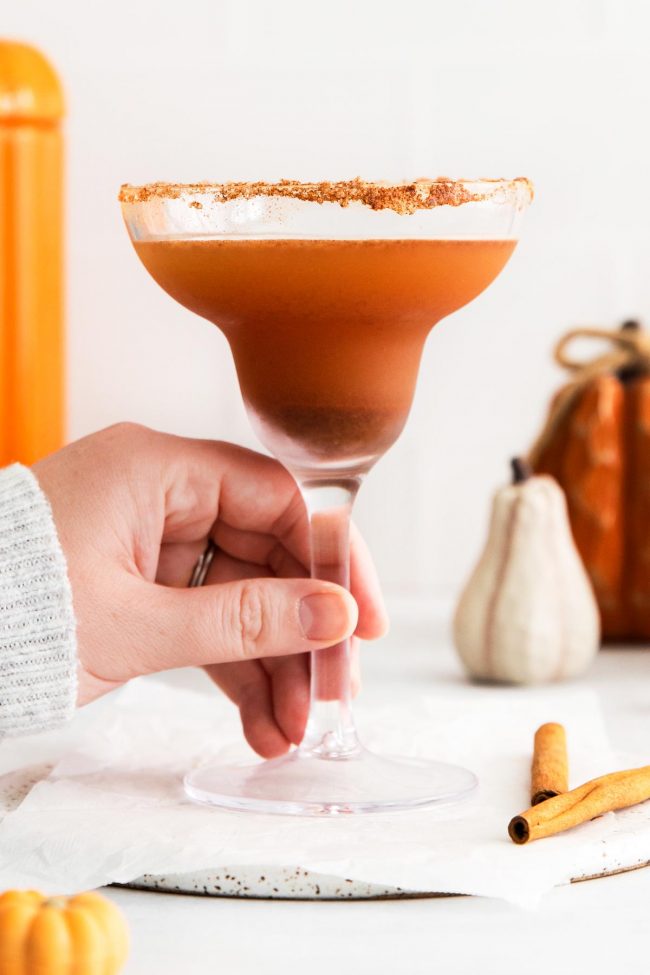 Other fall cocktails
I've got loads of seasonal drinks to check out. Here are my favorite fall-inspired cocktails.
And if you're looking for a great Halloween cocktail, check out this Vampires Kiss Cocktail from my other blog, Easy Wholesome.
I hope you like this pumpkin margarita! If you make it, please give us a shoutout and tag #texanerinbaking so I can check it out, or leave a comment below and let me know what you think.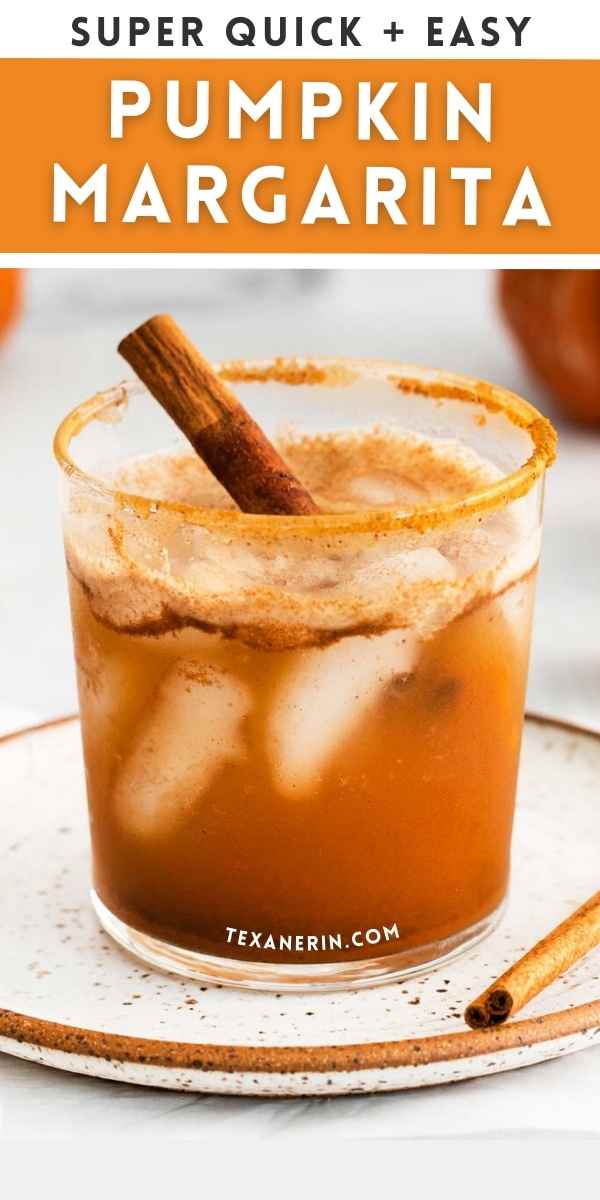 ❀
Pumpkin Margarita
Prep Time:
Cook Time:
Ready in:
Yield:

1
Ingredients
For the rim:

1/2 tablespoon granulated sugar
3/4 teaspoon ground cinnamon

For the margarita:

2 oz (1/4 cup) tequila
1 oz (2 tablespoons) Cointreau or triple sec
2 tablespoons pumpkin puree
1/2 oz (1 tablespoon) lime juice
1 teaspoon pumpkin pie spice
2 teaspoons maple syrup
Directions
To make the rim:

Mix together the cinnamon and sugar on a small shallow plate that's wider than the rim of the glass you're using.
Pour a little water into a saucer, flat plate, or shallow bowl larger than your glass.
Dip the glass ever in a little water to wet the rims. Then dip in cinnamon sugar.

To make the margarita:

Add all the drink ingredients to a cocktail shaker and shake until combined.
Fill the cocktail shaker about halfway with ice and shake another 10 seconds.
Strain into a margarita glass.
Garnish with a cinnamon stick, if desired.