I'm so thankful that Nora from A Clean Bake is here today sharing this amazing Nutella banana cream pie! She was nice enough to step in for the day while I'm wrapping up my vacation. If you're not familiar with Nora and you bake grain-free, you definitely need to check out A Clean Bake! I've made and loved her grain-free snickerdoodles and have her paleo lemon pound cake, paleo chocolate hazelnut thumbprint cookies and grain-free pecan tart on my to-do list! Now over to Nora. :)
Let me tell you a little bit about how this pie came to be. I had a vision, you see. [rhyming unintentional; just roll with it] A vision of being one of those elusive People Who Are Good At Pie, someone who can just throw together the perfect crust out of instinct and that crust was somehow crispy and rich and delicate and flaky all at the same time. And chocolate. I did mention that the crust was supposed to be chocolate, right?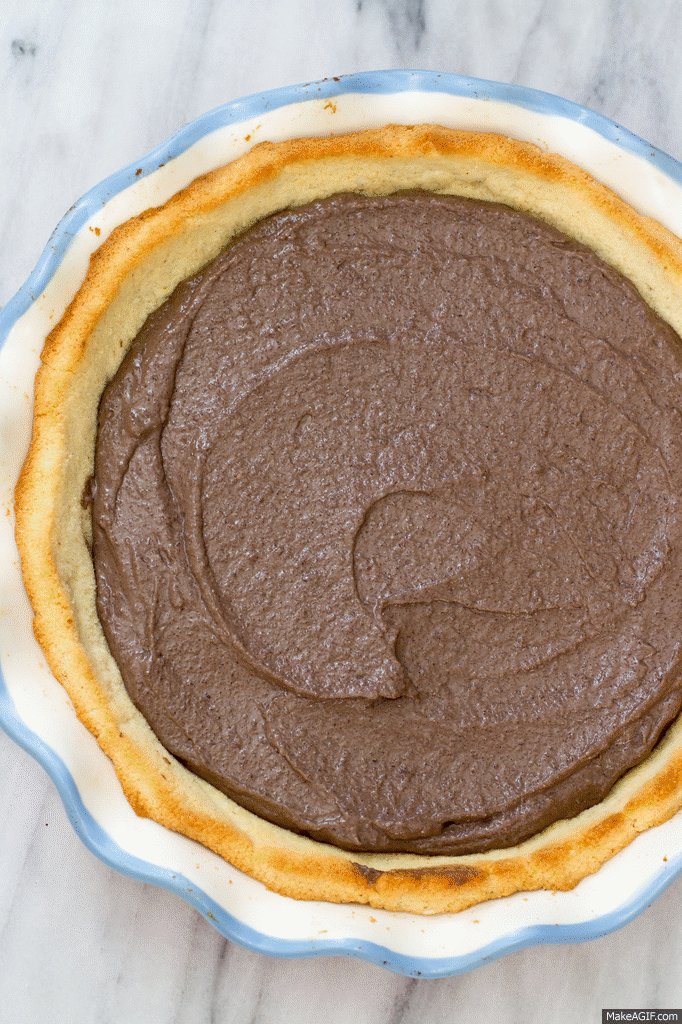 So I followed my instinct and threw together this crust that, in my mind and on paper, was simply irresistible. It tasted like Oreo cookies, but was still grain free and, simply put, divine.
It tasted like chocolate packing peanuts.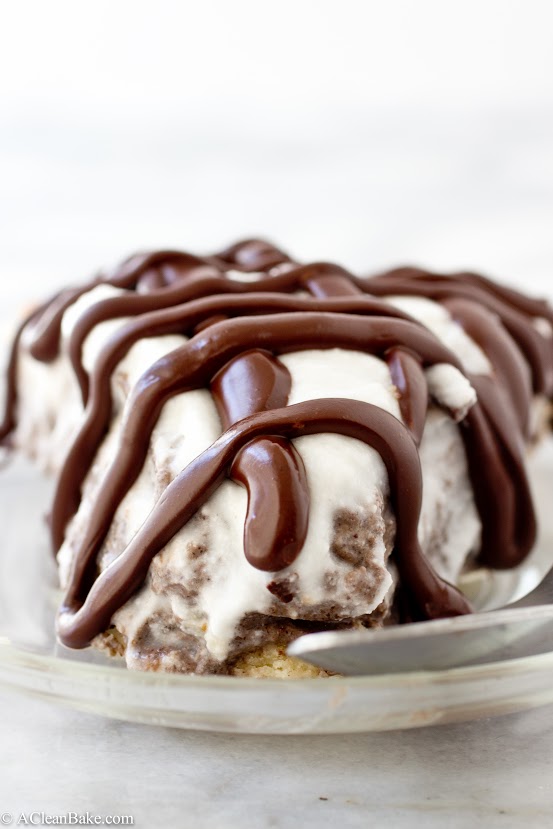 So, after a few more (failed) tries, I resorted to Plan B – a lightly sweetened version of my favorite almond flour pie crust. And then things got easier. This pie was always supposed to be filled with banana pudding and topped with whipped cream because it doesn't get any simpler than that, and also because summer is coming and who doesn't love a no-bake (ok, except the crust) dessert in their back pocket*?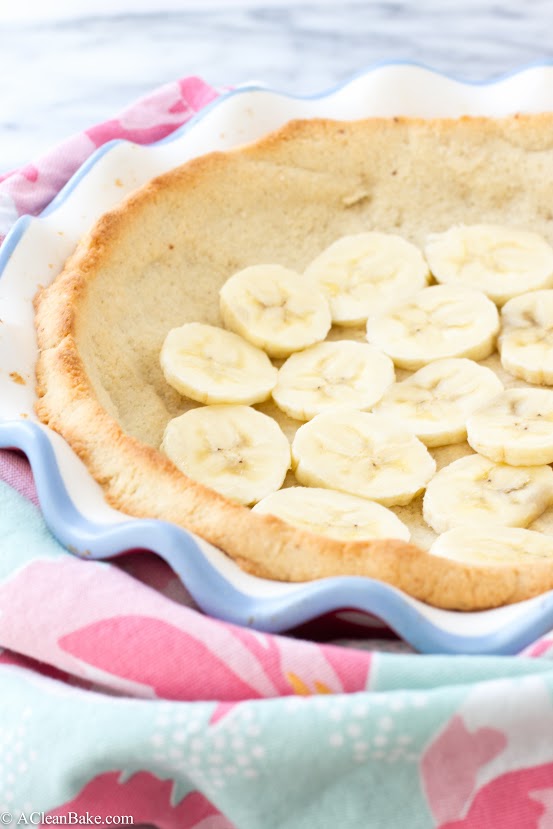 But there was still the question of the chocolate element. I really had my heart set on a chocolate-banana flavor combination and, as luck would have it, I had some Not-tella (homemade Nutella) just, you know, lying around. Not that I wasn't thoroughly enjoying eating it straight from the spoon but in spite of, and because of, the degree to which I enjoyed that, it simply had to go. Into the pie, I mean. Because what's better than chocolate + banana? Nutella Not-tella and banana. Everyone knows that.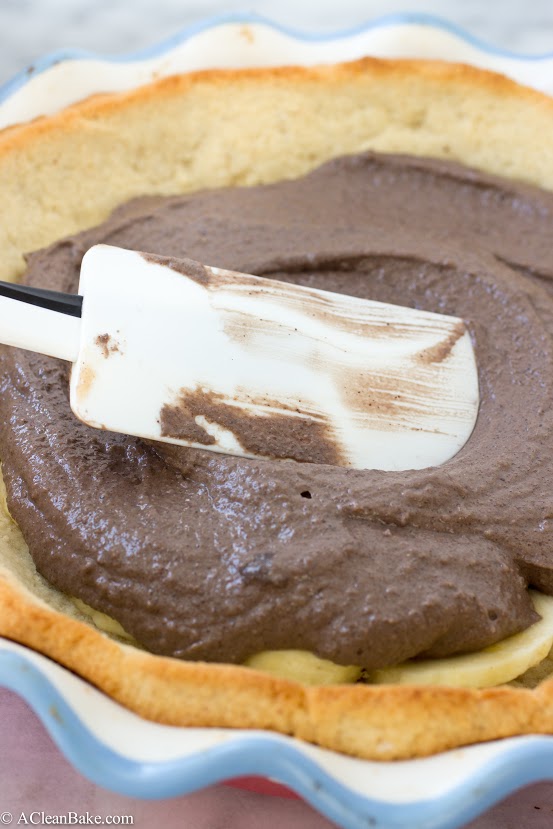 This pie is an exercise is layering and self control:
make the crust and try to avoid sampling the edges
layer on perfectly ripe banana slices without eating every other one (remember to leave enough to cover the base of the pie)
pour Not-tella flavored homemade banana pudding into the shell and for goodness sakes, avoid sticking your finger in it "just to make sure it's not poison" too many times
swirl homemade whipped cream over all of that and if you can avoid licking the spatula one hundred times, well, then you're a better baker than I.
and finally, garnish with more of those sweet, soft banana slices and a (generous) drizzle of chocolate.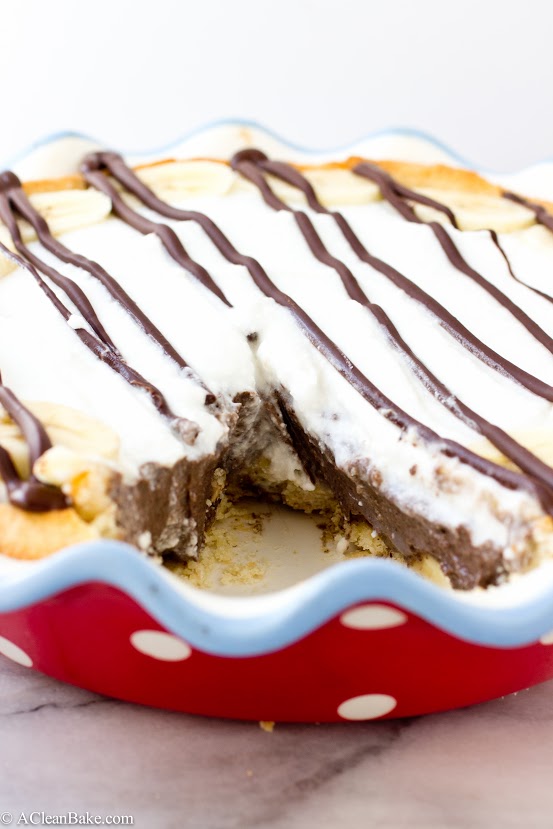 If there are any left, that is.
Serve immediately, because let's face it, this thing would never last in a house full of… well, anyone.
*Not literally, because this is a really creamy, gooey pie and no amount of Shout will get those stains out. 
❀
Nutella Banana Cream Pie (grain-free, gluten-free, dairy-free)
Prep Time:
Cook Time:
Ready in:
Yield:

8 pieces
Ingredients
For the crust

1 1/2 cups blanched almond flour
1/4 cup + 2 Tablespoons coconut flour
4 Tablespoons raw or coconut sugar
Pinch salt
1 egg white
2 Tablespoons cold almond milk or water
1/4 cup cold butter or dairy-free (vegan) butter

For the Banana Pudding:

2 Tablespoons flavorless gelatin
1 cup vanilla almond milk
1 cup mashed very ripe bananas
1/8 teaspoon salt
1/4 teaspoon vanilla extract
1 teaspoon cinnamon (or less if you don't like a distinct cinnamon flavor)

For the homemade Nutella:

1 cup raw unsalted hazelnuts
Heaping ¼ cup raw unsalted cashews
3 Tablespoons cocoa powder
¼ cup coconut sugar or granulated sweetener of choice
Pinch salt

For the Whipped Cream:

1/2 cup granulated sweetener of choice
1 teaspoon tapioca flour
1 can coconut cream (not coconut milk!), chilled in the fridge for at least 12 hours
1/4 teaspoon vanilla
1-2 Tablespoons coconut milk, almond milk or water as needed (see note)
Pinch salt

The rest:

2 large ripe bananas, sliced
Directions
Make the crust:

In the bowl of a food processor, pulse the almond flour, coconut flour, sugar and salt a few times to break up all of the clumps.
In a small bowl, whisk together the egg white and almond milk or water.
Add the butter and pulse 5-7 times until it is broken into clumps slightly smaller than a pea.
With the processor running, add the egg/water mixture in a thin stream until the dough forms a ball of dough.
Turn off the machine and let it sit for 15 seconds before proceeding (this allows the flour to absorb the moisture from the buttermilk).
Turn the dough out on to a piece of wax or parchment paper, gather into a ball and press into a thick disc. Cover with another piece of wax or parchment paper and roll into a flat disc about 10"-11" in diameter. Loosen the parchment from both sides of the dough and then carefully slide the dough into a lightly greased 9" pie or tart pan. Alternately, you can simply turn the dough directly into a greasted pie pan and use the heel of your hand to gently spread the dough.
Refrigerate for at least 30 minutes (and up to overnight) before baking.
Preheat the oven to 350F. Bake for 25-30 minutes until crust is just cooked through and golden around the edges.

Make the banana pudding:

In a small bowl, stir the gelatin into the almond milk until mostly dissolved. Set aside.
In the bowl of a food processor fitted with the "s" blade, puree the banana until smooth. Add the gelatin and almond milk mixture, plus the salt, vanilla and cinnamon to the bowl. Puree until smooth and completely combined.
Transfer to a covered container and let sit at least an hour until thickened.

Make the homemade Nutella :

Add the hazelnuts and cashews to the bowl of a small food processor and pulse 10-12 times until they form a coarse flour, then process continuously, scraping the sides and bottom of the bowl periodically, until it forms a thick paste. This will take a while. The nuts hold on tightly to their flour texture, then start to form a giant ball. Just keep going; eventually the oils will release and the nuts will become a loose paste.
Add the cocoa, sugar and salt to the processor and process to combine.

Make the Whipped Cream:

Make your powdered sugar: add the sweetener and tapioca to a food processor or high speed blender and pulse 10-20 times until powdered fine. Run it through a fine mesh sifter to remove clumps. Set aside.
In the bowl of a stand mixer fitted with the whisk attachment, whip the coconut cream, vanilla and liquid as needed until smooth. Add the powdered sugar and salt and beat until light and fluffy. This could take anywhere from 2-5 minutes and you may need to stop a couple times to scrape down the sides and bottom of the bowl to make sure everything is completely incorporated.

Assemble the pie:

In a large mixing bowl, whip together the banana pudding and the chocolate hazelnut spread. If you are having trouble getting them to mix smoothly, try warming the chocolate hazelnut spread in the microwave for 30-60 seconds until liquefied.
Cover the bottom of the prepared and cooled crust with a layer of sliced bananas.
Spread the chocolate hazelnut banana pudding mixture in an even layer over the bananas.
Spread the whipped cream in an even layer over the pudding layer.
Line the perimeter of the pie with more banana slices.
Drizzle the top of the pie with more warmed chocolate hazelnut spread or melted chocolate chips.
Serve immediately.
Notes
All of the elements can be made ahead of time and you can assemble the pie immediately before serving.
Store leftovers in the fridge for up to a week, and bring back to room temperature before serving.