These paleo mini lemon tarts have an easy press-in crust and are totally honey-sweetened.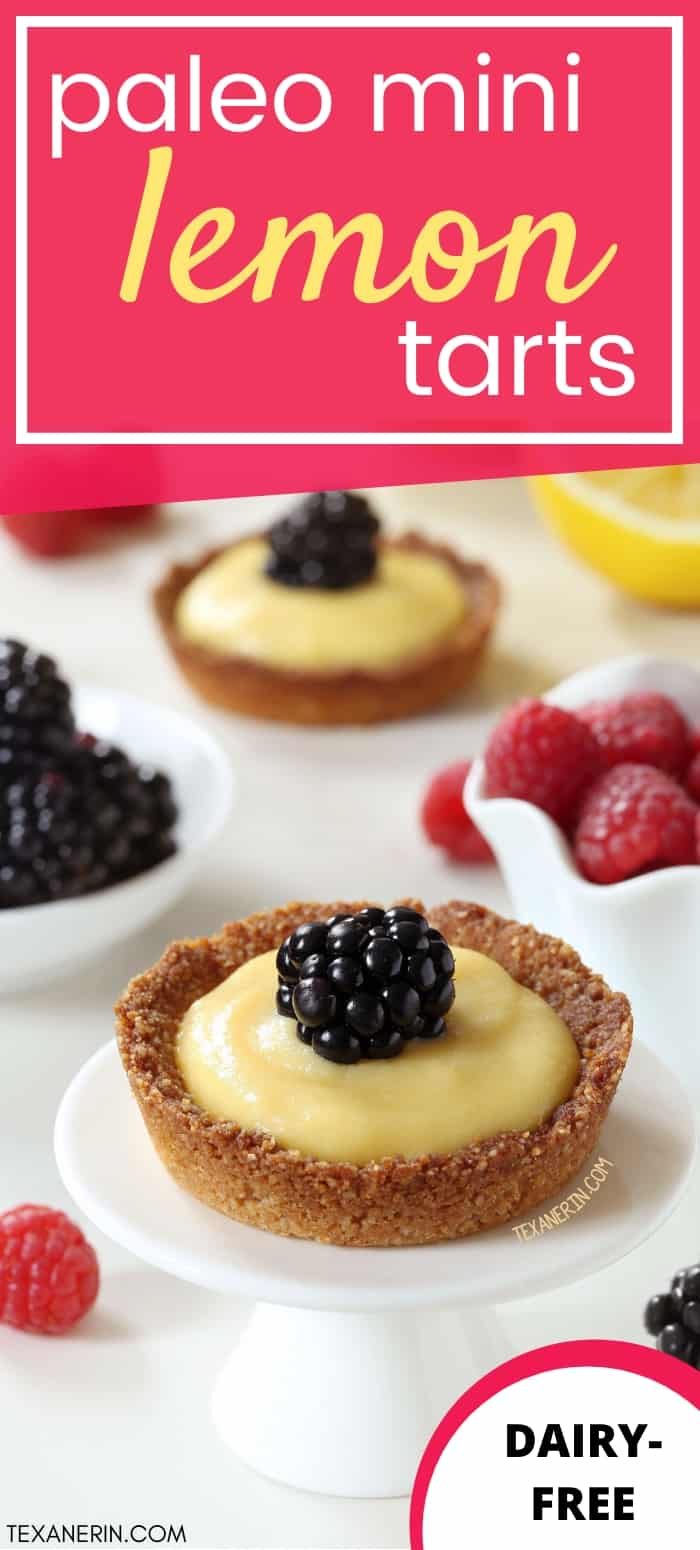 You don't see me posting too many pies or tarts around here. Chocolate cookie crusts I can do and love. But regular crust? I'm not a huge fan. And paleo crusts… ugh. What a nightmare!
I think the issue is that I prefer sugar cookie-like crusts. With lots of white sugar. That doesn't work for paleo so I've been fiddling with this recipe for waaay too long. Everything I tried was either too crumbly, soggy, totally lacking in flavor, or just plain bad.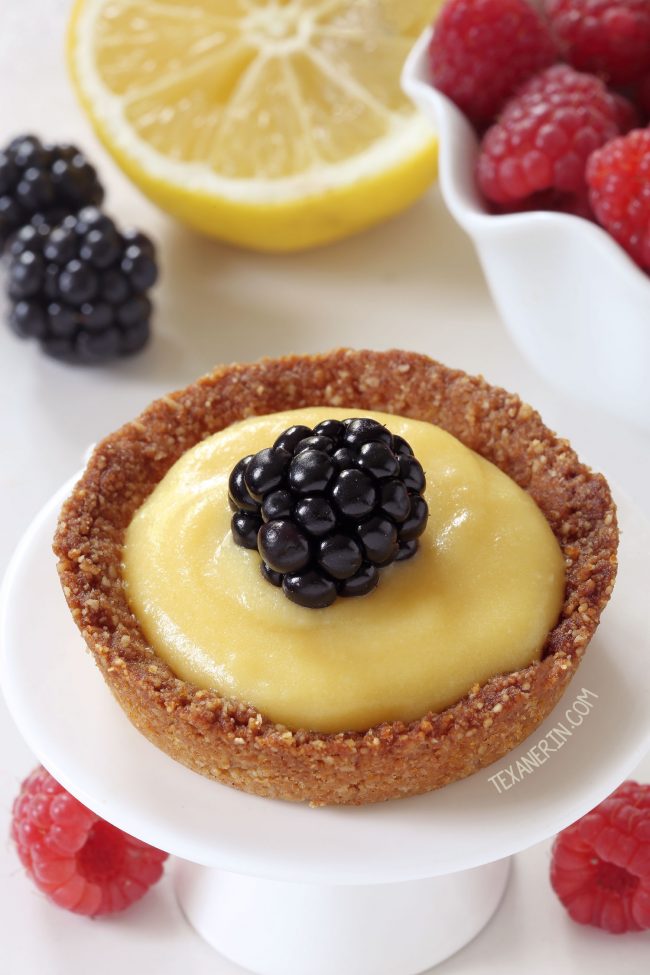 When I make anything individual like mini tarts, cookies and the like, I bake one by one so that I can make changes to the recipe as I go. I have to haul almost all my flour and other baking ingredients with me from the US to Germany and those ingredients are way too precious to be making a full batch at a time. ;)
I've baked more than 100 mini tart crusts, one at a time, over the past few weeks. And I'm over it. I want to go back to cookies. :D
But I'm finally happy with this crust. I used honey in the crust and a little cinnamon to make it taste slightly reminiscent of a graham cracker crust. But please don't make this expecting it to taste exactly like a regular graham cracker crust! You'll be disappointed.
If a paleo crust isn't your thing, try this Gluten-free Lemon Tart from Fearless Dining for more of a traditional crust!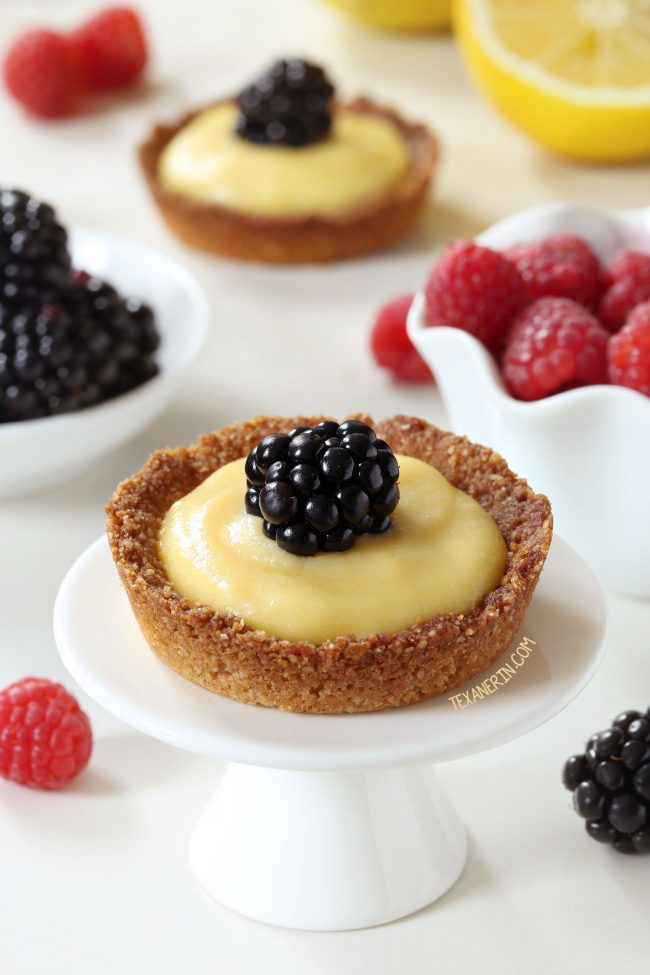 For these mini lemon tarts, I also tried coconut crusts, macaroon crusts, regular crusts and lemony crusts. The lemon curd has such a strong lemon flavor that you couldn't taste any flavor in the crusts. The crust recipe below was the exception!
To fill the tarts, I used my paleo lemon curd. I thought I'd take a shortcut this time and change the instructions a bit to make it easier but that was a mistake. It tasted weird and took SO long to make. I should have known there was some kind of reasoning for writing up the recipe I did. So be sure to follow it and don't get creative. ;)
For another great paleo dessert recipe, try this paleo nectarine tart. It looks amazing!
❀
Paleo Mini Lemon Tarts (grain-free, gluten-free, dairy-free)
Prep Time:
Cook Time:
Ready in:
Yield:

12 mini tarts
The lemon curd recipe yields enough for 4 teaspoons of curd per tart. If you'd like a more generous portion of curd, double the lemon curd recipe (you'll have some leftover after filling the tarts).
Ingredients
For the lemon curd:

3 large eggs
1/4 cup (80 grams) honey
zest of 2 lemons (about 1 tablespoon)
pinch of salt
1/4 cup (56 grams) refined coconut oil or regular unsalted butter (use coconut oil for paleo / dairy-free)
1/3 cup + 1 tablespoon (94 milliliters) freshly squeezed lemon juice

For the crust:

3 tablespoons (42 grams) refined coconut oil, softened
2 tablespoons (40 grams) honey
1/2 teaspoon ground cinnamon
3/8 teaspoon salt
1 1/2 cups (150 grams) blanched almond flour
Directions
Make the curd. Mix together the eggs, honey, lemon zest and salt in a medium non-reactive (ceramic, stainless steel, or nonstick) saucepan or pot. Do not use any reactive (aluminum, copper, iron, and steel) utensils when making this recipe. This applies to any recipe with acidic ingredients.
Heat over medium-low heat and once everything is well-combined, add the coconut oil or butter and continue stirring.
Once melted, stir in the lemon juice.
Cook the lemon curd over medium-low heat, stirring constantly, until it thickens – about 4-10 minutes. It's ready once the curd coats the back of a spoon and a clear path is left when you run your finger through it. Do not let the curd go over 170 °F (77 °C). Eggs scramble around 185 °F (85 °C) so be careful!
Place a strainer or food mill over the storage container you want to store the curd in. Strain it and then let it cool completely and chill for at least 30 minutes before filling the tart shells.
Prepare the tart crust. Preheat the oven to 350 °F (175 °C) and get out a 12-cup muffin pan. No need to grease it.
In a medium mixing bowl, stir together the coconut oil, honey, cinnamon and salt. Add the almond flour and stir until well combined. The dough will be crumbly but should stick together when pinched.
Divide the dough between the 12 molds (18 grams per cup) and press the dough over the bottom and only about 1/4 or 1/3 up the sides.
Bake for 8-10 minutes or until lightly browned. Remove from the oven and run a knife around the sides of the tarts (this makes dislodging them later easier). Let sit for 10 minutes or until they've hardened and are easy to remove. They should pop right out with the help of a knife.
Let cool completely and then place in the refrigerator for about 20-30 minutes or until firm. Fill with the cold lemon curd (4 teaspoons per cup) shortly before serving. I recommend only filling the crusts a few hours before serving to ensure that the crusts don't get soft. If you want to prepare the crusts ahead of time, don't let the crusts sit at room temperature very long before putting away in an airtight container (they get soft if you let them sit uncovered at room temperature). The lemon curd can be prepared 3 days ahead of serving and refrigerated.